This week we remember Marty Robbins, who would have celebrated his 94th birthday tomorrow.
RANDY TRAVIS RESEARCH TRIP
My big news is that I signed a contract with the University of Illinois Press to write my third biography. The subject is Randy Travis. To begin the research, I headed east with my sister, Lorraine "Kayo" Paver. We spent several days with Kayo's son and family, Casey and Becky Paver, in Concord, North Carolina. When we drove to Randy's hometown of Marshville, we saw the welcome sign with his name on it.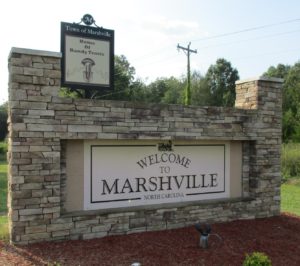 There was also a Marshville town museum, closed on weekdays, with a Randy Travis display we could see through the glass.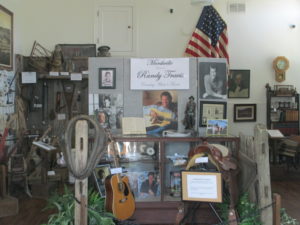 Several miles out of town, we found Randy's childhood home. The house is empty and for sale. Seeing a man across the road at the horse barn, we went over and introduced ourselves. He was Randy's nephew, Matt Arrowood, who had been living with Randy's dad, Harold Traywick, when Harold died in 2016. Matt told us Harold bought the lot from his father, Bruce Traywick, in the mid-fifties and built a two-bedroom house. He added two more bedrooms when his family grew to six children, and then added the music room Randy talked about in his memoir. Matt is also a musician; he sings and plays guitar.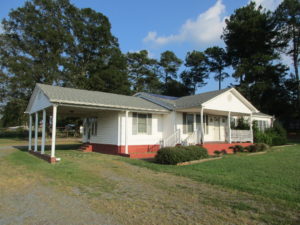 We drove 20 miles from Marshville to the Fountain Hill United Methodist Church Cemetery, a little country cemetery where there were at least 14 Traywick headstones. The one for Randy's parents had a concrete border around it. According to Matt, Harold designed the elaborate headstone for himself and Bobbie Rose, after her death.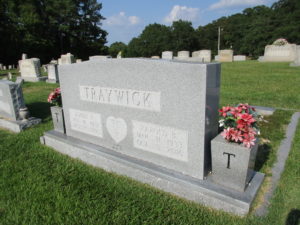 We wrapped up our North Carolina visit with a family escape room experience. It's about solving a puzzle, not about escaping. We succeeded, two minutes before the one-hour limit.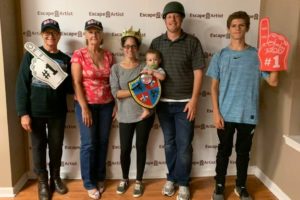 Kayo and I arrived in Nashville in time to attend the Saturday night Opry. The first person I saw backstage was Kenny Sears. He introduced us to a young fiddler, Catherine "Cat" McDonald from New Mexico, who is shadowing him. It's good to know he's sharing his talent with future generations. Kenny told me he was in the Nashville Palace house band at the time Randy Traywick worked in the kitchen. Jeannie Seely was celebrating her 52nd anniversary as an Opry member. (Thanks to Jeannie and Michelle Capps for our backstage passes.) Bill Anderson told me Les Leverett was looking for me. I said I had a date with him the next morning but hadn't met him yet. Bill took me to where the retired Opry photographer was sitting.
On Sunday morning, Kayo and I drove to Les Leverett's house in Goodlettsville. Since Les, 92, can no longer drive, taking him to church was a good way to get acquainted. We three went to Dickerson Road Baptist Church for the service, which was largely a bluegrass concert, followed by a homecoming lunch with so much food our plates were full long before we got to the end of the food tables.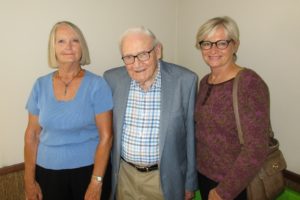 Alana and Hilda Young were also on the list of people I wanted to visit while in Nashville. We headed down Franklin Pike to find their beautiful ranch-style house, once owned by Brenda Lee, and visited for almost two hours. Alana had just come from work, and when she went in her bathroom, she discovered her shower door had exploded. There was glass inside the shower, on the marble bathroom floor, and through the door onto the hardwood bedroom floor. Several aerosol cans had been knocked over. It's a complete mystery as to what could have caused that. Hilda told us they would be going the next morning to the funeral of Uncle Dave Macon's last grandchild. This was the sister of Robert Macon, Hilda's stepdad.
I'd made an appointment with Kathleen Campbell in the research section of the Country Music Hall of Fame, and she had pulled all the Randy Travis material. Kayo and I spent over an hour there and didn't begin to dent what was available. We also chatted with John Rumble. We then went to the Ernest Tubb Record Shop to meet the manager, Terry Tyson, who is a friend of Alana's and my Facebook friend. He was happy to meet me and got goosebumps when I told him I'm writing the biography of his hero. He wants to host the book release party when the biography is published. My Faron and Marty books are both regular sellers there.
Kayo and I walked a few blocks on Lower Broadway, with excruciatingly loud music pouring out of almost every doorway, and stopped in at the Legends Corner to have a beer. While we were sitting at the bar, a man came up to me and pointed questioningly at our Navy ball caps. I said, "Yes, we're both retired." He asked our ranks, and I said, "I'm a captain and she's a senior chief." He immediately stepped back to Kayo, put his arm around her, and said, "This is more my class." He told her he had been an RM2 (Radioman Second Class).
That evening we went to American Legion Post # 82 on Gallatin Pike for Honky Tonk Tuesday Nights. Chris Scruggs and the Stone Fox Five dressed like country stars and played music to match; Buck Trent made a guest appearance. We went there to see David Ball and his guitar player, Coleman Murphy. David told me he moved to Nashville to pursue his musical career after hearing Randy Travis sing "On the Other Hand."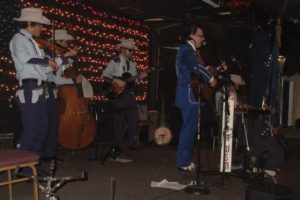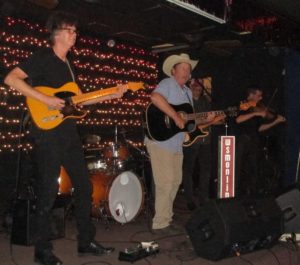 Our final visit before leaving Nashville was with Lisa Sutton, in the house where we had visited Glenn Sutton. Lisa, his daughter, moved there after his death in 2007. The house is chock full of his stuff and what Lisa has added from the estates of her mother, Lynn Anderson, and her grandparents, Liz & Casey Anderson. She showed us the little organ Liz used while writing "Strangers" (the Merle Haggard song). She hopes to have a sale next year, after deciding what to sell and what to put in a museum. Glenn had read the manuscript of Live Fast, Love Hard, and I looked for Faron's biography on the bookshelves, until I realized Glenn never saw it; he died a month before it was published. Kayo remembered details of the house, and Lisa enjoyed having visitors who could reminisce about her dad. It's usually Lynn Anderson who gets the attention.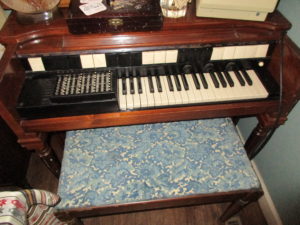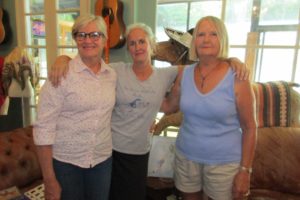 When we stopped for the night in O'Fallon, Illinois, Kayo treated me to supper to celebrate my birthday. We ate at a Thai restaurant and drank mango mai tais. Then we went to our room and watched the fourth PBS segment of Country Music. Both Marty Robbins and Faron were mentioned.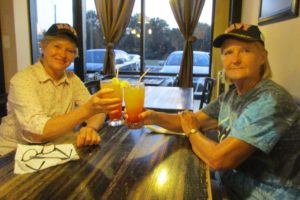 I returned to South Dakota a year older than when we left. Our trip covered ten days and 3,262 miles. Now it's time to go through the papers I collected and contact the people on my list of email addresses and phone numbers. Busy days ahead! If you have something to contribute to Randy's biography, or if you know someone who does, send me a note.
NEWS
The Music of Randy Travis Tour Featuring James Dupré and the Original Randy Travis Band is a 12-date tour that runs from October 16 in Indianapolis to November 2 in Green Bay. It includes a Ryman Auditorium performance on October 28. Randy will make an appearance at each show, to see his 16 No. 1 Billboard hits sung by James Dupré, a former contestant on NBC's The Voice. The pair became friends in 2013, several months before Randy's stroke, when they filmed a movie called The Price. The Tennessean reports the band members on the tour "will include Steve Hinson, David Johnson, Lance Dary, Bill Cook, Joe Van Dyke and Herb Shucher along with his longtime tour manager Jeff Davis." However long they were band members, none of them played in the original Randy Travis band, although David Johnson came close.
One of my longtime newsletter readers, Chuck Dauphin, 45, died September 18 at Nashville's Alive Hospice, following a series of complications from diabetes. He started his radio career while in high school, at WDKN in his hometown of Dickson, Tennessee, where he worked for 18 years as deejay and program director. I drove to Dickson to be on his show when I was promoting Faron's biography in 2007. Chuck wrote for numerous publications, including Billboard and Rolling Stone. In 2014, The Country Music Association gave him the CMA Media Achievement Award. He has been in hospice care for months, following a foot amputation and due to other effects of diabetes. A press release says he filed his final story from his bed, an interview with Vince Gill in August.
Ryman Hospitality Group lost its lawsuit to continue using red lights on the exterior of Blake Shelton's Ole Red honky-tonk on Broadway. News Channel 5 reports a Nashville judge ruled in favor of the Metro Historic Zoning Commission. City regulations prohibit colored lights outside of buildings in historic overlay districts, which have restrictions to protect the character of historical areas. From now on, Ole Red can only use white lights on its exterior. Ryman Hospitality Group argued that the red-light design should be grandfathered. A spokeswoman said the company will "pursue additional avenues that will ultimately allow us to light our building in accordance with the original design."
A press release announces the third annual Dottie West Birthday Bash, to be held October 9 at 3rd & Lindsley in Nashville. Jeannie Seely will host the fundraising event that supports the Musician's Emergency Relief Fund. Bill Anderson will be honored for his "indelible impact on country music." The first year, that award went to Jimmy Capps. Last year, the three Country Music Hall of Fame inductees (Dottie West, Ricky Skaggs, and Johnny Gimble) were honored.
The ASCAP Founders Award will be presented to Randy Travis at the 57th annual American Society of Composers, Authors and Publishers (ASCAP) Country Music Awards show on November 11 in downtown Nashville. PRNewswire describes the award as "presented to songwriters and composers who have made pioneering contributions to music by inspiring and influencing their fellow music creators. Each recipient is a musical innovator who possesses a unique style of creative genius, which will enrich generations to come." ASCAP's mission is to license music, obtain fair compensation, and distribute royalties. Randy has been an ASCAP member for 40 years.
Shortly after Josh Turner closed his show in Paso Robles, California, on September 18, the bus carrying eight crewmembers was involved in a fatal accident. Josh and his band were on a different bus and not involved. According to KSBY News in San Luis Obispo, the bus veered off Highway 46 near Shandon just before midnight. The California Highway Patrol said the driver drove 200 yards through vegetation and hit the riverbed, after which the bus launched off a 50-foot cliff and impacted the sand. Two passengers were ejected and one of them, sound engineer David Turner, was killed. The driver was extricated and airlifted to a Fresno hospital. Several others were seriously injured. Josh canceled his Friday concert at the Central Washington State Fair in Yakima.
David Ball premiered his new music video, "Pretty Baby," to commemorate the second release from his tenth studio album, Come See Me. The video contains live footage shot at the Nashville Palace, Honky Tonk Tuesday Nights at Nashville's American Legion Post 82, and Honky Tonk Texas in Silsbee, Texas. According to a press release, David celebrated the occasion by performing at last week's Honky Tonk Tuesday Nights at American Legion Post 82 in Nashville. Buck Trent and Chris Scruggs also appeared. David is currently on his Thinkin' Problem 25th Anniversary Tour.
The inaugural GRAMMY Museum® Mississippi's Crossroads of American Music Award goes to: Charley Pride. The award will be presented at the Museum's 2019 Gala on November 1 at GRAMMY Museum Mississippi. The Crossroads of American Music Award was established by the Museum's Board of Directors to honor an artist whose significant musical contributions were influenced by "the creativity born in the cradle of American music." Charley says in a press release, "I'm honored to be the first recipient of this award from the GRAMMY Museum Mississippi. And thankful to the many great American music artists before me that helped to pave the way for my success."
Jeannie Seely celebrated 52 years as a member of the Grand Ole Opry this past weekend. She joined the Opry on September 16, 1967, and she continues to host her radio show, Sundays With Seely, on Willie's Roadhouse on SiriusXM. She will release a new album, An American Classic, next spring. "When Jack Greene and I were touring together, we would pack up as quickly as we could after a show to get on the bus and turn on the Opry as we travelled home. We were listening on the night before Stringbean and his wife were murdered and heard him perform and heard the response of the audience that night. These are treasured memories," Jeannie says in a press release. "The Opry is a way of life to me, another home and that's where my heart is. You can bet I'll be listening when the day comes I can't be there!"
Marty Stuart has been deeply involved in the PBS documentary series that is keeping many of us glued to the TV these evenings: Country Music by Ken Burns. He'd contacted Burns when he first heard about the project nearly 10 years ago. He tells the story in this interview with Rolling Stone: https://www.rollingstone.com/music/music-country/marty-stuart-ken-burns-country-music-881681
Here's an article written by Bobby Moore for Wide Open Country (9/17):
Bob Wills' signature tune as a writer and performer, "San Antonio Rose" (sometimes "New San Antonio Rose," with different lyrics) spread far and wide over the years, with covers popping up by everyone from Bing Crosby to Clint Eastwood. In fact, Wills' 1940 celebration of Tex-Mex influences and hillbilly jazz was a number one hit in outer space thanks to the third man to walk on the moon, Pete Conrad (June 2, 1930 – July 8, 1999). Four months after the historic Apollo 11 moon landing, Conrad served as commander of Apollo 12's return to the lunar service. Per Diane Diekman's Live Fast, Love Hard: The Faron Young Story, Conrad took a mixtape of his favorite country songs to space. From this tape, "San Antonio Rose" became the first country standard broadcast from space. When it came time for Apollo 12's splashdown in the Pacific Ocean, mission control could initially only hear part of Young's song "Wine Me Up." . . . As for the rest of Conrad's story, he proves that country music and western swing can be for everyone. Instead of hailing from Texas or the Deep South, the future astronaut was raised in Philadelphia and graduated from Harvard before becoming a history-making astronaut.
Sounds Like Nashville recently interviewed Crystal Gayle about her new album, her first in sixteen years, You Don't Know Me. She co-produced the album with her son Christos Gatzimos. "I wanted him to hear what I grew up singing as well as what I'd done through the years," she explains. "I picked songs that meant something to me, songs that I've loved. I could still see myself singing 'Please Help Me I'm Falling' out in the backyard when I was probably in second grade. 'Ribbon of Darkness' was the first song I sang on the Opry. I love 'Hello Walls.' I opened a few shows for Faron and I remember him having me come over and rehearsing with his band. He was just a gentleman. He was very respectful. I found that too when I worked with Conway Twitty. It was nice to see I was being protected and looked after by all these people when I went out there."
Nash Country Daily reports that Loretta Lynn, 87, accepted the Kris Kristofferson Lifetime Achievement Award at the 2nd annual Nashville Songwriter Awards at the Ryman Auditorium on September 17. The award was in recognition of her contributions to the American songbook and inspiring the careers of others. Kid Rock and her son, Ernest Ray Lynn, escorted her to the speaker's stand, where she received a standing ovation as she accepted her award. Performances during the evening included "Coal Miner's Daughter" by granddaughter Tayla Lynn, "I'm a Honky Tonk Girl" by Kellie Pickler, and "You Ain't Woman Enough" by Reba McEntire.
Dixie Chicks lead singer Natalie Maines announced to Rolling Stone Country that the group's first studio album in over 13 years is tentatively titled Gaslighter, which is one of its tracks. Set for release in 2020, the album was partly inspired by her ongoing divorce from actor Adrian Pasdar. Before the divorce, the band planned a cover album. "But then my relationship fell apart, and I had a lot to say," she explains. "Our last album was the most personal and autobiographical we've ever been. And then this one is 10 times that."
LETTERS
Jo Wenger writes from Eugene, Oregon, "Many thanks for the wonderful information you share with everyone. FYI – A treat for Arizona Marty Robbins fans on his birthday Thursday, Sept. 26th 9:30 AM, Andrew Means author of Some Memories as told by Marty's twin sister Mamie of them growing up in Arizona with information on Marty learning instruments and learning to dance way back in his early Arizona years. Lots of interesting info in Andrew's book. He will be giving a talk on Marty and there will be live music and a light lunch to follow. Venue: Sunnyslope Historical Society, 737 East Hatcher Road, Phoenix AZ 85020. 602 331 3150. Thanks again for all you do. I print out your newsletters for a friend who also loves Marty."
Jan Manning in Trout Creek, Montana, says, "I really enjoy your 'In Their Own Words' feature each issue. As a former entertainment journalist with Music City News back in the late '70s, I often think of the hours and hours of cassette tapes that accumulated from hundreds of artist interviews. An hour or two of tape might have yielded one short feature, and yet those tapes included SO much colorful information and quotes that never got used. Direct quotes often reveal the true personalities of the featured artists, and that's what I pick up from your 'In Their Own Words.' Keep up the good work!"
Jean Earle writes from England, "Thank you for your latest news…always plenty to read. I was interested in the piece near the end of your page when it was mentioned that a film had been made many years ago in Tootsies Orchid Lounge. We admired all the artists that were making the film and I am most interested to hear more about it. I guess you are having a few days holiday? Hope you enjoyed a relaxing and happy time."
Diane: I don't know about the film; perhaps my readers do? My ten-day trip was a mixture of business and holiday, and it was a happy time. Thanks for asking.
Bob Eggers requests, "I would like to be on your mailing list if possible. I worked on the Opry as well as the road with many Opry stars. My friend Bruce Osbon and I also worked together over the years as sidemen guitar players. Bruce sent me a copy of your newsletter, which is the reason for my request. Your newsletter was so informative and I enjoyed it so much. It brought back so many memories I couldn't believe it! Thank you for sharing your expertise and knowledge of Country Music as well as my music career memories. I did work for Marty Robbins as well as many other country music stars. I didn't work with Faron, but I know it must've been a blast. Lots of stories about stars."
Jenny Jones in Texas writes, "Another great Newsletter arrived, and I enjoyed every bit of the News included…It seems you have so much info included that I have to reread it twice, so I get all the wonderful news…. I do not know how you keep up with everything, though I am thrilled with all you send along…Sorry to hear about ALABAMA having to postpone their tour. I hope Randy will soon be in better health, and they can continue their Tour. I know their many Fans are wishing them good health, as I am. As usual I look forward to the next Newsletter. Could you pass a Hello to a dear friend, as she reads your newsletter, and we have been friends for a great number of years, and I have not been able to let her know about my fall about 3 months ago. She lives in Iowa…Would really appreciate it."
Priscilla McPheeters writes from Lawrence, Kansas, "This newsletter is so great, and I really enjoy reading it. I forwarded this one to Cindy Shorey, Doris and Mel Tillis's daughter, who was with her mother when she passed. Cindy is a close friend of one of my best friends, and I've met her a few times. She is also a Mary Kay consultant."
John Allen suggests, "If you are in touch or know how to get in touch with Randy Owen from Alabama tell him to visit an epilepsy doctor. My wife had migraines for a while and her epilepsy doctor was able to solve the problem and they finally stopped after a few months."
Dominique "Imperial" Anglares writes from France, "Many thanks for that new issue. Joe Allison's memories are great and very entertaining."
Lorraine Paver, my sister and traveling companion, writes from Clear Lake, "Very awesome and emotional tribute to Al Tuffs!"
Nathaniel Fortmeyer of Southern Illinois University, Carbondale, says, "I am writing to you in regard to your authoritative biography, Twentieth Century Drifter: The Life of Marty Robbins, and in particular, Marty's passion project, the television series The Drifter. I have recently finished your book, and I am currently reading Barbara Pruett's Marty Robbins: Fast Cars and Country Music. I wanted to thank you for writing such an excellent book, and alerting me to Pruett's bibliography. I started listening to Marty's music last year, and I love his songwriting and singing. Your book captures his perfectionism, talent, and genius, and I loved being able to learn more about him through his own words and those of the people who knew him best. After reading your book, I managed to secure DVDs of his 1965-66 television show, The Drifter. Although the video and audio quality is spotty at best, I still love and cherish these recordings, and I have watched all of them several times over."
IN THEIR OWN WORDS
I called Del Reeves at his home in Dickson, Tennessee, for an interview about Faron Young in 2001. What a character Del was to talk with! Franklin Delano Reeves, born in 1933, was a Grand Ole Opry member for forty years. He died on New Year's Day 2007, at age 74, after an extended illness. His hits included "Girl on the Billboard," "The Belles of Southern Bell," "Women Do Funny Things to Me," and "Looking at the World Through a Windshield."
The first time I met Faron I was well into having the number one record, and he always used to kid me–but he was one of the grandest guys, to me and to my wife. Now he'd cuss around me, and call me all kind of names, but he would never say not even hell or damn around Miss Ellen, my wife. Boy, he thought she was the classiest lady he'd ever met in his life. So he never used those words. It was the funniest thing I'd ever seen. Later on, I told Ellen about him, and she couldn't believe he talked the way he did. The ladies, he'd pinch them on the ass, and say, "Why do you keep all that to yourself?" He was terrible, absolutely terrible, but yet he was a kind of guy that would give you the damn shirt off his back. If you need money or anything, he helped–I think he helped just as many out as Ernest Tubb did–that come to town. If he liked them. If he didn't like you, hell, he wouldn't do nothing with you.
One time me and him and Jimmy Dickens was playing Wisconsin–just to show you what he thinks about his friends–the promoter said, "Let's go down to the office." It was in the Vick(?) Theater, and it had a great big–you had to walk underneath the theater, and duck your head a little bit–and the lights in there wasn't too good–to get back to the office. He told us upstairs, "Let's go down and see–I don't think I've got enough money to pay you." Faron was pretty well drunk. I'd been with him and I wasn't feeling none too good myself, to tell you the truth. But Little Jimmy Dickens was behind Faron, and Faron was behind the promoter. Down at the little passageway, Faron grabbed that damn guy and started hitting him. He said, "I'm gonna tell you one thing, son of a bitch, you're gonna pay Little Jimmy Dickens, and Del Reeves." Every time he'd say the name, he would punch him. "You're gonna pay Faron Young," and then hit him. Jimmy Dickens was trying to hold on to his arm, saying, "Oh, lord, Faron, please, Faron, don't hit him no more. He'll get everything, Faron. Don't hit him no more." So we finally both got him off of the guy, and went in there, and by god, we got our money. But that's the kind of–see, he used his name last. But he was gonna pay Little Jimmy Dickens and Del Reeves. It was the funniest thing when that happened. Jimmy Dickens looked like a little banty rooster, holding on to his arm, running back and forth, taking three steps forward and two back to get his–punch him again. But we got our money.
I bought his bus, the one before the last one he had. It was the greatest bus in the world. Every time we'd do a show, he'd get off his bus and come and say, "Goddam, I wish I'd never sold it. This is the best-riding goddam bus there is in the damn world." And it was one of the best-riding buses. I rode with him quite a bunch. His rode like a damn wagon. And that's what he said–his new one rode like a damn wagon. I kept it nine years, and I sold it to Billy Jo Spears.
I was around with him–drinking–because he knew he had a drinking buddy in me, so I drank with him. I'd get in damn trouble instead of him, with other people or the promoters or something. They literally just took Faron as he was. They knew that's the way he was, so they just accepted him. But you let me do that, or me act like George Jones, and they didn't go for that. I mean, I'd get the write-ups, where everybody else's name would get left out.
My wife later told me, after I started saying swear words, "You've been around Faron Young too long. You're lost your nice way." My wife told me, "You never cussed like that when I met you in California. It was all yes ma'am and no ma'am. My mother would have died, to hear you cussing like you do now." So I've tried to tone it down, and quit it all. And have for the most part, except when we start talking about Faron. I'm trying to give you the aspect of where I'm coming from. I'm trying to use his words, but I ain't using enough when it comes to Faron. Because every other word–every word was a curse word.
I get to thinking about him sometimes, and tears come to my eyes, really because he was such a wonderful person inside. Why he let it show on the outside like he did, I never could understand, except we never could understand why he was so great around Ellen and me. When me and him was alone, he talked–every cussword would come out of his mouth, each and every time. Even to Billy Deaton. He sure did. Oh, hell yes, he was mean to Billy. Definitely so. I felt sorry for Billy when I would go in the office–the way he talked to him. Billy'd say, "Oh, Faron." All he could say, I guess.
The promoters are the very ones that got me and Faron drunk. They'd try to get you drunk. It wasn't all our fault, back then, but we should have been strong enough not to do it with them. I don't know what was in their minds. Some thought they wouldn't pay us, cuz in your contract, you got to be straight and do the show. But everybody knew Faron–and later on they knew that I drank, after I started doing TV shows, and started having a cup of coffee on the show. A pretty girl would make it and bring it out to me, and I'd say, "Oooh, that's just right." They thought I'd be drinking right on the show. People told me that thousands of times. Hell, it was coffee. It was putting on a show.
Faron–I loved him, absolutely adored him, thought he was fantastic. I went to the funeral, I sure did. Got all the paraphernalia here from the funeral home. Went out and talked with all of our dear old buddies at that time, like Ferlin Husky, and everybody who was there. We were all just sitting around the chapel there, telling stories on Faron. So that's how he went to his grave–us telling stories and laughing. Everybody said that's the way he'd want it.