NEWS
The 53rd CMA Awards show will be held November 13. For the first time since the Musician of the Year category was added in 1988, there is a female nominee. Fiddle player Jenee Fleenor, a member of Blake Shelton's band, was nominated along with guitarist Mac McAnally (who has won 10 of the last 11 years), Ilya Toshinsky, Paul Franklin, and Derek Wells. "I just broke down in tears," Jenee told The Tennessean. "It's been a dream of mine since I knew what the CMAs were, to be named with all of my peers and heroes." The Arkansas native moved to Nashville in 2001, immediately after high school graduation, and quickly joined Larry Cordle and Lonesome Standard Time. In Blake's band, she contributes fiddle, guitar, mandolin and background vocals, as well as writing songs. "The first time I stepped in the studio was when I was about 11 years old," she says. "I'll never forget that sound. Those headphones, and the way my fiddle sounded. I was like, 'I want to do this.'" Maren Morris leads the CMA nominees with six nominations, including Female Vocalist of the Year. Entertainer of the Year nominees are Garth Brooks, Eric Church, Chris Stapleton, Carrie Underwood, and Keith Urban.
WIN 98.5 reports that Garth Brooks will receive the first-ever George H.W. Bush Points of Light Award for Caring and Compassion. The 41st president started the Points of Light campaign, with Randy Travis singing its theme song. Garth is being honored for charitable work with organizations such as Habitat for Humanity and Teammates for Kids Foundation. He says, "My hope and goal is to make the Bush family and the honorary chairs proud that Garth Brooks is the first name on this award for caring and compassion." The event will be held September 26 at the Intrepid Sea, Air & Space Museum in New York City. Former Presidents George W. Bush, Jimmy Carter, Bill Clinton, and Barack Obama are honorary chairs.
After canceling six shows in July and August, Alabama has postponed the remaining 20 dates of their 50th Anniversary Tour, which was scheduled to end in Nashville on November 20. Frontman Randy Owen continues to deal with vertigo and migraines. New dates will be announced in the coming weeks. Nash Country Daily reports this statement released by bass player Teddy Gentry: "The 50th Anniversary Tour has been very special to us. The support of the fans and their energy at all of our shows has led to some of the most fun we've ever had onstage. As disappointed as I, Randy, and Jeff are to have to postpone this tour for all of our incredible fans, we know that Randy's recovery is what is most important for everyone at this time. We would like to thank our fans, promoters, and venues and we look forward to seeing you all soon."
Rolling Stone Country recently interviewed Danny Shirley, 63, of Confederate Railroad. The band he formed three decades ago is best known–in my opinion–for "Trashy Women." Danny grew up in Chattanooga, where the Confederate flag "was everywhere," he says. "We were taught that flag means you like the part of the country you come from. And I will not apologize for liking the South." Concerning the Illinois fair performance that was canceled, he says, "The governor came out saying it's because we use the Confederate flag, but that's not even true. We don't use it as a backdrop, we don't hang it from the rafters, or the front of the stage. On our T-shirts there's a part of the flag on there, but when we're playing venues where there is a policy on that, we just don't sell T-shirts. I live by the golden rule: I treat you the way I'd like you to treat me. But this political correctness has gone a little too far." When asked if he would consider changing the band's name, he said, "There's no way I'd ever change the name of the band. That'd just be a kick in the gut to anyone who ever bought a record by us."
In early December, Wynn Las Vegas will present six nights of An Evening with Dwight Yoakam & the Bakersfield Beat, when Dwight Yoakam brings the sound of Bakersfield to the Las Vegas Strip. Rolling Stone Country reports, "Yoakam's residency at the Wynn's Encore Theater will focus on the Bakersfield Sound, the raw mixture of twang and rock & roll that rivaled the smooth production style of the Nashville Sound in the 1960s."
When Dolly Parton celebrates her 50th anniversary as a Grand Ole Opry member (she was inducted January 4, 1969) during "Dolly Week" in October, she will headline two Opry shows on Saturday, October 12. This apparently heals a rift that goes back to 2012, according to Saving Country Music, when Dolly teamed with Gaylord Entertainment (now Ryman Hospitality) to build a $50 million theme park near the Opryland Hotel. Shortly after that announcement, Gaylord Entertainment then announced plans to restructure the company into a Real Estate Investment Trust to focus on real estate instead of entertainment. "Afterwards, Dolly Parton's performances and even appearances at the Grand Ole Opry ceased to exist," reports Saving Country Music. "Though no public mention was ever made of a beef between Dolly and the Opry, it was clear that behind-the-scenes animosity from the dissolved theme park deal kept the two entities from collaborating."
According to court documents obtained by The Blast, the John R. Cash Revocable Trust has filed suit against an Illinois business named Johnny & June's Reception Hall and Entertainment Venue. The lawsuit accuses the owners of "using the name 'Johnny & June's,' prominently-displayed images of Johnny Cash and June Carter Cash in the Venue, and the Johnny Cash song lyrics in their online marketing." The document says, "While the Trust understands the pop culture appeal of referencing Johnny Cash and June Carter Cash, and appreciates the Defendant's affinity toward the Cash family, their love story, and country music, the Trust is charged with the responsibility of ensuring that the names, likenesses, trademarks and other indicia of Johnny Cash and June Carter Cash are not used in a manner that is likely to cause confusion or mistake in the marketplace. The Defendants' use of the names, likenesses, and personae of Johnny Cash and June Carter Cash is without permission or authorization from the Trust."
The Tennessee State Senate recognized John Berry last month on the Senate floor and presented him with a Senate Joint Resolution to commend him for his philanthropic efforts.
The annual Celebrating Patsy Cline Block Party was held Labor Day weekend in front of the Patsy Cline Historic House on 608 S. Kent Street in Winchester, Virginia. It commemorates the anniversary of her birthday, September 8, 1932. Patsy lived in the house with her mother and siblings in the early 1950s. The Winchester Star reports, "It is an old-fashioned style block party with live entertainment, food concessions by Shaffer's BBQ and souvenirs staged on Kent Street between Monmouth and Germain streets." The party has been an annual event for ten years. The two-story Patsy Cline Historic House opened as a museum in 2011. It is a state and national landmark.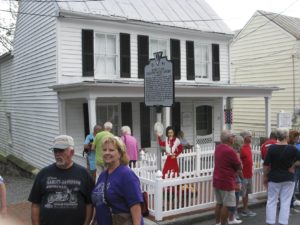 Doris Yvonne Duckworth Tillis, 79, died peacefully in her sleep on August 28, at her home in Ashland City, Tennessee. A native of Dover, Florida, she married hometown sweetheart Mel Tillis in 1957. The couple moved to Nashville, where Doris supported Mel's career as a songwriter and musician. According to her obituary, "Her creative genius flowed through her writing of stories and songs, sculpting, painting, designing and planting colorful gardens, inviting habitats for birds and delightful, whimsical plays on nature." She won the Curry Award in Stone Sculpture and once taught a writing class to the homeless of Nashville. Her children are Pamela Tillis Spicher of Nashville, Connie Lynn Tillis of Branson, Missouri, Cindy Shorey, Mel Tillis Jr., and Carrie April Tillis, all of Ashland City, Tennessee. A private family burial was held in Henrietta, Tennessee. A memorial in Nashville is being planned.
Marcy Benefield-Cash posted on Facebook on August 29 that her husband, Tommy Cash, lost his daughter, Paula. Stacy's Music Row Report provides additional information. Paula Jean Cash, 55, died unexpectedly after a brief illness. She is also survived by one brother, Mark Alan Cash. Their mother, Barbara, who lived in Florida near Paula, recently died. Paula was a licensed pilot who once owned a flying service in Georgia. She returned to college in midlife and earned an Associate of Arts degree in psychology; she was working on an Associates in Science degree in business.
Alabama musician/songwriter Donnie Fritts, 76, longtime keyboard player for Kris Kristofferson, died August 27. He moved to Nashville in 1965 and signed with Combine Music Publishing, where he met Kris. His songs were recorded by Charlie Rich, Jerry Lee Lewis, Dolly Parton, the Rolling Stones, John Prine, and many others. He appeared with Kris in the movies A Star Is Born and Pat Garrett and Billy the Kid. He was inducted into the Alabama Music Hall of Fame in 2008.
In a recent interview with Rolling Stone Country, Vince Gill talks about his new album, Okie, in which he tackles sexual abuse, teenage pregnancy, race, and the incessant desire to be right. "There is so much shame," he says. "If you speak out, you are persecuted. I wanted to speak out for innocence." He reminds readers that he's never been political and has never sent a text or posted on social media. "I've never been out there saying endorse this candidate, or that one. But I'm not afraid to have a decent conversation about some of this stuff. We could solve so many things by being fair-minded. Workers wouldn't need to unionize if whoever we worked for treated us fairly, and equal. And people are always screaming about immigration, but hey, we're all immigrants." One of the songs is "What Choice Will You Make," about a pregnant teenage girl. He focuses on the emotional impact of making a choice. "I'm not over here saying, 'This is what you should do.' There is none of that in there," he says. "The song never leaves that moment of her sitting there, with such a worried mind." Charlie Worsham helped Vince write "Black and White", which rebuts the notion that life was better in the old days. The lyrics include: "Were we better off in black and white? Some days yes, some days not quite."
The music of Randy Travis is coming to North Little Rock, Arkansas, on October 26. The Original Randy Travis Band will perform at the Verizon Arena, and guest vocalist James Dupre' will sing Randy's 16 #1 hits. Randy will make a special appearance.
The Blast on Yahoo! Entertainment has obtained documents that show Adrian Pasdar is asking the court to give him copies of all unreleased music of Natalie Maines "to protect his rights under the confidentiality" in the couple's prenup. He wants to know if her music contains sensitive information about him. This request shocked the Dixie Chicks frontwoman because Natalie had, earlier this year, asked the court to keep the prenup in the face of Pasdar's efforts to get it invalidated. Her lawyers have filed documents to argue there will no longer be confidentiality if Pasdar succeeds in having the prenup ruled invalid.
The Store, scheduled to open early next year in Nashville, recently received a $1.5 million 2Gen Family Wellbeing Program grant from the Department of Human Services. Brad Paisley and wife Kimberly Williams-Paisley are the force behind the free grocery store that will give clients one year of free shopping for their basic needs. The Store, located at 2005 12th Avenue South next to Belmont University's Ministry Center, hopes to serve 3,000 people per year, reports Nash Country Daily.
One of the 18 songs on the new Taylor Swift album, Lover, features the Dixie Chicks. "Soon You'll Get Better" is a song Taylor co-wrote with Jack Antonoff, describing her mother's recent battle with breast cancer. During a YouTube Live session, Taylor said, "I think songs like that are really hard for you to write emotionally, maybe they're hard to write and hard to sing because they're really true. We as a family decided to put this on the album. It's something I'm so proud of. I can't sing it. It's hard to emotionally deal with that song."
When Sunday Night Football returns to NBC television on September 8 (New England Patriots hosting the Pittsburgh Steelers), Carrie Underwood returns with a new rendition of "Waiting All Day for Sunday Night." Based on Joan Jett's "I Hate Myself for Loving You," the song was performed by Pink as the original opening during the 2006 season, according to Nash Country Daily. Faith Hill handled the 2007-2012 seasons. From 2013 to 2015, Carrie opened with "Waiting All Day for Sunday Night." In 2016 and 2017, Carrie sang "Oh, Sunday Night." The 2018 season featured "Game On." Carrie's special guest on opening night will be Joan Jett.
The seven-date Dive Bar Tour of Garth Brooks gets its name from his new single, "Dive Bar," which features Blake Shelton. Nash Country Daily reports the first dates were in Chicago (July 15) and Bakersfield (August 15). Garth has just announced the third stop. He will play the oldest continually run dancehall in Texas, Gruene Hall in New Braunfels, on September 23. Gruene Hall was built in the 1870s and is listed on the National Register of Historic Places.
IN MEMORY OF Al TUFFS (1945-2019)
The Sioux Falls area musical community was stunned last Wednesday to learn of the death of Al Tuffs, 74, of the Night Raiders Band. Al, who lived in Garretson, was the elder statesman of musicians in the region. He knew everyone, could be counted on to show up where country bands were playing, and was friendly and respectful to all. Allen Fred Tuffs was born and raised in Olivet, South Dakota. His obituary says he taught himself to play the guitar by listening to the radio as a child. He started the Night Raiders Band in 1968 and became "a human jukebox" and a "walking encyclopedia of songs," although he often didn't know the name of the song he wanted his band to play. He'd say, "Let's do that tune by that one guy." His favorite singers were Buck Owens and Ronnie Milsap. Al enjoyed collecting and working on vintage cars. For thirty years, he drove a truck for Concrete Materials. During his funeral yesterday in Sioux Falls, son Vance led the Night Raiders Band in singing "A Cowboy Rides Away": "Oh the last goodbye's the hardest one to say; this is where our cowboy rides away." Al set the example of how to treat others. All of us who called him friend are better because we knew him.
LETTERS
Lisa Sutton, daughter of the late Lynn Anderson and Glenn Sutton, writes from Nashville, "We are working on our reunion and plans for Mom next year. It's very premature but I wanted to give you these materials and if you want to distribute to folks you think may want to come or perform or be involved on any level… you know what I'm doing. Next year is the 50th Anniversary of Rose Garden so I'm taking the opportunity to celebrate her on Lynn Anderson Day, June 15th, 2020. We have a ton of fans coming to town plus the Rose Garden Marines. They also just let me know Mom is going into the Western Music Hall of Fame in November. It's been some really exciting times for her."
Diane: If anyone would like the flyers Lisa sent me, I'd be happy to forward them to you.
Curtis Delzer says, "Just wish to share how I admire Faron Young's music. I saw him at the El Rancho hotel in the mid-seventies, when I worked opposite him and his band."
Pete Turner writes, "Thank you again for another unmissable Newsletter. Will be heading to Nashville and oodles of other southern destinations soon & I have made lots of notes re different acts to take in if they are playing anywhere near where I am. Many of the people you have written about I have hunted down their music and have added them to the aforesaid list. All the best to you and family with Christmas creeping up on us all."
Bob Becker says, "David Beaty e-mailed me and said I could get on Your Mailing list for Your Country Newsletter…Would love to have it… I am Very Happy to be part of the Family."
David Markham writes from the U.K., "Thanks for the lovely Newsletter on another fantastic artist like the great Lacy J. Dalton."
Alan Potter also writes from the U.K., "Always a pleasure to read your column and I was so overjoyed to read the news about John Berry….one of the nicest, most sincere artists I have ever interviewed in over 40 years in the business."
John Mogen in Sioux Falls says, "It was fun to see a letter from Kate and Marty Davis. Mogen's Heroes worked the Brown County Fair last Thursday and Friday with Marty and his buddy, Fred. They were terrific, and were kind enough to promote our shows, too. Class act (and very talented, too)."
Delma Fordham writes, "Enjoyed your newsletter as always. I am a big fan of good old country music, and it's so good to hear from some of my favorite stars. I have never got to meet them in person but I still wish I could. At least, thanks to your newsletter, I still get to hear from them. Do you have any information about Buck Owens, I know that wasn't his real name, do you know what it was? Also how about Bill Anderson, is that his real name, and where was he from? And please keep up your great work."
Diane: Buck Owens was born Alvis Edgar Owens Jr. in Sherman, Texas. He writes in his autobiography that he was about three years old when he came in the house one day and said, "Call me Buck." The family had a mule named Buck, used for plowing. Buck writes, "My daddy said if anybody tried to call me Alvis or Junior or anything else, I just wouldn't answer. From that day on, they had to call me Buck — Buck Owens." Bill Anderson was born in Columbia, South Carolina, and named James William Anderson III. He writes in his autobiography that he was called Billy until age eight, when, "One day I decided that Billy was a sissy name, and I refused to answer unless I was addressed as Bill." Buck died in 2006 at age 76. Bill still tours, records, write songs, and performs on the Grand Ole Opry. He's also a regular reader of this newsletter. You can wish him a happy 82nd birthday on November 1.
IN THEIR OWN WORDS
I visited Joe Allison, writer of "Live Fast, Love Hard, Die Young," at his home in Nashville in 2000. He had degenerative lung disease, with a paralyzed diaphragm, and had been bedridden and on oxygen for the past three weeks. He sat on one side of his king-sized bed. When his wife showed me into the bedroom, I plopped my recorder on the middle of the bed and sat on the other edge. Joe said, "I'll tell my friends I was in bed with a Navy captain this morning." He died two years later, at age 77. This was our only conversation.
I knew Faron way before I moved here. From the time he went on Capitol Records, I've known him since then. I came here in 1949. I moved to California, then I moved back here, because all my work was here. Instead of commuting all the time, I just moved back. Out there I was a disc jockey for a while, then I became a record producer and a music publisher, and a songwriter. I quit working on radio and TV and went into the business end of music. I started Liberty Records country department, and I came back here to record, most of the time. So instead of just commuting, I moved back. I ran Dot Record company for a while, and then my last job, when I retired, I was head of Capitol Records. I replaced Ken Nelson when he retired. I was a publisher, I was an A&R producer, I signed Willie Nelson to his first recording contract. I've produced Bob Wills, Hank Thompson, Tex Ritter, the list goes on and on.
Yeah, there was a story behind writing "Live Fast, Love Hard, Die Young." There was a bad "B" gangster movie that I saw, with John Derek when he was a young man. He was a real good-looking guy, and he acted in movies. All through this picture, he said, "I wanna die young and leave a good-looking corpse." It struck me as being a good idea for a song, so I wrote it. I didn't write it for anybody, but when Ken Nelson heard it, he said, "We'll do that with Faron Young."
I had another hit with Faron, called "It's a Great Life If You Don't Weaken." I had that saying as a hook for a song, and Faron came out to the house and worked on it with us. Audrey and Faron and I, the three of us, put that one together. So I had two records with him, that I wrote. Audrey and I wrote Jim Reeves's hit of "He'll Have to Go." We wrote a lot of songs that were hits, but only two with Faron.
Faron loved Hank Snow. And he could imitate him better than anybody in the world. They were playing a show date somewhere. Hank was always a very dignified little guy. Faron was over talking to some girls, and Hank had been drinking. He was standing there, reeling back and forth. He thought he was standing still, but he was kinda weaving around. He watched Faron for a little while, then he called Faron over. "Faron, I would like for you to get me one of those girls." He said, "Sure, Ranger, no problem." He went over and said something to one of those little girls, and she walked over to Hank Snow. Hank whispered something in her ear, and she just slapped the hell out of him and walked off. Hank stood there a minute, and he said, "Faron, get me another one. That one didn't work out." I wasn't there. Faron told me that story. I'd be careful when you wrote that Hank Snow thing. They are really touchy about his image. But he's dead now, so what difference does it make?
It's what you record, not how good you do it. The song is the secret to a hit record. If you don't have the right song, I don't care who you are, it's not gonna do it. But the right song, you can about half sing it, and it'll work a lot of times. But the song itself is the secret of a hit. Anybody in the music business knows that. You can't tell that to an artist, because they wouldn't believe you anyway, but see how many artists have hits and flops. If it was their talent, why wouldn't they all be hits?
They made a television show called Tootsie's Orchid Lounge. Willie Nelson and Kristofferson and Faron and a bunch. They wanted me to be on it. I went there and did it, but they cut my part out. It was sometime before he did himself in, I can't remember how long, but that's one of the last times I saw him. We sat together at the bar and yakked all night, while we were waiting for them to set up. They filmed all night. Faron loved Tootsie's Orchid Lounge. He went there a lot. I own the rights to that name–Tootsie's Orchid Lounge. I bought it, and I'm trying to put together a Broadway show by that title. I've got a lot of interest in it. The guy that did Phantom of the Opera and The Scarlet Pimpernel is really hot on this idea. So we'll see how this goes. If it happens, I'll be the only guy in history that ever sold a Broadway show without leaving his living room.
At Webb Pierce's funeral, I went with Biff Collie, and saw Faron and all his little entourage of women–Kwinnie Acuff and those two or three that ran around with him. They said come on over to Appleby's when the thing's over. So we went in and sat down. It was Faron and his harem, and me and Biff. Not too many years before that, Biff's wife Shirley had run off with Willie Nelson and married him. At the time we were there, Biff was dying. He had cancer all over his body. Of course, Faron didn't know that, and it wasn't too long after that, Biff did die. The minute we sat down, Faron in a loud voice said, "Well, Biff, what'd you think about Shirley running off with Willie?" Biff said, "Well, it would have been fine if she hadn't taken my credit card with her." In a loud voice, all over the room. That was Faron.
All his life Faron had two different ways of singing. If he had a beautiful ballad, he'd slip back into that pop style. In a country rocker song, he'd get with that part. I always wished he would not do that. Have one way of singing. But he'd slip back into that pop style every once in a while. He was a great singer. Faron was a great singer. He could do any song in the world. He was the best we ever had, I think.
SOUTH DAKOTA STATE FAIR
Sherwin Linton invited me to talk about my books during his show on the Centennial Stage last Thursday at the South Dakota State Fair in Huron. I described being stationed in Japan with the U.S. Navy when I heard the news of Faron Young's suicide. After transferring to Los Angeles, I self-published two memoirs and started working on Faron's biography; I didn't want him to be forgotten. I also told about writing Marty Robbins's biography. When I finished, Sherwin announced his next guest, and I saw Governor Kristi Noem walking through the crowd. She and Sherwin share the same hometown – Hazel, South Dakota.