NEWS 
Mel Tillis (1932-2017)
Mel Tillis, 85, died of respiratory failure on November 19 at the Munroe Regional Medical Center in Ocala, Florida. After colon surgery in Nashville in January 2016, he'd gone home to Ocala for medical care and physical therapy. He never recovered. Lonnie Melvin Tillis was one of the best, and best-loved, country entertainers ever. A Florida native, he began stuttering after a bout with malaria as a child. He served in the Air Force as a baker in the early 1950s. "People asked me if I served my country," Mel once told Country Weekly. "I always tell them I sure did. I served cakes, pies and donuts." His 1966 hit, "Stateside," immortalized his Air Force time on Okinawa. After moving to Nashville in 1957, and finding success as a songwriter and singer, he named his band the Statesiders. Later awards included CMA Entertainer of the Year in 1976, induction into the Nashville Songwriters Hall of Fame in 1976, and induction into the Country Music Hall of Fame in 2007. His family will soon release information about funeral services in Florida and Nashville.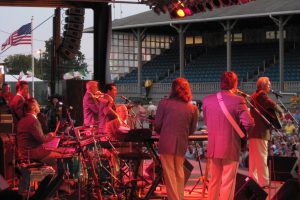 The last time I saw Mel Tillis perform – Maryland in 2008
Eddie Montgomery has decided to continue as a solo act under the Montgomery Gentry name. He will tour to promote the new album, Here's To You, that the duo finished shortly before Troy Gentry died in a helicopter crash in September. "Me and T, we've known each other longer than we've known our wives," Montgomery told People. "Nashville didn't put this duo together, we did. We were friends before we were ever in the music business." He said Vince Gill encouraged him not to quit, saying, "Man, don't shut down on us. The best way to keep Troy alive is to keep going."
Songwriter and musician Mac McAnally suffered a heart attack on November 13 while in Los Angeles. He is the current reigning CMA Musician of the Year and is tied with Chet Akins for earning the title nine times. His publicist told Taste of Country, "He was released from the hospital last week and planning to resume work soon." McAnally belongs to the Nashville Songwriters Hall of Fame, having written hits for Alabama, Kenny Chesney, Shenandoah, Sawyer Brown, and many others. He is a Nashville session musician and a member of Jimmy Buffett's band.
People magazine has named Blake Shelton, 41, as 2017's "Sexiest Man Alive." The 6'5″ Oklahoma native says, "I think to describe myself as a child, one word comes to mind. And that's fat." He's the first country artist ever to receive the award, which has been in existence since 1985. Mel Gibson was the first "Sexiest Man Alive" on the magazine's cover.
The 2017 CMA Entertainer of the Year is Garth Brooks, who now holds the record for winning the award six times. Rolling Stone Country reports Garth "is taking considerable heat" for lip-syncing his performance of "Ask Me How I Know" during the awards show. "We're in the middle of 12 shows in 10 days. Not 10 shows in 12 days, 12 shows in 10 days," he told reporters after rumors began circulating. "We did a game-time call on whether to sing the track or lip-sync, and decided to lip-sync. The voice just isn't there anymore, and you want to represent country music as best you can."
Saving Country Music reports on an award that was announced pre-telecast of the 51st Annual CMA Awards show. Willie Nelson and Glen Campbell won Vocal Event for the Year for their duet of "Funny How Times Slips Away," released on Glen's final album, Adiós. Willie wrote the song that was a hit by Billy Walker in 1961. Glen's last CMA Award had been 1968's Entertainer of the Year. Willie's had been Vocal Event in 2002. Willie also was the first recipient of the Willie Nelson Lifetime Achievement Award in 2012.
During the 2017 CMA Awards show, Miranda Lambert gained attention with her stunning performance of "To Learn Her." She told Rolling Stone Country, "I think it'll stand out just because there's a steel guitar on the stage, and there's not as much of that as there used to be. But that's why I love country music. I hope that people maybe that are new country fans will grab onto that sort of feeling that the old school gives you." Miranda is the most decorated woman in CMA Awards history, with a six-year winning streak as Female Vocalist of the Year. She was this year's most-nominated performer, with five nominations.
"Jesus Is My Pusher" is the title of a new single and video recently released by Margie Singleton, age 82. During her career in the 1950s and 1960s, her biggest hit was "Keeping Up With the Joneses," a duet with Faron Young. She was the first female artist to record a full album with George Jones. As a songwriter, she's written hits for singers such as Charley Pride, Kenny Rogers, Tammy Wynette, and Tom Jones. She wrote "Jesus Is My Pusher" and first recorded it in the 1960s.
Carrie Underwood was hospitalized November 10 after falling on the steps outside her home. A statement by her publicist says she was treated for minor injuries, "including a broken wrist, cuts and abrasions." She had to cancel playing at the Country Rising concert, scheduled to benefit victims of the Las Vegas shooting and of the recent hurricanes. She underwent surgery on November 14 to repair her wrist.
The palatial San Antonio estate of George Strait is on the market. The adobe mansion sits on 12.2 secluded hilltop acres and overlooks downtown San Antonio and the Texas Hill Country. The 7,925-sq. ft. house has 14 masonry fireplaces, three of them outdoors. Property records show the value as $3.9 million. George's daughter-in-law has put together a website with a photographic walkthrough. CultureMap San Antonio reports, "Arizona sculptor-turned-architect Bill Tull, who died in 2000, and his crew relocated to San Antonio for two years to build the Strait estate, which was completed in 1995."
TripAdvisor has named the Johnny Cash Museum number 9 on its list of Top 25 Trending U.S. Attractions for Fall. Opened in Nashville in 2013, the museum is dedicated to Johnny's life and music career. It features his stage costumes, instruments, personal letters, handwritten lyrics, and other artifacts. The Ryman Auditorium is number 2 on the TripAdvisor list, and the Grand Ole Opry number 12. The Grand Canyon is number 1.
The Country Music Hall of Fame opened a new exhibit, Tim McGraw & Faith Hill: Mississippi Woman, Louisiana Man, on November 16. Faith's wedding dress and Tim's Grammy for "Live Like You Were Dying" are two of the many items on display. Tim McGraw and Faith Hill were present for the opening ceremony. "We wouldn't have these opportunities, first and foremost, without the people you see on all the walls," Tim said about the Hall of Fame members. "All the way around this hall — all the plaques and the stories that go along with those, the struggles and the hardship and the never-give-up and the you-gotta-go-do-this that went along with every one of these plaques." Faith thanked the "people we work with that have given their time and dedication, their heart and soul, their belief in us. It takes a village . . . it truly requires incredible hard work, and that is something we learned very quickly when we moved to Nashville." The exhibit runs through June 2018.
LETTERS
Bill Mack writes from Fort Worth, "Thanks for posting the picture of Willie and me in your column. I had never seen that pic before. Also, thanks to Skip Jackson for finding it and sending it to you. Let me repeat: Your column is a 'must' for me and so many others. You are fulfilling a grand assignment when it's needed most."
Dominique "Imperial" Anglares writes from France, "Thanks for that great newsletter. Sad to read about Billy Mize's passing. I wanna pay a little tribute on my Facebook page in the next few days. Here's an interesting information if you don't have read it yet.
Lee Shannon says, "THANK YOU for the mention in your November Newsletter of my newly published book. And, Thank You for the Book Review. I enjoyed writing it. It brought back lots of memories. I was fortunate to have worked with such talented people at those many radio stations, plus those artists I met and interviewed, not to mention all those great Country Music listeners. I always said, If not for them, We deejays would have been out of a job."
Pam Stevens, host of The Legend Country Club, writes, "Thanks for the news and review on Lee Shannon's new book, 38 Years Between The Turntables. I grew up listening to Lee on the great WIRE Radio and he was awesome at what he did. Thanks to you and your newsletter, I am honored to be in touch with him once again. We spoke by phone a few years ago and he remembered me, which I found truly amazing, after these 40-plus years. I am looking forward to reading the book. I now have an Internet radio show of my own, and I'd like to think I learned a little somethin' from one of the masters of the art. I applaud him for completing his book."
Kristy Bruce wonders, "Have you ever considered starting a Faron Young fan group on Facebook? It's so nice to connect with people who have the same interests, and I have known Facebook groups to be a good way to do that. I belong to a fan group for a certain actor/singer, and not only have I met and had conversations with lots of people, but I've also learned so much about the actor that I never would have any other way. Since Faron is my favorite singer, I'd love to see a fan group of some sort going for him and his music. I will think about starting a group myself. By the way, thank you for writing the newsletter. I always look forward to reading it."
Jackie Allen Thomas asks, "Could you please add me to your list of newsletter recipients? I go to the Remar Productions Open Mic at the Ironworks and you were mentioned in the latest newsletter."
Jean Earle writes from England, "Thank you for your latest most interesting newsletter. We were able to watch the funeral of Don Williams on YouTube recently. A very modest affair with what appeared to be just family members present. It was sad but beautiful. The coffin was draped with the Military flag and some thoughtful words were said. I am pleased that we were able to see this…but it made me very sad. I admit I had not known Don had been in the Forces. Don was VERY POPULAR over here in England, such a lovely, quiet man."
June Bourke writes from New Zealand, "Altho' our country is so far away, I soak up the news you send out and pass it on to others, including a couple of D J's here in New Zealand, that only do country music on their radio. Having been to the USA a few years ago, I have more idea of what life is like there musically, as I was lucky to sing while I was over there. We went to the Ol' Opry and the New Ol' Opry, also went to Loretta Lynn's home and saw other Icon's homes etc. It is a journey we will always remember. Thank you for just detail of events for us to read about. Love receiving the e mails."
SONG OF THE WEEK
One of my favorite Mel Tillis songs is "New Patches," written by Tommy Collins and recorded by Mel in 1984 (his last top ten hit). It has a great country classic sound and is a good dance tune. When an old friend tries to set him up with a date, the brokenhearted singer says, "You just don't put new patches on old garments. I don't want no one else on my mind." Tommy got the line from Jesus in Luke 5:36: "No one tears a piece from a new garment and sews it on an old garment."
BOOK REVIEW – STUTTERIN' BOY by MEL TILLIS
When Mel Tillis published his autobiography in 1984, he had just purchased Cedarwood Publishing Company. He wrote, "The Stutterin' Boy from Florida who'd come to Nashville 27 years ago with a pregnant wife and a '49 Mercury with a hole in the windshield bought the company. In 1956 I'd had a $50-a-week draw at Cedarwood. In 1983 I owned it—with the help of my good friends at Commerce Union Bank, and good credit." His life story is told in Stutterin' Boy: The Autobiography of Mel Tillis, which he wrote with the help of Walter Wager. The book closes with a "well-deserved lesson in humility," where he describes attending a football game in Tampa, waiting for the game to start, when the announcer listed some of the celebrities present. The announcer said, "And Mel Tillis is here!" Mel tells us, "There was a great roar, so I stood up and took a bow, smiled and waved at 70,000 people. The shout was for the Tampa Bay Buccaneers charging out onto the field. As soon as I realized that, I sat down—feeling really stupid." As you might expect from master storyteller Mel Tillis, this book is filled with well-told stories. It ends, "To be continued . . ." I'm so sorry we won't be able to read volume two.
COUNTRY MUSIC HALL OF FAME – 1995
One entertainer and one industry executive were placed in the Hall of Fame in 1995. Roger Miller, born in Texas in 1936, was raised by an uncle in Erick, Oklahoma. As a teenager, he drifted through Texas and Oklahoma in search of nightclub work as a country singer. Drafted into the U.S. Army in 1955, he was assigned to Special Services at Fort McPherson, Georgia, where he played fiddle in Faron Young's former band, the Circle A Wranglers. He moved to Nashville after his discharge and became a songwriter. He played fiddle in Minnie Pearl's band, fronted Ray Price's Cherokee Cowboys, and learned to play drums so he could join Faron's Country Deputies. He cowrote songs with George Jones and became lifelong friends with Bill Anderson. His first songwriting success came when Ray Price recorded "Invitation to the Blues." Roger joined Smash Records and went to #1 with "Dang Me" in 1964. That was followed by "King of the Road"–and eleven Grammy awards in 1965-66. He wrote the score for the successful 1985 Broadway play, Big River, based on Mark Twain's Huckleberry Finn. Roger died of cancer in 1992, at age 56. Three years later, he was inducted into the Country Music Hall of Fame.
As executive director of the Country Music Association from 1962 to 1991, Jo Walker-Meador helped build the country music industry from 100 full-time country radio stations to almost 2,400. Edith Josephine Denning, born in Orlinda, Tennessee, was educated at Peabody College in Nashville. She was hired as office manager of the newly organized CMA in 1958, expected to do bookkeeping, typing, and general office duties. When executive director Harry Stone resigned, she assumed his role. Her accomplishments included a national fund-raising drive to build the Country Music Hall of Fame® and Museum, the CMA's annual awards show that has continued since 1967, and Fan Fair, which is now the CMA Music Festival that attracts tens of thousands every year. The CMA has grown from 200 to 7,000 members. Jo retired in 1991 but continued to offer guidance to music executives and assist in preserving CMA history. She died in 2017, at age 93, after suffering a stroke.