FEATURED ARTIST—ERNIE REED
When I called Ernie Reed, it was the day after Mel Tillis's funeral and burial in Clarksville, Tennessee. "I was glad when yesterday ended," he told me. The funeral was a private event for family, friends, and Mel's band, the Statesiders. Ernie had known Mel for 50 years, having first played in the band in 1967. I asked if he'd seen Mel recently. "I saw him in the hospital here in Nashville," he said. "He weighed about 120 pounds." Mel was sleeping, so Ernie sat in a chair and waited. When Mel awoke and saw Ernie, his first words were, "We need some bookings." Ernie responded, "When you get out of that bed, we'll get some bookings."
I first met Ernie in 1975 when he was a Country Deputy and I was a twenty-something Faron Young fan. In 2000, while living in Los Angeles, I drove to Bakersfield to interview Ernie for Faron's biography. He was with Mel Tillis at the Buck Owens Crystal Palace. I most recently saw him, and finally got to meet Mel, in Maryland in 2008.
Ernie arrived in Nashville in 1964, having hitchhiked from Bremerton, Washington, to attend the DJ convention. He worked in warehouses and played occasional gigs for the next four years. "I paid my dues," he says. "Faron was really instrumental in getting fiddles back in country music. When I went to Nashville, nobody was using fiddle. Faron had 'Wonderful World of Women,' and that had fiddle on it, so he asked the guys if they knew any fiddle players." The Deputies invited Ernie to go on the road with them for a weekend in 1968. "My audition with Faron was on stage," he says. Faron paid $35 a day, which was $10 over union scale, and Ernie thought he had it made. He worked with Faron three different times over the years, alternating with being one of Mel Tillis's Statesiders.
After living in Branson during the period it was Mel's base, Ernie moved back to Nashville a few years ago. "I really had to woodshed when I first got here," he explained. "I had been playing on autopilot for so many years. I had to think. It's hard to play when you have to think." He added, "The class of musicians here in Nashville is incredible."
Ernie has a part-time job driving a florist's delivery van three mornings a week. "Just to keep busy," he says. "I'm not much for sitting around." He usually has 3-4 musical gigs per week: "Whoever calls me." He plays regularly with Nick Cross in the rooftop bar at the George Jones museum. Most of those songs are Waylon and Hank Jr. style and were recorded without fiddle. "So I can play what I feel like on them," Ernie says.
He and fellow fiddle player Joe Spivey (of the John Anderson Band and also the Time Jumpers) often go to the Music City Bar & Grill, which is located at the west end of the strip mall that houses the Texas Troubadour Theatre in Music Valley. "That's a heck of a band there," he says about the Music City Playboys. The band plays traditional country but has no fiddle. Ernie and Joe enjoy hollering "No fiddle" whenever they hear a song that was recorded with fiddle. One night they brought their instruments and sat in with the band and played twin fiddle. The pair had never performed together before, but the crowd thought they'd had a lot of practice. "We can both play lead or harmony," Ernie explained to me, and if one of them didn't know a song, the other did. "We're going to work something up and do it once a month," he says.
Ernie has a studio in his house, and he's producing an album for one of the singers in the Music City Playboys. He also plans to release on the Internet a song he wrote and recorded, "Soldier's Christmas."
"I enjoy your newsletter," he told me. "You do a good job on it." When I asked what he wanted readers to know about him, he said, "I'm still around." He added, "I've had a pretty good run." Although, he says, "My body keeps telling me it's 73, but my brain tells me I'm 30." Plus, except for Johnny Bush, "my bosses are all dying–Faron Young, Sammi Smith, Ray Price, and Mel Tillis."
"If you need a band sometime at your VFW, give us a holler," he told me. I asked, "And pay you to come all the way up here?" "Yeah," he said. "We're pretty reasonable."
I only wish I could.
When I met Mel Tillis, Ray Price, and Ernie Reed in Maryland in 2008
REMEMBERING FARON AND MARTY
It's been 35 years since a heart attack took Marty Robbins on December 8, 1982. It's been 21 years since Faron Young took his own life. He died December 10, 1996. We miss them both, remember them fondly, and never tire of listening to their music.
NEWS 
Okie Jones (1930-2017)
Otho "Okie" Eugene Jones, 87, died November 20 at his home in Readyville, Tennessee. He drove the bus for Marty Robbins for ten years, until Marty's 1969 heart attack, and then for Hank Williams Jr. for five years.  A native of Ft. Worth, Texas, he served in the U.S. Army during the Korean War. Okie told me he first met Marty in 1950 at the Grand Ole Opry. "We both started recording for Columbia at the same time," he said. They were friends from then on. "I built him a recording studio and a bunch of stuff," he told me. "I worked at the farm, I worked at his three publishing companies, I drove bus, and I just did everything." Okie is survived by his wife, Madeleine.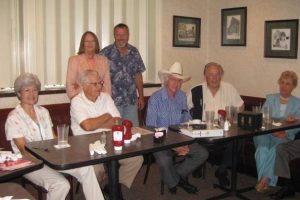 My reunion of Marty Robbins Band members in 2009
The funeral service for Mel Tillis was held at Mt. Hermon Baptist Church in Clarksville, Tennessee, last Monday, and a private burial followed. The cover of the memorial program stated, "In Loving M-M-Memory." Pam Tillis gave a eulogy and read a letter from Dolly Parton. Carrie Tillis performed gospel music. An earlier service had taken place at the Ocklawaha Bridge Baptist Church in Silver Springs, Florida, on November 25. The Tillis family will hold a public memorial for fans and the music industry in Nashville in January.
New York Times announces a new Southern-themed restaurant and concert space opening in Times Square. The four-story Opry City Stage is the first-ever satellite of the Grand Ole Opry. It has a retail shop on the ground floor with restaurants and performance spaces on the floors above. The lower stage, with an arched mezzanine and stained-glass windows, is modeled on the Ryman Auditorium. The Studio stage will feature national acts. Opry memorabilia is displayed throughout, and live music every evening will focus on original material rather than cover bands.
The Atlanta Country Music Hall of Fame has inducted Margie Singleton, 82, as its newest member. She joins fellow Georgians, Alan Jackson, Bobby G. Rice, Mac Wiseman, her late husband, Leon Ashley, and many others. "I'm so honored and thankful to be recognized," Margie said during the ceremony.
The Tennessean reports that Glen Campbell excluded three of his children from his estate. The 13-page will, dated September 1, 2006, was recently filed in Davidson Probate Court in Nashville. It says Glen was "specifically excluding" daughter Kelli and sons William and Wesley from receiving anything under the will or a related trust. His wife, Kim, was named executor. The five other children are Debra Cloyd and Dillon, Nicklaus, Shannon and Ashley Campbell. Kim is the mother of three, with five coming from Glen's earlier marriages. A hearing scheduled for January 18 is expected to be the beginning of a lengthy court battle over the $50 million estate.
The wax figure of Randy Travis was unveiled on December 1 at Madame Tussauds Nashville. More than 50 wax figures of artists representing all musical genres are displayed there. Randy was present for the unveiling.
Tennessean photo
Metro law in Nashville has long banned home businesses of all kinds, according to The Tennessean, including the professional home recording studios that are common in Music City. Record producer Lij Shaw and hair stylist Pat Raynor are filing a lawsuit to challenge that ban. Shaw, who lives in East Nashville and produces numerous artists, has received notices from the Metro Codes Department that his recording studio violates the city code. Both Shaw and Raynor had applied for special zoning exemptions and were rejected. "Neighborhood advocates argue that home businesses create quality of life nuisances, including noise and taking up street parking," The Tennessean says.
The Texas Legislative Conference, a nonpartisan organization of Texas politicians and business leaders focusing on public policy issues, has named George Strait the 2018 Texan of the Year. The award honors his efforts in raising more than $50 million to aid Hurricane Harvey victims. It will be presented during a reception on March 22 in New Braunfels, according to CMT.com. "No one has done more than George Strait to raise awareness and funds for the Hurricane Harvey relief efforts," says former Texas State Representative and Conference Chair Doug Miller. "He put his well-earned reputation on the line and asked not only his fellow Texans to step up, but all Americans. And they have." Previous recipients include George W. Bush, Laura Bush, George H.W. Bush, Barbara Bush, and Ray Benson.
Texas officials have released the video footage of the DWI arrest of Randy Travis, Nash Country Daily reports. The three-hour video, filmed by police after Randy crashed his 1988 Trans Am in 2012, shows Randy naked and acting belligerent toward the officers. Randy's legal team is suing the State of Texas for violation of his civil rights.
The latest Garth Brooks single, "Ask Me How I Know," has reached the top of the Billboard Country Airplay and Country Aircheck/Mediabase Country Airplay charts. Taste of Country reports this is Garth's 20th chart-topping single. His most recent was "More Than a Memory" in 2007. "Congrats to Mitch Rossell on his first cut," Garth said in a press release. "And to country radio…four decades later, thanks for still believing. I'm humbled and very grateful."
Starstruck Farms, the former Nashville-area residence of Reba McEntire, is being transformed into a bed & breakfast and event venue. The Tennessean reports a buyer signed a contract to buy the property and open it up for others to enjoy. The 13,000-square-foot mansion contains an in-ground pool, tennis courts, and home theater. A guest house and six-stall barn are located on the 83-acre estate.
LETTERS
Eric Calhoun writes, "Great tribute to Mel Tillis! As someone in Los Angeles devoid of classic country, except for Sundays on KKGO, Go Country 105, his songs are a must-hear. Nice to see Bill Mack's doing well."
Jackie Allen Thomas says, "Thank you so much for this great newsletter. Love reading the information about the country music people and especially the obits when someone like Mel Tillis has passed away. So interesting to read about his career."
Gerald Walton writes from Oklahoma City, "Was sorry to hear about Mel Tillis. I saw him at the Sugar Creek Casino in Hinton, Oklahoma, in 2015. He put on a great show."
Richard Spooner in the UK says, "Very sad to hear of the passing of Mel Tillis, my all-time favourite singer of real country music. He and his band were the ultimate providers of music and of course entertainment. Mel turned a serious problem into a show-making comedy routine. I sadly never got to see him live, one of my all-time disappointments, but will treasure the music forever. RIP Mel you taught me from afar what a real good song was."
Carolyn Berry writes, "Thank you so much for the newsletter. I learn so much from reading it."
Lee Shannon writes, "I have a 'Diane's Country Music Newsletter' file where I store each one after reading it. For some reason, I do not have the one where you reviewed my book, My 38 Years Between the Country Music Turntables. Probably my fault. After forwarding your newsletter to some of my DJ buddies I most likely forgot to file it. Could you please re-send that copy to me?"
Terry Beene reports from Branson, Missouri: "The Terry Awards was held in Branson Oct 8,2017. "It was a sold-out house at the Starlite Theatre. After having it in Fort Worth, Texas, for 35 years and moved to Branson four years ago, it has become one of the biggest nights of the year in Branson. Over 1,000 guests and entertainers were on hand for the star-studded night. Next year will mark our 40th year of the Terry Awards will be held at the Starlite Theatre on Oct 7. Thank you, Diane, for all you do for Country Music."
Cheryl Meister in Columbia, Missouri, requests, "I would very much appreciate being added to Diane's Country Music Newsletter."
David Markham, Country Music Promoter in England, says, "Thank you for your Newsletter. If you talk with Bill Mack, would you mention to him I have a live recording when he interviewed Marty Robbins, from my friend Juanita Buckley, owner of The Friends of Marty Robbins Museum. I helped her get permission to get it done from the mayor of Glendale, Arizona. Sad about Mel he was my friend for 20 years. He sent me all his family photographs and all his grandchildren. If my life story ever gets done, I'll have lots to show about my love in country."
COUNTRY MUSIC HALL OF FAME – 1996
Best known for her 1935 recording of "I Wanna Be a Cowboy's Sweetheart," Patsy Montana was born Ruby Blevins in Arkansas. The skilled guitarist and fiddler moved to California as a teenager and won a talent contest singing Jimmie Rodgers songs. She renamed herself Patsy Montana, the Yodeling Cowgirl, and she dressed the part. Originally a member of the Montana Cowgirls, she became a solo artist in 1940. She had her own network radio show in 1946-47, and was a regular on the Louisiana Hayride in 1948. She continued to tour and perform throughout her life. Patsy Montana died in 1996, at age 87, a few months before her induction into the Country Music Hall of Fame.
Alvis Edgar Owens Jr. grew up as the son of North Texas sharecroppers who moved to Arizona in 1937, hoping for better times. Known as Buck Owens, he began playing in Phoenix honky-tonks to escape the poverty. In 1951, he moved to Bakersfield, California, where he played lead guitar and sang for the house band at the Blackboard until 1958. He became a session guitarist at Capitol Records studios in Los Angeles, and producer Ken Nelson signed him to Capitol in 1957. Then came 19 number one Billboard hits during the 1960s. Buck recorded with his road band, the Buckaroos, thus controlling his music production. Its distinctive sound was largely due to the musicianship of bandleader Don Rich. Buck also kept tight control of his business interests, which included a music publishing company and numerous radio stations. After starring as cohost of Hee Haw for many years, he recorded his last number one chart hit in1988, a duet with Dwight Yoakam on "Streets of Bakersfield." Buck opened a dinner club, the Crystal Palace, in 1996 in Bakersfield, on a street renamed Buck Owens Boulevard. His last performance there was the night before his death in 2006. He died of heart failure at age 76, at his ranch just north of Bakersfield.
When Ray Price developed his rhythmic brand of honky-tonk in the late 1950s, he changed the sound of country music and earned himself four number one Billboard hits. Then, in the late 1960s, he moved to pop-oriented music with full orchestration. That alienated many old fans while bringing in many new ones. "Danny Boy" kicked off the phase that culminated in four more number ones. Ray was born near Perryville in East Texas in 1926, and he grew up moving between his father's farm there and his mother's house in Dallas. He served in the Marine Corps during World War II and then attended college with the goal of becoming a veterinarian. But he started singing on programs such as the Big D Jamboree, and he met Hank Williams. In January 1952, he moved to Hank's house in Nashville, joined the Grand Ole Opry, and used the Drifting Cowboys to back his performances. He later formed the Cherokee Cowboys band, with Willie Nelson, Roger Miller, Johnny Paycheck, Darrell McCall, and Ernie Reed as a few of his band members over the years.  He became part owner of Pamper Music, which included Willie Nelson, Harlan Howard, and Hank Cochran as writers. Ray Price died in 2013, at age 87, a year after his announcement that he had been diagnosed with pancreatic cancer.