NEWS
George Hamilton IV, age 77, died the afternoon of September 17. He had been in critical condition at St Thomas Midtown Hospital in Nashville since suffering a heart attack four days earlier. George was born in Winston-Salem, North Carolina, on July 19, 1937. He moved to Nashville in 1959 and became a member of the Grand Ole Opry in 1960. He was known as "the international ambassador of country music." His hits included "Abilene," "Break My Mind," and "Early Morning Rain." A memorial service is being held today at the Ryman Auditorium at 11 a.m. It is open to the public.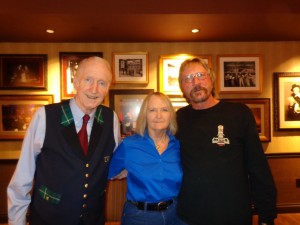 Backstage at the Opry in May 2013: George, me, Perry
Country Music Nation posted "the first video footage" of Randy Travis in public since his stroke. He and his fiancée, Mary Davis, recently attended a Four Rivers Outreach fundraising event in Denison, Texas. (Randy performed at last year's event.) In the video, he doesn't talk, and he moves slowly, but he looks great. Click on this link and scroll down below the article to see the video: http://countrymusicnation.com/first-video-randy-travis-since-stroke-surfaces-52681#qw0lW4J8HIT8RPx7.99
Ten guitars and an amplifier belonging to singer-songwriter Radney Foster were stolen from a storage unit in Nashville. He posted a list, complete with serial numbers and background information, on his Facebook page. Eight have been recovered, thanks to his social media friends. Rolling Stone reports that someone in Dallas saw the Facebook post and sent a text to songwriter Jon Randall in Nashville. Randall was near a guitar shop where he spotted the missing J-45 guitar. It was the first one recovered. One of those not yet found is Foster's black Gibson J-30, which was a gift from the RCA Nashville label when he was in the duo Foster and Lloyd.
Performing rights organization Broadcast Music, Inc. (BMI) has named Vince Gill as the winner of this year's BMI Icon Award, which honors songwriters who have had "a unique and indelible influence on generations of music makers." According to The Tennessean, the award will be presented on November 4 during BMI's invitation-only awards show at its Music Row office. Songwriters and publishers of BMI's most-performed country songs of the previous year are recognized during the annual event. Previous Icon winners include Dean Dillon, Tom T. Hall, Kris Kristofferson, Willie Nelson, Hank Williams Jr., Merle Haggard, Dolly Parton and Loretta Lynn.
Elizabeth Olsen, 25, will play Audrey Williams in the movie, I Saw The Light. Audrey, the ex-wife of Hank Williams, died in 1975 at age 52. Hank, who will be portrayed by Tom Hiddleston, died in 1953 at age 29. Elizabeth is the younger sister of Mary Kate and Ashley Olsen.
During the eighth annual ACM Honors at Ryman Auditorium, Carrie Underwood was presented with the Gene Weed Special Achievement Award. As explained in The Tennessean, "The ACM Honors ceremony is an evening of awards presentations and performances to honor the Academy of Country Music's non-televised winners from the 49th annual Academy of Country Music Awards." Ronnie Milsap and Toby Keith won Career Achievement Awards. The three-hour program closed with a presentation of the Academy of Country Music's Poet's Award, given to Dean Dillon and Kris Kristofferson and posthumously to Jack Clement and Buck Owens.
Guests at the grand opening of a Nashville restaurant and live music club were surprised when Alan Jackson stepped onstage for an unannounced performance. He was a primary investor in the multi-million dollar renovations of Acme Feed & Seed, a century-old brick Victorian building in the heart of Nashville. Alan told People magazine, "I love old things. I love old cars, old boats, old music and old buildings."
Lynn Anderson, 66, was involved in an automobile crash the evening of September 12 on West End Avenue in Nashville. She was arrested and charged with DUI. The arrest warrant said she showed signs of impairment and that she admitted to drinking alcohol and taking prescription medicine. She was released on $5,000 bond and is scheduled to appear in court on November 20.
Last week Jeannie Seely celebrated her 47th anniversary as a member of the Grand Ole Opry.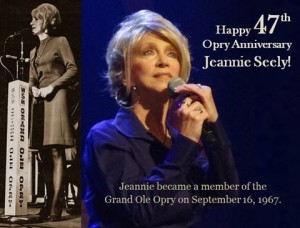 At the 13th annual Americana Honors and Awards Show, Loretta Lynn was presented with a lifetime achievement award. The event took place at the Ryman Auditorium in Nashville on September 17, and Loretta sang "Coal Miner's Daughter" to commemorate the first time she played that legendary Opry stage—exactly 54 years ago.
Marty Robbins would be 89 years old this week. He is no longer with us, but his great-granddaughter is: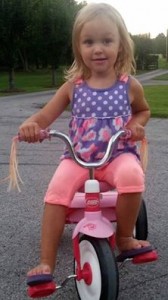 LETTERS
Tom Barton writes, "Good morning, Diane! Great job with the newsletter! Regarding Johnny Western, I wonder if he would be willing to share some of his stories through your newsletter. Perhaps there are others who have little stories about Marty and Faron to offer."
Jean Earle mourns the death of George Hamilton IV: "Such a shame, George was such a lovely man."
Aileen Arledge says, "I enjoyed the article from Janet McBride in your last letter. You followed her story with an article about Jan Howard's autobiography. I met Jan Howard years ago in Nashville when I knew Faron and she was married to Harlan. Love your letters."
Tom Kimsey writes, "The book on Jan was a great inspiration to me, my motto is 'Life is Good,' this book helped me understand better that life for some is not, but know Jan overcame."
Alan Potter in the U.K. says, "As usual a wonderful read your column. It was nice to see Janet McBride's letter, I still play her on my radio shows…very underrated singer. And to see Terry Counts writing in again. She's a font of country music knowledge & a lovely lady. Thanks for all the info."
Terry Counts says, "Hiya again! Another great issue…but I got so mad at Randy Travis's home town over taking down his welcome…what hypocrites they are, if he was still up and at it and hadn't had the affair (which is what this is all about) and the stroke they would have either kept the sign or made a new one just like it. Goes to show…love you when you're up and forget you when you're down. BOO AND HISS TO THEM…I WOULD NEVER VISIT THAT TOWN, EVER!"
June Thompson writes, "I received your country newsletter through a list I am on, but I want to get it for myself. I am an old country fan from away back. At sixty, I remember a lot of the oldies as that is mostly what I listened to for the first few years of my life. Thanks, and I really enjoyed your newsletter."
Mary Mitchell writes from Woodland Park, Colorado, "Two things I want to mention. Seat Belts are so important. The first thing I do is put on my seat belt before I start my car. Secondly, am so pleased to read that Merle Haggard is recording. I just can't imagine what better he can do. Been a fan of his for years. Beat cancer, aging as we all do and continues to move forward. God Bless him. Thanks for the letter. I enjoy them so much."
Joe Arnold of Roughshod Records says, "We find your Newsletter very interesting. Mike Johnson has known a good number of the independent artists and writers you've featured. From 1995 to 2003 we published the Top-Rail Chatter Independent Country Music Magazine and featured many indies. We are currently wrapping up our 48th, 49th and 50th CDs, featuring Johnson, and our brilliant young musician, James Adelsberger. http://roughshodrecords.webs.com"
Sam Atchley reports, "Jerry Max Lane, composer of George Strait's 'In Too Deep To Pull Out Now' and 'She's About As Gone As a Girl Can Get' passed away Saturday, Sept. 6. Jerry also wrote songs recorded by Webb Pierce and Charley Pride. Funeral was Monday Sept. 15 at Greenwood Funeral Home and Cemetery in Fort Worth, Texas."
QUESTION OF THE WEEK
What should be the process (and criteria) for selecting Country Music Hall of Fame members?
BOOK REVIEW – PRIDE: THE CHARLEY PRIDE STORY
I was somewhere in an airport bookstore in 1996 when I spied Charley Pride's photo on a book cover. It was his autobiography, PRIDE: The Charley Pride Story, written with Jim Henderson, and it provided an enjoyable read for the rest of the trip. It later served as source material when I wrote Faron's biography, as I was never able to contact Charley. He talks about being manic-depressive and why he takes lithium; he learned his lesson about the importance of regular medication. He describes his transition from baseball to country music, and the racial discrimination he worked to overcome. "We're not color blind yet," he writes, "but we've advanced a few paces along the path and I like to think I've contributed something to that progress." He gives much credit to wife Rozene for his success. All in all, it's a good story, one that classic country fans will enjoy reading.