FEATURED ARTIST – RONNY ROBBINS
When I asked Ronny Robbins the other day if he still tours, he said he stopped in 1985 when daughter Courtney was born. "I knew what it felt like for Dad to be gone 200 days a year and I never wanted her to know what that felt like," he said. He had been on the road with the Marty Robbins Band for the three years after his dad's death in 1982. "I've done a couple of the 'Children of. . .' events through the years here locally in Nashville," he told me. "They're fun but not something I want to do on a regular basis. I'm getting a little old for that."
He still owns Mariposa Music, and he also owns an office building and manages it as a commercial rental property. His "one-year investment" in 1988 turned into a long-term job.
Ronny talked about copyright and ownership issues involved in new releases of Marty Robbins music. Because Marty was under contract as a recording artist, Columbia/SONY/CBS owns and controls all those audio masters. Ronny owns several of the TV shows, and he issued The Drifter and The Best Of The Marty Robbins Shows on VHS in the early 1990s.
"Song licensing for video is a little different than audio recordings," he explains. "You normally have to negotiate with the publisher for each song and pay an advance based on a 5000-unit guarantee for a 7-year license. Multiply that by 20 or more songs per volume and that's a lot of money going out the door before you sell your first VHS." Plus, there was the cost of duplicating 5000 units. By the time DVDs became cost-effective, Ronny had paid for two 7-year licensing cycles and still had stock on the shelves. So he decided not to spend $32,000 on a new set of advances to begin issuing DVDs.
He partnered several years ago with Larry Black/Gabriel Communications/Country Family Reunion to issue the Marty Robbins Spotlight shows. "They had the licensing/marketing teams in place to advertise, duplicate, and fulfil the orders," he says, "something I could not do on my own. It has been a real blessing to us and I think they have been happy with the response." The Volume I and II packages are still being marketed. The website for the Country Family Reunion/Larry's Country Diner TV shows, which air on RFD Channel 345 on DirectTV, is www.cfrvideos.com. "The Spotlight shows are available there," Ronny says, "along with all the Reunion shows, any of which, need to be in your collection as they are all incredible shows."
I mentioned I'd seen the birthday note he posted to little sister Janet on Facebook in January. "She stays pretty private," he said. "I wasn't totally sure how she would react to me posting the early pictures. Dad might have been more upset about me putting up a picture of him in his pajamas." I then asked about his granddaughter, and he said, "Brooklynn is growing like a weed, 5 years old going on 12."
Ronny thanked me for my newsletter, saying, "It's about the only way I find out what's going on in real Country Music anymore." Here is his message to my newsletter readers: "Thank you for all the years of support and helping keep Dad's memory alive."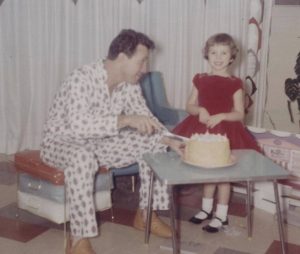 NEWS 
Bob Wooton, 75, a member of the Rockabilly Hall of Fame, died April 9 in Gallatin, Tennessee. He became Johnny Cash's guitar player in 1968, following the house fire that killed Luther Perkins. He stayed with the band for three decades, until Johnny retired from touring in 1997. Bob continued to perform and record. His last album, Guaranteed Cash, was released in 2012.
A defamation lawsuit filed by Blake Shelton against In Touch magazine has been amicably resolved, with both sides paying their own litigation costs. According to AP News, the request for dismissal did not include settlement details. The magazine's September 2015 cover story, "Rehab for Blake," included descriptions of Blake's alleged drunken behavior. He denied the stories.
NBC's The Voice has a new key adviser this week. Shania Twain has joined the show to provide support to the Top 12 contestants. Previous advisors worked with teams rather than all the contestants. Shania won CMT's Artist of a Lifetime honor in 2016 and is working on a new album. "I'm a different singer now," she told Rolling Stone Country while discussing her diagnosis with the vocal cord disorder dysphonia. "There was a lot of coming to terms with that. It's been one of the obstacles in my life I've just had to learn to live with."
Loretta Lynn celebrated her 85th birthday with Friday/Saturday performances at the Ryman Auditorium. On the sold-out first night, she sang 90 minutes of hits, from her first single, "I'm a Honky Tonk Girl" (1960), to her latest release, "Wouldn't It Be Great." It was the first time she and her band performed that song in public. "I might not know all the words," she said, "but I'll give it a dadgum good try." Her sisters, Crystal Gayle and Peggy Sue, then joined her onstage for several unrehearsed songs.
A heart problem forced Billy Joe Shaver, 77, to cancel his April 14-15 shows in Texas. His guitar player and tour manager, Jeremy Lynn Woodall, posted on Facebook: "Y'all pray for Billy Joe. He's been admitted to the hospital regarding his heart." Saving Country Music reports that Billy Joe tours regularly, while occasionally canceling shows for health reasons. Ailments in recent years include issues with his shoulder, knees, and hip. He lives near Waco, and his 2014 album, Long In The Tooth, was his all-time highest-charting record.
Cal Campbell recently talked about his father, Glen Campbell, on the CareLiving.org website. "This year's birthday gift from my father will be the same as it's been for the last 6 years," he wrote. "Another year of living my life as a musician and producer, of enjoying the privilege of playing and singing and providing enjoyment and entertainment . . .  another year to spend with my family. . .. And for now, as long as he is still here in body and spirit, the gift of another year with my father."
Diane Jordan in Nashville and Johnny Western in Arizona are letting people know their friend, singer-comedian Leon Douglas, has been stricken with Stage 4 cancer of the esophagus. He is in Nashville, going through chemo, radiation, and surgery. He toured with Johnny on the Hap Peebles tours, including South Dakota, in the mid-60s. He starred on the WWVA Barn Dance in Wheeling, West Virginia, for twenty years. "Leon is not a big name who will get attention from the media," Johnny says. "I wish you could have seen him on stage. He was great. As you can guess, with any kind of cancer, the expenses are unreal. I hate asking favors of old friends, but this is really a special need for this guy who has been in country music for so long. I feel so helpless being out of the loop for the past 3 years since I retired. I don't know if he is going to make it but we've got to try." Johnny and Diane would be grateful for any donations made to Leon's "go fund me" page at https://www.gofundme.com/leon-douglas-cancer-treatments.
The State of Missouri unveiled the Leroy Van Dyke Highway sign this past weekend in Sedalia, Missouri, during an event attended by Missouri dignitaries. "This is a humbling event and my thanks to all who made it possible," said Leroy Van Dyke, a Missouri native. "I've always been proud of Sedalia, and always will be." His name will be on a portion of 50 Highway, west of the intersection of Highways 50 and 65 in Sedalia.
A new class at the University of Tennessee in Knoxville is called "Dolly Parton's America: From Sevierville to the World." The course is part of the honors history program and will use the life of Dolly Parton to examine how Appalachian people are portrayed in society. Course material will include her autobiography, Dolly: My Life, as well as The Beverly Hillbillies and Coal Miner's Daughter. Dolly received an honorary doctorate from UT Knoxville in 2009.
Never Look at the Empty Seats is the title of an upcoming memoir by Charlie Daniels. "Quite a bit is known about my public life but there is so much more I've wanted to share," Taste of Country quotes him as saying. "My early years, my faith, my struggles and the unique people and events which have had such an impact on who I am and what I do." The book will include rare photos from his 80 years.
LETTERS
Cowboy Joe Babcock writes from Nashville, "In answer to David's question as to why Marty Robbins never recorded 'I Washed My Hands In Muddy Water.' here is the story. I sang the song to Vic McAlpine, Marty's song plugger, up at the Opry one Saturday night shortly after I wrote it. Vic said, 'Get me a copy of that, Joe, and I'll plug it.' So Okey Jones and I cut a simple demo of it on Monday and gave it to Vic. He took it over to a record company and left it in their box. Later that day he found out Stonewall Jackson was cutting real soon so he went back, snuck it out of the box, and gave it to Stonewall's producer. They snatched it up right away and Stonewall cut it. One of the boys on the session came over to the office and told me, 'Joe, we've just cut a hit song of yours.' I said, 'Great, what's the name of it?' When they told me it was Muddy Water, I said, 'Well, I can write a hundred of those in the next couple months.' I've been trying ever since. I don't know if Vic even showed it to Marty, but Marty told me later that it was a great song but just not his style. Well, he got to publish it anyway. Ronny Robbins told me it was the biggest seller in their company outside of Marty's own compositions. I guess Elvis's record of it doesn't hurt the sales."
Kate Davis in Medford, Oregon, says, "Oh, my gosh, what great news about Gunfighter Ballads and Trail Songs! I can't believe it's taken this long to receive that recognition. Thanks for yet another great newsletter."
Dominique "Imperial" Anglares writes from France, "Thank you very much for that newsletter and to have turned the spotlight on Geoff Mack. Very interesting. I am wondering when you worked about Faron's musical journey if you ever came with something about Tibby Edwards. He became a regular Louisiana Hayride performer in December 1952 and was a recording artist for Mercury. That little Cajun was very popular but never got any action in the chart. By 1961 his career was over and he passed away on September 21, 1999, living in Baton Rouge. I am working something to give him a long overdue posthumous recognition. For some reason, Tibby is quite forgotten but it happened to many Louisiana Hayriders.
Diane: No, I don't recall hearing of him.
Bill Hyatt says, "For Alan Potter in the U.K.–Wynn Stewart and LeRoy Van Dyke were from the great state of Missouri where I was born. In fact, I am almost kin with Wynn. My mother's first cousin married a cousin of Wynn's. I always considered The Man with the most beautiful voice in Country Music as family."
Cal Sharp, former Country Deputy steel guitarist, responds to "George Strait, Taylor Swift, and Garth Brooks each get over a million dollars.": "Ha! They'd have to pay me to go see those last two. I'd take $200 plus food and booze and transportation, like a road gig. Faron used to book out much more reasonably, at around 3 or 4 grand, as I remember. No wonder I could only afford to change strings once a year."
Alan Delbalso says, "Please thank Don for responding to my letter. Yes, I have Marion Worth's 1964 album along with Don Mclean and Don Edwards. I was hoping for Vince Gill, Alan Jackson, etc. Hopefully someday…"
Jim Samon writes, "I saw your newsletter on a list and would love to be on your list. I've been a country fan since I was a kid and WMAQ in Chicago went country a long time ago. I now live in northern Minnesota and get Willie's Road House on my Sirius XM satellite."
Mary Mitchell requests, "Please give Alan Potter my e-mail. Would love to hear Leroy Van Dyke and Wynn Stewart. Thanks a bunch Alan."
Dean Mann in Sioux Falls says, "Another very interesting newsletter. Keep up the good work. I still have a lot of trouble understanding why Dottie West is not voted into the Hall of Fame. She seems more deserving than some."
COUNTRY MUSIC HALL OF FAME – 1977 and 1978
The only person elected to the Country Music Hall of Fame in 1977 was Merle Travis, the innovative guitarist who influenced musicians from Chet Atkins to the present. A farmer's son in Kentucky coal country, he began developing his unique guitar picking style at age 12.  After serving in the Civilian Conservation Corps program in 1936, he moved to California, where he started working with Cliffie Stone at Capitol Records. He had a number one hit with "Divorce Me C.O.D." in 1947, followed by "So Round, So Firm, So Fully Packed." In 1955, Tennessee Ernie Ford brought him fame by recording a song he wrote in 1946: "Sixteen Tons." Merle designed an electric Spanish solid-body guitar in 1948 and had it built by steel guitar builder Paul Bigsby. After his Hall of Fame induction, he lived in eastern Oklahoma, until he suffered a massive coronary in 1983 and died in an Oklahoma hospital at the age of 65.
Louis Marshall Jones, better known as Grandpa Jones, entered the Hall of Fame in 1978, while a cast member of Hee Haw. The son of a Kentucky tobacco farmer, he met Bradley Kincaid in l935 when they worked together at a Boston radio station. Kincaid called him Grandpa because he sounded old and grouchy on the radio. He put on a costume and fake mustache and became Grandpa Jones at age 22. He joined with the Delmore Brothers and Merle Travis to form an early gospel quartet, the Brown's Ferry Four. Grandpa married Ramona Riggins in l946, and they moved to Nashville, where he joined the Grand Ole Opry. He celebrated his fiftieth Opry anniversary in l997. Minutes after finishing an Opry performance on January 3, 1998, Grandpa had a severe stroke. He died six weeks later at age 84.