NEWS
2017 inductees to the Country Music Hall of Fame are Jerry Reed as the veteran era artist, Don Schlitz as songwriter, and Alan Jackson in the modern era artist. Vince Gill announced the winners at a ceremony at the Hall on April 5, 2017.
The National Recording Preservation Board of the Library of Congress adds 25 titles every year to its National Recording Registry. This year's list of "culturally, historically, or aesthetically significant" recordings was announced on March 29. It included Judy Garland's "Over the Rainbow," Don McLean's "American Pie," a 1957 Brooklyn Dodgers/New York Giants game announced by Vin Scully — and the 1959 Gunfighter Ballads and Trail Songs album by Marty Robbins.
The fiddle player and guitarist for Alabama, Jeff Cook, has announced he is suffering from Parkinson's disease, a progressive nervous system disorder that causes tremors and affects movement. He was diagnosed four years ago, but he and bandmates Randy Owen and Teddy Gentry kept it private until now. "This disease robs you of your coordination, your balance, and causes tremors," Cook read in a statement to USA TODAY Network journalists. "For me, this has made it extremely frustrating to try and play guitar, fiddle or sing. . . . I'm not calling it quits but sometimes our bodies dictate what we have to do, and mine is telling me it's time to take a break and heal." His first clue about having a problem came when he couldn't accurately cast his fishing lure. When he struggled to hit guitar notes, he thought he might have a pinched nerve. Randy and Teddy thought he had suffered a stroke. Jeff plans to play Alabama's May 27 concert in Orange Beach, Alabama, and will then sing when he feels like it. His bandmates say his microphone will always be on stage, whether or not he's there to use it.
Leiper's Fork in Tennessee's Williamson County has added another country singer to its community, according to The Tennessean. Chris Stapleton recently paid $5.625 million for his sprawling estate of 311 acres. He joins fellow residents Tim McGraw and Faith Hill, Alan Jackson, Keith Urban and Nicole Kidman, Mike Fisher and Carrie Underwood, and Garth Brooks and Trisha Yearwood.
The Country Music Hall of Fame and Museum celebrated its 50th anniversary on April 1. The Tennessean reported that fans paid $1.50 for admission, the same price a ticket cost on the museum's opening day in 1967.
Bill Anderson writes on his website that his grandson, for the past several years, has been battling a rare type of cancer. "Gabe is now twelve years old," Bill says, "and a straight-A student in middle school, in spite of the fact he misses at least one week every month as he deals with his chemo treatments." He has had 29 of them; the record before he started was 18. When the doctor explained this, Gabe responded, "So you are telling me I broke a world record with the most treatments of this medicine!" As he continues taking chemo pills, his parents are looking into different options, such as taking him to California to see a Stanford University oncologist who specializes in this form of cancer.
On the first anniversary of his death, and what would have been his 80th birthday, April 6, Merle Haggard was honored by a three-hour tribute show and concert taping in Nashville. The Tennessean reports that 18,000 fans packed into Bridgestone Arena for Sing Me Back Home: The Music of Merle Haggard. Ben Haggard, who started playing lead guitar in his father's band at age 15, opened the show with "What Am I Gonna Do (With the Rest of My Life)." He and the Strangers backed artists such as Bobby Bare (singing "I'm a Lonesome Fugitive"), Connie Smith ("That's the Way Love Goes"), John Anderson ("Big City"), Toby Keith ("Daddy Frank the Guitar Man"), and Tanya Tucker ("The Farmer's Daughter"). Rolling Stone Country reports, "Keith Richards, John Mellencamp, Billy Gibbons and Lynyrd Skynyrd represented the rock contingent, while Kenny Chesney, Kacey Musgraves, Dierks Bentley and, of course, Haggard's running buddy Willie Nelson stepped up for country."
A ribbon-cutting ceremony on April 6 opened the new Patsy Cline Museum, located on the second floor of the Johnny Cash Museum on Third Avenue, not far from Tootsie's Orchid Lounge. Museum co-founder Bill Miller, Nashville Mayor Megan Barry, and Patsy's daughter, Julie Fudge, were among those present. Many of the artifacts had been saved by Patsy's widower, Charlie Dick; they include awards, furniture, ashtrays and a still-running refrigerator. The Tennessean reports, "Stage costumes (many of which were designed by Cline and sewn by her mother), correspondence and record albums line the walls. Cline's wedding photo album and scrapbook are behind glass; visitors can page through them on computer screens in front of the display."
An April 8 post on Facebook by Asleep At the Wheel says, "It is with great sadness that we share the news of the passing of our dear friend and longtime collaborator/band member of AATW, 'The Professor' Tim Alexander. Tim was a driving force in the band, from the moment he joined in the early '80s. After he left AATW, he continued to perform and record out of the DFW area. So much to say and so many memories, but at this time we find ourselves at a loss for words." I recall seeing the group at the Birchmere in Virginia, and I was so impressed by the piano playing that I always remembered the name Tim Alexander. I haven't heard any details of his death.
Stacy Harris writes in Stacy's Music Row Report about attending President Donald Trump's recent rally at Nashville's Municipal Auditorium. She sat five rows from the front of the stage, where she watched the musical performances before the President's speech. The Gatlins (Rudy, Steve and Larry) sang "Houston," "All the Gold in California," and several of their other hits. Lee Greenwood sang "God Bless the USA" and then introduced President Trump to the crowd, Stacy writes.
How much does it cost to book your favorite country star? The Branson Travel Office and Pricenomics.com worked together to identify the approximate rates of over 200 country music stars and groups. George Strait, Taylor Swift, and Garth Brooks each get over a million dollars. Here's the whole list: https://traveloffice.org/blog/branson/country-star-prices
Taste of Country reports on an interview at SiriusXM's Music City Theatre in Nashville last week, where Willie Nelson shared a song from his new album, God's Problem Child. He and Buddy Cannon wrote "Still Not Dead" as a response to all the online stories about his death. "I woke up still not dead again today," the song begins. "The internet said I had passed away. If I died, I wasn't dead to stay, I woke up still not dead again today." He says those fake stories began when "On the Road Again" was a hit. "Somebody came out with the joke, well you know Willie was out singing on the road again and got hit by a truck," he explains. "That was what, 30 years ago, so every now and then somebody comes up with another Willie's dead story."
Kern Pioneer Village in Bakersfield, California, opened the boyhood boxcar home of Merle Haggard to the public on April 8. This inaugural Boxcar Festival drew over 2,000 people, Bakersfield.com reports, and an additional 11,000 watched a live video stream of the ceremony on the internet. Kern County Supervisor Mike Maggard thanked the three women who helped get the project off the ground, as he remembered his doubts when they'd approached him about their plan: "I thought, I don't think that's going to happen after looking at the house in Oildale." It was that dilapidated by 2015. Joe Hughes, chairman of the museum foundation, recalled when his own father came for a visit, and asked, "Do you know where Merle Haggard's boxcar house is?" Hughes had no idea. His father said, 'How can you live in Bakersfield and not know?" Now everyone can find the restored home.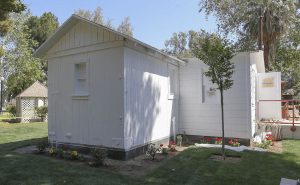 LETTERS
David Corne writes from the UK, "Regarding your last newsletter letter from Alan del Balso, asking who out of the modern crop of singers could actually do a tribute album to Marty Robbins? It would be a pretty tall order. Maybe Raul Malo or Billy Dean perhaps. I have 4 different albums from previous years of singers who have devoted a whole album to the great man himself and 3 are coincidentally all 'Dons' as in Don Edwards, Don Winters and Don McLean. All it needs now is for 'The Donald' in the White House to make it a quartet, but somehow I don't think it will happen! Now Ain't I Right?! The other artist who was the first to pay tribute to Marty was Marion Worth back in 1964, and a very nice album it is, too. It has always puzzled me as to why Marty's rich catalog of self-penned songs has not been recorded very much by other artists, say apart from Johnny Cash, Hank Snow and Kitty Wells. I guess there must be a lot of politics regarding songs and judging by some of the names who read your newsletter, I wonder if some could throw some light on how or who they could pitch songs to. Always nice to see Joe Babcock's name come up, as he wrote several great songs which were recorded by Marty, 21 if my memory serves me correctly. Perhaps Joe could inform us how Marty turned down 'I Washed My Hands In Muddy Water' and never recorded Bill Johnson's 'A Wound Time Can't Erase' while so many other top country singers did."
Lloyd Clarke says, "Happy that I am part of your membership here, you are offering such a good service. Very informative and educational and makes one feel a part of a good organization. My thinking and speaking for myself is that without music is like a ship adrift without a crew. Again, Thanks. Music is my hobby but it`s my life. Without music, I would be lost or like an old stone by the side of road. I give credit to Ed and Tom for their info. and I consider them good friends, together with you now."
Bill Hyatt in Arkansas says, "If you can, pass a note back to Lloyd Clarke in Canada. I was stationed at Pepperrell Air Force Base in St. John's Newfoundland in '50, '51, and early '52. I loved the country (province) and met some wonderful people there. Almost married a young lady. Wish I had the funds to go back for a visit."
Noel Clarke writes from Smithfield, New South Wales, in Australia, "I thought you might like to see a picture I took in early January this year of one of the world's most humble men. He is very well known around the world due to a song he wrote in 1959, 'I've Been Everywhere,' recorded in Australia by Lucky Starr. Better known in the US as a song by Johnny Cash and Hank Snow and many others around the world, and the royalties just keep rolling in. This man's name is Geoff Mack and more can be learned by a visit to http://geoffmack.250x.com. Geoff turned 94 years of age last December 22; he lives with his wife of 64 years, Tabbi, on Queensland's Gold Coast. Geoff is such a humble man and doesn't understand why people treat him with such deep respect. We place this Man on a very high pedestal."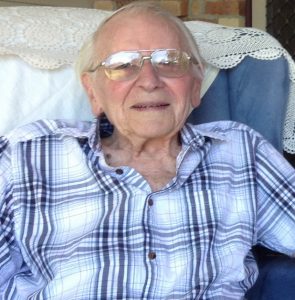 Connie Johnson asks from Missouri, "Can you find out anything about Mel Tillis? How he is doing? Been sending cards to the Nashville address. Has he got to go home or is he still in a facility? Do we still send cards to the Printing address given while he was in the hospital? Would appreciate any information.  I've known him for years and he is my #1 entertainer."
Diane: I haven't heard anything since the last time I reported what Pam Tillis posted on Facebook. I don't see anything new about Mel on her page, nor have there been any news reports. Do any readers know how Mel Tillis is doing?
Alan Potter in the United Kingdom writes, "Tell Mary Mitchell I play Leroy Van Dyke & Wynn Stewart regularly on my internet show & I did a tribute to Wynn on my Legends show on ukcountryradio.com. If she gets in touch I will send her a download."
Joan Brooking writes from Iowa, "Bob Everhart gave me a sample article. His April Fest will be April 28-30 at Anita. Your newsletters are enjoyed here and I read them totally. It will be such fun to read Minnie Pearl's Biography and add it to my collection of books. Looking forward to hearing from you again."
COUNTRY MUSIC HALL OF FAME – 1976
One of those instrumental in opening the Country Music Hall of Fame in 1967 was Paul Cohen, president of the Country Music Association. The Chicago native had been involved with Decca Records since becoming its midwestern branch manager in 1935. When he began producing records for country artists such as Ernest Tubb and Red Foley, in 1947, he would spend several weeks in Nashville while recording them at the Castle Recording Studio in the Tulane Hotel. He signed Kitty Wells, Webb Pierce, Brenda Lee, Patsy Cline, and others to Decca. He turned over the Decca country division to Owen Bradley in 1958 and started his own company. Cohen contracted cancer and died in 1970, at age 61. He was buried in College Station, Texas.
The second person elected to the Country Music Hall of Fame in 1976, after Paul Cohen, was one of his protegees, Kitty Wells. She was born Muriel Ellen Deason in Nashville in 1919, and she married Johnnie Wright in 1937. When she sang with Johnnie and his partner, Jack Anglin, her husband began calling her "Kitty Wells," a character in a traditional ballad. Johnnie & Jack hit with "Poison Love" and joined the Grand Ole Opry in 1952. That same year, Kitty recorded an answer song to Hank Thompson's "The Wild Side of Life." She did it for the $125 payment, but she became an instant star when "It Wasn't God Who Made Honky Tonk Angels" hit the airwaves. The Kitty Wells-Johnnie Wright Family Show—usually with Bobby Wright and Ruby Wright–toured almost fifty years, until Kitty and Johnny retired in 2000. Kitty received a Grammy Lifetime Achievement Award in 1991, the third country performer (after Roy Acuff and Hank Williams) to do so. Johnnie died in 2011, and Kitty followed ten months later, on July 16, 2012.