NEWS
Country Music Hall of Fame member Jerry Bradley, 83, died peacefully on July 17 in Mt. Juliet, Tennessee. He was the son of Owen Bradley, who mostly originated the Nashville Sound, and nephew of A-Team guitarist Harold Bradley, both also in the Hall of Fame, as well as husband of the late Connie Bradley, who led ASCAP for three decades. Jerry Owen Bradley was born in Nashville on January 30, 1940. After two years in the Army, he became an engineer and record producer in Bradley's Barn, after his dad built the studio in 1965. While working at RCA, Jerry was the force behind producing the very first country album to achieve Platinum status, 1976's Wanted: The Outlaws, by Waylon Jennings, Willie Nelson, Jessi Colter, and Tompall Glaser. He was President of the Country Music Association during 1974-1975 and heavily involved in CMA's annual Fan Fair. He retired from the music business in 2003 and was inducted into the Country Music Hall of Fame in 2019. A Celebration of Life will be held at Cedar Creek Yacht Club on September 10. According to MusicRow, Jerry was a sixty-year member there. He enjoyed being on Old Hickory Lake with his family and friends on the "STUDIO A" houseboat.
At the People's Choice Country Awards show airing live from the Opry House on September 28, Toby Keith will receive the Country Icon Award for his decades-long career as a musician, humanitarian, and entrepreneur. Fellow Oklahoman Blake Shelton will present the tribute. Toby is known for his charitable work in support of children battling critical illnesses: The Toby Keith Foundation, OK Kids Korral, and the annual Toby Keith & Friends Golf Classic. He received the 2014 Spirit of the USO Award for his 11 USO tours covering 18 countries, and he received the National Medal of Arts award in 2021.
The Flying Burrito Brothers' four Nudie suits were reunited during a recent celebration at the Country Music Hall of Fame and Museum. The late Chris Ethridge's long-lost suit was unveiled alongside the three other suits currently on display in the museum's major exhibition, open through May 2025, "Western Edge: The Roots and Reverberations of Los Angeles Country-Rock." In 1968, the four members of the Flying Burrito Brothers–Gram Parsons, Chris Hillman, Pete Kleinow, and Chris Ethridge–went to Nudie's Rodeo Tailors in North Hollywood and ordered custom-designed suits made by head designer, Manuel Cuevas. They wore the suits on the album cover for The Gilded Palace of Sin. In 1969, their road manager, Phil Kaufman, reported Etheridge's suit stolen from his station wagon. During the recent three years the Country Music Hall of Fame and Museum was putting the exhibit together, no one could find the suit embroidered with red and yellow roses and rhinestones. Only three suits were displayed and photographed in the supporting book (which I reviewed in January). Recently, Necia Ethridge found and purchased her dad's suit in an online auction. It was then discovered that that the stolen item had been returned to Nudie's Rodeo Tailors shop, where Elton John purchased it and wore it on the sleeve of his 1972 "Rocket Man" single. Necia lent the suit to the museum for its Western Edge exhibit. Both Manuel and Phil Kaufman attended the ceremony, MusicRow reports.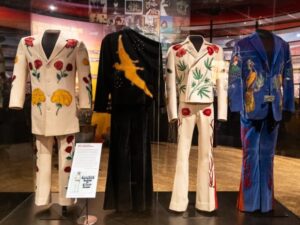 Max T. Barnes announces VernFest, a celebration of all things Vern Gosdin, taking place August 4 at the Texas Troubadour Theatre in Nashville. According to a press release, Barnes will serve as event host, with special guests including Johnny Rodriguez, Ken Mellons, and Linda Davis. Vern's many hits include "Chiseled In Stone," "If You're Gonna Do Me Wrong," "This Ain't My First Rodeo," and "Way Down Deep." He cut more than fifty songs written by the duo of Max D. Barnes and son Max T. Barnes. Other hits written be Max T. include "Let Go of the Stone" (John Anderson), "At the Sound of the Tone" (John Schneider), "Before You Kill Us All" (Randy Travis), and "That's How Your Love Makes Me Feel" (Diamond Rio). In 1992, father and son competed for CMA Song of the Year, with Max D.'s co-written "Look At Us" (Vince Gill) winning over Max T.'s co-written "Love, Me" (Collin Raye).
Billboard reports Jimmie Allen is countersuing the two women who filed sexual assault lawsuits against him this spring. He denies the allegations and says one of the women defamed him and the other stole his cellphone. "As the son and brother of rape victims, and the father of daughters, these false claims are extremely hurtful to me and everyone around me," Allen said. They "have caused me to lose a vast number of business and endorsement opportunities that I worked extremely hard for. These false allegations have also not only harmed me, but have caused severe financial damage to my band, my team, and their families." Following the accusations, his label, booking agency, publicist, and management company dropped him. His live appearances at various festivals were also canceled.
Herb Steiner writes on the Steel Guitar Forum: "Legendary Austin TX Western Swing bandleader Al Dressen passed away July 22, 2023, at age 73. Al led his band, The Super Swing Revue, for decades in Central Texas while promoting western swing non-stop, starting the Texas Western Swing Hall of Fame, and gigging at venues large and small. He had many legends of the music we love play with his band, among them Herb Remington, Leon Rausch, Johnny Gimble, and Jimmy Day. Also, the finest of Austin TX musicians worked with Al over the decades. The list is too long to post here, but if you go to Facebook and enter his name, you'll see a plethora of photos showing his band colleagues over the years. Texas and Western Swing have lost a great bandleader, singer, and proponent of the music."
Taylor Swift has broken Barbra Streisand's record for the most No. 1 albums from a female artist. Speak Now (Taylor's Version), rerecorded from her 2010 Speak Now album, debuted at No. 1 on the Billboard 200 albums chart, the highest first-week numbers for any album released this year and her 12th No. 1 album. Three more of her albums are in the Top 10, Midnights (No. 5), Lover (No. 7) and Folklore (No. 10). She is the first living artist to have four albums in the Top 10 since Herb Alpert in 1966, according to Billboard. It's been seventeen years since Taylor debuted in country music with "Tim McGraw."
The Country Radio Broadcasters (CRB) inducted its 2023 Country Radio Hall of Fame class at a dinner and awards ceremony at the Virgin Hotel in Nashville. MusicRow reports Pam Green, Charlie Morgan, Wade Jessen (posthumously), and John Willyard were inducted as off-air radio broadcasters, with Trish Biondo and "Dollar" Bill Lawson recognized as on-air radio personalities. Barbara Mandrell received the 2023 CRB Artist Achievement Award, presented for her significant contributions to the development and promotion of country radio and country music. Trisha Yearwood, last year's recipient, sang "I Was Country When Country Wasn't Cool, joined by Garth Brooks.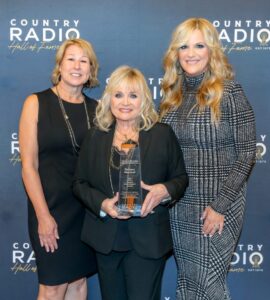 Two recent country music controversies have made the national news. First is the new Jason Aldean video, "Try That in a Small Town." The song with its trite lyrics ("Try that in a small town, See how far ya make it down the road, Around here, we take care of our own") was released two months ago without attention. What brought both praise and condemnation was the addition of the violence in the video, showing clips of police-brutality protest riots in recent years. I didn't watch closely enough to see if it included the January 6th attack on the Capitol. Jason, 46, is accused of pro-lynching and racism, partly because his performance was filmed in front of a courthouse famous for a 1927 lynching. However, the location is often used for filming, and he didn't choose it. CMT pulled the video out of rotation after its first weekend because of heavy criticism. As often happens with censorship, the song has surged on iTunes, and Aldean now holds five of the top ten spots on the iTunes country albums chart. Even politicians are weighing in. Governor Kristi Noem calls Jason Aldean a patriot and invites him to do a show on the front lawn of the South Dakota governor's mansion. The mayor where the video was filmed says, "I'm hopeful the next music video that uses our historic downtown as a backdrop will seek a more positive message. They can highlight peace, love and all the things that are great about Columbia, Tennessee." I agree with the mayor. How does promoting threats and violence make our nation a better place to live? The farmer's quote, "If somebody needs some help, you'll get it," is about neighborhood, not towns.
The other controversy occurred when Miranda Lambert, 39, chastised concertgoers for taking photos during her Velvet Rodeo Las Vegas residency last Saturday night. She sang the first verse of "Tin Man" and then stopped the song to say, "These girls are worried about their selfie and not listening to the song, and it's pissing me off a little bit. We're here to hear some country music tonight, and I'm singing some country damn music!" Her supporters say the six women were taking flash pictures in front of the stage for several minutes before Miranda had enough of the distraction during an intimate portion of the show. One of the women, an "influencer" whose business is to get attention, has been making the rounds of talk shows to say she felt like a schoolchild being told to sit down and be quiet. She says they were only posing for photos for thirty seconds, and they were having a great time. Her supporters think Lambert overreacted and that taking photos is an important part of a concert experience.
Saturday night I listened to the Grand Ole Opry to hear Bill Anderson being honored for his 62 years as an Opry member. He opened his show with the song he sang that night in 1961, "Po' Folks," his new release at the time. He followed with "Too Country" and then invited Jeannie Seely to join him to sing "When Two Worlds Collide." Opry president Dan Rogers then came onstage to congratulate Bill and introduce Vince Gill. Vince presented the plaque. Bill talked about his parents bringing him to the Opry at the Ryman Auditorium when he was fifteen years old. He wrapped up his segment by expressing his feelings through a song called "Thankful." In Jeannie's segment, which came next, she concluded with Bill's "Peel Me a Nanner."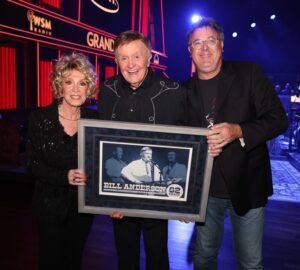 LETTERS
Bill Anderson writes from Nashville, "Thanks so much for leading off your July newsletter with the news about my becoming the longest serving Grand Ole Opry member of all time. It's been an incredible journey, and I'm glad you and so many of your readers have been along for much of the ride. Somebody told me earlier this week that I put the 'ole' in Grand Ole Opry!! And I guess maybe these days I do. I hope our paths will cross again soon. Thanks again for everything you do to continue to support me and all of us in country music."
Eric Calhoun writes, "Steven Curtis Chapman has not only been known for writing songs, but he has also cut a few Contemporary-Christian albums. I am so saddened to know about the shooting you mentioned. I found this hard to believe, I did read that on the WKRN website, and I can only say this is unfortunate. On Kelsea Ballerini being hit in the eye, I am also sorry Kelsea fell victim to a fan being out of control. I agree with her. Kelsea is more than a singer, she is a great listener. When you click on her Youtube videos, she gives you insight into what she loves to do, when she's not singing. Kelsea, like me, loves to work out, and hike. I only wish people would really listen to what she says, because she really cares. One more note, if I may: I wish to say hello to a fellow blind man I have had the pleasure of meeting, Wayne Scott. We do talk about country, a lot, and he and I both love reading your newsletter."
Dave Barton asks, "Have you ever heard of this group? It's the biggest spoof I've ever seen, they are really good musicians. They've been around for a long time and god they are funny."
Diane: The name sounds familiar. Yes, they are funny. The internet says Paul Harris from Arkansas founded The Cleverlys, a bluegrass comedy band, in 2009. The fictional Cleverlys run an alpaca farm in Cane Spur, Arkansas, when not performing.
Bobby Fischer writes, "Gary Reamy of SNG Music has acquired my magic guitar. His aim is to get it recognized as a one of kind—have it famous worldwide and possibly exhibit it in the NSAI or Musicians HOF. So far, 265 great talented writers/producers/artists have autographed it. Most engraved with a wood engraver. The biggest names in the music biz and the biggest hit songs. And great new talent. The great names on it have had hundreds of hit songs through the years. I wrote songs with almost all of them. It's exciting for the many years it's taken. Every person that picked it up strummed or made a chord or it made a sound, so 265 people have played the magic guitar. It may be the guitar that's had more people play it than any guitar in the world."
Floyd Spicer says, "I have recently been given a copy of your newsletter and really enjoy it. I would like to receive a regular copy."
Jeff Chandler, former member of the Marty Robbins Band, writes, "This guy played with Marty. Amazing talent!"
Diane: I could dance to that! I don't remember hearing of fiddle player Dale Morris when I was writing Marty's biography.
Mark Marshall says, "I found out about your newsletter from a friend. I read the most recent issue. You do a GREAT job! Please include me on your distribution list."
Jean Earle writes from England, "Thank you for your latest newsletter. Alan and I have appreciated having all the latest news. May I ask you to kindly send our congratulations to Bill Anderson for his marvellous years of being such an important member of EVERYTHING that has happened in Nashville. Lovely man and always such a pleasure to see him on stage and on film. We have admired Bill for always!!"
QUESTION OF THE WEEK
We small town people like to think our hometowns are filled with friendly and caring people who look out for all others. To a large extent, that may be true. But we know there are citizens in every town who feel ostracized and unwanted. It got me to thinking about songs written on the topic of a small town not taking care of its own. I came up with these: "Bed of Rose's," "The Son of Hickory Holler's Tramp," "Harper Valley P.T.A.," and "The Night the Lights Went Out in Georgia." What songs can you add to the list?
NASHVILLE SONGWRITERS HALL OF FAME – 1995
Born into a poor family of cotton farmers in west Texas in 1937, Waylon Jennings quit school to become a disc jockey and then a sideman guitarist playing in bars and honky tonks. He moved to Nashville in the mid-1960s, where he roomed with Johnny Cash and started recording hit songs. I first saw him in the movie, Nashville Rebel, and I still love those songs. In the early 1970s, he and his wife, Jessi Colter, along with Willie Nelson, Tompall Glaser, and Billy Joe Shaver, started what became known as the Outlaw Movement. Waylon wrote songs such as "Are You Sure Hank Done It This Way," "I've Always Been Crazy," "Don't You Think This Outlaw Bit's Done Got Out of Hand," "Bob Wills Is Still the King," and "Rainy Day Woman." His co-written songs include "Anita, You're Dreaming," "Good Hearted Woman," "You Asked Me To," and "Just to Satisfy You." In 2001, he was inducted into the Country Music Hall of Fame but refused to attend the ceremony. He died at age 64 of complications from diabetes, in 2002 in Chandler, Arizona.
Dickey Lee, born Royden Dickey Lipscomb in 1936 in Memphis, remembers the first time he heard his song on the radio. He was at a drive-in movie in Memphis in 1955, shortly after graduating from high school, when "Dream Boy" came on the car radio. He later signed with Sun Records and scored a #6 pop hit in 1962 with his tragic song, "Patches." He became a country songwriter when George Jones took his co-written "She Thinks I Still Care" to #1. He moved to Nashville for a dual career as songwriter and country recording artist. The hundreds of artists who recorded his songs include Elvis Presley, Kenny Rogers, Merle Haggard, Brenda Lee, Don Williams, Marty Robbins, Waylon Jennings, Charley Pride, Randy Travis, James Taylor, and Reba McEntire. His co-written songs include "Keeper of the Stars," "In a Different Light," "Let's Fall to Pieces Together," "I've Been Around Enough to Know," and "You're the First Time I've Thought About Leaving." His own hits include "Never Ending Song of Love," "Rocky," "Angels, Roses and Rain," and "9,999,999 Tears." The latest information I could find says he remains active as a writer, seminar instructor, and performer. Dickey Lee is 86 years old.
Dave Loggins was born in 1947 and raised in the mountains of east Tennessee, the son of a country fiddle player. He moved to Nashville in 1970 to be a professional musician. He earned a Grammy for Best Male Vocal Performance for his self-penned "Please Come to Boston" in 1974. He then began writing chart-topping country hits recorded by Alabama, Don Williams, Restless Heart, Reba McEntire, Gary Morris, and Wynonna Judd. He wrote "Morning Desire," "Roll on Eighteen Wheeler," and "She and I." He co-wrote "Forty Hour Week (For a Living)" and "One Promise Too Late." He was named ASCAP's Songwriter of the Year for 1987. He wrote "Augusta," the theme song for the annual Masters Golf Tournament. He and Anne Murray won the 1985 CMA Vocal Duo of the Year Award for "Nobody Loves Me Like You Do." Dave Loggins is 75 years old.