IN THE SPOTLIGHT – PATTY LOVELESS
For the first time ever, I have been able to personally congratulate a brand new member of the Country Music Hall of Fame. It happened when Patty Loveless called me for an interview that her manager, Mike Robertson, had set up at my request. It was the first thing I said, followed by, "That is so exciting." She responded with, "Thank you. I'm thrilled to no end. Honestly, I can't believe it. It's a shocker." She added, "I'm just saddened that my brother is no longer with us. He passed away in June '22, and it was always a dream of his."
Patricia Lee Ramey was born in Kentucky in 1957. She and her brother, Roger, who was seven years older, were writing songs and performing together by the time Patty reached her teens. She is incorporating his old show clothes and several other items from those days in her current exhibit at the Country Music Hall of Fame and Museum in Nashville.
The Wilburn Brothers saw the Rameys in Louisville, Kentucky, and encouraged Patty to keep performing. When she graduated from high school, she moved to Nashville and began touring with them as a vocalist. She married the band's drummer, Terry Lovelace, and moved with him to Charlotte, North Carolina. They worked in the late 1970s at a nightclub that was a competitor of Country City U.S.A., owned by Lib Hatcher. Looking back, Patty realizes, "I was there in Charlotte probably about the same time Randy Travis was singing at her club."
In addition to singing with the band while her husband played drums, Patty worked the door. "It used to be brown bagging," she says. She told me how people brought in liquor bottles in brown bags, put the bottles behind the bar, and then filled their glasses with set-ups purchased at their tables. She often wondered about when they checked out to go home: "I thought, if they've got an open bottle in their car, and they're leaving the club, it's crazy."
I said, "It was in the trunk." The laws were similar in Oklahoma, where I lived at that time. I carried a bottle of scotch in the trunk of my car and took it with me into the clubs. We would give our bottles to the bartender, who would fix our drinks and sell them back to us, keeping the bottles behind the bar until we left. Both states changed their laws in the early 1980s to legalize the sale of "liquor by the drink."
Patty returned to Nashville after she and Terry divorced. Using the stage name of Patty Loveless, and with brother Roger as her manager, she signed a recording contract with MCA Records in 1985 and a songwriting contract with Acuff-Rose Music the same year. Since 1989, she has been married to Emory Gordy Jr., who produces her records and plays bass in her band. He previously played bass in Emmylou Harris's Hot Band and spent a year with Elvis Presley.
I wanted to hear about Patty's USO tour with Randy Travis in 1988. They spent seventeen days traveling through Alaska, Japan, and Korea. "It was bags at four a.m., bodies at six," she says, "and then we'd take off to the next place. And then play shows that night. We played in some large hangars, we'd go on ships and everything else. Going and meeting the military guys, it was just unbelievable. When we got back home, I thought, man, it makes you really appreciate home."
About being in Alaska, she says, "It was forty below zero. In these hangars I was freezing to death, trying to get dressed and put my makeup on. But I was given a feel of what it was like to live that life."
They flew to Galena, which was inaccessible by road from other parts of Alaska. Galena Air Force Station was a forward operating base of Elmendorf Air Force Base near Anchorage. A woman with a dogsled offered Patty a ride, which was filmed by the TNN crew traveling with them to film a USO special. The crew was on a sled behind her. I asked why Randy didn't ride on a dogsled. She thought Lib probably wanted to protect him, worried about the possibility of the headliner not being able to sing that night. Patty was thinking, 'Well, I may lose my voice, but I'm not going to miss out on it." The dogsledder wrapped her up to protect her from the cold. "It was just me and her," Patty reminisces. "The only thing you heard was her giving the dogs commands, and the sound of going through the snow. It was just beautiful, and quiet. It was so uplifting. Yes, it was cold, but it was so worth it." She adds, "And I ended up singing just fine that night. No problem."
In South Korea, Randy and Patty and their bands took a bus trip to the DMZ (demilitarized zone) at the North Korean border. The soldiers stationed there asked the two visitors to sing for them in their underground bunker. "It was the month of December," Patty says. "I did 'If My Heart Had Windows,' and you could see the tears in their eyes. Missing home. They were so excited to see me and Randy both. They were just beside themselves over Randy Travis. He was one of them, the way they looked at it."
As they stood close to the line and looked across the DMZ into North Korea, their guides told them not to point or make any gestures. "We had to be really careful about what we did," Patty says. When she thinks about the DMZ today and the tensions with North Korea, she thinks about the soldiers there now. "I can't imagine those who are on that line," she says. "If anything was to break out, they'd be the first to get it."
When I asked what should be in Randy's biography, Patty said they only knew each other in passing, while doing shows together. They never got to sit down and have a conversation. "It's kind of hard to share something about somebody I felt like I didn't get to know like I wanted to," she says.
Her main regret is that they never got to sing together onstage. They opened shows for George Jones on a tour in 1986, during which the three of them sang "Rollin' In My Sweet Baby's Arms" as a finale. "I wish I'd been able to have done some music with Randy, rather than just performing on the same stage," she says. "We both have great respect and love for the traditional style of music, and I think that's our connection. I think we could have done some good stuff together."
Patty certainly has done some good stuff in her four-decade career, culminating in her upcoming induction into the Country Music Hall of Fame this October. In addition, her special exhibition at the Country Music Hall of Fame and Museum opens August 23 and runs through September of next year. It is called Patty Loveless: No Trouble with the Truth.
These thrilling events are balanced by sorrow. "Last Friday, I lost a real dear close friend of mine, my business manager, Chuck Flood," she tells me. "It's been a trying week. All these people who have been a part of my career, I'm losing them. It tears my heart out."
Patty has been a Grand Ole Opry member since 1988 and is in both the Kentucky Music Hall of Fame and the Georgia Music Hall of Fame. Her many hit songs include "Timber I'm Falling in Love," "Blame It on Your Heart," "Chains," "How Can I Help You Say Goodbye," "Hurt Me Bad (In a Real Good Way)," "I'm That Kind of Girl," "I Try to Think About Elvis," and "Lonely Too Long." You can learn more about her at http://pattyloveless.com/.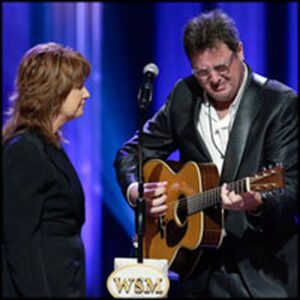 NEWS
The newest members of the Nashville Songwriters Hall of Fame are Keith Urban (contemporary songwriter-artist), Kix Brooks (veteran songwriter-artist), David Lee Murphy and Casey Beathard (contemporary songwriters), and Rafe Van Hoy (veteran songwriter). Brooks, a member of the Country Music Hall of Fame as part of Brooks & Dunn, co-wrote many of the duo's hits, including "Brand New Man," "My Next Broken Heart," "Lost and Found," "You're Gonna Miss Me When I'm Gone" and "Red Dirt Road." According to CMT News, Urban remembers Brooks coming to see him play before he was famous and then taking him on tour. Urban has written many of his own hits, including "Somebody Like You," "But For The Grace Of God," "Better Life," "Sweet Thing," "Days Go By" and more. Murphy wrote his own hit, "Dust On The Bottle," and has written hits for Kenny Chesney ("Living in Fast Forward," "Here and Now," "Everything's Gonna Be Alright"), Jason Aldean ("Big Green Tractor"), and Justin Moore ("Why We Drink"). Beathard has written songs for Eric Church, Tracy Byrd, Tracy Lawrence, Dolly Parton, Chesney and Rodney Atkins. Van Hoy wrote "Golden Ring" (George Jones and Tammy Wynette), "Baby I Lied" (Deborah Allen), "Hurt Me Bad (In A Real Good Way)" (Patty Loveless), and "I'm Only In It For The Love" (John Conlee). They will be formally inducted on October 11, during the 53rd Anniversary Nashville Songwriters Hall of Fame Gala at Nashville's Music City Center.
Randy Meisner, founding member of the Eagles, died July 26 at age 77. Complications from chronic obstructive pulmonary disease (COPD) caused his death. The Nebraska native, born in 1946, was a member of Linda Ronstadt's band, along with Glenn Frey, Don Henley, and Bernie Leadon, when she released the foursome to create the Eagles in 1971. Randy played bass, sang lead and high harmony, and wrote songs, most famously, "Take It to the Limit." His final album with the Eagles was 1976's Hotel California. He left before the album tour, saying he was tired of touring, although he knew he could have tripled his money if he stayed. "When it got to the point of sanity or money," he told People in 1981, "I thought I'd rather have sanity." He played with the Eagles one final time during the 1998 Rock and Roll Hall of Fame induction and turned down an opportunity to rejoin the group for its 2013 World Tour due to his health.
Because the Army's recruitment numbers were so low last fall, Army veteran Craig Morgan told Senator Marsha Blackburn he wanted to reenlist. But at age 58, he was only four years away from mandatory retirement age. Stars And Stripes reports that Blackburn, then a member of the Senate Armed Services Committee, worked with the Department of Defense to allow Morgan to join the Army Reserve as a warrant officer. During the Saturday night Opry on July 29, General Andrew Poppas, commander of Army Forces Command, administered the enlistment oath. Craig previously served 17 years in the Army and Army Reserve, deploying to South Korea and participating in the U.S. invasion of Panama. He served as a staff sergeant and fire support specialist with the 101st and 82nd Airborne Divisions. He will continue touring and releasing music. Saturday night at the Opry, he began his dual career as a musician and warrant officer. "Haven't sung in uniform in a long time," he said before kicking off a song.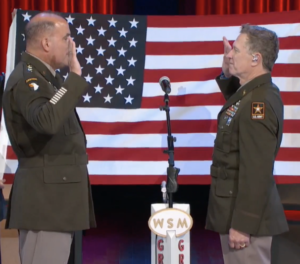 Longtime Nashville business manager Chuck Flood, 78, died July 21, reports Billboard. Born Charles Martin Flood Jr., in Waco, Texas, in 1944, he was a prominent figure in Nashville for more than 40 years. After serving in A&R and national promotion roles at Capitol and Warner Bros. Records, he joined three others in 1990 to form Flood, Bumstead, McCready & McCarthy. FBMM became a top-tier firm that managed such A-list clients as Taylor Swift, Blake Shelton, Keith Urban, Kelly Clarkson, Pearl Jam, Patty Loveless, and Miranda Lambert. He was preceded in death by his wife, Elizabeth, in 2021. They had met while attending Baylor University. After marrying, they lived in the same home in Nashville for more than 35 years. They have two daughters and three grandchildren. A celebration of life for Chuck and Beth will be held in Nashville at a later date.
Tracy Lawrence is sporting his own country music Mount Rushmore. CMT News reports he recently completed a tattoo of George Strait, George Jones, Keith Whitley, and Merle Haggard on his forearm. It is his second tattoo in 30 days. At the end of June, he posted a video of himself getting a lighthouse tattooed on his other arm.
A Heroes & Friends Tribute to Randy Travis – 1 Night, 1 Place, 1 Time will take place October 24 at Von Braun Center's Propst Arena in Huntsville, Alabama, according to a press release. Randy's hits will be performed by some of his musical Heroes and Friends, with the participating artists to be announced shortly. A portion of the evening's proceeds will be donated to the Randy Travis Foundation, which has the two-part purpose of stroke and aphasia awareness and supporting music education in schools. The foundation facilitates research and support for individuals affected by viral cardiomyopathy, as well as creating opportunities for involvement in enrichment programs for children. For more info, visit http://randytravisfoundation.org.
Taylor Swift, 33, gave more than $55 million in bonus checks to celebrate the success of her billion-dollar Eras Tour, which launched in March and wrapped up in Los Angeles. She handed $100,000 checks to her fifty production truck drivers who have been hauling her equipment around the country. People confirms she then gave another $5 million that covered everyone working on the U.S. leg as extra payment for their hard work– from caterers to lighting technicians to back-up dancers.
The Boot reports Jennifer Nettles is reprising her role in the comedy series, The Righteous Gemstones, about a megachurch and the dysfunctional family that runs it. She is the late family matriarch Aimee-Leigh, who appears in flashback sequences, along with her husband Eli Gemstone (played by John Goodman). She recently revealed that Reba McEntire is Aimee-Leigh's hair inspiration. "When your favorite role/character gets hair inspo from one of your biggest idols, well, art does imitate life, now, doesn't it?" she says.
For the first time since the all-genre Billboard Hot 100 songs chart debuted in August 1958, its top three songs are country songs. The No. 1 song this week is Jason Aldean's "Try That in a Small Town," which rises from its debut position at No. 2. Morgan Wallen's "Last Night" dropped to No. 2 after 14 weeks at No. 1. Luke Combs' cover of Tracy Chapman's "Fast Car" is at No. 3. According to Billboard, the Hot 100 blends all-genre U.S. streaming, radio airplay, and sales data, which reflects purchases of physical singles and digital tracks.
Fans recently came out in droves for two nights at Nissan Stadium in Nashville to see George Strait, reports MusicRow. He sang 33 songs in 2 1/2 hours on Friday night, following sets by Chris Stapleton and Little Big Town. Saturday began with a "shelter in place" warning due to lightning in the area. The show started on time at 5:45 with Little Big Town taking the stage, followed by Chris Stapleton. Both played their complete sets. George came onstage early, at 9:00, to get as much music as possible before the impending storms. He was singing his third song, "The Fireman," when the first drops came. As he sang "I can cool 'em down when they're smolderin' hot," the rain began. It came in increments for the next 11 songs. After inviting Chris back onstage to sing with him, George had time for one more song. As the crowd evacuated and the rain poured, George sang "Amarillo by Morning." The venue declared there would be no refunds because he had played for an hour. Some ticket holders complained about not getting partial refunds because he didn't do his full show. Others complained that the opening acts should have been cut.
In a recent interview with CMT News, Vince Gill and Paul Franklin talked about their new duet album, Sweet Memories: The Music of Ray Price & The Cherokee Cowboys. Although they originally wanted to cover two artists, as they had with the music of Buck Owens and Merle Haggard on their debut duets album, Bakersfield, they found so many Ray Price recordings they decided to focus only on him. They wanted songs that showcased their instrumental skills and allowed them to reimagine the music. When it came time to finalize the track list, they had more than 100 songs from which to choose 11 tracks to record. They said they enjoy creating tribute projects because it lets them remember the musical artistry that made them want to be musicians. They realize listeners will compare their versions to the originals. "That isn't the point of the project," Vince says. "These are things that we love. The intention behind this is reverence."
LETTERS
Carl Rollyson writes, "Another impressive newsletter. You make the whole world of country music come alive, and I can imagine how your readers treasure your reports and comments. I don't have a song to add about small towns, but I would like to mention Sherwood Anderson's Winesburg, Ohio, which is probably the greatest book ever written about small town life and some of its crucifying passions. I don't know if any country singer ever used Winesburg for inspiration, but it would make terrific material for several songs."
Terry Pinkerton suggests, "Pretty Paper, Pretty Ribbons."
Gary Busselman in Sioux Falls says, "How about Marvin Rainwater's 'Halfbreed'? Enjoy the newsletter. PS: Did you know Don and Charlie Carter are both still alive in Texas? Charlie Carter was a Jones Boy. Played lead guitar for George for years. He is a good singer and has records on Jones Boys albums and singles too. Usually played a white Telle. After George and Tammy split, Charlie played with Tammy. Don is Charlie's older brother, just turned 90. Don was a songwriter recorded by lots of people. Both Don and Charlie live in Dallas. Don's granddaughter is Erin Caldwell who lives near Fort Worth. She's an Internet disc jockey on several stations. Has a DEEP catalog. Her past shows are archived here.
Rosemary Eng in Whiting, New Jersey, says, "I appreciate/enjoyed the update about Bill Anderson's 62 years as an Opry member. Back in 1982, WHN New York's country radio station held a listener's picnic in Long Island, I was fortunate to win tickets and got to meet Bill. Still have the autographed 8×10 glossy! What really adds to Bill's legacy is that after all these years, he just released a GREAT CD! I bought 1984 through Bill's website and have enjoyed every single song, especially 'The Years Fall Away,' which has Bill's parents doing recitations. Congratulations Bill and thanks for the memories!"
Bobby Fischer writes from Nashville, "Thanks, word lady, you sure know how to put the most interesting items together for us fans, and thanks for including info on my magic guitar. I relayed the fact that it was in the news. I thought I saw it do a small bow. Sad about Jerry Bradley—great talent. I got to go out on Owen's boat once with him and Walter Haynes, a huge thrill for me. Also, congrats to Bill Anderson only time I got to be around him was at Freddy Weller's birthday party once, I'm a huge fan of all his music, Thanks again."
Eric Calhoun says, "I am a huge fan of Taylor Swift, and I salute all of what she has done. 17 years have gone by quickly. Jason Aldean may have picked up controversy, but his song, 'Try That In A Small Town,' has jumped to No. 2 in video sales. Good job, Jason! Bill Anderson, how do you do it! 62 years of Grand Ole Opry music, and I salute you. Miranda Lambert is a great performer, and I found her comments to be a little insensitive. I understand her frustration. Sometimes, you have to ignore what is ahead of you and perform. It's nice to see some new Country Music Hall of Famers join the Hall of Fame in Nashville, and Toby Keith being honored for his decades-long, charitable entrepreneurism and musical spirit. I've even heard about his daughter, Crystal. I don't know if she has had any country music albums."
Linda Garon writes, "Diane Jordan suggested I contact you to subscribe to your country music newsletter. She sent me a copy and it was so very interesting."
Chris Belle says, "Great job as usual. I'm so glad we still live in a country where a song like Jason's could hit the top. It expresses how many of us feel. Too many folks getting away with bad behavior, even being rewarded for it. Folks got to take a stand and protect one another. God bless that fine young man."
Joseph Allen writes, "Waylon Jennings recorded 70 songs written by Harlan Howard. Howard came to think of his songs as his children, and he constantly tried to locate the perfect home for them, crediting much of his success to matching songs with the most appropriate artist. Tom T. Hall said the same about each of his songs being one of his children."
Beth J. Petty, Director of the Hank Williams Museum in Montgomery, Alabama, says, "I have so much to write about. Sept 17, 2023, Hank Williams would have been 100. The Hank Williams Museum will celebrate with a weekend music festival – Sept 15-17. We will be Hankin' Around in Montgomery as this weekend promises a celebration of music, history and community spirit. There's no shortage of entertainment. Friday the headliners are Rhonda Vincent and the Rage, David Ball and David Church. Our special guests on Saturday are Leona Williams, Ron Williams and the Perley Curtis band. Sunday stars Gene Watson, Zacharia Malachi, and Jason Petty.
"The Hank Williams Museum will show off Hank in Mobile in September and October at the University of South Alabama. The exhibit in the Marx Library will fill 5000 sq ft of space with Hank art, clothing, books, and more. There will be a reception on Sept 7 featuring Bobby Tomberlin singing 100 years of Hank. This is our 22nd year to produce a Hank Williams Museum Calendar. It will feature pictures of the Museum's authentic artifacts and the many accomplishments throughout these 25 years. Yes! Celebrating 25 years in 2024. Open house will be February 4, 2024, to commemorate that opening."
NASHVILLE SONGWRITERS HALL OF FAME – 1996
Jerry Chesnut grew up playing and singing country music in the coal camps of eastern Kentucky. Born in Loyall, Kentucky, in 1931, he enlisted in the Air Force in 1949 for four years, spent seven years in Florida performing on local radio stations and teaching himself to write songs while working as a railroad conductor, and then moved to Nashville in 1958 to be a songwriter. He sold vacuum cleaners to survive, achieving his first hit song with "A Dime at a Time, " recorded by Del Reeves in 1967. Faron Young brought "It's Four in the Morning" to #1 in 1972. "T-R-O-U-B-L-E" was a hit for Elvis Presley in 1975 and Travis Tritt in 1992. Other memorable Chesnut songs include "A Good Year for the Roses" (George Jones), "Oney" (Johnny Cash), "Holding on to Nothing" (Porter Wagoner and Dolly Parton), and "They Don't Make 'Em Like My Daddy" (Loretta Lynn). When I interviewed him for Faron's biography in 2000, he named his top three favorite songs: "I'd say 'Trouble' I like number one, and 'Four In the Morning' and 'A Good Year For the Roses' are about tied." Jerry retired from the music business in 1980 and was inducted into the Kentucky Music Hall of Fame in 2004. After experiencing respiratory problems for several months in 2018, he died at his home in Brentwood, Tennessee, at age 87.

Born in Antlers, Oklahoma, in 1944, Kenneth Guy Gist Jr. changed his name to Kenny O'Dell because it was easier to pronounce. He started writing songs at age 13 and started his own record label as a teenager. He moved to Nashville in 1969. He ran Bobby Goldsboro's publishing company, House of Gold, and served for years on the Board of Directors of the Nashville Songwriters Association International (NSAI), advocating for rights of songwriters worldwide. He balanced his Music Row songwriting success with his own recording career. His songs were recorded by Loretta Lynn, Mac Davis, Tom Jones, Sammi Smith, Charley Pride, Eddy Arnold. Tanya Tucker, Dottie West, and Kenny Rogers. His first Top 10 country hit came from Charlie Rich's "I Take It on Home," with his biggest being Charlie's "Behind Closed Doors." In 1984, he wrote "Mama, He's Crazy" for the Judds. Kenny, at age 73, died in Nashville in 2018.

Alvis Edgar Owens Jr., whom everyone knows as Buck Owens, announced to his parents at age four that his name was "Buck." Born in 1929 to Texas sharecroppers, he moved with his family to Arizona as a child and entertained on local radio as a teenager. In 1951, he moved to Bakersfield, California, and was signed to Capitol Records in 1957. His first #1 hit, "Act Naturally" in 1963 was written by Johnny Russell and Voni Morrison. Buck wrote or co-wrote many of his own hits, "Together Again," "Love's Gonna Live Here," "I Don't Care," "My Heart Skips a Beat," "Foolin' Around," and "I've Got a Tiger by the Tail." He had twenty #1 country records between 1963 and 1972. He starred on the television show Hee Haw from 1969 to 1986. He recorded a #1 country single with Dwight Yoakam, "The Streets of Bakersfield," in 1988. He was inducted into both the Country Music Hall of Fame and Nashville Songwriters Hall of Fame in 1996. Buck died in his sleep in 2006, at age 76, in Bakersfield, California, following a performance at the Crystal Palace the previous evening.

Norro Wilson was a performer, songwriter, song plugger, publisher, A&R rep, and producer. The Kentucky native, born Norris D. Wilson in 1938, moved to Nashville in the late 1950s, sang harmony vocals with Faron Young and Ferlin Husky, signed with Acuff-Rose as a songwriter, and began working with producer Billy Sherrill. His first songwriting hit was David Houston's "Baby, Baby (I Know You're a Lady)," produced by Sherrill. He became one of country music's most recognized writers, with Charlie Rich's recordings of "The Most Beautiful Girl," "I Love My Friend," and "A Very Special Love Song," along with such hits as George Jones's "The Grand Tour," Joe Stampley's "Soul Song," and Tammy Wynette's "He Loves Me All the Way." He won BMI's Country Songwriter of the Year award for three years, served as head of A&R for the Nashville division of Warner Brothers Records, and produced albums by Charley Pride, George Jones, Reba McEntire, Kenny Chesney, John Anderson, Sara Evans, Sammy Kershaw, and more. Norro died in Nashville in 2017 at age 79.