NEWS 
TG Sheppard reported on Facebook that last week's "Stars Behind The Stars" benefit for the Dallas Police raised over $148,000. He posted this photo of himself and Randy Travis: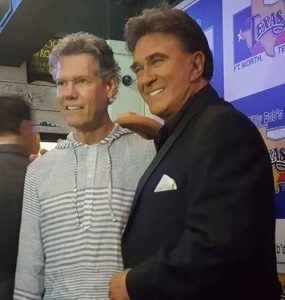 An upcoming two-hour SiriusXM radio special will honor Charley Pride on his 50th year in music. "I had a lot of fun doing this radio show with my longtime friend Charlie Monk," Charley said in a press release. "And it was wonderful to celebrate 50 years as a recording artist with the help of so many artist friends." Dolly Parton talks about her family listening in the Eastern Tennessee mountains. Janie Fricke talks about getting her start by opening shows for Charley. Other artists, such as Tanya Tucker, Neal McCoy, David Bellamy, and Joe Bonsall, describe how Charley's music influenced them.
For his first-ever full concert at the Ryman Auditorium in Nashville, Garth Brooks will do a private show on September 8 to celebrate the launch of his new SiriusXM radio channel. The 24-hour Garth Channel will play his entire catalog, as well as music from his "heroes and mentors and the new voices that are coming out, who I think are carrying the flag as well," Garth told The Tennessean. He last performed at the Ryman in 2010, during a Loretta Lynn tribute.
The Country Music Hall of Fame and Museum will open a six-month Charlie Daniels exhibit in September. Charlie Daniels: Million Mile Reflections will feature "musical instruments, stage wear, manuscripts, awards, childhood mementos and previously unpublished photographs from Daniels' personal collection," according to the press release. Museum CEO Kyle Young says, "Charlie Daniels forged a bracing new musical style out of bluegrass, blues, country, jazz and rock & roll. His sound quickly became popular on country, pop and rock radio stations. His musical journey has led him to the Country Music Hall of Fame, where he will be inducted in October. It is only appropriate that we celebrate his remarkable career with our latest exhibition." Charlie held his first Volunteer Jam in 1974 as a Southern rock festival. This year's Volunteer Jam, on November 30, will celebrate his 80th birthday.
After Bill Monroe died in 1996 at the age of 84, the Country Music Hall of Fame and Museum held a sale of several hundred items from his estate. His son, James Monroe, and grandson hosted a second estate sale last weekend in Gallatin, Tennessee, in an effort to downsize. More than 1,000 items were offered during the three-day sale, including Bill's appointment books, his collection of cow figurines, musical instruments, clothing, jewelry, and furniture. The musical instruments included mandolin prototypes. Jimbo Monroe told The Tennessean, "When granddaddy passed away there was a whole generation of people who didn't get to get anything (at the first estate sale), so I think this is neat."
For Better, or Worse is the title of the full-length John Prine album being released September 30th on Oh Boy Records. Fifteen of the mostly classic-country songs are duets with women. The first single is "Who's Gonna Take the Garbage Out," with Iris DeMent helping him reprise the roles of Ernest Tubb and Loretta Lynn. Other performers include Kacey Musgraves, Lee Ann Womack, and Miranda Lambert. Rolling Stone Country reports John Prine will debut For Better, or Worse with two nights at the Ryman Auditorium, September 30-October 1.
When the Buckle Up Music Festival in Ohio was canceled, headliner Brad Paisley called Cincinnati's WUBE and announced he'd play a free show at the Riverbend Music Center on August 6. "I had a day off and I love your area and I love the amphitheater so we're going to do a free concert with my tour at Riverbend," he told the radio station. He said he grew up along the Ohio River, and he wanted to "play a concert for the people that had already bought tickets and won't be able to go to the festival." SoundsLikeNashville reports the tickets for the free show were gone within 20 minutes.
Still the King, the first original scripted show to air on CMT, has been renewed for a second season. Billy Ray Cyrus plays "Burnin' Vernon" Brown, an alcoholic Elvis impersonator who crashed his car into a church sign and was sentenced to perform community service. He pretends to be the church's new minister, and he learns he has a teenage daughter. The Boot reports the series premiere in June brought CMT a record viewership for an original series premiere.
LETTERS
Bill Mack writes from Fort Worth, Texas, "I just want to thank you again for your column. You're serving a special purpose by keeping people informed on the happenings of the true veterans in our country music industry. I want to also mention your books that serve the same purpose. You are obviously determined to present the facts. Your books on Faron Young and Marty Robbins are just two grand examples of that determination that is so needed. I highly recommend that the fans of our music take the opportunity to read those well-documented books. I just hope you write more. As I mentioned, they are needed."
Dominique "Imperial" ANGLARES writes with warmest regards from France, "Thank you very much for your welcome newsletter and to have share my words with other friends. Very nice to read about Freddie Hart who is one of my favorite artists. 'Dig Boy Dig' and 'Snatch It and Grab It' are two real master pieces from 1956. Of course, 'Easy Lovin'' will stay like his biggest. Sad to have lost Scotty, Bonnie and Ralph. They will be remembered."
Alec Strachan in Australia says, "It was great reading about Freddie Hart. I had the privilege of meeting Freddie in the mid '70s when he played the Wembley Country Music Festival in London. He's a super cool guy with no edge to him at all, and he was so taken aback when he realised British country music fans had heard of him. I still remember the ring he was wearing it was pretty big with cow horns on it and I can remember thinking at that time if he ever got it hitched in things like clothing or guitar strings. Great guy and a great artiste too."
Lee Shannon says, "I enjoyed your latest newsletter, as always. Re: FREDDIE HART, While I was a DJ at WIRE Radio in Indianapolis, when EASY LOVIN' was #1, I picked Freddie up at the airport. I told him I needed to make a quick stop at my wife's hair salon. When we arrived, Freddie said, 'I'd like to say Hi to your wife.' He not only said hi to her, but shook the hand of all her lady customers in the shop. I can still recall Freddie's signature statement to those ladies, and to everyone met; 'BLESS YOUR HEART,' and you knew he meant it."
Moragh Carter writes from the United Kingdom, "It was sad to read about Craig Morgan's loss of his son in that boating accident … and of the floods in West Virginia, with all the loss of life there, too. All such tragic events. In your write-up about Freddie Hart you said he was 14 when his parents signed the papers for him to enlist in 1942. However, you go on to say he was born in 1926. That would make him 16 when he enlisted. I must say my initial reaction was that 14 was very young to be signing up. I want to say thanks to Dominique 'Imperial' ANGLARES, Cowboy Joe Babcock, Bob Bien and Ronnie Van Buskirk for their contributions to the discussion about the longest marriage of award-winning, country music stars. However, I was specifically looking for marriages where both partners were award winners, not just one partner of the marriage, and where both were still living. Dolly Parton's husband, Carl, isn't even involved with the music business, let alone a star, so that rules them out. Jimmy Lee is no longer living, so that rules out him and Nancy Fautheree. So far as I can tell, Pat Boone didn't win any awards for country music, though he was inducted into the Gospel Music Hall of Fame. Gene Watson is, of course, a big star, but I don't think his wife, Mattie, was ever a singing star. However, I have to concede that Cowboy Joe Babcock and his wife, Carol, have pipped Jack & Misty to the post for the longest marriage within the criteria I defined in my original question, having won twenty-four industry awards in the country and gospel fields as The Babcocks, and attaining 56 years of marriage. Congratulations to them."
Diane: I haven't yet been able to confirm what year Freddie Hart joined the Marine Corps. Perhaps it was 1940.
Les Leverett, retired Grand Ole Opry Photographer in Goodlettsville, Tennessee, says, "Thanks again Diane. Good coverage on happenings in our country music. Speaking of long marriages: I lost my beloved Dot on Feb. 3, 2014. Had she lived another hour and a quarter, we'd have been married for sixty-five years. But, we were in love longer than that. What a blessing from God!"
Johnny Western writes from Phoenix, Arizona, "Great story on Freddie. Glad that worked out for you."
Diane: Thanks, Johnny, for putting me in touch with Freddie Hart."
Dallas Wayne of SiriusXm/Willie's Roadhouse in Austin, Texas, says, "I am so happy to find this blog. I have been a fan of yours since I first picked up the book on Faron. Thank you for what you do."
Chiela Rae Munkvold says, "Cannot tell you how much I enjoy your newsletters."
Kate Davis of Bear Creek Productions writes from Medford, Oregon, "Wow, what an incredibly newsy newsletter this time! Where do you find the time to do all this research? Sad to learn of the various passings but delighted with the liveliness of Freddie Hart. So glad he's still going strong and so positive. Bless your heart, Freddie."
Priscilla McPheeters in Lawrence, Kansas, says, "This was my FAVORITE ever! LOVE the Dolly quote. You are wonderful!"
Kathy Thomas writes, "Wonderful newsletter as always!"
Maheen Wickramasinghe requests, "I know he really isn't country, but he did a lot of country in the '60s. His name is Burl Ives. I am trying to locate a copy of the 78 set, Historical America In Song. If possible, do you think your readers would please be able to assist where I can purchase a copy of this set to get it converted to a few CDs? It would be very much appreciated. My e-mail address is maheenthebobbyfan@gmail.com. Thank you very, very much for any help. I just love your newsletters and keeping up to date with the country music world."
Wayne Scott requests, "I would like to start receiving your country newsletter. I enjoy the old country, especially the country and bluegrass gospel."
Joan Fitzberger writes, "Thank you so much for your article on Freddie Hart. He is a real sincere person and I have enjoyed his music for a long time. We need more of his style in country music now. I wish I had had the opportunity to see him in person at his shows. Thank goodness for YouTube where we can still hear him. Keep up the great work you are doing by bringing these stories to us."
Terry Counts writes from White Bluff, Tennessee, "Another excellent newsletter, although so sad…I will miss Bonnie Brown, and I know Maxine is probably absolutely devastated, they were all pretty close. I remember Scotty Moore well, he loved to come into the office and talk about Elvis…he found out I interviewed Elvis in the '50s when he was in Tacoma doing a concert, for my high school paper. From then on he'd spend hours just talking about Elvis, he really, really LOVED the man….Sadly, most of those I have worked with over the past 50 years are gone…and I miss them a lot…hear anything of how Marty Martel is doing? I miss him so, also."
Janet McBride says, "As a teenager, a group of us girls would drive out to Cliffie Stone's Jamboree Live Show to see Lefty and were thrilled to see a very new to the music scene singer named Freddy Hart. Over the years I would run into him at festivals etc. but since I don't travel anymore I would like to be able to at least drop a fan note."
Nancy Lynn requests, "I don't know if I gave you my latest and permanent email address, but please put me back on the newsletter list. The latest one was sent to me by a friend."
Dave Rogers, fellow retired U.S. Navy captain, says, "Thank you! I am recovering from a bad stroke."
Diane: Best wishes, Dave, for a speedy and complete recovery.
Christine Diller writes from Laurel, Maryland, "I just finished reading your latest newsletter, and wow; what an article, filled with much news! As always, I thank you for bringing us up to speed concerning true country music. I didn't realize Trace Adkins was struggling with alcohol. This truly saddens my heart, for I grew up in that environment. Alcoholism seems to affect many artists, especially once their career(s) start to slow down. He really needs our thoughts and prayers. In case your readers aren't aware, Mark Chesnutt just released a new CD this July: Tradition Lives. The title speaks for itself, and Mark sounds better than ever. In this CD, country music definitely sounds alive and well. Finally, have you heard any updates on Glen Campbell? I say a prayer for him and the family daily. It will be a sad day when he is no longer with us, yet I know he will be suffering no more. He will always live on through his music and in my heart. Keep on keeping on, be safe, and I look forward to your next writing."
QUESTION OF THE WEEK
I didn't realize it had been so long since I posed a question. My last one appears to have been in December. So here's one that puzzles me. Why do people pay big bucks to get a seat at a concert and then stand up for the entire show? Personally, I find it rude to stand when people behind you want to sit in the seats they've paid for.
BOOK REVIEW – LIKE A MOTH TO A FLAME: THE JIM REEVES STORY by MICHAEL STREISSGUTH
It was 52 years ago this week that Jim Reeves was killed in a plane crash at age 40. Remembering that, I pulled his biography, Like A Moth to a Flame: The Jim Reeves Story, from my bookcase. Michael Streissguth wrote it in 1998, and it caused quite a stir among Jim Reeves fans. Some thought it was a hatchet job and others an accurate portrayal. I don't know enough about Jim's personality to comment on that, although I was surprised that those close to him refused to participate. You'd think they would have wanted to help make it an accurate biography. It's a good depiction of his rise to fame. I didn't realize just how world-famous he was. I've always liked the music of Jim Reeves. His enunciation impressed me– unlike most singers who sound lazy by running words together. Of special note with Like a Moth to a Flame is a 6-song CD as part of the package. I wanted to include a bonus CD in my Faron and Marty biographies, but that didn't work out.