FEATURED ARTIST – SHERWIN LINTON
Sherwin Linton is running for President of the United States. His slogan is "You Do Have a Choice" and his platform is "Stop Child Abuse." He ran once before, in 1980, during the Reagan-Carter faceoff. Although not on the ballot, he received more than thirty write-in votes in his home state of South Dakota.
Does he hope for more votes this time? Well, actually, the whole idea is a fundraiser. He's selling bumper stickers and campaign buttons to help the South Dakota State Fair Foundation pay off the mortgage on the newly built 4-H exhibit hall at the fairgrounds in Huron. Check out http://www.sherwinlinton.com to learn about the campaign and about Sherwin's lengthy entertainment career.
"I'm grateful for having sixty years of performing fulltime as a musician," Sherwin told me the other day, when I called him at his home in Minneapolis. "I've had an opportunity to entertain people across the country." Many of his shows contain a Johnny Cash section, and the website http://thejohnnycashstory.com tells how Johnny encouraged Sherwin to continue performing his music after Sherwin recorded a tribute album, Hello, I'm Not Johnny Cash.
"I love entertaining, I love singing, I still love playing guitar," Sherwin says. "That's what I like best is playing the guitar." At age 76, Sherwin maintains a heavy touring schedule with his wife, Pam, and his band, the Cotton Kings. At this time of year, that includes fairs in Minnesota, Iowa, and the Dakotas. "It's amazing to me that we still have that many venues that want to book us," he told me.
His absolute favorite venue is the Centennial Stage at the South Dakota State Fair. He's been performing three shows a day for the week-long fair every year since the early 1970s, and he puts local South Dakota talent on the stage with him. "It's like my homecoming," Sherwin says. "I enjoy seeing all my longtime friends. It's an emotional feeling I can't describe. I love my home state and the people in it."
After Christmas, he and Pam will spend three months in Texas. They first went there fifteen years ago to perform at an Iowa reunion, and they discovered they had high name recognition. Many of the people in the 600 RV parks in South Texas are from the Wisconsin-Minnesota-Dakota-Nebraska area and had grown up with Sherwin's music. While in Texas, Sherwin and Pam perform as a trio with bass player Dick Moebakken, who was a Cotton King in the late '70s. Their base is LaCopa Hotel in McAllen, Texas, and they play in venues with capacities ranging from 250 to 1000 seats. "We've got dates booked for 2018 already," Sherwin says.
The Cotton Kings stay fully occupied while the boss is away. Pete Brooks (string bass) is a schoolteacher. Kenny Wilson (steel/banjo/guitar) and Ken Anderson (drums) both have their own music lesson programs and performance schedules.
Sherwin is glad he grew up with an eclectic variety of music on the radio. It gave him an appreciation of all types of music. He thinks Marty Robbins had the best singing voice ever. "Marty could sing one line and it grabbed you," he says.
The ideal song, according to Sherwin, is one with "a tune anybody can sing, lyrics with good flow and message, a rhythm that can be danced to."
"What really sticks with me," he says, "is this verse from Oliver Wendell Holmes:
'Time wrecks the proudest piles we raise.
The towers, the domes, the temples fall.
The fortress crumbles and decays–
One breath of song outlasts them all.' "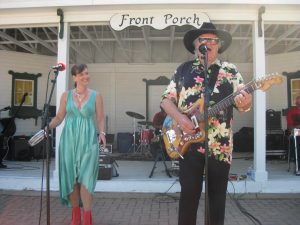 Pam and Sherwin Linton – 8/9/16
NEWS
Mel Tillis celebrated his 84th birthday on August 8. According to the Absolute Publicity agency, "Mel, who has been under medical care since undergoing colon surgery last January, received a video reel from some of his longtime friends and industry execs." Daughter Pam Tillis said, "This year has been tough for him but we continue to see improvements as the days go by. Right now, he's in assisted living since he needs special wound care and rehabilitation. We hope to have him home soon." The address for sending get-well cards to Mel Tillis is:
Absolute Publicity
800 18th Ave S
Nashville TN 37203
RCA Nashville no longer has Garth Brooks on its label. "I've always enjoyed being part of a team," Garth told the Tennessean. "I think you can always be part of something bigger with a team than you can be by yourself. Would I love to be part of a label group? Sure I would. But with the new streaming income now, I can't make them money." His own label, Pearl Records, will issue a new solo album this fall. Garth is also completing a Christmas duets album with Trisha Yearwood. He is hiring a radio promotions staff, and his digital music store, GhostTunes, might be absorbed into a larger company.
The names of this year's inductees into the Nashville Songwriters Hall of Fame have been announced. Four songwriters will be added to the 199 members currently in the Hall when the induction ceremony is held October 9 at Nashville's Music City Center. Townes Van Zandt, who died in 1997, will be inducted in the songwriter-artist category. He wrote the Willie Nelson/ Merle Haggard hit, "Pancho and Lefty." Songs I like by Bob Morrison, in the veteran songwriter category, are Highway 101's "Whiskey, If You Were a Woman" and Johnny Lee's "Lookin' for Love." Beth Nielsen Chapman will be inducted in the general songwriter category. I like her songs for Tanya Tucker ("Strong Enough to Bend"), Willie Nelson ("Nothing I Can Do About It Now"), and Lorrie Morgan ("Five Minutes"). Aaron Barker is also being inducted as a general songwriter. His George Strait hits include "Love Without End, Amen" and "I Can Still Make Cheyenne."
The great-granddaughter of Marty Robbins has started kindergarten. Her mom wrote on Facebook: "She's been counting down the days for the last 2 months, and wanted to write the message on her chalkboard all by herself."
The 21st annual Music Masters Series in October will honor the musical legacy of Johnny Cash. This week-long event in Cleveland, Ohio, is presented by The Rock & Roll Hall of Fame and Case Western University, and it wraps up with a Music Masters concert on October 21. Johnny Cash entered the Rock & Roll Hall of Fame in 1992, twelve years after his induction into the Country Music Hall of Fame. His tour bus, known as "J.C. Unit One," is on display at the Rock & Roll Hall of Fame through October, reports Rolling Stone Country.
The Westboro Baptist church has renewed an earlier feud with Blake Shelton, reports Country Music Nation. "We're still pleading with you to put away your sexual perversion (proud adultery) & seek God's mercy," the group tweeted. "Gwen Stefani is the picture of the dangerous adulterous woman of Proverbs 7; Blake Shelton ran into that pit." Blake responded, "I see y'all are back at it!! Did y'all ever expand your gene pool or are you still nailing your immediate family members?"
To raise money for Rett syndrome research, Clint Black held the Clint Black Dream Recording Session Contest through an online fundraising platform. Nash Country Daily reports the contest was a nationwide competition with 400 country music fans competing to win a chance to record an original song with Clint. The winner was singer/songwriter Blake Esse who wrote the song "Feels Good, Don't It?" Blake recorded his song with Clint as producer. Rett syndrome is a postnatal neurological disorder recognized in infancy and seen usually in girls. Clint lost his niece to the disease.
The GoFundMe campaign launched by Brad Paisley in June to raise money for victims of the West Virginia floods has $700,000 of its $1 million goal. Brad initially donated $100,000. Nash Country Daily reports a groundbreaking ceremony for building 42 homes and a community park for flood victims was held last week in White Sulphur Spring. Brad made an initial donation of $250,000 for that project by Homes for West Virginia. Total fundraising goal is $20 million.
In 1982, Conway Twitty built a $3.5-million family compound and tourist attraction, which included the 24-room mansion where he lived. The gardens around the mansion offered elaborate Christmas light displays every year. "I built Twitty City because I wanted to have a place where my kids and I could always be close together, and they have homes right here," Saving Country Music quotes Conway explaining on a television show. "I also wanted a first-class place for country music fans to come to when they come to Nashville, and get as close to an artist as they can get." When Conway died in 1993, Twitty City caused a bitter legal dispute between his third wife, Dee, and his four children. "Because Conway had not amended his will after marriage," the Heritage Law Group explained, "his wife was entitled to a 1/3 share of his estate. His children fought in court to continue living in their Twitty City houses. They also fought to keep the salaries they had been receiving from their father's company." The probate judge ordered everything to be sold at auction and the proceeds divided. Trinity Broadcasting Network purchased Twitty City and renamed it Trinity Music City. It is now used mostly for broadcasts of Sunday services and other live events. The new owners kept the gift shop open and offered tours of the grounds and Conway's home until tours were suspended in early July.
BMI Nashville recently honored Bill Anderson, the only country songwriter to have a hit in seven consecutive decades. According to Music Row, he was presented with five Million-Air certificates to celebrate the radio play of five of his songs:
"Tips of My Fingers" – three million spins
"Whiskey Lullaby" – two million spins
"Give It Away" – two million spins
"Saginaw, Michigan" – one million spins
"Lord Knows I'm Drinking" – one million spins
This past Saturday night, Vince Gill celebrated his 25th anniversary as a member of the Grand Ole Opry. He had turned down his first invitation to the Opry stage, the Tennessean reports, because he was playing guitar for his daughter Jenny in her first grade talent show. Jenny joined him for his anniversary show, as did Bill Anderson, Rodney Crowell, Patty Loveless, wife Amy Grant, and the Time Jumpers. Vince invited the entire evening's cast to help him close the show with "Liza Jane," backed by The Time Jumpers. The Opry changed its format to give him the entire 2-hour first show, and it ran over by almost an hour. CMT.com reports Vince told the audience for the second show, "Sorry we made you late. We were having a blast in here." Rolling Stone Country described the show as "the guest artists switched places with Gill, handling lead vocals on several of his best-known tunes while Gill took the harmony parts." Bill Anderson told about calling Vince's house and being shocked to hear a whispered message on the answering machine: "Hello. You've reached Whisperin' Gill." When Vince became an Opry member on August 10, 1991, Roy Acuff welcomed him and listened with a tear in his eye as Vince sang Roy's favorite Vince Gill song, "When I Call Your Name."
Nash Country Daily reports: "From California natives like Merle Haggard and Gary Allan to transplants like Buck Owens and Dwight Yoakam, the Golden State has a rich country music history. For the last few years, South Dakota-to-California transplant Sam Outlaw has successfully added his name to the list." The Los Angeles-based singer/songwriter says, "It was really that Southern California singer/songwriter troubadour-era tradition that is as much a part of what I do as hard-core honky-tonk music is." He calls his California-infused country sound "SoCal Country." Outlaw was his mother's maiden name.
Chris Stapleton may be the reigning CMA Best Male Vocalist and Grammy winner for Best Country Album, but Hank Williams Jr. apparently hasn't heard of the co-headliner for his upcoming shows. "I have not worked with Chris in the past, nor do I remember ever meeting him," Williams wrote in an email to the Tampa Bay Times. The pair is playing eight shows together this month, with the first one in Tampa, Florida. "Normally I don't know who is opening a show until I get to the show just before going on stage," Hank said. "I only do about 25 shows a year and I do not really do tours. I play when I want to, for who I want to." His agent said Chris was a big fan and wanted to do some shows together, and Hank agreed to eight. "I haven't heard the album," Hank's email said about Chris Stapleton's best-selling Traveller. "I don't listen to much radio, so if it is somebody I don't know, I probably don't know their music either." He added, "I always ask any of the artists that open up if they know 'Family Tradition,' since that's my last song in the set, and if they do, I normally ask them to come on out and take a verse and have fun. When that song is done, I am gone. Headed right for the plane to head home."
LETTERS
Mary Mitchell responds to my question of the week, "My answer to your question is just as you feel. People feel emotion and care less about anyone who is there to just relax and enjoy the Entertainer. I find that a great venue is usually held in an upscale center. In Colorado Springs, we have Pikes Peak Center. Brings good and worthwhile Country Performers. I Saw Merle Haggard last October and every seat was full. Standing made no difference as the theater is State of the Art."
Bob Hamburg writes from California, "Since I have a hard time getting up and down, I will frequently ask them to sit down. Politely at first, then I poke them with my walking stick. That usually gets their attention and cooperation. Since I wear Cowboy hats, I ask those seated behind me if I am blocking their view. If so, I take my hat off. I can't help blinding them in the reflection. Great question to show how inconsiderate people are. The same goes for those who carry on a running commentary. Keep up the good work. I always enjoy the newsletter."
Bill Blough says, "Along the same line as the Stand ups at a concert are those who 'sing' with the artist. The LAST show I went to was a Gene Watson/Rhonda Vincent concert where a VERY poor singer sitting next to me was singing along with Gene. I finally told him I did not come to hear HIM sing. He, and his wife, were upset with me, but he DID shut up."
Elroy Severson responds, "Thanks much for the interesting newsletters–you do great work. Why pay big bucks and then stand up? I suppose there are a couple of reasons–enthusiasm is greater than the care about being rude, and persons in front are standing up so one has to stand up to see. I agree with you that it is very rude to stand up and ignore those sitting behind. I have to think a little about how the problem could be solved and one way would be to have a separate stand-up area. It will probably never happen, because of a possible result in fewer tickets sold. I would probably go to more events if I didn't have to stand up to see."
Alan Potter writes from the United Kingdom, "Nice to read all those wonderful letters. Terry Counts is a dear friend & so pleased to see Janet McBride is still going strong…we lost contact years ago. I do a legends show on ukcountryradio.com & recently covered Freddie Hart…don't know if they have broadcast it yet but fans can check on the site."
Lee Shannon reminisces, "I only met Gentleman Jim one time. It was while I was a DJ at KFDI in Wichita, Kansas, about six weeks before he was killed in the plane crash. He had come to the Beechcraft plant to see about buying a twin-engine plane. I believe there was mention after the crash that he & Dean Manuel might have made it through that strong thunderstorm had the plane been a twin-engine aircraft. Speculation, I'm sure. I have been told I was fortunate to have gotten an interview with Jim because he did not give that many. Surprising, since he was once a DJ himself. I will always remember what a Gentleman he was that afternoon. I always regretted not recording that interview."
Jim Coleman writes from St. George, Utah, "I would be grateful for a quick bit of help. I have been told Marty did 'The Red Hills of Utah' while recovering from heart surgery and was in the southern Utah area, St. George and Pine Valley. Can you verify or refute that for me? I don't want to further the story if it is not true."
Diane: Marty recorded "The Red Hills of Utah" on June 27, 1962, in a regular Nashville recording session. It appeared on his 1963 album, Return of the Gunfighter. His first heart surgery was in 1970.
Devon Wilkins in Peterborough, Ontario, Canada, requests, "First of all, I'd very much appreciate it if you would add me to your E-mail list. I love classic country. Unfortunately, all of my very favourite artists—Hank Snow, Kitty Wells, and Webb Pierce–are gone. Thank goodness for recordings! I was glad to hear about Charley Pride's 50th year in the recording industry. I do a weekly show on The Global Voice called Goin' Like Sixty.  It's 60 minutes of music from the '60's.  I'll soon feature Charley as a Sixties Success Story. Thanks for this terrific newsletter."
Rosemary Eng writes from Newark, Delaware, "I am anxious to hear how Margo Smith is doing. When you mentioned she was in the hospital, I sent her a card, wishing her well. The card came back to me, marked 'undeliverable.' I hope she is much better, and even back home. An update would be great."
Diane: I haven't heard anything else. Readers?
Dave Rogers requests, "Would you please add my sister-in-law, Caroline Kenna, in your music newsletter?"
Dan Chambers, pedal steel guitarist, says, "I checked out the example of your newsletter in Steel Guitar Forum. Nice work! Please add me to your mailing list."
Bill Fisher says, "Please send the newsletter to this address."
Erv Niehaus requests, "Please sign me up for your newsletter."
Jan Manning of Trout Creek, Montana, writes, "My old friend Lee Rector from Music City News (where we both worked) just forwarded your newsletter to me. Would you please add me to your mailing list? It's good to know some of the news about the crowd I ran with back in 'the day' (1976-1984). Thanks for your hard work and service."
Angie Stewart requests, "Please add me to your list for Diane's country newsletter. I used to receive it through someone else but haven't gotten one in a long time. I really enjoy it."
J.T. Smith writes from Gallatin, Tennessee, "I am a retired Navy Veteran of thirty years of service. I am the coordinator for the USS Dixie AD-14 Association. We support all disabled Veterans and Veterans Disaster Relief. We have a reunion scheduled for Oct. 2-6 and it would be great to have one of Marty Robbins and Navy Greenshirt books, plus it would be super to have them autographed. The members of the association are all Navy Veterans and getting on up there in age (average approx. 72-76). We were great Marty Robbins fans and met him many times when I worked (after Navy retirement) at The Opryland Park. My wife has many pictures and autographs of him."
Jud McCarthy in Boca Raton, Florida, says, "Thanks once again for the newsletter. Your final newsletter paragraph about Jim Reeves prompted me to mention an associated side note. In 1961 my wife Mary (recently deceased) and I lived in a trailer park in West Corners, New York. Our first son, Jimmy, was the terror of the trailer park. Jim Reeves's song 'Bimbo' was a big hit at the time, and it matched our Jimmy to a T. We still play it at every family get together even today. Our Jim is going on 59."
Hailey Westrich writes about the Branson Terry Music Awards, "Just wanted to send you information regarding this year's show. The 2016 Branson Terry Music Awards will take place Sunday, October 9, at the Jim Stafford Theatre. The Branson Terry Music Awards was founded by Terry Beene, former disc jockey from Fort Worth, Texas. The award show began as simply 'The Terry Awards.' It took place in Texas for over 30 years until moving to Branson in 2014. The press conference for the 2016 awards show took place August 2. Over 200 entertainers and spectators attended this event to see if they or their favorite stars were nominated."
Kate Davis of Bear Creek Productions in Medford, Oregon says, "Love this newsletter!! So excited to learn of Charley Pride's upcoming special…really looking forward to that and, of course, I always welcome news of Charlie Daniels and Garth Brooks. Thank you again for a job well done."
Diane: I'm glad I got to meet you and Marty at the Sioux Empire Fair. I enjoyed his singing and the history he provided about the western songs and singers. He did a great job.
Marty Davis – 8/9/16
SONG OF THE WEEK
During a recent Sherwin Linton show at the Sioux Empire Fair in Sioux Falls, band member Kenny Wilson played the banjo and sang an old Kingston Trio song, "Man Who Never Returned (M.T.A.)." It was a protest against increased fares on the Boston subway system. Written by Bess Hawes and Jacqueline Steiner, the song was officially titled "The MTA." It's about a man named Charley who "put ten cents in his pocket, kissed his wife and family, went to ride on the M. T. A." But when the conductor said, "One more nickel," he couldn't get off the train. After that, his wife came to the station every day and handed him a sandwich "as the train comes rumblin' through." I'm obviously not the first person to wonder why she didn't just give him a nickel so he could get off the train. I found the answer in one of the comments on YouTube, "It's because he WON'T give another five cents. It's why he only took the money he USED to take. This was a protest song and the character and artists were protesting the insanity of price increases that were going on at the time."