NEWS
Country Music Nation reports, "Only one day after her 59th birthday, we have some heartbreaking news to report about Holly Dunn. The country music icon has been diagnosed with cancer." The article then quotes from a June 19 interview with Hallels and adds, "News about it didn't really start circulating until August 22. Country Aircheck confirmed the news, saying Dunn has been diagnosed with ovarian cancer and is currently undergoing chemotherapy treatments in New Mexico, where she lives." But I'd emailed Holly a birthday greeting on August 22, and she responded with, "Thanks Diane! I'm doing very well and am hopefully at the end of the chemo. My last scan showed no detectable disease. God is good! Holly."
Pre-orders are being accepted for a special-order Tennessee license plate featuring Dolly Parton. When 1,000 orders are placed, the plates will go into production, and it will take another 4-6 months for them to be made and issued. One plate costs $35, with almost half the purchase price going to Dolly's free-books program, Imagination Library. Tennessee drivers can order the license plates now at imaginationlibrary.com.
Taylor Swift reported for jury duty in Nashville on Monday. According to the Tennessean, "She arrived at downtown's criminal courthouse on 2nd Avenue with additional security in tow. She posed for photographs and videos with fans." The trial was a domestic violence case involving aggravated rape. During jury selection, when asked her profession, Taylor answered, "I am a songwriter." She had been called in December but asked for a deferment because she was on tour. This time, she was dismissed early in the afternoon.
Starstruck Farm, an 83-acre farm owned by Reba McEntire and located along the edge of Old Hickory Lake, is for sale for $7.9 million. The 12,816-square-foot house has seven bedrooms and five bathrooms. According to the Tennessean, "There's also an eight-car garage, a tennis court, a pool and guest house, a five-stall barn and an equestrian facility with 16 stalls, indoor and outdoor arenas and 12 fenced paddocks." In 2002, Reba and then-husband Narvel Blackstock put the farm on the market without including the mansion. A year ago, Reba sold her mansion in Beverly Hills, California, for $22.25 million.
After torrential rains caused floods that killed 11 people and damaged 40,000 homes in Louisiana, Taylor Swift donated one million dollars toward flood relief. She told CNN, "We began The 1989 World Tour in Louisiana, and the wonderful fans there made us feel completely at home." The Louisiana governor has declared a state of emergency in the flooded areas.
Stacy Harris writes in Stacy's Music Row Report, "Tommy Cash and his son, Mark, continue to mourn the passing of, and await justice for, Mark's young murdered daughter, Tommy's granddaughter, Courtney." That tells me the murder trial hasn't yet been held. I haven't seen any news reports and haven't wanted to ask Tommy for status.
While many bands have boycotted North Carolina since the state passed its controversial House Bill 2 in March, the Dixie Chicks did the opposite. They made a point of putting the state on their first tour in ten years, reports the News and Observer, and they played to a full house at the Walnut Creek Amphitheater in Raleigh. Concert goers received ball caps that read "No hate in our state" and contained the astrological symbols for male, female and transgender. "We have a favor to ask," Natalie Maines announced during the show. "Since we didn't cancel our show–you're also the only state we bought gifts for–could you pull out the hats we gave you? 'Cause we love to support positivity. Peace and love, peace and love." The "Bathroom Bill" requires that people in government buildings use the bathroom of their biological gender.
"I always wanted to own a honky tonk that plays real country music on Broadway that I could put my name on," Alan Jackson told the Tennessean. And now he will. He paid $5.75 million for the three-story, 6,000-square-foot building at 421 Broadway in Nashville. AJ's Good Time Bar will open later this year after renovations that include adding a third-floor bar and rooftop patio, as well as an elevator. Alan is already a partner in Acme Feed & Seed, a concert venue and restaurant bar on Lower Broadway.
The Texas state 3rd Court of Appeals ruled last week that the four-year-old dashboard camera video documenting the DUI arrest of Randy Travis can be released because it is a public record. "Even if we assume that the contents of the redacted dashboard recording contain information that is highly intimate and embarrassing to Travis," the chief judge wrote, "those facts were not private as a matter of law because Travis put himself in public by driving unclothed while intoxicated." The Austin American-Statesman reports that Randy's lawyer will appeal the decision to the Texas Supreme Court if the 3rd Court won't reconsider its opinion. "I don't think the public has a right to see individuals in the course of a mental health breakdown any more than they have the right to see someone in the course of an operation on their heart, kidney or brain," the lawyer said. "To intrude upon a person who's discombobulated due to a mental health issue or a concussion, I don't think the public interest stretches that far."
"Be sure to tune in to the season 11 premiere of The Voice on September 19," reports Sounds Like Nashville, "to see if Billy Gilman is headed to the next stage of the show." He was 11 years old when he hit with "One Voice" in 2000. He was the youngest singer to ever get a song on the Top 40 chart, and he received Grammy nominations. He writes on Facebook about his audition, "It's been a long, long hard journey to prove I am more than a child star and with this amazing opportunity it helps me stake my claim."
The Academy of Country Music has established a new award. Taste of Country reports, "The Merle Haggard Spirit Award will be presented at the 2016 annual ACM Honors event to a singer-songwriter who exemplifies the tenacity and uncompromising integrity of Haggard, creating iconic songs and delivering authentic performances." Merle Haggard was the ACM's first Entertainer of the Year (1970), following being chosen as Male Vocalist of the Year (1966) and Most Promising Male Vocalist (1965). In addition to winning a total of twenty ACM Awards in his career, he also received the ACM Cliffie Stone Pioneer Award and the Poet's Award. The ACM Honors show will air September 9 on CBS. The first recipient of the ACM Merle Haggard Spirit Award will be Miranda Lambert.
Fans attending the Grand Ole Opry and shows at the Ryman Auditorium must now go through metal detectors and enhanced bag checks. This includes backstage tours. Guests who can't use walkthrough detectors will be screened with handheld wands. "Using metal detectors as our screening procedure is something we have been pursuing for nearly a year and it isn't a reaction to any direct threat to the venues or the performers," Grand Ole Opry VP and GM Pete Fisher told MusicRow. "We need to make sure we are aligned to industry standards, but also to the emerging threats that are out there." Ryman Hospitality executives expect screening lines at both venues to move quickly, but they encourage attendees to allow extra time prior to tours and performances. Performers and backstage personnel will also be screened when entering the venue. Everyone must show visual identification. The new procedures are similar to standards at all large arenas and stadiums.
In a recent interview for Cosmopolitan's "Happy Hour" podcast, Dolly Parton was asked about the best and worst advice she'd received concerning her musical career. She said the best advice came from her mother, Avie Lee Parton: "Just be yourself. Be true to what you know you are and what you know you can do; be true to your own talent. Don't try to be like somebody else." She said her worst advice came from Chet Atkins. Early in her career, he told her, "Dolly, you're going to need to get rid of all that because people are never going to take you serious if you look like that; you're just looking too gaudy." Years later, he joked, "I'm sure glad you took my good advice."
The Irish Times reports on an interview Carlene Carter did with Róisín Ingle of the Róisín Meets podcast in Ireland. The article referred to her as "the daughter of June Carter, the stepdaughter of Johnny Cash, and granddaughter of Mother Maybelle Carter of the original Carter Family." It didn't mention she's also the daughter of Carl Smith. She talked about growing up a Carter and being expected to perform. At age four, she recalled, "They just threw me out on stage and said 'sing this song.' I was really shy." But she sang. She talked about her "wild past" that included alcohol and drug problems and three marriages before the age of 23. Losing her sister Rosie, her mother, and stepfather all within a few months in 2003 was especially difficult.
Kokomo, Indiana, honored a hometown girl last weekend when Sylvia was inducted into its Hall of Legends. Six standout citizens "who have made a significant impact within the community" were honored during the event, which raised funds for the Howard County Historical Society. Sylvia sang several of her biggest hits, and she stated, "I'm so grateful to have grown up in Kokomo! This is where my dreams of becoming a singer began to take shape at a very early age." She posted this photo on Facebook, with the caption, "My mom and me at the Howard County Hall of Legends induction in Kokomo, Indiana."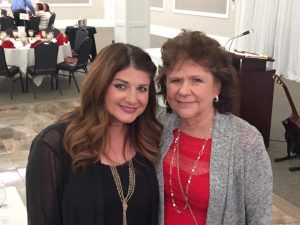 On the 25th anniversary of the accident that killed Dottie West, friends Jeannie Seely and Ron Harman paid tribute by planting a cross at the crash site. Dottie had been on her way to a Grand Ole Opry performance on August 30, 1991, when her car broke down and a man stopped to offer her a ride. Driving too fast, he lost control at the Opryland exit ramp on Briley Parkway. The car flew through the air and struck an embankment. Dottie, 58, suffered severe internal injuries and died five days later. "We were the (type of) friends that could talk on the phone at 2 a.m.," Jeannie Seely told the Tennessean. "When I had my really bad car accident in 1977, Dottie was there as much as she possibly could be, helping me through that time. . .. After her accident, I remember sitting at the hospital with her sister and just thinking how helpless I felt that I could not return that." Ron is leading an effort to get Dottie inducted into the Country Music Hall of Fame. "I think Dottie needs a voice and I'm trying to keep her memory alive," he says.
Rolling Stone Country reports that Brad Paisley and Carrie Underwood have been ruled not guilty by a federal judge in a copyright infringement suit. Amy Bowen (AKA Lizza Connor) accused Brad and his co-writers of using elements of her song, "Remind Me," in their song of the same name. She had sung it during a 2008 songwriters workshop. In 2011, Brad and Carrie had a major hit with their "Remind Me" duet. A judge in 2013 agreed Bowen, who was seeking $10 million, had a strong enough case to go to trial. Last week, the same judge ruled in favor of the defendants. She said the repetition of "remind me" in the second song was coincidental, and there weren't enough similarities in the two songs to make a case.
Those who watch the NASCAR XFINITY Series race at Darlington Raceway on September 3 might initially think Marty Robbins has been resurrected. But it's merely a throwback-themed weekend to celebrate NASCAR's history. Fox Sports announced the unveiling of Kyle Larson's throwback ride. Chip Ganassi Racing and sponsor ENEOS gave his No. 42 Chevrolet a retro purple and gold makeover for the race. Marty Robbins drove No. 42 through much of his NASCAR career.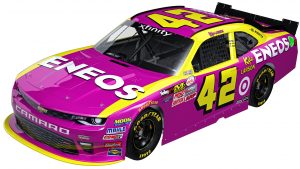 LETTERS
Sherwin Linton writes from Minneapolis, Minnesota, "I can't thank you enough for the excellent article you wrote about me in your newsletter. You surely covered a lot of information, and I am flattered to be your featured artist. You do so much for so many artists and I very much appreciate you taking time to visit by phone and author this special feature in your popular newsletter. I know this is read by a great cross section of fans and artists and music industry people. Among your readers I know is Bill Mack. I have always been a very big fan of Bill's. I had the pleasure of meeting him a couple of times in Nashville in the '60s and '70s at the DJ Convention. I would not expect him to remember that, but it was special to me. He always had a lot of people around him. Pam and I drive through Ft. Worth and Austin every year on our way to the Rio Grande Valley. Maybe you can tell Bill that it would be a big thrill for me if it were ever possible for me to meet him again and just shake his hand and say a big Thank You for all he has done for so many. I miss hearing him on the air. He kept us awake all night many years ago when we were driving a big bus from coast to coast playing shows. Those days are gone, and for some that music is gone, but we are still out here over 225 days a year still playing it. Thanks again. Keep up your great work."
Aileen Arledge says, "I really enjoy your newsletters. They are better all the time. This time I am so happy not to hear of anyone dying. I send copies to all my friends. They love them. A few months back you mentioned about people sending cards to Holly Dunn. I haven't heard anything since. Is she all right? I hope so."
Diane: Thanks for caring, Aileen, and you'll find the answer above. You might want to write to her at Holly Dunn, PO Box 70, Placitas NM 87043.
Alan Potter writes, "As always a delight to read your column & the letters. Beth Nielsen Chapman did a concert in my home town, Harrogate (England), & I interviewed her & at the evening show she sang ALL I HAVE for my lovely wife Betty. Beth is a truly lovely lady & great writer. I will never forget the look on Betty's face. That was the last concert Betty saw before she died."
Mary Knapp writes from Mesa, Arizona, "Regarding standing at concerts: When I pay to see a concert for a seat, I expect to sit and enjoy the concert. Most of the time this works. But at one concert, Old Crow Medicine Show, I do believe the whole audience stood the entire concert. The ushers kindly took me and friend to an upper level balcony so we could see over those standing. I cannot stand for long periods and use an electric scooter. Believe that is the worst concert I've wasted money on. Thank you for keeping us updated on good country music and artists. Appreciate hearing any update you might get on Mel."
Terry Counts in White Bluff, Tennessee, says, "Another great job…I am sorry to hear about the Twitty City problems. Keep up the great work."
Clem Schmitz in Crystal, Minnesota, requests, "Please add me to the email newsletter. Thought it very interesting and it stirs up memories of the great long gone era of country music."
Diane: I enjoy listening to the steel guitar music of your son, Dave, in Sioux Falls. You taught him well!
Delma Last writes, "Your newsletter was shared on one of the groups I am on. Being a lover of real country music, from the '60s and '70s and also the '80s I loved it, may I please join? I am a blind woman, 49 years old, and the biggest fan of real country there is. This stuff of today is not country to me, I love Kitty Wells, Loretta Lynn, Charley Pride, Buck Owens, Conway Twitty, Mel Tillis, just to name a few names that are country to me."
John Pokoski requests, "Please send your newsletter to me. I had been receiving it and enjoyed it but haven't received it lately."
Larry Delaney of Cancountry in Ottawa, Ontario, sends a flashback: "Faron Young headlining a Grand Ole Opry package show, March 18, 1968, at the Capitol Theatre, in Ottawa, Canada. Check the ticket prices…$3.50, $3.00, and $2.50. Quite a bargain."
Ratt Reno writes from Iowa, "We just got back from a week visiting close friends in Nova Scotia. They are Acadian and it was their annual Acadian Festival. Every year there's a big Bluegrass festival with local bands from Nova Scotia and New Brunswick. Also, Acadian bands perform at local venues during the festival. Acadians love country music. I think there's more music per capita there than Austin or Nashville! As you probably know, the Cajuns in Louisiana came from Nova Scotia and New Brunswick, when they were deported by the British from 1755 to 1764. Today's Acadian bands sound about the same as the Cajuns in Louisiana, with fiddle and French accordions and all songs sung in Acadian French. Many songs go back hundreds of years, telling about their history. The Acadians speak Acadian French, which is totally different from standard French, although they also speak that language, plus English. Our friends, Fernand Comeau (pronounced Fren'-ah Co-mo') and Cindy Meyers from Clare, Nova Scotia, would love to get on your mailing list."
Tom Kane requests, "I would like to be added to your email mailing list."
Floyd Tidd writes from Mesa, Arizona, "Just wanted to let you know about the Classic Country jam sessions we have here in the east Mesa/Apache Junction area. We have 36 different jams in the winter months and probably 30 of them are dedicated to keeping classic country music going. Long live classic country. Keep up the good work–enjoy your newsletter."
SONG OF THE WEEK
My favorite song by the Bellamy Brothers has always been "If I Said You Had a Beautiful Body (Would You Hold It Against Me)." I like the double (and opposite) messages, and the overall enjoyable sound. Who wouldn't want to hear those words from the right person? Younger brother David wrote the song, and Howard told interviewer Carl Wiser in 2007, "I have to give credit for that line to Groucho Marx. . .. He had a show called You Bet Your Life. He'd have guests on, and different quiz questions. . .. He'd say, 'If I said you had a beautiful body would you hold it against me?' and shake his cigar and raise his eyebrows. Our family always had a weird southern sense of humor and they'd use that line a lot. So it just came one day that it'd be a great song title." David's lyrics stated, "But daddy always told me, 'Don't make small talk.' He said, 'Come on out and say what's on your mind.' So if I said you had a beautiful body would you hold it against me?" That single was their biggest Billboard hit. It reached number one in the spring of 1979 and held the spot for three weeks. Their future nine #1 songs hit the top and dropped off after the first week.
LABOR DAY WEEKEND EVENTS
Here's what I'll be doing Labor Day weekend. If you're in South Dakota, I invite you to join me for any or all of these events:
Friday, September 2 – John Anderson concert at Fort Randall Casino at 8 pm. His opening act, at 7 pm, is the Chute Rooster Band  from Sioux Falls.
Saturday, September 3 – Chute Rooster Band dance in Lucky's Lounge at Fort Randall Casino, 8 pm.
Sunday, September 4 – Sherwin Linton show on the Centennial Stage at the South Dakota State Fair in Huron, at 2 pm. I'll be speaking at 1:30 about my journey as a biographer.
Monday, September 5 – Hidewood Valley Threshing Show on the Gantvoort farm near Clear Lake, at 1:00 pm. This is free to the public and hosted by my brother Keith Diekman and cousin Doug Gantvoort. I'll be on the hayrack and pitching grain bundles into the threshing machine (i.e., grain separator). There will be lots of old farm machinery on display and in use.