NEWS
Hoot Hester (1951-2016)
Hubert Dwane "Hoot" Hester, a founding member of The Time Jumpers band and fiddle player with the Grand Ole Opry staff band, died of cancer on August 30. Born on a small Kentucky farm, he spent 43 of his 65 years making music in Nashville. In addition to being a session musician, he was a regular on television shows such as Pop Goes the Country, and he was the fiddler in the Nashville Now house band.
Bud Isaacs (1928-2016)
Famed steel player Bud Isaacs died on September 4 in Arizona, after a long illness. Rick Jackson reported on the Steel Guitar Forum, "He was suffering and in a lot of pain. No funeral plans at this time. He will be cremated and a memorial service will be held at a later date." Born in Indiana, Bud moved to Nashville to pursue music. He toured with Jimmy Dickens and was a member of the Country Boys at the time Jimmy "discovered" Marty Robbins. Saving Country Music reports, "Bud Isaacs wasn't just a steel guitar player, he was the man who revolutionized the instrument by adding the foot and knee pedals that allow the steel guitar to change the pitch of singles strings as opposed to having to change to a different chord all at the same time. This made Bud Isaacs and other steel guitar players the musical wizards of the day, able to emulate the moans and yodels of country's legendary singers with the steel's mournful tone." His new style revolutionized country music when Webb Pierce hit with "Slowly" in 1954. His signature song was "Bud's Bounce."
Two of the 2016 inductees to the Musicians Hall of Fame in Nashville will be Jerry Reed and Ricky Skaggs. Also being inducted are Garth Brooks and the 'G' Men, the session musicians on all of Garth's albums.
Several days before sisters Loretta Lynn and Crystal Gayle planned to give a Labor Day weekend concert at Loretta's ranch in Hurricane Mills, Tennessee, Loretta suffered a fall that broke no bones but injured her ribs and her tongue. She was forced to cancel her appearance on the Saturday show. Rare Country reports that her twin daughters, Peggy and Patsy Lynn, sang some of their mother's hits. Crystal read a letter from Loretta that said, "I thank you all for coming, and I'm sorry I can't be there with you. I've fallen, and I can't get up. I injured my chest and can't get a deep enough breath to sing." Crystal told the fans that a pain shot had put Loretta in a joking mood. Doctors have advised Loretta, 84, to stay off the road until fully recovered.
The 10th ACM Honors show took place at the Ryman Auditorium on August 30. According to the Tennessean, it recognized "special honorees and off-camera category winners from the 51st Academy of Country Music Awards, which were held in the spring." Glen Campbell was given the ACM Career Achievement Award. Keith Urban, Blake Shelton, Dierks Bentley, and Toby Keith sang a medley of his hits. Miranda Lambert, the most awarded woman in the history of the Academy of Country Music, received the first Merle Haggard Spirit Award. Miranda said Merle was "the reason I write songs, he changed my life so much." She gave the same accolades to Emmylou Harris, who presented her with the award.
The most recently signed BMI writer is Ben Haggard, 23, son of Merle Haggard. MusicRow reports he stopped by the BMI Nashville office on August 31. Ben and brother Noel have been performing concerts originally scheduled for Merle before his April 7 death.
Johnny Western received a call from Orin Friesen, operations manager of the Prairie Rose Chuckwagon at Benton, Kansas, near Wichita, to say Roy Clark's bus caught on fire in the parking lot the Friday night prior to Labor Day. "They used nine fire extinguishers and a garden hose and could not get the fire out," Johnny says. "It was in the engine area, right below Roy's bedroom at the back of the bus. The fire departments from Benton and Towanda came and finally got the fire out. Fortunately, Roy's manager had his bus there and they were able to return to Tulsa after the show. The bus stayed in Wichita for major repairs. The show was totally sold out and the audience got an extra thrill with the fire. Nobody hurt…just severe damage to the rear of the bus."
Dot Green, wife of Lloyd Green, died in Nashville on Saturday, September 10. Lloyd posted on the Steel Guitar Forum, "She'll live on in my memories and heart as long as I still breathe. Without Dot, I can honestly say none of you would have ever heard of me or my music because she believed in my talent and kept my spirits alive when no one else in Nashville did and I wanted to quit. Dot Green was as much a part of my music, ideas and soul as I. I loved her. I truly and forever will love that beautiful soul as most who knew her did." In 2003, my daughters and I visited Lloyd and Dot at their home in Nashville while I was researching Faron Young's life. In this photo, you can see their love for each other.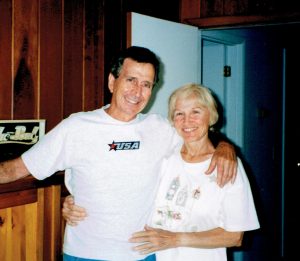 Lloyd and Dot Green at home – August 2003
LETTERS
Jeannie Seely writes from Nashville, Tennessee, "Thank you as always Diane…. great newsletter!"
Alan Potter writes from the United Kingdom, "Every time I get your newsletter I learn something new & interesting. I've been on air in the UK since 1969 & still a massive fan of country. I do a legends show on ukcountryradio.com each week & am fascinated to dig up facts & info about the stars. I'm still praying for the beautiful & brave Holly Dunn & so pleased for Sylvia to get that award…she is a truly beautiful lady inside & out & I speak from having known her for nearly 20 years."
Mary Mitchell in Woodland Park, Colorado, says, "Thanks for the letter. So happy for the good news about Holly Dunn. It is so hard to believe that everyone has forgotten Carl Smith. He, in my mind, is still the best Singer in his time. No gossip, loved Goldie and a wonderful father. I regret the fact that I never met him. As much as I enjoy Doug Davis, never a mention of his songs that were hits. He is an unsung hero. May Carl RIP."
Tom Baker writes from the United Kingdom, "Thanks for the August Newsletter – an interesting read, as ever. And good luck to Ron Harman in his efforts to get Dottie West inducted into the Country Music Hall of Fame – an incomprehensible omission, as far as I'm concerned."
Dave Rogers says, "There aren't words to express my appreciation for your wonderful Country Music News. You may remember from our Navy days my new love of country music. You have kept that alive with your News."
Courtney Curran writes from Severna Park, Maryland, "Someone on one of the mailing lists that I'm on forwarded me a copy of your newsletter. I would really love being on the list to receive any of your newsletters in the future. I'm a big fan of country music, especially the '80s and '90s country is my favorite. In fact, I won a contest at age two and a half. It was sponsored by one of the local country stations here in Maryland; I had to name the song titles and/or the artists of several country songs. I don't remember much because of my young age, but I won tickets to a Toby Keith concert, he was just becoming famous then, this was in about 1993. Anyway, I really enjoyed the issue of your newsletter that the person sent."
Sebastian Monteleone requests, "Please add me to your list so I can receive your news. My brother-in-law sent me your newsletter and I found it great reading. I am going to look up your books, too. Good job."
Daryl Skancke says, "I have to say I agree 100% with Sturgill Simpson. He's one of the few true touring, writing and recording musicians working right now and I think Merle Haggard was correct when asked about Simpson, 'as far as I'm concerned, he's the only one out there.' "
Wendy Williams writes from North Carolina, "Mr. Carl Lamm of WTSB Radio wanted me to contact you regarding your newsletter. We have really enjoyed the information and appreciated you sending them. We love all the information you share in the newsletter."
Lynn White requests, "Would you please add me on your mailing list? Love your newsletter very much. Keep up the wonderful work."
Barbie Corwin writes, "I still very much enjoy reading your newsletter and recently ran into an old friend who I'd be grateful if you'd also add to your list. David Bolus is a longtime fan of country music and was a big fan of my late husband, Hank Corwin. I remember at one of the last dog show trips Hank went to with me, David was judging. Hank wasn't able to walk into the building, so David took time out of his busy schedule to go out to our RV to talk to him."
Ted Muenster in Sioux Falls says, "I look forward to reading the Marty Robbins bio, which will be a bit in the future as I have a pile of books on my reading list next to my favorite chair. TWENTIETH CENTUY DRIFTER, will rise to the top in due course. Also, I would be pleased to receive your newsletter."
Dean Mann, also in Sioux Falls, says, "Another great paper. I appreciate how you keep up to date with all the news and with the stars."
Joe Arnold writes from Arlington, Virginia, "Roughshod Records Mike Johnson received the Lifetime Achievement Award for his decades' involvement in country music, and James Adelsberger received the 2016 Instrumental CD of the Year Award at the 41st Annual Old Time Country Music Festival in LeMars, Iowa. The presentation was officiated by Bob Everhart, president of the 41-year-old National Traditional Country Music Association based in Anitia, Iowa."
Dave Hinde sends this sad news from Virginia, "I don't know if you heard, or not. Tim Marriner passed away August 29. It was a sudden, massive heart attack. Services for him are Thursday and Friday in Rock Hill, South Carolina."
Diane: But he was barely fifty! I met Tim (and Dave) when I moved to Virginia Beach in 1985 and Tim had his own square dance club, the Virginia Square Knots. He later became a nationally known caller. He was a longtime subscriber to this newsletter. Rest in peace, my friend. Square 'em up.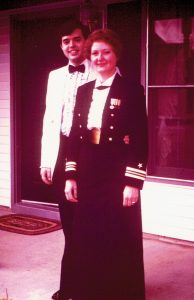 Maheen Wickramasinghe says, "There is going to be a brand new 33-track CD by Marty Robbins from the Voicemasters label called Marty Robbins: The Lost Recordings. I don't know many details about this CD yet, but do know it contains previously unreleased tracks from the Opry. This is going to be a must have for Marty fans. Thought I would let you know this exciting news. Will write a review on it when I get this CD. Voicemasters has released many outstanding CDs on Jim Reeves, Patsy Cline, Elvis, etc."
Arie den Dulk writes from Holland, "On the Country Music Foundation's digital archive one can listen to a large number of Grand Ole Opry's Prince Albert Shows, including 34 episodes with Marty Robbins, and three other programs. The best is, one can listen to these free of charge. Sound quality is very good as these have been transferred from WSM metal acetates by the CMF. As a bonus there are sections with photographic images, Hatcht Prints, and Printed material. Here is a URL to the Faron Young audio recordings on the CMF digital archives. I roughly counted 36 or 37 shows in which Faron Young appeared. It won't be long before a selection of Faron's appearances will be released. This is legal due to the different copyright laws in the UK and US. In the US you couldn't release it, but any American record label who operates through a British based company, apparently can.
SOUTH DAKOTA BANDS
When I walked into the VFW in Sioux Falls on Friday evening, I heard western swing music coming from the ballroom. What a pleasant surprise! The Nearly Wild Band from Garretson was on the stage, and this was my introduction to them. It was Rick Stoops on fiddle, along with band leader Ryan Nelson, Blaine Eilts on bass, and Scott Jansen on drums. We heard a lot of Bob Wills and George Strait during the evening, and I'm looking forward to seeing this band back at the VFW and around the area.
Rick Stoops, Scott Jansen, Ryan Nelson, and Blaine Eilts