BIOGRAPHY CONFERENCE IN NEW YORK CITY
I've been waiting since 2020 to travel to New York City for the Biographers International Organization conference. I'm a plank owner of BIO, which grew out of the Washington Biography Group in D.C. I attended those meetings while I lived in Maryland and was writing Live Fast, Love Hard and Twentieth Century Drifter. After signing a new book contract in 2019, I registered for the BIO conference, looking forward to reconnecting with the Washington writers and becoming known as "Randy Travis's biographer."
Then came the pandemic. The 2020 conference was cancelled, and the next two were held virtually. I participated in numerous Zoom sessions during those years and made my reservations as soon as this year's in-person conference was announced.
I flew Delta via Atlanta, leaving Sioux Falls at 5:30 a.m. in an Airbus 320. Fortunately, I had a window seat and could raise my window shade, the only flight leg on which I could see outside. Almost all passengers left their shades down, forcing us to sit in a dark tube. We flew in bright sunshine above the sparkling clouds until descending and landing on a dreary, overcast morning at Hartsfield-Jackson Atlanta International Airport–the busiest airport in the world. As we taxied, and continued to taxi, it felt as if we were driving around looking for a parking space. Gate A11 was the first empty space, and I thought we'd turn in there, but another aircraft pulled into that spot. We taxied to the end of the terminal, past gate A33, and up the other side, finally stopping at gate A26. Where we sat. The pilot said we'd had two gate changes since we landed. It was 9:03 when we finally parked. My next flight would board in fifteen minutes, so I hoped the gate would be close. No such luck. I took the underground train to the next concourse and reached gate B29 just as my section was called to board.
Upon landing at LaGuardia Airport, I took a taxi to my hotel on East 43rd Street in Manhattan. The traffic congestion during the 30-minute ride made me glad I didn't have a car. I'd never been to New York City, except when I visited friends in New Jersey 25 years ago. They took me to Broadway to see Lou Diamond Phillips in The King and I and on a ferry ride to the Statue of Liberty. This taxi ride included going through the Mid-Town Tunnel, which I later learned went underwater from Queens to Manhattan.
The conference was held at The City University of New York Graduate Center on East 34th Street and 5th Avenue, a fourteen-block walk from my hotel. When I got there, I noticed a one-block-square building diagonally across the street with the words "Empire State" above the main door. So I looked up. And up. And up. Yes, I was standing in front of the Empire State Building.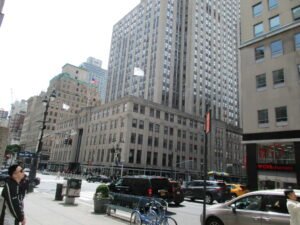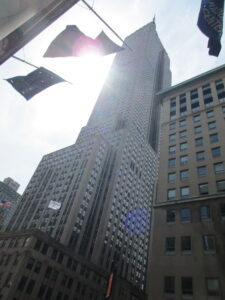 During the Friday afternoon and all-day Saturday sessions, I enjoyed meeting people I recognized from the Zoom meetings, especially the six members of my monthly Pop Culture group. We held an "in-person meeting" at Sarge's Delicatessen & Diner, which was conveniently located on the way back to my hotel. They all get this newsletter. Jared, Carl, Ellen, Beverly, Sydney, and Danny, I'll see you on my laptop for our June meeting.
I said hello to two people from my Washington Biography Group days. Jamie McGrath Morris, the biographer of Joseph Pulitzer, founded BIO; he has been reading my newsletter for many years. Hi, Jamie! Kitty Kelley has gained fame as the unauthorized biographer of Frank Sinatra, Nancy Reagan, the Bush family, and Oprah, among others. I always use her as my example when explaining "biography" to people. She has been sued many times without ever losing a lawsuit. When people insist they didn't talk to her, she brings out her tapes, transcripts, photos with the interviewees, and copies of her thank you letters. Everything is well documented and accurate. She writes about people she respects, who are still alive and can defend themselves, and who exercise power over our lives. She says, "I do not relish living in a world where information is authorized, sanitized, and homogenized."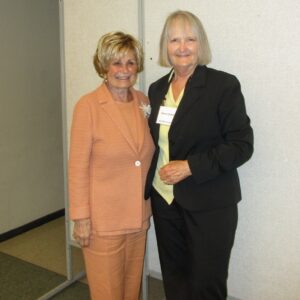 Kitty and Diane
I introduced myself to Holly George-Warren, the biographer of Gene Autry. I told her I'd read her book years ago and that I had won the Belmont Country Music Book of the Year award for Twentieth Century Drifter the year after she won for Public Cowboy No. 1. She said she had been a peer reviewer for my Marty Robbins biography, which means the University of Illinois Press hired her to give an opinion on whether or not to publish my book. (Here's the video of the Belmont award presentation exactly ten years ago.
Sunday morning, I walked to the graduate center for one last session. I came down East 34th Street and there was the Empire State Building ahead of me, this time in sunshine.
While in New York City, I thought I should spend some time exploring, so I stayed an extra night. Sunday afternoon, I put on my running shoes and ran/walked the streets of Manhattan for seventy-five minutes. My first stop was the United Nations building, three blocks from my hotel.
I then headed west and got stopped at the Avenue of the Americas (6th Ave) by the second annual Asian American Pacific Islanders Cultural Heritage Parade. As I continued on my way, I had no idea until later looking at a map that I was in the middle of Times Square. I crossed Broadway without realizing it was THE Broadway, so I failed to turn down that street. My destination at that point was Madison Square Garden at 8th Avenue and West 32nd Street.
Monday morning, I walked through the amazing edifices of the New York Public Library, built in 1902 at 5th Avenue and East 42nd St, and Grand Central Terminal, built in 1912 at Park Avenue & East 42nd St, where it now supports an underground metro instead of above-ground trains.
I checked out of my hotel and pulled my suitcase two blocks to the taxi stand. The return trip to the airport only took fifteen minutes. With hours to kill before my flight, I looked forward to relaxing in a bar with a Johnnie Walker on the rocks. It was not to be. The bars and restaurants all required ordering with a QR code, and I refused to support such a total absence of customer service. QR codes are wonderful technology for customers who want to use them. But to refuse service to those who don't? I went to one of the kiosks and bought a sandwich and a non-alcoholic drink.
The return trip was uneventful. It was another tight connection in Atlanta, but my suitcase and I made it. Considering both layovers were only fifty minutes, and my flights were in different terminals, it shows the efficiency of the Atlanta system. I was home by midnight. Not only did I connect with fellow writers during the weekend, but when the new Law and Order TV season begins this fall, I'll be much better educated about the Manhattan locations the detectives discuss.
NEWS
Talent buyer George Moffett, 86, died May 14 at Genesis Hospital in Zanesville, Ohio. While in college, he booked local bands for fraternity parties and social clubs. After graduation, and realizing the need for a booking agency, he founded Variety Attractions in 1961. Over the years, as Variety Attractions grew, he booked Dolly Parton, Loretta Lynn, Tammy Wynette, George Jones, Alabama, Garth Brooks, Toby Keith, Trace Adkins and more. To date, Variety Attractions has booked over $1.2 billion in contracts and now operates in 24 states. Moffett was named four times by the Country Music Association as SRO Promoter/Talent Buyer of the Year and three times by the Academy of Country Music as Talent Buyer of the Year. He was one of the founding members of the International Country Music Buyers Association in Nashville, along with his colleagues Don Romeo and Hap Peebles. Today the organization is the International Entertainment Buyers Association, recognized as the premier organization for talent buyers of all genres. The George Moffett Scholarship endowed at Belmont University in Nashville is awarded annually to a deserving student majoring in an accredited music business class. Thanks to Dave Barton of Franklin, Kentucky, for sending this with the note, "I knew him well."
Celebrating her 68th birthday on May 24, Roseanne Cash talked about her mother, Vivian Liberto. "My mom died on my birthday 18 years ago, and every year since I've always acknowledged my sadness about her passing to myself, privately," because she says her mother "would not in a million years have wanted to take my birthday away from me." Vivian filed for divorce from Johnny Cash in 1966 after learning of his affair with June Carter. Roseanne tells PEOPLE, "I had two really good examples from women in my life. My mom gave me this powerful sense of discipline, family, mothering and detail orientation. June gave me this sense of expansiveness and how to live life as a performer."
Veteran singer-songwriter, session musician, producer, and label head Richard Landis, 77, died May 16. MusicRow reports he served as an executive at Capitol Records, Giant Records and BNA, and had over 40 years of professional credits and chart success with top-selling artists, beginning with Juice Newton in 1981. Landis grew up in Queens, New York and was first encouraged to move to Nashville in the 1990s by Joe Galante, head of RCA. From 1993 to 2000, Landis and James Stroud co-owned Nashville's Loud Recording. In 2007, Landis opened his own studio, Fool on the Hill, in Berry Hill, which he later sold to Peter Frampton.
Mattie Jackson, 32, the daughter of Alan Jackson, married Connor Smith, 30, at The Breakers Palm Beach in Florida earlier this month. PEOPLE reports Alan shared on Instagram a photo from the wedding, saying, "Denise and I are so happy to officially welcome Connor into our family." Mattie's first husband, Ben Selecman, died in 2018 from traumatic brain injuries after slipping on a boat dock and hitting his head.
The city of Nashville renamed Horton Avenue to DeFord Bailey Avenue, to honor one of the original stars of the Grand Ole Opry and its first black performer. MusicRow reports the new street name was officially unveiled on May 20 in a public ceremony, immediately followed by a free outdoor concert that featured country and R&B performances by two of Bailey's grandsons. DeFord Bailey, born in 1899, was one of the most popular performers on the Opry from 1926 until 1941, when he was fired by WSM management. Bailey lived in the Edgehill neighborhood until his death in 1982. In 2005, he was posthumously inducted into the Country Music Hall of Fame. His biographer, David C. Morton, attended the unveiling. The Country Music Hall of Fame and Museum recently reissued the 1991 biography, DeFord Bailey: A Black Star in Early Country Music, written by Morton with Charles K. Wolfe. I will review it in my next newsletter.
Betty Louvin, 93, the widow of Charlie Louvin, died May 13 at The Hearth of Hendersonville. Born Elizabeth (Betty) Irene Harrison in Meridian, Mississippi, Betty was one of 13 children. She met Charlie when she was working at a Walgreens in Memphis. When he asked Betty to marry him, her dad gave them $8.00, and they drove to Meridian, where they got married in a preacher's living room on September 18, 1949. According to her obituary, "Betty often said she and Charlie enjoyed their life as much as possible and, although they had their rocky moments, she wouldn't change a thing." She is preceded in death by her husband of 61 years, Charlie Louvin, and her oldest son Charlie (Sonny) Louvin Jr. She is survived by two sons, Kenneth and Glenn Louvin, and their families.
Here's an update on Willie Nelson after celebrating his 90th birthday April 29-30 at the Hollywood Bowl, with an estimated 18,000 fans attending each night. "I never thought I'd get here," he told PEOPLE about reaching that birthday. He no longer smokes or drinks. "That's added a few days to my life, I'm sure," he says. Due to his age, his hearing's "not the best," and he can do most of his martial arts routines only in his mind. He still feels young at heart. He's been married for 31 years to his fourth wife, Annie D'Angelo, 66. "She's my lover, my wife, nurse, doctor, bodyguard," he says. They share sons Lukas, 34, and Micah, 33. Willie's other children are Lana, 69, Susie, 66, Paula, 53, Amy, 49, and two who have died, Renee and Billy.
The North Carolina Music Hall of Fame has selected Garner, North Carolina, native Scotty McCreery, 29, as one of its 2023 inductees. The annual ceremony will be held October 19 at the Mooresville Performing Arts Center. The other music legends with North Carolina roots who will be inducted during the ceremony are Loudon Wainwright III, George Beverly Shea, Betty Davis, Bill "Fatback" Curtis, and Fetchin Bones. I visited the North Carolina Music Hall of Fame in Kannapolis while on a Randy Travis research trip. He was inducted in 2009.
Wide Open Country reports Blake Shelton received a star on the Hollywood Walk of Fame during a May 12 ceremony. His family was there from Oklahoma, and his mother told him, "I wish Richie could have been here to see this and everything that you've done." Blake explains, "I feel like that's probably the best way to wrap this up. Richie was my brother that I lost many, many years ago, so I dedicate my star on this walk of fame to my brother Richie."
Tina Turner, the "Queen of Rock 'n' Roll," died May 24 at age 83, following a long but unspecified illness. According to HuffPost, her medical struggles included cancer, high blood pressure, and a kidney transplant. Since her death, the story of Waylon Jennings and Willie Nelson writing "Good Hearted Woman" has been in the news. Texas Hill Country reports the two were on tour in Fort Worth, Texas, when Waylon saw a TV commercial promoting Tina Turner. It called her "a good-hearted woman loving two-timing men." Waylon went to Willie with the idea, and the song became the title track of Waylon's 1972 album, Good Hearted Woman. Tina later recorded it on her album, Soul Deep.
John Anderson headlined the Ryman Auditorium for the first time in his nearly 50-year career on Sunday, May 21. Performing to a packed house, he sang his classics such as "Swingin," "Seminole Wind," "Straight Tequila Night," "Money in the Bank," "Black Sheep," "Wild and Blue," and many more. The Tennessean reports John described his overdue headlining debut as "personally, a special deal for me." He began playing acoustic shows about five years ago. Performing with longtime bandmate, steel guitarist Glenn Rieuf, he says no two gigs sound the same. Playing acoustic "puts the song under the spotlight." He never does the same thing twice, but he often tells a story before or after a song. There is simplicity: "Just the song and very little production behind it." He had no surprise guests Sunday night. "This particular time, just because I've never been asked to do my own show at the Ryman," he says, "I told Glenn going in, 'We better keep this one to ourselves and hope we do good.'"
The newest member of the Louisiana Music Hall of Fame is Randy Travis. The Livingston Parish News reports he was inducted during the Cajun Country Jam in Denham Springs, Louisiana, on May 27. The Louisiana Music Hall of Fame was formed to preserve and present the heritage of the music and the music business of the State of Louisiana. Inductees have contributed by deed and talent to create this outstanding music.
Mary Davis Travis, Randy Travis, Louisiana Music Hall of Fame President Mike Shepherd, and inductee Debbie Traylor. Photo by Jonathan Mailhes.
LETTERS
Bobby Fischer writes from Nashville, "Thanks for the many updates. Tough one there to see Jimmy Payne died. He was the real deal down home personality. A couple years ago I ran across his number didn't think it would be good. It was. We talked a bunch about the road and musical times." He later adds, "Today, May 27th, I was a lucky guy to marry Helen Ann, 63 years ago in Iowa. We've been living a country music life song ever since."
Judi Myrick says, "Thank you for all the information. You mentioned some names I hadn't thought about in years. Good Memories!"
Mike McCloud writes, "Sorry to hear that Claude Gray passed away. 1960 song of his, 'The Family Bible' holds a tender memory for me. Back years ago, I was staying with Mr. & Mrs. Alfred Hinten. Every morning after breakfast, we would go to the living room, and he would read one chapter a day and take hands and have morning prayer. Each time I hear that song I cry, thinking of those family worships. I know that song by heart. I don't know that I could hold my composure and not cry trying to sing it. I have never sung it publicly….yet. But one day I will try and see what happens. Just wanted to share a memory with you."
Doyle Grisham writes, "I just wanted to say thank you for sending me your Country Music Newsletter. I love reading it and you do a great job with your research on everything that you write about. Also, thanks for doing an article on me a while back. I'd love to be in your area some day and meet you, personally."
Diane: I'd love to meet you, too, Doyle. Let me know if you and Jimmy Buffet get to this part of the country.
Ruby Anderson writes, "I just wanted to let you know that John Edmonson passed away. I put a video on YouTube just before he passed. It is under MR Country Remar Productions. He was just a great guy and his wife passed in September. He will be greatly missed and really loved making music for Marty Robbins. John and his wife did not want any service. All he has left is his daughter, Karen."
Diane: That's a shock, Ruby. How sad. He just sent me a note earlier this month. I know he was very proud of his Marty Robbins productions.
BOOK REVIEW
Several times in this newsletter I've mentioned the upcoming Stringbean biography by Taylor Hagood. Stringbean: The Life and Murder Of a Country Music Legend has now been published. Congratulations, Taylor, on your achievement. David Akeman was already calling himself "Stringbean" and "The Kentucky Wonder" when he joined Bill Monroe and the Bluegrass Boys in 1942 and became a member of the Grand Ole Opry. His stage costume consisted of a long nightshirt and pair of pants belted together below his thighs, the embodiment of a human string bean. Known for his banjo, his singing, and his comedy, he was also a cast member on Hee Haw. He was 58 and his wife, Estelle, 59, when they returned home from an Opry performance on November 10, 1973, and were shot to death by intruders searching for money in their farmhouse. Taylor provides an easy-to-follow chronological story of Stringbean's life, the murders, and the investigation and trial. Here is my full review, the final one for the Internet Review of Books, which has closed: http://internetreviewofbooks.blogspot.com/2023/05/stringbean-life-and-murder-of-country.html
NASHVILLE SONGWRITERS HALL OF FAME – 1990
Sue Brewer is an honorary member of the Nashville Songwriters Hall of Fame, inducted nine years after her death. A single mother and a champion of struggling artists and writers on Music Row, she was legendary in Nashville for her generosity to the city's songwriting community in the 1960s and 1970s. Mary Sue Berry was born in 1933 in Dardanelle, Arkansas. Her first job in the music business was publicizing concerts for Webb Pierce. In Nashville, she worked at Faron Young's magazine, Music City News, on the late shift at a Music Row venue called the Derby Club, and as night manager at George Jones's Possum Holler nightclub. She turned her apartment at 911 18th Avenue South into an after-hours clubhouse for music folks and called it the "Boar's Nest." She hosted guitar pulls in her living room, entertainers came there to hang out, and musicians without money slept on her floor. Vince Matthews and Shel Silverstein co-wrote "On Susan's Floor" in her honor. Waylon Jennings gave her and her son a free home to live in as her health deteriorated. She died of cancer in 1981 at age 48.
Ted Harris, born in 1937 in Lakeland, Florida, left his hometown at age twenty and moved to Nashville, not knowing a soul. Because his favorite singer was Hank Snow, he stopped by Hank's publishing company, Silver Star, where he met songwriter Ted Daffan, who became his mentor. Harris worked in the grocery business, writing songs in his car on the way to and from work. In 1965, Carl Belew recorded his "Crystal Chandelier," and he was on his way. By the end of the 1970s, he had 87 SESAC Awards, several NSAI Outstanding Achievement Awards, and 120 cuts by major artists. The songs included, "Paper Mansions," "Once," and "The Hand That Rocks the Cradle." He tried collaborating but found that other writers didn't always agree with his standard for what made a great song. He retired in 2001 and sold his publishing company to Sony/ATV Music Publishing. He died in 2015 in Lewisburg, Tennessee, at age 78.
Jimmy Webb is 76 years old and still performing. You can find his schedule on his website. He was born in 1946 in Elk City, Oklahoma, and moved with his family to California in 1964. His first songwriting cut came in 1965, when the Supremes recorded "My Christmas Tree." The following year, Johnny Rivers signed him to a publishing contract and recorded the first version of "By the Time I Get to Phoenix." The 5th Dimension then recorded "Up, Up and Away" and Glen Campbell recorded "By the Time I Get to Phoenix." Those two songs won six Grammy Awards in 1968, with the all-genre Song of the Year prize going to "Up, Up and Away." Webb's songwriting hits include "Galveston," "Wichita Lineman," and "MacArthur Park." His songs were recorded by greats such as Frank Sinatra, Barbra Streisand, Linda Ronstadt, Ray Charles, and the Highwaymen. He also recorded as a solo artist. In 2017, he published his autobiography, The Cake and the Rain: A Memoir.