CONCERT REVIEW
I planned to see Brooks & Dunn when they came to the Sanford Premiere Center in Sioux Falls, but I didn't expect to have such great seats or a meet & greet with Scotty McCreery. Thanks to Scott Stem of Triple 8 Management for making that happen. The meet & greet was well-organized, with each group going into the room to chat for a moment with Scotty and have their photo taken by tour manager Nathan Thomas, before exiting for the next group to enter. When my turn came, I told Scotty I'd interviewed him a year ago for my Randy Travis biography. He and Nathan asked about progress on my book, and Scotty said he missed seeing Randy by one night in Louisiana. He arrived at the Cajun Country Jam in Denham Springs the day after Randy's induction into The Louisiana Music Hall of Fame. The meet & greet photos were all posted on Scotty's website at www.scottymccreery.com.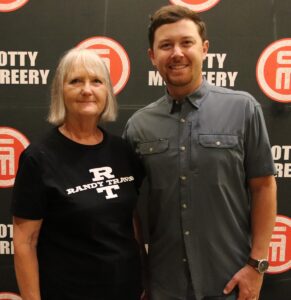 The concert started promptly at 7 p.m. with a 20-minute set by unannounced opening act Megan Morony. She played a guitar and had a full band. The Carrie Underwood lookalike, 25, described herself as a Georgia girl who moved to Nashville and fell in love with a Tennessee boy. When I looked her up on the internet, I realized I'd heard of her already, from "Tennessee Orange," in which she sings, "In Georgia, they'd call it a sin. I'm wearin' Tennessee orange for him." She graduated from the University of Georgia. In her first song, the line I heard repeated through the poor sound quality was "My only ambition is to make a bad decision." Not exactly something to brag about, it doesn't seem, but it was from her heartbreak song, "Lucky." In another song, I heard the words, "My ex-boyfriend's new girlfriend's scrolling through my Instagram." Megan also wrote that one, "I'm Not Pretty," about warning the other woman, "Keep on telling yourself I'm not pretty, I'm not pretty. Yeah right."
Scotty McCreery, 29, the newest member of the North Carolina Music Hall of Fame and the 2011 American Idol winner, did a 50-minute show. Before singing, "It Matters to Her," he said the song contains his wife's favorite line of all the songs he's written. He wondered if the women in the audience could figure out what line it was. The cheering that erupted at hearing "When you shut up and listen to what she has to say" gave him his answer. "I wrote this song with Rhett Akins and Lee Thomas Miller," he said, "because after four years of marriage to Gabi, I've learned a few things." He told us he and Gabi met in 1998 in kindergarten. "She was the girl I always had my eye on," he said. He finally asked her out their senior year in high school. Their first date was eating fried chicken at Bojangles.
He introduced "Five More Minutes" by saying, "Of all the songs I ever wrote, this is the song for me." He even remembered the day he wrote it, February 15, 2015. One verse begins, "At 86, my grandpa said, 'There's angels in the room.'" The singer's response is to pray, "Lord I ain't finished. Just give us five more minutes." Scotty sang the song to the accompaniment of his acoustic guitar, without the band, after telling us his grandparents had 56 years of true love.
He wrapped up his segment with a nod to his idol, George Strait, singing "Check Yes or No," after giving us his own recent hit that spent three weeks at number one, "Damn Strait."
When Brooks and Dunn came on at 9 p.m., one of their first songs was Ronnie Dunn singing "Working On My Next Broken Heart," which is my favorite of their songs. I'd never seen them in person before, and I gained a new appreciation for their music. It now sounds like classic country. Their show was solid music, with very little talking other than to introduce a song, and no interaction between the two stars.
The white-hatted Kix Brooks held his guitar and stood in front of his microphone. Ronnie Dunn moved around the stage, sometimes standing in front of the mike, sometimes playing a guitar, wearing a ballcap that seemed to routinely switch between backwards and frontwards. In jeans and a tucked-in t-shirt, he accented his ensemble with a big buckle on his belt. I hadn't realized he is such a sexy-looking guy.
I mostly sat back and enjoyed the good music, since I couldn't see it. The rude people in the row in front of me stood for the entire show and blocked my view of the stage. Their view was unobstructed, whether standing or sitting. You don't have to wonder why I have no photos.
Brooks & Dunn ended their 75-minute show by exiting the stage after singing "My Maria." The crowd screamed until they and their band returned and played a two-song encore, "Boot Scootin' Boogie" and "Only in America." During the second song, four soldiers in camouflage uniforms marched onstage. The crowd cheered as they saluted. When the song ended, they dropped their salutes and marched off. It felt inappropriate to me, especially the salute.
All in all, I enjoyed an evening of good music and was happy to see those performers in concert.
NEWS
Retired WSM/Opry staff photographer Les Leverett, 96, died June 2 at his home in Goodlettsville, Tennessee. Laslie Bryan "Les" Leverett was born in Montgomery, Alabama, in 1927. The son of a Baptist preacher, Les served in the Army Medical Corps during World War II and then studied photography at the Texas College of Photographic Arts in San Antonio. There he met Dorothy "Dot" Vandiver. In 1950, following their marriage, they moved to her hometown of Nashville. In 1960, Les agreed to establish a photography department for the National Life and Accident Insurance Company. He replaced four photographers–the National Life position he already held, WSM-TV, WSM radio, and the Grand Ole Opry. Upon learning the offer included the Opry, he'd responded, "I want that job." When he moved to Gaylord employment in 1984, he continued as Opry photographer but spent much of his time at the Opryland Hotel. "I always said I worked eight days a week and 25 hours a day," he told me. In 1987, he suffered a heart attack while on the job at the hotel. After five bypasses, he continued working until 1992, when he retired immediately upon turning sixty-five. Les's photographs have been published in dozens of books and magazines, including Live Fast, Love Hard: The Faron Young Story. More than eighty of his images appeared in Ken Burns's 2019 PBS documentary, Country Music. Les was predeceased by wife Dot and son John. He is survived by son Gary Leverett, daughter Libby Leverett Crew, son-in-law Larry Crew, nine grandchildren, and numerous great and great-great grandchildren.
Lamar Morris, 84, died June 1 at his home in Auburn, Alabama. Born in Andalusia, Alabama, in 1938, he was playing on Andalusia's WCTA radio with Don Helms while in grade school. At age eleven, he performed for Hank Williams Sr. and the Drifting Cowboys. His songwriting credits include recordings by Loretta Lynn, Lefty Frizzell, Faron Young, Mel Tillis, Don Gibson, Billy Walker, Jim Ed Brown and Johnny Rodriguez. He and Darrell McCall co-wrote "Eleven Roses," the first number one single for Hank Williams Jr. For twenty years, he was guitarist and band leader for Hank Jr. in the "Cheatin' Hearts" and "The Bama Band."
Race Review Online reports legislation has been filed to approve a lease partnership between Nashville and Bristol Motor Speedway to restore and operate the historic Nashville Fairgrounds Speedway. Metro is obligated by the 2011 charter referendum to preserve its historic events, including auto racing, but the speedway has fallen into disrepair and is in desperate need of complete renovation. The partnership would shift $40 million of deferred maintenance backlog and future capital investment obligations to Bristol Motor Speedway. Rejection of the Bristol partnership would mean Metro taxpayers will be on the hook for ongoing maintenance of the speedway. The Bristol plan includes hundreds of new parking spaces and a sound reduction barrier. The Nashville Fairgrounds Speedway is the second oldest continually operating track in the country. It has run local series racing for 64 consecutive years, with great Tennesseans such as Coo Coo and Sterling Marlin and country music star Marty Robbins. In later years, NASCAR champions Bobby Allison, Darrell Waltrip, and Dale Earnhardt won races at the track.
Icon Entertainment Group commemorated ten years since opening the Johnny Cash Museum with a day full of celebrating at Johnny Cash's Bar & BBQ in downtown Nashville. 117 Entertainment reports the party included an unveiling of a commemorative "Johnny Cash Way" street sign on 3rd Avenue. Guests enjoyed Cash karaoke and trivia throughout the afternoon. The evening culminated with John Carter Cash and family (Cristina Cash, Carlene Carter, Joanne Cash and Cindy Cash) taking the audience on a musical journey of his father's life.
WebWire reports Josh Turner received a surprise at the Tuesday Grand Ole Opry, when Randy Travis, accompanied by Mary Travis and Hampton Turner, presented him with a plaque celebrating two new RIAA certifications. "Your Man" is now certified four times Platinum by the RIAA and the album, Your Man, is certified three times Platinum. Josh is currently on the "Long Black Train 20th Anniversary Tour," commemorating his album, Long Black Train, and its title track, which were both certified Platinum by the RIAA.
Country Radio Broadcasters (CRB) has named Barbara Mandrell, 74, as the 2023 CRB Artist Career Achievement Award recipient. MusicRow reports she will be honored during the Country Radio Hall of Fame Induction Ceremony on July 10 at the Virgin Hotel Nashville. The award is presented to an individual artist or act who has made a significant contribution to the development and promotion of country radio and country music through their leadership, engagement, and creativity. Barbara is a member of the Country Music Hall of Fame and was CMA Entertainer of the Year in 1980 and 1981. She starred in the NBC variety show, Barbara Mandrell & the Mandrell Sisters.
Due to the devastating Canada wildfires and poor air quality throughout several areas of the United States, Chris Stapleton postponed his outdoor concert in Syracuse, New York. PEOPLE reports Stapleton, 45, is in the midst of a North American tour, with stops scheduled in Denver, Baltimore, Nashville, Toronto, Memphis, Houston, Austin, Dallas, and more cities through October. Last month, he won entertainer of the year at the 58th Academy of Country Music Awards and dedicated the honor to his five kids. "I never thought of myself as somebody who'd win this award," he said in his acceptance speech. "I'm so grateful for each and every person who works so hard to make us able to do what we do — my wife Morgane, thank you."
When Billboard asked Garth Brooks about The Friends in Low Places Bar & Honky Tonk, currently under construction in downtown Nashville, he said, "I want it to be a place you feel safe in, where you feel like there are manners and people like one another. And yes, we're going to serve every brand of beer. Our thing is this, if you [come] into this house, love one another. If you're an a–hole, there are plenty of other places on lower Broadway." He might have been referring to John Rich's Redneck Riviera and Kid Rock's bar, both of which are boycotting Bud Light for partnering with a transgender influencer. In the interview, Garth also talked about the radio network he's launching this summer via TuneIn. Country music will be streamed in 120 countries, offering him "a chance to shrink the world." He said European labels used to ask him to remove steel guitars and fiddles from his work to get European radio play. With TuneIn, he will present traditional country music. Asked whether he will play a 50/50 male/female ration, he said, "The one thing that's bad for me is if you don't play somebody because of the color of their skin or their gender. It's equally wrong if you do play somebody because of the color of their skin and their gender. My thing is, let the music decide. Sometimes there's going to be less women because the women aren't putting out new stuff yet, and sometimes there's going to be more women because the women are putting out new stuff. That's what I want to see." In response, John Rich told Fox News Digital, "If Garth is serving Bud Light in his bar, that's fine. Garth can do that. Garth might find out not many people are going to order it. You have to put things in your establishment that people are going to purchase if you're going to run a successful business. So, he might find that out."
Carrie Underwood began performing the Sunday Night Football theme song in 2013 and is moving into her eleventh year. Whiskey Riff reports she earns $1 million per week, which equates to $18 million per season, adding to her estimated $140 million net worth.
MusicRow reports Ronnie Milsap will play his final Nashville performance on Oct. 3, 2023, at Bridgestone Arena. The show will commemorate his half-century career and will include a star-studded lineup with performers such as Kelly Clarkson, Little Big Town, Scotty McCreery, Tracy Lawrence, Randy Houser, Sara Evans, Lorrie Morgan, Neal McCoy, Terri Clark, and Charlie McCoy.
Midwest Communication's CHR Station, Hot 106.7, in Nashville is now Y'all 106.7. The change occurred June 8 with one flip of a switch by Randy Travis, who was in the studio to kick off the new '80s and '90s country format. The first song to air was "Forever and Ever, Amen." Representing the Midwest Communications ownership family, Mary Kay Wright said in a 117 Entertainment press release, "It's such an honor to have Randy Travis as part of our Y'all 106.7 launch. He isn't just a top artist from the '80s, he helped define the best of what country music was then and still is today." She said the CEO and founder, Duke Wright, who recently passed away, was a huge Travis fan, with "Forever and Ever, Amen" one of his all-time favorites.
The 14th Annual "Darius & Friends" benefit concert, along with a golf tournament and a silent auction, raised an all-time event high of $560,000 for St. Jude Children's Research Hospital. Surprise guests included Hardy, Jake Owen, Jelly Roll, Megan Moroney, and Vince Gill. MusicRow reports Darius Rucker pledged his support to the hospital 15 years ago and has now raised over $3.6 million.
For the second time in less than a month, Jimmie Allen, 37, has been sued for sexual assault. An anonymous woman filed a lawsuit in Tennessee federal court, PEOPLE reports, claiming he violated her privacy by secretly filming her and continuing to engage in sexual contact after she revoked her previously given consent. His former manager had sued him for assault and sexual abuse just weeks after he and pregnant wife, Alexis, filed for divorce after nearly three years of marriage. He responded to the first allegation in a statement to PEOPLE, claiming his relationship with his manager was consensual. He was later dropped by his agency, suspended by his record label, and removed from the ACM awards show and his closing night spot at the annual CMA Fest. He issued a public apology to Alexis "for humiliating her with my affair" and to his two daughters, ages 3 years and 20 months, "for being a poor example of a man and a father. I'm working on becoming a better person that my kids can be proud of. My goal is to be better than the generation before me." He completed his first headliner tour last year, with Sioux Falls the seventeenth stop on his Down Home Tour. He was the CMA's New Artist of the Year and a contestant on Dancing With The Stars.
Clint Black, 61, has postponed his "Summer's Comin'" tour, due to unexpected back surgery recommended by his doctors. Saving Country Music reports the tour was supposed to begin June 2 in Overland Park, Kansas, but the first seven shows are being canceled or rescheduled. The tour is expected to resume June 24 in North Carolina and run until late September in California. Although Clint sometimes tours with wife Lisa Hartman and daughter Lily Pearl, this summer tour will be just him and his band.
Jonas Group Entertainment officially opened an office at 1600 17th Avenue, in a historic bungalow home with writer rooms, sitting rooms, kitchen and studio. MusicRow reports the opening is another step towards Jonas Group Entertainment's further integration into the Nashville community. The company's founder, Kevin Jonas, Sr., established the firm while managing his sons, the Jonas Brothers. Kevin was a young teenager when he competed against Randy Traywick in the North Carolina contest that started Randy Travis on his road to fame.
Megan Moroney confirmed that she wore Morgan Wallen's shirt in the cover photo for the promo for her single "Tennessee Orange," after fans began speculating it belonged to him. He is a huge Tennessee Volunteers fan. As for rumors about the two of them dating, Whiskey Riff reports she's not the kind of person who likes talking publicly about her dating life. She said, "'Tennessee Orange' is a very nice song, but if I told people who it's about, then they would ask me who 'Sleep on My Side' is about. I can't tell you that because it's not a nice song." Megan recently released her debut album, Lucky, and is on the road with Brooks & Dunn as an opener this summer.
At the Grand Ole Opry on June 2, when Tanya Tucker was announced as the next performer, she took the stage on a large horse. Wide Open Country reports she was the first person to ride a horse onstage in the Opry's history. She was celebrating the release of her latest album, Sweet Western Sound. She sang "Kindness" while sitting on the horse, followed by two more new songs and several old hits.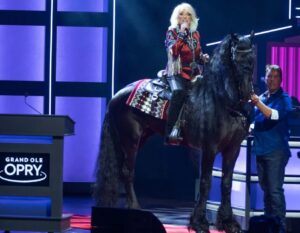 Buddy Jewell was inducted into the Arkansas Walk of Fame on May 26, in Hot Springs, along with five other recipients. He humbly thanked God, his wife and all of his family and supporters for the distinction. According to B! Noticed Public Relations, inductees must be born in or have lived in Arkansas for a significant length of time, be nationally known, and have made a significant contribution in their field. Buddy is a native of Lepanto, Arkansas. He headlined a free concert in the Bridge Street Entertainment District following the ceremony.
LETTERS
Bobby Fischer writes from Nashville, "Enjoyed your written description of a trip to New York City. I could picture it as a movie in words. You're top of the heap."
Martha Moore of "so much MOORE media" in Nashville says, "Thanks for sharing your trek to New York… sounds fascinating!!!!!"
Carl Rollyson says, "Great newsletter, Diane. I enjoyed your Manhattan tour. Wonderful to meet you."
Diane: It didn't really feel like "meeting," cuz it seemed I already knew you.
Frank Gerard at FrankGerardAudiobooks.com says, "It's always like a mini-Christmas morning when your newsletter arrives each month. And hey, it's nice to see the audiobooks for your Faron Young biography and your Marty Robbins biography continue to do well, and sell more copies every month. I enjoyed narrating them more than just about any book I narrated before. And I just finished my 135th audiobook, so that says a lot about your two wonderful biographies. Thanks for all you do."
Douglas Joe Guy, RMC, USN (Ret), writes, "Captain, in your newsletter tonight, you spoke of Jimmy Webb and mentioned his autobiography. Don't forget his earlier book on songwriting, Tunesmith: Inside the Art of Songwriting. I bought that when I started writing my fiction series, The LaFollette Chronicles, and it helped inspire my first book, The Capri Girl, which you mentioned in your newsletter and helped me tremendously. I purchased his book because, as a country music fan, I knew these songwriters tell a complete story, beginning to end, in three minutes or so. My reasoning was that they knew what to leave out. I figured that would be just as important in writing books as it is in songs. I was right. Anyway, thanks again for another episode of a fabulous newsletter. Amazing bit of info about Ole Waylon and Tina Turner. I had never heard her version of a good-hearted woman, so I paused my reading of the newsletter for a few minutes and found her version on YouTube. She rocked it. Of course."
Donald Ewert in Milwaukee says, "I would like to wish my friend, #1 black yodeler, Mike Johnson, a Happy Birthday on June 13th. I know he gets your newsletter."
Kate and Marty Davis write, "Wow, your trip to New York sounds fantastic. Glad you had an enjoyable time. Thank you again, for all the hard work you do on the newsletter. We so enjoy it."
Dave Bartonreports the passing ofLes Leverett: "What a wonderful and talented guy."
Taylor Hagood writes, "Thank you so much for reviewing my book. Very sorry that Internet Review of Books has ended, though….And thank you thank you for your continually wonderful newsletter. Looks like your recent trip was great!"
Dianne Harmon says, "Thank you for another great newsletter. You might want to mention next month that James Burton had a show in England recently. So glad he is feeling so much better after his health issues. He will be celebrating his birthday August 21. He is a great talent as well as a fantastic guitarist."
Ralph Larson says, "Attached please find an article on long time songwriter Layng Martine Jr. that appeared in the June 2 Wall Street Journal newspaper. I hope you may utilize it in your newsletter."
Diane: Thanks for sending me the article. Layng's songs that became hits for others include "Rub It In" by Billy "Crash" Craddock, "The Greatest Man I Never Knew" for Reba McEntire, and "Way Down" for Elvis Presley. At age 82, Layng has issued Music Man, a CD of his music produced by his son, Tucker Martine. He was elected to the Nashville Songwriters Hall of Fame in 2013 and published his memoir, Permission to Fly, in 2019.
Dean De Lashmutt, USNR Retired in Sioux Falls says, "AMEN to your QR approach. Thanks for the information in your email."
Joe Allen writes from Australia, "Tina Turner will be missed by lots of Australians. She was immensely popular here, especially the song 'Simply the Best.' In the early 1980s Rugby Australia was looking to promote the sport. An elderly board member suggested getting Tina to do some ads for them. She came down here several times to film these ads with the rugby players. After Tina left Ike, she got Ron Davies as her manager as he also managed Olivia Newton-John. Ron introduced Tina to rugby, and she loved the sport. Sometime in the '80s she started coming here annually for the Winfield Cup, the Super Bowl of Australian Rugby. Before the national anthem, she would sing 'Simply the Best' on stage. The campaign sold hundreds of thousands of seats to rugby fans, no doubt due to Tina, making that one of the most successful ad campaigns ever. You can find those videos on YouTube by searching for Tina Turner rugby league videos. I did see her show in 1996 in Melbourne and the highlight was her performance of 'Simply the Best.' Imagine 18,000 people all up and singing along with Tina this immensely popular song in Australia. That is just so cool that Tina was the inspiration for 'Good Hearted Woman.' I read Waylon's autobiography and that was not mentioned and this is the first time I heard this. I just love hearing the stories behind songs, and we never hear enough of the stories. As an aside, I was going through my photo albums today and found some pics of Tom T Hall at Little Opry house in the early 1980s in concert playing banjo, guitar, piano and saxophone. He also did some tap dancing in the show. I and my wife also saw the Highwaymen show in Melbourne in 1995, and I remember going down to the stage late in the show about 15 feet from the stage and seeing all these blokes singing up close. 15+ years later, I met an elderly couple who attended that Highwaymen show with a small group of friends, and they stayed 45 minutes after the show still in their seats, when Willie came out with his guitar and sang to the group for about 45 minutes. Thank you, Diane, for your newsletter, makes for a wonderful read every time as I learn so much about not just country but other music stars also. I am glad you mentioned Tina, and I cried tears when I heard she had died, as I love her music so much. Australians love her music also."
BOOK REVIEW — DEFORD BAILEY: A BLACK STAR IN EARLY COUNTRY MUSIC
The Country Music Foundation Press recently partnered with The University of Illinois Press to reissue its out-of-print 1991 biography, DeFord Bailey: A Black Star in Early Country Music. The author, David C. Morton, first met Bailey when he went to the "Harmonica Wizard's" apartment for an interview in 1973. They became friends, and Bailey eventually asked Morton to write his biography. "He wanted a biography done so his grandchildren and later generations would know 'the truth' about him," Morton explains in the introduction. "The result is basically the story of his life told to me during various visits and conversations." Morton also interviewed numerous friends and Grand Ole Opry members as part of his research. He collaborated with historian Charles K. Wolfe, who is credited as the book's co-writer.
The grandson of a former slave who was a superb fiddler, Bailey grew up in a musical family. He was born in 1899 and spent more than a year in bed with polio before old enough to go to school. As a result, he never reached five feet or 100 pounds in adulthood. While bedridden, he learned to play several musical instruments and focused on the harmonica in his teen years. When WDAD, the first radio station in Nashville, began broadcasting in 1925, Bailey was one of its original performers. In early 1926, he joined WSM, before its Barn Dance became the Grand Ole Opry. "Week after week DeFord continued to delight audiences and bring in mail as well as telegrams and phone calls with special requests," Morton writes. His music brought in the first 3,000-mile telegram WSM ever received.
As the Opry grew in popularity, its performers hit the road during the week. Bailey traveled all over the country as part of those shows. Although often the biggest draw on a tour, he could not sleep in hotel rooms or eat in restaurants with his white traveling companions. They did what they could to look out for him in the Jim Crow South, but he sometimes had to eat and sleep in the car. When Roy Acuff and Bill Monroe first joined the Opry, they both took Bailey on the road with them because he brought in a much bigger crowd than they did.
Bailey also sang and played guitar and banjo. A left-handed player, he held the instruments upside down rather than restringing them. When he worked up new music to play on the Opry, he was told to stick with his standards. Then came the ASCAP-BMI feud in 1940, when radio stations boycotted ASCAP songs and would only play BMI music. Most of Bailey's songs were ASCAP copyrights, music he had finetuned over a period of years. WSM fired him in May 1941 for not learning new music.
With a wife and three young children, he had no job and no severance pay, after 15 years as an Opry star. He'd never complained about being paid considerably less than the white performers, and he never received any compensation. "When they turned me out, I didn't have a cent, but I had sense," he told Morton. "I knowed I could make it on my own. I walked out of WSM with a smile." He started a shoeshine parlor, rented out rooms in his family home, and sold meals to construction workers. In its 97-year existence, the Opry has never had another black star.
By the time Morton and Wolfe met Bailey in 1973, he was divorced and living in a rent-subsided high-rise apartment in the Edgehill section of Nashville. He died in 1982, the biography was published in 1991, and he was inducted into the Country Music Hall of Fame in 2005. I'm glad DeFord Bailey: A Black Star in Early Country Music has been reissued. His story should not be forgotten.
NASHVILLE SONGWRITERS HALL OF FAME – 1991 and 1992
1991 – Charlie Black moved from his hometown of Cheverly, Maryland to Nashville in 1970 at age 21 with the goal of being a singer. He quickly switched to songwriting when Tommy Overstreet began recording his co-written songs. He and Rory Bourke wrote Anne Murray's "Shadows in the Moonlight" and "A Little Good News." He was named SESAC's Country Songwriter of the Year in 1979 and ASCAP's Country Songwriter of the Year in 1983 and 1984. Other co-written songs include "Come Next Monday," "Do You Love as Good as You Look," "Little Red Rodeo," and "You Lie." Charlie died in Port St. Joe, Florida, in 2011 at age 71.
1991 – Sonny Curtis, born in 1937 and raised near Lubbock, Texas, wrote five songs that have been broadcast more than a million times apiece: "More Than I Can Say," "Walk Right Back," "I Fought the Law," "The Straight Life," and "Love Is All Around." At age 14, he and Buddy Holly formed a group called the Three Tunes. He later joined Slim Whitman's band as guitarist, about the time his former band became the Crickets. Following Holly's 1959 death, the Crickets recorded an LP with Sonny on lead vocals. It contained "I Fought the Law" and "More Than I Can Say." He then joined the Everly Brothers. They recorded his "Walk Right Back" while he was serving in the Army. Later, as a Los Angeles session guitarist, he played acoustic guitar on the Vicki Lawrence classic, "The Night the Lights Went Out in Georgia." He wrote and recorded "Love Is All Around" as the theme song for The Mary Tyler Moore Show. He could be heard singing it during the opening credits as she tossed her hat into the air. His co-written "I'm No Stranger to the Rain" won the 1989 CMA Single of the Year award for Keith Whitley. As a member of the Crickets, Sonny was inducted into the Rock & Roll Hall of Fame in 2012. You can learn more about him on his website at https://sonnycurtis.com/. He is 86 years old and lives with his wife, Louise, near Nashville.
1992 – Max D. Barnes was born in rural Iowa in 1936, during the Great Depression. He was raised in Omaha, Nebraska, and formed his first band when he was a teenager. At age 18, he married the band's singer, Patsy, whom he remained with for life. They raised three children, one of whom, Max T. Barnes, followed his father into the songwriting profession. Max D. Barnes scored his first #1 song at the age of 43 when Conway Twitty sang his co-written "Don't Take It Away." He wrote "Chiseled in Stone" with Vern Gosdin after son Duane was killed in a car accident at age 18. His many co-written songs that became hits include "Don't Tell Me What to Do," "Do You Believe Me Now," "If I Didn't Have You," "That Just About Does It, " "Who's Gonna Fill Their Shoes," and "If You're Gonna Do Me Wrong." Max D. Barnes died in Nashville in 2004, of complications from pneumonia at age 67.
1992 – Wayland Holyfield, born in 1942, grew up in a musical family in Little Rock, Arkansas. He earned a degree in marketing from the University of Arkansas and worked for a few years at an ad agency. In 1972, he moved to Nashville to turn his music hobby into a profession. A year later, he co-wrote "Rednecks, White Socks and Blue Ribbon Beer" for Johnny Russell. In 1975, Don Williams took Holyfield's "You're My Best Friend" to #1. Holyfield wrote 14 #1s for artists such as George Strait, Reba McEntire, Tammy Wynette, George Jones, Waylon Jennings, Randy Travis, and Anne Murray. His songs include "Till the Rivers All Run Dry," "Some Broken Hearts Never Mend," and "Only Here for a Little While." His co-written hits include "You're the Best Break This Old Heart Ever Had," "Till the Rivers All Run Dry," "Nobody Likes Sad Songs," and "I'll Do It All Over Again." His "Arkansas, You Run Deep in Me" became his home state's official song. Of all his songs, he's most proud of "Could I Have This Dance." It is one of my all-time favorite songs and my theme song. I didn't find any information about what Wayland is doing now. He is 81 years old.