CONCERT REVIEW — ALABAMA
My plans to attend the Alabama concert Saturday night at the Denny Sanford Premier Center in Sioux Falls took an unexpected turn at the last minute. I'd contacted Alabama's merch manager, Terry Tyson, to ask if he was on the tour, and he responded with a backstage pass and a spot for my car in the bus parking lot. I first met Terry when Kayo and I went to Nashville in 2019, where we visited Alana and Hilda Young. Alana told us stop by the Ernest Tubb Record Shop to meet the manager, her dear friend Terry Tyson. We did. Terry later went to work for Richard's & Southern, which has provided merchandise to Alabama for forty years. It began in 1959 as a company that delivered postcards in a station wagon to gas stations across the South. It has grown to design, manufacture, store, and sell t-shirts and souvenirs for dozens of entertainers, who only have to accept their share of the merch profits.
Terry met me in the parking lot and invited me to eat supper with the crew. During the meal, we chatted with tour manager Jeff Davis, who has been Randy Travis's friend and tour manager since 1987. I'd previously interviewed Jeff and it was great to meet him in person. I introduced myself to keyboard player Gordon Mote, whom I'd spotlighted in my newsletter in March. Gordon then introduced me to his bandmates sitting around the table.
My pass read, "Alabama Live–the Hardest Working Stage Crew in North America." Terry told me it gave me access everywhere, and I was free to wander. I went up on the stage and looked out at the empty arena. Later, as the building started to fill, I explored some but didn't want to press my luck. I was afraid I'd go through some security checkpoint and not be allowed to return. It surprised me how friendly all the security personnel were. Each time I passed into a new section, the security guard would smile and greet me.
Alabama was headlining the 10th annual South Dakota Cattlemen's Foundation concert to benefit Feeding South Dakota. More than $300,000 was collected that evening and a check presented onstage. Drew Green opened the show with a 30-minute set. A Tennessee native, the singer-songwriter has been recording since 2018.
At 8:45, the lights went out, Old Glory appeared on the large screen at the back of the stage, and the crowd stood to sing the National Anthem. Then the lights came back on, showing Randy Owen (73) and Teddy Gentry (71) onstage with their band. "Pass It On Down" kicked off the 115-minute show.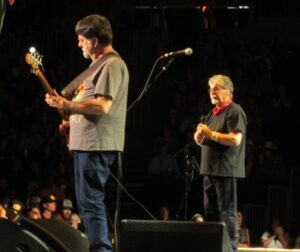 That was followed by "If You're Gonna Play in Texas." They definitely have a fiddle in the band.
Most of the songs were accompanied by the original video on the screen behind the band. I sat on one of the stools placed beside the stage for Alabama guests. I spoke briefly with Kelly Owen, Randy's wife. She showed me a photo she'd taken of her granddaughter with Randy Travis at the June Jam earlier this month.
Terry has a new ad that played on the large screen before the show. It displayed a QR code to the online store, along with examples of Alabama merch available for purchase. He'd debuted the ad two nights earlier in St. Paul, and the audience spent $4,800 during the show. He told me there's always a day off scheduled between shows. They spent Friday relaxing in downtown Sioux Falls.
There wasn't much talking during the show. Randy occasionally introduced his songs, but I had trouble hearing from the side of the stage. He dedicated "Born Country" to all the men and women in the military. Teddy mentioned a song he wrote years ago and then introduced Gordon Mote to sing "How Do You Fall in Love." Near the end of the show, fiddle player Megan led the band on "The Orange Blossom Special" while Randy and Teddy took a break. Randy sang my second favorite Alabama song, "Angels Among Us," which was written by Becky Hobbs.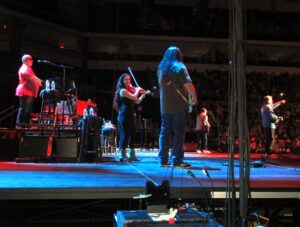 They ended the show with "Mountain Music," confetti flew up in the air, and everyone left the stage. As the crowd continued clapping and cheering, they returned to the stage to encore with my favorite Alabama song, "I'm In a Hurry and I Don't Know Why." When the lights came on, Randy and several band members tossed dozens of t-shirts into the crowd. I was surprised when one of the crew members handed me the set list he had marked up during the show.
It was a great evening. Thank you, Terry!
NEWS
Jesse McReynolds (1929-2023)
Jesse McReynolds, the oldest member of the Grand Ole Opry, died at age 93 on June 23. He was born in 1929 near Coburn, Virginia. He and older brother Jim McReynolds, born in 1927, formed a performing partnership in 1947, after Jim's Army discharge. MusicRow reports Jim & Jesse were signed by Capitol Records and brought to Nashville to record in 1952. James Loden, later known as Sonny James, played fiddle on the sessions. Jesse was then drafted to serve in the Army during the Korean War. The Grand Ole Opry invited Jim & Jesse to become members in 1964. Their biggest country hit was 1967's "Diesel on My Tail." In the early 1970s, they launched a syndicated TV series, The Jim & Jesse Show. In 1977, they created an annual bluegrass festival they maintained into the mid-1980s. Jim's death on New Year's Eve in 2002 ended their 55-year run as the longest lasting brother duo in country history. They also had the longest running fan club in country music. Following Jim's death, Jesse McReynolds continued to tour, record and appear on the Opry. After his death, the oldest living members of the Opry are Buck White and Bobby Osborne.
Bobby Osborne (1931-2023)
Bluegrass legend Bobby Osborne died June 27 at age 91. Born in Kentucky in 1931, he served in the Korean War before he and younger brother Sonny formed the Osborne Brothers duo in 1953. With Sonny on banjo and Bobby on mandolin, they performed for over fifty years, until Sonny's retirement in 2005. The Tennessean reports, "Their blend of traditional bluegrass with elements of country and rockabilly propelled them to the forefront of the genre." Their hits included "Rocky Top," "Ruby, Are You Mad," and "Kentucky." Bobby was a member of the Grand Ole Opry for 59 years, being inducted with Sonny as The Osborne Brothers in 1964. Bobby's last Opry performance with his band, the Rocky Top X-Press, was May 19. He was scheduled to perform again on July 2.
Longtime entertainment columnist for The Augusta Chronicle, "Ramblin" Don Rhodes died June 16. In a journalism career spanning nearly 60 years, he collected thousands of stories of his encounters with music and entertainment personalities. He began his daily newspaper career as a teen at the Atlanta Journal. His interview with Minnie Pearl started a lifelong friendship, during which she sent him an autographed photo and a year's subscription of the Music City News while he was serving with the Army in Vietnam. His entertainment column premiered in 1970. A memorial service was held at the American Legion Post No. 71 in North Augusta, South Carolina, on June 24. Becky Hobbs calls him "my long-time dear friend" and says, "He was a huge supporter of country music artists and will be greatly missed by us all."
The CMA Fest 50th Anniversary celebration concluded its four-day event at Nashville's Nissan Stadium with a Sunday night show that included a performance by Alabama. The legendary band was then presented with the CMA Pinnacle Award, which recognizes an artist or group that has reached the "pinnacle" of success by achieving prominence throughout their careers. Whiskey Riff reports the Pinnacle Award has been presented three times previously: Garth Brooks in 2005, Taylor Swift in 2013, and Kenny Chesney in 2016.
Before Tim McGraw went onstage at Nissan Stadium for his Sunday night CMA Fest set, he and Faith Hill ran into Randy Travis in the backstage halls. Taste of Country reports a video of Tim and his nephew, Timothy, serenading Randy with "On the Other Hand" was later posted on TikTok.
I have seen Facebook friends sharing posts with photos of Garth Brooks and headlines such as, "Fans to stage massive boycott after label's decision to scrap his entire music career." The linked articles have headlines like "Label blames Garth's wife for his abrupt dismissal." The comments all discuss Garth and Trisha's actions as if the story were true. But if you look at the site names and the URLs, you will see they aren't news organizations. They are companies trying to sell products: cake baking secrets, massages, weight loss pills. One article used a PEOPLE logo and referenced "we at PEOPLE" in the article, but its URL was not people.com. I suggest looking at the source before sharing–or believing–what you read. Snopes researched ads purporting to be Luke Combs and Lainey Wilson praising a keto gummy product for their weight loss. Their voices were generated through artificial intelligence (AI).
Almost 11,000 fans filled Fort Payne's VFW Fairgrounds when hometown Hall of Famers Alabama brought back their June Jam concert festival for the first time since 1997. It included a public memorial service for guitarist Jeff Cook, who died in November due to Parkinson's disease. CMT News reports the event raised hundreds of thousands of dollars for disaster relief. Since Alabama founded June Jam in 1982, it has raised more than $20 million for charity. Lead singer Randy Owen says June Jam is here to stay. He wants it to continue after he and Teddy Gentry are gone. "The one thing we can give is our name to the June Jam," he says. "As long as there are people there in the city after we pass on, they still have a great function, a great festival."
Pat Boone, 89, has recorded a new single, "Grits," and filmed a video to go with it. "I dreamed I was having a big country hit record," he explains about writing the song. "People were congratulating me, and even in my dream, I was singing some of it. I came out of the dream with the first verse." He told PEOPLE, "I grew up eating grits and now its popularity is spreading across the country. It's corn. It's just like mashed potatoes. It's like cream of wheat. And it's very nutritious." The music video was filmed in front of the historic Capitol Theatre in Lebanon, Tennessee, and it featured Ray Stevens, The Gatlin Brothers, Lorrie Morgan, Deborah Allen, and Dean Miller. Pat grew up in Nashville and considers himself a "country guy." Family members still live in the home where he and his siblings grew up. "I live in the same house where we lived for 65 years out in Beverly Hills," he says. His wife, Shirley, died in 2019, at age 84, due to vasculitis. Pat still swims, plays tennis and rides his bike as much as he can.
Saving Country Music reports the Quebe Sisters (pronounced quay-bee) are taking a break. Fiddle prodigies Grace, Sophia, and Hulda have been performing Western Swing and roots music for 23 years. I first saw them in 2008, performing at the Kennedy Center in Washington, D.C. I interviewed Hulda in 2015 and spotlighted them in my newsletter: Diane Diekman » Blog Archive » Diane's Country Music Newsletter – 8 April 2015. The Dallas-based trio is currently on its "Bye, For Now" tour. The sisters plan to cease all touring by the end of this year. "This isn't retirement for us, just a nice break," they say.
In an appearance on the Unlocked with Savannah Chrisley podcast, Jay DeMarcus of Rascal Flatts told listeners that friend and former bandmate Joe Don Rooney is "19 months sober, and he's enjoying having some peace…and learning how to live again without his addiction." Taste of Country reports Rascal Flatts initially planned to retire after a massive 2020 farewell tour, which was canceled by the COVID-19 pandemic. Lead singer Gary LeVox has released two solo projects, and DeMarcus established Red Street Records. "Gary's out doing his own thing, and I think he's enjoying being the boss and calling all the shots," DeMarcus says. "I don't begrudge him for that. It's hard to be the lead singer and have to consider other people's opinions because you have partners." He adds. "There were times in our career that I looked at things and would go, 'I absolutely know this is not the right thing to do, but because I'm outvoted, we're gonna do it anyway, and we're gonna crash and burn, because it's a dumb decision.' All of us probably shared those frustrations at some point, even though we love each other and there was no hate or any misgivings."
The town of Listowel, Ireland, recently tried to break the world record for "Most People Dressed as a Country Music Icon in One Place." Whiskey Riff reports around 1,100 Dolly Parton lookalikes gathered in the soccer field at Frank Sheehy Park to celebrate "Dolly Day" and raise money for cancer charities. The highlight was when a thousand Dollys sang "9 to 5" at the top of their lungs. Listowel will have to wait eight to twelve weeks to learn if the town obtained the world record.
LETTERS
Diane Jordan writes from Nashville, "I just read your newsletter and especially enjoyed the paragraph about Waylon Holyfield in the Songwriters Hall of Fame section. I met Waylon in Horseshoe Bend, Arkansas in 1969. At the time, the town had just been incorporated and was being developed by investors. It's nestled in the foothills of the Ozarks, in north central Arkansas, on the Strawberry River. We were there to do some filming with Al Gannaway, who was putting together a pilot for a proposed TV series called The Ozarkland Jamboree. Waylon was part of an excellent trio called The General Store and I was one of many singers filming songs that Gannaway would later splice together into shows. Though Gannaway never sold the show, three of the shows are in the archives at the CMA and I watched them there, three years ago. Little did any of us know that Waylon would go on to achieve such impressive success as a songwriter, in a short time. Though my career never blossomed, I have some wonderful memories of interesting places visited, and successful people with whom I was privileged to work."
Eric Calhoun says, "This is great that CRB has named Barbara Mandrell for a big Country Music Achievement Award. And I'll be listening to the new Y'all 106.7 in Nashville. I could not get 106.7 east of Nashville. I'm glad classic country will be on that signal."
Dave Barton sends this link, adding,"This girl is really something." Next Rodeo video drops for Molly Tuttle & Golden Highway – Bluegrass Today
Michael Green writes, "Thanks for a lot of interesting news, as always, A correction, if I may: The Opry has had two Black members since DeFord Bailey: Charley Pride and Darius Rucker. They actually invited Pride to join early in his career, and he said no because he knew he couldn't meet the attendance requirements, which were stricter then. When he joined in 1993, what was unforgettable to me was that he asked our favorite, Jimmy C. Newman, to do the honors, and read a note from Henry Cannon–and when he got to where Henry said Minnie was proud and Roy Acuff would be proud, Pride broke down. It all clearly meant a lot to him. He was pretty good about showing up at the Opry. I wish Darius Rucker would take a page from that. Tanya Tucker riding the horse onto the stage reminds me of a favorite of yours and mine, Marty Robbins, going out there in his custom-made Panther Deville and Roy Acuff having Opryland security ticket him! Those were good times. Thanks again–I love the newsletter, and your books."
Diane: They're Opry members but not Opry stars. Not every week like Porter Wagoner, Roy Acuff, Minnie Pearl, Little Jimmy Dickens, Bill Anderson, and Jeannie Seely. I define Opry star as a regular, not merely a member. I thought of Marty Robbins when I wrote about Tanya but didn't include it because I didn't take the time to look up what car it was. Thanks for reminding me.
Mike Johnson sends this celebratory video about being 77 years young.
Phil Win Davies says, "Thank you for the latest newsletter. Fascinating and detailed as ever. Enjoy your summer."
VIDEO OF THE WEEK – CHARLEY PRIDE
Here is Charley Pride performing a thirty-minute show at Fan Fair in June of 1982. I'll dedicate this to Robbin in North Carolina who is turning 57 on June 30 and is one of Charley's greatest fans. He listens regularly to Wendy Williams on WTSB Radio, Selma, Smithfield, North Carolina. Happy birthday, Robbin.
IN THEIR OWN WORDS
I was shocked to read on Facebook that Les Leverett had died. I first talked to him in 2005 when I was seeking permission to use his photos in my Faron Young biography. He's been a subscriber to my newsletter ever since. His quotes here are from our conversation of July 2, 2019, when I called him to spotlight him in my newsletter. Kayo and I met him that October at the Grand Ole Opry, and we drove out to his house in Goodlettsville the next morning to take him to the Dickerson Road Baptist Church for the church service and a homecoming lunch. He died June 2, 2023, at age 96, at his home in Goodlettsville, Tennessee.
For ninety-two years old, I guess I'm getting along pretty good. I feel good. When I tell people how old I am, if they don't say anything, I say, "You're supposed to say, you don't look it." God's been awful good to me. Some weeks I look at my calendar, and there's nothing on there, except maybe a prayer meeting on Wednesday nights, and all of a sudden, it's filled up with little things to do. I'm thankful for that.
I can't drive anymore because I've got macular degeneration in my right eye. My left eye–I was at my eye doctor recently–it was 20/20. The right one is just terrible. It's got a little almond-shaped black spot right in the middle. After the retina doctor put a shot in that eyeball, it started going grey instead of black. Now, it's nothing except just a little grey area that I can't see. I don't know what causes that stuff, but when you get older, you're apt to get into something like that. Looking direct at the eye chart, I can't see it, but if I look above it or below or to the side, I can see it. It is not sharp, and it's out of the way, but I can read it. It's almost to the point that I don't pay much attention to it. I go on with my work, my computer and my reading.
Tennessee says if you can't read the bottom line on that little chart, you can't drive anymore, so there went my truck keys. I've got a little Ford truck out here I've had for years, bought it second-hand, it's just like a new one. I love it to death. I miss that.
I've been working with the Ken Burns group for about seven years. You know they're doing that documentary. They say I've got pictures in all eight of the segments. They've been so good to me, and they paid me more than it's worth to use those pictures. A couple of ladies came here and spent days going through my files. I turned it over to them and got out of their way. They scanned thousands of pictures. Ken Burns did a show at the Ryman a couple months ago to promote that documentary, and it will be shown a week or so before the documentary starts. They had a great group of people down there, doing such a fabulous job, and Ken Burns was the host of that show. We were invited to come down. We had to buy tickets. It was wonderful. They had a bus lined up, to carry whoever wanted to go, down Broadway to some little nightclub I'd never heard of, for food and drink and fellowship. My daughter was with me, and her husband, we got on that bus behind the Ryman. The first people who came on after us were Ken Burns and Dayton Duncan, who interviewed me. I'll be durned if Ken Burns shook my hand and he said I want to thank you for all you've done to put this thing together. It surprised me because I didn't know he knew me, but I guess from the interview Dayton had done, he recognized me. That thrilled me to death, because he's one of my heroes, that I hadn't met until then.
There's a wonderful man over there now at the Opry. He has been so good to me and my kinfolk, my daughter and her husband. Anything I want over there, he'll do it. His name is Dan Rogers. We call him Opry Dan. I had a show of my photographs in the Acuff Theater this spring. We had a fabulous first night opening. Then we all went over to Studio A at the Ryman, and Marty Stuart and I got up on stage. He had copies of a lot of my album covers. They projected them on the screen behind us, and he would hand me the sheet and say tell us about this one. It was a pretty darn good show. I had a lot of fun explaining those things. Nearly every one of my covers has got a story. Had more fun doing that. I've had more fun than anybody in the world. I would not argue the point. I just think I have had.
I wasn't supposed to be doing album covers. Porter Wagoner asked me if I'd do a picture. He requested a full-length picture. They called it "The Thin Man from West Plains," and that's why he wanted full-length. I wound up doing 18 covers on Porter, I did ten on him and Dolly together, I did ten on Dolly. I was doing all the Decca covers–Ernest, Loretta, Webb Pierce. I did two hundred LP covers, and I've got every one back here in my office. I loved working with Loretta and Ernest. Even Webb Pierce was fun to work with. I sure had a good time.
I look forward to your newsletter when I see your name on my computer, all right, I've got to find some time, pretty quick now, to read this. Sometimes I can't wait. When I don't say "thank you for this month's issue," it ain't because I don't thank you. Because I sure do.
Let me real quick tell you about my daughter. I have to brag on her. She's a brilliant kid. I had three children, two boys and a girl. The oldest son was killed in a car wreck in 2001. They have been so helpful to me since my wife died. I always told my daughter, Libby, don't be a photographer. It's a hard way to make a living. And stay away from those musicians. So what did she do? She became a photographer and married a bassman. Larry Crew. He's the best son-in-law anybody ever had.
Libby wrote a book a few years back, called Saturday Nights with Daddy at the Opry. I thought it was a fabulous book. I can't read it without crying, because it's about family as well. It's a wonderful little book. Didn't sell a lot but we had a lot of fun with it.
NASHVILLE SONGWRITERS HALL OF FAME – 1993
Hollis Rudolph DeLaughter, better known as Red Lane , was born in southern Louisiana in 1939. His family moved to northern Indiana, where he joined the Air Force after high school. Stationed in Honolulu and working as an aircraft mechanic, he began playing guitar in nightclubs in 1958, under the stage name of Red Lane. After the Air Force, Justin Tubb hired him as a guitarist and introduced him to Buddy Killen, who signed him as a songwriter with Tree International. His songs included "Blackjack County Chains" and "Miss Emily's Picture," along with the co-written "New Looks From an Old Lover" and "Darling, You Know I Wouldn't Lie." After touring the country with Justin Tubb, he led Dottie West's band and co-wrote more than 50 songs with her, including "Country Girl." He toured as a guitarist with Merle Haggard, who recorded 29 of his songs. They co-wrote several songs, including one of my favorites, "My Own Kind of Hat." For years, he lived near Nashville in a 170-passenger Douglas DC-8 jet he converted into a house. He died in Nashville in 2015, at the age of 76.

Don Schlitz is in the County Music Hall of Fame and one of the newest members of the Grand Ole Opry. The North Carolina native is 70 years old. His first songwriting success came with the 1979 Kenny Rogers recording of "The Gambler." He and Paul Overstreet wrote Randy Travis's early signature songs, "On the Other Hand" and "Forever and Ever, Amen." They also wrote the Keith Whitley hit, "When You Say Nothing at All." Schlitz and Mary Chapin Carpenter wrote her hits, "He Thinks He'll Keep Her" and "I Feel Lucky." In 2001, the Adventures of Tom Sawyer musical featured words and music from Schlitz. He continues writing, performing, and making Opry appearances.

Conway Twitty wrote 11 of his 40 #1 Billboard country hits, including "Hello Darlin'," "Linda on My Mind," "You've Never Been This Far Before," "I Can't Believe She Gives It All to Me," "Play, Guitar Play," and "I've Already Loved You in My Mind." Born Harold Lloyd Jenkins in Mississippi in 1933, he missed out on a baseball career when drafted into the Army during the Korean War. In 1957, he changed his name to Conway Twitty, after the towns of Conway, Arkansas and Twitty, Texas, and became a rock star with "It's Only Make Believe." Then he became a country star in the mid-1960s. He later recorded and toured extensively with Loretta Lynn. He died suddenly from a ruptured stomach aneurysm while on tour in 1993, in Springfield, Missouri, at age 59. He was inducted posthumously into the Nashville Songwriters Hall of Fame in 1993 and the Country Music Hall of Fame in 1999.