IN THE SPOTLIGHT – GORDON MOTE
A month or so ago, I called David Ball to ask about his 1994 Warner Bros. showcase when he sang "Thinkin' Problem." During our conversation, he asked, "Do you know who Gordon Mote is? I think people would love to hear about him." So I contacted Gordon, and the session piano player agreed to talk to me. "You are so sweet to want me to be a part of your newsletter," he said. "Tell David I appreciate the shoutout. We haven't worked together in quite a while, but he's a great talent and a super-duper guy."
Gordon was born and raised in Attalla, Alabama, a little town near Gadsden. He started playing the piano at age three. They were at his grandmother's house in 1973 for Thanksgiving. The children all banged occasionally on her old upright piano, but this particular day Gordon sat down and played "Jesus Loves Me" with both hands. "It was a total miracle," Gordon says. "There's just no explaining it except that it was a God thing." He's been playing ever since.
"I was one of the first blind students to mainstream into public school," he told me. That happened in the third grade when he and several classmates transferred to the public school system. He participated in numerous school activities, including choir and marching band. "I did a lot of things people didn't think could be done," he says. "That's been the theme of my life. If somebody says no, I don't take that for an answer. I work really, really hard if I feel it's something I can do."
He attended Jacksonville State University in Jacksonville, Alabama, for three years and then transferred to Belmont University in Nashville. "That's where I met my sweet wife," he says. "We've been married thirty years." He and Kimberly have three children. Samantha is 25, Parker 23, and Ashton 15. They also have two dogs, plus a grand dog who belongs to Samantha and her husband.
Lee Greenwood came to Gordon's senior recital and then invited him to audition. Gordon played and sang with Lee at the Greenwood home and got the gig. Shortly after graduating from Belmont, he went on the road with Lee for the next several years. "I will always be grateful to Lee," Gordon says. "He was the first guy to believe in me." Lee owned a little publishing company and hired Gordon to play on the demos. Lee would tell his writers, "Hey, I'd appreciate it if you'd give my piano player a shot." As word got around, songwriters and publishing companies started calling Gordon to play on their demos. Gordon reminisces, "Had Lee not given me that first opportunity, not just to tour with him but to play in the studio–It doesn't matter how good you are, somebody's got to give you a chance."
Later, Gordon traveled with Tanya Tucker and then Trisha Yearwood. He came off the road and switched to studio work when Samantha was born. He worked really hard and started getting noticed. Finally, it broke open for him. He played on several number ones in the Christian music world and then had his first number one country hit in 2001 with Alan Jackson's "Where Were You When the World Stopped Turning."
At that point, he became an overnight success. "All of a sudden, I started playing on all these big records," he says. "I started playing with Rascal Flatts, who had a lot of piano work intros I got to create. Producers, one by one, started believing in me and wanting to see what this new guy does." Gordon is still a fulltime session player. "I've played with everybody from the most country of country artists, like Porter Wagoner, to the Carrie Underwoods, more contemporary," he says. "In the pop world, I've played with people like James Taylor and Bob Seeger and Lionel Ritchie." He told me to go to allmusic.com, where it's possible to put in anybody's name and find all the artists they've played with. When I checked Gordon's album credits, it showed a list of 1,843 items.
"I can't tell you how grateful I am to be a part of this Nashville music community," Gordon reiterates. "I don't know of another business where you can meet so many of your heroes–and work with them and become part of what they're doing. The music business has allowed me that opportunity."
As well as recording hit songs with established artists, Gordon enjoys helping new artists. "It's exciting to see these young kids come up with their own sound," he says. "And we help them. That's what the Nashville session guys do." The producer puts together a group of musicians who might have a vision for the new artist–or for an established artist who needs a facelift. "We offer our own set of ideas," Gordon explains. "God has gifted all the musicians in this town in different ways, and we all have something we bring to the party."
After the producer puts together the session band, it's time to discuss arrangement ideas. "The producer certainly has ideas, but producers also lean on musicians," Gordon says. "We're all producers, really. It's a team effort. We respect the producers, they respect us." He considers Nashville recording sessions to be the top of the mountain for the collaborative process. "You never know where the idea's gonna come from that will make the song and get it above the norm," he says. "We all work together to find it. And it doesn't matter who finds it, we all win."
Gordon knows the recording business from the aspects of session musician, producer, and singer. He has produced the last half dozen Gaither Vocal Band albums. "Bill and Gloria Gaither are the epitome of greatness in the gospel music world," he emphasizes. "Bill is 86 and still on fire for music and has such energy. I've learned so much from him."
We also talked about producer Kyle Lehning. "When it comes to Nashville royalty, I would put him at the top of that list," Gordon says. "I'd take a bullet for Kyle Lehning; I love that man." He considers Kyle "one of the most talented people we have in our business. He's a great producer, and he's a musician's musician, too. When you're working with Kyle Lehning, you know it's going to be a good, good day." Gordon especially likes that Kyle has the courage to say "I don't know" to a roomful of Nashville musicians. He lets the sound develop and doesn't have to prove anything to anybody.
Concerning his own recording, Gordon is currently working on his first new solo album in five years. The working title is Where You Lead Me, and he expects it to be out by early summer. The label, New Haven Records, hopes to release the first single in April. Gordon's last album, Love, Love, Love, was nominated for a Grammy for best roots gospel album.
When he mentioned touring with Alabama, I asked if he would be with them in Sioux Falls this summer. He said, "I just saw it go on the schedule." It won't be his first visit to Sioux Falls. A Christian promoter brought him here a few years ago to do a solo concert.
Gordon told me Lee Greenwood is on his farewell tour this year. "He's 80 now," Gordon says, "and still singing–I can't believe how great he sings. That's a show you don't want not to see." He wants to spread the word that it's Lee's farewell tour and everybody who can do so should go see him. "He's such a great entertainer, and a great artist, and he sings those songs with such passion," Gordon states. "He was born to entertain, and that's just a show you don't want to miss."
I don't know if I'll get a chance to see Lee Greenwood on his farewell tour, but I hope to meet Gordon Mote when he comes to the Denny Sanford Premier Center with Alabama on June 24.
NEWS
Grand Ole Opry dancer Melvin Sloan, 82, died in his sleep on February 26, following 2½ years of being cared for with Alzheimer's disease. Born March 27, 1940, in a two-room log cabin in Wilson County, Tennessee, he and Beverly Padgett eloped when he was 17, with his father's permission. The Tennessean reports Melvin attended his senior year in high school as a married man. Beverly, who graduated the prior year, signed his report cards Mrs. Melvin Sloan. They were married for 61 years until her death in 2018. When his brother Ralph, who square danced on the Grand Ole Opry with the Tennessee Travelers, died in 1980, Melvin took his place. Even though he'd never danced before, he learned how and continued to dance on the Opry as the Melvin Sloan Dancers. He retired in 2002, on the 50th anniversary of the Sloan family dancing dynasty on the Grand Ole Opry stage. He and Ralph were inducted into America's Clogging Hall of Fame in 1997 for their contributions of promoting and preserving the art of Southern Appalachian Freestyle Square Dancing.
Bass guitarist Michael Rhodes, 69, died at his home in Nashville, Tennessee, on March 4. He had apparently been suffering from pancreatic cancer for several years. Born in 1953 in Monroe, Louisiana, he taught himself to play the guitar at age twelve. In the early 1970s, he moved to Austin, Texas, then to Memphis, and eventually to Nashville, where he worked as a demo musician before becoming a session player. The Tennessean reports he worked with Curly Putman in the house demo band at Nashville's Tree Publishing. Over the years, he played bass on 1,320 albums, which produced hits by LeAnn Rimes, Trisha Yearwood, Lee Ann Womack, Neal McCoy, Doug Stone, Wynonna Judd, the Dixie Chicks, Reba McEntire, Tanya Tucker, Dolly Parton, Randy Travis, Faith Hill, and many others. He was inducted into the Musicians Hall of Fame in 2019 and was named ten times as Academy of Country Music Bass Player of the Year.
Gary Rossington, the last surviving original member of the Southern rock band Lynyrd Skynyrd, died March 5 at age 71. He underwent quintuple bypass surgery in 2003, suffered a heart attack in 2015, and had numerous subsequent heart surgeries. Rolling Stone reports he performed on a limited basis at recent concerts. Born in 1971, he grew up in Jacksonville, Florida, and played Little League baseball, along with drummer Bob Burns and bassist Larry Junstrom. During a game, Ronnie Van Zant hit Burns with a line drive. Those four and guitarist Allen Collins gathered that afternoon at Burns' Jacksonville home, and an early version of Lynyrd Skynyrd was born. The band released its debut album in 1973, and the closing track, the nearly 10-minute "Free Bird," with Gary's evocative slide playing on his Gibson SG, became the group's calling card. Gary survived the 1977 plane crash that killed singer Ronnie Van Zant, guitarist Steve Gaines, and backing vocalist Cassie Gaines. He had two broken arms, a broken leg, and a punctured stomach and liver.
Here is an obituary I missed last year: Music Row guiding light Bil VornDick, 72, died July 5, 2022, less than a week after being diagnosed with cancer. MusicRow reports the Northern Virginia native was attending school and playing guitar in rock bands when he sold some songs to Cedarwood Publishing. Chet Atkins urged him to move to Nashville and helped him enroll in Belmont University. Following his graduation from Belmont's music business program in 1979, Marty Robbins heard him working on demos for Loretta Lynn's publishing company and hired him as his studio's chief engineer. Bil later became chief engineer at Stargem Studio, founded The Music Shop, and owned Music Row Audio and Mountainside Music Group Productions. He campaigned to save Nashville's famed RCA Studio A from demolition, promoted popularity charts for roots music, and championed health insurance for music people. Artists he worked with included Alison Krause, Béla Fleck, T. Bone Burnett, Bob Dylan, Doc Watson, Charlie McCoy, Jerry Douglas, Marty Stuart, Vince Gill, Rhonda Vincent, and Ralph Stanley. He helped found IBMA (International Bluegrass Music Association).
The Leader in Festus, Missouri, reports that Ronald Avis, 65, of Goodlettsville, Tennessee, died February 18 at Tri Star Skyline Hospital in Nashville. He was a songwriter who also drove coaches for Randy Travis, Kenny Rogers, Dolly Parton, Porter Wagoner, and several others. Randy Travis recorded three of the songs they co-wrote. Ron owned and operated Good to Go Carpet and belonged to Our Lady of the Lakes Catholic Church in Hendersonville. He was born May 6, 1957, in St. Louis, Missouri. Following a funeral service in Goodlettsville, Ron was buried in the Fairview Cemetery in Oakman, Alabama.
At the Second Annual Texas Independence Jam guitar pull benefit concert, KSCS-FM and KPLX-FM in Dallas raised $201,675 for Cook Children's in Fort Worth, reports Radio Online. The event was held at Billy Bob's Texas in Fort Worth, with host Clay Walker and special guest Randy Travis. The many guest performers included Chris Young, Midland, and Ashley McBryde. Tickets to the Texas Independence Jam sold out within an hour of going on sale, with all proceeds going directly to Cook Children's. During the third and final set of the concert, Midland, Mitchell Tenpenny, Chris Young, and Clay Walker honored Randy Travis by bringing him on stage and covering "Forever and Ever, Amen" to finish off the show.
Doug Davis has ended his Country Music Classics email newsletter. He helped publicize my newsletter when I was getting started. He writes, "Thanks to all of you for your comments — suggestions — gripes — inquiries — concerning my weekend programs being removed from KPIG-FM Radio. I was told my kind of classic country music and I were both out of date and needed to go. So after 19 years — I'm gone." Thanks, Doug, for your years of answering questions and keeping country music fans informed.
A post on the Time Jumpers Facebook page says, "Look at these sharp dressed Hall of Famers! Time Jumper members & The National Fiddler Hall of Fame members Kenny Sears & Joe Spivey with Rock n Roll Hall of Fame member Billy F. Gibbons of ZZ TOP. You never know who will be at a Time Jumper show on Monday night at 3rd & Lindsley."
The Johnny Cash Museum, which is celebrating its tenth anniversary this year, has been voted Best Music Museum in the 2023 USA Today/10 Best Readers' Choice Travel Awards. Twenty museums around the United States were nominated by a panel of travel experts and then voted on by the public. Three other country music museums made it into the top ten of this nation's music museums: Country Music Hall of Fame and Museum at No. 9, Patsy Cline Museum in Nashville at No. 8, and the Birthplace of Country Music Museum in Bristol, Virginia, at No. 6.
CMT News reports that Alabama is bringing back its June Jam in Fort Payne, Alabama, after 26 years. It will be at the VFW Fairgrounds on June 3, with Alabama closing the show. "Our wishes are that Fort Payne will take June Jam, and it will go on forever," says lead singer Randy Owen. "We lost Jeff, and when me and Teddy are gone, hopefully the city will continue with the June Jam." Jeff Cook died in 2022 after a long battle with Parkinson's disease. A public memorial will be held during the June Jam. The weekend also includes Teddy Gentry's talent contest, a songwriters concert, a brunch at Cook Castle for the Jeff & Lisa Cook Foundation, and "Fandemonium" at Randy's farm.
On his daughter's podcast, In Joy Life with Mattie Jackson, Alan Jackson revealed that he hopes to release new music. CMT News reports it would be his first new music since sharing his diagnosis of the degenerative nerve condition Charcot-Marie-Tooth disease in 2021. "I'm always scribbling down ideas and thinking about melodies," he said, "and I feel like there'll be some more music to come." He enjoys the challenge of writing and recording songs: "If I didn't write, I think I would've gotten bored just singing a long time ago."
When Nashville's Major League Soccer Team, Nashville SC, played their season opener against New York City FC, they wore all-black uniforms that honored Johnny Cash. He is the inspiration for Nashville FC's secondary uniforms for at least the next two MLS seasons. The uniforms have graphite accents that include Johnny Cash's signature on the back collar and his portrait photo from Folsom Prison on the tag. Saving Country Music says there seems to be an effort underway to refer to the Nashville SC players as "The Men in Black." The Nashville Soccer Club CEO says, "I don't think there can be a greater tribute to Johnny's place in music history or Nashville than to have a team full of Men in Black take the field on behalf of Nashville SC." John Carter Cash says, "It's exciting to see his name on a jersey, and everyone wearing black. And knowing those little kids out there are going to be enjoying the game and connecting with my father's music, perhaps, and connecting with the whole spirit of what he had to offer in his life."
The Boot reports Jennifer Nettles of Sugarland has joined the cast of The Exorcist, the first film in the new horror trilogy. The remake of the 1973 movie will be released in October. Jennifer is known for both her acting and her music. She made her Broadway debut in 2015 and is also a Grammy winner for best country song and best country performance by a duo or group for her song "Stay" with her band Sugarland. She earned a third Grammy for her collaboration with Bon Jovi on "Who Says You Can't Go Home." She recently released an album of American songbook classics entitled Always Like New.
After Bobbie Nelson passed away last March at age 91, her son Freddy Fletcher inherited the Steinway Model B grand piano she played on tour with younger brother Willie Nelson. The siblings from Abbott, Texas, started playing together when Bobbie was 6 and Willie was 4. When Willie went to Nashville in the late 1950s, Bobbie stayed in Texas. Willie broke free from the Nashville establishment in 1973 and was the first country act signed to Atlantic Records in New York. Texas Highways reports that Willie sent for Bobbie, who took her first airplane flight for the New York sessions that produced the album Shotgun Willie. Fifty years later, after approximately 9,000 performances with her brother, Bobbie is celebrated at her favorite museum, the Bullock Texas State History Museum in Austin, where her piano is on display.
LETTERS
Philip Wyn Davies writes from Wales, "Thank you again for an engaging and informative newsletter especially for your piece on the great John Anderson. Shall dig out his albums later. Regards from Wales, Phil recovering from root canal work."
Mark Casstevens in Nashville says, "Nice piece on John Anderson. This is the only song I played on: straight tequila night john anderson"
Jana Jae in Oklahoma says, "Excellent newsletter Diane!! Keep on keepin' on!! Many thanks 🎻"
Jackie Allen Thomas writes from Sun City, Arizona, "Another great Country Music Newsletter, thanks for all the work you do to keep us informed and bring us good memories of the past."
Terry Munson in Sioux falls says, "Excellent job. Your newsletter is so informative. Keep up the great work."
Dominique 'Imperial' Anglares writes from France, "Thanks for that newsletter, a nice way to start that day. All these informations and letters are welcome and very interesting. Nice to read Mike Johnson's words about Country Boy Eddie. Keep the good work going on."
Terry Burford at KZHE Radio in Magnolia, Arkansas, says, "It is a joy to read your newsletters. I've been in country music of over 50 years, and you continue to amaze me with your knowledge— don't ever stop."
Mike Johnson of Roughshod Records writes, "Your newsletter came while I was cleaning up my inbox. Thanks for the plug about Country Boy Eddie. Much appreciated. Burt Bacharach was truly a musical treasure. He'll live on through the songs he wrote. In noting your article about Elsie McWilliams, here's a photo for your scrapbook. It's me and her grandson, Rick McWilliams, at the 1999 Old Time Country Music Festival in Avoca, Iowa. We were among about a dozen yodelers participating in the Sonny Rodgers Yodelers Paradise show on the main stage. Sonny was a second cousin of Jimmie Rodgers and unfortunately passed away in June 2000. I was among the last to visit him at his home in Columbia, South Carolina. I also checked out that vintage clip of Kate Smith. She was one of my grandmother's favorite singers."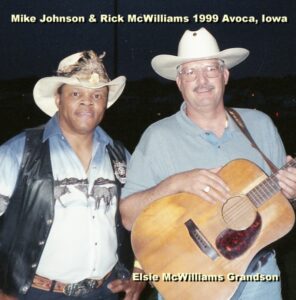 SONG OF THE WEEK
I just ran across this music video Mo Pitney posted on Facebook for his new single, "Old Home Place." Ricky Skaggs and Marty Stuart are there, and they all look like they're having a fun time. Mo says, "This video is dedicated to J.D. Crowe, a beloved musical hero." Click here to stream/download "Old Home Place."
NASHVILLE SONGWRITERS HALL OF FAME – 1980
Huddie (pronounced Hugh-dee) William Ledbetter, better known as Leadbelly,was born on a Louisiana plantation to a sharecropping family in 1888. At 16, he moved to Shreveport, where he sang on streets and in saloons. He and Blind Lemon Jefferson played shows together around Texas and Louisiana from 1912 to 1916. He played the 12-string guitar. His volatile temperament led to an arrest, after which he escaped from a chain gang. In 1917, he was convicted of murder and spent seven years in prison, where he got the nickname Leadbelly for being tough as lead. In 1924, he won a pardon by writing and singing a song of appeal for the governor of Texas. During a later prison term for stabbing someone, he was visited by Library of Congress song collector John Lomax and son Alan, who began recording him. "Midnight Special," "Rock Island Line," and "Goodnight Irene" are a few of the traditional folk songs he modified into his own compositions. Lomax released Leadbelly's recordings and took him on extensive concert tours. He became part of New York's community of folk musicians, which included Woody Guthrie and Pete Seeger. Leadbelly died of Lou Gehrig's Disease in 1949 in New York City, at age 60. Shortly after his death, his songs topped the charts in cover versions by singers such as Ernest Tubb, Frank Sinatra, and the Weavers.
Mickey Newbury was born and raised in Houston, Texas. Born Milton Sims Newbury Jr. in 1940, he performed at local coffee houses in his teens. After high school, he joined the Air Force and was stationed in England for three years. In 1965, he moved to Nashville and signed a publishing deal with Acuff-Rose Publications. His "Funny Familiar Forgotten Feelings" became a hit for both Don Gibson and Tom Jones in 1967. In 1968, he had four songs in the Top 5 across four different charts, a feat that has never been repeated. His "An American Trilogy," a combination of folk, blues and spirituals, became one of Elvis Presley's staples. After a break from the music business in the 1980s to spend time with family, he returned to writing, recording, and performing in the 1990s. He died of emphysema in 2002, at age 62, in Vida, Oregon. He was known as the quintessential songwriter's songwriter. His songs include "He Even Woke Me Up to Say Goodbye" (written with Doug Gilmore), "Just Dropped In (To See What Condition My Condition Was In)," "Why You Been Gone So Long," and "Sweet Memories."
When Ben Peters heard a weatherman mention daytime highs and nighttime lows, he wrote the Kenny Rogers hit, "Daytime Friends" (and nighttime lovers). The Mississippi native, born in 1933, picked cotton as a child and sang gospel songs with the other workers. After graduating from the University of Southern Mississippi, he served in the U.S. Navy and then moved to Nashville in 1966. His first hit was Roy Drusky's version of "If the World Stopped Lovin'." In 1971, Charley Pride took Ben's "Kiss an Angel Good Morning" to the top of the country charts and earned him a Best Country Song Grammy. Other hits Ben wrote for Charley included "It's Gonna Take a Little Bit Longer," "More to Me," "Burgers and Fries," and "You're So Good When You're Bad." Freddy Fender hit with Ben's "Before the Next Teardrop Falls." Ben died at age 71, in Nashville in 2005.
The fourth Hall of Fame member still living is Ray Stevens. The Georgia native was born Harold Ray Ragsdale in 1939. Known for novelty songs such as "Ahab the Arab," "Gitarzan," "The Streak," and "Shriner's Convention," he also had a major hit with the uplifting ballad "Everything Is Beautiful." He signed with Mercury Records while studying music at Georgia State University. His first pop hit was "Jeremiah Peabody's Poly Unsaturated Quick Dissolving Fast Acting Pleasant Tasting Green and Purple Pills" in 1961. A year later, he moved to Nashville, working as a session musician and arranger in addition to recording. He wrote "Ahab the Arab" the night before he recorded it in 1962. He guessed during the recording session what kind of noise the camel named Clyde might make. He later visited a zoo and found that Clyde's voice on the record was similar to that of a real camel. Ray was inducted into the Country Music Hall of Fame in 2019. At age 84, he currently owns and appears at The Ray Stevens CabaRay Showroom in Nashville.