NEWS
The owner of the 23,000-member Steel Guitar Forum, Bobby Lee, died March 7 at age 73. His daughter, Shoshanah Marohn, says he was at home in Petaluma, California. listening to the Beatles sing "All You Need Is Love." He grew up in the hills of Western Pennsylvania, the eldest of six children in a musical family. In the fall of 1967, he hitchhiked to San Francisco. He started playing a lap steel somewhere around 1970. While working at the Mesa Boogie amp factory in Petaluma in the early 1980s, he started a quarterly newsletter for musicians, mailed by his wife and four daughters. He then got a job writing computer software, all the while playing regularly in bands. He had a vision of using the internet to connect everyone in the world who played steel guitar. The current iteration of the Steel Guitar Forum has been going since 1997.
Tim Cobb, a well-known clothing designer and personal assistant to Loretta Lynn, died March 10 at age 68. The cause of death wasn't reported. Grunge reports he worked as Loretta's personal assistant for over 30 years. She called him her best friend and said "he does everything," including her hair and makeup. He also built and served as conservator of the Coal Miner's Daughter Museum on her ranch in Hurricane Mills. Born in Nashville in 1955 and raised in Arkansas, Tim watched his sister participate in beauty pageants. Realizing how much pageant gowns cost, he designed, sewed, and sold his first dress at age 17. After graduating from California's Fashion Institute of Design and Merchandising, he eventually went to Nashville to pitch his custom designs to the managers of country singers. He designed two dresses with Loretta Lynn in mind and took them to her office. He recalled, "I returned later, met this barefooted little girl with long wavy hair, surprised it was the Loretta Lynn! She loved both gowns and they fit perfectly, so she bought both of them on the spot."
SiriusXM is laying off almost 475 people as part of a restructuring to increase profitability, announces Bluegrass Today. One of those is Bluegrass Junction host, Kyle Cantrell, who was WSM program director and Grand Ole Opry announcer before moving to XM Radio in 2002. When Sirius and XM merged in 2008, their bluegrass channels were combined. Kyle has been named IBMA Broadcaster of the Year five times and was inducted into the Country Radio Broadcasters Hall of Fame in 2019. He says, "I've had 20 years at SiriusXM — two and a half years as a show host, and 18 years programming and hosting Bluegrass Junction. It's been an incredible run, and I'm very proud of what we have accomplished."
Miranda Lambert is leaving Sony Music Nashville, the company she's been with since the beginning of her recording career. "I'm so thankful for our time together and everything they made possible for me," Variety reports her as saying. "Yet I wouldn't be true to myself if I wasn't constantly looking for the next challenge and a new way to stretch my creativity. With that in mind, I've decided to say goodbye to my Sony family. I can't wait to see what the next adventure holds." Brad Paisley left Sony last month for Universal Music Nashville.
Jeannie Seely posted this photo on Facebook of Gene Ward, Trisha Yearwood, Garth Brooks, and Jeannie, backstage at the Grand Ole Opry this past Saturday night.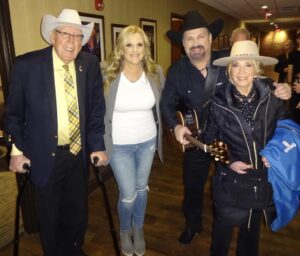 In a partnership between Frank Sinatra Enterprises and Bill Miller's Icon Entertainment Group, the Sinatra Bar & Lounge will soon be opening in Nashville's historic Printers Alley. Located in a Queen Anne structure built in 1839 and listed on the National Register of Historic Places, it will celebrate Frank Sinatra's legacy. The dining menu will offer many of his favorite foods. According to a press release by 117 Entertainment, Jack Daniel's Sinatra Century whiskey will be served while the limited supply lasts. Trisha Yearwood, who recorded a tribute album, Let's Be Frank, in 2019, will perform at the private grand opening on April 14. SiriusXM's Siriusly Sinatra channel will broadcast Let's Be Frank with Trisha Yearwood LIVE from Sinatra Bar & Lounge in Nashville, Tennessee from 6 – 8 p.m. CST.
Buddy Jewell celebrated the twentieth anniversary of his 2003 hit, "Sweet Southern Comfort," by recording a new version with Clint Black, The Bellamy Brothers and Marty Raybon. It is now available for streaming and download on all music platforms. Buddy was the first winner of the USA Network's reality show Nashville Star. According to a B! Noticed Public Relations press release, he defeated eleven other contestants, including Miranda Lambert.
Still Playin' Possum: Music & Memories of George Jones is a tribute show scheduled for April 25 at the Von Braun Center in Huntsville, Alabama. It will be filmed for an upcoming television special. MusicRow reports that Randy Travis, Sara Evans, Aaron Lewis, Gretchen Wilson, Charlie Starr of Blackberry Smoke, Dillon Carmichael, and Joe Nichols have joined the show. Already announced to perform are Brad Paisley, Dierks Bentley, Justin Moore, Lorrie Morgan, Mark Chesnutt, Michael Ray, Sam Moore, Tanya Tucker, Trace Adkins, Tracy Byrd, Tracy Lawrence, and Travis Tritt. Special moments will include Wynonna and Jamey Johnson singing "Golden Ring" in tribute to George and Tammy. The Nancy Jones VIP dinner, taking place the night before the concert at the Von Braun Center Ballroom, will include appearances by Randy Travis, Jeannie Pruett, songwriter Billy Yates, and others to be announced. Tickets are $200 and will include a sit-down meal as well as a photo opportunity with Nancy Jones.
Two months after four-time Grammy-winning engineer Mark Capps was killed by Metro Nashville SWAT Officers, his friends and family are wondering if they will ever receive any answers, reports Saving Country Music. Will hard questions be answered, individuals held accountable, and police reforms enacted to prevent similar incidents in the future? The online petition is still active.
LETTERS
Jeannie Seely writes from Nashville, "Great newsletter again Diane. Just hate that we have to acknowledge so many 'losses,' don't you? Was glad to see the feature on Gordon Mote…he's an amazing entertainer as well as musician, and so funny!! You know I love that!! Hope you will be enjoying Spring up there soon…I have the worst case of spring fever I think I've ever had. We had a wonderful trip to Ft. Worth to celebrate with Moe Bandy as he was inducted into the Texas Cowboy Hall of Fame. There's just something about Ft. Worth that's special to me…I guess down deep I always wanted to be a cowgirl😊"
Erwin Niehaus says, "I really enjoyed your piece on Gordon Mote, a very talented individual. I have seen him on several Bill Gaither shows. The one I really enjoyed was one where he did an imitation of Porter Wagoner. I guess he picked this up from working with Porter, he really had it nailed down. Keep up the good work."
Doug Davis of Country Music Classics writes, "In response to your mention in your newsletter that I have stopped writing my Country Music Classics newsletter. The only thing that ended was my 19-year association with KPIG-FM Radio. And that was their choice – not mine. I am now doing what I did for KPIG-FM – for their cross-town competition – Real Country 98.7. And all other projects – including Country Music Classics email newsletter – which goes out each week to over 5,000 subscribers – are full steam ahead. I would appreciate you printing a correction in your next issue."
Diane: My apologies, Doug. I completely misread your notice.
Rosemary Eng in Whiting, New Jersey, says, "I would like to thank Doug Davis for all the years I have enjoyed his newsletter. I will miss him and hope he enjoys his 'retirement.'"
Diane: You won't have to miss him, Rosemary. That was my mistake.
Aileen Arledge of Mountain Express Productions says, "I don't mean to be picky, but check the dates on the blurb of Gary Rossington. Born in 1971 and died at 71? I think he was born in 1951. Love your newsletter."
Diane: No! I thought I had corrected that error. Thanks for pointing it out. He was born in 1951.
Mike Johnson of Roughshod Records writes, "Another informative issue. Just don't care for the obituary sections. But we're all going one day, and I myself will be 77 in a couple of months. As for Doug Davis and Country Music Classics, tell him don't fret because he delivered real country music, not this slop that Nashville has been trying to pepper us baby-boomers with. Thanks for the comment, Dominique 'Imperial' Anglares. Much appreciated. Sad loss, Jeff Cook. I was a frequent visitor to the Bowery in Myrtle Beach, South Carolina during the '80s, where the Alabama band was homebased before stardom. Not much going on here at Roughshod Records, except some last-minute double-checking on some recent book edits. I did receive a nice music review from Country Music News International of my former labelmate James Adelsberger's 2016 CD, My Heart Still Sees. However, the song lyric quotes were way off, which I attribute to a language difference or perhaps the reviewer not understanding them while listening to the CD. James was with the label for five years before leaving in December 2016. With all the bad weather going on in California, I still haven't been able to contact Sharon Marie, Carolina Cotton's daughter. I do hope she's okay. It's also about time I give Terry Smith a call and see how he's doing. Looking forward to your next issue. My next one will probably be in June 2023."
Sydney Stern in New York City says, "I don't know who 98% of them are but I really enjoy it anyway. You make them come alive. Thanks for sharing,"
Betty Block of Sisseton, South Dakota, requests, "I would like to be on your country music newsletter."
Dean Mann in Sioux Falls says, "Have you thought of featuring David Frizzell? I notice he is becoming quite popular again. He is on Midwest Country on RFD-TV quite often, and I see where he is appearing at shows and rodeos around the country. The other night he did a great rendition of one of Lefty's songs, 'The Long Black Veil.' I thought 'Long Black Veil' was one of Lefty's best songs."
Diane: I appreciate the suggestion, Dean. I have profiled David: Diane Diekman » Blog Archive » Diane's Country Music Newsletter — 26 January 2022
Judi Myrick writes, "A friend of mine gave me your email address. I would like to receive your country music newsletter. I used to work as a secretary in the music business. Most of my friends have passed and I don't do social media, that means I have no clue what is going on around town. You may have heard of my late husband, Weldon Myrick, steel player?"
Diane: Welcome, Judi! Yes, of course, I've heard of Weldon. I'm glad to have you in our group.
SONG OF THE WEEK
When Kyle Lehning and I were discussing Randy Travis's 2003 album, Worship & Faith, Kyle mentioned that John Anderson had sung with Randy on the public domain hymn, "Just a Closer Walk with Thee." That surprised me because John wasn't credited on the album. I listened to the recording on YouTube, and there is the voice of John Anderson. They trade off the verses and sing the chorus together. I would guess John is incognito because of recording contract issues. Here is the hidden gem for your listening pleasure.
NASHVILLE SONGWRITERS HALL OF FAME – 1981 AND 1982
The fifth Hall of Fame member still living is Bobby Braddock, who was inducted in 1981. Ray Whitley was also inducted in 1981. The year of 1982 saw two new members added, Chuck Berry and Billy Hill.
I first met Bobby Braddock at a book festival in Nashville in 2007, where we exchanged our books, my Faron Young biography and his Down in Orburndale: A Songwriter's Youth in Old Florida. I had already interviewed him about Marty Robbins. He played piano in Marty's band in 1965, and he first realized he really was a songwriter when Marty recorded two of his songs. Born in central Florida in 1940, Bobby played in country and rock & roll bands as a youth. He signed with Tree International Publishing in 1966 and has written at least one chart-topping country hit in five successive decades. The songs he wrote or co-wrote include "D-I-V-O-R-C-E," "(We're Not) The Jet Set," "Golden Ring," "I Don't Remember Loving You," "I Wanna Talk About Me," "People Are Crazy," "Would You Catch a Falling Star," "Old Flames Have New Names," "Her Name Is…," "Thinkin' of a Rendezvous," "You Can't Have Your Kate and Edith Too," and "He Stopped Loving Her Today." Inducted into the Nashville Songwriters Hall of Fame at age 41, he is still going strong at 82 and has doubled his number of Top 10 hits since then. He discovered Blake Shelton and produced Blake's first five albums. Bobby was elected to the Country Music Hall of Fame in 2011.
Ray Whitley grew up on a farm near Atlanta, Georgia, where he was born in 1901. He learned to ride a horse, play guitar, and handle a bullwhip–he could remove a cigarette from a man's lips with a single flick. He served in the Navy, worked construction on the George Washington Bridge and Empire State Building in New York City, performed in clubs and on radio shows, and traveled the rodeo circuit. As a singing cowboy in more than fifty movies, he rode, sang and yodeled alongside Tim Holt, Rod Cameron and Gene Autry (with whom he also wrote such classics as "Ages and Ages Ago" and "I Hang My Head and Cry"). In 1938, he received a late-night telephone call and told his wife, "Well, it looks like I'm back in the saddle again," explaining that RKO Studios wanted a new Western song for a motion picture. She said that was a good title, and he immediately wrote the first verse. He later managed the Sons of the Pioneers and helped design the SJ-200 Gibson guitar; his prototype is on display in the Country Music Hall of Fame. He died on a fishing trip in Mexico in 1979, at age 77.
Chuck Berry was born in St. Louis, Missouri, in 1926 and died there in 2017. During the intervening ninety years, he became a rock & roll legend who influenced everyone from Marty Robbins to the Beatles. He was in the first group of inductees when the Rock and Roll Hall of Fame was established in 1986. The most prominent artist on the St. Louis R&B nightclub circuit in the early 1950s, he signed with Chess Records and had a hit with his self-penned "Maybellene." His supercharged blues style of lead guitar playing influenced countless rock and country guitar players. His song catalog includes "Roll Over Beethoven," "Rock and Roll Music," "Brown-Eyed Handsome Man," "Johnny B. Goode," "Sweet Little Sixteen," "Memphis," and "Back in the U.S.A." He appeared in early rock films and later staged a comeback in the 1970s with "My Ding-a-Ling" and "Reelin' and Rockin'." He received the Grammy Lifetime Achievement Award in 1984 and wrote Chuck Berry: The Autobiography, published in 1987.
Billy Hill was born in Boston, Massachusetts, in 1899 and died there 41 years later, in 1940. At age 17, already a classically trained violinist, he traveled to Montana to work as a cowboy, then to California to work as a surveyor and prospector, and then to New York to pursue a Tin Pan Alley songwriting career. He was one of the first professional New York songwriters to tailor material for the country music market. His earliest country successes were "They Cut Down the Old Pine Tree" and "The Last Round-Up." His subsequent Western songs included "Wagon Wheels," "Empty Saddles," and "The Old Spinning Wheel." He achieved songwriting immortality with a trio of songs that are still being recorded today. "Have You Ever Been Lonely (Have You Ever Been Blue)" was a hit for Ernest Tubb. "In the Chapel in the Moonlight" was a Dean Martin hit. "Glory of Love" has been a hit for the Benny Goodman Orchestra, The Five Keys, and Otis Redding, as well as being revived by Bette Midler in the 1988 movie Beaches. Billy died of heart failure on Christmas Eve in a Boston hotel room. He was inducted into the Songwriters Hall of Fame in New York in 1970.