FEATURED ARTIST – REDD VOLKAERT
Merle Haggard's former lead guitar player, Redd Volkaert, is enjoying life in Austin, Texas. "I'm busy all the time–or trying to be, anyway," he told me when I called him the other night. He has two steady gigs at the Continental Club, with his own 4-piece band on Saturday and the Heybale band on Sunday. He's been in both bands for sixteen years, and he left Merle's Strangers about ten years ago, although he continued recording with Merle for several more years.
He normally works five days a week, with double gigs on Saturday and Sunday. The Austin area has 200 clubs with live music, some with three bands per day. "That said, the pay scale is pretty low," Redd says. Musicians come to town wanting to be seen and heard and they offer to play for the exposure.
Redd does all the singing in his own band, mostly honkytonk country and a lot of instrumentals. His piano player is a jazz musician, which adds to the versatility when they play festivals. He has recorded four CDs, which are described on his website at http://www.reddvolkaert.net. His schedule can be found there, too.
I asked if he plays much dance music, and he said his whole goal is to make the people dance. "If the dance floor is full, they're happy," he told me. "All the songs I play have to be danceable or we don't do them."
The Heybale band began as a put-together affair for road musicians, and it developed into a steady group. Dallas Wayne, the Sirius/XM deejay, is the lead singer. That band has two song rules–every song must be danceable and it has to have a lot of picking in it.
When I mentioned seeing Tommy Emmanuel earlier this year, Redd called him "the best guitar player I've ever seen–by far." Redd had an opportunity to play with him when Tommy came to Austin, and he recalls, "I had a blast. But I was a nervous wreck." I suggested pickers probably get nervous around him, too, and he said, "Me following Tommy is like following a bulldozer with a teaspoon."
Redd maintains his Canadian citizenship, and his mother, sister, and brother still live in Vancouver. As for staying in Austin, he says, "I'm loving it here and don't have any plans of going anywhere else."
He thinks my newsletters look great, and he thanked me for supporting the music and all the players, saying, "I can't imagine all the work you go through to do that." I told him it's easier than playing a guitar, and he said, "It's easy to just hold a guitar and bang around on it."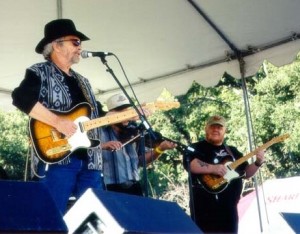 Merle Haggard and Redd Volkaert
NEWS
The 48th annual CMA Awards show is on ABC-TV tonight, hosted for the seventh consecutive year by Brad Paisley and Carrie Underwood, and airing live from Bridgestone Arena in Nashville. George Strait will perform for his 24th time, more than any other artist in the show's history. He is also the most nominated artist–with 83 nominations. He is the current CMA Entertainer of the Year, and a contender for a second consecutive win.
The Country Music Hall of Fame Medallion Ceremony took place October 26. Ronnie Milsap was inducted by Brenda Lee into the modern era category of the Country Music Hall of Fame, Mac Wiseman was inducted by Jo Walker-Meador into the veteran era category, and Hank Cochran by Bobby Bare into the songwriter category. Previously inducted Hall of Fame members who were present were Bill Anderson, Charley Pride, Emmylou Harris, Randy Owen, Harold Bradley, Ralph Emery and Ray Walker (Jordanaires). This ceremony has replaced the tradition of honoring new Hall of Fame members on network television during the CMA awards show.
Clark McEntire, the father of Country Music Hall of Fame member Reba McEntire, died October 23 in Coalgate, Oklahoma, at age 86. He'd had a stroke several years ago and never completely recovered.
Police were called to the airport in Deer Lake, Newfoundland, last Monday in response to a report of a man stripping down to his underwear. CBC Radio Canada reports that John Carter Cash, son of Johnny Cash and June Carter, was arrested for causing a disturbance. He was drunk and missed his flight. When the police arrived, Security had already convinced him to put his clothes back on. John Carter cooperated with police and security, and no charges were filed. He was on his way home from a hunting trip in Newfoundland.
There is now a 10-foot statue of Vince Gill in front of Northwest Classen High School in Oklahoma City. The 1975 graduate attended the October 29th dedication and was welcomed by alumni and students at a school assembly.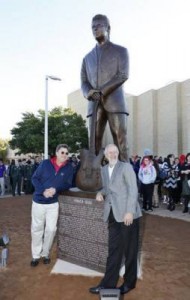 Vince Gill and sculptor Jack Nortz. Photo by Paul B. Southerland.
Reba McEntire signed a new recording contract October 21 with Nash Icon Music, a new venture with Reba as the major artist. She has already recorded 11 songs for the label.
Country stars are voting for their favorite artists on the CMT All-Time Top 40: Artists Choice countdown. Garth Brooks has just been named to the number six position. George Strait said, "Garth is a huge, huge entertainer. When he came along, doing his thing, it was like nobody had done that before in country music, and we were all going, 'You can't do that in country music.' (laughs) Little did we know what a huge artist he was and would become." Check out the previous selections at http://www.cmt.com/music/top-40.
John A. Brown, convicted killer of David "Stringbean" and Estelle Akeman, was released from prison on Monday. His release "comes against opposition from a roster of Opry members who counted the Akemans as friends, including Bill Anderson, Jan Howard and Jean Shepard," the Tennessean reported. "But a slate of supporters citing Brown's exemplary prison record and his positive influence on other inmates say the rehabilitated killer will be a force for good in Nashville. Supporters sent 31 letters to the parole board in advance of Brown's latest hearing. Many current and former prison staffers also voiced their support, according to prison records." The pastor of Cornerstone Church, where Brown's wife is an accountant and longtime member, has given Brown a job on the custodial staff. Torry Johnson, retired Davidson County district attorney general, wrote in the Tennessean, "The judge and the jury concluded that Brown should spend the rest of his life in prison as punishment for a crime that shocked and horrified the community. Unfortunately, the Tennessee Board of Parole thought otherwise and voted to release this admitted murderer from prison, apparently believing that somehow he had earned or was entitled to his freedom. Regrettably the board's decision to release a person such as John Brown undermines the legitimacy of the judicial process and is an affront to the memory of two people who only wanted to entertain others and to live out their days in peace."
John Denver now has a star on the Hollywood Walk of Fame. He was posthumously honored last Friday, 17 years after being killed in a plane crash at age 53. He recorded approximately 300 songs during his lifetime, writing two-thirds of them himself. His "Rocky Mountain High' was adopted by the Colorado state legislature as a state song in 2007. There is a Hollywood exhibition called "Sweet Sweet Life: The Photographic Works of John Denver" on display at Hollywood's Substrate Gallery.
Trisha Yearwood sang the national anthem at Game 1 of this year's World Series at Kauffman Stadium in Kansas City, Missouri, in front of a crowd of 40,459. The game was dedicated to honoring veterans and military families. The San Francisco Giants defeated the Kansas City Royals 7-1.
Recording artists are accusing Spotify and other Internet streaming services of paying tiny royalties against massive plays, an average of less than one cent per play. Taylor Swift has just pulled her entire catalog from Spotify. She told the Wall Street Journal, "Piracy, file sharing and streaming have shrunk the numbers of paid album sales drastically, and every artist has handled this blow differently." Illegal downloading and streaming services are considered to be the reason no album released in 2014 has gone Platinum. Taylor's new album, 1989, is predicted to sell more than a million copies in its first week. Taste of Country quoted Rosanne Cash as saying, "People who wouldn't think of stealing an apple in a grocery store will happily steal an album online without thinking of the ramifications of that."
LETTERS
Paul Bush writes, "Just two questions: Was Goldie Hill as pleasant as she looks? Was a fan of hers until she dropped out of country music existence. Red Sovine was my favorite country singer. Loved their duet 'Are You Mine.' Still rings in my ears since the mid '50s. And Anita Carter, she could sing like a bird. From the pic I see you're a fan of Carl Smith. Lost interest in most country music when the dope heads moved in. Referring to Cash and the likes of him. So much has changed in and about country music over the years. Congrats on your successful career in the Navy. I know it had to be a tough row to hoe but leave it to a farm girl to get the job done. Last question: Is that a Case tractor in one of the pics you submitted? Your website is great. No clutter, just the facts."
Diane: Goldie Hill always seemed pleasant to me. I had several phone conversations with her, and we met once. I fell in love with Carl Smith when I was five years old. No Case tractor—ours were Minneapolis Moline.
Chet Sample writes, "Thanks for your newsletter forwarded to me by Randy Jackson. I would certainly appreciate being included on your list."
Mary Schutz of Miles of Memories Productions, says, "Diane, met you at LeMars, Iowa, a couple years ago. Reading Navy Greenshirt now. Please add us to your newsletter list. Thanks."
Adam Landry requests, "Could I please be added your newsletter. I'm a country music fan, and here is my email."
Mary Mitchell in Woodland Park, Colorado, opines, "The man who killed Stringbean and his wife has no right to be free. They aren't. I don't know TN laws, but he should have been executed in the same fashion as he killed the two innocent people."
Lloyd Pierson says, "Thanks very much for the newsletter. I love country music and when I was younger got to spend a week with Roy Acuff at his home in Hendersonville. I rode in with him to Ryman, then after the show we walked out the back door and down the street to the Ernest Tubb record shop show. We talked about Hank Williams most of the way and he told me about the last time he saw him. Your newsletter is very informative and timely."
Linda Elliott Clark writes from Virginia, "I wish Sara Evans's ex-husband all the best in his lawsuit. The media can ruin people and they just plain don't care. Thanks for all the updates on these past and present fine entertainers. I watched the Statler Brothers final tour show this past weekend on Channel 290 (a Christian channel) in the DC area. This was a repeat I know because of the date of the show, but I had never seen it before. It was an outstanding show, and they had the audience going crazy with applause, cheers, and on certain songs, tears. It was the best show I have watched in years, and I felt I had gone back in time. I hope they repeat it, so I can watch it again."
Jack Blanchard says, "Sorry not keeping up on my correspondence. I'm weak from my time in the hospital, from the blood loss, and the asthma attacks. Trying to take it easy so I don't have to go back."
Joe Overton says, "You commented on a post of mine awhile back, saying you had interviewed my cousin, Jack Evins, about his work with Marty Robbins in the fifties. I had a couple questions about that. I haven't found any reference to him recording with Marty, sounds like he just did some road work? and I was wondering if you had any recording or transcription of the interview you did that you would be willing/able to share? Thanks so much!"
Diane: Marty didn't have a band when he first moved to Nashville, and he used musicians who were assigned to him. I hope you enjoy the transcription I sent you of your cousin's phone interview with me.
SOUTH DAKOTA BANDS
How did I forget to mention the name in my last newsletter? South Dakota's newest country band is called the Chute Rooster Band.
QUESTION OF THE WEEK
Which adds more star power to a recording artist, the quantity of number one songs or total weeks at number one? Singers seldom hold the number one position for more than a week anymore. Roseanne Cash had eleven number one songs on Billboard, and Faron Young had five. Roseanne's weeks totaled 11, one for each song, but Faron's five songs put him at the top for 31 weeks. His "Alone With You" was there for 13 weeks. It took Brooks & Dunn 17 number one songs to stay at the top for 35 weeks. The longest-running country Billboard chart topper was Hank Snow's "I'm Moving On" at 21 weeks. For one song!
BOOK REVIEWS – SING ME BACK HOME: MY STORY and MERLE HAGGARD'S MY HOUSE OF MEMORIES
Merle Haggard has published two co-written autobiographies–Sing Me Back Home: My Story, with Peggy Russell in 1983, and Merle Haggard's My House of Memories with Tom Carter in 1999. Although I've had both of them for years, I recently reread them while considering whether to pursue writing the Hag's biography. Both stories come across as honest and revealing. Merle says in the second one, "I'm a little embarrassed about some of the stories I'm going to tell. They're more like confessions than the mere reporting of events. I really can't communicate how high I've risen without first telling you how low I had sunk." He adds, "The incidents and ordeals in the following pages implicate no one but me. I haven't used the names of those who have abused me or those I might have abused." The first book goes into much detail about his wild early days and his first wife, Leona Hobbs. He covers his relationship with Bonnie Owens and ends the book newly married to his third wife, Leona Williams. The second book reports, on page 5, ''I didn't even know wife number three was planning to leave." Merle says he gave her a chance to tell her side of the story, but "she doesn't want to be in my book, well fine. I don't want to mention her name. But I want to thank her for leaving." My House of Memories add new details when it covers material already told in Sing Me Back Home. This book is the story of a happy man. His fourth wife, Theresa, is the love of his life and the mother of his two youngest children: "Happiness exhibits itself. Theresa and I wear it like a sign."