NEWS 
The principal of Bakersfield High School recently presented Merle Haggard with his high school diploma–an honorary one. In 2013, Cal State University Bakersfield gave Merle an honorary doctorate, and Buck Owens was posthumously honored with the President's Medal.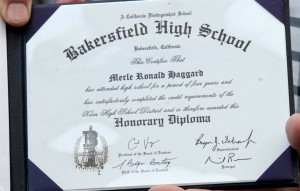 The Oak Ridge Boys have been chosen for The American Legion Patriot Award, which will be presented to them during The American Legion's 97th Annual National Convention in September. "By using their considerable talents to raise awareness and support for the needs of veterans and their families, The Oak Ridge Boys are an obvious choice for this prestigious honor," said National Commander Michael Helm. The American Legion, founded in 1919, has a current membership 2.3 million wartime veterans who work for the betterment of their communities through nearly 14,000 posts across the nation.
The grand opening of the George Jones Museum took place on April 24. According to Stacy Harris's Music Row Report, it "was a red-carpet event that had fans lining the sidewalks of the museum's new 44,000 square-foot home at 128 Second Avenue North in downtown Nashville. The red carpet was rolled out at 5 p.m. and the procession of artists stepping out from limos and other high-priced wheels continued until shortly before 7 p.m. when Jones' widow, Nancy spoke to the museum's 800+ guests." Keith Bilbrey on Facebook called the museum "world class." He had seen it "in January when it was just a shell of a building and I wondered how in the world they would make it by the proposed opening. They did it and they did it in style. It is going to be a destination point for George Jones fans from around the world." But all is not well in the Jones family. Robyn Young posted on Facebook: "Even tho I once worked for George Jones, and loved the man, I will tell you when I plan on visiting the new Museum dedicated to him. RIGHT AFTER HIS KIDS ARE OFFICIALLY INVITED TO IT. That's when!"
Elvis Presley Enterprises has purchased the Lisa Marie and the Hound Dog II, and these two custom-designed airplanes will remain permanently at Graceland in Memphis. Elvis bought the Convair 880 from Delta Air Lines in 1975, turned it into a flying limousine, and named it after his daughter, Lisa Marie. He later purchased the smaller JetStar, which he called the Hound Dog II. After his death, OKC Partnership eventually bought the planes, and they were parked at Graceland as a tourist attraction. A year ago, Elvis Presley Enterprises told OKC Partnership to remove the planes by the end of this April. Shelby County and the Memphis City Council recently approved a proposal to move the planes down the street and make an outdoor display, but that is no longer necessary, with Graceland now owning the planes.
Andrea Peyser reported on the Glen Campbell family feud by writing in the New York Post that the feud "reached a climax in January, when Travis Campbell and Glen Campbell's daughter from his first marriage, Debby Campbell-Cloyd — who at age 58 is two years older than her 56-year-old stepmom — filed a petition seeking to wrest control from Kim Campbell of their dad's medical and financial decisions." They reached a tentative agreement with their stepmother that allows them to visit Glen twice a month, after they give Kim at least seven days' notice. They dropped their lawsuit because the year-long wait for the case to be resolved at trial was too long to go without a visit. For the whole article, see http://nypost.com/2015/05/01/glen-campbells-blues.
Bill Anderson recently hosted the CMA Songwriters Series show at the Library Of Congress in Washington, D.C. While in our nation's capital, he visited the World War II Memorial and happened to see an Honor Flight group from South Carolina. Bill writes on his website, "Suddenly I was five years old again, sitting by my dad's little table model radio in Columbia, South Carolina, listening to the news reports of the fighting going on in Europe and the Far East. And it dawned on me that some of these very men I was looking at could have been our neighbors, could have been stationed at Fort Jackson just outside Columbia, could have been involved in some of the fighting and/or maneuvers that I was being told about every day on the news." Here's the photo that goes with Bill's story: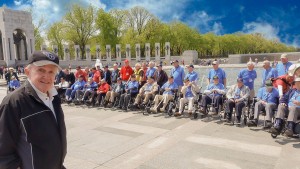 Time Life is issuing a 10-disc compilation called Country Music of Your Life, with Charley Pride and Crystal Gayle as spokespersons for the TV ads. Rolling Stone Country asked Charley to pick his 10 favorite songs from the collection, and here are three of the ten he said "jumped out at me."
Marty Robbins, "My Woman, My Woman, My Wife": "He's one of the five artists that I give tribute to in my show. I love them all, but he was one of the first that took me out on the road. He was so funny all the time. He was just good to me. So it's not only that this song jumped out to me, but it was also thinking about how good he was to me and how I loved his singing and him as a person."
Randy Travis, "Forever And Ever, Amen": "I love Randy. I first heard that song when he did it at the Academy of Country Music Awards out in California. I said to myself, 'Oh, boy, I'd like to have that one!'"
Faron Young, "It's Four in the Morning": "I've recorded this one too. You know, I'm on my way to England, Scotland and Ireland, on tour until May 6. 'Four in the Morning' was quite big over there. Of course, Faron was one of my favorite people. He took me out on the road for the very first time. I'm not trying to measure which artist I love the most, but he was one of them."
On a flight from Canada to Los Angeles, LeAnn Rimes set off a fire alarm in the airplane lavatory while using an aerosol can of dry shampoo. TMZ reporters asked what happened during the flight, and she said, "'Nothing. Thank God. I put my head out and said, 'It's nothing.'" She added, "It was pretty funny, actually." There's no report as to how her fellow passengers felt about hearing the alarm. She tweeted, "Leave it up to me to set off the fire alarm in the airplane."
Nancy Jones recently described for the Tennessean the last moments of George Jones. She said for five days before he died on April 26, 2013, he lay in the hospital bed. He never spoke a word or opened his eyes. On Sunday morning when Nancy was talking to the doctor at the foot of the bed, George suddenly opened his eyes, and he said, "Well, hello there, I've been looking for you. My name's George Jones." Nancy told the Tennessean, "He closed his eyes, and that was the end of it. In my heart I know he was talking to God."
LETTERS
Les Leverett writes from Goodlettsville, Tennessee, "Great newsletter, as usual, Diane. Thanks. I was especially glad to read the news from an old friend, Marilynne Caswell of Ontario."
Bill Black writes from Scotland, "I noticed the item in your newsletter from Marilynne Caswell. I have a copy of an interview she recorded with Jim Reeves. If she would like me to copy it for her please ask her to contact me and I'll be happy to do that."
Johnny Western announces, "Last Sunday I was inducted into the Arizona Music and Entertainment Hall of Fame. Previous inductees include Marty Robbins, Steven Spielberg, Waylon Jennings and Jessi Colter, Linda Ronstadt, Alice Cooper, Rex Allen Sr. and Rex Allen Jr., Stevie Nicks, and Buck Owens, among many others. The ceremonies were held at the new multi-million dollar Scottsdale Museum Of the West. Great company to be in!"
Diane: Congratulations, Johnny!!
Suzan Hunt Miller writes, "Your website is amazing. I noticed you gave information on Larry Hunt and was sorry to hear of his stroke. I met Larry in Corpus Christi in the early 1970s and have always wondered how he fared. If you would please give him our best and again, thank you for this information. Please add me to your list."
Gary Presley sends this from Missouri: "An interesting story about Leroy Van Dyke, his mules (mammoth jacks crossed with Arabian mares) and opening for Marilyn Monroe: http://www.ruralmissouri.coop/digitalrm/story6.php "
Marius Swart requests, "A friend of mine forwarded to me a copy of your April 22 country music newsletter. As a fan of country music, I'd like to be added to the list as well."
Stacy Harris wonders, "Could Carolyn Babin be referring to William Holden? I'm aging myself, but then again, this year marks my 45th year anniversary in the music business, as a published author, academician, print and broadcast journalist, the majority of that time based in Nashville. I've been fortunate enough to have been cast as a paid extra in all three seasons of ABC-TV's NASHVILLE, most recently as a music business benefit event planner. Hope I wasn't cut. (It happens.) I didn't see me in the previews, but if you see me it will be either sitting at a table or standing with others at another table reacting, or being oblivious, to a catfight. (The second scene was filmed both ways.) I'm ready for Season Four if it materializes."
Linda Clark says, "Thanks for the updates. Congratulations to Randy Travis and his new wife."
Rockin' Lord Geoff Lambert in England says, "I do get a lot of pleasure listening to Alan Jackson singing 'He stopped loving her today' at George's tribute show. A bit like Elton John singing 'Candle in the wind' at the service for Princess Diana. I just cannot get my head around how they both manage to sing their relevant songs without breaking down, bearing in mind how much these people meant to them."
Dominique "Imperial" ANGLARES informs us from France: "Robert 'Bob' Sullivan, 88, of McAlester, Oklahoma, died Sunday, April 26, 2015, at St. Francis Hospital in Tulsa. He suffered a stroke while sleeping. Bob Sullivan, himself a musician playing guitar and steel guitar, worked for KWKH Radio from 1946 to 1959. He got his little musical reward when Johnny Horton cut two piano instrumental boogie woogie "Bob Sullivan's Stomp" and "Stompin' at The KWKH" included in BFX boxset Johnny Horton – The Early Years (BCD 165258). It happened an afternoon when a heavy rain in Shreveport had trapped Bob and Johnny Horton inside KWKH studios with nothing else to do, they decided to go in the studio and start recording. The result was these instrumental piano numbers (unique in Horton's discography) as a tribute to that moment in time — and the man behind the scenes at The Louisiana Hayride. Thanks for that great newsletter and to have print my words and these from my dear friend Carolyn. Your newsletter is always much appreciated."
SONG OF THE WEEK
Faron Young had his first number one hit sixty years ago this month. "Live Fast, Love Hard, Die Young" was written by Joe Allison, and I went to his house to interview him in 2000. He was bedridden and on oxygen, and was sitting on one side of his king-sized bed. I plopped my recorder in the middle of the bed and sat on the other edge. He said, "I'll tell my friends I was in bed with a Navy captain this morning." I replied, "I was thinking this is probably the only interview I'll do in bed with somebody." Joe said, "Well, you don't know. Country music is a strange business." (Just for the record, it was the only one.) Joe said he'd written "Live Fast, Love Hard, Die Young" after watching a gangster movie in which John Derek frequently said, ''I wanna die young and leave a good-looking corpse." Joe told me, "It struck me as being a good idea for a song, so I wrote it. I didn't write it for anybody, but when Ken Nelson heard it, he said, 'We'll do that with Faron Young.'"
Note for Jeannie Seely: While reviewing my transcribed interview, I ran across Joe's comment that you were his secretary at Liberty Records in LA. "Before she left for Nashville," he said, "I told her first impressions are very important, so don't be seen hanging around with Hank Cochran and that bunch. And she went to Nashville and married Hank!"
BOOK REVIEW – RIVER OF NO RETURN: TENNESSEE ERNIE FORD AND THE WOMAN HE LOVED by Jeffrey Buckner Ford
River of No Return is not a book to be read by anyone who hopes Tennessee Ernie Ford lived a happy life as a likeable comedian and great singer. Jeffrey Buckner Ford is the elder of two sons of Ernest Jennings Ford and wife Betty Jean. He tells the story of parents who loved each other dearly and were married for 47 years, until Betty overdosed on pills because—Jeffrey believes—she didn't want to watch her husband's alcoholism and liver disease kill him. Ernie Ford spent his life in California, as a Hollywood television star who fell into the Nashville comedy role. Jeffrey tells the biographical story of his father, interspersed with the contentious relationship between father and son. Then, four months after Betty's death and two years before his own, Ernie married a woman who cut the family out of his life and even tried to keep the sons from attending his funeral. The bitterness is what I remember most about reading this book when it was published in 2008. "In the four years following his death," Jeffrey writes, "she spent just over a million dollars in funds from Dad's estate trying in vain to erase the memory of Betty Jean Ford and the life she and Ernest Jennings had shared for nearly fifty years."