NEWS
Johnny Gimble (1926-2015)
One of the greatest fiddlers of all time, Johnny Gimble, died May 9, three weeks before his 89th birthday, due to complications from several strokes. John Paul Gimble spent most of his life in Texas, other than the Nashville period and World War II, when he was drafted into the U.S. Army and sent to Austria, where he worked behind a desk in the special services. In the 1950s, he played with Bob Wills and His Texas Playboys. In the late 1960s, he moved to Nashville, where he played on many famous country music recordings. He was a member of Hee Haw's Million Dollar Band, along with Chet Atkins, Roy Clark and Floyd Cramer. He portrayed Bob Wills in Clint Eastwood's 1982 movie, Honkytonk Man, which also starred Marty Robbins.
Bill Anderson had surgery on May 6 to remove basal cell carcinoma from his face. It was not as deeply rooted as first feared. During his post-op checkup on May 14, his doctor "seemed to be extremely pleased with the results of his handiwork, and so was I," Bill wrote on Facebook. "He removed the last of the stitches from my nose and told me to come back in five weeks. Of course, we all know Whose handiwork it was. Be assured your prayers were both heard and answered. I'm hoping now to be back on the Opry the last weekend in May."
The first made-for-TV movie in the NBC/Dolly Parton deal announced in January will be called Coat of Many Colors and will be filmed in time to be shown next season. Dolly is executive producer of the movie about her 1971 song that tells the story of the coat her mother made for her from rags. The original coat is on display at Dollywood.
"Walkin' Behind the Star," a new song by John Conlee, is now the official song for law enforcement for Tennessee's Fraternal Order of Police. John sang it May 8 at the Legislative Plaza in downtown Nashville during a ceremony honoring members of law enforcement who gave their lives last year in the line of duty. "Walkin' Behind the Star" was written by Phil Thomas and the late Ronny Scaife.
Sherwin Linton had surgery at St. Mary's Hospital in Rochester, Minnesota, on May 7. "I will be back doing shows very soon," he wrote on Facebook. "We have specifically kept our show schedule light, as we knew this was on the horizon. After decades of heavy lifting of our sound equipment, being 'our own roadies' with my band, I did have some serious issues that had to be corrected." He is now back home and recovering.
Pake McEntire, big brother of Reba McEntire, suffered a stroke following back surgery on Thursday, May 13th. The stroke caused blood on the brain and swelling. Two days later, doctors performed a surgery to relieve pressure on his brain.
On the Road with The Oak Ridge Boys is a newly released book by tenor Joe Bonsall. He tells the history of the quartet, beginning in the 1940s when a Knoxville group sang country and gospel music in Oak Ridge, Tennessee. He introduces the individual Oaks, describes life in the country music industry and traveling in a tour bus, and talks about their fans. The book can be ordered online at various sites or from www.oakridgeboys.com.
Trisha Yearwood: The Song Remembers When will be an exhibit at the Country Music Hall of Fame for six months, beginning in July. From a childhood in Monticello, Georgia, through the career that earned Trisha Yearwood three Grammy awards, there will be artifacts and memorabilia. The exhibit will also showcase her cookbooks and her Emmy-winning TV show Trisha's Southern Kitchen. She recently released a cookware line, Trisha's Precious Metals, and a furniture line, the Trisha Yearwood Home Collection.
The Rock This Country Tour is being billed as Shania Twain's final tour. She's added 19 shows to the original 48 dates. The tour was scheduled to end in Southern California in late August. Now it will move across the Midwest and end in October in Toronto, Canada.
Johnny Seay posted on Facebook on May 18: "My youngest daughter Mary was in bad auto accident this morning on her way to work. Rear ended while stopped a red light by a pickup running about 70 mph that never hit his brakes. She in in a coma in ICU in Fort Worth Harris Hospital. Please pray for her."
LETTERS
Marilynne Caswell writes, "Thanks to you and your newsletter, I have made some great contacts with old friends. I just read the comments from Les Leverett mentioning me. Would you please forward this email to him. I just loved him and Dot. I have seen his name in your newsletter and hoped he remembered me (and my late husband Joe). Also thanks you to I have reconnected with another longtime friend, Johnny Western. I do plan on writing some more interesting stories for you. Thank you for all of the good work you for those of us who love 'real' Country Music. I have received from Bill Black, my interview from 1962/3, with Jim Reeves (originally sent out from Folk Voice in the UK). How wonderful to hear our conversation again. Jim was a good friend and in the last week of July 1964, my late husband, Joe, and I ran into Jim and his piano player, Dean Manuel, back stage at the Ryman. There were hugs and howdys and a little visit. Six days later Jim and Dean were killed in a plane crash near Nashville. Go back a couple of years, we were visiting with him in Saginaw Michigan, when he took us out to dinner between shows. He introduced us to a fellow who was with him, who was his pilot. During dinner he told us that he was taking flying lessons as to quote him, 'you never know what is going to happen to the Pilot.' How ironic that Jim was piloting the plane that crashed and killed both him and Dean that late July 1964 day. His velvet voice silenced forever at 39."
Norma Hossen writes from Perth, Western Australia, "A friend of mine in the UK has forwarded this, and I find your newsletter VERY interesting, and wondered if you could include me when you next send it out. I am originally from Northern Ireland, but now live in Perth and have been here for over 30 years. I have forwarded your newsletter to other friends here in Australia, and I am certain, some of them will be asking you to include them when next you are doing a mail out."
Terry Counts sorrowfully reports, "OMG…IT'S GETTING TO BE 1 A DAY LATELY…..THIS IS PART OF AMERICAN HISTORY THAT WE'VE JUST LOST….. The 'King of the Blues', guitarist and singer BB King, dead at 89.'"
Priscilla McPheeters says, "Great newsletter, Diane! Especially enjoyed the interview with Joe Allison in his bed!"
John Morris writes from Peterborough, Ontario, Canada, "As always you are doing a fantastic job with your newsletter and I especially enjoyed reading about the George Jones museum opening. I would very much like to get in touch with serious George Jones fans and collectors. I think I may have the biggest collection in Canada and have been to many concerts and was lucky enough to meet him 5 times. George is my all-time favorite. My email is john.morris1998@gmail.com. Thank you very much and keep up the great work."
Carolyn Babin writes, "As usual I enjoyed the newsletter received today….Yes, Stacy, it was William Holden! good lookin' devil! I sometimes just cannot recall names from the past. Shoot, 'Bill' Holden as some called him, was a sweetheart, too….. But, John Wayne was a bit more friendly and he was also one of my favorites of the old time actors. The way he walked was unique and sexy. Thanks to my precious friend, Dominique, for his salutes to my home town Shreveport, Louisiana. And, the Louisiana Hayride may come back one day, but I fear it will never be the same. I also have a couple friends in Shreveport that have devoted many years to get the Municipal Auditorium restored to its glory and have succeeded with the building itself ….. it is beautiful again. As far as the Hayride itself it looks like that will be a while. Maggie Warwick and her husband Al have worked so hard, but many dignitaries in Shreveport (as it is now) are not very cooperative in helping with the project. What a shame. So many artists in the country field became big stars and of course they got their start right there at the Hayride."
June Gallant in Canada requests, "I am still enjoying your newsletters and have a brother-in -law who is a big fan of anything country. Would you please add Wayne Corcoran to your list?"
Dominique "Imperial" ANGLARES writes from France, "Thank you for Country Music Newsletter that was much appreciate as it happen always. A wonderful link between us, country music aficionados. Take care and enjoy life."
Marius Swart says, "Thanks for adding me to the e-mail list for your country music newsletter. Now I have another request please. As a Jim Reeves fan, I couldn't help noticing the following item in the May 6 newsletter from Bill Black in Scotland, [who has a copy of an interview with Jim Reeves]. Would it be possible for you to please put me in contact with the person who has this Jim Reeves interview? I'd like to add that to my collection as well."
Diane: Bill says he will arrange to get the interview copied for you.
Rick Belsher writes from Edmonton, Alberta, Canada, "I have written previously about your book. Just found 'new songs' from Faron on Youtube, and his version of City Lights is the best I've heard, and I've heard lots of good versions. Have listened to many songs I never have heard, from older albums I never knew about. Have listened to other versions, but he is just amazing, his voice, and ability to sing all types of songs, but that is no secret to Faron fans. If only these so called newer country artists could sing 1/2 as well as Faron. What a waste of an artist and life with his musical ability. Also listen to many stories about him on Country Family Reunion, lots of laughs. Was quite a character, like to drink and party and fight, could have been a better father and husband, but also had a big heart. Did see him a couple of times in Edmonton years ago. Looking forward to paperback version of Marty Robbins book."
Mama Bear says, "It's so sad to read of all of these deceased artists and their family's fighting. Sons and daughters, ex-wives, stepmothers, stepchildren, etc. It makes the loss of the loved ones not being able to be remembered with wonderful memories. Why is this happening so much? I feel so sad to hear of this. Is the money that important to push their loved ones in the back ground? I' m sure that would be the last thing on the deceased mind and they're probably turning over in their graves. SO SAD."
Linda Elliott Clark writes from Virginia, "Love your updates, but this one is especially good. Congratulations to all those receiving honors so well deserved. Wow, that was great about George Jones. Remember meeting him in Culpeper, Virginia, years ago when he appeared at an outside park. My Dad loved George Jones, and this makes me think of him and the many years we went to so many shows from the different artists in the DC area. The DC area was big on country music in the '60s. What memories you have brought back from your Newsletter Diane!! Thanks so much."
Ross, PROUD father of an American Soldier, wonders, "Do you know: Has anybody written a biography of Keith Whitley? We were living approximately 1 mile from his 'base 20' when the undesired act of over-drinking took place. He was no longer among the living. And yet… there were songs from his 'bluegrass years,' with Ricky Skaggs (and others) that we'd not heard prior to his passing! A CD which someone had left behind at a car wash had his and Ricky's performance of 'All I Ever Loved Is You' on it. So I was able to locate their joint album. I have 'snagged' artist Keith Whitley and another 'Bluegrass-er' on them. It was recorded onto a blank CD — and did not say who the other male vocalist(s) were."
Diane: I'm not aware of a Keith Whitley biography.
Larry Delaney, past Editor/Publisher of Country Music News, writes, "Truly enjoying your Newsletter, and I commend you for your dedication to the traditional side of country music. Thought you might like to see the attached photos of Faron Young, from his August 2,1987, headline performance at The Gatineau Clog, an annual outdoor event staged in Low, Quebec, Canada, a few miles from Ottawa, Ontario, Canada's national capital. In the first photo Faron is seated backstage reading an issue of Country Music News, a Canadian publication that I had the honor of being Editor/Publisher for 32 years (1980-2012). Faron is pointing his finger at me while I shot that photo, and I recall his words at the time: '…you better put that picture you're taking of me into the next issue of this great paper.' The second photo has Faron standing in front of the event lineup board with photos of Faron and Charley Pride as headliners. It was interesting to read in your recent Newsletter that Charley considered Faron as one of his favorite people and the first to take him out on the road. Seems like many years later they were still being featured on the same stage."
Diane: And they were inducted into the Country Music Hall of Fame together in 2000. Thanks for the photos.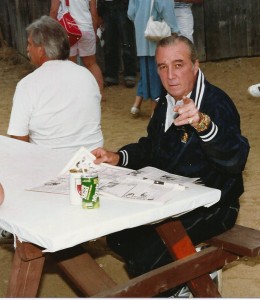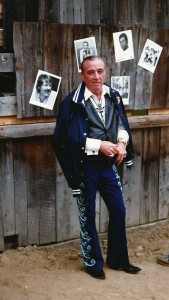 Jean Earle sends this note from Great Britain: "This was in Friday's Daily Mail. I remember your saying the choice of an Englishman to play old Hank was not popular."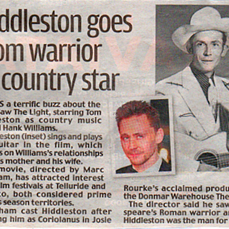 SONG OF THE WEEK
Randy Travis had a number one hit in 1989 with "Is It Still Over," written by Kenneth Bell and Larry Henley. The song, which won a BMI award, came during the four-year period when Randy reached the top with 11 of 13 singles. Besides the great two-step music, I like the catchy lyrics: "Is it still over, are we still through? Since my phone still ain't ringing, I assume it still ain't you." And, of course, it's sung by Randy Travis.
BOOK REVIEW – PIECES OF A PUZZLED MIND by Jeannie Seely
In 1987, when Jeannie Seely published Pieces Of a Puzzled Mind, Ed Hamilton of WSM Radio called it "this collection of Seelyisms that she's been throwing away for years." He said someone suggested she should put them down in book form, so others "can be as lucky as some of us who have been privileged to hear her." The book was reissued in 2011, and Jeannie gave me a copy when Perry and Kayo and I visited her and Gene in 2012. Her off-the-cuff comments include:
"Most people write down what they want to remember. Songwriters write down what they want to forget."
"Lately, I've seen your face everywhere. Except in person."
"Show business was my life until I started trying to make a living with it."
"Of course I only want you for your body. I've got a mind of my own."
"An ex-husband is one mistake you don't have to live with."