NEW RELEASE OF TWENTIETH CENTURY DRIFTER: THE LIFE OF MARTY ROBBINS
The University of Illinois Press is issuing the paperback version of Twentieth Century Drifter: The Life of Marty Robbins in August. Any suggestions as to what I should do to publicize the release?
FEATURED ARTIST – SAMMY KERSHAW
I Won't Back Down is the new CD by Sammy Kershaw, and it will be released June 9. The title cut is a Tom Petty cover, and the first single is "Grillin' and Chillin'." When Sammy called me to talk about it, I told him my favorite song is "Fixer Upper," and I asked if there's a story behind it. "Well, kinda," he said, "but I can't tell you yet. I have a book coming out this fall. People are going to find out just what kind of a fixer upper I really am." The book title is The Route That I Took. Sammy is working with a ghostwriter, and he says the book will "get into something that people will not be expecting."
When it comes to finding songs to record, "I depend on the songwriters," Sammy says. "I'm not much of a writer." But he doesn't want to know who wrote the songs that are pitched to him, as that might influence his choices. "I won't cut anything unless I've lived it," he told me.
He started playing in nightclubs when he was twelve, and music is his life. "This is what I love to do," he says. "I won't quit till I'm dead or I absolutely can't move or talk anymore. I'm not a retirement type of guy." He believes he's lucky and that "God was good to me. I make a living at a hobby. I'm not going to waste what God gave me."
Sammy says he's been through a tough period in the music business and his personal life, but "last year was my best year in eleven years, and this year is better than last year. I won't back down."
In addition to being an entertainer, he is also a music producer. He produced his current album and is excited about his Canadian discovery, Mallory Johnson. He calls her "the best singer I've heard come out of Nashville in 12-15 years. She is that good." They've already cut her first album, which will probably be released in October. I asked how he'd heard about her, and he said someone in Canada had contacted him on Facebook and asked if he'd be interested in producing a new artist from Canada.
Sammy runs his own Facebook page. That's a good place for fans to contact him. "They know it's me," he says. He thinks longtime country fans "are starting to come out of the closet and demand good country music." He'd be happy to hear from you.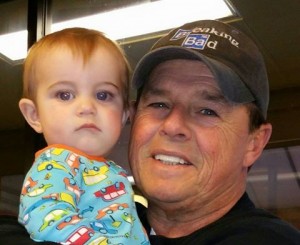 Sammy Kershaw and grandson
NEWS
Sunday afternoon at the Nashville Public Library, Ralph Emery hosted a re-creation of his TV show, Nashville Now. His guests were Barbara Mandrell, Con Hunley, Ray Stevens, Lorrie Morgan, and Steve Hall ("Shotgun Red"). According to the Tennessean, Ralph–age 82–has not lost his touch as a talk show host, "prompting his guests to share stories from their lengthy careers." The show lasted more than two hours and included video clips from past episodes. Nashville Now ran on the TTN network from 1983 to 1993.
One of the headliners at next week's Taste of Country Music Festival, sponsored by Taste of Country Network and held at Hunter Mountain, New York, will be Tim McGraw. In an interview with Oprah Winfrey last week, Tim said he quit drinking exactly seven years ago: "I had a complete blow-out drinking one night, the night before the tour started. Flew to Florida that morning, from being wasted the night before, and started that tour, and haven't drank since. That was the toughest tour I've done in my life, to get through that tour not drinking. I'd never done it before. I'd never done a show–I could probably count on one hand the times I'd stepped on stage if I didn't have alcohol in me, or something. That was the toughest thing about quitting."
Operation Troop Aid, a non-profit charity dedicated to showing support for military troops, has chosen Kellie Pickler as the first-ever recipient of its Chris Kyle Patriot Award. Kellie has entertained U.S. troops around the world, including eight USO tours. The award, formerly the Operation Troop Aid Patriot Award, was renamed this year to honor the late Navy SEAL. Chris's parents, Wayne and Deby Kyle, will present the award during Nashville's CMA Music Festival on June 13, after Kellie sings the national anthem to open the concerts. She told Rolling Stone Country, "I think it's so important that our servicemen and women and our veterans and their families know that what they do, we don't take for granted." She said, "That evening is not about me. It's about all of our servicemen and women and their families and the sacrifices they've made."
Forbes Magazine has announced its 2015 list of the World's 100 Most Powerful Women. Taylor Swift, 25, appears for the first time. The youngest woman on the list, she is number 64. She earned $64 million last year and has 58 million Twitter followers. The Telegraph in London says, "This year, Taylor Swift became unafraid of being disliked, and became all the more appealing for it." German Chancellor Angela Merkel is the world's most powerful woman. Hillary Clinton, the second most powerful, has been on the list every year since it began in 2004.
Jim Glaser had basal cell carcinoma removed from the tip of his nose last month. His wife, Jane, is still in A-Fib. She had a second shock treatment, and her heart sometimes acts wildly. Doctors put a heart monitor in her chest, from which they can download information as they try to determine the causes.
Following a Trace Adkins concert at the Trail Ends campground in Huntsville, Tennessee, on May 23, a drunken food vendor drove into the crowd, hitting four people and killing one of them. A Jeep rammed his 4-Runner to stop him. He was charged with criminal homicide and reckless endangerment, with his bond set at $500,000.
On May 1, Dolly Parton launched "Dollywood's 30 Days of Thanks" by appearing throughout the theme park, including an hour-long stage show for an audience of 1,700. During her show, according to Kingsport Times-News, she talked about writing the song "Jolene" early in her marriage to Carl Dean: "When I wrote that, we were still trying to kind of make it. He was spending a lot of time at the bank … he was putting a lot of interest in this redhead that was down there. I put a stop to that. And you know what? Even the things you think are bad, they turn out to be good. Because if it hadn't been for Jolene, I wouldn't have made all that money that I go to the bank myself." They celebrated their 49th wedding anniversary on May 30. Dolly will return to Dollywood for four "Pure and Simple" concerts in August, with all proceeds used to purchase books for her Imagination Library.
Johnny Seay reports on his daughter, Mary Seay (May 30): "There is really nothing new to report on Mary's condition today. She did open her eyes some when spoken to, and made some tears. She is still in critical condition. She is being assisted with her breathing and fed through a tube. She can't make sounds because the tube in her throat presses against her vocal cords. It's not known what she sees when she opens her eyes. It's very hard for me to write these things as I wish I could say she doing well. We are happy she is alive, because she was not breathing when they cut her out of her car. Pray!"
The Garth Brooks World Tour has canceled its scheduled Tampa concerts. Garth Brooks wrote in a press release, "We would all like to congratulate the Tampa Bay Lightning and the Chicago Blackhawks for reaching the Stanley Cup Final. As we now know, Game 2 of the Stanley Cup Final is being played on Saturday, June 6th. All parties looked into moving Saturday's two Garth Brooks and Trisha Yearwood shows to Sunday. The issue of getting the network crews and their gear out of the building and getting our crews and gear into the building late Saturday/early Sunday for two shows on Sunday raises serious safety concerns. It is because of those safety concerns that the choice is being made to refund all shows and reschedule depending on finding a date that works for both the arena and the tour."
LETTERS
Alan Potter writes from the U.K., "In reply to Rick Belsher, make sure you get the Marty Robbins book. Diane's done a fabulous job on it (my interview with ex-Robbins band member Bobbie Sykes is in it!). When Bobby was desperate to pay off the Nashville 'mafia' as he called them, he asked Marty to pay him in advance to get rid of the threat. Marty had a rule that he only paid on a Friday & desperate Bobby sloped off to Tootsies. Faron was in there & listened to Bobby's story then produced a wad of notes & told Bobby to get them off his back. When Bobby, almost in tears, thanked him & promised to pay it back asap Faron said. 'did I ask you to pay it back?' (but in much more flowery terms!!!). Bobby said Faron wasn't a man to cross but if you were genuine he'd give you the shirt off his back. Also he was with Marty over 20 years & never signed a contract. He said Marty was a man of his word & a great man to work for."
Jean Earle writes from the U.K., "You may recall my telling you some time ago about a friend of ours who was a Country DJ on BBC Radio London…Bob Powel….he was very popular in the '60s, '70s and '80s. He was a real character, highly thought of, for his knowledge of C.M. and always busy with his radio programme and his magazine write-ups. You very kindly gave him a mention in one of your newsletters and as a result he was united with some old friends from the USA. I believe Bob was happy to hear from his old pals but sadly he was not in the best of health. Bob, with the help of Tom Baker, began putting some of his life stories into a book. Sadly Bob died suddenly in May 2014. At first Tom did not want to continue with the book but Bob's many friends persuaded him to continue. Tom tells me the book is now completed, is in print and due to be released next month. Heart of a Fan by Tom Baker. [Amazon Kindle.] We hope this book will reach Bob's many friends and admirers in G.B and the USA."
Diane: Let me know when it's published, and I'll announce it here.
Jean also writes, "Can you believe this??? A huge 110-pound bomb has been found near the Wembley Stadium. Sent to us by the Nazi forces. Just think of all the noise…music…fun and games that may have been happening on top of this huge bomb….Wembley Festivals…football matches…etc. Will take quite a while to clear it. Wow."
Dominique "Imperial" ANGLARES sends this note from France: "Thanks for that welcome newsletter and to have remembered Johnny Gimble. He was a great fiddler and a much appreciated person. His passing went quite unnoticed overseas and it was quite unfair. Thanks to Larry Delaney for his souvenirs and pictures showing Faron. Great one. On my personal side, I can't remember if I had ever thanked you to have put my name on your Marty Robbins book, much appreciate. Funny to be there with one of my heroes when you think I was born in 1958, raised in France, never had an English lesson in school and starting to pick US rock 'n' roll records in my mid-teens. One of the first songs by Marty I had in US 45 rpm format was "Singing the Blues" in the '70s. Soon I was able to get "That's All Right", "Maybellene", "Respectfully Miss Brooks" all in 78 rpm format. I was hooked and I am still! Another record related with Marty who damaged seriously my brain was Phil Gray's fabulous "Somebody's Got My Baby" issued on Robbins 1002 and Quality K 1697 (Canada). Fabulous!"
Cliff Haning's daughter, Jeannie, writes, "My dad really enjoyed your newsletter. He loved his email friends. I am sad to tell you he passed away Tuesday, May 19. They honored him with a military service which he so deserved. Thank you for keeping the old country news alive."
Robin Mierau says, "Oh, Diane, you have opened a 'fan' of worms with your letter from Bill Black concerning the Jim Reeves interview, I would love to have a copy also. I have been a longtime Jim Reeves fan as well as Marty Robbins and loved your book with all the insight into Marty's life and career. Thanks for being so nice and helpful to us country music fans."
Rosemary Eng writes from Newark, Delaware, "Enjoy your newsletter very much. You mentioned Jeannie Seely's book, Pieces Of a Puzzled Mind. I have to tell you of a recent experience I had with Jeannie and her book. I saw her on Larry's Country Diner and they mentioned her book. Being a fan from back when she toured with Jack Greene, I ordered it. Well, a few months passed and I emailed Jeannie to see what the holdup was. She answered me immediately that she was having problems with the fulfillment company and would personally mail me a copy. The book arrived a few days later. She addressed it to me herself, and even signed it for me. Jeannie is one classy lady!"
Beverly Carnes requests, "Would you please add my name to your mailing list for Diane's country music newsletter? I have received it from someone else and I really enjoy it. It's so interesting and informative. I will be looking forward to receiving my own copy. Thank you very much."
Jane Seymore writes, "Great newsletter as usual! Thank you for all the hard work you do on keeping us updated on the classic country music families. Do you have any updates on Don Williams's health? This was posted on his website on April 18: 'It is with regret that I have to announce that due to illness, sadly Don's April, May and June concerts have all had to been cancelled. Don apologizes for the inconvenience this may cause to his fans, promoters and venues alike, however looks forward to commence touring again later this year in September.' My husband and I have had the great pleasure of attending several of his concerts and we know that Mr. Don would appreciate prayers during his sickness and recovery."
Diane: His website says this on May 28: "We are delighted to announce that Don's recent illness is now behind him and he is working to get his full strength back, and looks forward to seeing all his fans later in the year, starting with his September tour."
Terry Counts writes, "Hi Lady…Loved the pix of Faron, I miss his ornery self. I've discovered WILLIE NELSON'S HONKYTONK station on Sirius music and wow, what GREAT music they play…nothing new but all the old classics, and I hear Faron there all the time!!! I am so very saddened at the news we've lost Johnny Gimble…I wasn't a close friend of his but Murrel was and they did duet shows a lot. In fact the last time Gimble was up in Ruidoso with the Playboys we came and Murrel had a great time with all his good ole buddies and he sat in with them and it was like old time with them that night. We're losing all our greats…I am feeling VERY mortal these days. Any word of what's up with Marty Martel? Well, another great newsletter, sure am glad you're writing them because you've sort of taken the reins and are keeping us posted like Marty did…I sure miss him and his daily notes."
Mike Johnson of Roughshod Records says, "Thanks for the heads-up on Sherwin Linton. I'll send him a note. We first met in 1999 at the Old Time Country Music Festival in Avoca, Iowa, and several others thereafter for several years. His wife Pamela Linton, my friend Terry Smith, and I were inducted into America's Old Time Country Music Hall of Fame at the 2002 Old Time Country Music Festival in Avoca, Iowa."
Steve Clark writes from Fort Mill, South Carolina, "Thanks for the latest newsletter. I had not gotten one in several months and thought I had been dropped from your list. I heard Faron Young's son on WSM the other morning, apparently the 2nd generation has been playing some dates. Thanks again for getting me back on the mailing list."
Janet McBride requests, "Please help me connect with Alan Potter. We used to correspond but got lost somewhere along the way. He played my recordings/maybe still does. You know, every older artist in the world loves reading your NEWS."
Alan Potter responds, "I have connected with Janet McBride. She is right–the older artists do enjoy your column & so do the older DJs & fans."
Don Hayes writes from Oklahoma, "I have your book Twentieth Century Drifter which is about Marty Robbins. I have 9 photo albums that belonged to Louise Mayer who was the VP of his fan club back in the day. There are over 900 photos that she took from the 1950s up until he passed away. These photos have never been published. The town where she lived in Stetsonville, Wisconsin. I found a Louise Mayer but she died in 2010 at the age of 95. Do you think it was her?"
Diane: Perhaps my readers might know.
Wanda Anderson says, "Lorrie Morgan did a book titled Forever Yours, Faithfully, covering her life with Keith. Then Ricky Skaggs worked with him doing bluegrass, etc., and mentioned him a lot in his book, Kentucky Traveler. All Ricky said was good about Keith. I ran Lorrie's fan club for several years, 1987 till 1992, and during her life with Keith. Keith was a terrific person and a great talent, just could not beat his problem with alcohol. He tried many times."
Diane: Those books tell us a lot about Keith, in the words of Lorrie and Ricky. There was still much mystery surrounding Keith's death when Lorrie wrote her book, and she may have received some of the answers by now. A well-researched and objective biography hasn't yet been written, as far as I know. I would enjoy researching and writing the story of Keith's life, but the niche market sales unfortunately wouldn't pay for the years and dollars required to complete the project.
SONG OF THE WEEK
"Tell Lorrie I Love Her" is a song Keith Whitley wrote for Lorrie Morgan—and sang it to her–the day before he went to the Hazelden alcoholic treatment center in 1986: "Tell Lorrie I love her, tell Lorrie I need her, and if I leave this old world, tell her she's the only girl for me." At the end of the treatment, he returned to Nashville, drunk. The night before their wedding, he recorded the song for a friend to sing during the ceremony. Keith sang into a small tape recorder, with the TV playing in the next room. At Keith's funeral in 1989, the friend gave Lorrie the tape, and she played it all the way to the cemetery.
BOOK REVIEW – FOREVER YOURS, FAITHFULLY by Lorrie Morgan with George Vescey
The focus of Lorrie Morgan's Forever Yours, Faithfully: A Love Story is her relationship with Keith Whitley. She does also talk about growing up as the daughter of Grand Ole Opry star George Morgan and the devastation of his death at age 51. Lorrie's own musical career serves as a backdrop for her life with Keith. He is the main subject, and the book begins in 1986 when she first hears Keith's voice. She writes, "I have been waiting to write about Keith Whitley since the day he died, May 9, 1989. I have wanted to talk about the man who was my husband, who was my inspiration. My life goes on. I've had a bit of notoriety as the singer who dated a quarterback and a senator and a famous country singer, yet never stopped thinking she could find the stable love she had wanted with Keith." She describes Keith as an "extremely talented mountain man who drank himself to death." She talks about trying to uncover the mystery of the last two days of Keith's life and who had been with him and how she has not reached closure. She married Jon Randall in 1996, while in the process of writing her love story and promising to be Keith's forever. Lorrie and Jon divorced three years later. By the way, Loretta Lynn Morgan was not named for the famous singer, who was still unheard of when Lorrie was born in 1959.