CONCERT REVIEW – JIMMY FORTUNE
This past Saturday evening, Coteau Entertainment hosted Jimmy Fortune at the Performing Arts Center in Sisseton, South Dakota. Just Between Friends gave their usual excellent opening performance. My sister, Kayo Paver, and I enjoyed both performances and sold my books during intermission.
Jimmy kicked off his one-and-three-quarter-hour show of spectacular harmonies with a bluegrass version of "Flowers on the Wall." He played acoustic guitar, with two excellent sidemen completing his team. Ryan Joseph, who tours with Alan Jackson, played fiddle and mandolin and sang high harmony. John Meyer is an acclaimed banjoist who also played acoustic guitar and sang harmony.
I was surprised to hear Jimmy say he'd never written a song until after joining the Statler Brothers. He asked if they'd record a song of his, and Harold Reid said, "Of course, we'll record your song, little buddy–if it's any good." It was. "Oh, Elizabeth" became the first of three number one songs Jimmy wrote for the group within two years. The Sisseton crowd gave him a rousing standing ovation when he finished singing the song for us. He said, "That does it. I'm taking you with me to all my shows."
He told us how he got hired by the Statlers in 1981. Lew Dewitt heard him singing "Pretty Woman" at a jam session and later chose him as a temporary replacement due to Lew's poor health. At the time, Jimmy was "working two dayjobs to support my music habit," he said. He permanently replaced Lew in July 1982.
Jimmy was the 7th of 9 children in his family. He said, "Daddy went broke making fortunes." Jimmy himself is the father of seven children. When he introduced his band members before each sang a song, John said there were ten children in his family. Ryan announced that, unlike the others, he is an only child. John let us know he met Jimmy at a jam session shortly after he moved to Nashville. They told us, "Go to jam sessions. Even if you aren't invited."
"My Only Love" was Jimmy's second #1 for the Statlers. It won CMA Song of the Year for 1986. He wrote it the night before his brother's wedding, when Tom requested him to sing a certain song. Jimmy said he didn't know that song and would prefer to write a new one. When Tom heard it at the wedding, he said, "That's a number one."
The third #1 was "Too Much On My Heart," which was inspired by Jimmy's eldest son, who was born with spina bifida. Jimmy introduced the song by saying a common question from fans is, "How do you write a song?" He said it's sometimes nothing more than writing your feelings down on a piece of paper. In this case, he was on the road and unable to be home when his son was in the hospital for surgery.
He grew up in a musical family. His parents and all his siblings sang. He told us he was six years old when he realized not everyone could sing. He was standing next to a man in church who opened his mouth and the most awful sounds came out. Jimmy looked up at his mother and told her something was wrong with the man. She explained later that everyone has talents of different types. Although Jimmy had the talent of singing, that man did not.
When the Statler Brothers retired, Jimmy was at a loss for how to earn a living. He sings and plays music and writes songs but isn't good at much else, he told us. His wife, Nina, became his business manager and booking agent. She went online and taught herself how to book gigs, manage a singer, and run a business. Thanks to her, he gets to do what he loves. Kayo and I enjoyed the time we spent with Nina.
Before the show, I told Jimmy I'd seen him and Nancy Sinatra perform at the 2003 Memorial Day Ceremony at the Wall in Washington, D.C. He sang "More Than a Name On a Wall." He remembered it being really hot that day. He said, "My guitar was so hot I could hardly touch it."
The show ended with the audience joining in the singing of "God Bless America" and "America the Beautiful," followed by "I'll Fly Away" and "How Great Thou Art."
If you ever get a chance to see Jimmy Fortune in concert, don't miss the opportunity.
The line to get into the Performing Arts Center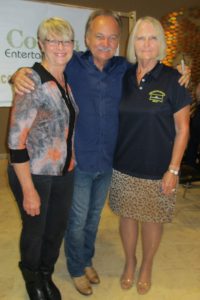 Kayo, Jimmy, Diane
NEWS
Herman Webb, the brother of Loretta Lynn and Crystal Gayle, died July 28 at age 83. He served as a guide for fans who visited the family home in the hills of Van Lear, Kentucky, The Tennessean reports. "I'm amazed at the number of people who come here to see this," Webb said in an Associated Press interview in 2002. "I've seen 200 to 300 cars drive up this hollow on certain days."
Lorrie Collins of the Collins Kids died August 4 at age 76. Her brother, Larry Collins, posted the news on Facebook. Born in 1942 in Tahlequah, Oklahoma, Lawrencine "Lorrie" Collins and Larry performed as the Collins Kids. They appeared on Town Hall Party and were one of the greatest rockabilly acts of the 1950s. They are members of the Rockabilly Hall of Fame.
The 2018 Kennedy Center Honorees include Cher and Reba McEntire. The Kennedy Center Honors recognize "the lifelong accomplishments and extraordinary talents of the nations' most-prestigious artists," CMT News explains. Previous honorees include Roy Acuff, Johnny Cash, Willie Nelson, Loretta Lynn, Dolly Parton, George Jones and Merle Haggard. The 41st annual Honors Gala will be held on December 2 at the Kennedy Center Opera House in Washington, D.C.
Reba McEntire will also receive the Nashville Songwriters Hall of Fame's inaugural Career Maker Award. It will be presented during the 48th Nashville Songwriters Hall of Fame Gala on October 28. According to CMT News, the honor goes to "a non-Hall of Fame member whose artistic endeavors have helped songwriters achieve their dreams of induction into the Hall of Fame." Reba's recordings include songs written or co-written by at least 40 Nashville Songwriters Hall of Fame inductees. "Over my recording career," she says, "I have listened to thousands of songs written by incredibly gifted people. The songwriters in this community have never let me down, and have always shared their very best songs with me, which I appreciate more than they know."
Rolling Stone Country reports Germany's Bear Family Records will soon release a 20-CD set honoring Lefty Frizzell. An Article from Life: The Complete Recordings contains 361 tracks, including 71 demos and private recordings dating back to the 1940s. The box set includes an 8-CD audiobook, I Love You a Thousand Ways: The Lefty Frizzell Story, written and read by brother David Frizzell. Lefty died in 1975 of stroke-related complications, at age 47.
The brand new When We All Vote organization, whose mission is to recruit Americans to increase voter registration and participation, called on Faith Hill and Tim McGraw to help get the word out. "We make a difference in every single step along the path of our democracy," CMT News reports Tim McGraw tweeted when he shared the new public service announcement. In the video, Faith says, "Every community we visit, it's important for them to know that they can really make a difference if they go and vote in every election." Four million people this year will turn 18 and become old enough to vote.
A security guard failed to recognize the singer he was guarding at WE Fest in Duluth, Minnesota, this past weekend. Tyler Farr was singing the final song of his performance as he wandered through the crowd. Suddenly, he was tackled by a security guard who apparently thought he was a rowdy fan trying to get on the stage. "I have no clue what happened," Farr told Taste of Country. "Took me down. He was about six-foot-five, and about 350 pounds, I think. I didn't know what was going on. I was mad as hell, but yeah, he took me out." He added, "A sprained ankle and a big thump on the head later, and a little visit to the ER, and we're good to go."
The latest recipient of the Americana Music Association's "Spirit of Americana" Free Speech Award is Rosanne Cash. The award will be presented during the 17th annual Americana Honors & Awards ceremony at Nashville's Ryman Auditorium on September 12. According to Rolling Stone Country, Rosanne's efforts include an op-ed piece on gun control for the New York Times, board member of the Content Creators Coalition, and testifying before Congress about intellectual property rights and digital music licensing. Johnny Cash, Rosanne's father, received the inaugural "Spirit of Americana" Free Speech Award in 2002.
The 52nd annual CMA Awards will be held at Nashville's Bridgestone Arena on November 14 and will be aired live on ABC-TV. The Country Music Association has announced that Brad Paisley and Carrie Underwood will co-host the show for their 11th time.
A two-day Kickin' It With Kix fundraiser will be hosted by Louisiana native Kix Brooks in Winnsboro, Louisiana, on September 28-29. Kix is trying to preserve the 93-year-old Princess Theatre, which was established in 1925 to showcase silent movies. "Preserving venues like the Princess, which bring the arts to rural communities, is more important than ever," Kix tells Nash Country Daily. "The arts inspire, and institutions like this theatre provide a necessary public service and a convenient, affordable location to experience live entertainment."
Things To Remember–The Pamper Demos, recently released by Real Gone Music, contains the very first recordings of Willie Nelson's most famous songs. The 28 recordings have been remastered by Mike Milchner at SonicVision. Colin Escott provided annotations and Richard Weize provided photos. Saving Country Music reports this is the first time all the songs and their stories have been released together. The story begins in 1960, when Willie Nelson moved to Nashville from Texas. Fellow songwriter Hank Cochran helped him get signed to Pamper Music as a songwriter. Pamper, owned by Ray Price and Hal Smith, was one of the most successful song publishing companies in Nashville.
The Lantern Tour: Concerts for Migrant and Refugee Families will run October 23-28, beginning at Nashville's City Winery. The five-city tour, reports Rolling Stone Country, is organized by the Women's Refugee Commission, which has been advocating an end to the practice of detaining families at the U.S. border. Artists include Emmylou Harris, Jackson Browne, Steve Earle, Graham Nash, and Mary Chapin Carpenter. "The Women's Refugee Commission has been on the front lines in advocating for the safety of women and children," Emmylou says. "Their work is as remarkable as it is critical, especially right now. It is my honor to partner with this incredible organization and to bring my friends along for what I know will be a powerful tour."
Online rumors have suggested that Carrie Underwood used stories of a fall as a publicity stunt to cover up having had plastic surgery. She recently told Redbook, "I'm on some magazine every other week for something crazy. It's a little sad, because the truth is just as interesting. I wish I'd gotten some awesome plastic surgery to make this [scar] look better. But I try not to worry too much about it. . .. I look at myself and I see it quite a bit, but other people are like, 'I wouldn't have even noticed.' Nobody else looks at you as much as you think they do. Nobody notices as much as you think they will, so that's been nice to learn."
Bobby Bare & Friends is a new twice-monthly podcast hosted by Bobby Bare. It recreates and updates Bobby's Nashville Network show that ran from 1983 to 1988, with him and his guests discussing a variety of topics. Jamey Johnson was featured on the debut episode of the podcast.
LETTERS
Jeannie Seely in Nashville says, "Thanks for the mention Diane. I'm pretty excited about this…an incredible honor I was so surprised to receive, and such great company to be in!!"
Johnny Western sends this story from Arizona: "A follow-up to your Larry Gatlin stolen Grammy story. In 1968, Waylon Jennings and the Kimberlys won the Grammy for 'Macarthur Park.' After the awards ceremony, the Kimberlys were standing by their table being congratulated by many fans. Someone lifted their Grammy off the table and it has never been seen since. Waylon's wife has his. Of the 4 Kimberlys, only Verna Gay is still living. She sang the female lead solo on the record with Waylon. As Larry so well put it, how does one display a stolen Grammy at home or at the office, and how do the thieves explain why they have it?"
Doug Lippert in Carmel (Greater Indianapolis), Indiana, says, "I remain so very grateful for your newsletters keeping us all up to date on the goings-on in country music. It was absolutely heartwarming to read Bill Mack's reply to reader John Krebs's query regarding Bill's interviews with Webb Pierce. Mr. Mack is one of those stars who understands that, beneath it all, it's the fans who make a song, singer, or broadcaster popular. Hats off to Bill as he lights the path for all of us when it comes to being gracious."
David Corne writes from the United Kingdom, "Thanks for another interesting and informative newsletter. I'm always pleased to see mention of Joe Babcock, Bobby Braddock and Bill Mack due to their connections with Marty Robbins. I would like to ask Bill Mack if he could ever see the Marty Party tapes being made available to the general public. As someone who has heard them, I think a lot of people would be absolutely thrilled to hear the interviews plus songs that Marty sang 'live' back then. How about it, Bill? Regarding Marty missing out on so many fine songs by Bobby Braddock, he also missed out on many fine songs by the Glaser Brothers. Not that it really mattered as Marty sure knew how to write a song and sing it better than anyone before or since. And you can only have so much money before Uncle Sam takes it away! As for Joe Babcock, one word will suffice: legend. Finally, I wish there was someone out there who could post on YouTube Marty's last TV appearance on the Bobby Brown show. Marty sings 'Father, It Was Worth It All' and 'Who At My Door Is Standing.' Absolutely wonderful performances by Marty of these two religious songs, sung in his sincere, heartfelt way."
Jean and Alan Earle, also in the UK, write, "Thank you Diane for this most interesting newsletter and for the wonderful news of your AWARD…It sounds very grand: 'All American Commander, VFW Post 628 Sioux Falls.' You must be delighted with this award and I am sure your girls are VERY PROUD of you. You do a grand job with your newsletter….how do you find the time !!!???"
Al Strachan says, "Thanks Diane for the wealth of knowledge in your Country Music Newsletter (Fri July 27th). I really do appreciate your hard work in gathering all that information. One big thing in my book is that at last Jeannie Seely has got a star on the Music City Walk Of Fame. Long overdue in my mind, having met Jeannie at Wembley Country Music Festival in London in the '70s (remember them?) when she appeared with Jack Greene. Such a lovely person and easy to talk to. Congratulations Jeannie."
Kate Davis of Bear Creek Productions in Medford, Oregon, writes, "Another wonderful newsletter, Diane. I was shocked to read about Larry Gatlin's Grammy…I had not heard about that before. Thanks for keeping us all updated on what's happening in Country Music. Hope we see you at the Sioux Empire Fair. Marty Davis and guitarist, Clint Strong, will be on the Front Porch stage August 6-9. Clint played in the Marty Robbins band years ago, then worked with Merle Haggard for 9 years. Great player."
Diane: I enjoyed Marty's show on Monday, and it was good to see you both. I also appreciated time spent with Pam and Sherwin Linton and the Cotton Kings.
Gene Burkhart says, "Keep up the great work. The information on all the great country singers is awesome stuff."
June Bourke writes from New Zealand, "Just letting you know, after reading your May newsletter (which I might add, all are so very well worth reading), I got in touch with the music store from the website in this letter and ordered two CDs. We do not get as good a range of country music here, so it was great to see these, and order. I must say, they are just terrific. We did buy several while we were over there a few years back, but now we have this link, I am set for life. Thank you so much for all your work in sending this great info to us, we look forward to reading what is going on. This is one satisfied customer."
Howard Traxler says, "Years ago, I was subscribed to your great newsletter. Don't know why it stopped coming but it did. Would you please reinstate my subscription?"
Bob Rudy says, "GREAT newsletters! I saw this on All Access today and thought you would be interested: 'Bobby Bare has launched a new podcast titled Bobby Bare and Friends, featuring conversations with fellow country singers/songwriters. The debut episode features Jamey Johnson.'"
John Harris requests, "Please add me to your newsletter list."
Denny Sarver writes from Maricopa, Arizona, "I have been reading your Newsletter for several years, but I have been receiving them from friends who have subscribed for them. I think it is way past time that I subscribed to it myself. Your Newsletter is so full of entertaining articles and stories of so many of the old-timers that most of us have grown up with. Please keep up your great work and include me on your subscription list."
SONG OF THE WEEK
The first time Jimmy Fortune visited the Vietnam Veteran's Memorial in Washington, D.C., he saw a crying woman talking to God about her son, whose name was on the Wall. Jimmy felt the urge to commemorate all those lost lives who were now names on the wall. He and John Rimel wrote "More Than a Name On a Wall," which became a top ten hit for the Statler Brothers in 1989. "I saw her from a distance," the song begins, "As she walked up to the wall. In her hand she held some flowers as her tears began to fall. . ." The mother concludes, "Lord could you tell him He's more than a name on a wall." This is my favorite Jimmy Fortune song.
BOOK REVIEW – THIS LIFE I LIVE by RORY FEEK
Rory Feek grew up with an abusive alcoholic father as a role model. He did a tour in the US Marine Corps and was making his way as a country songwriter and single parent of two daughters when he met Joey Martin. She changed his life, as is apparent from the title of his 2017 memoir: This Life I Live: One man's extraordinary, ordinary life and THE WOMAN WHO CHANGED IT FOREVER. I don't call it an autobiography because the focus is limited mainly to his life with Joey. The musical career of the duo Joey + Rory and his songwriting career are incidental issues. Although he mentions writing a #1 song, he doesn't say it was Blake Shelton's "Some Beach." The couple married in 2002. In 2008, someone suggested they audition for a new TV show called Can You Duet. Rory replied, "What are you talking about? Joey's a singer, and I'm a songwriter, but we don't sing together. We're not a duo." That show resulted in a record deal for Joey + Rory. When their daughter, Indiana, was born in 2014, Joey was diagnosed with cervical cancer. She died March 4, 2016, at age 40. Joey + Rory had made a video in 2013 of their song, 'When I'm Gone." In the video, Joey has been buried on their farm and is singing to her husband. In this case, life imitated art. The video came true, Rory says he frequently watches the video, knowing God wanted "me to have Joey singing to me. Sharing the words He knew I would need to hear from her."
COUNTRY MUSIC HALL OF FAME – 2012
The modern-era inductee for 2012 was Garth Brooks. The youngest of six children, he was born in 1962 in Tulsa, Oklahoma. Growing up in a music-loving family, he released his first album, Garth Brooks, in 1989. It was a year later when I heard his music, at a nightclub in Jacksonville, Florida, after the US Navy transferred me there from Guam. I bought that cassette tape and the next one, No Fences. The Country Music Association and the Academy of Country Music both named him Entertainer of the Year in 1990. As amazing as that dual award was for an artist with only two years of selling records, he did again in 1991, when he repeated as Entertainer of the Year for both the CMA and ACM. In 2001, he retired from touring and recording, saying he wanted to raise his three daughters after his divorce. He established the Teammates for Kids Foundation, which recruits professional athletes and has raised more than $80 million in cash, gifts, and scholarships. Now married to singer Trisha Yearwood, he comes out of retirement periodically for his world tours. I thought I'd missed my chance to see Garth Brooks in concert, but he and Trisha came to Sioux Falls last year. I attended the first of nine scheduled performances.
Inducted in the musician category was Hargus "Pig" Robbins, best known for being a session pianist on Nashville's A-Team. The native Tennessean, born in 1938, was blinded at age three after an accident with his father's knife. At age seven, he began studying classical piano at the Tennessee School for the Blind. "I got [the nickname] 'Pig' at school," he once explained. "I had a supervisor who called me that because I used to sneak in through a fire escape and play when I wasn't supposed to, and I'd get dirty as a pig." He worked his first recording session in 1957. Two years later came his first major studio recording, when George Jones hit #1 with "White Lightning." From Roger Miller and Ernest Tubb, to Bob Dylan and Joan Baez, to Randy Travis and Mark Chesnutt, Pig backed top artists for four decades. Fellow 2012 HOF inductee Connie Smith said, "He's part of the reason I'm here. He just has a feel for what's needed, and he never misses." Pig, now 80, still plays piano on recording sessions and is "playing as great as ever," according to the musicians who work with him.
Constance June Meador, better known as Connie Smith, was the veteran-era inductee for 2012. Born in 1941, she and 13 siblings grew up in an impoverished farm family in West Virginia and Ohio. Connie taught herself to play acoustic guitar as a teenager. After winning a talent contest in Columbus, Ohio, in 1963, she came to the attention of Bill Anderson. He encouraged her to come to Nashville, where she performed on the Ernest Tubb Midnite Jamboree and cut demos of Bill Anderson songs. Chet Atkins signed her to RCA Records. Her first single, Bill's "Once a Day," went to # 1 in 1964 and stayed there eight weeks. She joined the Grand Ole Opry in 1965. I first met her in 2000, when I lived in Los Angeles. I'd been trying to contact her for a phone interview about Faron Young. Imagine my surprise when I came home from work one night and heard Marty Stuart's voice on my answering machine. His message said they were staying at a hotel in North Hollywood and I could come there for an interview. I had trouble finding the hotel and was late for my appointment. Then, after Connie invited me in, I told her, "I've always thought you were the most beautiful woman in country music, until Barbara Mandrell came along." My words hung in the air. We looked at each other as I tried to figure out how to undo the damage. I came up with, "And then there were two beautiful women." She graciously smiled and nodded. She invited me to sit down, and we started talking about Faron. I've since talked to her backstage at the Grand Ole Opry. She turns 77 this weekend and is still beautiful–in voice, appearance, and personality.