This newsletter is late because I just returned home from the national convention for the Veterans of Foreign Wars in Kansas City. I received my second consecutive award for All-American Commander of VFW Post 628 in Sioux Falls.
NEWS
Larry Gatlin wants his Grammy back–no questions asked. He won his only Grammy in 1977 for Best Country Song for "Broken Lady." The Tennessean reports the trophy was stolen from the Gatlin Bros. Music City grill in the Mall of America in the 1990s. "I have a question for someone in America out there," Larry says. "You have Larry Gatlin's Grammy for 'Broken Lady' for Song of the Year. It's on your mantel or somewhere in your house. What do you tell people when they come over and ask you how you got Larry Gatlin's Grammy?" There's a monetary reward, and Larry says, "I'll give you a written statement that I won't prosecute you." Anyone with information can email assistant@absolutepublicity.com.
Heavy thunderstorms during Willie Nelson's 4th of July Picnic in Austin, Texas, caused numerous performances to be canceled. Gene Watson, Johnny Bush, Ray Wylie Hubbard, and Asleep At The Wheel were some of the main-stage performers canceled. Following a three-hour delay, the gates re-opened at 5 p.m. Saving Country Music reports some attendees waited for the show to resume, some left, and some complained that canceling all side-stage performers was unnecessary. Light rain continued to fall during the evening. Margo Price, Edie Brickell and the New Bohemians, The Head and the Heart, and Sturgill Simpson performed at their scheduled times. As did headliner Willie Nelson, who took the stage at 11:30.
Sounds Like Nashville reports Garth Brooks will headline the first-ever concert at Notre Dame Stadium. Garth announced the event, with no date yet scheduled, at a July 9 press conference. John Affleck-Graves, Notre Dame's executive vice president, said Garth represents Notre Dame's values, "and he is the perfect choice as the first artist to perform in concert in the stadium that Rockne built. This promises to be one of the biggest events in Notre Dame's history."
The Country Music Hall of Fame® and Museum has announced Miranda Lambert as its 15th artist-in-residence, performing two shows in the museum's CMA Theater on September 19 and 26. Both shows are already sold out. "We're talking about someone who has been the CMA's top female vocalist a record seven times, selling millions of albums and scoring hit after hit while retaining absolute artistic conviction and credibility," museum CEO Kyle Young said. And this from Miranda: "The history that the Country Music Hall of Fame and Museum holds is so important. . .. I'm thankful for this place, where our music can continue to be cherished, and I'm thrilled to be among the esteemed artists who have been honored by this designation."
Liam James Haggard is the newborn son of Ben Haggard and longtime girlfriend, Jeyda Beyzade. Sounds Like Nashville reports Merle Haggard's grandson was born Friday, June 29. Ben wrote on Instagram, "Our lives changed for the better yesterday."
Here's a Facebook post from Loretta Lynn on July 11: "At the Ranch yesterday filming for a music video for my new album called 'Wouldn't It Be Great.' We'll have more updates for you all soon! Love, Loretta Lynn." Saving Country Music reports she is back at work, after falling and breaking her hip in January. That caused the second delay of her album. Its original release was scheduled for last August but delayed by her stroke in May 2017.
The latest artists to receive stars on the Music City Walk of Fame have been announced by Mayor David Briley: "Ben Folds' sharp songwriting and piano playing, the vibrant voice Brenda Lee started sharing with country music fans as a teenager, the great vocals and stage presence that Jeannie Seely has brought to the Grand Ole Opry for 50 years, and Ray Stevens' witty lyrics and memorable songs are all testimonials to the magic that happens every day in Music City." The induction ceremony will be held August 21 in Music City Walk of Fame Park. "Inductees are recognized for their significant contributions to preserving the musical heritage of Nashville and for contributing to the world through song or other industry collaboration," explains MusicRow.
Odyssey is the title of the new project by John Schneider. He is releasing one song per week from the 52-song collection that teams the former Bo Duke of TV's Dukes of Hazzard with writers and singers such as Tanya Tucker, John Conlee, Colin Raye, and Jamie O'Neal. He is currently in financial difficulty, he recently told Nash Country Daily. His wife of 21 years, Elvira "Elly" Schneider, filed for divorce in 2014 and he can't afford the $19,000 per month alimony payment. His movie studio in Louisiana was destroyed in a March 2016 flood. Last month, John was sentenced to three days in the Los Angeles County Jail for unpaid alimony and released after a few hours due to overcrowding. "She feels like she's entitled to [the alimony], and she doesn't work and she hasn't worked since we got married," John says. "And there is a group, I guess, out there that says, 'Well, she gave up a career to become a housewife.' Well, no, we had nannies." Their three adult children won't talk to him. "I don't wish Elly to hurt like I hurt right now, I really don't," says John. "But the laws of nature dictate that she's going to, and it's gonna hurt her bad. When those kids won't talk to her, I don't know how she's gonna take that."
When the new Bluegrass Music Hall of Fame and Museum opens in Owensboro, Kentucky, there will be a ceremony on October 18 to posthumously induct five special members. Bluegrass Today reports the International Bluegrass Music Association has announced Vassar Clements (played fiddle in Bill Monroe's Blue Grass Boys and Jim and Jesse's Virginia Boys before joining Faron Young as a Country Deputy), Mike Seeger (director of the Smithsonian Folklife Company), Allen Shelton (influential and innovative bluegrass banjo player), Jake Tullock (bass player for Flatt and Scruggs and the Foggy Mountain Boys) and Joe Val (born Joseph Valiante). Three regular inductees will be brought into the Hall of Fame during the annual International Bluegrass Music Awards show on September 27. They are Ricky Skaggs, Paul Williams of the Sunny Mountain Boys, and Tom T. & Dixie Hall.
When Bobby Braddock mentioned Jon Pardi as one of the new singers to notice, I didn't realize he is the current CMA New Artist of the Year. Nash Country Daily says Jon is releasing the fifth single from his 2016 album, California Sunrise. "Night Shift" will follow two No. 1 songs, "Head Over Boots" and "Dirt on My Boots," along with "Heartache on the Dance Floor" and "She Ain't in It." Watching the video of "Night Shift," which was released to country radio on July 23, I could see both fiddle and steel on the stage, but my ear couldn't hear them. "She Ain't in It" is the best of the five songs.
Debby Campbell-Cloyd, daughter of Glen Campbell, filed an eight-page court document to request a complete accounting of payments to and from a previously undisclosed bank account now owned by Glen's widow. According to The Tennessean, Debby learned of the account after Stanley Schneider, the temporary administrator of her father's estate, filed an amended request for expanded powers. He reported that all royalty and related payments since Glen's death have been deposited into that same account. Debby says he should not be depositing royalty payments in any account other than the estate account. Schneider and his firm have handled the Campbell finances for nearly 30 years.
LETTERS
Cowboy Joe Babcock writes from Nashville, "Enjoy reading your newsletter, 'civer to civer.' I knew Bobby Braddock way back in the '60s. We used to hang out together and didn't live far from each other on the south side Nashville. We would sing songs to each other and he always had a clever twist to his songs. When I decided to quit the road in 1965 I thought of Bobby or maybe he got hold of me when the word got around that I was quitting the road. I had been with The Glaser Brothers and then Marty Robbins since 1959 and was starting to do a lot of session work with The Jordanaires and the Anita Kerr Singers. I talked to Marty and he told me he understood and that he'd let me go if I could find him a good piano player that could also sing parts. I brought my old friend Bobby into the office and he auditioned for Marty. Marty liked him and so I guess I gave Bobby one of his first jobs, that of playing and singing on the road with Marty Robbins. He stayed a while and then left Marty under circumstances that would take another story. Can you believe what that could have meant to Marty's publishing Co. if Bobby had stayed with him? What a writer he became. Country Music Hall Of Fame. He's still a good friend and included one of my songs in an album he produced with an artist named Tami. The song is 'Maybe Someday' and Bobby remembered it from the times we used to sing and compare songs back in the '60s."
John Krebs writes from Houston, Texas, "I see the great Bill Mack is a regular reader and I've been wanting to ask him how many of his vintage interviews he still has access to. This picture of him with Webb Pierce made me think about it. So, getting to the point, does Bill have any Webb interviews I could get my hands on OR that he would post on YouTube?"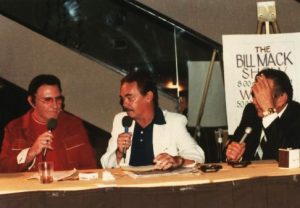 Bill Mack responds: "I interviewed Webb many times, but I don't believe I have a recorded interview with him in my huge collection. Webb would often fly to my home in Fort Worth from Nashville in order to visit my radio program. He was a very good friend. Pictured with Webb and me in this picture is the late Paul Kallinger, another good friend. Paul was that familiar voice heard on XERF out of Old Mexico for years. He played country music on a radio station that could be heard all over the world late at night when Paul was doing-this-thing. He played Webb's hit recordings nightly. My gratitude to John Krebs for his kind words and interest in my interviews, especially with Webb. Again … I extend my sincere best wishes to you, Diane, for your column and your dedication to our country music industry."
Moragh Carter writes from the United Kingdom, "Several years ago I bought a bluegrass recording of Billy and Terry Smith off iTunes. I have no idea if it is the same Billy Smith that Jan (Otteson) Manning is referring to. Billy and Terry were brothers; one site lists them as a duo of studio musicians/brothers Billy (mandolin player/guitarist) and Terry Smith (vocalist/double bassist). Maybe they had a brother, Bob, as well. I met Terry Smith at the home of Tom T. Hall when Peter Cooper took me to visit Tom T. and Miss Dixie in May 2014. Terry confirmed that he was the same Terry who was playing with his brother, Billy, on the recording I have of them singing Bill Monroe songs. If this is the same Billy that Jan is looking for, then Terry might be able to help her. I'm sure Peter Cooper will know how to contact him. https://www.petercoopermusic.com/contact Best wishes and thanks again for a great newsletter."
Brian Skipper, also in the United Kingdom, says, "Thank you for your very interesting newsletter. My good friend Jean Earle is kind enough to share it with me. I enjoy reading the news of some of the older singers, you always make it very readable."
John Seiber of Coteau Entertainment in Sisseton, South Dakota, says, "I look forward to EVERY newsletter from you…. What an honor to meet you and get to know you! Classic Country is in my blood and I can tell it's in yours too. Loved the Bobby Braddock interview. I've always liked the behind the scenes stuff. I think he would be a TERRIFIC interview for my Sunday Morning Classic Show. Just like Leroy Van Dyke…Bobby is living history for Country Music Fans and there aren't many left."
Leslie Rhodes of Arizona Bluegrass requests, "A friend sent me a copy of your newsletter. I would appreciate it if you would put me on your mailing list."
Dominique "Imperial" Anglares checks in from France: "Thanks for that welcome Summer newsletter and for the care given to my words about Dominic Joseph Fontana. He's not seen as Country but he played for many months on the road with Jim Reeves and Lefty Frizzell before joining the Elvis unit as permanent member in August 1955. He was the first to be on payroll 'cause from the start Elvis, Bill Black and Scotty had a share agreement making 50/25/25. Col Parker put a end to that agreement and from then all the sidemen were on payroll. We lost Royce Porter on May 31, 2018, after being hit by a motorist who ran a red light. Royce Porter was a young rock-a-billy cat who recorded from 1956 to 1958 when he was drafted. He played piano on Kenny Rogers' first record with his friend Ray Dogget on guitar. Being Texan he relocated to Nashville in 1969, writing songs for Tommy Cash, Reba McIntire, George Strait and others."
Les Leverett in Goodlettsville, Tennessee, says, "Thanks again, Diane. Fabulous stories again."
Terry Borden requests, "Please add me to the Diane's Country Music Newsletter. I find it very interesting."
Dean Mann in Sioux Falls says, "Another great newsletter. I don't know how you do it with all the other things you have going for you. I saw you on TV yesterday for the USS South Dakota Reunion. Jimmy Fortune will be in Sisseton on August 4. He was also here two years ago, and he was a great hit. I have the CD of Just Between Friends, and they are planning another one in the not too distant future. The first one is very good."
Mary Mitchell says, "Great letter—-Bill Anderson is the answer to Traditional SONG WRITING. AM SO PROUD OF HIM AND ALSO A FRIEND. Willie Nelson spoke the truth that some folks can't even utter such words for fear of criticism. The Border issue is beyond belief. Thanks Willie."
Jean Earle writes from England, "Thank you for your latest newsletter. I found so much of your writing very interesting. Thank you for printing my request for information of Robyn Young, Please pass on my grateful 'thank you' to Moragh Carter for taking the time to send in the news about Robyn's latest activities. We were fortunate to meet Robyn and his wife when we were in Nashville visiting Music City in 1982, with some of our lovely friends. Such happy times. We have fond memories of that meeting, I wonder if he remembers the fish he pulled out of Hickory Lake that afternoon. Not quite big enough for a BBQ…but a lot of fun. We will look forward to hearing his new recordings."
Douglas "Joe" Guy, RMC, USN (RET), writes from Tennessee, "I have emailed you a couple of times over the years about some of the fine articles in your newsletter. Your latest issue with the Bobby Braddock article really hit home with me. As I sat around in retirement, I watched your progress and especially noted your book writing history and success. Finally, I had an eye-opening thought: a Chief Petty Officer could write fiction. I decided to go with a series. Using my East Tennessee home town and Southern Italy as background locales, along with a touch of the military now and then. The LaFollette Chronicles all involve fictional characters and families from the small town of LaFollette Tennessee, in the 1940s, '50s and '60s. The Capri Girl went up on Amazon two weeks ago. The main character is a songwriter whose talent is a composite of Jimmy Webb and Bobby Braddock. I realize there have been and still are a great many wonderful songwriters in Nashville and elsewhere, but really, if you want a character that is the greatest of them all, Webb and Braddock have to be the models. When I was reading your newsletter last night, I stopped in mid-read and went to another page and immediately bought Bobby's book. I do enjoy your newsletter and eagerly look forward to each edition, as I have for years and years."
Terry Beene writes from Missouri, "Thank you for all you do for Country Music Just a note to let you know I will have my Terry Awards in Branson on October 7th at the Jim Stafford Theatre. This marks our 40th anniversary it started in Texas in 1978 at the Stagecoach Ballroom now we are doing it in Branson the Live Music Capital of the world….It is now one of the biggest one-night events in Branson, Wish sometime you could be our VIP guest we give away 28 Awards to honor the Branson Musicians and Shows….Thank you for all you do for the Country Music fans."
Maggie Couch says, "You do a beautiful service with your newsletter. Thank you so much. You keep me connected to our world of country. Going to see Mo Pitney at the watermelon festival in Cave City, Arkansas, on the 28th of July. I sure do like that kid. I have been reading lots of books on some of the older country stars. Wow! Jerry Lee Lewis was one of them. His life was quite a read. Again, you are so appreciated."
Dianne Harmon, President of Elvis' Angels Fanclub, in Shreveport, Louisiana, says, "Another great newsletter! You do a wonderful job. God bless you."
Alan Potter writes from the United Kingdom, "As always full of valuable & useful information, you are a godsend to us country radio DJs."
Gene Burkhart says, "Once again you have done it, Great newsletter. A little incident that happened to me several years ago, I was on the Saturday night Opry Cross Timbers in Stephenville, Texas, when Darrell McCall was the special guest. When I came back offstage after singing my songs, Darrell said to me–I treasure this–'Man you have a smooth voice.' That coming from the master of smooth."
Terry Burford (Country Music DJ Hall of Fame in 2001) writes from Country Classic radio KXHE in Magnolia. Arkansas, "I do 30-minute radio interviews each Wednesday at 12.30pm and would love to know how to get in contact with Bobby Braddock. I think you would enjoy hearing the interview I did last week with Dallas Frazier— go to kzhe.com and click on my name– love your newsletter."
SONG OF THE WEEK
Shortly after the 1963 death of Jean Shephard's husband, Hawkshaw Hawkins, in the plane crash that killed Patsy Cline, Jean gave birth to their second son. Marty Robbins told her he wanted to write a song for her. "Marty, you can't write a song for me," she said, "because you don't know how I feel." He asked, "Can I try?" She consented. When he presented her with "Two Little Boys," she realized it was a great song. "When I awake every morning and find that you're not here with me," the song begins, "tears start to fall without warning; then through a curtain of sorrow I see, two little boys." Marty gave songwriter credit to her sons, thus ensuring they would always draw the royalties. "It's a very touching song," Jean said later. "I didn't think he could do it, but he did, and I love him dearly."
BOOK REVIEW – THIRTY YEARS OF SAUSAGE, FIFTY YEARS OF HAM: JIMMY DEAN'S OWN STORY by JIMMY DEAN & DONNA MEADE DEAN
Jimmy Dean and his wife, Donna, wrote his autobiography, Thirty Years Of Sausage, Fifty Years Of Ham: Jimmy Dean's Own Story, in 2004. The first part covers his entertainment career, and the second part talks about the Jimmy Dean Meat Company, which he began in 1965. He calls himself "A Born Entertainer" and "The Sausage Man." He grew up poor and fatherless in West Texas during the Great Depression; his mother struggled to raise her two sons. At age 16, Jimmy joined the Merchant Marine because he was too young for the military. He joined the Air Force in 1946, at age 18, and was sent to Bolling AFB in Washington, D.C. That's where he became an entertainer. While telling his story, he includes folksy sayings such as "The older I get, the faster I could run when I was a boy," and "If you're that fond of yourself, you don't leave me much room to like you." At the end of the book, he talks about his friendships with Presidents. He says, "I don't envy anyone who takes that job. It's a spot I wouldn't give to my cleaners. . . . Throughout my career I've played a lot of characters on television and in movies, but I don't think I could have ever been that good an actor. I'll kindly keep my hat out of the ring, thank you very much."
COUNTRY MUSIC HALL OF FAME – 2011
The first inductee in the Country Music Hall of Fame's new songwriter category was Bobby Braddock. The Florida native, born in 1940, played alto saxophone in his high school marching band and piano in local rock & roll combos. Following his 1964 move to Nashville to be a songwriter, he joined the Marty Robbins Band for a year. Tree Publishing Company hired him in 1966. Since then, beginning with "D-I-V-O-R-C-E" in 1968, he has written #1 songs in six consecutive decades. His hits include songs by the Statler Brothers, Tammy Wynette, George Jones, the Jones and Wynette duo, Lacy J. Dalton, Tanya Tucker, Johnny Duncan, Charlie Louvin and Melba Montgomery, Jerry Lee Lewis, Tommy Overstreet, T.G. Sheppard, John Anderson, John Conlee, Mark Chesnutt, Tracy Lawrence, Toby Keith, and Billy Currington, among others. In 2001, he produced the first hit records for Blake Shelton. Bobby was inducted into the Nashville Songwriters Hall of Fame In 1981 and the national Songwriters Hall of Fame in 2015. See my last newsletter to find out what he's doing now.
With her 2011 election to the Country Music Hall of Fame in the modern performer category, Reba McEntire achieved the rare feat of a Number One hit in the year of her induction. "Turn on the Radio" peaked on Billboard Hot Country Songs chart the first week in January. As Reba's 25th and final #1 song, it tied her with Dolly Parton for most number ones by a female country artist. The Oklahoma cowgirl, born in 1955, grew up in a rodeo family on an 8,000-acre cattle ranch. In 1974, Red Steagall heard her sing the National Anthem at the National Finals Rodeo in Oklahoma City. He arranged a recording contract for her in 1975. That was the year I attended my first NFR, as well as a rodeo dance featuring Red and Reba. In 1986, Reba was named CMA Entertainer of the Year. Her acting credits include her own TV comedy show, Reba, and a Broadway performance in the title role of Annie Get Your Gun. At the most recent National Finals Rodeo in Las Vegas, she sang the National Anthem for a second time, 43 years later.
The inductee in the veteran performer category, Jean Shepard, was one of the first women in country music to front her own tours. This Oklahoma native, born Ollie Imogene Shepard in1933, grew up listening to Bob Wills on Tulsa radio station KVOO and the Grand Ole Opry on WSM radio. Her family moved to California in the mid-40s, where Jean started a band. Hank Thompson heard her sing and recommended her to his producer, Ken Nelson, at Capitol Records. Ken wrote in his autobiography, "Girl country vocalists had almost no sales at that time and I wasn't too interested, but I went to see her. She was playing at the American Legion Hall in San Luis Obispo. . . . When I walked in the hall I saw this mite of a girl singing while playing a standup bass that was taller than she was in an all-male band. . . . Her singing and outgoing personality really impressed me." Shepard signed with the label in 1952. "A Dear John Letter," recorded With Ferlin Husky, shot to #1 on Billboard"s country chart. Since Jean wasn't 21, her parents made Ferlin her guardian so the two could tour together. Jean joined the Grand Ole Opry in 1955, as did Hawkshaw Hawkins. They were married onstage in Wichita, Kansas, in 1960. Jean celebrated her fiftieth year with the Grand Ole Opry in 2005. She continued to perform there almost until her death, at age 82, in 2016.