IN THE SPOTLIGHT – BOBBY BRADDOCK
Golden Ring – Old Flames Have New Names – He Stopped Loving Her Today – I Wanna Talk About Me – D-I-V-O-R-C-E – Would You Catch a Falling Star – You Can't Have Your Kate and Edith Too – Her Name Is – Nothing Ever Hurt Me Half As Bad As Losing You – Thinking of a Rendezvous – People Are Crazy – We're Not the Jet Set – I Don't Remember Loving You
What do these songs have in common? They are a few of the 1,300 songs written (or co-written) and published by Bobby Braddock. The Florida native moved to Nashville in 1964 to be a songwriter. At age 24, he got a job with Marty Robbins, playing piano and singing harmony. "I can't tell you how thrilled I was," he recalls. "I was a big fan. It was like magic to me."
I first talked to Bobby in November 2006 during a phone interview about Marty Robbins. We met in person as authors at a book festival in Nashville the following October. He had just published his memoir, Down in Orburndale: A Songwriter's Youth in Old Florida. I had Live Fast, Love Hard: The Faron Young Story. We met again when he attended my 2012 book release party for Twentieth Century Drifter: The Life of Marty Robbins.
The first two songs Bobby had recorded in Nashville were by Marty. "When that happened," Bobby told me, "I thought maybe I am a songwriter. Maybe I really am." Yes, he really is. He was inducted into the Nashville Songwriters Hall of Fame in 1984, the Country Music Hall of Fame in 2011, and the Songwriters Hall of Fame in 2015.
To find out what he's doing now, I decided to contact him. He took time from an evening of songwriting last night to have a 40-minute phone conversation with me. He has just finished his third book and is working on finding a publisher. Although he gave me the title and description, he doesn't want the information released yet. He said the book is about classic country songs—how they're written and the stories behind them. Each song will include an illustration and a narrative. I am looking forward to this book being published. The concept intrigues me.
Because Bobby produced Blake Shelton's first album, I asked if he's doing any producing. He was requested several years ago to produce a classic R & B album, which turned out well. "I'm not looking for producing," he says. "Right now, I just want to write songs. That's what I'm doing tonight."
I asked if there was a story behind writing "People Are Crazy." He said a friend had set him up to write with Troy Jones. They first met when they walked into the room to write together. Troy had the line, "God is great, beer is good, and people are crazy." They finished most of the song and then got stuck. Bobby suggested, "Why don't we have the younger man inherit his wealth, instead of his kids?" Bobby considers they each wrote 50 percent of the song.
"That was my initial meeting with him," Bobby told me. "We walked into the room and started writing." He recalled a similar situation years earlier. "I did that in the 1980s with John Prine," he said. On the day they met, they turned out "Unwed Fathers." Although never a hit, it's been recorded numerous times. Tammy Wynette recorded it and John sings it on his shows.
I wanted to hear Bobby's opinions on which of today's singers impress him. Who would he like to have record his songs? He answered, "If they're hot, I want them to record a song of mine, whomever it is."
Then he named Ben Haggard, Merle's youngest son, as someone who is "really talented" and doesn't have a recording contract. Bobby says, "I think he has a bright future."
About Blake Shelton, he commented, "I always thought the TV camera would fall in love with Blake. I always thought he should be in movies, too. He's a natural actor. He's got that charm and that charisma."
I asked if Bobby had a message for my readers. He said, "That reminds me of somebody I do think is really good. There are a couple of acts, I don't know if their songs are that country, but their singing is country and their instrumentation is country, with steel and fiddle. One is John Pardi, and the other is Midland. A word for classic fans – a couple of new artists who are keeping it country."
John Pardi's singing is pure country, Bobby says. "He sounds a little bit like Mark Chesnut. He's a great country singer. That's one person who has a good future."
When I thanked him for his time, Bobby said, "Before you go, tell me about the latest book you're writing." That led into a discussion between authors, and we wished each other, "Good luck on your book."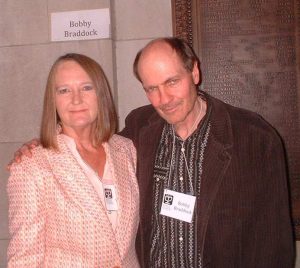 NEWS
Longtime Buckaroo drummer Jerry Wiggins died June 25 after battling several health issues. He was 73. His obituary in the Bakersfield Californian says: "At 17, the call of the road and playing music lured him into leaving home and school [in Oklahoma] to make his mark in country music. After several years of traveling he ended up in LA. In 1967 he moved to Bakersfield and became a Buckaroo. He worked for Buck Owens for 13+ years traveling the world, recording, and doing television shows. Highlights of his career were filming Hee Haw, preforming at Madison Square Garden, and the White House. He also won numerous CMA awards for Band of the Year as a Buckaroo. During that time he met and fell in love with Susan Raye, duet partner of Buck Owens. They were married in 1971."
Bluegrass Today reports the death of a bluegrass mandolin legend. Dean Webb of the Dillards died June 30, at age 81. He was playing mandolin in Missouri in 1962 when he joined Doug (banjo) and Rodney Dillard (guitar). From 1963-66, the Dillards made six appearances on The Andy Griffith Show as the Darling Family. The Dillards became one of the first bluegrass bands to electrify their instruments. They influenced the development of southern California folk/country rock styles.
Recording engineer Jim Malloy died July 5 at age 87. He worked with Elvis Presley, Duke Ellington, Johnny Cash, Henry Mancini, Dolly Parton, and many more.  In 1954, he moved from his Illinois home to California to pursue a career in the electronics industry. When Chet Atkins went to Los Angeles to record the Anita Kerr Singers, he wanted the best engineer in town. Upon meeting Jim Malloy, Chet asked him to move to Nashville, which he did in the mid-1960s. In addition to his engineer work, he produced Sammi Smith's recording of "Help Me Make It Through the Night."
In a recent statement about separating immigrant children from their parents at the U.S.-Mexico border, Willie Nelson said, "What's going on at our southern border is outrageous. Christians everywhere should be up in arms. What happened to 'Bring us your tired and weak and we will make them strong?' The famous Texan has been following this issue for years. In 2014, he told Rolling Stone, "The only thing we can do is take care of those kids, whatever it takes. They're scared. They're being mistreated. It's a good opportunity for us to show a little bit of humanitarianism and take care of those kids. I know a lot of people want to send them back. I guess the closer you are to the situation, the more extreme emotions you have about it, but it seems to me the old golden rule, 'Do unto others as you would have them do unto you,' or 'treat other people like you want to be treated' … Treat those kids like they were your kids."
A part-time resident of the Virgin Islands, Kenny Chesney is donating all proceeds from his new album to his Love for Love City Fund, which he founded to help provide relief in the U.S. and British Virgin Islands. The region is still recovering from Hurricane Irma last September, and he wants to ensure aid is funneled to those most in need. The album, Songs for the Saints, will be out July 27. According to Rolling Stone Country, the album contains collaborations with Jimmy Buffett, Ziggy Marley and Mindy Smith. "I wanted to make a record that shows the spirit and resilience of the people who live on those islands, who are generationally tied to them, or are raising families there," Kenny says. "To me, it's about the hope, the strength, the joy and the courage they are bringing to the task of rebuilding after a kind of destruction no one has ever seen before. To let them know, they're not only not forgotten months later, but we're holding them up as inspiration — and offering help in any way we can, including music. Because music heals, it inspires, and this is for them."
The tour bus of Shenandoah caught fire on Sunday, June 24, when the band was on the way home from concerts in Texas. A post on the band's Facebook account read, "BUS FIRE!! It's never a dull moment out here with Shenandoah. Our bus caught on fire this morning in Forest City AR but we got it put out. Now to get home!" Mike McGuire later told Pop Culture Country, "I was in my bunk and I woke up to Marty [Raybon] yelling for everybody to get off the bus NOW! We came to a screeching halt and before we could get out, the inside of the bus was filled with smoke. Luckily we were able to put the fire out with fire extinguishers."
Ralph Stanley: Voice From On High is the name of a new exhibit opening at the Country Music Hall of Fame and Museum on July 13. It honors Ralph Stanley, who died a year ago at age 89. His bluegrass band, the Clinch Mountain Boys, gave both Ricky Skaggs and Keith Whitley their start on the road to musical fame. The exhibit will run until January.
"Music Row's last true songwriter venue and dive bar Bobby's Idle Hour has become the latest landmark on Nashville's Music Row to come under threat from proposed redevelopment," reports Saving Country Music. Panattoni Development Company wants the lot for a new office building. Some of Music Row's landmarks have been saved, such as Studio 'A' and Studio 'B,' but others are being threatened. In an attempt to help preserve the remaining landmarks, The National Trust for Historic Preservation has begun giving guided walking tours of Music Row. The tours are conducted in partnership with Let's Go Travelin' Tours and Historic Tours of America's Old Town Trolley Tours. The tours begin at Bobby's Idle Hour, from which tour guides lead the 90-minute walking tour. The tours help educate the public about the historical significance of the area and some of its most important landmarks. A portion of ticket sales will go to the Music Row Preservation Fund.
"Are the Dixie Chicks Working on New Music?" asks Sounds Like Nashville, after Natalie Maines has been posting teaser photos on her Instagram page. A new record would be their first since 2006, although they did create a live album, DCX MMXVI Live, after touring the United States in 2016 on their DCX MMXVI World Tour.
A husband and wife are suing Dollywood, Dolly Parton's theme park in Pigeon Forge, Tennessee, for more than $2 million for negligence and failure to properly warn of dangers. They took their two daughters on the RiverRush Water Coaster last summer. When their raft got to the top of its incline, the wife was "propelled off the seat and she then fell down into the raft striking her spine on the hard surface." She suffered a compression fracture and other spinal injuries. The Dollywood website describes RiverRush® as Tennessee's first and only water coaster, saying it "races through the trees four stories in the air as you experience four drops along 1,175 feet of track that thrills with multiple hairpin turns and dark tunnels–all combined with rushing water."
Bill Anderson described on his website what it was like to be inducted into the Songwriters Hall of Fame on Thursday, June 14: "[We] joined some 3,000 of our closest friends for dinner. Following the delicious meal, the awards presentation itself was amazing. Seven writers were inducted, and I was next to last on the bill. It was about two hours into the show when Steve Wariner sang, said some very nice things about me, then called me to the podium. He handed me my trophy and pointed to the microphone where I was supposed to speak. I thanked him and everyone at the Songwriters Hall of Fame for the tremendous honor they were bestowing on me, shared a funny story from my early songwriting days, then borrowed from Little Jimmy Dickens, sharing his old line about seeing a turtle on top of a fence post and knowing the turtle didn't get up there by himself. He had to have had some help along the way. I related myself to that turtle, then thanked the many key people who helped me climb to the top of the fence post where I found myself at the moment. I admitted, 'the view from up here is pretty darned incredible!' then walked to center stage, cued the orchestra, and sang 'Still.' The crowd gave me a second standing ovation."
LETTERS
Les Leverett in Goodlettsville, Tennessee, says, "You've done it again! Good newsletter. Thanks for mentioning my Opry debut, and my photo exhibit at the Acuff House, which will be up through October. I was touched by your story on Priscilla Renea. I pray that our industry and the public will accept and love her for who she is, and what she can bring to us and the world in the way of her music."
Bill Mack writes from Fort Worth, Texas, "I realize it's been awhile since I sent you a note-of-gratitude. I just want to thank you again for your awesome, informative column. I repeat: You are the info-base for so many dedicated country music fans. Your knowledge and obvious desire to keep so many people informed is a sincere blessing. Your reference to my old friend Les Leverett was very important to me since Les was the first individual-of-importance I met during my very first trip to Nashville back in the '50s. Les was the official photographer for WSM Radio and the Grand Ole Opry. He made it a point to take me backstage at the Opry and introduce me to the country music stars, many for the first time. He is still one of the most important individuals in country music. Thanks again for being so dedicated to our country music. You're very special to so many, including me."
Marilynne Caswell says, "How exciting for longtime friend Les Leverett to sing on the Opry Stage! Would love to have been there. So neat for him to be in front on the Opry Stage, instead of wandering around back stage taking photos. What a dear, dear man he is. We shared so many good times with him and Dot. No one can take a photo like Les…..hope the museum is a huge success. And as usual I enjoyed the newsletter….keep up the good work."
Moragh Carter reports from the United Kingdom: "Thanks again for your very interesting newsletter. Regarding Jean Earle's question about Robyn Young's CDs… there are two CDs and a single by him listed on CDBaby: https://store.cdbaby.com/artist/RobynYoung. There is quite a lengthy biography on that page, too. There is more information on him here: http://www.countryentertainmentusa.com/pastarticles/mar-articles-2013/robynyoung.html, but the website listed at the bottom of the page is dead. I also found a Facebook page, but it's private and Robyn only adds people as friends whom he knows personally."
Dominique "Imperial" Anglares writes from France, "Thanks for that summer edition of your newsletter and for the words about D.J. Fontana. D.J, who never played at Sun studio with The Blue Moon Boys, was an important addition to Elvis' unit. He helped make the transition from hillbilly bop to the fuller sound of rock 'n roll. He gave the full measure of his talent starting with the first RCA session in Nashville set on 10 and 11 January 1956. His work on the opening of 'My Baby Left Me' is just stunning. What a bright recording … Pay it Blues Boys! D.J. was a nice and talented man who also played with Jim Reeves, Gene Vincent and Dale Hawkins."
Douglas "Joe" Guy, RMC, USN (RET), writes, "Hey Captain. I've been reading your newsletter for the longest. The fact that a Captain is able to write books inspired me with the thought, 'If a mere Captain can write books, then surely to God, a bonafide, initiated CPO, from back in the day can easily do the same.' Just put one of a fiction series up on Amazon. The Capri Girl. No Navy background in this one, but there is in some of the other stories in the series that I have stacked up for publication."
Diane: Congratulations on becoming a published author, Chief. We captains are always pleased to hear our leadership examples have provided a positive influence.
Bill Farris requests, "Please add me to your mailing list for your newsletter as I enjoy it very much."
Jenny Jones writes, "Each Newsletter is always interesting. I was wondering if you have collected any material about BILLY WALKER, since he Marty and Faron were good friends? Ì had a long friendship with BILLY, from the time I was fourteen years old. I was a great fan of his from my freshman year in High School. I would be interested to know if you any information for me. Billy was a great loss to my life and I missed Bette after losing her. I keep in touch with Kelly Brooks, whom Billy had raised for several years when she was younger. I know you keep busy but would love hearing from you again sometime….Keep your NEWSLETTER coming."
Diane: I did a phone interview with Billy Walker in 2000, for my Faron Young biography, and I had my picture taken with him backstage at the Opry. Other than that, I don't have any info. He died before I had a chance to talk to him about Marty's biography in 2006.
Lee Shannon checks in from Port Charlotte, Florida: "Another great newsletter. I wanted to share a Buck Owens story. After visiting a family member in Florida in the early 1970s and seeing their mentally handicapped 20-year-old son playing his favorite album, a Buck Owens LP, over and over, I had to contact Buck. I explained how this young man, with a mental capacity of a 2 or 3-year old had played this record so much that it had lost color; it was now all white. Before long, a package arrived at this family's home. Not only was this young man's favorite LP replaced, along with a personal note of Thanks, but Buck's entire LP catalog was included. Needless to say, I became more of a Buck Owens fan than I already had been. For the rest of my deejay career, I never failed to include at least one Buck Owens recording during my show. Eventually, I interviewed Buck and related the story to him in person and in my book is a photo of me sitting on the Hee Haw set."
Dean Mann in Sioux Falls says, "Another very informative newsletter Diane. I look forward to receiving them."
Jan (Otteson) Manning in Trout Creek, Montana, writes, "When I first came to Nashville in 1977 as a fledgling entertainment journalist, I hung out with the bluegrass community at the original Station Inn across West End Avenue from Vanderbilt. I'm wondering what became of the regulars like Billy Smith and his brother, Bob, and Birdie Smith, Roland White, Kim Young, Charlie Hardiman, Pat Enright, Blaine Sprouse, Alan O'Bryant, and so many others. Maybe some time you can do a roundup of the old, original Station Inn gang. Thanks for your work; I love reading it every month."
Diane: Readers? Any familiar names here?
SONGS OF THE WEEK
The second and third Statler Brothers tunes (after "Flowers On the Wall) to hit the Top Ten, both in 1967, were novelty tunes written by Bobby Braddock. The first was "Ruthless": "I had hopes that someday Ruth would be my wife, but it looks like I'll be ruthless all my life." The second was co-written with Curly Putman, "You Can't Have Your Kate and Edith Too." I have always liked those clever tunes, as I like pretty much any Statler Brothers music. I didn't realize until now that they both came from the Bobby Braddock catalog.
BOOK REVIEW – DOWN IN ORBURNDALE: A SONGWRITER'S YOUTH IN OLD FLORIDA by BOBBY BRADDOCK
Before Disney World took over Central Florida, there were small towns surrounded by orange groves. One of those was Auburndale, halfway between Orlando and Tampa. That was the hometown of Bobby Braddock, who tells his early life story in the 2007 memoir, Down In Orburndale: A Songwriter's Youth In Old Florida. From a little boy who got more than his share of spankings, who realized he learned piano better by listening to records than through music lessons, and who wrote his first song at age five, he grew into a teenager who lived the life portrayed in Happy Days. By age 18, he was playing in bands and traveling throughout the region. The book ends with Bobby and his bride on the road to Nashville in 1964. His follow-on book is Bobby Braddock: A Life on Nashville's Music Row, published in 2015.
COUNTRY MUSIC HALL OF FAME – 2010
Born in Texas in 1928, Jimmy Dean moved to Washington, D.C., in the mid-1940s to his duty station at Bolling Air Force Base. There he formed a band to entertain fellow servicemen and continued performing after his discharge in 1948. Soon he was the star of Connie B. Gay's Town and Country Time TV show. From 1963-1966, he hosted The Jimmy Dean Show on ABC-TV. His biggest hit song came in 1961, "Big Bad John." He appeared on numerous TV shows, both as an actor and as guest host on talk shows. Ads for Jimmy Dean Sausage increased his fame among non-music audiences. He died in 2010 at his Virginia home, shortly before his 82nd birthday and Hall of Fame induction.
Ferlin Husky, born in 1925, grew up on a Missouri farm. After Pearl Harbor, he enlisted in the Merchant Marines. D-Day found him on a troop ship off the beach at Cherbourg, France, serving as a volunteer gunner. Returning stateside, he sang in St. Louis night clubs before moving to California. There he appeared on Cliffie Stone's Hometown Jamboree radio and TV series. Ken Nelson signed him to Capitol Records in 1953 and urged him to return to his real name. He had been performing as Terry Preston. Ferlin and Jean Shepard hit big with "A Dear John Letter" that July. Ferlin moved to Springfield, Missouri, in 1955 to join the Ozark Jubilee and later to Nashville and the Grand Ole Opry. Other major hits included "Gone" and "Wings of a Dove." As his alter ego, Simon Crum, he had a 1959 hit, "Country Music Is Here to Stay." After co-starring in several movies, he was awarded a star on the Hollywood Walk of Fame in 1960. A few months after his induction into the Country Music Hall of Fame, Ferlin Husky died on March 17, 2011, at his home in Hendersonville, Tennessee. He was 85.
One of the most influential producers of the 1970s, Billy Sherrill brought a broad musical background to country music. Born in Alabama in 1936, he attended the revivals of his evangelist father and eventually worked in R&B and rock bands. After moving to Nashville, he and Glenn Sutton wrote "Almost Persuaded," and he produced the number one hit for David Houston. The recording won them three 1966 Grammy awards. Billy gained a reputation for his lush productions with strings and background vocals, even on basic country songs. He closely guided the career of Tammy Wynette from its beginning, with "Your Good Girl's Gonna Go Bad" (co-written by Sherrill and Sutton). He produced 39 top ten hits for her, with 20 of those reaching number one. He also produced Tammy Wynette – George Jones duets such as "We're Gonna Hold On," "Golden Ring," and "Two Story House." When he began producing solo hits for George Jones, the songs included the Sherrill/Sutton "We Can Make It" and the Bobby Braddock/Curly Putman tune, "He Stopped Loving Her Today." Billy was named Vice President-Executive Producer for Columbia-Epic's Nashville office in 1980. He was elected to the Nashville Songwriters Hall of Fame in 1984. He also produced and wrote songs for Johnny Cash, Janie Fricke, Marty Robbins, Joe Stampley, David Allan Coe, Johnny Paycheck, Tanya Tucker and others such as Ray Charles and Elvis Costello. Billy Sherrill died in Nashville on August 4, 2015, at age 78.
Don Williams, long before becoming the "Gentle Giant," won his first talent competition at age three. The prize was an alarm clock. Born in 1939, the young Texan learned guitar from his mother. He graduated from high school in 1958 and served two years in the US Army.  He was a member of the folk-pop trio, the Pozo-Seco Singers, in the 1960s before moving to Nashville. There, Jack Clement signed him as a songwriter. When he began recording, his first number one record was "I Wouldn't Want to Live If You Didn't Love Me." The string of fifteen Top Ten hits that followed included "Tulsa Time." He won fans worldwide, selling records in the British Isles, Europe, Latin America, and Australia. He is one of the few country stars who toured in Africa. He headlined the annual Wembley international festival, toured Britain and mainland Europe, and sold LPs by the hundreds of thousands. In 1980, London's Country Music People magazine named him Artist of the Decade. He was known for dressing in faded blue jeans, denim jacket and a worn-out hat, which he first wore in the 1975 movie, W.W. and the Dixie Dancekings. He was too ill with bronchitis to attend his 2010 induction into the Hall of Fame. Don Williams retired from touring in 2016. He died on September 8, 2017, at age 78.