NEWS 
William Lee Golden of the Oak Ridge Boys married Simone Staley in Nashville on August 29, after re-kindling an old friendship. They first met In October 1980, and spent time together over the next several years, until losing touch after a show in 1982. A portrait she painted of him was one of the few things saved when his home was destroyed by a tornado. In 2009, they reconnected, both having recently lost their mothers. In 2013, he invited her to come to Tennessee.
The Country Music Hall of Fame and Museum has opened a new exhibit, Flyin' Saucers Rock & Roll: The Cosmic Genius of Sam Phillips. A tribute concert, "Get Rhythm," was held Saturday afternoon. August 29, in the CMA Theater to commemorate the opening. 84-year-old Sonny Burgess, who recorded for Sun Records 60 years ago, received a standing ovation for his rockabilly performance.
Ketch Secor, frontman and founding member of Old Crow Medicine Show, told the Tennessean the band has played "all kinds of places from Sioux Falls to St. Augustine" this year. The group toured with Willie Nelson for two weeks and will be at Farm Aid in Chicago. They got their start 17 years ago when guitar legend Doc Watson heard them on a Boone, North Carolina, street corner. They've ended their touring summer by headlining a show at the Ascend Amphitheater in Nashville on August 28. "We have all been waiting for playing our hometown crowd on a Friday night in Nashville," Secor said. "We're really looking forward to being a hometown act."
Here's a photo of the cast of NBC's TV movie, Coat of Many Colors: (back row) Ricky Schroder as Dolly's father, Lee Parton, and Jennifer Nettles as Dolly's mother, Avie Lee Parton, (front row) Carson Meyer as Willadeene Parton, Farrah Mackenzie as Stella Parton, Alyvia Alyn Lind as Dolly Parton, Dylan Michael Rowen as Denver Parton, Parker Sack as David Parton, and Blane Crockarell as Bobby Parton. The film takes place in Tennessee's Great Smokey Mountains and is billed by NBC as "a family-oriented faith-based story about the incidents in her and her family's life around the time she was 9 years old."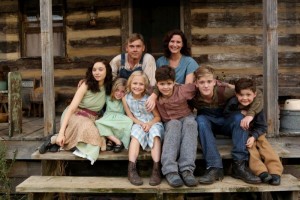 Panattoni Development Co. is constructing a five-story, 98,000-square foot building at 35 16th Avenue South on Music Row in Nashville. The anchor tenant will be the performing rights organization, SESAC, which will move into a 45,000-square-foot section in early December. The Country Music Association signed a 10-year lease to occupy 27,000 square feet. The CMA has had its corporate office at 1 Music Circle South since 1991, and Panattoni will acquire that building.
The Country Music Hall of Fame and Museum hosted Rosanne Cash, its 2015 Artist in Residence, as she played to a capacity crowd in the CMA Theater on September 3. Her guests were her friends, singer-songwriters Lucinda Williams and Emmylou Harris. They swapped songs, stories and laughs for two hours. Rosanne's husband, John Leventhal, backed them with guitar and piano.
American Saturday Night: Live From the Grand Ole Opry is the title of a documentary concert film that will celebrate the longest running live radio show in American history. The Grand Ole Opry turns 90 in November. Filming began August 31 when Darius Rucker, Brad Paisley, Blake Shelton, the Band Perry and Brett Eldredge performed on the Opry stage. "I'm so proud to be a part of it," Darius Rucker told Rolling Stone Country about being in the film. "I'm one of the artists in it, talking about being a member of the Opry. I go there when I don't play, just to talk to people and hang out. I love being a member." Brad Paisley's five-song set included "American Saturday Night."
Plans for a silver-anniversary reissue of the first Garth Brooks album, No Fences, were cancelled one day after the deal was announced. According to Billboard, the arrangement was contingent upon publishers agreeing to a discounted royalty rate (No Fences has sold 4,000 copies in 2015) in return for a guaranteed one million units. The centerpiece was to be a new version of "Friends in Low Places," recorded with George Strait, Jason Aldean, Florida Georgia Line, and Keith Urban. Several publishers refused to accept a discounted royalty rate. They told Garth it was to protect the songwriters. Pat Alger, who co-wrote two songs on No Fences, believes new material should be paid at the full royalty rate, but he doesn't object to discounting older material: "As a songwriter who has watched his income diminish, to give a half rate to someone who's going to guarantee me a million or a million and a half copies, doesn't seem like I'm giving up much." Garth says, "This is 100% my fault. I've done this deal for 20 years. I know how this deal works. What caught me off guard — I just never guessed — is that the rate would go up."
Three of the nation's largest radio station operators, CBS Radio, iHeartMedia, and Cumulus, are facing multi-million dollar lawsuits in California and New York over exploitation of pre-1972 recordings. According to Country Music Nation, "owners of the recordings made before recordings were put under federal copyright protection aren't generally paid for airplay, but no one questioned it until recently." In August 2013, a lawsuit forced SiriusXM to pay a $210 million settlement. The current lawsuits were filed by ABS Entertainment, demanding that radio stations in California and New York stop performing pre-1972 recordings. The company hopes to eventually represent Elvis Presley, Frank Sinatra, and The Beatles. If federal copyright protection laws are changed, music by classic country artists would be banned unless rights holders were compensated.
LETTERS
Sylvia Hutton responds, "The article you wrote from our interview is wonderful! It was such a pleasure talking with you. I've passed it along to my manager and booking agent who both thought it was a great article. Thanks so much for reaching out and for including me in your newsletter."
Alan Potter in the U.K. says, "Another newsletter winner. This is such a treasure to us artists, fans & DJs. Nice to read about Sylvia, a real nice lady & superb singer. We are in touch."
Stacy Harris, Publisher/Executive Editor of Stacy's Music Row Report, writes from Nashville, "I'm so glad Diane Jordan was able to put you in touch with Sylvia. Oddly enough, I didn't realize, prior to reading your newsletter, how Sylvia came to be known solely by her first name. I say oddly enough because RCA Records hired me to write Sylvia's press kit bio. I was thrilled and flattered to assist- and very impressed with Sylvia's business acumen; one that seemed quite unusual for a young, female country singer of the day when a double-standard was the norm in a male-dominated industry that dismissed women as little more than window dressing. Before I was aware of a means of, or was otherwise committed to, breaking Music Row's glass ceiling by forging my own path, I wanted to work for one of the three country artists of the day whom I felt had business sense and would be open to my broadening the definition of any limiting job they might otherwise have to offer. Only three fit that description: Bill Anderson, Tom T. Hall- and Sylvia. Certainly first-name-only billing, traditionally afforded only a few veteran mainstream artists like Frank, Barbra and Sammy (who had "outgrown" their surnames)- were a rarity when Sylvia forged ahead when she had yet to 'earn' the privilege and her record label apparently was not paying enough attention to argue the point. Back to the bio: My assignment included a directive that I subtly inform fans that Sylvia had just been divorced. I was not to use the 'd' word, so, faced with a bit of a challenge, I settled on 'newly-single woman of the '80s.' Over thirty years later I remain mystified as to why Sylvia has not had the sustained commercial success Dolly Parton and Reba McEntire (who only relatively recently have been able to recognizably ditch their surnames) have enjoyed. Then again, Sylvia has proven that success and happiness have more than one definition; more than one career path. Without the need to reinvent herself, Sylvia is back on the scene- on her own terms." Stacy adds, "I can't wait to hear who your next book will be about."
Red Freeman writes, "I was saddened to hear of Al Bruno's passing. I had the pleasure of getting to know him and be amazed by his guitar playing in the early '70s in Las Vegas. He was playing for the super entertainer Eddie Cash when I was in town with Sherwin Linton's band. Al was kind enough to show a fledgling guitar player a few licks and was just an all-around nice guy and great musician. Beautiful memories."
Robyn Young sends this correction: "On your latest blog. In the story about Tracey Byrd and the Texas H.O.F. You refer to Tommie Ritter Smith. Saying HE has a list of 300 prospects for the H.O.F. Just as an FYI…….. Tommie is a SHE."
Dean Mann in Sioux Falls says, "Country Family Reunion News had some very interesting stories in this issue. I thought of you when I read the story on Marty Robbins. I really enjoyed your last paper. Sylvia was on Larry's Country Diner a few weeks back, and she sounded as good as ever. I thought of a couple more old timers I saw in Sioux Falls in the '50s–Kitty Wells, Little Jimmy Dickens, and Jerry Lee Lewis. I'm sure there were more I don't remember. It seems like they were at the old coliseum every two weeks."
Jean Earle in the U.K. comments on a Country's Family Reunion show: "This wonderful video was sent to me by a friend. This is so full of Country greats that it deserves to be seen by everyone. It was made some time ago…..and sadly some of these lovely people are no longer with us…which makes this video really a TREASURE. You may remember some time ago I asked if you had heard any news about Ed Bruce. I was happy to see him included in this video. I wonder if he is still singing and entertaining. Thank you for the latest newsletter."
Diane: I sent Ed a letter, Jean. We'll see if he responds.
Hailey Westrich, Press and Publicity Coordinator for Branson Terry Music Awards, sends this news: "Terry Beene was honored with the Joe Paul Nichols Lifetime Achievement Award at the 2015 International Country Gospel Music Awards Show in West Plains, Missouri. Terry received this award in honor and recognition for a lifetime of dedication to Country Gospel music. The 2015 Branson Terry Music Awards show will be held Sunday, October 11, at the Starlite Theatre in Branson."
Jody Nix in Big Spring, Texas, says, "Always enjoy reading your newsletters."
Bill Mack writes from Texas, "I was going through my many recorded interviews and found a special one I did with Faron, thought of you immediately. I'm doing a series of radio shows entitled, Bill Mack's Memories, and paid tribute my old pal. I really enjoy your columns. They are not only informing — they are needed."
Cowboy Joe Babcock has an announcement: "Always enjoy reading your newsletter. I have a new western swing album out called Trail Jazz, available on CD Baby, Amazon, www.thebabcocks.com, and others. Best band of pickers I ever put together. Includes some standards and some original."
SONG OF THE WEEK
A Marty Robbins song I'd never heard of until a friend found it on YouTube is "Twenty Dollar Jim." It doesn't appear in his discography. My copyright list shows it's one of the last songs he copyrighted–May 10, 1982. I'm guessing he recorded it in his studio and hadn't had time to record it for an album. The YouTube version comes from a 1994 Columbia CD, Lost and Found, of previously unreleased recordings. It's an album I hadn't run across in my research (or maybe I just didn't believe such an ugly cover could contain Marty's music). "Twenty Dollar Jim" is a story reminiscent of Marty's western story songs of the late 1950s, but with musicians rather than cowboys. Most of those songs were waltzes, while this is a two-step ballad.
BOOK REVIEW – THE TIME OF MY LIFE: A RIGHTOUS BROTHER'S MEMOIR BY BILL MEDLEY (WITH MIKE MARINO)
I've just finished reading the newly released Bill Medley memoir, The Time of My Life: A Righteous Brother's Memoir, with Mike Marino as writer. There were two parts to the Righteous Brothers career, 1963-66 and from 1974 until Bobby Hatfield's death in 2003. Their name was given to them by black U.S. Marines at MCAS El Toro, who said things like, "That's righteous, brother!" The pair became known as "blue-eyed soul" singers because they were California white guys singing black-sounding music. The book has a conversational tone, with Bill frequently expressing amazement how someone as undeserving as he could be so well-liked for so many decades. I enjoyed the occasional quotes, inserted as sidebars on a particular subject, from other people in his life. Bill says, "I'm not the kind of guy who can change the world. I'm not that bright. But if you come to see my show I can make you feel good."