FEATURED ARTIST – SYLVIA HUTTON
Sylvia had eleven top-ten Billboard hits from 1980-1985, including "Snapshot" and the number one "Nobody." I hadn't heard anything about her in years, until Diane Jordan mentioned on Facebook they'd recently had lunch together. I asked Diane to put me in touch with Sylvia, and that led to an enjoyable phone conversation. Sylvia Hutton has built an additional career as a personal & professional development coach. Her website is http://www.sylviahutton.net.
"From the time I was three, I thought of myself as a singer and knew I was going to have a life in music, somehow, some way," she says. She moved to Nashville right out of high school, almost forty years ago. When she signed a record deal with RCA Records, she was asked what name she planned to use. Her married name of Sylvia Allen was too similar to labelmate Deborah Allen, so she suggested her maiden name, Sylvia Kirby. No, that sounds like a vacuum cleaner, she was told. They're going to make up a name for me, she realized. She couldn't abide that, and she asked, "How about just Sylvia?" They said okay.
After the hits dried up, Sylvia tried songwriting for awhile. She started her own record label, Red Pony Records, and made an independent record. When she took it around to record labels in 1996, "there was absolutely no interest," she says. "I realized that was not the road life wanted to take me down now. I didn't know what was next. I was kind of at an impasse. It felt like I hit a dead end."
She took a battery of tests to measure her interests. Not surprisingly, she was told she should be in the creative arts. However, it did surprise her to learn she had an almost equal interest in service to others. The interviewer asked if she had any idea what she wanted to be, if not in music. Sylvia remembered when she was learning about the music business, thinking how great it would be if she could have the knowledge of those who went before her. She and everyone else was struggling along, figuring out things for themselves and reinventing the wheel. She carried with her the seed of being a mentor, but didn't know what to do with the idea. Now, when asked, she told the interviewer, "It would be great if I could use all this life experience I have in music to be of service to up-and-coming singers."
That's when she learned about coaching. She trained at The Hudson Institute in Santa Barbara, California, in 2002 and became certified as a Personal & Professional Development Coach. "What's beautiful about coaching is that I create the space in which they change themselves," she says. "We often talk about what's wrong. We put all this attention on what we need to fix." We should be asking ourselves, "What are my gifts? What do I find consistent joy in doing?" Answering such questions can change a person's entire outlook.
"During the '80s," Sylvia says, "my gifts were being expressed through having a record label deal and having records on the radio. I'm still using my voice–just expanding it."
She is also still recording and performing. She has released several CDs on her Red Pony label and has played dates here and there over the past years, but she didn't have a booking agent. That is about to change.
Sylvia's new manager is Brian Horner, and her booking agent is Brent Taylor of the Joe Taylor Artist Agency. She's started recording a new album, which is expected to be completed by the end of this year. She plans to go on tour to promote it. "We're really gearing up for next year," she says. She's hoping some of the people who came to see her at those county fairs, back when she did 60 fairs in 90 days for several years in a row, will come to see her again.
"I'm very happy, I love my life, I love my coaching work," Sylvia Hutton says. "I love that I'm still able to sing and that people are still interested in hearing me sing. I'm excited about the prospect of doing more concerts in the future."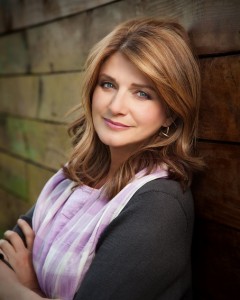 NEWS
The NBC movie, Dolly Parton's Coat of Many Colors, will be televised Thursday, December 10 at 8 pm CST. [It is on my calendar.] The movie is based on the story of Dolly Parton's childhood and is set in the Tennessee Great Smokey Mountains in 1955. Production is currently underway in Atlanta. Jennifer Nettles will play Parton's mother, Avie Lee Parton, and Ricky Schroder will play her father, Lee Parton. [I remember him best from the TV movie, Too Young the Hero, about a young sailor in WWII.] Gerald McRaney will be the grandfather, Jake Owens. The second NBC movie in the series based on Dolly's songs and life stories has been announced. It will be Jolene.
Larry Delaney reports from Ottawa, Ontario, that legendary Canadian-born guitarist Al Bruno passed away August 21 in Pensacola, Florida. He was 78. Larry sent me a copy of the special feature he published on Al in the December 2007 issue of Country Music News. Al Bruneau was born in 1937 in Sudbury, Ontario, Canada. His first paid gig came at age five when he played guitar at a wedding ceremony. He started his first band at age eight. Conway Twitty, while on a Canadian tour in the late 1950s, hired Al as his guitar player for almost five years. Al then worked with Dick Clark on American Bandstand and played guitar on sessions for many of Ken Nelson's Capitol Records artists. His guitar can also be heard on many of the hit records produced by Billy Sherrill in Nashville in the 1970s.
The 25th annual Hank Snow Tribute will be held August 20-23 in Liverpool, Nova Scotia, Canada. The four-day event grew from a one-day concert on Summerville Beach in 1991. There is also now a Hank Snow Hometown Museum.
Becky Hobbs is being inducted into the Oklahoma Music Hall of Fame, along with Restless Heart, Tim DuBois, Scott Hendricks and Smiley Weaver. The October 16 event will take place at the Muskogee Civic Center. Becky and Restless Heart will perform during the induction concert. Jim Blair, Executive Director for the Oklahoma Music Hall of Fame, told the Cherokee Phoenix, "The common thread with this group of inductees is Country Music. Tim, Scott, and Becky are all being honored as recipients of the Mae Boren Axton Songwriting Award and Smiley as recipient of the Eldon Shamblin Sideman Award. Additionally, Tim and Scott were instrumental in the formation and success of Restless Heart."
The Charlie Daniels 40th Anniversary Volunteer Jam raised over $300,000 for the Journey Home Project, which benefits U.S. military members and veterans and their families. The event was held at Nashville's Bridgestone Arena on August 12. Performers included The Charlie Daniels Band, Ted Nugent, Trace Adkins, Alabama, Terri Clark, Billy Ray Cyrus, Lee Greenwood, The Kentucky Headhunters, and many, many more.
"Girls Night Out" is the title of the nine-show residency by Naomi and Wynonna Judd at the Venetian in Las Vegas, from October 7-24. Wynonna, 51, told People Magazine, "We're going to talk a lot about our story. We have a great sense of humor and the show's about laughter and celebration as well as music." Naomi, 69, said, "This show is for the fans that I have missed every single day since leaving the stage," says "It will be the thrill of my life to join Wynonna on stage again in Las Vegas, the entertainment capital of the world."
Tracy Byrd, 48, was inducted into the Texas Country Music Hall of Fame on August 8, in Carthage, Texas. "It's a wonderful honor," he told KBMT. "I've watched other people go into the Texas Country Music Hall of Fame and been envious of them. I'm glad to finally get the call." He was presented with a special Hall of Fame Blue Jean Jacket. Since 1998, the Texas Country Music Hall of Fame has highlighted individuals, living or dead, who are recognized nationally for their music. Tommy Ritter Smith, CEO of the Hall of Fame, explained, "Our criteria are that you are born in Texas and you have been contributing to Texas country music for a number of years." He has about 300 people identified as candidates.
The Boot reports that Govin's Farm in Menomonie, Wisconsin, has created an elaborate corn maze that shows Garth Brooks playing his guitar. The view from above can be seen on the farm's website at http://www.govinsfarm.com/corn-maze–pumpkins.html. Garth has announced concerts at the BMO Harris Bradley Center in Milwaukee on September 25-26. The second leg of his World Tour will feature a slightly re-designed stage and set list.
During her show Monday night at the Staples Center in Los Angeles, Taylor Swift surprised the crowd by bringing out Natalie Maines, lead singer of the Dixie Chicks. Taste of Country reports Taylor as saying, "If not for this woman and her band, I would not have known that you can be quirky, and fun, and yourself, and outspoken, and brave and real. . . When I was 9 years old and got her first CD, I wouldn't have dreamed the things that I dreamed, and I wouldn't be standing on this stage today." The two performed a duet of the Dixie Chicks hit, "Goodbye Earl."
Shortly after ending her 26-year marriage to Narvel Blackstock, Reba McEntire told Nash Country Weekly she's looking forward "to the unknown. I look forward to what's next. People always ask me, 'What are you going to do next?' Well, I dunno, God hasn't told me yet. God is my manager, my tour manager, my scheduler, everything, and He'll come up with the greatest things. He's the one who gave me Annie Get Your Gun and the Reba TV show and presents those things to me."
LETTERS
Stacy Harris writes from Nashville, "Just received the newest edition of your newsletter and it occurs to me that it is a wonderful way for readers like me who have no desire to join Facebook to stay in touch with you- and potentially each other. Dickey Lee is one of the most friendly, unassuming entertainers I've met. I'm thrilled that he is continuing to receive recognition at this time in his life. Re: Rick Belsher's question. Shortly before he passed away, Bruce Honick told me he had convinced Ray Price to let Bruce ghost Ray's autobiography. Prior to that point, Price's saying he was 'too busy' was likely equal parts true and an excuse, as Ray's hesitancy stemmed from the fact he knew that if he were to commit himself to the project, in keeping with his personality, it would have to be with a no-holds-barred dedication. That's not a commitment an honest person with any sense–one who will likely have to brace himself (or herself, as the case may be) for the reaction (maybe even the threat of a lawsuit[s]) to follow–takes lightly!"
Norah Hossen requests, "Please may I be added to your monthly newsletter. Thank you, and I SO look forward to receiving it."
Garry White says, "Please add me to your wonderful newsletter emails."
Jean Earle checks in from the U.K. with, "Thank you for the latest newsletter…..but it was a very sad one. So many lovely "country" folk have died. We know their names so well. Thank you for including Frank's video, 'Rose of El Paso.' He has let me know how pleased he was to see it in the newsletter. I wonder if there will be any feedback? I believe his name is known by several people in Nashville…and it was a jolly video…and we need things like this to cheer us up some days. Thanks again, we do appreciate all your hard work."
Mary Knapp says, "Always enjoy your Newsletter. I am reading and enjoying your book on Marty Robbins. Love his music."
June Thompson writes, "As usual your newsletter was a pleasure to read. I had to get it through a list I'm on for some reason, I haven't gotten the last two, have I been lost from your emailing list, if so could you please put me back on? I wanted also to share a musical fact that may be common knowledge, but thought of it because of something in your recent letter. In reference to your mentioning Dicky Lee's '9,999,999 Tears,' Razzy Bailey had a recording of it in 1966. Because I am from Alabama, Razzy's home state, the song got some air time on some radio stations. It's not an earthshaking fact, just one of those little things. Thanks again for your splendid newsletter, for the time it takes to prepare it, and may you be blessed in your endeavors."
Diane: Oops, I don't know what happened, but now you're back on the list.
Bill Blough says, "Our local library finally bought a copy of Twentieth Century Drifter, and I just finished reading it. After reading/hearing about it for some time it turned out to meet and exceed expectations! Thanks for an interesting book."
SOUTH DAKOTA BANDS
Sherwin Linton and the Cotton Kings (from Minneapolis) played several days at the Sioux Empire Fair in Sioux Falls. I attended their old time rock 'n' roll show, during which John Mogan of Mogan's Heroes joined them on keyboard. It was an enjoyable hour of the music of Bill Haley, Buddy Holly, Chuck Berry, and a few others—such as Elvis Presley.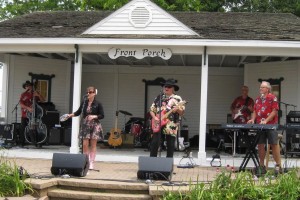 Come to the South Dakota State Fair in Huron on Sunday, September 6, where I'll be joining Sherwin on the Centennial Stage to talk about Faron Young and Marty Robbins.