NEWS  
Buddy Emmons (1937-2015)
Buddy Gene Emmons, 78, was found July 21 at his home in Hermitage, Tennessee, near Nashville, where he had died of an apparent heart attack. Because all family members couldn't be reached right away, the death wasn't publicly reported until July 29. His career began when his father gave him a steel guitar at age 11, and he dropped out of school at age 16 to play music. He was a member of the Steel Guitar Hall of Fame, and many fellow steel players considered him the greatest ever. He played in the bands of Little Jimmy Dickens, Ernest Tubb, Ray Price, Roger Miller, and the Everly Brothers, and spent many years as a sought-after session musician. He stopped playing fulltime in 2001 because of repetitive stress injury, and he retired after Peggy, his wife of forty years, died in 2007. According to Ernie Renn on the Steel Guitar Forum, "No funeral or memorial is planned. He'll be cremated and his ashes will be will be strewn where Peggy's ashes are, thus reuniting them for eternity." He is survived by three children and four grandchildren.
Lynn Anderson (1947-2015)
Lynn Anderson, 67, died Thursday, July 30, when she suffered a heart attack while a patient at Vanderbilt University Medical Center. She had been hospitalized for pneumonia since returning from a trip to Italy. Lynn Rene Anderson, born in North Dakota and raised in California, was the daughter of songwriters Casey Anderson and Liz Anderson. From 1967-69, she was a regular on the Lawrence Welk Show. She married Glenn Sutton in 1968, and he wrote and produced several of her hits. Lynn was Billboard's Female Artist of the Decade (1970-1980), and her most famous song was "(I Never Promised You a) Rose Garden." Her funeral was held August 5 at Woodlawn-Roesch-Patton Funeral Home on Thompson Lane in Nashville.
Tandy Rice (1939-2015)
Tandy Rice, 76, died Monday, August 3, at Centennial Hospital in Nashville. Cause of death was respiratory failure. He grew up in Franklin, graduated from The Citadel in Charleston, South Carolina, and served three years in the United States Air Force. He graduated from Vanderbilt University and was an adjunct professor at the Mike Curb School of Music at Nashville's Belmont University. He founded Top Billing International, a talent agency that helped the careers of Dolly Parton, Porter Wagoner, Jim Ed Brown, and Tom T. Hall, among others. He founded George Jones University, where he served as dean and lecturer, and was past president of the Country Music Association. [Kayo and I visited him at his Music Row office during one of our Faron Young research trips. He was gracious and friendly.]
Billy Sherrill (1936-2015)
Billy Sherrill, 78, died August 4, in his home, following a short illness. Born and raised in Alabama, he moved to Nashville in 1962. His first major success as a producer came in 1966 with David Houston's "Almost Persuaded," a song he and Glenn Sutton wrote. Artists he signed to Columbia Records included Tammy Wynette, Barbara Mandrell and Janie Fricke. He produced hits such as Tammy Wynette's "Stand by Your Man" (which they co-wrote), Charlie Rich's "Behind Closed Doors" and "The Most Beautiful Girl," Johnny Paycheck's "Take This Job and Shove It," George Jones's "He Stopped Loving Her Today," and "Among My Souvenirs" for Marty Robbins. Billy was inducted into the Nashville Songwriters Hall of Fame in 1984, the Musicians Hall of Fame in 2008, and the Country Music Hall of Fame in 2010. He retired several years ago. He leaves behind his wife of 54 years, Charlene, and a daughter and her family.

Jan Howard and Billy Sherrill at Hall of Fame, May 22, 2011
For her first full Nashville concert in more than a decade, Dolly Parton played to a full house at the Ryman Auditorium on July 31. Her "Dolly: Pure and Simple" show was a benefit for the Dustin J. Wells Foundation, which funds music education programs. "For an hour and 40 minutes, writes Juli Thanki in the Tennessean, "Parton delivered stripped-down, acoustic versions of her biggest hits with boundless energy and irrepressible humor, all while strumming a variety of bedazzled musical instruments–which were coordinated to match her impeccable white, sparkly jumpsuit." Her final song, "I Will Always Love You," drew a standing ovation. Dolly had played a first-in-many-decades show at the Opryland Hotel on New Year's night, 2000. I was there because promoter Ed Gregory invited me. That's the night I finally met Carl Smith. Our table contained Ed and Jo Gregory, Mr. and Mrs. Jim Ed Brown, Carl and Goldie Hill Smith, Mrs. Jimmy Dickens, and Jan Howard.

The photo I took January 1, 2000
While Dolly was singing at the Ryman on July 31, Shania Twain was several blocks away, bringing her "Rock This Country Tour" to Nashville's Bridgestone Arena. She "appeared from under the stage on a platform that rose into a tower lifting the singer high above the stage," writes Cindy Watts in the Tennessean. "Wearing a red sequined leotard with a fringed black jacket, the famously brunette-now-blond singer kicked off her two-hour set with 'Rock This Country' as red sparks erupted from each side of the stage." Shania announced that she was overwhelmed and nervous about being in Nashville and since this was her last time there, she didn't want the night to end. Her props included riding through the audience in a clear wagon and sitting on a saddle that circulated over the crowd on a large metal arm as she sang. My daughter April attended Shania's show in Minneapolis. "Shania was amazing," she told me. "The show was really good. Shania did all her hits. She did a duet with opener Gavin DeGraw ("Party for 2″). She sang happy birthday to one of the audience. Shania did a lap around Target Center and everyone went crazy, standing on chairs to get pictures. She's going to be 50 in this month and wants to put out more music but stop touring."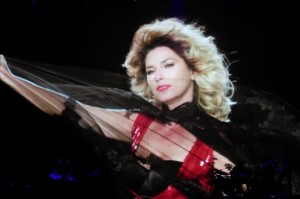 Saturday evening, August 8, Connie Smith celebrated her fiftieth anniversary as a member of the Grand Ole Opry. She'd been raising a family in Ohio in 1964 when Bill Anderson heard her in a talent contest. He invited her to come to Nashville, where she sang on the Ernest Tubb Midnite Jamboree, recorded "Once a Day," and then began appearing on the Grand Ole Opry. Concerning new artists, Connie told the Tennessean, "If they need a friend, I'm available. [There were] so many great entertainers I got to learn from. The kids now are learning from who they see. I can't say I'm original, but I've been around for a while. I want them to know that if they have a question, they can ask me."

Jeannie Seely & Connie Smith celebrating
The Country Music Hall of Fame and Museum has named Rosanne Cash as the 2015 Artist-in-Residence. She will present three intimate performances in September. The September 2 show will feature a full-band performance of her latest album, The River and the Thread, along with favorites from her almost 40-year career. The September 3 show, also in the 800-seat CMA Theater, will feature Emmylou Harris and Lucinda Williams. The September 24 show will feature her husband, producer, and co-writer, John Leventhal. It be in the 213-seat Ford Theater.
The Country Music Hall of Fame and Museum will honor Dickey Lee on September 5, in its "Poets and Prophets" series to salute country music songwriters. He was inducted into the Nashville Songwriters Hall of Fame in 1995. His songs include "She Thinks I Still Care" (written with Steve Duffy), a hit for both George Jones and Anne Murray, "The Keeper of the Stars," "You're The First Time I Thought About Leaving," and "Let's Fall to Pieces Together." His own hit singles included "Patches," Rocky," and "9,999,999 Tears."
Music Row's RCA Studio A is now on the National Register of Historic Places. The National Park Service added the studio on July 21. The Music Industry Coalition and the Music Row Neighborhood Association both worked with the National Trust for Historic Preservation to gather data and piece together a timeline of Music Row milestones to help secure the historical designation.
The childhood home of Merle Haggard was moved July 29 from the Oildale, California, lot where it stood for 80 years, to the Kern County Museum. Fans spent two years raising almost $150,000 to move and restore the boxcar, and to build a replacement dwelling for the home's most recent tenant. The Bakersfield Californian reports that Merle and his sister Lillian Haggard Rea, 94, watched from inside his tour bus as the 41-foot boxcar was hoisted onto a flatbed truck. James Haggard had found the refrigerated boxcar in a vacant field near the Oildale railroad tracks in 1935. Lillian, 14 at the time, remembered her dad "with his hammer, crowbar and saw and mother with her tape measure" starting the work to turn it into a home. Merle was born two years later. With the boxcar/house secured to the flatbed, Merle's bus followed it to the museum. There "it will be restored to the cheerful, spotless home it was under the care of Haggard's mother, Flossie," the newspaper reports.
The Associated Press reports that Reba McEntire and Narvel Blackstock have separated after 26 years of marriage. Narvel has long been Reba's manager, and he runs the management company that represents her, Blake Shelton, and Kelly Clarkson. Their son, Shelby Blackstock, is a race car driver. Big Machine Label Group issued a statement that said they "have worked together for 35 years and will continue to do so."
Nashville's News Channel 5 reports, "This weekend a reunion 50 years in the making brought together a long lost guitar and a country music legend." Bill Anderson was reunited with the Grammer guitar he used when he first hit it big. On Saturday night, August 8, on the Grand Ole Opry stage, the authentic Grammer guitar, given by Billy Grammer to Bill fifty years ago, made its way back to its owner. Mike Grauer, of Bell Road Pawn in Phoenix, Arizona, sent Bill an email a month ago to say someone had pawned an old guitar with the words, "This guitar belongs to Bill Anderson," in the sound hole. Grauer sent pictures, and Bill confirmed its authenticity. When Bill asked what he would take for the guitar, Grauer said he and his wife, Wendie, had always wanted to see the Opry. Bill bought two tickets to Nashville and arranged for them to be backstage, where they celebrated their fifth wedding anniversary. (Bill Anderson announcement at the Opry) Bill's publicist, Amanda French Clark, continues the explanation. Eight years ago, Bill, Vicky McGehee, and Jamey Johnson wrote "The Guitar Song," a story about a fictional guitar that hung unwanted and tattered in an old pawn shop. After the Grauers presented the Grammer guitar on the Opry, Bill invited Jamey Johnson to join him in singing "The Guitar Song."
LETTERS
Ronny Robbins writes from Nashville, "Hope you're doing well, enjoy the newsletter, it's about the only way I hear about what's going on in Music City these days. Steven Levine with NASCAR Illustrated is planning an article for a fall issue and asked if there were any biographies on Dad."
Ernie Reed writes from Nashville, "Just a quick note to let you and your readers know that the first Friday night in August and every Friday night through August and September, we will be having a show and dance at the Nashville Palace, in the big room with Mike Oldham and The Tone Rangers. All traditional Country Music with an 8-piece band. Please pass this along, and bring yourself to see us anytime. I also look forward to your newsletter every month."
Carol Platt requests, "Subscribe me to your newsletter. Thanks so much for the wonderful books you have written as well as the wonderful newsletter."
Rick Belsher in Edmonton, Alberta, Canada, wonders, "Do you have any word about anyone writing a Ray Price biography? I saw an interview on UTUBE, on Crook and Chase years ago, where they asked Ray if he was/would be writing his biography. He replied he was too busy, but am wondering if he ever started."
Diane: I don't recall ever hearing anything about a Ray Price biography. Perhaps a reader knows?
Dave Barton in Nashville recalls, "One time when I was with Jim Ed Brown, we were playing Lake Tahoe, Nevada, and Buddy Emmons was playing bass for Roger Miller down the street at another casino, Harrah's. Buddy came in and sat down in from of Hank Corwin with a pencil and paper and starting taking notes. Hank looked up and just shook his head, it was too funny."
Dean Mann in Sioux Falls says, "I love to talk about old time country singers. Back in the '50s the country singers shows were labeled "The Grand Old Opry is Coming to Town." They performed in the old Coliseum in Sioux Falls. The first show my wife and I went to was Carl Smith in 1954. Prices were under $5. We saw Webb Pierce, Ferlin Husky, Bill Anderson, Red Sovine, Faron Young, Marty Robbins to name a few. In the late '50s and early '60s, we saw George Jones, Tammy Wynette (Georgette Jones was carried on stage by Tammy), Waylon Jennings, Merle Haggard, Loretta Lynn, and others I can't recall. All at the old coliseum. The first country artist I ever saw in a show was T. Texas Tyler. I was going to school at Ft. Sill, Oklahoma, in 1953 and T. Texas played in Lawton. I still have his recording of 'The Deck of Cards.' Tex Ritter is known for singing that song, but to my knowledge T. Texas wrote it and first performed it. I memorized T. Texas's version for a speech class in college. The professor said I had to smaltz it up. I must have. He gave me an A."
Alec Strachan writes from Australia, "I've read your letter a couple of times having been sent to me by a friend but I would like my own copy. I also used to read your letters/information on Doug Davis's newsletter and found you a very interesting person with abundant knowledge of Faron Young. Incidentally many years ago I won a talent competition singing a brand new song by Faron that had just come out: 'It's Four In The Morning'. I used to work for many years singing country music as a solo artist and in a few bands in the UK and later in Western Australia where I've lived since 1983. I'm retired now but still like to keep my hand in by busking on a Saturday morning in our local mall in Mandurah, W.A. Look forward to receiving your newsletter."
Les Leverett in Nashville says, "Thanks once again, Diane, for your wonderful newsletter. It's the only way I have of keeping up with a lot of old friends. In answer to Terry Counts's inquiry as to Judy Mock and Marty Martel: Judy Mock is also a friend of long standing of mine. She was a free-lance photographer for years that 'hung out' at the Grand Ole Opry. I have not seen or talked to her in a long time, but Leslie Elliott of R.O.P.E. said she saw her a couple of weeks ago at a Larry Black function, at which Ron Elliott played, and she was just fine. Marty is not doing well, and I'm not sure what his problem is. Went to the memorial service for Patsy Stoneman. The service was handled wonderfully by family members and friends, and Eddie Stubbs and Billy Henson. Visited with Donna and Roni."
Gary Presley writes from Missouri, "I was happy to see your tribute to Wayne Carson. I never was sure exactly how, but he did have a solid connection to Springfield, Missouri. He was known and liked by DJs and performers in the area, and that was long before nearby Branson became a country mecca. I see in your newsletter his parents performed as Shorty and Sue Thompson. Springfield, circa 1960, was the home of The Ozarks Jubilee, hosted by Red Foley and televised nationally from a local theater. Perhaps that's the root of the Wayne Carson – Springfield connection: his parents performing on the Jubilee."
Dave Barton in Nashville says, "I talked to Marty Martel last week. His memory is getting worse. He went to Colorado to visit Julie Richardson; he was there 9 days and wanted to come back to Nashville every day. He told me he hadn't been out there in months, but he just got back last week, so he doesn't remember being there. When you talk to him about old stuff he is fine but anything that happened yesterday he is lost. His son is going to move him into an apartment soon."
Terry Counts writes, "Thanks so much for passing along the news on Marty Martel. Ron Gaddis was a friend of ours when Murrel was with the group, and yes, he was married to Lorrie and their daughter is Morgan, a gawgus child, last time I saw her which was a LONG time ago. Ron was and is a superb musician in his own right and last I heard was trying to get a career of his own going. He still lives in Hendersonville, as far as I know and I think he has a website also; he used to have a great one.
Diane: I did find his website: http://gaddiscountry.com.
Nancy Lynn sends a note about "an internet country DJ": "The Ride Radio is mostly an oldies station run by Rick and Deb Lewis in Seattle, Washington. Each Sunday night Deb Lewis has a 3-hour country show where she plays mostly older traditional country music including both Faron Young and Marty Robbins. The show is live on Sunday night from 8-11 Eastern time and is replayed each Friday afternoon from 3-6 pm."
Alan Potter checks in from the United Kingdom: "As always your newsletter was great & I've never agreed with so many people in one article. Mike Johnson & Bill Mack's comments on Teea Goans & Terry Choate were 100% correct. Terry Counts is one of the most knowledgeable people on CM I know, Lou & Ross spot on with their comments on real country & Daryl thanks for reminding me about 'I Must Have Done Something Wrong'. Wish I'd remembered it to play in my Red Lane tribute. Both Hag & the Possum did great versions. I'm so happy to be receiving so many mails from the USA regarding my show & praising the fact that I play around 80 % REAL country & the rest indie artists, etc. It's ukcountryradio.com."
Jean Earle writes from the U.K., "I was sent some good news and a video by our friend Frank Jennings. We have read the news of the awards and watched the video. I think Frank will be too modest to send it onto you…but I want to spread his good news and his success. Frank was such a handsome, dark-haired young man….now, like the rest of us he has changed the black for the white. Thank you as always for your newsletters." https://vimeo.com/134571051
Stacy Harris, Publisher/Executive Editor of Stacy's Music Row Report at http://stacyharris.com, sends this request: "I wonder if you or your readers could provide updates on Susie Allanson, Ronnie Sessions, Brian Collins (the BC who covered Jack Greene's signature song, 'Statue of a Fool,' not to be confused with the younger Brian Collins who also sings country music), Connie Cato and a host of others who we don't hear from but who presumably are still alive. Also I'd like some clarification re: a forthcoming book on Teddy Wilburn. Is this the same book as one that Jason Wilburn indicated at one time was to be about Teddy and Doyle?"
Diane: Readers? Can you answer Stacy's questions?
Stacy Harris also writes about sealing the Shelton-Lambert divorce records: "When Garth Brooks' divorce records were sealed, similar questions were raised. Word was at that time that a request that the record courts be sealed was granted because they contained information, such as schools Garth's daughters attended, that, if made public, would have the effect of making the children kidnapping targets. As was the case when I first wrote about the subject of records under seal (http://stacyharris.com/adultery.html), anyone can petition a court to unseal records and many media organizations do so. Following a hearing on the request, it is up to the judge to decide whether the seal should be lifted. There are other country-music-related divorce cases that are not put under seal but the effect is the same as, in some of the messier situations, the non-celebrity spouse receives a more lucrative settlement than would otherwise be the case, in exchange for an agreement, in some cases, to keep enumerated things confidential and/or, in other cases, never to publicly speak unkindly of the celebrity ex-spouse–if at all."
SONG OF THE WEEK
Following my email exchange with Dean Mann, I did some research on the song, "Deck of Cards." It was written by T. Texas Tyler, whose actual name was David Luke Myrick, a U.S. Army veteran who served during World War II. He made his stage name by combining the names of two singing movie cowboys, Tex Ritter and Tom Tyler. He ended the song about a soldier playing cards in church by saying, "And friends, this story is true. I know… I was that soldier." His recording (and his highest-charting song) went to # 2 on Billboard's country chart in April 1948. Tex Ritter, who'd already had three number one hits, saw his own version go to # 10 in June 1948. "Deck of Cards" was his 11th consecutive top ten hit. He changed the ending to say, "And friends I know this story is true, because I knew that soldier." Wink Martindale (in 1959) & Bill Anderson (in 1991) appeared on the Billboard country chart with the T. Texas Tyler version. However, the song idea itself had been around for a long time. Snopes.com says "The Soldier's Prayer-Book" appeared in an 1865 book about the history of playing cards, and there were French versions in 1778 and 1809. The earliest known reference dates back to 1762 and is called Mary Bacon's World: A farmer's wife in eighteenth-century Hampshire, published by Threshold Press (2010). The soldier's story was later recorded in a 19th century British literature piece called "The Soldier's Almanack, Bible And Prayer Book."