This week marks the anniversary of when we lost Faron Young and Marty Robbins. Marty died of a heart attack on December 8, 1982, at age 57, and Faron died of a self-inflicted bullet wound on December 10, 1996, at age 64. Live Fast, Love Hard: The Faron Young Story was published in 2007 by the University of Illinois Press, and the publication goal for Twentieth Century Drifter: The Life of Marty Robbins is 2012.
FARON YOUNG AND MARTY ROBBINS AT CARNEGIE HALL 48 YEARS AGO
Faron and Marty both participated in a history-making concert at Carnegie Hall in New York City on November 29, 1961.  Although Opry artists had performed onstage before, this was the first time an entire package show appeared there.  Roger Miller, who played drums for Faron at the time, quipped, "If they ever decide to have another world war, they can have it here." Eight of the forty performers rated star billing: Faron, Marty, Patsy Cline, Bill Monroe, Minnie Pearl, Grandpa Jones, fiddler Tommy Jackson, and headliner Jim Reeves. The show was a fundraiser for the Musicians' Aid Society of New York, which supported needy classical musicians. Dorothy Kilgallen, famed newspaper columnist and television personality, seemed not to care about the purpose of the show. She said if anyone in New York planned to take a vacation, now would be a good time, because all the hillbillies from Nashville, Tennessee, were coming to "our" wonderful Carnegie Hall. Organizers responded by reserving a front row seat for her, but she did not appear, and the seat went to a paying customer for the sold-out show.
FINAL RESTING PLACES OF MARTY ROBBINS AND FARON YOUNG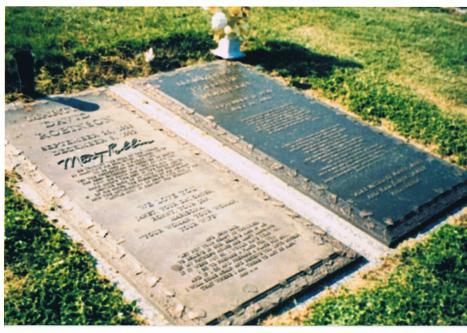 The graves of Martin David Robinson (Marty Robbins) and Marizona Robinson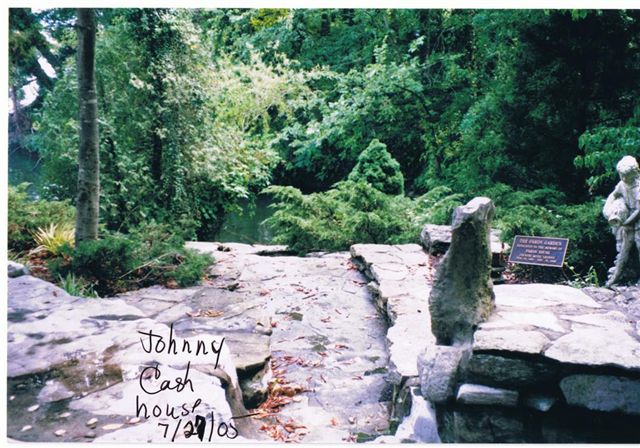 The "Faron Young Memorial Garden" next to Johnny Cash's house, leading down to Old Hickory Lake, where Faron's ashes were scattered on the water by his family.
LETTERS
Bobby Braddock writes, "I remember Marty saying that when 'El Paso' was hot that it was President Eisenhower's favorite song."
Mike O'Neill says, "El Paso was a favorite song of the disk jockeys. The song play time was 4 min, 44 sec. They could go and order food and get back before the song ended. I like the El Paso City song. How many artists could write a song about a song? Marty was one of the best writers and performers."
Thanks to Kent Kotal in Chicago, Illinois, for talking about Marty Robbins and for allowing me to post a short article on his Forgotten Hits site: http://forgottenhits60s.blogspot.com/2009/12/marty-robbins.html
Michael Thom writes from Oklahoma City, "So glad to see on the Forgotten Hits site that you are writing a book on the great Marty Robbins. A friend of mine and I are huge fans of his, and we were fortunate enough to see him perform in 1980 and then to conduct a long radio interview with him (for an oldies show we were then doing on a college station) in early 1982. I asked why he left Columbia to sign with Decca in 1972. I could tell it was a tough question, but Marty replied, 'It was just a bad decision. The money was good, but Decca just never properly promoted me.' We broadcast the entire interview, which, as I recall, ran 30-45 minutes. I'm sure you are familiar with Donnie Jennings, from Blackwell, OK, one of Marty's biggest fans.
Response: Bill Johnson sent me the package Donnie put together, and it's been a great research help to me. Thanks for letting me know that Donaleen Jennings died March 30, 2008, shortly before her 86th birthday. I wrote her several letters without response.
Larry Banton in Lynchburg, Virginia, says, "Always enjoy your newsletters. I go to youtube.com almost every night and watch videos of Faron and Marty. I would like to thank the great country music fans that make these videos possible. Looking forward to your book on Marty."