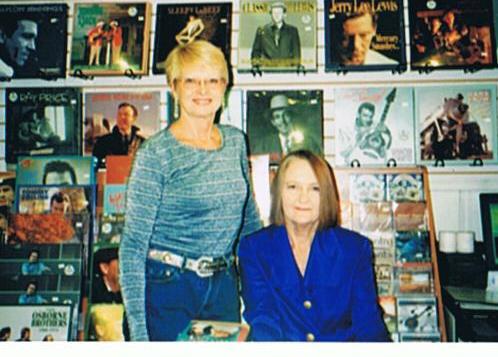 [Published in the Clear Lake Courier (South Dakota) on December 12, 2007]
Live Fast, Love Hard: The Faron Young Story, Diane Diekman's biography of country music legend Faron Young, has been officially released in Nashville, Tennessee.
Diekman, a 1968 graduate of Clear Lake High School, spent seven years researching Young's life and writing his biography. The book combines an account of his public career with a revealing, intimate portrait of his personal life. Young, famous for such hits as "Hello Walls" and "It's Four In the Morning," founded Music City News magazine during his tenure as Nashville businessman and country music entertainer. He was elected posthumously to the Country Music Hall of Fame in 2000, four years after his suicide.
According to Paul Kingsbury, editor of The Encyclopedia of Country Music, "Diekman has done such a thorough job that there is unlikely ever to be another Faron Young biography to compete with it. She has uncovered a great deal of information that will be news to even Faron Young's most passionate fans and friends."
The internationally-famous Ernest Tubb Record Shop was the scene of the November 10th celebration. The Country Deputies, Young's band for forty years, entertained the audience in the Texas Troubadour Theater, which was filled to capacity. Diekman calls the evening "a dream come true." She says, "When I committed to writing Faron's biography in 1999, I never doubted it would happen. I didn't know anybody or know how to write a biography, but I knew I'd get it written and published, and I set 2007 as my target date. I also wanted to have a show with a Deputy band for Faron's book release party. And it happened!"
Several generations of musicians came together for the first time ever. Darrell McCall, a Deputy in the 1960s, drove from Texas to headline the evening, which culminated in the WSM Radio broadcast of a Country Deputy reunion on the Ernest Tubb Midnite Jamboree. Diekman, who identified sixty band members during her research, read all the names on the air. Faron's son, Robyn Young, opened the evening's performance with his bluegrass band, Nextakin.
Ray Emmett, bass player and frontman for the Country Deputies, says, "We had a great time on Saturday night and it was really cool to have a full house. People came from all over the country." He was thankful "for the chance to play some Faron Young music one last time."
Diekman and her daughter Amanda were joined for the weekend by Diekman's sister, Lorraine Paver of Clear Lake, and daughter April, who attends Great Plains Lutheran High School in Watertown. Diekman and Paver are the daughters of Mildred Diekman of Clear Lake.
A retired U.S. Navy captain, Diekman has written two other books, A Farm in the Hidewood: My South Dakota Home and Navy Greenshirt: A Leader Made, Not Born. She is currently working on the biography of country singer Marty Robbins.
Photo caption: Lorraine "Kayo" Paver and Diane Diekman during a book-signing session at the Ernest Tubb Record Shop in Nashville, Tennessee.