IN THE SPOTLIGHT – JEANNIE SEELY
"I'm so proud of this area of Nashville, that people are all pulling together to help each other," Jeannie Seely told me when I called her last week. "The tornado has left such destruction here, and such heartache." She knows of what she speaks. She lost all her possessions when the flood in May 2010 destroyed her home on the Cumberland River. "Coming ten years after the flood," she says, "it brought back so many memories to a lot of us. This seemed to hit in a different area, that wasn't affected by the flood. That would have been almost too much to take, I think."
She thanks the churches for disaster relief efforts. "They can praise American Red Cross and Community Foundation all they want to," she states, "but I can personally tell you who helped all of us the most were the area churches. All of them. It did not matter what denomination you were. You were welcome in every one of them; they came around and helped." She believes, as do I, in the philosophy of paying it forward. "It's heartwarming to see the communities pulling together," she says.
On Jeannie's schedule for the upcoming weekend was a show at the Effingham Performance Center in Effingham, Illinois. "I rarely book a show anymore where I'm taking my whole band," she explains, "but this being so close, I told the boys, if you want to do it, fine. We're going to make some memories. We're all kind of that stage in our lives where that's as important as anything." The show featured Kenny Sears, Tim Atwood, and Danny Davis. "We're just gonna have fun," she told me. I wish I could see her do an entire show with her band.
Jeannie enjoys helping aspiring young musicians. "It's wonderful to me to watch somebody that you can see the hunger, that they want what I wanted," she says. "I can spot it in people. You can tell the difference when somebody's parent wants their kid to be a star." When parents ask how they can get a child to practice, she tells them they're trying to make the child do something that is not there. "If a kid wants it, you can't stop 'em," she says. "That's the way I was. I just ate and slept the music business. Still do, I guess."
Visiting backstage at the Grand Ole Opry is "such a great learning experience for these young people," she says, "I'm always happy to do it." She often cleared Randy Travis and Lib Hatcher to go backstage in their early days in Nashville. "I took Dean Dillon backstage for the first time when I first met him," she told me. "He was eighteen years old and introduced himself as Dean Rutherford." Dean has since written over fifty songs for George Strait and is a member of the Nashville Songwriters Hall of Fame.
Jeannie remembers watching Randy Travis sing at the Nashville Palace. "You could hear and understand everything Randy sang, which a lot of young artists, I think don't have the confidence to do that," she explains. "It's something they develop, but it seemed like Randy had that from day one." That brought a memory of something Willie Nelson told her many years ago: "Pay attention to your diction. There's no sense staying up all night writing song lyrics and then nobody understanding them."
"Sundays with Seely," her Willie's Roadhouse radio show on SiriusXM, is doing great, she says. She began a new feature on March 1, in which she calls somebody just to chat. "I said let's just call Bill Anderson and see what he's doing on this Sunday," she told me. "So I called Bill, and he said, 'Well, you just caught me. I was fixin' to get on the treadmill.' I laughed and I almost said, 'Oh, bullshit.' But I didn't." In upcoming weeks, she'll be calling John Berry, John Conlee, and Rhonda Vincent, for starters.
We concluded our conversation with a discussion of her new album, scheduled for a June 5 release on Curb Records. "I've got several guest artists on it, that I'm excited about," she says. "I don't know yet for sure–they're talking about releasing a digital single first." When I commented that releasing a digital single seems to be the thing now, she joked, "Yeah. I'm trying to keep up." Stay tuned for more information in a later newsletter.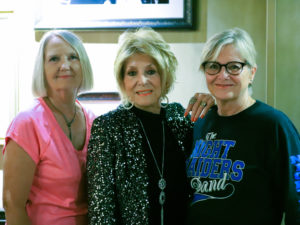 NEWS
When a powerful tornado ripped through Nashville on Tuesday morning, March 3, concert venue Basement East was one of the many buildings destroyed. The only part remaining contains a mural that says, "I Believe In Nashville." Adrien Saporiti, the artist who created the mural on the exterior wall, told CMT News: "Ten years ago I was graduating and moving back when the floods came. Being away from home and feeling helpless was a strange and difficult feeling. But that moment showed our resiliency, our resolve, and our strength and ability to come together. . .. That time eventually became part of my inspiration behind creating the I BELIEVE IN NASHVILLE image. It seems ironic to say now, but at the time I simply saw an area in transformation, a building that was empty and gutted, and so my thought was to put up a mural and see what would happen, hoping it might be something that could connect people."
Steve Misamore, drummer for Dierks Bentley for 20 years, was out of town when the tornado hit his house in Mt. Juliet. About 25 people from their road show came the next day to help with the cleanup. "Bentley, in work boots, gloves and plaid shirt," reports The Tennessean, "grabbed tree branches, house debris and whatever else needed to be cleared Wednesday from Misamore's property."
Dan + Shay, preparing for their inaugural arena tour, announced a planned $100,000 donation to the Community Foundation of Middle Tennessee, reports The Tennessean. Two days before their first show, Dan Smyers spent the night finishing sound design for the 35-show tour. Shay Mooney welcomed his second child, Ames Alexander Mooney, a few days earlier.
Gibson Gives, a nonprofit wing of 126-year-old Nashville-based guitar maker Gibson, plans to donate guitars to replace instruments damaged or destroyed by the tornados, reports The Tennessean. Guitarists needing instrument replacement can reach the Gibson Gives Recovery Plan at donation.request@gibson.com. "Guitars will be provided at Gibson's sole discretion based on proof of damage or loss," a press release states. "Replacement guitars may be demo models, prototypes, or shop worn across Gibson's family of guitar brands."
Taylor Swift has donated $1 million to the Middle Tennessee Emergency Response Fund. "Nashville is my home," she posted on Instagram. "And the fact that so many people have lost their homes and so much more in Middle Tennessee is devastating to me." The Tennessean reports she also donated $500,000 after the 2010 Nashville flood. She donated $4 million to fund educational efforts at the Country Music Hall of Fame & Museum in 2012, as well as $100,000 to the Nashville Symphony in 2013 and $113,000 last year to the Tennessee Equality Project.
Drummer Biff Adam, 83, a forty-year member of Merle Haggard's Strangers, died Saturday, March 7, after battling congestive heart failure. Born Clair Adam in Reading, Pennsylvania, in 1936, he was sent to a boy's orphanage after both his parents died. He joined the Navy after high school and met Roger Miller and Bobby Bare at a nightclub in Long Beach, California. Rolling Stone calls him an innovator of "double shuffle beat" drumming and recalls his description: "All the country drummers, they played the shuffle beat with their right hand and played… backbeat with their left hand. I always thought, 'I wonder how it would sound if I shuffled with both hands?' So, I did that it and it just sort of fell into a real good groove. A lot of the players from Nashville, when they come by the Palomino, they say, 'Will you show me that double shuffle?'" One was Paul English, Willie Nelson's drummer, who once told a magazine, "I stole it from him."
Tracy Pitcox reports the death of Jim Owen, 78, on March 7. Jim wrote "Louisiana Woman, Mississippi Man" for Conway and Loretta, "Southern Loving" and "Broad Minded Man" for Jim Ed Brown, and "Teach My Daddy How To Pray" for Ernest Tubb, among many others. "He was a great entertainer and songwriter," Tracy says. "His health wasn't the best in the last couple of years." Jim was known for portraying Hank Williams in the one-man shows he wrote and performed. He was also one of Mel Tillis's Statesiders. I haven't been able to find an obituary. Jim was one of my newsletter readers; I last heard from him in June 2018.
Stephen "Clancy" Troy, 73, a long-time musician in eastern South Dakota, passed away March 6, at Huron Regional Medical Center in Huron, South Dakota. I first met Clancy in the early 1970s, when he was the drummer with Howie Gamber and Rainbow Country at the Rainbow Bar in Sioux Falls. Bands he worked with in later years included Surfin' Safari. He also designed and painted murals on the exteriors of buildings. He had been in declining health in recent years.
In his Bluegrass Today column, "Ask Sonny Anything," Sonny Osborne was asked if Marty Robbins could have been a good bluegrass singer. "Marty could have been a Gospel singer, pop singer, blues… anything he wanted to sing he could have excelled," Sonny responded. "One of the great vocalists of our time… AND a great songwriter. He came in the Opry one night obviously in a really down mood. I sidled up beside him and whispered, 'What's wrong, did you hear a banjo on the radio on your way in?' He gave me a stern NO! I thought I'd better back off 'cause he was really upset. He just stood there and looked at me and said, 'I just put a brand new 454 engine in that car and it blew up on the first lap!'" Sonny played banjo for 50 years while he and his brother toured as Sonny and Bobby, The Osborne Brothers.
The Library of Congress issued its Gershwin Prize for Popular Song to Garth Brooks on March 4, during a ceremony at DAR Constitution Hall in Washington, D.C. Garth is the top-selling solo artist in American history, having recently passed Elvis Presley. He ranks second overall, behind The Beatles. "It's sweet," Garth told Maryland's WTOP News. "You're a child of God first and you're an American citizen after that, so getting to be any part of the fabric of the greatest country on the planet is very sweet." Garth and Keith Urban opened the show with a duet of "Ain't Goin' Down Til The Sun Comes Up." Keith later joined with the Howard University Choir to sing "We Shall Be Free." Trisha Yearwood, Ricky Skaggs, and Chris Stapleton were some of the other performers. During the evening, Garth announced, "In honor of our sweet, sweet Volunteers from the great state of Tennessee, I'm going to request, humbly, a moment of silence for those who have fallen and those who are still missing." The ceremony will air on PBS on Sunday, March 29.
The Billboard Icon Award will be presented to Garth Brooks at the 2020 Billboard Music Awards in Las Vegas on April 29. Garth will perform during the live NBC broadcast. In addition to being the best-selling solo artist in U.S. history, Garth is the only one to achieve eight diamond-certified albums with sales of more than 10 million units each, reports Nash Country Daily. Eight other artists have received the Billboard Icon Award: Cher, Neil Diamond, Celine Dion, Jennifer Lopez, Prince, Stevie Wonder, Janet Jackson and Mariah Carey.
At the Friday night Grand Ole Opry on February 28, Jeannie Seely shocked Rhonda Vincent by inviting her to join the Opry. After twice asking Jeannie if she was serious, Rhonda replied, "100% percent yes. Oh my gosh! I grew up listening to the Opry. Thank you, dear God!" She will be officially inducted March 24. Bluegrass Today interviewed Rhonda the next day, asking if she had really known nothing about the invitation. "Not a single clue," Rhonda said. "I never thought it would happen. Ever. My first reaction was to doubt what I had just heard. Jeanie and I are friends; we have a new single, Like I Could, that she wrote. So I had to kind of rewind in my head what she had said." Rhonda said nobody knew, not even her husband. "The Opry called him just before my set to make sure he was watching," she said. "Of course, he already was. My mother was at a jam in Iowa, and she got a call from the Opry, but she thought it was a scam call, so she just kept jamming."

"Gaslighter" is the first single released by the Dixie Chicks (Natalie Maines, Emily Robison, Martie Maguire) in 13 years. It is the title track of an album scheduled to be releasedMay 1. Rolling Stone, after commenting how the trio has"been unwelcome on country radio for 17 years," expressed surprise that iHeartMedia, the largest conglomerate in radio, is supporting the new single. The track "has earned nearly 750 spins in less than 48 hours, reaching around three million people, according to Mediabase," reports Rolling Stone. "Nearly all of those plays came from the country format, and on Friday morning, 70% of spins came from iHeart stations."
Nashville's annual celebration of songwriting talent, Tin Pan South Songwriters Festival, has been postponed from March 23-28 until sometime in the summer. Rolling Stone reports the combination of last week's tornado and a confirmed case of coronavirus are the reasons. Some venues might hold their scheduled events, and some might become tornado relief shows. The festival gives novice songwriters a chance to network with the pros.
Citing the threat of coronavirus, the mayor of Austin, Texas, has canceled South By Southwest, the SXSW conference planned for March 13-22. The Boot reports it will be the first time in 34 years without the festival. Last year, Austin profited $355.9 million from SXSW. The decision was made by the City of Austin rather than event organizers. "We are devastated to share this news with you," SXSW's team said in a statement. "We are now working through the ramifications of this unprecedented situation." Billboard says Mayor Steve Adler "declared a local disaster" within Austin, although there were no confirmed cases of coronavirus. SXSW's statement said, "As recently as Wednesday, Austin Public Health stated that 'there's no evidence that closing SXSW or any other gatherings will make the community safer.'"
A seven-disc box set of Johnny Cash music, The Complete Mercury Recordings 1986-1991, will be released April 24, reports Rolling Stone. It includes previously unreleased tracks and an additional 20-track collection titled Classic Cash: Hall Of Fame Series (Early Mixes), featuring material recently discovered in the Mercury vaults. A new greatest-hits album, Easy Rider: The Best of the Mercury Recordings, is also being released. The recordings will be available collectively and in individual albums, both on CD and LP.
The National Rifle Association has moved its April 17 fundraising dinner out of the Country Music Hall of Fame and Museum, because the dinner included a firearms auction. When the Associated Press asked about the museum's no-firearms policy, a spokesperson confirmed, according to The Tennessean, "that the museum's policy prohibits firearms, loaded or unloaded, or other weapons in the building whether visible or concealed." The museum and the NRA then discussed the situation. "The NRA was asked to change our firearms policy at our auction," said the NRA's director of media relations. "We respectfully declined and made alternate arrangements at a venue with additional capacity. We would like to thank the Country Music Hall of Fame for their consideration." The NRA is holding its annual convention at Music City Center, up the street from the museum.
Cable network A&E has finally scheduled the long-promised special, Willie Nelson: American Outlaw. It will air Sunday, April 12, at 9 p.m. CT. Fourteen months ago, The Tennessean recalls, more than two dozen musicians, including George Strait and Dave Matthews, paid tribute to Willie Nelson at Nashville's Bridgestone Arena. A&E's new slate of country music programming includes Biography editions on Dolly Parton and Kenny Rogers. Biography: Dolly premieres the same evening at 7 p.m. and Biography: Kenny Rogers will follow the next night at 8 p.m.
Willie Nelson, who turns 87 on April 29, will be in Tennessee in May and South Dakota in August. The Tennessean reports Willie Nelson and The Family will perform two nights of shows, May 1 and 2, at the CMA Theater in the Country Music Hall of Fame and Museum. Willie is currently being featured in the Outlaws & Armadillos: Country's Roaring '70s exhibit in the museum. He will soon be releasing his 70th solo studio album, The First Rose of Spring. Earlier this year, he won a Grammy for his 2019 album, Ride Me Back Home. The group will be in Brookings, South Dakota, on August 10, and in Sturgis the next night.
During his stadium show at Detroit's Ford Field, Garth Brooks wore a football jersey with "Sanders 20" on the back. When he posted a photo on Instagram, his followers exploded in anger. "You just lost thousands of fans in Michigan," "Please don't make the mistake of getting political," and "I've listened to your songs for the last time" were three of the milder ones. Nash Country Daily explains that Garth was paying tribute to Barry Sanders, not Bernie Sanders. Barry Sanders is in the NFL Hall of Fame. He graduated from Oklahoma State and wore the number 20 during his ten years as running back for the Detroit Lions. After the uproar, Barry sent Garth a message on Instagram, asking, "Want to be my VP?" Garth responded, "I would run any race with you! #Number20for2020."
LETTERS
Les Leverett in Goodlettsville, Tennessee, says, "Great goodness, Diane: I didn't know when I started reading this issue that it was as long as an encyclopedia! You sure packed a lot into this one. So, you've been all over Nashville again, and I never knew it. You sure get around, and I am glad. I never would know much that's going on in the business if it weren't for you. So many of my old friends are always mentioned."
Pam Stevens writes from Louisville, Kentucky, "Thanks for your wonderful newsletters each month. First, someone had commented on Gene Watson and an illness. Like you, I haven't heard any recent news, so I think he's okay now; however, Gene is a cancer survivor and has been in remission for several years–probably 15 or so (it was before his comeback of sorts in the mid-2000s.) Mark Chesnutt helped raise funds for his treatments as Gene didn't have insurance at that time. He is doing great, though, and has given us some wonderful music. Thanks, Gene. I have been a fan of Susan Raye since I was a little girl and used to love listening to her on the Buck Owens show. I'm glad to know she's doing well, and yes, Susan, we know who you are. I get lots of requests for your music on my show, The Legend Country Club, heard every Friday at 6 PM on legendoldies.com. Lastly, I figure if Susan can run the LA Marathon, then I have no excuse not to get up and ride the bike or do a few crunches. Thanks, Susan, for the inspiration. Thanks, Diane, for keeping us informed."
Bob Bien informs us, "Gene Watson quit drinking in 1980 and quit smoking not long after that. He underwent surgery and survived colon cancer in 2000-01. Through it all, he continued to record one critically applauded collection after another."
Jean Earle writes from England, "We were very concerned to see online today about the awful Twisters and Tornadoes that have hit Nashville. Nothing on our BBC news…so we are just wondering what is happening over there? I have tried to send emails to our friends in Nashville but have not yet heard anything back from them. I understand several people have been killed….awful!" She writes later, "We have heard from a couple of our friends in Nashville and I was most happy to hear they were fine….tired and a bit shaken but o.k. Thank goodness. I wonder how your friends in Nashville…that you are so often in contact with for your newspaper, managed during the storms? Please through your next newspaper send them our very best wishes….hope they are quite safe and continuing to sing our favourite music."
Rick McCracken says, "Great to get these letters, Diane. Any update on The Midnight Cowboy? I remember seeing a few months ago that Bill Mack was not well. Growing up in Texas and listening to him so regularly on WBAP, I had no idea what an inspiration he truly would be. I would go on to spend some of my best years in this industry working overnights–when listeners were their most vulnerable and country music was most alive. Keep up the great work!"
Diane: No, I haven't heard any news on Bill Mack. I sent an email recently but have not received a response.
Mary Mitchell comments, "Never doubt Bill Anderson. He is truly Country-heart-soul-body and mind. Yes, do not miss a Cruise or a Concert. Bill is very entertaining. I don't say all these things because he has been a friend of mine for a very long time, he can keep Country Music alive. Thanks, Bill."
Joe Bollard writes from Ireland, "I live in the republic of Ireland and for a long time now I've been getting your newsletters. I enjoy them as I am a big country music fan. However, I had to change my email address two months ago and have not been able to get your newsletters. I started looking for your address all over the internet, and eventually with the help of Google I found you, thank god. I just want to let you know my new email address. I missed you, look forward to hearing from you and keep up the good work."
Carolyn Berry says, "I love these newsletters. They are so informative. Conway Twitty was my favorite country music singer. I love hearing all the older singers, Conway Twitty, Charley Pride, Randy Travis, Marty Robbins, I could go on, but time is short. Have a wonderful day and keep up the good work."
T.C. Cogsdell, down in Saraland, L.A. (Lower Alabama), says, "As usual, another great article. This OLD retired truck driver appreciates what you are doing here."
Stephen Lee says, "Keep up the good work. Did you do a critique of Ken Burns' Country Music epic? It was great, but I was surprised there was nothing on John Prine. And some have said Glen Campbell should have gotten a bigger spot on it…but you can't do that sort of big look without leaving out some people, either, I suppose."
Diane: No, I didn't critique it; I simply enjoyed watching every show. I guess we all had favorites who didn't get enough attention. All in all, it was an amazing feat to cram one hundred years into a few hours.
Dominique "Imperial" Anglares writes from France, "Thanks for the newsletter and the nice reminder about Faron's birth. Hard to believe he was born 88 year ago … His music sound still so fresh, bright and moving. Maybe it is because I spend so many hours working on Shreveport's musical legacy, but I feel like Faron being still with us. I recently found a press clip that was posted on a blog to Shreveport's folks and places. Keep taking care of the business."
Chris Belle requests, "I would love to be subscribed to your country music newsletter."
Sue Zeune in Ohio says, "Thanks for your awesome newsletter. You and people like Ken Burns help us remember what a great legacy we have in country music! Keep up the good work."
Andy Williford writes to the memory of Faron Young: "Happy Birthday to my dear friend. We had a great time, didn't we, 'Puppy'?"
Mike Boyd writes from Florida, "I found your website recently while Googling for information on Faron Young. Your second career as a chronicler of country music legends is intriguing. I thought you might enjoy hearing about a brief but memorable encounter I had with Faron many years ago. In the early 1980s I decided to try my hand as a songwriter, joined a local chapter of NSAI, and made a number of 'pitching' trips to Nashville from my home in DeLand, Florida. (Luckily, I never quit my day job as a finance professor at Stetson University.) On one such junket, I took along a guitar-vocal demo tape of a little ditty called 'Sing Another Sad Song, Faron Young.' It was inspired by a chapter title from a 1983 book by Lewis Grizzard: If Love Were Oil, I'd Be About a Quart Low. I had always liked Faron's songs, as well as his Singing Sheriff nickname. I worked titles and other small phrases from the songs into my lyrics. I played it for a couple of publishers, and their response was something like, "That's pretty clever, but you'll never get it cut here in Nashville." I realized Faron's office building was right across the street behind my motel, the Shoney's Inn at the edge of Music Row. I walked across the back parking lot and straight into his office. He was sitting at his desk, chatting with an older-looking gent who might have been Little Jimmy Dickens, though I couldn't be sure. I apologized to Faron for barging in and offered to come back later, but he graciously insisted I stay. I introduced myself as an aspiring songwriter who was also a fan, and said I'd written something I thought he should hear. He took my cassette and popped it into his boom-box. As the song played, Faron started smiling, then the grin on his face got bigger and bigger. When it was over, he said, 'You really ARE a fan!' As he tried to hand the tape back, I said I wanted him to have it. He thanked me for stopping by, and I went back over to Shoney's. I've often wondered if his family ever came across that tape. I also want to say I'm impressed with what I've read of your military service. In a former life as a Marine corporal, my favorite officers were Mustangs, and some of the best were Navy. Please add me to your subscription list. I especially enjoyed your review from early last December of the Kris Kristofferson concert in Sioux Falls. KK is hands down my favorite C&W songwriter. As a lyricist, he's always been an inspiration to me. I had the good fortune to see him in concert twice in the 1970s and twice in the '80s. The last one was at Finky's, a small country nightclub in Daytona Beach. My wife and I got there two hours early to claim seats in the middle of the front row. After the show, I was the first one to shake his talented, albeit sweaty hand. I look forward to future issues of the newsletter."
IN THEIR OWN WORDS
Kayo and I met Billy Walker backstage at the Grand Ole Opry in 2000, and he agreed to a telephone interview about Faron Young. I called him in September. Billy toured and performed on the Opry for over fifty years. In 2006, at age 77, he and his wife, Betty, and two band members were killed when their touring van ran off Interstate 65 in Alabama and overturned.
I met Faron Young while he was still part of the Webb Pierce band. He fronted the band for Webb Pierce. I was working out of Wichita Falls on a 16-station hookup for a product called Hadacol. Webb and Faron at that time were working the Louisiana Hayride. Actually, the first job Faron and I worked together was in the spring of 1952, kind of June, I believe it was, in Beaumont, Texas. A guy down there had a country music park and he booked Faron. He had just recorded "Just Out of Reach of My Two Empty Arms," and something else, I forgot what it was, but I remember that song. That's my first working date with Faron. Of course, we worked hundreds and hundreds of dates thereafter in our careers. I think he came over there as a solo artist. I'm pretty sure he had moved to Nashville at that point. He had just recorded "Just Out of Reach," I remember that. He sang it for me over there. I remember the song because I really did like the song, which Patsy Cline also recorded.
He was a cocky little devil. Always was. The next month, in July, I came to Nashville, and Webb and Faron were both doing those Gannaway films. I recorded in the old Tulane Hotel, and Faron and Webb both came over to the Clarkson Hotel, which was the hotel most of us used to stay at when we recorded at the old Tulane Hotel, which was torn down many, many years ago. My deal was running out, for Hadacol in Wichita Falls, Texas. Webb and Faron came up to my room. We was just chewing the fat for a little while, and Webb said–Faron had just moved here and Webb was still with the Louisiana Hayride. Webb called Horace Logan and said we need Billy Walker over there on the Hayride, and he said when does he want to start. I said how about July the 15th, so that's when I started. Webb left the Hayride about August or September of '52, but Faron had already left there and had come up here.
Faron and Randy Hughes were big buddies back then. Randy was kind of an independent promoter musician. Randy was the one really instrumental in me coming to the Grand Ole Opry. But I know Faron said on an interview one time that he had recommended me to Ott Devine, I do remember that. I give Faron credit because I heard him say that on an interview myself, in fact it was on a television show, but I don't remember which one it was. That's been a long time ago.
I went over to the hospital when he shot himself, and stayed with the family over there for a long time, 'til they pronounced him dead. Ray Emmett told somebody to call me. Cuz you know that I am an ordained minister, too, and Ray told somebody to call me. Billy Roy Moore was also called. He had been with him a week before. In fact, about a week before he did this, I was over in Deaton's office, and Faron come by there and told me he'd been diagnosed with cancer of the prostate. He didn't have cancer, but I think at that particular time they had told him it was a very likely possibility that he had.
Faron had a pair of personalities. His good side really showed up when he wasn't drinking, and his bad side showed up when he was. He had a real split personality. I've watched Faron Young hand out hundred dollars, five hundred dollars, to different, struggling guys in this town, tell them to pay their rent and feed their family. If he had received all that he gave out, he would've been–he shelled out a lot of money to help people. This is a side of Faron Young that nobody talks about much. He helped a lot of struggling people over there on Music Row that were down and out.
I remember one guy that was talking to Faron, and his wife and kids was out in the car, and they didn't have no place to stay and didn't have no money to eat on. The guy wasn't trying to panhandle Faron, he was just trying to get a job doing something. Faron started quizzing him about his wife and kids, and he said we ain't had much to eat. Faron said where you living, and he said in that car. I know Faron shelled out $2-300 and told the guy to go get him a room and get them something to eat. He said if you ever make it back, you can pay me back, and if you don't, don't worry about it. It was over on 16th Avenue South, long before they built that Faron Young building over there, but it was in that vicinity. There used to be some offices over there that Faron had, just right off 16th, I can't really tell you where it was. It was on the street out there in front of some offices, and I'm pretty sure it was in front of his office. I was there when the incident happened. He just helped a whole lot of people. Faron was a real philanthropist–when he wasn't drinking. When he was drinking, he was meaner than a little snake. But when he wasn't, he had a great personality.
There's a thousand memories. Faron was always good at starting fights. I'll give you a little incidence in Ogden, Utah, one time we was working. Faron had a manager named Shelley Snyder. This was somewhere in the neighborhood of '63 or '64. Shelley was promoting all of Faron's dates, and Faron was hiring other artists–they would hire us to be on the show with him. Shelley was out there promoting the date, and there was a guy named Casanova Jack, they called him. He had a nightclub over there, and ol' Jack had made a deal with Shelley. He'd get him all the booze and women he wanted, but he needed all the artists that were on the show at the auditorium that night to come over and sing at least one song so he could get the after-show crowd over at his nightclub. We didn't much like that but it was part of our contract, so what the heck, we went over there. Me and Carl Smith went over there. Carl said, "I know what the Sheriff is gonna do. He's gonna sashay in here,"–because Faron closed his own show–"and he's gonna start some kind of trouble when he gets in here, and he's gonna expect these big guys to help him out. I'll tell you what we'll do. We'll sing our song, and we'll wait 'til Faron gets here. Then let's you and me catch a cab and we'll go back to the motel." Because we was on a tour and we had to leave the next day about 10:00 the next morning to go on to–I think we played Salt Lake City the next night. Sure enough, Faron come in there, so me and ol' Carl caught a cab and went back to the motel, and ol' Faron come down the next morning with a great big ol' black eye. He said, "Where the heck was you guys when I needed you last night?"