NEWS
Kenny Rogers (1938-2020)
On March 20, Kenny Rogers, 81, died peacefully at home while in hospice care. He was surrounded by his family, Variety reports. Due to the national COVID-19 emergency, the family will hold a small private service now and a public memorial at a later date. He is survived by his fifth wife, Wanda, and five children. Kenny first hit the national scene in 1966, as a member of the New Christy Minstrels. He cofounded the First Edition in 1967. My first concert as a freshman at Augustana College was the New Christy Minstrels, and the second was Kenny Rogers and the First Edition. When Kenny Rogers went off on a solo career, he first hit number one with "Lucille." My late brother, Kenny Diekman, and I waltzed many times to that song. "Lucille" was our dance.
The Tennessean reported on Friday, March 13, that the coronavirus pandemic was a second economic blow to a city still reeling from deadly tornadoes. More than 100 meetings and conferences had canceled, including the NRA convention. The losses already represented tens of millions of dollars to local businesses. The annual SEC men's basketball tournament at Bridgestone Arena was canceled after it began, making this the first year since 1978 without an SEC Tournament champion. But Lower Broadway hadn't yet received the message. Revelers danced in the streets, and party buses and peddle taverns kept moving. One SEC fan from Kentucky, carrying hand sanitizer, stated, "We talked about it as a group and decided we're still going to live our life." The Metro Public Health Department later issued a Safer at Home Order that closed non-essential businesses and directed residents to stay home. Although elderly people have been considered most susceptible, The Tennessean reported on March 21 that Tennesseans in their 20s made up 31% of the 200+ cases to date.
John Rich will pay all employees at his Redneck Riviera on Lower Broadway through the closure. He plans to average what tip-reliant bartenders and other employees made over the past several months and pay that amount. He told The Tennessean, "I would urge, and I would even go so far as to challenge other business owners on Broadway in my entertainment bar/nightclub sector, to reach into your pocket and take care of your people."
Dierks Bentley shut down Whiskey Row Nashville, his downtown bar at 400 Broadway, on March 16. "My heart goes out to all the guys/girls down on Lower Broad," he tweeted. "Feels like yesterday that was me down there working for tips." CMT.com reports that Dierks will give $1,000 to each of his 90 hourly employees. He encouraged all bar owners up and down Broadway to take care of their employees. "Lower Broadway is the heartbeat of Nashville," he tweeted. "Let's make sure we help the folks that help make the music happen."
Closing the Nashville bars has also deprived play-for-tips musicians of their livelihoods. Many musicians are now performing mini concerts from their homes. Josh Hedley, who released his debut album, Mr. Jukebox, in 2018, has played Robert's Western World thousands of times since 2005. He told Rolling Stone he didn't have the proper equipment to broadcast live from his house. "But then it just dawned on me," he says. "What if we did this in front of an empty Robert's, just like we normally would?" Last Tuesday night, he and his band, the Hedliners, along with solo artist Dave Cox, played a livestreamed show for Venmo and Paypal tips. They took in money from around the world, more than they normally make when Robert's is packed. The performance, which is archived on Robert's Western World's Facebook page, has received more than 53,000 views. "We treated it like any other night," Josh says. "I just didn't really know what to say between songs, because I wasn't talking to anyone." He and Robert's are now organizing a nightly schedule of livestreams.
Fiona Prine, wife of John Prine, posted a video to social media to reveal she has been diagnosed with coronavirus, according to a Taste of Country report. "I have some of the typical symptoms," she says. "I didn't have a high fever, but I certainly had a cough and some breathlessness." She and John are quarantined away from each other and other members of their family. His test came back indeterminate. She explains he is in a higher risk bracket because of his age (73) and medical history, which includes cancer in 1999 and 2013 and heart surgery in 2019. He recently canceled shows because of a hip injury. Fiona urges everyone to help limit the spread of the virus: "I'm asking you to please stay at home. That's all."
On Saturday, March 14, the Grand Ole Opry gave its 4,915th consecutive performance. Connie Smith, Bill Anderson, and Jeannie Seely performed in front of 4,000 empty seats at the Grand Ole Opry House. The Tennessean reports the 94-year-old country music radio program will broadcast through April 4 without a live audience, due to the coronavirus pandemic. Audiences can listen online at opry.com or on WSM 650 AM. The Opry has thus temporarily returned to its original 1925 format, when broadcasters first aired from the National Life and Accident Insurance Co. building in downtown Nashville. The Opry last faced threat of missing a broadcast when the 2010 Nashville flood submerged the Opry House; temporary venues were quickly found. The Opry has cancelled its live Saturday night performance only once, on April 6, 1968, during a citywide curfew imposed after the assassination of Martin Luther King Jr. That night's broadcast was a previously taped performance. Roy Acuff and other performers had given a show for Opry fans that afternoon.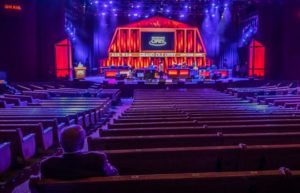 On March 21, Brad Paisley, Vince Gill, and Marty Stuart were the sole Grand Ole Opry performers, doing an acoustic performance that showcased them and their guitars. Rolling Stone announced this as the first time the new Circle network aired the Opry live in its local television markets. This show, the 4,916th consecutive radio broadcast of the Opry, is available via Circle All Access on Facebook or at Circle All Access on YouTube.
Nashville-based Gibson guitars, maker of Les Paul and SG model guitars, closed its facilities on March 20, shortly before the Metro Public Health Department ordered all non-essential Nashville businesses closed for the next 14 days. There are no known coronavirus cases among employees. J.C. Curleigh, Gibson CEO and president, told The Tennessean, "It's unprecedented, and I think what we're reading from the board to the leadership team to every individual at Gibson, is no one's been through this. It's not as though there's a playbook."
Reba McEntire notified fans of the death of her mother, Jacqueline McEntire, on March 14. "The cancer might think it won the battle but we're giving God all the credit on selecting the time for her to go home to Him," Reba posted on social media. "She was ready to see our Daddy, her mama and daddy and all her family and friends. Down here, Alice, Pake, Susie and I, grandkids and great grandkids all got to visit with her either in person or over the phone. She left knowing how much she is loved and we all know how much she loved us."
The Store, the free grocery store launched by Brad Paisley and Kimberly Williams-Paisley, in partnership with Belmont University, opened earlier than its planned mid-April date. As the coronavirus spreads, a volunteer-run service has begun delivering a week supply of groceries to the elderly in the Edgehill and Barry Hill neighborhoods. "In light of how times have changed, we have decided to change the way we do things a bit," Brad said in an Instagram post. "We have a list of seniors that we're basically dropping off what they need, following all protocols to make sure we're doing this right."
Keith Urban threw a makeshift Instagram concert on March 16, broadcasting live from his Nashville warehouse. Saying he thought it would be nice to play some tunes, he performed a half-hour jam, with the assistance of collaborator Jeff Linsenmaier and the audience of his wife, Nicole Kidman. The Tennessean reports Keith had been scheduled to play the Houston Rodeo show, which was canceled. "There is no over there anymore," he told his online audience. "There's just here. We are all here. . .. I'm trying just to bring a little relief in any way I can right now. Playing some music. If you guys are at home watching, singing along, that's what this is about." As Nicole clapped and cheered, Keith joked, "Sounds like my club days." She replied, "An audience of one." When Keith suggested this concert "may be the first of a few," Nicole said, "I've got nothing going on."
Rolling Stone reports the results of the eighth annual Luck Reunion, which was scheduled to be held at the Texas ranch of Willie Nelson and expected to draw around 4,000 people. Instead of canceling because of coronavirus, the organizers, Matt Bizer and Ellee Fletcher, decided to livestream a concert, with performers broadcasting from their homes for charity. Ray Benson of Asleep at the Wheel hosted from Austin's Arlyn Studios, as artists checked in from around the world. "We set up a mini TV studio," Bizer explains. "I screened people that called in on their Skypes, etc., and then pushed them over to an engineer with multiple feeds, and he switched between them all." When Paul Simon called from Hawaii, he invited his neighbor, Woody Harrelson, over at the last minute. Some artists called in for surprise performances. Neil Young performed an acoustic version of "Vampire Blues." Willie, Lukas, and Micah Nelson sat in their Texas living room and sang "Whiskey River."
Hendersonville's Board of Mayor and Aldermen voted unanimously in January to rename Park Road North at Drakes Creek Park to honor Conway Twitty, The Tennessean reports. The newly established Conway Twitty Lane was dedicated March 12, with family members and city officials gathering in Drakes Creek Park. Kathy Durante recalled her father's motto: "Don't do something for credit. Then you're doing it for yourself, not for others." Joni Ryles remembered moving to Hendersonville in 1975, "and Hendersonville opened its arms to our family and graciously welcomed us into your home, and it became our home very quickly." Conway agreed to sponsor the city's softball tournament, which eventually became the Twitty Classic and the No. 1 softball tournament in the country. Conway was an initial investor in bringing the Nashville Sounds Baseball Club to Nashville in 1978; he threw the first pitch in Sounds home history.
The 31st Heart of Texas Country Music Festival, originally scheduled for March 20-28, in Brady, Texas, has been moved to August 21-29, with almost the same entertainment lineup. To find out if I could retrieve my nonrefundable airline tickets, I called American Airlines and left a callback number. Thirty minutes later, an agent called me and smoothly moved my tickets from March to August. No additional charge, and even better flight times.
Nashville-based singer/songwriter Walker Montgomery is the son of John Michael Montgomery and nephew of Eddie Montgomery. "Of course, I love Randy Travis and obviously Daddy," Walker tells Wide Open Country, "but I'm not just influenced by country music. I love 1930s swing music: Benny Goodman, Artie Shaw, Glen Miller Band. I just love music, man. I don't want to sound all kumbaya, but I think music is the one language we can all speak. Thanks to my high school choir teacher: He said that."
Two Lynn Anderson albums have been issued on digital platforms through Legacy Recordings: Cry and Listen To A Country Song. "Lynn Anderson was an icon to millions around the world, but to me she was mom," daughter Lisa Sutton says in a press release. "It is so exciting to have two of her classic albums re-released through Sony Legacy during a time when we need it the most. Until now, they were only available on vinyl. This is a wonderful way for old fans and new ones to come together through music. Stay tuned, because this is only the beginning!" Lynn died in 2015, at age 67.
On a personal note, here's an online interview I did last week. Dr. Andrew Marble, the biographer of former Chairman of the Joint Chiefs of Staff, General John Shalikashvili, asked for some thoughts on my Navy career: https://www.boyonbridge.com/diekman.html
LETTERS
Tom Kaufman writes from Denton, Maryland, "First of all, thanks for another fine newsletter. As has been stated before, you certainly do pack a lot of news in these newsletters…and I am one who appreciates your work. Wanted to say I enjoyed your segment on Jeannie Seely. I had the pleasure of meeting her on a couple of occasions: once, when she, Jim Ed brown and Johnny Russell did a show in either Pigeon Forge or Gatlinburg, Tennessee (don't remember the name of the venue) but after the show, I got to meet all three of them; I met Jeannie again in 1997, when the band I work with happened to be in Nashville. Jeannie was doing that breakfast show at Nashville Palace. She is 'good people'! I enjoy all of your newsletters as they seem to provide news about the country music industry that you just don't get anywhere else. I have a group of friends that I forward your newsletter to and I believe they enjoy them as well. Maybe you can answer a question: do you know if WSM is up to anything that us country music fans and longtime listeners to WSM aren't gonna like? I know that for a while there, they didn't have a live disk jockey overnights (they apparently got rid of Marcia Campbell) and a lot of what they were playing is (in my opinion) junk. I don't consider most of this stuff they're calling 'country music' as country music. Thankfully, they brought Jeff Hoag in for three hours of good, classic country. This is great, but I know Marcia was well-liked by a lot of the truckers…as well as other folks who are up at that hour of the night. I hope she is doing well. Meanwhile, I'll enjoy what I hear of Jeff's show and just hope they're not planning to get rid of Eddie Stubbs as I feel this would be a huge mistake on their part. But knowing how the radio industry works, I know that a lot of 'suits' don't care about whether someone is popular or not; all they're interested is their bottom line. Anyhow forgive me for getting on a bit of a soapbox, but I thought maybe you may have some idea of what's going on with WSM. In any case, am sure I'll be continuing to enjoy those wonderful newsletters that you send us every couple of weeks."
Diane: I haven't heard a peep about what's happening at WSM.
Mike McCloud wonders, "Do you, or has anyone in country music heard from David Wills lately? I can't find contact info anywhere on his site. I would like to meet him in person. I have been familiar with the music since childhood. Where is he now? What is he doing now? Does he still sing at all? Any help appreciated. Thank you. I enjoyed the piece on Jeannie Seely. I bet she knows David Wills."
Diane: I didn't find any recent information on him, nor did I find a website or Facebook page. I always liked his unique voice.
David Markham writes from England, "Thanks for your most interesting Newsletter on the storms in Nashville, Tennessee. It's worldwide, different kinds of Storms. Very interesting on the kind folk pulling together in helping by cleaning the town up and sending and giving money to help the people. I sent two of your letters one to my USA country friends, one to my other country singer in NSW. I thought it was kind of Gibson giving their newly built guitars to Artists whose instruments were lost. It's amazing how people pull together in a crisis in helping to put the town back. I know it can't replace people who have lost their lives. Sad news on Biff Adam, drummer with Merle. I remember when he joined with Merle. God bless and thanks Biff for your great style of drumming. Congratulations to Rhonda Vincent."
Mary Mitchell says, "I loved the story about Carl Smith and his buddy. I am a great Carl Smith fan. RIP"
Diane: So am I. Carl would have celebrated his 93rd birthday on March 15.
Jean Earle in England writes, "Just to let you know we are thinking of you. So sorry to hear about the death of Kenny Rogers. He has been much admired here…for many years. Maybe the LAST of the REAL Country Singers."
Joan Brooking writes from Stuart, Iowa, at Exit 93 and I-80, "I have enjoyed reading your articles ever since Iowa's NTCMA's Bob Everhart turned me onto it. After complimenting him on his Newsletters, he had suggested I get yours too. I devour these and all your knowledge. I just simply love them. I loved Ken Burns Country Music History Shows and watched them two and three times each. I love the PBS Network and programming. It is the best. When Willie Nelson was interviewed and The Family Bible was mentioned, I was disappointed that my friend Claude Gray was not mentioned at all or the fact that he had recorded the song. For the $50 he gave Willie for the song it was well worth it. Stay well and keep up your good and informative work."
IN THEIR OWN WORDS
When I did a telephone interview with James Hylton in March of 2007, he didn't tell me he'd almost qualified for the recent Daytona 500, at age 72. Nor did he mention he was a two-time NASCAR Winston Cup Series winner. We were both interested in talking about Marty Robbins. While working on this week's newsletter, I learned I had missed the news of his death on April 28, 2018. He and his son, James "Tweety" Hylton Jr., 61, were killed on their way home from a race at Alabama's Talladega Superspeedway. Their GMC truck with trailer was northbound on Interstate 85 near Carnesville, Georgia, when it went across the median and the other lane of traffic and then hit an embankment. The driver suffered broken bones and was transported to a hospital in Greenville, South Carolina. A report said he'd thought James, 83, was having a heart attack and he looked over at him and lost control of the truck. Both Hyltons were pronounced dead on the scene.
I guess the first time I met Marty was in my race shop at Inman, South Carolina. I'd been out on an errand and came back and came in my shop and heard this music–acoustic guitar playing and Marty singing, sitting on one of my workbenches, singing. A couple of my guys that were with me were just flabbergasted–here sits Marty Robbins on my desk singing. What a thrill. He was interested in buying a racecar for Grand National at the time, not Winston Cup, but NASCAR Cup they call it now, Nextel at the moment. He bought his first race car from me. Marty was at my shop in July of 1969. He bought a 1967 Dodge Charger from me.
I guess our next great meeting was at Talladega, Alabama, speedway. Marty blew an engine going into turn three, and there was no way to avoid him. I seen him blowing up as I went into the corner, but the track closed up and there was absolutely nowhere to go. I hit Marty in the door, which is the worst kind of wreck you can have. I thought I'd killed him. After the melee was over and they dragged everybody's car back in the garage there, I was scared to ask. And here come Marty up through the garage area, after they released him out of the hospital. He come walking up through there singing "Hello Walls." And come over and hugged my neck and went on to say he sure was sorry he wrecked my car. Well, when you're–blown engine and you're out of control, somebody runs into you, that ain't hardly what you'd say you wrecked my car. It was a racing accident.
And Marty was a racer. They say, well, he's a celebrity out there trying to show off. That is definitely a negative. Marty came to race, and he raced good. The thing about Marty, he'd tell you, he wasn't there to try to take our money–I say ours–professional racers who did it for a living. One example, I believe that was Talladega, also, that he was just flying. That's when we was starting to run with restrictor plates, and he had put a larger plate on his engine, somehow, and he was as fast if not faster than anybody out there. He ran the race and then voluntarily told NASCAR he was cheating, that he wasn't doing it for the money; he was doing it for the fun, and he didn't feel right taking other people's money, and actually gave himself up as cheating, for them not to give him any prize money, which of course they didn't. But that's the kind of guy he was. He wanted to race with us but he didn't want to–he knew we did this for a living. He was in the music business and evidently didn't need the money, and he was having fun. The main thing about him, he was totally–in my dealings with him–110 percent honest.
I was in the cattle business a little bit at the time, and Marty had cattle up there at his ranch or farm, he had some Black Angus cows. I'd been to his house and his farm, visiting, and he called me one day and he told me to stop by there next time I was through town. He had a bull he called Commando. This was an Angus bull he had paid $10,500 for, breeding stock. Old Commando had outlived his usefulness, and Marty said, "I'll give you Commando if you'll promise you won't sell him or butcher him, but if you'll let him live out his life on your farm, I'll give him to you." That kind of breeding stock, that was a big plus for me. I loaded up Commando and brought him back to South Carolina, and he remained on my place until he died of natural causes. His grave is still marked.
After that, word got around that he had cattle, and he said, "I got a young bull I want to give you. I don't need him, and I'll just give him to you." I went up there and picked him up. Now this was an adventure. This is what I call my bull story. Marty had a kind of dilapidated barn there, kind of like what farmers have, so we herded this bull into this barn to try to load him. He didn't want to go. He wound up running right through the back of the barn, knocking the timber off the back of the barn. So we reinforced it up and herded him up–this was just about an all-day job–and we loaded him up and got back to South Carolina okay.
I was in the racing business, not really in the cattle business. I was doing the cattle business like Marty, just a plaything kind of deal. Got the young bull back to South Carolina and, knowing better but not really thinking, got there and I just opened the back of the cow hauler, and out he came. And he never slowed down. Went through the fences like they wasn't even there. A day later I found him on one of the neighbor's farms, about a mile away. I tried to lasso him and he went right through that neighbor's fence. When he broke through the fence, he was in the road headed back to my farm. I had three or four guys with me, and we said we'll just walk him home like that. Things looked pretty good until we got to this abandoned farm, probably half a mile from my farm. The people that owned that farm had taken all the windows out of the old farmhouse and stored them in the barn. This bull went right up to that barn and he went through the door to get inside that building. This wasn't a full-grown bull; he was a yearling.
Being an intelligent cowboy as I thought I was–I got me a rope and I went in there with him. And you talk about World War II, and after, World War III. When we got through wrestling that bull and trying to get a rope on him, which I finally got a rope on him, but in the meantime he tore up all the windows. The other guys come in there, and we got a rope on his front leg and a rope on his rear leg. Not really thinking again, I tied the rope to one of the major posts that held the barn up. We all had the ropes on him, and the signal was given, "open the door," and he seen that daylight and away he went. He run out of rope, and tied to that post, guess what. The main structure of the barn collapsed. I just barely got out of there myself. We finally got him back to the farm. I was so mad I said I'll just keep him until he gets old enough to take to the market and sell this rascal. The bull tamed down once he got accustomed to his new surroundings, and he turned out all right.
A few miles away was a hippie gathering. There must have been 600 of them. They were there for the whole weekend. I didn't know what to do about this man's farmhouse–well, actually we tore his barn up, not the house. The story came out on Monday in the newspaper that these people having their little private concert over there had vandalized this guy's place. Being I didn't want to get into that deal, I just kinda let it go away. So I hope they don't hear this interview, cuz they'll come arrest me probably. But those people took the credit for getting the barn tore down.
Marty was a racecar driver. He could drive. There's no doubt about it, if he'd put full time into racing like he did his singing, he could have been a racer; he could have been a winner. Like I say, he would run good at times. Then if he got involved in a wreck, he'd apologize to whoever was in the wreck. Like he was cheating that time, then after it was over with, he confessed and took his punishment. That's just the kind of guy he was. At drivers' meetings, he'd say, "Hey, guys, I'm not out here to take your money. I'm just trying to race." Everybody loved him. There was no resentment from anybody. I just can't say enough about him. He was an icon. It was a great loss.