IN THE SPOTLIGHT – TERRY SMITH
The best $100 Terry Smith ever spent was for a 12-cassette course by Peter C. Knickles, called Doing Music and Nothing Else. He purchased it about the time he retired from teaching in 1996. The course "covered the music business from A to Z," Terry told me during our telephone conversation on Monday. "I did not do everything he suggested, but one of the things he said–and I have followed this religiously–he said, if people buy your product, get their name and address, and when you get home, send them a thank you letter." Terry's file now contains almost 12,000 sales slips, alphabetized by name and by state. "I'm not a great self-promoter," he says. "That has been my chief marketing method."
Terry moved from Texas to Nashville in 1972 to pursue songwriting while earning a living as a schoolteacher. "I kept talking about going to Nashville," he told me, "and one of my older sisters said, 'You know what you need to do? You need to either go to Nashville or shut up about going to Nashville.' So I went to Nashville." He adds, "I did some things wrong. But one thing I didn't do, I didn't go back home."
One of his earliest songs is his most famous. He wrote "The Far Side Banks of Jordan" in the boarding house where he lived upon his arrival in Nashville. While it was never on the charts, this classic song took on a life of its own. Johnny and June Carter Cash first recorded it in 1976 and rerecorded it in 2000. They sang it live on their shows. "June often said it was their favorite song that they performed together," Terry recalls. "They're the ones that started it on its journey." It has since been recorded by over 300 performers; my favorite version is by Jimmy Fortune.
When I asked for the story behind the song, Terry replied, "I have about a four-page answer to that." He says two things that might have influenced him were the death of the first of his uncles and a scene in the 1972 movie, Sounder. A black sharecropper in the South had been sent to prison during the Depression, for stealing a ham to feed his family. When he returns home and his wife sees him limping up the road, she doesn't recognize him at first. "There's this powerful, powerful scene once she realizes this is her husband," Terry relates. "She starts running and screaming down the road to meet him. Her kids are at her heels. The dog, Sounder, is barking. Since I saw that movie in 1972, that scene probably influenced the chorus."
Terry also remembers his preacher at that time would often refer to the other side of Jordan, the land of promise. "So I don't know where that phrasing came from, but it probably came from the preacher," he says. "Maybe the combination of all those things. I was a fairly young guy then–not yet thirty years old when I wrote that."
He's only had one song that made it on the charts: "Ten Seconds in the Saddle," recorded by Chris LeDoux on his 1980 album, Western Tunesmith. Chris also recorded "Jeans and Good Leather" on that album. Remembering I'm in South Dakota, Terry told me, "Kyle Evens recorded both of those as well."
Terry recalls, "Eight years after Kyle Evans died in that motorcycle accident, I didn't even know who he was, I was playing at the Des Moines, Iowa, horse show, and I did 'Ten Seconds in the Saddle.' This guy came up and said, 'Do you know Kyle Evans recorded that song?' I said I don't even know who Kyle Evans is." Terry tracked him down and got copies of his recordings. "I'd put Kyle Evans's Christmas album up against anybody's," he says. "This guy could sing. He was a wonderful singer and did great versions of both of those songs of mine."
During all his years of teaching, Terry tried to finish one song a week. When he first moved to Nashville, he took a songwriting course at a college. The guest speaker one night was songwriter Ted Harris, who wrote "Crystal Chandeliers" and Glen Campbell's "The Hand That Rocked the Cradle." Ted gave one memorable tip, "one of the things I never ever forgot," Terry says. "Whenever you are writing, he said always go with the flow of your emotions. If you're having a down day, take advantage of that, and if you're having an up day, take advantage of that." Terry tried to take that advice whenever he was writing. "If you try to write an up song and you're feeling down, it's probably not gonna work," he concurs.
When asked to do songwriter workshops, Terry points out that a song has to hit him in one of four places. "It has to hit me in my hands and my feet–make me want to tap my feet, clap my hands. Or it has to hit me in my heart; it has to make me feel something. Or in my head–makes me want to think. Or a song needs to hit me in my funny bone; it needs to make me laugh." He reiterates, "If it doesn't make me want to clap my hands, if it doesn't make me feel anything, if it doesn't make me think anything, doesn't make me laugh or smile, it doesn't do much for me."
Terry travels 500-900 miles to festivals where he entertains concert goers and sells his CDs. When he sends his thank you letters, he includes an order form. "People go home," he says, "decide they want another CD, they can't go to their local store and get it. Of course, now people can go online and order from the website, but that hasn't always been the case." You can learn more about Terry Smith and his music at www.terrysmithmusic.com.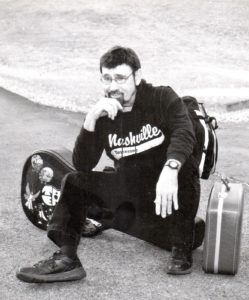 NEWS
Jan Howard (1929-2020)
Jan Howard, 91, died peacefully on March 28 in Gallatin, Tennessee. Private graveside services will take place on the grounds of Spring Hill Cemetery. A Celebration of Life Funeral Service will be held at a later date. Born Lula Grace Johnson in West Plains, Missouri, she dropped out of high school and moved to Los Angeles, where she married songwriter Harlan Howard and the couple moved to Nashville. Jan was a wonderful entertainer and long-time member of the Grand Ole Opry. Her hits included "Evil on Your Mind," "Bad Seed," and her only #1, "For Loving You," a duet with Bill Anderson. She wrote her autobiography, Sunshine & Shadow: My Story, published in 1987. I last heard from Jan when I emailed her in November 2018 to ask how she was doing. She responded, "Had a lot of bad stuff going on, but I'm better. It's late now, and I'm sleepy, but will 'talk' later. Don't forget me." She'd been my featured artist four years earlier.
Joseph Logan Diffie (1958-2020)
Two days after going public with a coronavirus diagnosis, Joe Diffie, 61, died Sunday, March 29, from complications of coronavirus (COVID-19). A member of the Grand Ole Opry since 1993, the native Oklahoman had moved to Nashville in 1986 to pursue a musical career. Variety reports he worked during the day with Gibson guitars, while focused on his songwriting and singing on demo recordings. His later hits included "If the Devil Danced (In Empty Pockets)," "Third Rock from the Sun," "Pickup Man," and "Bigger Than the Beatles."
Asleep at the Wheel co-founder and leader Ray Benson announced on March 31 that he has contracted coronavirus (COVID-19). He wrote on Facebook: "Been feeling tired for about 10 days! Went to be tested on the 21st! No tests so went home! Went back yesterday feelin the same tired out of it and they tested … first call this mornin from lab sayin you got it!!" He added, "I'll be ok sure do miss playin music and seein everyone! Stay well this shit's serious!! I have been alone for the most part and wore mask washed hands used hand sanitizer still got it!"
Bluegrass Today reports the death of banjo virtuoso Jimmy Henley, 56, who died March 22 at his home in Broken Arrow, Oklahoma, as the result of throat cancer. His first banjo performance occurred in his first-grade classroom in Hobbs, New Mexico. At age 10, he won the World Bluegrass Banjo Championship in Memphis, Tennessee. He met Roy Clark at the New Mexico State Fair and was invited to appear on Hee Haw and the Grand Ole Opry. He then spent over 25 years with the Roy Clark Show.
CMT.com reports the death of songwriter Alex Harvey, whose hits included Tanya Tucker's "Delta Dawn" and Kenny Rogers & The First Edition's "Reuben James." He died April 4 at age 73. No cause of death or location were revealed. Born Thomas Alexander Harvey in Dyersburg, Tennessee, on March 10, 1947, he also wrote "Baby, Baby I Know You're a Lady" (David Houston) and "Hell and High Water" (T. Graham Brown). Tanya Tucker writes on Facebook: "Delta Dawn started everything off for me and has kept me going ever since. Even though my record was released in March of 1972, the song is still just as great 48 years later! I find myself grateful and thankful knowing my life would have been so different without the iconic Delta Dawn and her creator, Alex Harvey."
Legendary steel player Wayma "Pee Wee" Whitewing, 86, died March 27 in hospice in Port Allen, Louisiana. Pee Wee was longtime steel guitarist with Hank Thompson and the Brazos Valley Boys. He also worked with Ray Price and Lefty Frizzell and was inducted into the Steel Guitar Hall of Fame in 2002. His obituary says, "Pee Wee spent most of his life in Southwest Louisiana, where he was a barber, a farmer, an independent petroleum landman, a professional musician, and the patriarch and rock for his extended family and community."
The family of John Prine, 73, issued a statement to say he was hospitalized March 26 "after a sudden onset of COVID-19 symptoms." He was intubated two days later. On April 2, his wife, Fiona, gave an update on Instagram: "This is John's 8th day in ICU. He is receiving excellent medical care and being treated with kindness and compassion by the entire team looking after him day and night." She said she is unable to be with him in the hospital, which "makes this nightmare all the more distressing." BREAKING NEWS: John died last night.
MusicRow reports the death of Donald Robert "Marty" Martel, 81, who died peacefully in his sleep on March 29. The New York native entered the country music world in the 1950s, where he became a touring artist, a talent and booking agent, and a show promoter with his company Midnight Special Productions. He managed the career of Johnny Paycheck and established a successful "Legends Fest" touring show. He dedicated his later years to advocating for legendary artists to be placed in the Country Music Hall of Fame.
Ryman Hospitality Properties has closed its properties (Gaylord Opryland Resort, Grand Ole Opry, Ryman Auditorium, Ole Red, and others) at least through April 26, reports WKRN in Nashville. All employees will continue to receive pay and benefits. Grand Ole Opry broadcasts will continue without a live audience.
CMA Fest 2020, scheduled for June 4-7, has been canceled. Next year's dates are June 10-13, 2021. Initially called Fan Fair, the event has been held every year since it began in 1972 at Nashville's Municipal Auditorium. It was renamed CMA Music Fest in 2004.
Dolly Parton is donating $1 million to Vanderbilt University Medical Center to fund coronavirus research. She tweeted on April 1: "My longtime friend Dr. Naji Abumrad, who's been involved in research at Vanderbilt for many years, informed me that they were making some exciting advancements towards research of the coronavirus for a cure." She added, "I am making a donation of $1 million to Vanderbilt towards that research and to encourage people that can afford it to make donations." The Tennessean reports she also announced plans for "Goodnight With Dolly," a weekly web series where she'll read a bedtime story from her international book donation program Imagination Library.
Grimey's New & Preloved Music is a Nashville record shop receiving a little help from Taylor Swift. The Tennessean reports she quietly gave an undisclosed amount to all full-time staffers and paid for three months of the business's healthcare costs. Grimey's closed its doors on March 22 and hopes to open for mail-order this week.
In a recent "Ask Sonny Anything" column in Bluegrass Today, a reader asked Sonny Osborne if he taught Hank Williams Jr. to play banjo. Sonny replied, "As a teenager, probably 17, Hank lived in Franklin with his Mom, Ms. Audrey. I received a phone call from him and he asked me to teach him to play the banjo. He came to my house several times and he learned rather quickly. His main concern was to learn to play 'Foggy Mountain Breakdown.' I would guesstimate he was there 5-10 times. . .. Junior played every instrument used on his show."
Me & Patsy Kickin' Up Dust: My Friendship With Patsy Cline is a new book by Loretta Lynn, 87, being released this week. In 1961, Patsy Cline was in a head-on car accident in which her head smashed into the windshield. A month later, she asked Loretta to come to her hospital room. "I met her, and it was just like she was my sister," Loretta tells The New York Post. "It was like we'd been together forever." In August 1964, after Patsy's death, Loretta gave birth to twins in the same hospital where she'd first met Patsy. One of those twins, Patsy Lynn Russell, is co-author of the new book.
Sara Evans is releasing her memoir, Born To Fly, on September 8. The name comes from Sara's No. 1 single and title cut of her 2000 album. The book includes stories about growing up in a country band, living her life in the spotlight, raising children on the road, keeping her faith strong, and more. "It was a very, very stressful experience, to be honest," Sara tells CMT.com. "The publisher initially came to me and said, 'Would you be interested in writing nonfiction books?'" She thought she could share her "unsolicited advice as to how I've managed to raise three children in his career and be on the road and taking them with me everywhere and all that." She says she didn't talk bad about anybody; she just told her truth. "I mean, I'm going to ask my family not to read it," she jokes. She says she and her siblings "are extremely close and in each other's business, but we are also extremely sensitive."
Saving Country Music reports that sales and streams of Kenny Rogers music have spiked dramatically since his March 20 death. His most recent Greatest Hits collection, The Best of Kenny Rogers: Through the Years, was released by Capitol Records in 2018. In the past week, it has moved to #1 on the Billboard Country Albums chart and #9 on the all-genre Billboard 200. Kenny was last at #1 in 1986 with his album The Heart of the Matter. It's also his first Top 10 on the Billboard 200 since 1983.
When Dolly Parton joined Today show hosts Hoda Kotb and Jenna Bush for a video interview, she joked that, because she and husband Carl Dean are in quarantine due to the COVID-19 pandemic, their 50-year marriage could be in jeopardy. "The reason it worked for me is because I've stayed gone," she says. "I can't get away now. I'm stuck there now. I might find out who he is. We may not make it until the next anniversary." She says, "I think there's a whole lot to be said about being good friends, but a good sense of humor, like even right now during these times I've been making jokes about some of the stuff."
Legacy Recordings has released two additional Lynn Anderson albums, Singing My Song and Stay There 'Til I Get There. Two were released earlier: Cry and Listen To A Country Song. Daughter Lisa Sutton says in a press release, "These are all albums that were only available on the original recordings. Now, they are back out there and sounding as good as ever. This is a wonderful way for old fans and new ones alike to come together through music."
Here's my Facebook post from Sunday evening: "South Dakotans are dying from corona virus. If we come even close to the projection of 2000 deaths, everyone will know someone who dies. It's time to get serious about social distancing. For my part, during this period of danger, I'll be a leadership example and follow the CDC guideline to wear a mask in public. I wore one for the first time today on my weekly grocery shopping trip and will tomorrow for my blood donor appointment."
LETTERS
Jean and Alan Earle check in from England: "We hope you are keeping well away from these dreadful germs. We have to stay in our homes….no real hardship as long as we can play our lovely "country records". Top of my list is Faron Young….Today we are listening to Faron's beautiful Black Tie Country. What a lovely selection of gentle songs…just what we need to get us through these sad times. We MISS ole Faron…we were lucky to know him as a friend…and we loved his music…his family made us welcome into their home….such lovely memories. Hope all goes well for you and our many lovely friends in Nashville."
Diane Jordan writes from Nashville, "'Those closest to Kenny Rogers wanted to make this track available to all of his fans,' said Capitol Records in a statement accompanying the ballad's release. The song previously appeared on Kenny Rogers: The First 50 Years, a 45-track compilation released by Time Life in 2009. 'Goodbye' was written by Lionel Richie, who wrote Kenny's wonderful hit, 'Lady.'
Eric Calhoun says, "Thanks for telling us about Walker Montgomery, John Michael's son; I look forward to his music. Stay safe! Rest in peace, Kenny Rogers."
John Edmonson writes from Sun City, Arizona, "Checking in to let you know how much we appreciate you doing your part (and many times, more than your part) to keep all of us informed and keeping our beloved Traditional Country Music Torch burning bright. The coronavirus situation has most of us in a holding pattern, but thankfully, we can still connect through cyberspace and other less sophisticated means. We sincerely enjoy reading your newsletters, what a blessing during these uncertain times. We at Remar Productions continue sharing Marty Robbins music, his legacy and doing everything we can to help preserve his memory."
John Edmonson then reports, "Let's all pray that J.D. Hoag recovers from this indiscriminate disease that continues to threaten all of us–coronavirus. Among other notable performances, J.D. played on our Marty Robbins (Remar Productions) live stage shows. J.D.'s guitar playing meticulously captured Marty's signature gun-fighter ballads sound. He is in intensive care in Arizona and not doing well."
Joan Brooking in Stuart, Iowa, says, "What a fantastic story about Marty Robbins. Crashing a race car at the Tallegada Raceway, Oops! Then having cattle and buying a yearling bull to service them and too funny! The bull gets away! You could write a children's story book about this. Chasing the bull with three cowboys and tearing up the empty barn and wouldn't you know it a nearby concert gets blamed for it. OMG! Too funny! I needed this to brighten my evening."
David Markham writes from England, "Most appreciated reading your News Letter. I was never a Kenny Rogers Fan, only a country fan, I send my love and condolences out to his wife and all his family and friends. I'm a Traditional Country and Western Fan since 1958 and promoter from 1964-2021. I can't take to any music only Traditional Country. I just wanted to know God is with you and your family and friends over this Coronavirus. God Bless America and her People."
Dominique "Imperial" Anglares writes from France, "I would like to let you know about the passing of my friend Dave Rich on March 18, 2020. Dave, from Kentucky, was signed by RCA late 1955 and went to record some bright sides playing the Grand Ole Opry and the Louisiana Hayride. Late 1956, Dave was called by the Lord having a visitation while in a little church in Livermore or Hartford, Ky, and made up his mind wanting to quit music and give his future life to God. Since several months attending Church service and tent meetings and having met a Bible salesman by the name of L.H. Connors, he felt he had to give it all to the ministry. So he gave leave to his group and started to study the Bible in school wanting to be a full-time Pentecostal minister. Feeling hard to handle music and religion, he wanted to be released from his RCA contract but Chet Atkins told him to take it easy because he knew RCA wanted to make him and Elvis household words. He told Dave about Stuart Hamblen who had 'It's Not A Secret' in the charts and handled fine both religion and music. Dave kept recording for RCA and was the first to cover Bill Anderson's 'City Lights'. Late 1959, Dave was able to start his crusades all around the United States with his wife Carol Lee Sandefur, their son Enoch who would play drums later and daughters Debbie and Berniece playing under a tent with his band. He stayed in Ministry until his passing."
IN THEIR OWN WORDS
I visited Jan Howard at her West End condo in Nashville on August 16, 2001, to interview her for my Faron Young biography. She gave me a tour, and I remember her showing me the stacks of shoes in her bedroom closet. I commented that she'd need a lot of shoes for her performances, and she said, "Oh, my stage clothes are in another bedroom." We stayed in touch over the years. Jan's death, even at age 91, came as a shock on March 28.
I had been riding on Faron's bus. It was one of the first real tours I'd worked, even though I had known–I didn't know Faron that well at the time–but I'd known George Jones since 1957 in California, and Buck Owens. We were all riding on Faron's bus. We ended up in Vero Beach, Florida. I know I was skeptical about riding on his bus cuz I'd heard all the stories about Faron. He was yelling obscenities out the window at every female that was walking on the street. He turned around and said, "What would you do if I said that to you?" I said, "I'd knock the living hell out of you." Jones says, "Yeah, and if she didn't, I would," and Buck said, "Yeah, and if he didn't, I would." He said, "I don't think you'd have to worry about it. I think she would."
Faron never got out of the way with me. I think he respected me. One thing, I was in a little different category. I was married and had three children, and Harlan–everybody–we were all friends. A little different ballgame.
I'll tell you a story about Faron, I think we were in Akron, Ohio. Bill Anderson and me, and I don't remember who all else was on the show. I thought the world of Faron. I loved Faron–except when he was drinking. Nobody did, when he was drinking. But when he was sober, he was just the sweetest guy in the world. He still had that sense of humor and he had a mouth that you had to overlook a lot of it–just ignore it. He didn't mean anything by it when he was sober. But anyway, he went on stage that afternoon, and sometimes he would get a little blue. A few cuss words and tell a joke that wasn't family oriented. I was standing at the side the stage because I was a big Faron Young fan, besides being friends. He told a couple of those jokes. When he came off stage, I said, "Faron, I wish you wouldn't do that. I wish you wouldn't tell those particular jokes or use cuss words. You're the greatest entertainer in the world. You have the greatest voice. Why don't you try it one time without that?" I said, "Please try it, just once for me." So that night he went on stage, and I was standing at the side of the stage, and he said, "I'm gonna do this whole show just for Jan Howard. She's standing over there. She's listening to every word I say." Well, I want you to know, he did the greatest show I had ever seen him do, received a standing ovation, and came off stage and I said, "See! See what I told you." He said, "Hell, I can't do that all the time. It would ruin my reputation."
It hasn't happened very often with me, that a promoter refuses to pay. But it happened with a man I'd worked with for 17 years. Faron was on the show. Faron and Ray Price, in Michigan and Canada. At the end of five days, he gave me a bad check. I had worked for him for 17 years, and I had no doubt that I was going to get paid. Faron and Price both made him give them half before they went on. Well, I didn't, because I trusted him. He ended up giving me a bad check. He had everything put in his son's name so I couldn't do a thing to him. He had a show the next month; he had the Oakridge Boys on. The union didn't do anything. They're not worth the paper they're written on.
I loved to play golf with Faron. One day I said, "My ball keeps going to the right. Why is it going to the right?" He said, "Well, hell, if that's where you aimed it, that's where it's going. Try aiming it to the left."
I played in a few pro-celebrity golf tournaments that he was in. Of course, we never played together, cuz one celebrity and some players. But I used to go play just with Faron. He lived across the street from Hermitage golf course out here. We had a mutual friend, who was a minister. I said, "Bob, how do you handle it, with Faron's mouth, and whatever?" He said, "I pray for him." I said, "Well, he needs it." Lord knows, he needed it more than we all knew.
Before he died, I called him and called him. At first, he'd answer the phone. I tried to get him to go out and play golf. "Aw, I don't want to today." Then it got to where he wouldn't answer the phone, and I'd leave a message. Then it got to where the answering machine wasn't on. We'd meet a few times over at the golf course. He was really angry, because his music wasn't played on the radio. He was very depressed. He still sang great. The last time I heard him, he just sang so great. I told him, "Faron, do you realize how many people love you? How many people you're cheating? God gave you that gorgeous, wonderful voice, and it's still wonderful." He said, "Ahhhh, it ain't any good anymore."