IN THE SPOTLIGHT – BILL ANDERSON
When I checked in with Bill Anderson last week, he told me, "I've got a three-point thing I've been trying to do: Stay in, stay safe, and stay sane. I'm doing pretty good on the first two; I don't know how I'm doing on the last one."
Bill is working on his fourth book, following two autobiographies and his 1993 comedy book. This is a follow-up to "I Hope You're Living as High on the Hog as the Pig You Turned Out To Be." He is spending this pandemic at-home time putting stories together. "I've got so many stories and crazy things," he says. "Those stories, most of them, they're humorous, and I've enjoyed laughing. It helps to laugh a little bit." The earlier book covered more than three decades of road stories, and he has almost three decades for this one.
Bill and I are both waiting to hear Moe Bandy's new CD, A Love Like That. It includes four of Bill's songs, including the title track, which Bill cowrote with Mo Pitney and Bobby Tomberlin. Bill and Bobby also wrote "What If." Moe's son asked his dad to record "City Lights," one of the son's favorite songs. Bill told me, "So, yeah, I want Moe's record to come out, too. I hear it's really good."
On the subject of songwriting, Bill says, "I did something I've never done before. Brad Paisley called me last week, and said have you got the technology to hook up to this Zoom thing?" They wrote a song on Zoom. "That's the wildest thing I've ever done," Bill exclaims. "I mean, you're sitting there–you're with somebody, but you're not with somebody, y'know?" They found it easier to focus on writing while staring at a computer screen than if they'd been in the same room. "We wrote a pretty good song," Bill concludes. "We're going to do it again."
Bill received a great surprise when several of his British friends emailed and posted on Facebook the news that one of his songs, "Happiness," is currently a hit in the UK. He explains that singer/comedian Ken Dodd had covered "Still" in 1963 when it was #1 for Bill, and he also recorded Bill's follow-up, "8 x 10." Ken then recorded "Happiness," one of the cuts on Bill's Still album. It became Ken's signature song and was a monster hit in England in 1964. "He was a such a jovial kind of guy," Bill says. "He was really well known and much loved over there. For him to sing a song about happiness, it was a real fit for him." Ken Dodd died last year. The current recording is both a tribute to Ken and a statement of support for the National Health Service in the current pandemic. The chorus replaces "happiness" with "NHS." The Daily Mirror reported, "Sir Ken Dodd's signature tune Happiness has been re-recorded by celebrities and NHS workers as a tribute to the health service. . .. Sir Ken released Happiness — penned by US star Bill Anderson — in 1964. The chorus was changed for the new single. All the stars on the single are from Sir Ken's native Liverpool or nearby." Here's the link to the video.
"Have you seen any of the Opry things they're doing, without the audience?" Bill asked me. I said I'd watched the performance where only Vince Gill, Brad Paisley, and Marty Stuart were onstage. "The week before that, I did the first one," Bill said. "Me and Jeannie Seely and Connie Smith." It wasn't televised. When people asked him if it felt strange to sing to 4,000 empty seats, he joked that he'd been singing to empty auditoriums for fifty years. "Not really," he acknowledges, "but we laughed about it. it was a strange feeling, it really was."
Bill sends out a monthly fan club email letter, which he enjoys doing as much as his fans enjoy hearing from him. Sign-up information can be found on his website at http://billanderson.com.
He says he enjoys my newsletters and looks forward to getting them. "I appreciate you giving me a chance to talk to your readers," he told me. When I asked if he had a message for them, Bill reiterated, "Tell them I said to stay in, stay safe, and stay sane. That's my motto."
NEWS
Almost two weeks after being hospitalized at Vanderbilt University Medical Center, John Prine died Tuesday, April 7, from COVID-19. He was 73. The Tennessean reports he was a mailman in Chicago before getting drafted in 1966. He served two years in the U.S. Army as a mechanical engineer in West Germany and then returned to the postal service. Kris Kristofferson heard him at a Chicago gig and invited him to play in New York City. John moved to Nashville in March 1980. His widow, Fiona, posted on Instagram: "My dearest wish is that people of all ages take this virus seriously and follow guidelines set by the CDC. We send our condolences and love to the thousands of other American families who are grieving the loss of loved ones at this time — and to so many other families across the world." My favorite John Prine song is "Same Thing Happened To Me."
Mary Messina, the mother of Jo Dee Messina, died April 19. Jo Dee announced the death on Instagram. Mary underwent open heart surgery in 2013 and has had continuing health problems.
According to Saving Country Music, Joe Diffie, who died March 29 at age 61, has earned his first Top 5 country album. His 16 Biggest Hits reached #4 on the Billboard Top Country Albums chart after his death from coronavirus. His previous best ranking was #6 for Third Rock from the Sun in 1994. His songs are also being downloaded. The Country Digital Song Sales chart listed "John Deere Green" as #2, "Pick Up Man" as #5, "Prop Me Up Beside The Jukebox (If I Die)" as #7, "Third Rock From The Sun" as #17, and "Ships That Don't Come In" as #23.
Tara Diffie, widow ofJoe Diffie, posted on Instagram: "My husband, Joe Diffie, did NOT HAVE LUNG CANCER. His father passed, same name, November 2018 to stage IV lung cancer. STOP STARTING FAKE NEWS. I've seen multiple posts and it's upsetting to all of us." Joe's official cause of death was announced as "complications due to the Coronavirus." Saving Country Music reports a Facebook post received over 117,000 shares when it claimed his death was part of a Coronavirus conspiracy. Supposedly, "they" list deaths as coronavirus so "they" can get more funding.
Years is the title of the newly released 10-song CD from John Anderson, 65, his first studio album in five years. "I didn't have anything else on my mind other than trying to get well and healing and faith and being better and being thankful for things," John told The Tennessean during a phone call from his farm in Smithville, Tennessee. A member of the Nashville Songwriters Hall of Fame, John cowrote the songs with Dan Auerbach and David Ferguson. They had contacted him while he was recovering from more than a year of serious health issues that put him in the hospital. One of the songs is "Tuesday I'll Be Gone," which was recorded as a duet with Blake Shelton. John traveled with Blake's "Friends and Heroes" tour until the COVID-19 pandemic. He wants to tour "as quick as anyone's able" when touring resumes.
The Dallas Morning News reports Asleep at the Wheel bandleader Ray Benson, 69, has recovered from COVID-19. Ray posted a video on Facebook and Twitter on April 15, saying, "I kicked that son of a gun. I'm back in the saddle again." He had announced on March 31 that he'd tested positive for coronavirus.
Gospel Music Association Hall of Famer Gary McSpadden, 77, died April 15 in Tulsa, Oklahoma, following a battle with pancreatic cancer. MusicRow lists his vocal group memberships as including The Statesmen Quartet, Oak Ridge Boys, Imperials, Bill Gaither Trio, and Gaither Vocal Band. He grew up in Lubbock, Texas, and joined The Oak Ridge Quartet about the time they changed their name to The Oak Ridge Boys; he recorded three albums with them. In 1977, he replaced Danny Gaither as part of The Bill Gaither Trio. He released his debut solo album in 1965, recording a total of 20 solo projects in his career.
On April 11, Sturgill Simpson, 41, posted on Instagram that he's tested positive for COVID-19. Following a tour in Western Europe, he played arena shows in the eastern United States until the tour was cancelled on March 12. He went to a hospital emergency room the next day with "chest pains, fever and pre-stroke blood pressure levels," he said. The ER doctor refused to test him because he "did not fit testing criteria." On April 6, Sturgill and his wife visited a drive-thru testing facility and were tested. The Nashville CDC called on April 10 to say his COVID-19 test was positive and hers was negative. He self-quarantined until April 19.
Earning two Grammys at age 14 doesn't necessarily make for an easy life. In 1997, LeAnn Rimes was awarded Best New Female Artist and Best Female Country Vocal Performance for Bill Mack's song, "Blue." Now 37, she is speaking about her lifelong struggle with depression and anxiety. "At first I didn't want to face my pain, because I thought I would get lost in it," she says in PEOPLE's Let's Talk About It mental health initiative. "But I didn't. People are so ashamed to talk about it and ask for help. But taking away the shame is so important." Recalling the negative press about her personal life, she says, "There was something in the press every week that was just so fabricated. Obviously there are mistakes that I take great responsibility for. But my whole life I had cared what everyone thought of me. So the public shaming was a deep thing that I took on." She has learned to keep things in perspective. "I know who I am now," she says. "The need for other's approval has changed big-time. Self-worth is key."
Reading that the newest single by Kenny Chesney is called "Guys Named Captain," I had to learn more. Sounds Like Nashville reports it is a track from his upcoming Here and Now album. It isn't about the captains I'm familiar with. It's about "Hemingway types who need the saltwater spray in their face." They are "self-styled scalawags who tell their tales in seaside bars." Kenny explains, "Any time you find yourself near the water, you'll find these guys. Tucked into a table in a corner, or sitting near the far end of the bar. The adventures they've had, places they've gone, the way they live their life for the sea. . .. Hell-raisers, heartbreakers, poets, pirates, they dream on the water and carry themselves with a whole other kind of strength. And it's all in the song."
Ashlyn Williamson, who teaches third grade at Oak Grove Elementary School in Hattiesburg, Mississippi, invited Brad Paisley to join a Zoom meeting of about 20 teachers. "On a whim, I decided to invite him to our 'Teacher Night In' and never in a million years did I think Brad Paisley would actually jump on," Williamson tells The Tennessean. Brad had posted a cell phone number for fans to text if they wanted him to join their meeting. When he revealed himself, the teachers screamed with excitement. "We were shocked," one teacher said. "I made him sing because I didn't believe him!" Brad told them he appreciated all that teachers were doing. "It was super kind of him to jump on with us just to say hi," Williamson said. "He didn't get anything out of it besides our happiness and cheering us up, which we definitely needed."
Nash Country Daily reports Brad Paisley made a virtual appearance on the Today show, during which he talked about his free grocery store in Nashville. The Store, located at 2005 12th Ave. South, is a nonprofit that serves people who are experiencing food insecurities due to financial hardship. It opened a month early, in mid-March, because of the recent tornados and the COVID-19 pandemic. "We had about a week of operating like we expected when we opened, and here we are opening something like this when, basically, all hell breaks loose," he told the Today listeners. "Now we're already serving three times the amount of people we expected right away. We thought we would soft roll this thing out, like a slow build to what we would become, and all of the sudden we're thrown into the fire, but it's really going well so far—knock on wood—I think."
The Boot printed a new poem by Dolly Parton:
"This too shall pass, as all things
kids are bored and restless
They scream and yell and squawk
And the teens and tweens, they're just plain mean
They bite your bleeping head off
And all those loving couples that were once so sweet and cozy
Now they fight like cats and dogs, like Donald and Pelosi
Lord, get us back to school and get us back to
get us out of this dadblame house before someone gets hurt
And Lord, please find a vaccination in the form of a shot or a pill
Because if the virus don't kill us, the staying home will."
LETTERS
Brad Magness informs me, "John Prine just passed. FYI. Love your articles."
Pejay Mirtschin writes from Australia, "In view of all the gloom surrounding the Covid-19 pandemic it's great to receive some brightness with your newsletter. We always look forward to your great bulletin that comes our way. We are intrigued at your article on Terry Smith as we have all of his albums after Joy had been in contact with him about ten years ago and a friendship bloomed and we especially love his 'Quilt Of Memories.' A true story and about the quilt his mother made from his old shirts and the brilliant track he wrote that you also highlight. 'The Far Side Banks Of Jordan' that Johnny and June did their magic on. Thanks so much again."
Dale Eichor of 540 KWMT in Fort Dodge, Iowa, says, "I was glad to see the Terry Smith interview in your newsletter. Well done. I have been a supporter and promoter of Terry's music on air at 540 KWMT for years. I think his songwriting ranks right up there with the best in Nashville and deserves to be heard. He is a terrific storyteller and I would put him in the same ranks as Tom T Hall, Harlan Howard, Bill Anderson, Bob McDill and many others. And he does a good performance mixing in his songs with country classics that we grew up on. It was nice to meet you in person at Bob & Sheila Everhart's NTCMA Festival in Fremont NE last October. I always look forward to reading your newsletters."
Joan Brooking says, "About eight years ago when I was attending Bob Everhart's Oak Tree Opry at Anita IA, was the first time I encountered Terry Smith. Terry's sit down and talk style of singing and presenting his songs was endearing. His style probably goes back to his School Teacher days. After the show I got to buy tapes and visit with him and his associates. I have about 7 of his tapes now and enjoy them. Each time I received a letter afterwards and I was flattered. I would love to get my hands on that cassette song writing course. Terry is a genuine person. Talking to him at LeMars about songwriting and getting personal hints on the how to's to write a good song. His input was invaluable. He has helped me a lot. I still have those notes. Thank you for your updates."
June Thompson writes, "Thanks as always for your wonderful newsletter. Your article on Terry Smith was great. Far Side Banks of Jordan is one of my favorite songs. I sing it at church. I have a few different words, don't know where they came from, but the song is mostly intact. I read the book of the movie he mentioned. Thanks again, I do look forward to your letters."
Larry A. Bouchy requests, "Please add me to your mailing list. I so enjoy reading your letter that a friend of mine sometimes sends me. I don't want to miss any so please add me to your mailing list. God Bless you, our great country, and of course classic country music. Please stay safe during this terrible time."
Mary Lorefice wonders, "Whatever happened to Ricky Van Shelton? His name came up in a discussion among the members of a chat community I belong to. Has he quit the biz? I understand that he wasn't crazy about the way he was treated by the record company. Keep up the good work."
Diane: Yes, he quit the business and has since written several children's books. I wish I knew how to find him. I've had no luck in contacting him for my newsletter. He's one of the best-ever singers.
Dominique "Imperial" Anglares writes from France, "Thank you very much for that newsletter and for the room given to my words about Dave Rich. Wishing you and yours a blessed Easter."
Sharon Ritchie asks, "Hi, could you please send me the newsletter? Thank You."
Peter E Turner in Australia says, "As usual, I find out Real News from you 1st & Foremost. The fact that John Prine has passed away was a great shock. I had read he was not well but this terrible Virus sweeping the world was too much for this heart. It will take someone special to take his place due to his unique outlook on the world. So stay inside, as it is having a real positive effect on new infections down here. By any chance, have you an address I can forward a card to KT. Oslin battling Parkinson's?"
Diane: No, sorry, I don't have contact info for her.
Peer Neilson writes, "Really love your VERY informative newsletter – Something to read and digest while we are self-isolating. All our very best wishes to you (and your team) during this global epidemic. Keep safe. From your friends in Australia."
Jean Earle in England responded to my question about "Happiness": "I am pleased that the video Alan found reached you safely. I have sent the video onto several friends and they have enjoyed it…..but nobody seems to have seen it on their TVs. This awful situation continues…and we see some dreadful scenes from the USA on our news. Perhaps a little humour like this 'Happiness' video would help to inform people…..it's a shame if it is not shown everywhere. Please give our regards to Bill when you speak to him……he won't remember of course that we were introduced to him…backstage at The London Palladium Theatre when he was over here with Faron. During a tour arranged by Jeffrey Kruger for EMBER. Gosh what lovely memories this brings back to me. Thank you for keeping all of the beautiful country memories returning. Writing this has 'Made my day.' I feel a bit happier now."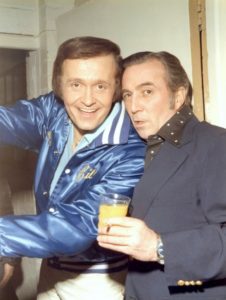 IN THEIR OWN WORDS
I called Buddy Rogers in 2006 for a telephone interview about Marty Robbins. He'd played drums for Marty from 1966-68. He was suffering from cancer when he came to our Twentieth Century Drifter book release party at the Country Music Hall of Fame on March 31, 2012. He didn't know if he could stay for the whole event, but he did. He appeared to have a great time telling stories and drumming. I am so glad he was well enough to be with us that day. He died two months later, on May 30, at age 73. Here is the video from the book release party.
I remember the first weekend we went out. I was worrying whether Marty was gonna like me or not. We were playing "El Paso," and it's in 3-4 time. I thought, oh, this is cool. It was sort of like a jazz waltz. I had a big jazz background. I was playing with these brushes on the snare drum. I was going t-chu, t-chu, t-chu, and I thought this is easy. He turned around, and he said–this was live–"What are you doing back there, Whitey? It sounds like a dog trotting through some dry leaves." I'll never forget that. They just weren't used to so much–the beat was really simple. That was so much fun. But after that–it kinda broke the ice–after that it was pretty good. I went out two nights with him, a Friday and a Saturday, and he hired me full time.
When all of us were around, he would use us as an audience. It gave him support. One time we were down somewhere like Mobile or one of those coastal areas, Gulfport, Gulf Shores, who knows. But we'd stopped the bus and went into a seafood restaurant. Lots of glass around the windows. It was packed. It was right on the coast. There were probably 175-200 people seated, including the band. There would be 2-3 of us at one table and maybe four at another table. Maybe three or four tables of us. We weren't all seated together at the same table. When we finished, all of us at the same time, we got up and started for the front to pay our checks. I don't guess we noticed, but Marty hung back in the crowd, way back near his table, and when most of us were standing up near the front counter, Marty yells out, from way in the back, "Hey, you boys didn't leave any tip." Of course, everybody in the whole place looked at us like, well you–. He would just put us in that situation. And he'd laugh. Everybody was looking at us like, well, you creeps. He was so funny. He was really funny.
When Okie Jones drove the bus, it was like being on a cloud. It was so smooth, no matter where you were. But if Marty couldn't sleep, sometimes he'd want to drive. Not often, but he'd get up there, and you could tell he was driving because you'd roll back and forth in your bunk. It was like you'd go left, right, left, right. If you were in the back, you'd just roll in the bunk.
But the one thing I remember is that it was an opportunity to see the whole United States–twice. It was just beautiful. Every state was different. One state would be rolling plains, and the next one would be mountainous. I got to see the New York World's Fair site; I got to see the Seattle World's Fair site. We played at both of those places, years after the fairs were gone. It was a great opportunity to see the whole country. After that, when I was with the Nashville Brass, we flew over all of it. I got to see it all from the air.
We played the 11:30 to 12 slot on Saturday night at the Opry. Marty would go out to the track and race, and then he would come down there to the Opry and just be cool as a cucumber. It didn't dawn on me until months after I'd been working with him that most guys go down and race around that track, you'd be shaking, nervous. But I think the Opry was his relief from the tension of the racing. He'd walk out on the stage and everybody'd just go crazy. Being there from 11:30 to 12, the audience didn't want to leave; they didn't want him to quit. They'd keep applauding and keep applauding. He would urge them. At 12 o'clock Ernest Tubb and his band would be over at the Ernest Tubb Record Shop, around the corner from the Opry, on Broadway, where he would go on the air at 12:00. But Marty would still be on stage at the Opry, live, urging the crowd to keep–for another song. It was great; it was so funny. It was great at the Opry; people absolutely loved him.
Don Winters had a song that had kind of a rock beat to it. When he was singing his songs, the band got to stretch out and play. We got to really romp on that one song. I was always the last guy off the stage at the end of the show. Cuz everybody'd pick up their guitar and split. The piano player would just get up and walk off. We didn't have electronic keyboards then; they had to provide the piano. Anyway, I'd be up there packing up the drums, and the whole stage would just pile up full of people with autograph books. This one boy was standing there, and he said (he was referring to that one song Don Winters sang), "You were really playing that wild drum. It sounded like you was a building a house up there." That was a real compliment. It was the only song we had that I got to play more than just the snare drum and the bass drum on. That was the first time anybody'd ever gave me that kind of compliment.
We had a lot of fun with that band. Hank Dorough could throw his voice. When we'd stop late at night in some town, and the streets would be deserted, and all you could see was the streetlights on the corners. Maybe a little foggy, misty, look to the air under the streetlights. We'd pull over and park somewhere and walk maybe half a block back to the market that was still open. I heard somebody yelling, "Heeeey, Buddy," from way down the street. I turned around and couldn't see anybody. There were no cars moving, no nothing, just the streetlights. I'd turn around and keep walking, and I'd hear this "Heeeey, Buddy." And Hank's right behind me. But it sounded like somebody was way down the street.
Marty was so much fun. I'd sit with him a lot. We could talk about music. I'd had a formal music background, more or less, and most of the guys in the band hadn't. They didn't have steel guitars and guitars and upright basses in the concert and marching bands at school, that I grew up playing in, the percussion session. From the sixth grade on, I played in bands all the way through Memphis State and everywhere else, the Air Force band and all that. We talked a lot about music.
Marty could speak just fluent Spanish, Mexican. But he had these words that sounded like the real words. And he would order from these little Mexican girls who would come up, we'd be out West somewhere, and they'd come up to take our order, and he'd go, "I'll have some chiles goldarnyas, and some gluecamole salad." He could order a whole meal like that. It sounded right, but he made the words up. They sounded like Spanish. He would say it so fast in a real Mexican accent. They didn't quite know what he was ordering, but it sounded right.
I got into boating, and several of the musicians and singers would be out on the lake with us. We'd tie a bunch of boats together out in the middle of the lake and drop one anchor. Hank Cochran would be there, and Mickey Newbury, and Joe Redlane, and people like that. Mel Tillis. A whole bunch of people would hang out in Old Hickory Lake in Nashville. In the late '60s, early '70s, I had a houseboat.
The reason I quit Marty is that I opened a music store and started doing an early morning TV show in Nashville called the Eddy Hill Show, live every morning. When I got that job, I opened this little music store and started playing that early morning TV show. Eventually I got into doing recording sessions.
BOOK REVIEW
After talking to Bill Anderson last Friday morning, I pulled "I Hope You're Living As High On the Hog As the Pig You Turned Out To Be" off my bookshelf and reread it. The title comes from a song someone once asked Bill to record. The stories reminisce about the "good ole days." He compares the $2 ticket for an 8-headliner package show to today's prices. To get a ticket for such a show, he writes, "Fans would have to sell the farm and leave the kids at a pawnshop." Bill tells of doing a show where the crowd sat in a covered grandstand while the performers stood on an open stage. When the rain came down, the Po' Boys unplugged their instruments and ran to the bus. The promoter yelled at them to get back out and do the show, shouting that there had only ever been one guitar player killed while playing in the rain. Bill's guitar player answered back, "Yes, sir, and we intend to keep it that way." Bill recalls the time he had laryngitis and whispered to Jeannie Seely that he had lost his voice. She said, "Really? How can you tell?" The book isn't all comedy, though. It includes Bill's memories of the deaths of Roger Miller, Patsy Cline, and others. After reading the chapter about Roy Acuff and "I Wonder If God Likes Country Music," I went to YouTube to find the video. The chapter and video together almost made me cry.