CONCERT REVIEW – RICKY SKAGGS
I'd planned to review and compare two concerts in this newsletter, Ricky Skaggs from Wednesday and Luke Bryan from Thursday. But I wimped out the second night because of the weather. With wind and temperature both in the 40s, and thunderstorms forecast throughout the evening, I couldn't motivate myself for the several-block walk between my car and the Premier Center. So I stayed home and missed Luke Bryan, 47, who probably drew 7-9,000 people to Sioux Falls's biggest event center.
Ricky Skaggs, 69, played the District in Sioux Falls, a theater-type venue with chairs placed on the main floor. The attentive crowd numbered approximately 500. Ricky is a Country Music Hall of Famer (2018) and member of the Musicians Hall of Fame (2016) who has been performing for half a century.
Following the opening act and a 15-minute interlude, the six-piece Kentucky Thunder band came onstage at 8:20. As they kicked off the first song, Ricky and his mandolin joined them. During the show, he introduced his bandmates individually and allowed each a time in the spotlight. While the music was mostly bluegrass, his set list included two of his ten #1s from the 1980s, "Highway Forty Blues" and "Uncle Pen," a Bill Monroe song he recorded in 1983. Ricky told us Bill was so happy with the big check he received as songwriter that he wanted Ricky to record all of his songs.
Ricky announced his "Mount Rushmore of Bluegrass": Bill Monroe, who originated bluegrass music, followed by the Stanley Brothers (Ralph and Carter) who copied and spread Monroe's music, and then Lester Flatt and Earl Scruggs, who brought the music to the masses.
Ralph Stanley had invited Ricky and Keith Whitley to join his band, The Clinch Mountain Boys, when they were both fifteen. Ricky later moved to Washington, D.C, where he became acquainted with Emmylou Harris and joined her Hot Band. When she recorded his "The Darkest Hour" for her 1980 bluegrass-roots album, Roses in the Snow, she wanted him to sing the second verse. Since she couldn't be in Sioux Falls, he told us, she was letting him sing both verses of "The Darkest Hour" for us.
At one point, the entire band tuned their instruments. While doing that, Ricky joked, "We tune because we care." The crowd sat silently and waited for them to move into their next song. It struck me what a difference there is in audiences, based on age and size of venue. Prior to the show, there was no music blasting from the speakers. Low-volume background music allowed the buzz of voices to be heard as people conversed without shouting at each other. During the show, the audience stayed seated, allowing everyone an unobstructed view of the stage.
However, when Ricky waved as he and the band left the stage at 10:00, the audience members jumped to their feet, cheering and clapping. The tumult continued until Ricky came back onstage and motioned the crowd to sit down. He sang "Lead me to the rock that is higher than I." Then he looked to the side of the stage and called, "C'mon, boys, let's do one more." The band returned for one last bluegrassy song. I didn't recognize it but enjoyed the lively music. This time, when they left the stage, the lights came on and the show was over.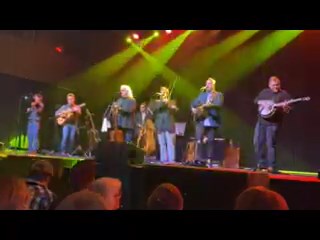 NEWS
The Tennessean reports the death of Buck Trent, 85, renowned banjo player and multi-instrumentalist, on October 9 in Branson, Missouri. South Carolina native Charles Wilburn Trent, born in 1938, was performing on the radio by age 11. He moved to Nashville in 1959, joined the Bill Carlisle Show, and began appearing on the Grand Ole Opry. After playing with Monroe's Bluegrass Boys in 1960-61, he joined Porter Wagoner's Wagon Masters until 1973. He was a regular on the Roy Clark Show and Hee Haw from 1974 to 1982. In the mid-1980s, the Porter Wagoner Show (featuring Buck Trent) played the Baldknobbers Jamboree Theatre in Branson, Missouri. By 1991, Buck had moved to Branson. For three decades, he performed his morning Buck Trent Country Music Show at the Baldknobbers Jamboree Theatre, Jim Stafford Theater, or the Branson Famous Theatre. His last television appearance was with Dolly Parton at the Grand Ole Opry, to celebrate her 50th anniversary as a member. On Oct. 13, 2023, the American Banjo Museum in Oklahoma City posthumously inducted Buck into the Banjo Hall of Fame. He is survived by his wife, Jean Marie Trent, two children, and several grandchildren. His family asks that donations in his memory go to Marty Stuart's Congress of Country Music at P.O. Box 1126 Philadelphia, MS 39350 or online.
A press release announces the lineup for the upcoming A Heroes & Friends Tribute to Randy Travis — 1 Night, 1 Place, 1 Time at the Von Braun Center's Propst Arena in Huntsville, Alabama, on October 24. Dennis Quaid, Shenandoah, Kane Brown, Darryl Worley, James Dupre, John Berry, Lee Roy Parnell, Lorrie Morgan, T. Graham Brown, Thompson Square, Tony Jackson, Merle Haggard's son Ben Haggard, and The Original Randy Travis Band are some of those performing. A portion of the proceeds will go to the Randy Travis Foundation to support victims of strokes and cardiovascular diseases, as well as arts and entertainment education for at-risk children.
The newest member of the Grand Ole Opry is Sara Evans, officially inducted by Opry member Crystal Gayle on October 7 during the Opry's 98th Birthday weekend. "I have been dreaming about this my entire life," Sara said. The Tennessean reports her words from a pre-show press conference: "I went from being a little girl in Missouri performing songs with lyrics I didn't understand, with my two brothers and older musicians in small, strange bars, to God finding the perfect time for me to ride the wave of where my career and life are right now." She had performed on the Opry for over two decades and "often cried" about not being a member. She felt frustrated to not see her portrait in the Opry's "Women of Country" dressing room. Those feelings ended when Bill Anderson surprised her with an Opry invitation at her sold-out Ryman Auditorium concert in August for her album, Sara Evans Still Restless — The 20 Year Celebration.
The Nashville Songwriters Hall of Fame inducted six new members on October 11 in a grand ballroom at the Music City Center. MusicRow reports, "The evening was full of special musical tributes, moving speeches and Music Row camaraderie. It was the 53rd Anniversary Gala." Casey Beathard and David Lee Murphy were inducted as Contemporary Songwriters and Rafe Van Hoy as Veteran Songwriter. Keith Urban was inducted as the Contemporary Songwriter/Artist and Kix Brooks as the Veteran Songwriter/Artist. The late John Jarrard was remembered in the Hall's Legacy category. Bobby Bare, 88, was honored as the first recording artist to receive the Frances Williams Preston Mentor Award, which acknowledges those who serve as a champion of and cheerleader for songwriters. Bobby Bare Jr. accepted on his father's behalf and read a note from him: "Don't forget, the brightest, wittiest, funniest, and most intelligent person in any room is always a songwriter. No exceptions. This room is full of them."
Y!Entertainment reports that Rudolph Isley, 84, a founding member of the Isley Brothers, died October 11. Born in 1939, he was the second oldest of the six sons of vaudeville entertainer O'Kelly Isley Sr. and his wife, church pianist Sallye Bernice in Cincinnati, Ohio. In 1954, the parents assembled O'Kelly Jr., Rudolph, Ronald, and Vernon into a vocal harmony group. The four brothers sang gospel music with their mother, but their father wanted them to be more like the Mills Brothers. Rudolph, O'Kelly, and Ronald formed The Isley Brothers vocal harmony group to sing rock 'n' roll in the late 1950s. They were inducted into the Rock & Roll Hall of Fame in 1992. The Recording Academy inducted their two biggest hits into the Grammy Hall of Fame, "Shout" in 1999 and "Twist and Shout" in 2010.
The partnership of the Country Music Foundation Press and the University of Illinois Press has reissued four biographies of Country Music Hall of Fame members: Patsy Cline, The Delmore Brothers, Jimmie Rodgers, and Bob Wills. The previously out-of-print titles have been updated into softcover books with fresh interior designs and new cover artwork. They are available for purchase in the Country Music Hall of Fame and Museum's store and on its website. The books are The Life and Times of Patsy Cline by Margaret Jones (from 1994), The Delmore Brothers: Truth Is Stranger Than Publicity by Alton Delmore (from 1977), My Husband, Jimmie Rodgers by Carrie Rodgers (from 1935), and Bob Wills: Hubbin' It by Ruth Sheldon (from 1938). I will be reviewing all four in my newsletter in upcoming months.
The family of John Prine has donated his beautifully ornate 1942 Wurlitzer jukebox to the Country Music Hall of Fame and Museum, where it is already on display. MusicRow reports the jukebox was a gift from friend and fellow singer-songwriter Steve Goodman, as a thank you for co-writing "You Never Even Called Me by My Name" and refusing to take credit or accept royalties. Goodman purchased the Wurlitzer with royalties from the song, and Prine filled it with classic and obscure country, pop and R&B singles.
Australian singer Firerose married Billy Ray Cyrus on October 10, reports CMT News. In a joint Instagram post, they said, "It was the most perfect, ethereal celebration of love we could have ever imagined." Their photos showed the groom wearing a Versace tuxedo and the bride in an intricate white gown. Her bridal bouquet consisted of red and orange roses and other autumn flowers. They met 12 years ago when he was filming the Hannah Montana series in Los Angeles, and she arrived on the set for an audition. They'd announced their engagement in September 2022, about six months after Tish Cyrus filed for divorce. Billy Ray and Tish had been married 28 years.
A special celebration at the October 14 Saturday night Grand Ole Opry show honored Keith Whitley, who died at age 34 in 1989 and was inducted into the Country Music Hall of Fame in 2022. I missed the broadcast but listened to the Opry Replay the next night on SiriusXM Radio. Mark Wills kicked off the evening with excellent renditions of "I'm Gonna Hurt Her on the Radio," "I Never Go Around Mirrors," and "Miami, My Amy." Terri Clark sang "I'm No Stranger to the Rain." The Grascals sang "Don't Give Your Heart to a Rambler" and "I Wonder Do You Think of Me," followed by Ashley McBryde with "I'm Over You." We heard Keith on a 1987 Opry performance of "Would These Arms Be in Your Way." Lorrie Morgan, Keith's widow, sang "When You Say Nothing at All." Their son, Jesse Keith Whitley, who was a year old when his father died, sang "Don't Close Your Eyes." Mother and son dueted on "Tell Lorrie I Love Her." Then Garth Brooks presented Lorrie with a plaque similar to those that recognize official Opry members. Keith died without knowing he was scheduled in three weeks to be invited to be a Grand Ole Opry member. His plaque will now hang in the Opry House Member Gallery. Garth opened his performance segment with "Ten Feet Away."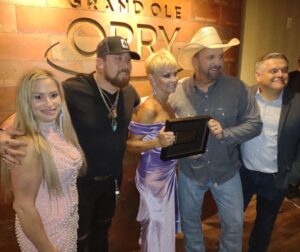 The 101-104th stars have been added to the Music City Walk of Fame, located on Nashville's Music Mile, a one-mile stretch that connects downtown to Music Row. Darius Rucker, Don McLean, Duane Eddy and former record label executive Joe Galante recently received stars during a ceremony across the street from the Country Music Hall of Fame and Museum, reports MusicRow. Professional wrestler Ric Flair inducted Rucker, and Connie Valens (sister of the late Ritchie Valens whose death was immortalized in "American Pie") inducted McLean. Music City Walk of Fame members Steve Wariner and Vince Gill inducted Eddy and Galante, respectively. Inductees are recognized for preserving the musical heritage of Nashville and for contributing to the world through song.
Chris Stapleton rescheduled three shows due to bronchitis and laryngitis, reports CMT News. He was on doctor-ordered vocal rest. The concerts were rescheduled for: Lafayette, Louisiana, November 16; Houston, Texas, November 17, and Corpus Christi, Texas, November 18.
"Song Painter: The Mac Davis Fund for the Art of Songwriting" is a new charitable fund set up by Mac Davis Enterprises to promote greater appreciation for the craft and artistry of songwriting. MusicRow reports the fund will honor Mac's legacy and is designed to "respond to the needs of emerging songwriters, and to foster creative innovation through workshops, music and songwriting programs at high-profile institutions, and more. It will actively support work by underrepresented songwriters and strive to recognize organizations that believe in the importance of the role music plays in human culture." Mac's widow, Lisë Davis, will collaborate with advisors on what projects to fund. The Song Painter Fund will be administered by The Community Foundation of Middle Tennessee.
The Ohio Country Music Hall of Fame inducted Shelly West during an awards ceremony on October 14 in Waynesville, Ohio. Shelly, the daughter of Dottie West and born in Ohio, is best known for her duet with David Frizzell, "You're the Reason God Made Oklahoma," and other songs such as "Jose Cuervo." Shelly and ex-husband Allen Frizzell are the parents of singer Tess Frizzell. I've reported in the past on previous inductees, including the Adams brothers, Johnny Paycheck, and Darrell McCall and his siblings.
Country Music Hall of Famer Ronnie Milsap, 80, has played his final show in Music City. MusicRow reports he was joined on the Bridgestone Arena stage by a host of artist admirers. Some of the many who sang Milsap songs were Keith Urban, Tracy Lawrence, Terri Clark, Trace Adkins, Sara Evans, Mark Wills, Ricky Skaggs, The Gatlins, Ray Stevens, Lorrie Morgan, Scotty McCreery, Randy Houser, Kelly Clarkson, and Gordon Mote. Following the tribute, a standing ovation roared as Ronnie was escorted to the piano. He began his performance with "Stranger in My House," followed by "We're An American Band" and "(There's) No Gettin' Over Me." When he reached his last number, "Honky Tonk Women," the whole artist cast joined him to close the special finale to his time performing in Nashville. He does plan to continue recording and playing occasional shows.
The headliner for the Dallas Cowboys' Thanksgiving Day halftime game on November 23 will be Dolly Parton. The Tennessean reports the Cowboys will host the Washington Commanders at the AT&T Stadium in Arlington, near Dallas. Dolly posted an Instagram video of herself in Dallas Cowboy navy, silver, and white. She said, "I'll see y'all this Thanksgiving!" and rang a sparkly bell.
LETTERS
Michael Green writes, "Great newsletter as always. I'm reminded that Jeannie Seely appeared on the Opry in a bare midriff outfit and got a lot of attention, not all of it favorable, but she looked beautiful then and still does. I'm glad Bobby Bare could sing with Whispering Bill. I hope he can get to the Opry at some point. Roger Whittaker did appear on the Opry and sang 'The Last Farewell,' which Roy Drusky also sang frequently on the show."
Elliot Mclanahan says, "I appreciate the information given to me by the two gentlemen, one was from Sioux Falls and the other from somewhere in Michigan. Pardon my faulty memory. Going to try to pull up radio shows Mike was telling me about. Sounds like a good one. Marvelous newsletter as usual; and was sorry to hear about Roger Whitaker." Kate Davis writes from Oregon, "Wow!! This was an extra-newsy newsletter."
Eric Calhoun offers several comments: "Hey there, Bill Anderson, is there a link to sign up for your newsletter?
"Mike, I love MCBVI Radio, great station, and I'd like to tell those who are blind and visually impaired about it. MCBVI Radio is operated by the Michigan Council of the Blind and Visually Impaired. You can even listen on your phone.
"To Patty Loveless, who reads your newsletter: Patty, this is Eric. I've long admired your family's love of country music, including your cousin, Crystal Gayle. I miss her! I loved Debbie Boone's 'You Light Up My Life.' For someone on the other side of the country, I have always heard the story of how you changed your last name, by the late, great, Bob Kingsley. And I understand why. There is a question I'd like for you to please answer. I have always wanted to know the story behind the song, 'You Can Feel Bad.' I've had to interpret it as a song talking about how to deal with emotional breakup.
"I can see why 'Gentle Country' would not work out here in southern California. As explained to me on Facebook, 'Gentle Country' takes AC/Contemporary songs and puts them in a 'gentle' context. The last country station (now KTNQ) that tried this approach was 1020 AM KGBS/97.1 KGBS-FM (now KNX-FM, 97.1)."
Diane: If you go to Bill Anderson's website at https://billanderson.com/wired/, a screen will pop up to invite you to register for his newsletter.
Bob Jennings says, "Thank you for printing my writing—I trust that a lot of your readers can relate to what I wrote–my Wife and I are 86 and my Hero Singer was Hank Williams and later Webb Pierce–I did music professionally in the late 1950s to early '60s, and since I wasn't discovered, I then followed my career in Civil Service. I still like doing the Traditional Country Songs: Vocals and Rhythm–and I try to play the Pedal Steel. You, Diane, are keeping Country Music Alive and Well."
Bobby Fischer writes from Nashville, "ABC, CBS, NBC, Fox, and CNN should subscribe to your newsletter for updates on country music news, I think. Had a fun flashback yesterday. In the fifties, I was in the Navy on the USS Loyalty minesweeper, docked at Long Beach, California. On liberty I'd go to Hollywood on the pike bar. A guy with just a guitar sang there and would let me get up and sing with him. It was Bobby Bare. It was great to watch him become a huge star over the years. Great person, also."
Andrew Grooms in Capitan, New Mexico, says, "As a regular and avid reader of your newsletter, I appreciated the mention of Mac Davis and the Nashville Songwriters Hall of Fame in your newsletter this morning. Mac was indeed quite the prolific songwriter. My wife Deb and I got the most unique opportunity to have lunch with Mac when he and I both played in the same Golf tournament at R D Hubbard's Big Horn Golf club in Palm Desert, California, in 2010. Mac was so kind to invite us to said lunch and the discussions we got to have about his career and upbringing in Lubbock, Texas. His long road to the music and songwriting business was fascinating to me as a fellow West Texan. He was kind, he was sincere and informative, what a special moment in time that was for us to get to have such a real conversation with such a real and interesting guy. Lubbock of course being most famous for producing its most famous son, Buddy Holley. Mac told me, 'Well Andrew, they named a street after me in Lubbock, anyway.' Then he smiled from ear to ear."
The family of Frank Jennings writes from England, "As some of you are already aware, Frank passed away peacefully, surrounded by his family on Thursday 14th September. He had been suffering from lung diseases for a few years but recently had further ailments to deal with that became too much. We are very proud of Frank in so many ways and the memories and your thoughts about him are giving us comfort over this difficult time. He really was a one-off. His funeral will take place at the English Martyrs Church, Tilehurst, on Thursday 12th October and then to The Elephant Hotel to celebrate & toast his life and share memories. And some people have been asking about flowers or donations in memory of Frank for CAFOD, Royal Berks Charity and Great Ormond Street Hospital may be made at Donate to a funeral – Frank Jennings | AB Walker."
Phil Davies writes from the United Kingdom, "Thank you, Diane, another fascinating newsletter. Bear Family has a truly magnificent Vernon Oxford CD box set. Real Honky Tonk and gospel singing."
Geoff Lambert says, "Thanks for your fantastic weekly sheet about all things country. Over here in England, if memory serves me well, our first introduction to Roger Whittaker was via this number.
Cor Sanne writes, "Love your newsletter. Glad to see my friend Bobby Bare mentioned. An American icon."
Dave Sichak of Hillbilly-Music.com in Modesto, California, sends this request: "You did a biography on Marty Robbins, and recently I started helping someone do some research on black female country artists. One was LaMelle Prince, and it is said he helped LaMelle in some way with her career or got her in touch with Owen Bradley in Nashville. She released two sides on Decca though I've seen where she recorded four sides, but I can't confirm that or know what the other two recordings were. She was touted by Decca for a few years, but when her son died in 1972, she left the music business and concentrated on other things – a religious conversion and doing speaking engagements. I have managed to find a few things about her from just plain elbow grease. I was wondering if you had come across her name in your research of Marty Robbins. Is there any way to find out if LaMelle recorded other sides for Decca, even if not released? And since I do get Doug Davis's country classics email, can you put me on your newsletter email list?"
Diane: The name of LaMelle Prince is not familiar to me. The document you sent says she was one of the first black C&W singers in Los Angeles. She signed a Decca recording contract in 1954 and "toured overseas with the help of Marty Robbins." The two sides released in 1956 were "The Man That Made a Woman Out of Me" and "All Alone in This World." I wonder if she appeared on Town Hall Party in Los Angeles. Marty might have met her there. Do any readers know who LaMelle Prince is?
VIDEO OF THE WEEK
The title track of Randy Travis's second and final DreamWorks album was "A Man Ain't Made of Stone." It was released in 1999 as the first single from A Man Ain't Made of Stone and was supported by a video. Randy was "real pleased" with the way the video turned out. While the song itself leaves open to interpretation why the singer's wife left him, the video shows us the reason in an unexpected twist. "A Man Ain't Made of Stone" only reached number sixteen on Billboard, and the follow-up singles barely charted. Randy blamed his record label for lack of promotion. "It's such a waste, when you put together an album with this quality of material, and you put out three singles and move on, it's like, man, so much work. Such great songwriting and it all got wasted." He told one reporter, "My wife was going into stores in every town we went to, and the records were not there. The country division was new, and they didn't have the distribution in place. If the records weren't out there, you couldn't sell them." I think the song carries an important message, with lyrics such as, "All you wanted was the one thing I never let you see, the tender side of me." And, "All it took was your leaving to know I was wrong." The video ending is a tearjerker that brings the message home. I'd call it one of Randy's most significant videos.
IN THEIR OWN WORDS
After writing about Marty Robbins at Talladega in my last newsletter, I checked the internet for the latest on the Allisons and Charlie Wright, all from Hueytown, Alabama. Bobby and Eddie are still around, but Charles "Charlie" Wright died March 23, 2017. He was survived by his wife of 68 years, Betty Vines Wright, and their two children and families. Charlie served in the U.S. Navy during World War II. I don't remember who told me to call him, but I enjoyed our phone conversation on November 14, 2006. I've often thought about what an unbelievable experience it would have been to be staying at a hotel and discover Marty Robbins singing beside the pool.
I worked two races with Marty, one in Talladega and one in Texas. We was setting at a restaurant one evening in College Station, Texas, and we was having dinner. Some little kid came in, he must have been 18-19 years old, and he looked over at Marty, and he said, "Has anybody ever told you that you look like Marty Robbins?" Marty said no. He said, "Well, are you Marty Robbins?" And he said, "Yeah, I'm Marty." He said, "My dad has every record you ever made." Marty says, "Well, I'd like to meet your dad." And that kid said, "Are you serious?" Marty said yeah. He said, "Well, wait just a minute." He came back in a few minutes, and he said, "You want to meet my dad?" Marty said, "Yeah. We don't have anything to do." So we followed the kid out to his dad's house, and Marty went in, that kid introduced him to his dad, and went out and gathered up some neighbors, and Marty set in there in the den, and they brought him a guitar, and he played and sang, and that man sat over there in a rocking chair, and it looked like he had a halo over his head.
I had a service station, and Bobby Allison and all the racing people around this area traded with me. I got to know them well. At that time, Bobby's shop was crewing Marty's car. Eddie, Bobby's brother, was chief mechanic on the car. Marty wanted to run Talladega and needed some help, so Eddie asked me if I'd go to Talladega and help him. And I said yeah. So worked that race. Then his next race was in College Station, Texas. He called me and asked if I would be available to go to Texas with him and help on his car, and I said yeah. So that's how I got there.
I went out there with him, three or four days early, before the qualifying for the race. Each night, he and ol' Don Winters–that was my buddy. Don and I roomed together in Texas. He and Marty, every evening after dinner, they'd go out by the pool. We stayed at the Holiday Inn, and they would sing, and just have a concert out there.
Yes, that was the one at Talladega where Marty had come up with some kind of an epoxy glue, and glued some bushings in the intake, and over a period of time the gas ate the–turned the glue loose, and the little inserts fell down in it, and opened up that carburetor. It went from, say, from a 750 to a 1400 or something like that. They was gonna award Marty the rookie of the race, but he wouldn't accept it, because he had cheated. But he told them that he did. He came out and confessed to the deal. They didn't find it out through any inspection or anything like that. I think the whole deal in a nutshell was he wanted to pass Richard Petty on the racetrack. That was one of his goals.
That's the only two races I got to work. Right after that I started working full-time with Bobby. I worked with Bobby up until December 1979. We used to run Nashville on Saturday night. After the race was over–Marty was always the last performer at the Grand Ole Opry on Saturday, and we'd try to get through with the race as early as we could, and we'd go to the back door of the Opry, and Marty would let us in. We'd stay on the stage while he performed. After, he would go out and sit on a column on the front of the Opry and sign autographs. I had on an old pit uniform, and I slipped up behind Marty, and I kissed him on the cheek, while a friend of ours took a picture. She had it enlarged and gave it to me. I gave that up to Marty and had him autograph it, and he put on there, "I wanted to say 'with love,' but this looks bad enough."
Marty won some races at Nashville on that short track. I never was privy to see that. Had he been a race car driver rather than an entertainer, he would have been good at it. If he had said I'm giving up everything and I'm gonna make racing now my career, he would have been good at it.
I have one of Marty's uniforms, the pants and shirt, and I wouldn't take a gold nickel for it. I'd like to, someway, if Marty has a museum, I'd donate it to the museum. It's a purple jacket with the gold number 42, his number, on the back of it, with Marty Robbins. And the white pants and the shirt. What we wore in Texas. I'd like to get it in the museum, but I would never sell it. Pit crew uniform, it wasn't a driving uniform. It was what we wore in the pits.
Marty held a special place for us. Every time we saw Marty, he was the same. I considered him a superstar, but he never did forget where he came from. He was a fantastic person. I called him a superstar–but he never did let that interfere with friends. And the fans, he always had a few minutes to stop and talk to a fan. He was a special person. He loved his fans. That deal out in Texas, I'll never forget that.
NASHVILLE SONGWRITERS HALL OF FAME – 2001
The Everly Brothers were inducted into the Nashville Songwriters Hall of Fame in 2001 as a songwriting team, the same year they were inducted into the Country Music Hall of Fame. They were the sons of country music entertainers Ike and Margaret Everly. Don Everly was born Isaac Donald Everly in Kentucky in 1937. He and younger brother Phil were included in their parents' radio show. "Little Donnie" had his own segment of the show when he was eight years old. Thanks to Chet Atkins, Don and Phil became songwriters for Acuff-Rose Publications as teenagers. The Everly Brothers became country hit-makers and then rock & roll stars. Between 1957 and 1959, they duo had eight million-selling singles. In 1960, they were the first artists ever offered a million-dollar recording contract. The brothers broke up in 1973 and reunited in 1983. In 1986, they were part of the first group inducted into the Rock and Roll Hall of Fame. Don's "Cathy's Clown" was the biggest-selling record of their career. His other songs included "So Sad (To Watch Good Love Go Bad)," "I Wonder If I Care as Much," and "('Til) I Kissed You." In 2021, Don died in Nashville at age 84. His mother, Margaret Embry Everly, died four months later at age 102.
The Everly Brothers were inducted into the Nashville Songwriters Hall of Fame in 2001 as a songwriting team, the same year they were inducted into the Country Music Hall of Fame. They were the sons of country music entertainers Ike and Margaret Everly. Phil Everly was born in 1939 in Chicago, Illinois. He began performing at age six, as "Baby Boy Phil." Thanks to Chet Atkins, Don and Phil became songwriters for Acuff-Rose Publications as teenagers. Between 1957 and 1959, they had eight million-selling singles. In 1960, they were the first artists ever offered a million-dollar recording contract. When they broke up in 1973, they both recorded as solo artists. Phil wrote and recorded "Dare to Dream Again," which became a Top 10 adult contemporary hit. Although Don was considered the more dominant songwriter, Phil wrote the most successful of all their songs, "When Will I Be Loved," recorded by Linda Ronstadt and numerous others. They were inducted into the Rock and Roll Hall of Fame in 1986. At age 74, Phil died in Burbank, California, in 2014, from chronic obstructive pulmonary disease (COPD).
Dennis Linde was born in Abilene, Texas, in 1943, and moved around as a child, from Texas to Florida to Missouri. After high school, he delivered dry cleaning and played in cover bands. He lost his driver's license because of too many speeding tickets and then filled his time with songwriting. His quirky songwriter voice came from such influences as George Gershwin, Little Richard, Mark Twain, and J. D. Salinger. He moved to Nashville in 1969 and joined Kris Kristofferson, Billy Swan, and Mickey Newbury as songwriters at Combine Music. Elvis Presley recorded his "Burning Love." Dennis recorded his own albums, as well as writing songs for artists who included Don Williams, George Jones, the Judds, Tanya Tucker, Kenny Rogers, and Randy Travis. He wrote hits like "Goodbye Earl" for the Dixie Chicks, "The Talkin' Song Repair Blues" for Alan Jackson, "Bubba Shot the Jukebox" and "It Sure Is Monday" for Mark Chesnutt, "Callin' Baton Rouge" for Garth Brooks, "John Deere Green" for Joe Diffie, "Queen of My Double Wide Trailer" for Sammy Kershaw, and "Long Long Texas Road" for Roy Drusky. Although his songs reflected a sense of fun and freedom, he was reclusive and avoided industry events and interviews. He died at age 63, in Nashville, in 2006.
"Can everybody see me all right?" That was the usual opening line of 300-pound Johnny Russell on his shows. Born in Mississippi in 1940, Johnny moved with his family to California when he was 12. He signed an independent recording contract as a teenager. Chet Atkins heard his song, "In a Mansion Stands My Love," and paired it in 1959 with "He'll Have to Go" on a Jim Reeves single release. In 1963, Buck Owens recorded "Act Naturally," the first #1 for both singer and songwriter. It became Johnny's biggest-ever song when the Beatles recorded it. Johnny moved to Nashville and signed as a songwriter with Sure-Fire Music Publishing, owned by the Wilburn Brothers. His songs included "Making Plans" by Porter Wagoner and Dolly Parton, "You'll Be Back (Every Night in My Dreams)" by the Statler Brothers, "Let's Fall to Pieces Together" by George Strait, and "Got No Reason Now for Goin' Home" by Gene Watson. He cowrote "Hurt Her Once for Me" for the Wilburn Brothers. Johnny joined the Grand Ole Opry in 1985 and performed there regularly for as long as his health permitted. He recorded songs by other writers, including his two biggest hits, "Catfish John" and "Rednecks, White Socks and Blue Ribbon Beer." He was on dialysis when he called me in 2000, for my requested interview about Faron Young. Johnny died in Nashville of complications from diabetes in 2001. He was 61 years old.