Happy 86th birthday to Bill Anderson — who was born James William Anderson III on November 1, 1937, in Columbia, South Carolina. Have a great day, Bill!
CONCERT REVIEW – RANDY TRAVIS TRIBUTE
A Heroes & Friends Tribute to Randy Travis – 1 Night, 1 Place, 1 Time occurred in Huntsville, Alabama, on October 24. Lorraine "Kayo" Paver and Perry Steilow flew there with me to see the show. Thanks to Mary Travis for inviting us and to Terry Tyson for the backstage passes. We had a wonderful time. We stayed at the Embassy Suites in downtown Huntsville and walked on the pedestrian bridge across the street to the Von Braun Center, which must cover at least a full block. We walked and walked to get to the Propst Arena, one of the many event centers in the building; it is the hockey arena and where the show was held. We ate supper backstage with the crew and met quite a few people there. I talked to some of those I'd interviewed for Randy's biography.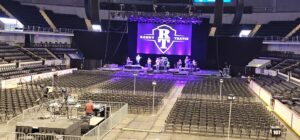 Randy's band provided the music: Herb Shucher (drums), David Johnson (fiddle), Bill Cook (bass), Joe Van Dyke (keyboard), Lance Dary (acoustic guitar). Rusty Danmyer sat in for Steve Hinson on steel guitar, and William Bagby has been taking L D Wayne's place on lead guitar. The second acoustic guitar player was introduced as Jimmy Stewart. The sound all evening was just great. The band provided the right level of music to support the singers, and the voices were sharp and clear.
The show began with Randy and Mary walking (no wheelchair) onstage at 7:10 and sitting in sofa chairs on the left side of the stage. An introductory video about Randy's life played before James Dupré opened the show with "Matter of Time." He also sang the middle and last songs, which I thought was appropriate, because he sings Randy's songs on their More Life tours. Throughout the evening, 18 singers each performed a Randy Travis song. Six people, including Carrie Underwood and Nancy Jones, appeared in short videos to send well wishes. The performers came onstage from the right and continued left to pass by Randy and Mary on their way offstage. They greeted the couple with hugs or handshakes.
One of our favorite performers was Jacob Tolliver, who sang "Honky Tonk Side of Town" and played a Jerry Lee Lewis style of piano. Kayo later told him she didn't think he could play any faster and then he did. He said he could have played even faster than that.
Another of our favorites was Tony Jackson singing "Is It Still Over?" He talked about meeting Randy in Rota, Spain, when Randy did a USO show there. Tony was ten years old, and his dad was a U.S. Navy petty officer at Naval Station Rota. Tony later joined the Marine Corps. I told him I'd spent five months in Rota on a Navy deployment.
Garrett Miles sang "A Horse Called Music" and was accompanied by Mike Curtis on guitar. We'd met Mike at supper. He co-wrote some of the songs on Randy's religious albums.
Lorrie Morgan sang "I Told You So." With her longevity in the music business, I was surprised to hear her talk about being nervous singing Randy's songs in front of him. Several others said the same thing, but Lorrie has been around longer than Randy. She said she'd been singing at the Nashville Palace when Randy was washing dishes there. She waited for him to ask her out, but he never did.
Kane Brown is obviously a big star nowadays, based on the crowd reaction when he sang "Three Wooden Crosses." He did sound good. I'll have to listen to more of his music. When Shenandoah sang "Baptism," Marty Raybon talked about how well Randy treated them when they opened his shows and how they always made an effort to treat their opening acts the same way.
Aaron Lewis sang "The Hole." He drank out of a red Solo cup, spitting his ice cubes onto the stage, and smoked a cigarette during his song. As he walked past Randy and Mary on his way offstage, Mary stuck her hand out and then drew it back when he completely ignored them. I wasn't the only one appalled by his rudeness.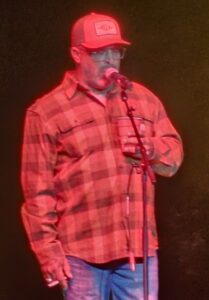 James Dupré sang "Forever and Ever, Amen" to conclude the show, with Randy singing the last word. Mary thanked the band, the artists, family and friends, "and that would be y'all." She talked about Randy being an inspiration by God's design. The whole group came back onstage to sing "Amazing Grace." I enjoyed the off-the-cuff performance of T. Graham Brown singing gospel harmony with Mark Collie. Mary and Randy walked offstage at 9:25, and we headed back to the green room for more visiting. That's when I took this photo of Randy with little brother Dennis and cousin Ronnie.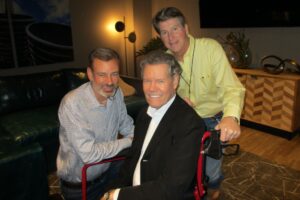 In my fifty-plus years of flying, I don't remember ever going back to the gate after boarding and taxiing. On this trip, it happened twice–maintenance on the first leg and weather on the supposedly last leg. We boarded our 6 a.m. American Airlines flight in Sioux Falls on Monday and were waiting to take off when the pilot said there was a computer glitch and we had to go back to the gate to have it checked. But not so fast. It took two hours before maintenance arrived and another two hours for the fix. We took off at 10:30, the time we were supposed to land in Huntsville. In Chicago, they gate checked our carry-on bags and sent us to Huntsville via Dallas. We were told our bags were checked through to our destination, but they were offloaded in Dallas. The only thing that went right that day was that our hotel room was ready for us. What a relief! We went to the bar for a drink, and they were out of Johnnie Walker. The next morning, we sat in the room and waited. I couldn't charge my laptop or brush my teeth and had nothing to read.
Perry took the hotel shuttle to the airport to pick up our bags that arrived from Dallas at 1 p.m. When he returned to the hotel, I was outside talking to Randy and Mary. They'd just driven in from Nashville and didn't have their expected room reservation. Once that got straightened out, they went off to their hotel and we said we'd see them at the show.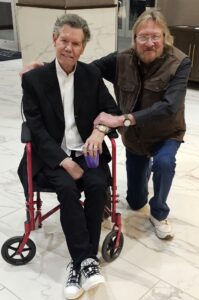 Wednesday afternoon we flew to Dallas. Thunderstorms were in the area when we boarded the next flight for a 7:15 p.m. takeoff to Sioux Falls. We sat on the tarmac, with the pilot occasionally explaining why some flights were taking off to go south, but we didn't have enough fuel to go south and then north. At 9:30, he told us he'd requested a gate so we could go back to the terminal, as we were approaching the maximum allowable three hours for sitting on a plane. As soon as we deplaned at 10:00, our flight was cancelled. DFW was shut down for several hours and all outgoing flights had to be rescheduled for the next day. By the time I talked to an agent, at 1:30, the first available flight was Friday morning on United, leaving at 7:30. I took it. We joined numerous others trying to sleep on the floor at Gate A-20.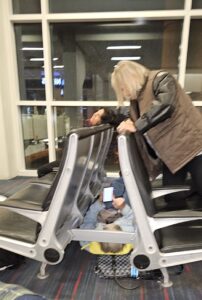 The next morning, I reserved a room at the Grand Hyatt, which is connected to the airport. We spent the morning at the airport's USO and then took the Skylink to the hotel at noon. Perry's friend called that evening and asked, "How was the trip?" Perry said, "It isn't over yet." Friday morning, we had an uneventful flight, via Denver, back to Sioux Falls. What an experience! We have no regrets. The show and the people we visited with made it all worthwhile.
NEWS
The three newest members of the Country Music Hall of Fame were inducted October 22, Billboard reports. Bob McDill was inducted in the songwriter category by fellow songwriter and Country Music Hall of Famer Don Schlitz. Charley Crockett, Dean Dillon, and Jamey Johnson sang in his honor. Those who have recorded his many songs include Don Williams ("Amanda," "It Must Be Love," "Good Ole Boys Like Me"), Keith Whitley ("Don't Close Your Eyes)," Alabama ("Song of the South"), Dan Seals ("Everything That Glitters)," Mel McDaniel ("Baby's Got Her Blue Jeans On"), Sammy Kershaw ("She Don't Know She's Beautiful"), Alan Jackson ("Gone Country"), and an entire album by Bobby Bare, Me & McDill. In 2017, McDill donated 217 legal pads of notes and lyrics to the Country Music Hall of Fame and Museum. Vince Gill inducted his longtime friend, Patty Loveless, in the modern era artist category. He said, "It feels like this is the little sister I've always wanted to sing with. I hear in her voice that blood harmony I've yearned for my whole life." He first met her when she stood in line at his Fan Fair booth and said she loved his music and predicted they would sing together one day. Vince, bluegrass group Sister Sadie, and rocker Bob Seger performed in her honor. Connie Smith and Brenda Lee inducted Tanya Tucker as veteran era artist. Tanya jumped out of her front-row seat to join Margo Price and Jessie Colter on "It's a Little Too Late" and again to join Brandi Carlile for part of "Two Sparrows and a Hurricane." (The Country Music Hall of Fame has inducted 152 members since its beginning in 1961, usually three per year. The Rock & Roll Hall of Fame inducted 10 in 1986, its first year. It currently has 365 members. I think the CMA should double its entries. There are plenty of worthy acts waiting, and that number wouldn't lessen the prestige.)
Thanks to Dave Barton for sending this news from Dave Pomeroy, AFM Local 257 president in Nashville: The oldest Local 257 member, Mervin "Merv" Shiner, died October 23 at age 102. Guitarist and vocalist, he was a 57-year member of the Nashville Musicians Association. He sang the original version of "Peter Cottontail," which he recorded for Decca Records and performed for the first time on the Grand Ole Opry at Easter in 1950. His single "Why Don't You Haul Off and Love Me" made the top ten on the Country & Western chart. Over the next several decades, he continued to record, tour, and write; his songs were recorded by Loretta Lynn, Jan Howard, and Charley Pride. He moved to Florida in the 1970s and retired in 1997. At his 100th birthday gathering in 2021, he performed with his wife, Marilyn, who survives him.
The Dallas Morning News reports Dolly Parton will headline the halftime show at the Dallas Cowboys game at AT&T Stadium on Thanksgiving Day. Since 1997, the Dallas Cowboys have used this halftime concert as a national showcase to kick off The Salvation Army's Red Kettle Campaign. The first concert starred Reba McEntire, followed by Randy Travis in 1998 and Clint Black in 1999. More than 90,000 fans are expected to attend this year's Commanders vs. Cowboys game. Dolly has long wanted to do the show, but there were scheduling conflicts. They worked out the details when she was in Dallas to co-host the 58th Academy of Country Music Awards show with Garth Brooks in May. The halftime show is a passion project for Charlotte Jones, chief brand officer and executive vice president for the Cowboys. She came up with the idea of turning the team's Thanksgiving halftime into a spectacle akin to the Super Bowl's halftime show and using it to support the Red Kettle Campaign. An estimate of $3.56 billion has been raised in those 26 years.
A "Keith Gattis Tribute" will be held at the Brooklyn Bowl Nashville music venue on November 28, reports Whiskey Riff, to honor Keith Gattis, a gifted songwriter and talented singer, who died at age 52 in a tractor accident in April. The artist lineup includes George Strait, Sheryl Crow, Wade Bowen, Randy Houser, Jon Pardi, and Dean Dillon, among many others who are coming together to honor Keith's contributions to country music.
Enlisted is a new six-song EP collection by Craig Morgan that reworks his biggest hits and celebrates the current country musician generation. The title was inspired by his reenlistment in the Army Reserves on the Grand Ole Opry stage in July. He served 17 years in the Army and Army Reserve with the 101st and 82nd Airborne Divisions as an E-6 Staff Sergeant and Fire Support Specialist. He says he's always regretted not hitting the 20-year mark. At age 59, he is now a warrant officer. He hopes he inspires others to enlist. The EP includes two new tracks and four re-recordings of his hits. Jelly Roll joins him on "Almost Home," Lainey Wilson sings with him on "International Harvester," a song she listened to as a child riding in the truck with her dad on the farm, and Blake Shelton joins him for "Redneck Yacht Club." Two new tracks are "Raise the Bar" with Luke Combs and "That Ain't Gonna Be Me" with Trace Adkins.
Scotty McCreery was inducted into the North Carolina Music Hall of Fame on October 19, along with Loudon Wainwright III, George Beverly Shea, Betty Davis, Bill "Fatback" Curtis, and Fetchin Bones. Country Now reports the ceremony was held at the Mooresville Performing Arts Center in Mooresville, North Carolina. Scotty took the stage to deliver an acoustic performance of "Five More Minutes," "This is It," "Damn Strait," and "Cab in a Solo." Past honorees include Eric Church, John Coltrane, Andy Griffith, Ronnie Milsap, Thelonious Monk, Earl Scruggs, James Taylor, Randy Travis, and many more.
Garth Brooks surprised Jon Pardi on the Tuesday night Grand Ole Opry stage to welcome him as the newest Opry member. "This is me and you joined in holy matrimony shared by our love of country music," PEOPLE reports Garth as saying when he handed over the Opry member trophy. Jon, 38, accepted the honor in disbelief and talked about being seven years old and obsessed with a VHS tape of This Is Garth Brooks, a recording of a live performance. "I mean, my hero, that I watched fly around in an arena, is right behind me," he said. He is the first native Californian to be an Opry member. His April invitation to join the Opry had also been a shock. He was performing at the Stagecoach Festival in California when a video of Alan Jackson was projected onscreen with the invitation.
During a recent appearance on The Kelly Clarkson Show, Darius Rucker was presented with the 2023 CMA Foundation Humanitarian Award, which goes to a humanitarian who shows community leadership, financial support, personal volunteerism and advocacy. According to MusicRow, the individual honored must evidence commitment to worthwhile causes important to the Country Music Association. Darius was talking about his new album, Carolyn's Boy, and explaining how his late mother, Carolyn Rucker, inspired his passion for giving back, when the award was presented. His philanthropic efforts include his "Darius & Friends" charity auction, golf tournament and concert for St. Jude Children's Research Hospital, which has surpassed the $3.6 million mark. He co-chaired the capital campaign that generated $150 million to help build the new MUSC Shawn Jenkins Children's Hospital in his hometown of Charleston, South Carolina, an effort directly inspired by his mom's career as a MUSC nurse. His Hootie & the Blowfish Foundation has advocated for over 200 charitable causes supporting public education and junior golf programs in South Carolina. He serves as a National Chair for the National Museum of African American Music in Nashville.
Lainey Wilson has announced her philanthropic fund, "Heart Like a Truck," named after her #1 song of the same title. The Tennessean reports the organization will contribute to multiple causes and offer resources to different charitable organizations. Lainey says, "I think finding certain organizations and charities I'm passionate about, going to all these different cities, and seeing what the need is will really fill my cup. And we all need a little cup filling." For more information on her musical and philanthropic endeavors, fans can visit laineywilson.com.
The 57th annual CMA Awards will take place at Bridgestone Arena in Nashville on November 8, hosted by Luke Bryan and Peyton Manning. Performers include Tanya Tucker, Carly Pearce, Jelly Roll, Little Big Town, Old Dominion, Chris Stapleton, and Lainey Wilson.
Following her set at last Saturday night's Grand Ole Opry, 56-year Opry member Jeannie Seely was awarded the prestigious Joe Talbot Award, presented by Country Music Association Board of Directors President Kella Farris. The Joe Talbot Award was created in 2001 and bestowed posthumously to its namesake, Joe Talbot, a lifetime member of the CMA Board of Directors. A press release states Jeannie is the 12th person honored, following Talbot, Ken Burns, Dayton Duncan, Charlie Monk, Janette Carter, Kitty Moon Emery, Merle Haggard, Alan Jackson, George Jones, Louise Scruggs, and Marty Stuart. "How wonderful to be honored for doing what you love to do and love to share with others," Jeannie said. "My surprise was obvious since I am rarely at a loss for words, but this caught me totally speechless!" Bill Anderson said, "I'm so glad I could be at the Opry this past Saturday night to see my buddy, Jeannie Seely, win the Joe Talbot Award. Joe, with whom I served on the CMA Board of Directors for many years, was a dear friend and all about 'keeping it country.' If anybody has done that over the years….and done it with style and grace and class, it's been Jeannie. She is a great ambassador for Joe Talbot's philosophy, and nobody could deserve his award any more than her."
LETTERS
Sam Wellington of the Four Guys writes, "Your bi-monthly newsletter appears to be gaining more and more popularity with each issue. Great work. I hope you and your readers find interest in the following news piece:
"The Ohio Country Music Hall of Fame in Waynesville, Ohio, will grow its ranks by at least two new members on December 1, 2003. Ohio natives, Connie Smith, and Sam Wellington, of the longtime Opry vocal group The Four Guys, will be inducted in a presentation on the stage of The Grand Ole Opry in Nashville. Connie Smith joined The Opry in 1965 while Sam Wellington and his group became members in 1967. He is the only surviving member of the original group. Connie continues her role as an extremely popular Opry member while Sam retired in 1999 after serving and enjoying some 32 plus years of Opry membership. Wellington and the original Four Guys were formed in the Steubenville/Toronto, Ohio, area. Before joining The Opry, they were frequent guests on the WWVA Jamboree in nearby Wheeling, WV. Along with Sam, original members included Brent Burkett, Berl Lyons and Richard Garratt.
Other notables in the Ohio Country Music Hall of Fame include Johnny Paycheck, Earl Thomas Conley, Roy Rogers, Shelly West, Bobby Bare, and The McCall Family whose members include Dennis McCall, who spent more than three decades as a member of The Opry's Carol Lee Singers, the show's popular vocal backup group."
Diane: Thanks for that news, Sam. Congratulations to you and Connie Smith!
Jeannie Seely writes from Nashville, "Again I'm entertained by your newsletter😊 Thank you Michael Green for your nice comment, and I really enjoyed the story about Marty Robbins. More proof that he was one of the best…all the time!"
Joan Brooking in Stuart, Iowa, says, "I love reading your articles. Very informative. On Saturday, October 28, 2023, I really enjoyed watching the Bonanza show with the Cartwrights. The guest on today's show was Jerry Newton as the son of a farmer. He sang very well, and his deceased mother had taught him. Evidently, he changed his name to Wayne Newton, the Las Vegas Entertainer after this show aired. Oh yes, Hoss sang, too. Nice voice, Hoss. On the show he sang 'Scarlet Ribbons For Her Hair' and two others which I should've written down. I immediately recognized him. Good show with a young Wayne Newton."
Bobby Fischer in Nashville says, "Exciting time here. Daughter Lori wrote a short film about compassion. It's a great script. Phil Vassar is going to star in it with her. Amazingly, Phil had a heart attack not long ago now he's performing. Great guy. They're filming this week. Can you print my web site info? I'd like to share my lucky past with anybody interested."
Eric Calhoun writes, "Great newsletter as always. Another song, and I have to relate to Patty Loveless on this one, is 'You Don't Even Know Who I Am.' I have had a few pen pals say negative things about me, and that song fits perfectly. I love to pen pal with people, and I find it as friendship uniting the world. I am also asking for inquiries into the following people: I have not heard anything from Stephanie Bentley these days. There was a song that touched me deeply, and it was 'Once, I Was the Light Of Your Life.' I also would like to know what has happened to Leroy Parnell. Any answers would be greatly appreciated."
Diane: Lee Roy Parnell, age 66, is still an active performer. He was on the schedule to sing at the Randy Travis tribute in Huntsville, but he wasn't there that evening, so I don't know what happened to change those plans. Stephanie Kay Bentley, age 60, spends her time as a songwriter. I don't know if she still performs.
Rick Russell says, "Thanks for including the information about Johnny Russell's induction into the Nashville Songwriters Hall of Fame. The ceremony wasn't held until after he passed away, but Johnny had been told he would become a member. Johnny's good friend Dickey Lee was there to present the award to Johnny's son, John, Jr. I think it's about time for Johnny to be inducted into the Country Music Hall of Fame."
Diane: I agree that Johnny Russell should be in the Country Music Hall of Fame. He and Jeannie Seely should be the Veteran inductees next year.
June Thompson says, "Oh, what a wonderful newsletter. The two Ricky Skaggs concerts I've attended have been wonderful, he makes his audiences feel right at home. You had so much news this time, and it was so interesting. I don't think I'll ever get far from 'old country' music. Thanks again for this letter and its news."
Mike McCloud says, "Fall has officially arrived in Nashville. Bobby Bare. Oh, my. You tripped the funny story trigger there. I wish you could relay this to Bobby Bare as I have no idea how to contact him to share this memory with him. Back years ago, Bobby recorded 'Margie's At the Lincoln Park Inn.' I cannot tell you how many times over the years that song has gotten me smacked!! I used to tease Marge Cromley of Columbia, Missouri, about that song. She would slap me every time. I always asked her, 'HOW'S LIFE ROUND THE LINCOLN PARK INN?' Oh, that used to get her every time. I still laugh when I think of it."
Sherry Gomes writes, "I always enjoy your newsletter and look forward to it every two weeks. I have quick questions about two of the items. You said you heard the Keith Whitley tribute on Sirius XM. How did you access it? I mean, was there a specific station or way to find it? I would so love to hear it. I've been a Ronnie Milsap fan from the beginning to this day. Do you know if that show was videoed to be released in the future or shown on TV? Or if there might be an album in the future?"
Diane: I should have said I listened to the Opry show on Willie's Roadhouse. Every Tuesday Opry is replayed on Friday, and the Saturday night Opry is replayed on Sunday. I haven't heard that the Milsap show was taped for television."
Maheen Wickramasinghe says, "I recently acquired a copy of the audio version of Twentieth Century Drifter, and I am enjoying it like you wouldn't believe! You did a beautiful job writing it and the chapters about Marty's Gunfighter Ballads and Trail Songs album, and the day he died, brought tears to my eyes. You did a beautiful job, and it is an honor to have the Audible version of it now. Keep up the great work and I can't wait for your new Randy Travis book to come out. I have a friend who is also blind, so I'm sending this audio version to her. She loves Marty and 'Big Iron' is one of her favorites."
Re: Lemelle Prince. When Decca took out a full-page ad in the April 3, 1971, edition of Billboard indicating 'Decca is equally proud of all of its artists,' it listed each in alphabetical order. Lemelle's name appeared below Webb Pierce's and above Jeanne Pruett's. I don't know too much more beyond what you've already printed about her, but apparently Lamelle sang "Get High" on Maxwell Davis's Wailin' Daddy album. On the personal side, Lemelle Prince (a/k/a Lamelle Lansing), the daughter of Harry Prince (an employment office janitor) and the former Pearlean Cox, was born in Kennett, Missouri on December 27, 1927. She died on April 2, 2002 (not sure where, but possibly in Los Angeles where she lived at one point).
Diane: I knew Morgan came from Lorrie Morgan's first marriage, but I read somewhere that Keith adopted her, which is the reason I called her Morgan Whitley. I may have been wrong, as I don't know what last name she uses. Thanks for the additional information on Lemelle Prince.
Ron McBride says, "Regarding La Melle Prince, https://www.discogs.com/artist/2314856-La-Melle-Prince lists the 4 sides she recorded. Also, I found information a project had been planned to team her with Charley Pride but then her son died, and the project never materialized."
Mike Johnson writes, "I'm still reading and enjoying your newsletter. Just been too knee-deep in several projects to respond. Finally got to deliver new music materials to the Performing Arts Reading Room for their ongoing Mike Johnson collection. I see that my music historian friend Dave Sichak of Hillbilly-Music posted a comment and inquiry in your newsletter. We've known each other for nearly two decades and have occasion to trade or swap stories and information. He has a very extensive collection of information about traditional country music people of yore that's he's amassed over the past 50 years. Great guy. Jimmy Kimmel's 'House Speaker Mike Johnson' commentary @ 2:17 displays my CD album cover following several other Mike Johnsons. This explains why there was a sudden spike in views on my YouTube Channel the past week."
Dave Sichak of Hillbilly-Music writes from Modesto, California, "Now this response was interesting. I have found all the full-page ads that Decca ran that mentioned LaMelle. But Stacy lists her date of death as April 2, 2002. My research of ancestry shows April 11, 2002. She appears to have been married at least twice – once at an early age. And then later in life that I can tell. She was singing at a church when the article shows her name as 'Lamelle Prince Lanzing' – another spelling variation. It's been spelled 'Lancing' as well. She had a son who died that caused her to drop out of the business. We can't find the news story of his passing in 1972. As the story goes, it was a bicycle / truck accident. But his last name at the time can't be determined as of yet. I'm going to try a contact at the CMHOF to see if he can shed some light on her Decca recordings. The four sides listed were released 19 years apart and on different labels. She signed with Decca in 1969. Ray Griff's web site (www.raygriff.com) lists LaMelle as having recorded two of Ray's songs. I had the pleasure of corresponding with him for a time and he helped me with his bio. Little did I know I had met him around 1970 – I had won a trip to Nashville thanks to radio station WJJD. Had a picture with him and his autograph. The scavenger hunt continues."
Carolyn Sills writes, "I front The Carolyn Sills Combo, and we just released a new album that Mark Casstevens thought you might be interested in called On the Draw. Here's a Spotify link. He mentioned you were a big Marty Robbins fan as well… the last album we made was called Return to El Paso, and featured five songs based on the Marty Robbins classic, giving more backstory to the characters. Here's a link to that. I hope you enjoy the music. Thanks for putting us in your newsletter, and I'd love to subscribe."
Diane: I'm including the video link from this fun song on your new album. It's "Good Gracious Alive."
UPDATE ON REPLACING TWENTIETH CENTURY DRIFTER
I'll mention one last time about getting Twentieth Century Drifter: The Life of Marty Robbins replaced if it contains 294 pages instead of 280. I discovered that my last print-on-demand shipment had half the pages numbered incorrectly. I don't know if any shipments other than mine were misprinted. If your copy has 294 pages, send it to me and I will replace it.
NASHVILLE SONGWRITERS HALL OF FAME – 2002
Born Larry Dean Flynn in Lake City, Tennessee, in 1955, Dean Dillon has written more than sixty songs recorded by George Strait, with at least fifteen hitting number one, including "Unwound," "The Chair," "Nobody in His Right Mind Would Have Left Her," "Ocean Front Property," and "Here for a Good Time." He spent his childhood being bounced around among various family members, with a guitar his solace and constant companion. At age 17, he hitchhiked to Nashville and eventually began singing at the Opryland theme park. When he signed with RCA Records in 1980, he became Dean Dillon. He decided in 1993 to devote himself to songwriting full time, 12 years after his first George Strait hit with "Unwound." He wrote "A Lot of Things Different" (Kenny Chesney) with Bill Anderson and "Is it Raining at Your House" with Hank Cochran and Vern Gosdin, who recorded it. He has also written hits for numerous other singers. "Tennessee Whiskey" which he co-wrote with Linda Hargrove, has well-known versions by both George Jones and Chris Stapleton. Dean Dillon was inducted into the Country Music Hall of Fame in 2020. He is 68 years old and lives in Colorado.
Born Robert Allen Zimmerman in Duluth, Minnesota, in 1941, Bob Dylan grew up in the mining town of Hibbing, Minnesota. As a freshman at the University of Minnesota, he sang in coffeehouses and changed his name to Bob Dylan. After his first LP appeared in 1961, Peter, Paul & Mary began to popularize his songs. In 1966, he had a near-fatal motorcycle accident and dropped out of the public eye for several years. From the outset of his career, country artists such as Johnny Cash, Bobby Bare and Waylon Jennings recorded his songs: "I'll Be Your Baby Tonight," "It Ain't Me Babe," "To Make You Feel My Love," "You Ain't Going Nowhere," "Don't Think Twice It's All Right," "Blowin' in the Wind," "Lay Lady Lay," "Mr. Tambourine Man." He brought international prominence to Nashville as a recording center by cutting his Blonde on Blonde, John Wesley Harding, Nashville Skyline, and Self Portrait there. He was inducted into the Rock and Roll Hall of Fame in 1988 and won the Nobel prize for Literature in 2016. He still performs around 100 nights a year, including Farm Aid in September, and regularly releases collections of new and archival music. He is a prolific painter and sculptor with numerous gallery shows to his credit. His 100,000-item archives are housed at the Bob Dylan Center in Tulsa. He lives in Malibu, California, and is 82 years old.
Sheldon "Shel" Silverstein, born in Chicago in 1930, first became known as a cartoonist for Playboy magazine and as a writer of children's books (A Light in the Attic, Where the Sidewalk Ends, The Giving Tree). He played and sang folk music in New York in the early 1960s, and "The Unicorn" became a folk standard. He has more than 800 songs registered with BMI. In 1969, Johnny Cash recorded "Boy Named Sue." Shel wrote "Sylvia's Mother" and "The Cover of Rolling Stone" for Dr. Hook & the Medicine Show. (He later allowed Buck Owens and Jim Shaw to write "On the Cover of the Music City News.") In 1973, he wrote all the songs for the Bobby Bare album, Lullabys, Legends and Lies. Other songs included "One's on the Way," "Once More with Feeling"(written with Kris Kristofferson), "Big Four Poster Bed," "Daddy What If," "Hey Loretta," "One's on the Way," "Put Another Log on the Fire," and "Queen of the Silver Dollar." Never having lived in Nashville, Shel Silverstein died at age 68 in Key West, Florida, in 1999.