NEWS
The new CMA Entertainer of the Year is Lainey Wilson. She is the first female to win since Taylor Swift in 2009 and 2011. Lainey also won the most awards—five—at last week's 57th CMA Awards show. "This is all I've ever wanted to do; this is all I've known how to do," she said in her acceptance speech. "For all of you little girls watching and for the ones that are here tonight too. I'm getting up every single day and I'm looking at myself in the mirror and saying, I am beautiful. I am smart. I am talented. I am Godly. I am fearless. If somebody tells me I can't do it, hold my beer and watch this. Us girls, y'all, we've been having to blaze trails from the very beginning. I just wanna say thank you so much for letting me be part of that. And here's to all the ladies that blaze trails every single dang day of their life." Chris Stapleton won his seventh Male Vocalist of the Year Award, breaking his own record. "Thank you, thank you, CMA," he said in his speech. "Every single one of these guys in this category deserves this award. I have won a couple of these, and I'm always shocked when I win one. And I'm humbled again tonight to stay in such a wonderful crowd of people." Mac McAnally led a tribute to Jimmy Buffet, singing "A Pirate Looks at Forty" with Kenny Chesney. Zac Brown Band and Alan Jackson then debuted a tribute song, "Pirates and Parrots," before starting "Margaritaville," which the crowd joined in singing.
"Despite being the face of women in country music for well over a decade, Carrie Underwood has never been the CMA Entertainer of the Year," reports Whiskey Riff. She was a major part of the CMA awards for 18 straight years but was not there this year, and no one seemed to know why. Her fans are livid, with social media comments such as, "If Lainey Wilson can win entertainer of the year after four #1 singles and just being an opener, shouldn't Carrie Underwood have won in like 2007 after four #1 singles, a Billboard hot 100 #1 and an arena tour, and selling like three million albums?" Another tweeted, "Overlooking Carrie Underwood for years only to give Entertainer of the Year to an opening act; if there was any integrity in the award it's ruined." But another said, "The future of country music is with artists like Lainey Wilson and Cody Johnson, even with indie artists like Zach Bryan. And that's a good thing."
In 2019, Jenee Fleenor was the first woman ever nominated for the Country Music Association's Musician of the Year award. She won that year and every year since. With five straight wins, she's now tied with Johnny Gimble as the fourth-most all-time winner in the category. She was the first fiddle player to win in over 20 years. The Northwest Arkansas Democrat Gazette reports she was just a toddler when she started Suzuki classical violin lessons. She left her hometown of Springdale, Arkansas, in 2001 to move to Nashville. She plays fiddle, mandolin, and acoustic guitar, and is a sought-after session musician. She's also a singer and songwriter. Her band, Wood Box Heroes, recently debuted on the Grand Ole Opry.
In a recent interview with The Hollywood Reporter, Dolly Parton was asked if she'd ever been invited to perform the Super Bowl halftime show. "Oh, sure. I've been offered that many times," she said. "I couldn't do it because of other things, or I just didn't think I was big enough to do that big of a production. When you think about those shows, I've never done anything with that big of a production. I don't know if I could have." But now that she's releasing her first-ever rock 'n' roll album, Rockstar, she says, "It would make more sense. That might change. I might be able to do a production show."
"Puttin' Up Hay" is the latest music video of young country star Alex Miller. Filmed during his three-day engagement at the Missouri State Fair in Sedalia in August, the video opens in the barn "where it all started" as Alex tells his bandmembers about the long hot summers working on a farm—and meeting the farmer's daughter. The video is a companion to Alex's new single, "Puttin' Up Hay," which he wrote with Larry Cordle and Jerry Salley; it is on his new EP, COUNTRY. Alex recently attended the 96th National FFA Convention & Expo in Indianapolis, where he received the organization's highest accolade, the American FFA Degree. According to a press release, recipients are chosen for having "gone above and beyond to achieve excellence, exhibiting outstanding leadership abilities, and maintaining community."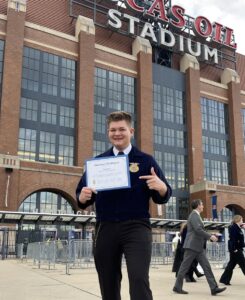 "Rockin' Around the Christmas Tree," recorded by Brenda Lee when she was thirteen years old, is celebrating its 65th anniversary. To commemorate the occasion, Brenda filmed a video. It features cameos by Tanya Tucker and Trisha Yearwood, and it shows Rock and Roll and Country Music Hall of Famer Brenda Lee getting ready for her favorite holiday by trimming the tree and baking cookies. "Rockin' Around the Christmas Tree," written by Johnny Marks, is one of the top-selling Christmas songs every year.
CTV News (Toronto, Ontario) reports a crew bus and a truck belonging to the Shania Twain "Queen of Me" tour were involved in a rollover near Wolseley, Saskatchewan. The vehicles were travelling from Winnipeg to Saskatoon. Officers responded to the rollover just after 7 a.m. Highway 1 was ice covered and slippery. Thirteen people were treated in hospital for non-life-threatening injuries. CTV News observed the vehicles had Tennessee license plates. Before taking the stage at the SaskTel Centre in Saskatoon the next day, Shania posted on Instagram: "Thank you so much for the outpour of love and support from everyone. First and foremost my touring family are safe. Anyone needing medical care is receiving great support. The local community and every single crew person has been phenomenal in the face of a very scary scenario." According to USA Today, she ended her statement with, "Hug and hold those you love, we are doing the same!"
James (Jim) Sales, 70, of Mt. Juliet, Tennessee, died October 25. The Missouri native served in the U.S. Army as a radio announcer in Alaska, before moving to Nashville, where he became lead guitarist for Vern Gosdin. He wrote songs for artists such as Vern Gosdin, John Schneider, The Goldens, and Pinkard and Bowden. He and Randy Travis co-wrote "Tonight We're Gonna Tear Down the Walls" for Randy's 1987 Always and Forever album. Jim worked closely with legendary producer Owen Bradley. According to the NEA Town Courier in Blytheville, Arkansas, he was "a master guitarist and a soulful vocalist, and he also played bass guitar, mandolin, banjo, and harmonica."
Attorney Eugene Ward was honored with the 2023 Legacy Award during the seventh annual Legacy Awards Celebration, established to honor the life and legacy of the late Tennessee Governor Frank G. Clement. A press release credits Gene "for contributions to the Volunteer State through his work as general counsel of the Tennessee Public Service Commission, the Nashville Electric Service, and as a celebrated humorist and speechwriter for Governor Frank G. Clement." Also awarded were Doctors L.C., William, and Jimmy Jackson for founding the Goodlark Hospital (now TriStar Horizon Medical Center) and for their philanthropy and contributions to the medical field in Tennessee. The awards were presented by former U.S. Congressman Bob Clement, son of the ten-year governor. Gene's wife, Jeannie Seely, received the award in 2020, along with fellow Opry member Craig Morgan and former Senator Lamar Alexander. The event was held in the 110-year-old Halbrook Hotel, the birthplace of Governor Clement, in Dickson. It was restored and reopened as the Clement Railroad Hotel Museum in 2009 and is on the National Register of Historic Places.
When rapper-turned-country superstar Jelly Roll opened the 57th Annual CMA Awards with his hit, "Need A Favor," he surprised the crowd by bringing out Wynonna Judd. Whiskey Riff reports Wynonna's backstage story about how he had called to ask if she could sing with him on the CMA Awards. She said she couldn't because she had to be in Texas. He said, 'What if I can get you there on a private plane?" Wynonna explains, "I said, 'I'm in.' So he got me a private plane and here I am." Then came the social media comments suggesting that Wynonna "looked like she was in pain and holding onto Jelly Roll to keep from falling down." The Boot reports Wynonna recorded a TikTok video in the plane on her way back to Texas that evening. She was scheduled to play a show the next night in San Antonio. "I've read the comments," she said with a laugh, "I was so freaking nervous … I got out there and I looked at Jelly Roll, and I wanted it to be so good for him." She felt disoriented when she stepped onstage to surprise the audience. "I got out there and I was so nervous," she said, "I just held on for dear life. And that's the bottom line."
Warner Chappell Music has signed a global publishing deal with country music trio The Castellows. The three sisters–Ellie, 20 (lead guitar), Powell, 20 (banjo) and Lily, 19 (vocals)–recently released their debut single, "No. 7 Road." MusicRow reports they also signed a label deal with Warner Records and Warner Music Nashville. The Castellows grew up singing and playing together in church and in shows around their hometown of Georgetown, Georgia. In 2022, they started posting cover videos and quickly gained over 1.5 million followers on social media. Country Now adds, "Powell, who is a triplet with Ellie and their brother Henry, graduated from the University of Georgia with a degree in agriculture. While attending UGA at the same time, Ellie pursued management information systems and international business with hopes of landing a job in the corporate world. During that time, Lily earned her pilot's license and had plans to be a commercial or corporate pilot."
Willie Nelson was officially inducted into the Rock and Roll Hall of Fame on November 3, at the Barclays Center in New York City. Wide Open Country reports Chris Stapleton joined him to sing Johnny Bush's "Whiskey River." Willie and fellow inductee Sheryl Crow sang Patsy Cline's "Crazy," which Willie wrote. Willie, Chris, Sheryl, and Dave Matthews then sang "Funny How Time Slips Away" and "On the Road Again." Dave Matthews officially inducted Willie into the Hall. Willie talked about being a DJ and playing the first Elvis Presley songs. "I remember writers calling that 'rockabilly' rather than rock & roll," he said, "and I never did pay much attention to categories, and I'm not sure the fans did either."
MusicRow reports the October 23 death of Anna Patricia "Trish" Williams Warren, 78, a longtime employee of producer Jerry Kennedy's JK Productions. The North Carolina native graduated from the University of North Carolina in Greensboro with a degree in music. After a year as a middle school music arts teacher, she moved to Nashville where she first worked at the Al Galico Music Publishing Company. In 1970, she began working with producer Jerry Kennedy at Mercury Records and moved with him to his new production company, JK Productions, where she stayed until retiring in 1991. She moved back to her hometown and married her seventh-grade sweetheart, Larry Warren, who survives her. She co-owned and operated Williams Sand & Gravel, which she inherited from her father. She also served Newton Grove Methodist Church and Hopewell Methodist Church for over 30 years as pianist, organist, choir director and music director. Jerry, we send our condolences.
The latest additions to tonight's A Texas Heroes & Friends Tribute to Randy Travis are songwriter Paul Overstreet and Asleep at the Wheel's Ray Benson. Those previously announced include Clay Walker, Joe Nichols, and Neal McCoy, along with Jacob Tolliver and Garrett Miles, two of the many we enjoyed seeing in Huntsville. Randy's original touring band will back all the artists in singing Randy's songs. I'm sorry I'm not there.
Kentucky Music Hall of Fame members Exile are commemorating their 60th year by releasing the festive Christmas single "Big Rig Santa" to radio on the Clearwater Records label. Written by J.P. Pennington, Sonny LeMaire, and Sharon Vaughn, the song is about a trucker with a big heart, known as "Big Rig Santa." A press release calls it "a celebration of the unsung heroes who work tirelessly, even during the holidays, to ensure that the world keeps turning. It's a reminder that the Christmas spirit can be found in the most unexpected places." Exile's Sonny LeMaire says the song "is a rockin' tribute to all the unsung heroes on America's highways delivering the goods to every corner of our great nation. It is a fun rockin' song about a special trucker and his eighteen-wheeler delivering all the Christmas goodies to all the good boys and girls."
LETTERS
Jon Philibert writes from Great Britain, "Always happy to see mention of one of my all-time favourite songwriters Shel Silverstein. I remember 'The Cover Of The Music City News', Buck Owens' version of 'The Cover Of Rolling Stone', but US readers might not know 'The Cover Of The Radio Times' released here in the UK. At the time the BBC had an ultra strict policy of not broadcasting anything that they deemed advertising and so would not play the Dr Hook record. The promotion team from the UK record company, CBS Records, decided to overdub and replace the words 'The Rolling Stone' on the original record with the phrase 'The Radio Times'. The Radio Times is the BBC's TV and radio listings magazine. The results made no sense of the rhyming scheme of the song and one can still faintly hear the words 'Rolling Stone' underneath the overdub. Despite the efforts of the record company, the record did not chart here but CBS advertised it in the music press as 'the first banned single of 1973'. You can hear the bizarre results here."
Jeannie Seely writes from Nashville, "Great newsletter again, and again I thank you for including me. To say I'm thrilled about the Joe Talbot Award is an understatement! It means so much to know that people recognize what you are doing and that your efforts are appreciated."
Michael Green says, "Hello! First, to get a thank you from Jeannie Seely should make anyone's day, and it made mine. Joan Brooking's comment about that Bonanza episode got my attention, since I grew up in Las Vegas, still live there, and teach and write about its history. There was a Jerry Newton–Wayne's older brother. They first performed in Las Vegas in 1959 at the Fremont when Wayne was 16, and Wayne couldn't stay around the hotel between sets because he was underage, so he went down the street to an ice cream shop. Both of them were in that Bonanza episode. And about Lorrie Morgan's daughter: I remember that Keith Whitley did indeed adopt her, and I remember my mother, who introduced me to the wonders of country and bluegrass and Cajun (her first crush was Jimmy C. Newman), commenting on how strange that was at the time. But apparently Ron Gaddis went along with it? Thanks again for an always great newsletter, and here's to Bill Anderson, who is in my mind the greatest living country songwriter."
Phil Davies writes from Wales, "Thank you for the newsletter. Glad you liked Jacob Tolliver, a very talented Pianist. I agree about how slow CMA/ CMHOF is in inducting deserving artists. I'm a fan of both Patti n Tanya but why isn't veteran Oklahoma legend Wanda Jackson already there? They put Ronnie Milsap for instance in there before Jerry Lee who sadly couldn't make the awards in his final days and poor Mickey Gilley didn't get the recognition he deserved during his lifetime. There are many other examples, of course, like Dave Dudley, Del Reeves, Leroy Van Dyke, Charlie Rich etc etc."
Dianne Harmon says, "This was a great newsletter! Having been a long time Randy Travis fan, I really enjoyed your story about him. Thank you for sharing all the great letters in the past and look forward to more. Take care and God Bless you."
Jackie Allen writes from Sun City, Arizona, "Thanks for this wonderful Newsletter. So glad Bob McDill was honored, he has written some of my favorite songs. And your mention of Shel Silverstein, one of my all-time favorite people. Great artist, songwriter, author, very talented man. Felt so sorry about all your flight problems. Hope your next trip goes much better."
Diane Jordan in Nashville says, "I just read your newsletter and was pleased to see the mention of Merv Shiner's recent death at the ripe old age of 102. In 1965, when I was 19, I was part of 'Guy Mitchell's Holiday Revue,' which was a three-week Christmas tour of military bases in Germany. Merv Shiner was our MC and comedian. The show consisted of Ronny and the Daytonas, Marijohn Wilkin, Sue York, and me. Unfortunately, Guy got drunk and didn't show up at the airport to leave with us. Jack Johnson, who booked the tour, wouldn't allow Guy to take a later flight. He told us, 'Go without him; you don't need him.' I guess we didn't; only one person (a 12-year-old boy) asked about Guy. It was all very exciting for me, and it was my first real tour as a performing artist. In early 2021, after looking at an old scrapbook, I wondered about Merv, and I did a Google search to see if I could find anything. I was amazed to find an article saying he was living in Tampa, Florida, and was about to celebrate his 100th birthday! I contacted the author of the article and he put me in touch with Merv and Marilyn. We had a delightful phone conversation and Merv was looking forward to singing at his 100th birthday party. Marilyn sent a birthday party invitation to me, showing several photos of both of them. Marilyn is 89; she and Merv married after Shirley, his wife of 38 years, passed away in 2010. Music brought Merv and Marilyn together. Merv had a long and interesting life; he even wrote songs which were recorded by Jan Howard, Loretta Lynn, and Charley Pride. I know he's resting in peace, after a life well-lived!"
Bob Allen writes from Seaford, Delaware, "Hello from the Mid Atlantic area of the east coast. Some time ago, you featured an article on Redd Volkaert and his recent move to the Galax, Virginia, area. At the time I couldn't imagine what a super picker like him, playing nothing but country and the like for as long as I can remember, would move to an area steeped deeply in bluegrass and old timey music, unless it was a move he couldn't avoid or family matters. A bluegrasser named Tim White from Marion, Virginia, hosts a weekly show on PBS called Song of the Mountains, which features local and regional acts that are mostly bluegrass and similar genres, with a little of something else thrown in from time to time. We have to record it because it comes on at 2 or 3 AM, and this week, don't you know, there was Redd with two musical partners playing one set. Not only was I surprised but overjoyed to see him doing his thing on that Tele, and let me tell you, he hasn't lost a step. He did a few Haggard songs, and others that were akin to western swing, but his whole part was great, and the two guys playing with him…bass and drums…were outstanding as well. Just wanted to let you know Redd is alive and well in the Galax area and has apparently found a home. Good for Redd!"
Stacy Harris writes from Nashville, "I, too, have seen multiple references to Keith Whitley adopting Morgan but none prior to Keith's death nor properly sourced. I met Keith when he was married to his first wife, Kathi, and based on the time line of their divorce, an attempted reconciliation between Ron and Lorrie following their divorce and there being no record of Keith, Ron, nor Morgan addressing the subject of adoption, so I'm guessing there might have been an 'informal' adoption because I've never read of Morgan referring to herself as Morgan Whitley nor of Ron doing so. Ron's obituary lists Morgan (no surname, but identified as his daughter), but I think the real 'proof' (in the absence of anything persuasive to the contrary) is Keith's obituary. No mention of Morgan. During the recent Grand Ole Opry Keith Whitley tribute show, Lorrie Morgan introduced her daughter, indicating that Keith adopted her. Adding to my confusion, Keith's gravestone identifies him as J. Keith Whitley. Just as I have always understood that Keith never formally adopted Morgan, it has also been my understanding that Keith's full given name was Jesse Keith Whitley. If true, that would make his son, Jesse Keith, technically a 'junior.' I am now seeing Keith identified as Jackie Keith Whitley. Do your readers include anyone knowledgeable enough to clarify any of the confusion? If I hadn't lost touch with Lorrie, I'd ask her about all this myself and invite her to join Diane Jordan and Martha Moore in recommending your newsletter. Re: Joan Brooking's comment. It was Jerry Newton she saw on Bonanza. In fact, Jerry and Wayne were a performing duo known as The Newton Brothers during the late '50s. They not only had record releases, they were still a duo when they made successive appearances on Jackie Gleason's CBS show in 1962. When Wayne, the younger of the two, released 'Danke Schoen' in 1963, the huge hit either caused or contributed to a rift between Jerry and Wayne. Reminiscent of Don and Phil Everly, the estrangement was such that the Newtons didn't speak for years."
Bobby Fischer in Nashville says, "Here's an example of what songwriters went through back in our days. Line up writings, write the songs, record a demo, try to find out who's looking for that kind of song, try to make an appointment, pitch the songs, hope to get it on hold so they say they are going to record it on their artist, don't pitch it when they say they are going to cut it. And wait… Here's one of those times I went through with co-writer Jim Rushing. I had a great hard country title. Jim had had great success with Garth and others, my title was 'Life's some kind of crazy.' I loved the hard real-life lyrics and the demo. I started pitching. Johnny Slate, great producer, said, "Love it, do not show it to anybody else. I'm going to cut a duet on Merle Haggard and Joe Diffie." I put it on hold. Every now and then I'd run into Slate. Several months pass. He said still in the works. About a year later, I ran into him, he said Merle's manager doesn't want him to do a duet, so… That's how it went back then. You keep plugging, it was hard. Now it's easy to get the cut. You write it, turn it into the corporation, if they own the publishing, you get it cut. Very simple. (I enjoy complaining sometimes.) However, I have had 717 cuts on my songs (most that never came out). What about this title? 'Still lazy after all these years.'"
CD OF THE WEEK
Carolyn Sills sent me Return to El Paso, a 19-minute CD recorded by The Carolyn Sills Combo in 2019. Their inspiration came from the Marty Robbins album Gunfighters and Trail Songs. The five songs on the CD give backstory to the characters in "El Paso." First comes "Feleena," which begins with "Oh, Feleena, don't go to Rosa's tonight" and is sung by the jealous boyfriend. He's also the voice in the second song, singing about "The Handsome Young Stranger." In "I'm Not Crying; I've Just Rubbed Jalapenos in My Eyes," the flirtatious Feleena sings, "You're not the lone rider to pull on the reins of my heart. This cantina is crawling with men who are up for the part." The horse even gets a song, "Hold Your Horses," which references what I think is of one of the best lyrics ever written: "I caught a good one, it looked like it could run." The CD finishes with "The Ranger," which tells of Feleena's death, as Marty wrote about it in his follow-on song, "Feleena (From El Paso)." It's an enjoyable little CD. Carolyn says, "I've gotten wonderful comments from Marty Robbins fans around the world about it, but I'd love to get it out to even more of his fans." You can learn more about Carolyn and her music on her website at www.carolynsills.com.
BOOK REVIEW
I met Holly George-Warren at the BIO biographer's conference in New York City in May, where I bought her 2014 biography, A Man Called Destruction: The Life and Music of ALEX CHILTON From Box Tops to Big Star to Backdoor Man. Years earlier, I'd read her 2007 biography, Public Cowboy No. 1: The Life and Times of Gene Autry. She has an amazing list of credits in both the music and publishing businesses. She told me she had done a peer review of my Marty Robbins bio for the University of Illinois Press before it was published. I'd never heard of Alex Chilton, but I did find a few familiar names while reading the book. I realized I had heard the song, "The Letter," that Alex recorded with the Box Tops in Memphis when he was 16 years old: "Gimme a ticket for an aeroplane . . .My baby just wrote me a letter." The song was written by Wayne Carson (Thompson), whom I recently profiled as a 1997 inductee into the Nashville Songwriters Hall of Fame. Wayne Jackson played trumpet on several of Alex's albums before he moved to Nashville and then joined the Marty Robbins band. To me, A Man Called Destruction is a blur of years of alcohol and drugs, record sessions, performances, fighting, temper tantrums, moving from city to city and woman to woman. Alex appears to have found true love and settled down by the time he died of a heart attack in 2010 at age 59. Holly knew and admired him from the time she was a young musician, and she did a tremendous amount of research to follow his life through its ups and downs. This is a book for those interested in "a richly detailed chronicle of pop music's evolution, from the mid-1960s through today's indie rock."
NASHVILLE SONGWRITERS HALL OF FAME – 2003
Hal Blair was a Kansas City native, born in 1915, who studied voice at the Kansas City Institute of Music and the Denver Institute of Music. Following his service in the Army Signal Corps during World War II, he moved to Los Angeles as a country performer and began providing tunes for numerous Western movie stars. He and Eddie Dean wrote "One Has My Name (The Other Has My Heart)" and "Stars Over Texas." More a lyricist than a music composer, he and Don Robertson wrote such songs as "Please Help Me, I'm Falling" (Hank Locklin), "(I Can't Help You) I'm Fallin' Too" (Skeeter Davis), "Go Back You Fool" (Faron Young), "Ninety Miles an Hour (Down a Dead End Street)" (Hank Snow), and "Ringo" (Lorne Greene). Hal contributed songs to most of the Elvis Presley films made between 1961 and 1967. In his later years, he handcrafted precision fly casting fishing rods that he sold under the trade name Blair House. He died at age 85, in 2001, in Biggs, California.
One of my all-time favorites is Rodney Crowell, born in 1950 in Houston, Texas. He was playing drums in his father's band at age 11 and playing professionally by age 16. He moved from Houston to Los Angeles where he joined Emmylou Harris and her Hot Band in 1975. She recorded many of his songs on her albums. He and Vince Gill formed the Notorious Cherry Bombs; one of the songs they wrote and recorded was "It's Hard to Kiss the Lips at Night That Chew Your Ass Out All Day Long." In 1988, Columbia Records released the album that made Rodney Crowell a country recording and radio star. Diamonds and Dirt yielded five #1 country singles, the first country album ever to do so. I still have the original cassette tape. "I Couldn't Leave You If I Tried" is my favorite-ever music video. 1988 was the summer I drove from Virginia to California, via South Dakota, headed to a new duty station on the island of Guam. I remember all the radio stations on my cross-country trip playing Rodney's "I Couldn't Leave You If I Tried" and Randy Travis's "Forever and Ever, Amen." I never got tired of either. Rodney produced records for himself and his then-wife Rosanne Cash. They co-wrote and recorded "I Don't Know Why You Don't Want Me." Rodney's other songs include "Til I Gain Control Again," "Stars on the Water," "Ashes by Now," "After All This Time," "Even Cowgirls Get the Blues," and "I Ain't Living Long Like This." He co-wrote "Leaving Louisiana in the Broad Daylight," "Oklahoma Borderline," "She's Crazy for Leaving," and "Somewhere Tonight." Rodney, at age 73, still writes, records, and performs.
Paul Overstreet, born in Mississippi in 1955, was BMI's top country songwriter every year from 1987 until 1991. He moved from Mississippi to Nashville at 18, with 10 songs and one guitar to his name. His first songwriting hit came in 1982, when George Jones recorded "Same Old Me." His first country #1, co-written with Thom Schuyler, was "I Fell in Love Again Last Night" (1985) for the Forester Sisters. He and Don Schlitz wrote "On the Other Hand" and "Forever and Ever, Amen" for Randy Travis, "When You Say Nothing At All" for Keith Whitley, "I Won't Take Less Than Your Love" (which Tanya Tucker recorded with Paul Overstreet and Paul Davis), and his own first #1 recording, "Daddy's Come Around." At the 1987 CMA awards show, Song of the Year went to Paul Overstreet and Don Schlitz for "Forever and Ever, Amen." They had competed against themselves because the previous year's winner, "On the Other Hand," had been nominated a second time. Schlitz commented in his acceptance speech, "I think we're the first people ever to win and lose at the same time." In the mid-1980s, the songwriting trio SKO (Thom Schuyler, Fred Knobloch, and Paul Overstreet) recorded as a solo act. Paul, age 68, has a website at https://www.pauloverstreet.com/.

John Prine, born in 1946 in Maywood, Illinois, and raised in that Chicago-area neighborhood, spent summers in his parents' hometown of Paradise, Kentucky. In the late 1960s, he began writing songs while on his U.S. Postal Service mail route. One of his first songs was about Paradise's demise at the hands of a coal company. His songwriting friend, Steve Goodman, introduced him to Kris Kristofferson, who helped him secure an Atlantic Records deal. Major artists such as the Everly Brothers, Bette Midler, Joan Baez, and Bonnie Raitt covered the songs on his self-titled debut album. His first country radio hit came when Don Williams took "Love is on a Roll" to the top of the charts in 1983. Prine and Roger Cook wrote one of my favorite George Strait songs (and my theme song), "I Just Want to Dance with You." He and Bobby Braddock wrote "Unwed Fathers." He managed his independent record label, Oh Boy Records, and continued to write songs for himself. In 2018, his label released his first new album of original material in 13 years, The Tree of Forgiveness, featuring guest artists. John Prine died in Nashville in 2020 of COVID-19 complications, at the beginning of the pandemic. He was 73 years old.