NEWS
When the Cowboy Sings website reports the death of Vernon Oxford, 82, on August 18 in Nashville, after a long battle with dementia and Parkinson's disease. He was born in Rogers, Arkansas, in 1941 and grew up in Wichita, Kansas, where his father played traditional fiddle music. Vernon performed around Kansas during the early 1960s and moved to Nashville in 1964. Harlan Howard secured him a contract with RCA Victor in 1965, but his seven singles and the album, Woman Let Me Sing You a Song, didn't succeed. He was rediscovered in the United Kingdom when a compilation of his best works was released in 1974. RCA then re-signed him for a tour in the UK. His top singles in the USA were "Shadows of My Mind," "Redneck (The Redneck National Anthem)," and "A Good Old Fashioned Saturday Night Honky Tonk Barroom Brawl." In the UK, they were "I've Got to Get Peter Off Your Mind" and "Field of Flowers." He and Jim Ed Brown recorded a comedy duet titled "Mowing the Lawn." Vernon turned to gospel music in 1981.
In a recent interview with The Hollywood Times, Jeannie Seely discussed her first five years as part of Willie's Roadhouse (channel 61) on SiriusXM Radio. Sundays with Seely debuted over Memorial Day weekend in 2018. When the pandemic required adaptation, she moved her show from the SiriusXM Studio to her home on the bank of the Cumberland River, where she still records it. When asked which guest makes her laugh, she said, "Bill Anderson always has fun stories to tell, going way back to hosting Fandango and the Country Family Reunion shows, so he's one of my favorite guests and one I can always get to talk to me!" The person she would love to have as a guest is Dolly Parton. "I just haven't been brave enough to ask her yet," Jeannie says. "But that's coming soon!" Concerning being "an inspiration for fashion," Jeannie says, "I try to put together outfits that my fans can also do if they like that particular look. I've never created an 'image' for me as I have always considered myself just like any other American woman, except that my job is to write songs and perform."
Founding member of bluegrass group The SteelDrivers, Mike Henderson died September 22 at age 70. Cause of death has not been reported. Known for his songwriting, performing, producing, and playing a variety of electric, acoustic, and resonator guitars, harmonicas, mandolins, and fiddles, he moved from Kansas City to Nashville in the early 1980s. He joined the Roosters band at the Bluebird Café and played at that venue for forty years on Monday nights. His final performance was two days before he died. He described his style as "half Bill Monroe, half Muddy Waters." His first solo album, Country Music Made Me Do It, was released in 1994. In 2008, he co-founded the SteelDrivers, with the mostly unknown Chris Stapleton as lead singer. Their co-written "Broken Halos" won a 2017 Grammy for Best Country Song and CMA Song of the Year in 2018. He credited Chris as someone who "helped me learn to write songs." British pop star Adele recorded and performed their co-written "If It Hadn't Been for Love." As a musician, Mike played on recordings by Emmylou Harris, John Hiatt, Bob Seger, Sting, Lucinda Williams, Mark Knopfler, and more.
The Musicians Hall of Fame and Museum in downtown Nashville recently inducted Ringo Starr as the 170th member of the Musicians Hall of Fame, reports The Tennessean. He also received the inaugural Joe Chambers Musicians Legacy award, named for the late Joe Chambers, who co-founded the Musicians Hall of Fame and Museum. Ringo told the audience at his induction, "I am honored to be here and accept the first Joe Chambers Musicians Legacy Award. I've always loved Nashville and country music, though I know this place honors all musicians regardless of genre or instrument. I've had a long, happy relationship with this town and it's lovely to be here and receive this award." Rodney Crowell and Wendy Moten led everyone in singing the 1967 Beatles hit, "With a Little Help from My Friends." Ringo earlier said his unique style came from being a left-handed drummer playing a right-handed drum kit.
Tony Jackson has released a video of his single, "Do You Remember Country Music," from his new album I've Got Songs to Sing. The video was filmed in Johnny Cash's cabin in Bon Aqua, Tennessee, with Randy Travis making a cameo appearance. Tony tells PEOPLE, "'Do You Remember Country Music' speaks to my love for traditional country music. This song is a tribute to the greats who paved the way for country music, and having Randy Travis join me in the video was like a dream come true." Bobby Tomberlin writes on Facebook, "A few years ago, Mo Pitney, Aaron Bowlin and I wrote a song called 'Do You Remember Country Music.' Last year, Tony Jackson was looking for songs for his new project and I randomly sent him our song on Facebook Messenger, and he loved it and recorded it."
The BBC reports the death of folk singer Roger Whittaker, 87, who died from a stroke at his home near Toulouse France, on September 13. He was born in Nairobi, Kenya, in 1936, to English parents. He is best known in the USA for his 1971 recording of "The Last Farewell." His website says it "broke down the barriers to success in America for Whittaker and opened up a vast new country for his music to explore." His other hit songs include "Durham Town" and "New World in the Morning." He sold nearly 50 million records around the world. After two years of compulsory national service in the colonial Kenya Regiment, he studied medicine before turning to music. Despite fighting with the British colonial army in Kenya, against the Kenya Land and Freedom Army (Mau Mau), who wanted independence from the UK, he is very popular in the country. His song "My Land is Kenya" professes his love for the country where he was born and grew up. It is often played on TV and radio during national holidays or during election campaigns. He retired with his wife Natalie in France in 2012.
The Tennessee Music Pathways markers now include Country Music Hall of Fame member Dean Dillon. He was recently honored at an event in Rocky Top/Lake City, where he was born in 1955. (Lake City was later renamed Rocky Top.) The renowned songwriter has written or co-written more than 70 songs for George Strait, including 11 number 1 hits ("The Chair," "Nobody in his Right Mind Would've Left Her," "Ocean Front Property," and more). Other artists who scored hits with his songs include George Jones, Kenny Chesney, and Toby Keith. Dean began performing in Knoxville on the Jim Clayton Star Time TV show after he won a high school talent contest. He graduated from Oak Ridge High School in 1973 and hitchhiked to Nashville, where he began performing at Opryland. He was inducted into the Nashville Songwriters Hall of Fame in 2002 and the Country Music Hall of Fame in 2020. He lives in Colorado. Tennessee Music Pathways is an online planning guide (tnmusicpathways.com) launched by the Tennessee Department of Tourist Development in 2018. It stretches across all 95 counties and features hundreds of landmarks from the seven genres of music that call Tennessee home.
The Nashville Songwriters Hall of Fame (NaSHOF) has named Bobby Bare as the recipient of the Frances Williams Preston Mentor Award, to be presented at the Nashville Songwriters Hall of Fame Gala on October 11. Executive Director Mark Ford says, "Throughout his storied career, Bobby Bare has changed the lives of countless songwriters. He has befriended numerous NaSHOF legends, including Shel Silverstein, Tom T. Hall, Billy Joe Shaver, Bob McDill, Harlan Howard, and Kris Kristofferson. He discovered Waylon Jennings and helped him sign with RCA Records in the mid-1960s. He featured many songwriters on his TNN TV show, Bobby Bare and Friends, from 1983-1988. Bobby has made a tremendous impact upon our music, and we are proud to salute him in this way." During his 60-year career, Bobby has recorded more than 300 songs written or co-written by 76 NaSHOF songwriters, roughly 30 percent of the Hall's entire membership.
Bobby, a 2013 inductee into the Country Music Hall of Fame, is the first recording artist to receive this award. Previous recipients are music publisher Bob Beckham (2008), music publisher Bill Hall (2009), Preston (2010), music publisher David Conrad (2011), music publisher Donna Hilley (2012), Bluebird Café founder Amy Kurland (2013), music publisher Pat Higdon (2014), music publisher Bill Lowery (2016), and songwriter advocate Ralph Murphy (2019). According to Zach Farnum of 117 Entertainment, Frances Williams Preston "influenced and nurtured the careers of thousands of songwriters, performers and publishers in all genres during her five-decade career at BMI."
Taylor Swift: The Eras Tour will open October 13 in more than 100 countries, reports Variety. Taylor Swift and AMC Theatres have partnered to release her concert film internationally as well as domestically. AMC expects the number of theaters playing the film in its global expansion to surpass 7,500. The North American rollout already encompasses more than 4,000 theaters. The overseas component of her Eras Tour begins in early 2024, with the North American tour ending October 13. Tickets for the concert film's initial U.S. screenings sold so fast that other studios moved their product off planned October 13 opening dates. AMC sold $26 million in tickets on the first day they went on sale, a single-day record for the chain. The number doesn't include sales for other chains or independent theaters. Exhibitors expect the Eras Tour movie to reach $100 million in U.S. receipts during its first weekend.
When a Country Living reporter asked the Chapel Hart trio which country music icon encounters had meant the most to them, Danica Hart said it was Big & Rich, and Devynn Hart said Gretchen Wilson. Their first cousin Trea Swindle said, "I'm going to go back to before hardly anybody knew who we were–the very first time we were invited to be guests at the CMT Artists of the Year awards, three or four years ago now." Her biggest moment of the night came at the end as everybody was leaving. That's when they saw Randy Travis with his wife and assistant. Upon seeing the Chapel Hart trio, Travis's assistant stopped and said, "Oh, Mr. Travis, this is a new up-and-coming group." Trea recalled, "Randy Travis doesn't really speak much. But he cut his assistant off. 'Uh-uh, I know who they are,' he said. All three of us just about died. We were like, 'Why do you know us, Mr. Travis?!'"
Bill Anderson reports in his newsletter: "We are hard at work right now putting the finishing touches on an amazing new recording that will feature FIVE Hall of Fame members performing on one song. From what I can determine, this has never happened before. The artists will be myself, Willie Nelson, Vince Gill, Jimmy Fortune, and Bobby Bare. The song is one I co-wrote with Bobby Tomberlin and Lance Miller, and one which I think a lot of you will relate to. It's called, 'The Country I Grew Up With,' and if all goes as planned, it will be released in early November on Universal (UMG) Records. Stay tuned." He also says, "The South Carolina Entertainment and Music Hall of Fame will be awarding me their very first Lifetime Achievement Award in April of next year. I am extremely honored that the state where I was born and lived the first eight years of my life wants to honor me in such an incredible way."
This week's Carter Work Project in Charlotte, North Carolina, is headed by Garth Brooks and Trisha Yearwood. CMT News reports the weeklong Habitat For Humanity event is named for President and First Lady Jimmy and Rosalynn Carter. This is the first build event they haven't been able to attend. Garth and Trisha have worked with the Carters on multiple Carter Work Projects. The last was in 2019, when they built several homes in Nashville. "The Carters are all about how a roof over your head should be a basic human right," Garth says. "How lucky we are to go to sleep at night with something over our head that protects us and keeps us warm when it's cold or keeps us cool when it's hot. Everybody should have that right."
Although Carrie Underwood has been the voice behind the Sunday Night Football intro song since 2013, she hadn't seen one of the games in person until September 24 in Las Vegas. She was at Allegiant Stadium when the Las Vegas Raiders lost to the Pittsburgh Steelers. She watched her opener, "Waiting All Day for Sunday Night," from the game's production truck, alongside broadcasters Cris Collinsworth and Mike Tirico. Each week's intro clip spotlights players from competing teams. Carrie is currently in Las Vegas for her Reflection: The Las Vegas Residency, which will be extended into 2024. Taylor Swift also attended an NFL game that evening, when the Kansas City Chiefs defeated the Chicago Bears. She wore a Chiefs jacket and watched the game with the mother of Chiefs tight end Travis Kelce.
During the 2023 People's Choice Country Awards show, Toby Keith, 62, received the inaugural Country Music Icon Award, presented by Blake Shelton. The award honors him for his work as a musician, humanitarian, and entrepreneur. Toby began his acceptance speech by saying, "Bet y'all never thought you'd see me in skinny jeans." He then said, "I wanna thank the Almighty for allowing me to be here tonight. He's been riding shotgun with me for a while." Following his speech, he sang "Don't Let the Old Man In." PEOPLE reports it was his first televised performance since revealing his stomach cancer diagnosis more than a year ago. Toby was inducted into the Songwriters Hall of Fame in 2015, the Nashville Songwriters Hall of Fame in 2021, and received the National Medal of Arts from President Trump in 2021. Today reports his cancer is the reason he chose to sing "Don't Let the Old Man In" from Clint Eastwood's movie The Mule. "I've been going through my cancer fight for the last couple of years, and it's really inspiring for a lot of people," he said. "And coming back on TV for the first time and performing live in front of a live audience, I thought it was fitting."
100% Songwriter is the title of the new Toby Keith studio album to be released November 3 through Mercury Nashville/Ume. CMT News reports the 13-song collection is a compilation of songs Toby wrote entirely alone, beginning with "Should've Been a Cowboy." Other songs include "He Ain't Worth Missin'," "Wish I Didn't Know Now," and "Who's That Man."
For the first time since 1972, a NASCAR driver has been disqualified at Talladega Superspeedway, reports Newsday. Kevin Harvick had been credited with a second-place finish in the final superspeedway race ahead of his retirement at the end of the season. The margin of victory was 0.012 seconds. Two hours later, NASCAR disqualified Harvick, saying the post-race inspection found the windshield fasteners on the No. 4 Ford were not secure. The disqualification dropped him from second to a last-place finish. His crew chief insisted the loose windshield was caused by rough racing conditions, not by cheating. Newsday reports, "It was the first disqualification of a Cup driver at Talladega since May 7, 1972, when the restrictor plate fell out of Marty Robbins' carburetor on his Dodge."
Here's what I wrote in Twentieth Century Drifter: "Because the new track was faster than tire technology could handle, NASCAR issued a rule to require restrictor rings in carburetors. Choking down air and fuel flow to the engine slowed the cars by approximately thirteen miles per hour and prevented tires from blowing. Marty wanted to know what it felt like to run with the leaders, so he asked Eddie Allison for help. Allison designed an arrangement to drop the rings into the intake manifold and hold them. According to crewmember Charlie Wright, they used epoxy glue that the gas would eventually loosen enough to release the inserts. 'I was illegal, but I wasn't cheating,' Marty insisted later. 'There is a difference, y'see. If you are illegal, then you confess. But if you cheat, you go ahead and you don't tell nobody, see. So I was just illegal.'" Marty turned himself in because he couldn't accept a Rookie of the Race award he hadn't earned. NASCAR officials fined Eddie, brother of Bobby Allison, and revoked his license. Marty paid the fine but couldn't get the mechanic's license restored. Eddie never worked for NASCAR again.
LETTERS
Jeannie Seely writes from Nashville, "Great newsletter again. Please extend my condolences to Jean Earle in England on the loss of her friend Frank. I was pleased to hear that he sang my song Leaving and Saying Goodbye with Faron🥰🎶"
Jean Earle responds from England, "Thank you very, very much for kindly sending on the message from Jeannie Seeley. What a lovely lady to send her sympathies, like that. I have sent on her kind words to Stephanie….Frank's wife. I have also let Tony Byworth know, as he is making a write-up about Frank, and he will be letting Frank's many fans hear the sad news. I believe also that David Allan is going to put the sad news into his write-up in the Country Music People monthly magazine. Could you please let Jeannie know how grateful I am for her kind heart and thoughtful message. Thank you. Hope you are well and enjoying the autumn sunshine."
Philip Wyn Davies writes from Wales, "Another very informative read. Sad to hear of the passing of Frank Jennings. Saw him a few times over the years always entertaining and vocally very good. Not seen anything in UK media. Sad to hear of the passing of the versatile Roger Whittaker. As well as his excellent UK chart hits his early hero Elvis covered Roger's great sea ballad, 'The Last Farewell.'"
Diane: I hadn't heard about Roger's death. I've been trying to remember what song brings him to mind, and I think it was "The Last Farewell."
Jackie Allen Thomas in Sun City, Arizona, says, "Thanks so much for this great Newsletter. Met Johnny Western when he was inducted into the Greater Arizona Country Music Hall of Fame. He and his wife are very nice people, and we will put out healing prayers for him. Please keep writing and sharing all the great country music news, really appreciated."
Carl Rollyson says, "Congratulations on finishing a draft of the biography. I was pleased to see you started it before you knew if you had enough material for a book. I've often done that. I wonder how many biographies did not get written because the biographer worried about not having enough material rather than getting on with it and looking for more."
Michael Smith writes from Royal Oak, Michigan, "I am 72 years old and blind as a bat. This is in response to Elliot Mclanahan who said he is glad a lot of us blind folk are out here and a part of the newsletter. Yes, I enjoy it immensely. I do play a lot of the old country hits from the '40s and '50s on my radio show on our radio station called Www.mcbvi-radio.com every Tuesday at 4:00 PM Eastern. The name of my show is called 45s Alive, which means you can still play and enjoy 45s with all the scratches.
Gary Busselman in Sioux Falls writes, "RE: 23 August 2023 Newsletter. To Elliot Mclanahan: Patty Loveless – Don't Let Me Cross Over – from My Kind Of country 2013 Maggard Sound Studio, has an acoustic banjo played by Mitchell VanDyke. I hear the fills and break played on an electric guitar with a 'B' bender and possibly a 'G' bender as well. Brad Paisley is credited on the session and Brad Paisley has a custom-made Telecaster with a 'B' and 'G' bender. He shows the guitar on a YouTube video. The break does have a Buck Trent sound to it, but it's a guitar with at least one bender on it. Patty Loveless recorded the song twice but neither has Buck Trent in the credits."
Gary Busselman also says, "I have followed Vernon Oxford as a fan for a few years. I had heard he wasn't doing well earlier in the summer. Vernon passed away August 18, 2023, at a Hospice center in Nashville after a long battle with Dementia and Parkinson's Disease. He was 82. He was born June 8, 1941, in Rogers, Arkansas."
Diane: Thanks for letting me know, Gary. I added him to the news blurbs.
Glenda Bowman requests, "I used to receive your Newsletter & then it quit coming. Could you please put me on your mailing list. It could have happened when I activated my iPad. I lost some contacts & email addresses. Thank you so much for adding me back. I look forward to receiving them again."
Diane Jordan in Nashville says, "Your newsletter made my day….thank you! How sweet of you to not only print my letter, but also the photo taken at the Ryman. Then, there was Donald Ewert's letter below it, mentioning not only me, but Larry, too! That did it, and I was in tears. Happy tears. I've sent it to Larry's niece in North Carolina, to share with the family. Thank you; this means more than you can know."
Mike McCloud writes, "Oh, Diane, I wish you could have been in Nashville Saturday the 16th of September. Bill Anderson, Jeannie Seely, Mark Wills. Paul Kingsbury of the CMHOF interviewed them and discussed Opry memories that each one had. After the show, Jeannie, Mark, and Bill signed autographs, took pictures, etc. I believe you would have enjoyed it very much…I did."
Diane: Thanks for thinking of me, Mike. I saw the event was happening, and I wished I could be there.
Mike Green says, "Love the newsletter. I'll never forget the night Faron went on Nashville Now and told the story of how he got the bull. As I recall it, Ralph Emery mentioned Jimmy C. Newman was over at the Opry and had a big ranch. Faron ran right over, and later TNN ran a feature on the whole thing, with Faron petting the bull, Big Willie. Big Willie snorted and Faron jumped about 15 feet!"
Bobby Fischer says, "My niece Margo Price is everywhere at one time. This was at Farm Aid. She does Farm Aid every year for Willie Nelson. All for a good cause. She had us at the Opry last week. Margo is up for three awards (album, artist, and song of the year) at the Americana Awards. She's worked long and hard to get to this point. Her husband Jeremy is also multi-talented."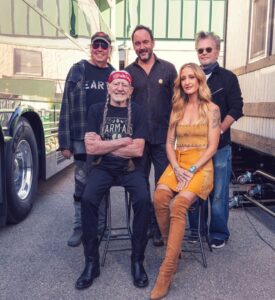 Douglas Joe Guy, RMC, USN (ret), says, "Hello Captain, LaFollette, Tennessee is where I grew up and supplied the title to my fiction series, The LaFollette Chronicles. The Powerhouse radio station there since 1953 is WLAF, and though I lived 40 miles down the road after retiring from the USN, I still go to the WLAF site each morning for local news and obits, (I am 77. haha) There was a very nice article about our local boy, Dean Dillon, songwriter extraordinaire, in the news there. In case you ever decide Dean Dillon rates a book: Some of the photos from this week's ceremony for him in Rocky Top (formerly Lake City). He's an interesting enough character to incite a book from you. I received your latest newsletter a couple of days ago and as always, it was perfect."
Diane: Thanks for sending the information on Dean's addition to the Tennessee Music Pathways. I added it to my news blurbs but couldn't download the photos.
Dave Barton writes from Franklin, Kentucky, "Taylor Swift is unbelievable the money she is making, breaking every record and she still so young, worldwide it's no telling what the gross is going to be, 26 million tickets in advance of the opening, those are crazy numbers."
Diane: Thanks for sending the news link. I added the story to my news blurbs. Those numbers are unbelievable. So is her drawing power.
Bob Jennings writes, "Hiram 'Hank' Williams's songs meant so much to everyone who was going through Heartbreaks; how they seemed to match the breakups of relationships, and Luke the Drifter songs told a story. Country Music has changed over the years—I feel the Roots of all Country Music is in the late 1940s to early 1950s—when you heard the introduction to a song, you knew who going to be singing—Hank Williams, Lefty Frizzell, Carl Smith, Eddy Arnold, Hank Snow, Webb Pierce, Faron Young, Marty Robbins, Kitty Wells, George Jones. I mighta missed a few, but ya know what I mean…and you can't beat Randy Travis's voice matching the Lefty Frizzell sound….."
Stacy Harris writes from Nashville, "Belated thanks for your latest mention of Stacy's Music Row Report. I want to briefly respond about a potpourri of things that come to mind.
First, I'm glad to know Sam Wellington is among your fans. He is not only a talented singer but a terrifically entertaining author, as anyone who has read Who Wants to be a Country Star and/or my review of it is well aware.
Roses also (and a speedy recovery) to another of your readers, Johnny Western, who answered a question from me about him through your newsletter.
And, if I may message two of your other readers- Bill Anderson and Jeannie Seely- who appeared as panelists at a recent Nashville forum, the gentleman's name they were trying to recall was Johnny Shealy.
       Re: Tommy Cash. You may recall interviewing Tommy for your January 28, 2015, newsletter. You wrote: 'Tommy is writing a book that will contain a mixture of family stories, photos, and "a little bit of everything."' Some background: At Tommy's suggestion following an interview I did with him for Country Song Roundup, I began ghosting a book titled Tommy Cash: A Brother's Story (now close to 25 years ago). Tommy was so excited about the collaboration that, during an interview on WSM Radio, he mentioned it. I advised he not repeat his innocent comments; I likened it to a woman who has just learned she is pregnant and having to endure months of 'When's it due?' When the book was about 1/3 complete, Tommy called and asked how much I would charge him to get out of our contract. He indicated he wanted to use what he had as supplemental material for a gospel record. I suggested he come up with a figure. That was the last I heard from Tommy until your newsletter. I then requested an explanation. Tommy's response? 'I'm not writing a book.' I responded, 'Would you kindly email Diane Diekman (and copy me) with a revision/clarification?'  
Fast forward, our book was 'on' again, eventually completed, save for final decisions about accompanying photos and ready to be published when Tommy's daughter, Paula, suddenly died and Tommy's health was such that he could no longer record, tour, nor pursue his day job as a Realtor. I was happy to make the necessary updates, but he and Marcy moved from Hendersonville to Gallatin, and cooperation was sadly lacking. One of the project's earlier delays occurred when, according to Tommy, Bill Miller wanted to publish the book. I thought that odd, since Miller is not a book publisher. Bill did not respond to me. Fast forward to your newsletter alert: 'The Johnny Cash Museum sends a message to refute false information about Tommy's health. Your response was that you didn't know he had Parkinson's disease. As one of the first people to learn of Tommy's diagnosis, I kept that confidence until I expressed to Marcy that one of the book updates would have to include that information, and a prospective publisher would have to know Tommy's ability to promote the book would be limited. Marcy responded that after so much time she assumed everyone on Music Row knew about it. After the alert I thought I would wait for your readers' reactions before I weighed in. When there was none and search engines revealed no evidence of rumors, I once again reached out to Bill Miller. Once again, no response.
Finally, re: Marlene Nord's question as to whether anyone has heard of an artist named Mimi Roman, whom Marlene described as a 'Jewish lady raised in Brooklyn,' Mimi's given name is Roslyn Miriam Lapolito. Her mother was Jewish, but her father was Catholic. A Jewish mother is enough to make Mimi Jewish under Jewish law, but you could say Mom 'sealed the deal' when she divorced Mimi's father and married Max Rothman."
SONG OF THE WEEK
Taylor Swift had long wanted to write a song to honor her paternal grandfather. Archie Dean Swift, Jr., nicknamed "Swifty," enlisted as a private in the U.S. Marine Corps in 1938 and served as a medic during World War II. He was in both the Battle of Guadalcanal in 1942 and the Battle of Okinawa in 1945. He left the military in 1953 as a lieutenant colonel and died in 1998 at age 83, when Taylor was nine years old. She found her inspiration for such a song while watching documentaries about medical professionals treating COVID patients during the pandemic. She and Adam Dessner co-wrote "Epiphany" in 2020. "I wrote it about health-care workers who are putting themselves at risk more than anyone else and don't have a choice," she told Rolling Stone. "Epiphany" explores similar emotions experienced by combat soldiers and health-care workers. It begins, "Keep your helmet, keep your life, son. Just a flesh wound, here's your rifle. Crawling up the beaches now. Sir, I think he's bleeding out. And some things you just can't speak about." The lyrics move to, "Someone's daughter, someone's mother Holds your hand through plastic now. Doc, I think she's crashing out. And some things you just can't speak about." One YouTube listener commented, "As an infantry soldier who didn't serve in WW2 but in the Middle East, it's very relatable and why I'm a 36-year-old veteran and a 15-year Taylor fan."
NASHVILLE SONGWRITERS HALL OF FAME – 2000
Mac Davis was born in Lubbock, Texas, in 1942 and raised in Texas, before attending Emory University in Atlanta, Georgia, and then moving to the West Coast. His big breakthrough as a songwriter occurred when Elvis Presley recorded his "In the Ghetto" in 1969, followed by recording "Memories" and "Don't Cry Daddy." Kenny Rogers & the First Edition recorded "Something's Burning," Bobby Goldsboro recorded "Watching Scotty Grow," and the group Gallery was the first to record "I Believe in Music." Mac recorded his own "Baby Don't Get Hooked on Me" and "Stop and Smell the Roses." He was named the Academy of Country Music's Entertainer of the Year in 1974. In the 1980s, he had hits with his own songs: "It's Hard to Be Humble" (1980), "Texas in My Rear View Mirror" (1980), "Hooked on Music" (1981), and "You're My Bestest Friend" (1981). He acted in such movies as North Dallas Forty (1979), Cheaper to Keep Her (1980), and The Sting II (1983), as well as starring in The Will Rogers Follies (1992 and 1993). He was inducted into the national Songwriters Hall of Fame in New York in 2006. Mac Davis died in 2020 in Nashville, at age 78, following heart surgery, and was buried in Lubbock, Texas, in his jeans.
Randy Goodrum credits growing up in Arkansas, where he was born in Hot Springs in 1947, as the reason for his songwriting diversity. "You had to be able to play it all, and do it authentically," he says. His songs have been recorded by Ray Charles, Steve Perry, Chicago, Phoebe Snow, Dusty Springfield, Lou Rawls, Oscar Peterson, Michael McDonald, Toto, George Winston, Johnny Lang, Dottie West, Alabama, Reba McEntire, Garth Brooks and Trisha Yearwood. One of his first hits was Anne Murray's recording of "You Needed Me." He also worked as a producer and session and touring keyboardist, with such artists as Roy Orbison, Dionne Warwick, B. J. Thomas, Olivia Newton-John, Jerry Reed, George Benson, and especially Chet Atkins. He has recorded several of his own albums, and he wrote "Reunion," the theme for President Bill Clinton's first inaugural gala. In recent years, he has divided his time between Nashville, Europe, and Los Angeles. Randy and his wife, Gail, live in Fayetteville, Arkansas. He has a website at https://www.randygoodrum.com/ and is 76 years old.
Allen Reynolds, born in 1938 in North Little Rock, Arkansas, is best known as the record producer for Garth Brooks, Don Williams, Crystal Gayle, Kathy Mattea, Emmylou Harris, and others. He began writing songs while studying English at Rhodes College (Southwestern College) in Memphis. He and classmate Dickey Lee wrote together and then moved with Sun Records engineer Jack Clement to Beaumont, Texas, to build and run a recording studio. Allen moved to Nashville in 1970 to work as a producer. Johnny Russell had a hit with his "Catfish John" in 1972. He began producing the albums of Don Williams and then Crystal Gayle. She recorded his "Wrong Road Again," and Waylon Jennings recorded "Dreaming My Dreams." Allen produced every Garth Brooks album but one. He was inducted into the Musicians Hall of Fame and Museum in 2016, as a producer, the same year Garth and his "G-Men" studio musicians were inducted. Allen is 85 years old.
Billy Edd Wheeler, in addition to being a singer and songwriter, is a poet, storyteller, Navy pilot, playwright, teacher, painter, novelist, humor writer, and magazine editor. He was born in 1932 in Whitesville, West Virginia, and graduated from Berea College in Kentucky in 1955. Pat Boone recorded his "Rock Boll Weevil" in 1958. The Kingston Trio recorded "The Reverend Mr. Black" in 1963. He wrote and recorded "Ode to the Little Brown Shack Out Back" and then concentrated on writing songs for others: "Jackson" for Johnny Cash and June Carter, "Coward of the County" for Kenny Rogers, "Gimme Back My Blues" for Jerry Reed, and "Blistered" for Johnny Cash. He is a member of the West Virginia Music Hall of Fame and the North Carolina Music Hall of Fame, and he has honorary Doctor of Human Letters degrees from Berea College and Warren Wilson College. He is 90 years old. You can learn more about him on his website at http://www.billyeddwheeler.com/home.htm.