This week we especially remember Marty Robbins, who was born Martin David Robinson on the Arizona desert, and would have turned 98 years old this September 26.
NEWS
Saturday, September 17, 2023, marked one hundred years since the birth of Hiram "Hank" Williams. Celebrations were held around the country and online. One of those who paid tribute was Alan Jackson, posting his cover of "Your Cheatin' Heart" on Twitter. He said, "Happy 100th birthday, Hank. I don't think I'd be here without you." The song was released posthumously in January 1953 and became one of Hank's biggest hits. Hank's death on New Years Day 1953 means he never saw his 30th birthday. The first record album I ever bought was Hank Williams' Greatest Hits: 14 of Hank's All-Time Best. I still have it.
Jo Western posted on Facebook on September 7 to say her husband, Johnny Western, suffered a stroke on August 10. He spent three days in ICU and three weeks in a rehabilitation hospital. Jo says, "We brought him home on my birthday, September 3rd, he was my birthday present! He thinks this a strange thing to happen to him at age 88, to learn to talk & walk all over again! . . . The next several weeks will include extensive rehab but he is ready & willing." I haven't seen any updates. They read my newsletter. Johnny, best wishes, and I hope your rehab is going well.
Lainey Wilson leads the 2023 Country Music Association Awards nominations for a second straight year, the Los Angeles Times reports. She has made history as the first performer to top the CMA nominations list in their first two appearances on the ballot. Her nine nominations this year put her at the second most for a single year, tying with Merle Haggard and Miranda Lambert. Alan Jackson holds the record with ten nominations. Last year, Lainey was the fourth artist in CMA history to earn six nominations in her first year, following Glen Campbell, Brad Paisley and Kacey Musgraves. She wrote on Instagram, "Being nominated in each of these categories amongst my friends means the world to me. And the coveted Entertainer of The Year category?! It's absolutely surreal."
Texas singer-songwriter Charlie Robison, 59, died September 10 at a hospital in San Antonio after suffering cardiac arrest and other complications, reports Billboard. He began his music career in local Austin bands in the late 1980s. In 1996, he released his solo debut, Bandera, named for the Texas Hill Country town where his family has had a ranch for generations. From 1999 to 2008, he was married to Emily Strayer of The Chicks. They had three children. He and his current wife, Kristen Robison, have a toddler son. In 2018, Charlie retired from performing after permanently losing the ability to sing following a surgical procedure on his throat. Country Rebel reports the Chicks were touring in Canada when news came of Charlie's cardiac arrest. They moved up the date of one of their shows from September 12th to the 11th. Still, Emily didn't make it home in time.
I'm sorry I missed the Thursday night Opry Country Classics show last week. I was listening to it on Willie's Roadhouse on SiriusXM and switched to something else. Then I received Zach Farnum's press release that said James Dupré made his Grand Ole Opry debut that night, with an introduction by Mary and Randy Travis. He sang "Promises" as a solo acoustic performance, which is the way Randy originally recorded the song, and then the Opry band backed him for "Deeper Than the Holler." I've interviewed James several times for my RT biography and my newsletter spotlight. We met when The Music of Randy Travis Tour came to the Corn Palace in Mitchell last year. James sings Randy's songs on that tour, teaming with Randy's original band. He starred in Randy's last feature film, The Price, which was released in 2015. James has recorded three albums, the most recent being Home and Away in 2020. He and his wife and daughter live in his hometown of Broussard, Louisiana, near Lafayette.
A post on the Hank Williams Jr. social media page: "Please congratulate Mr. And Mrs. Hank Williams Jr! Hank and Brandi were married Sept 9, 2023, at Enon Baptist Church in Banks, Alabama in front of a small group of family and friends. A reception followed at Kendall Hall in Troy, Alabama. They had gotten engaged earlier this year on Mother's Day. The bride and groom have known each other and been friends since 2003." Hank is 74 and Brandi 43. Hank and his third wife, Mary Jane Thomas, had been married more than 30 years when she died following a botched medical procedure in March 2022.
Country Rebel reports Carrie Underwood is paid $1 million every week for her role on Sunday Night Football. That is $18 million for a single season. This is her eleventh season of singing "Waiting All Day for Sunday Night."
The Oklahoma Highway Patrol arrested Zach Bryan, 27, for obstruction of investigation in his home state of Oklahoma. According to PEOPLE, he was arrested for interfering with a traffic stop on his security guard, who was speeding. He reportedly left his vehicle to ask why the stop was taking so long and ignored an officer's demand for him to get back inside. He was taken into custody in the town of Vinita, booked in Craig County jail on a misdemeanor charge, and eventually released on a $1,000 bond. He later said, "I did go to jail. They didn't play favorites, and I was an idiot today. My decisions did not reflect who I was as a person, and I just want to make that clear. I should have been smarter about it."
A Forex.com-commissioned analysis of celebrity investments ranks George Strait ninth among the top ten entertainers found to be "the most money-savvy… music artists" for generating high returns on their net worth. He is worth an estimated $310 million, earning $3 million a month based on real estate and other investments. "If true, George enjoys an 11.6% return on his net worth," reports Stacy Harris in Stacy's Music Row Report.
Dolly Parton, 77, was invited to tea with the Princess of Wales, Kate Middleton, 41, while in London to promote her album Rockstar. She thought it was a "very sweet and nice" gesture for Kate to invite her to tea. According to PEOPLE, she told an interviewer, "Lordy, I even got invited to have tea with Kate. And I felt so bad… I couldn't even go! They had all this stuff set up." In 1977, Dolly performed at Queen Elizabeth's Silver Jubilee.
The Smith-Carter House in the Nashville suburb of Madison, listed on the National Register of Historic Places, has apparently found a buyer. Taste of Country reports it went on the market for $3.5 million in May and was re-listed for $1.79 million. The property is currently under contract to be sold. Carl Smith bought the 13-acre property in 1952, just before he married June Carter. After they divorced, June stayed in the house with their daughter, Carlene, and her mother, the legendary Mother Maybelle Carter. The house was built in 1925.
The Tuesday night Grand Ole Opry celebrated Johnny Cash on the 20th anniversary of his death, September 12. I listened to part of the show and heard the Cash tributes but didn't realize the evening was called "Opry Honors Johnny Cash." I enjoyed the segments by Rodney Crowell and Erin Enderlin. I heard The Tennessee Four making their Opry debut. MusicRow lists the members as Johnny's oldest grandson Thomas Gabriel on vocals, along with three musicians who had played with Cash: Paul Leim (drums), Kerry Marx (guitar) and Dave Roe (bass).
Three days later, Dave Roe, 64, died of a heart attack at his home in Goodlettsville. The Shreveport, Louisiana, native, born in 1959, began playing bass guitar as a preteen. He moved to Nashville in the early 1980s. His obituary says that marked the beginning of his extraordinary career ascent, during which he became one of the most respected and sought-after bassists in the business. He played upright slap bass with the greats, from Johnny Cash to Jerry Reed to Dwight Yoakam.
Marty Stuart is mourning the loss of his beloved sister, Jennifer Stuart, reports Music Mayhem Magazine. On September 17, he posted on social media: "It is with great sadness to say my sister Jennifer passed away this morning. 'Sis' had so many friends who loved her from all over the country. She never met a stranger." He closed his post by encouraging his followers to "do something nice for someone today" in honor of his late sister. Jennifer often accompanied him to various award shows and performances. Her cause of death has not been revealed. Last year, Marty celebrated his 30th anniversary as a Grand Ole Opry member and his 50th anniversary in Nashville. He was inducted into the Country Music Hall of Fame in 2020 in the Modern Era Artist category.
I was surprised to read on the MusicRow website that George Strait and Chris Stapleton are extending their stadium show tours with nine new dates in 2024. I don't remember hearing they are touring together this year. Little Big Town will join them next year. The summer shows are in Indianapolis, Jacksonville, Ames, Charlotte, East Rutherford, Salt Lake City, Detroit, and Chicago. They will conclude with a December date at Las Vegas's Allegiant Stadium, which will mark the 37th installment of the "Strait to Vegas" show.
Lightning struck the sound equipment at Billy Bob's Texas in Fort Worth, Texas, while Lainey Wilson was onstage. Music Mayhem Magazine reports Lainey grabbed a megaphone and entertained the audience while waiting for the sound system to work again. She told stories and sang Keith Whitley's "When You Say Nothing At All." She and her band resumed the show when sound was restored. She also surprised the audience by introducing Randy Travis. She later tweeted, "It ain't every night you get to bring out the legend @therandytravis nor sing through a megaphone but we covered both of those last night at @billybobstexas."
In October, The Oak Ridge Boys will celebrate half a century of making music together and will begin their American Made: Farewell Tour. The four current members are Duane Allen (80), Joe Bonsall (75), Richard Sterban (80), and William Lee Golden (84). Golden joined the Oak Ridge Boys in 1965, Allen in 1966, Sterban in 1972, and Bonsall in 1973. They have been together for fifty years, except for eight years when Steve Sanders replaced Golden. Billboard reports they have been slowly scaling back their concerts, from 140 dates in 2022 to 120 dates in 2023 and 50-60 in 2024. They plan to play the Kentucky State Fair for the 50th year next August. "For the past year, I've done our shows sitting on a stool," Bonsall says. "My legs aren't what they used to be — but I'm still singing good and feeling good, and I'm not in any pain." Sterban has had "a few small health issues," Allen is "doing great," and Golden has "more energy than all of us put together," Bonsall says.
LETTERS
Doyle Grisham writes, "Thanks so much for the nice article you did on Jimmy Buffett. We knew he was sick but didn't know it was that bad. I got word he was at home resting and then 3 days later, he was gone. He was a nice man, a friend for over 50 years, and I'll certainly miss him!"
Elliot Mclanahan says, "I appreciate Miss Patty sending a response to my question. That was a pleasant surprise. On another note, hated to hear about Jimmy Buffett. I did not realize he was as old as he was! Last, but not least, glad to hear there are a bunch of blind people getting in on this newsletter. There are a bunch of us out here!"
Martha Moore of so much MOORE media writes, "Billy Jam artist (and American Idol alum) Alex Miller has known Texas-bred chart-topping artist Tracy Byrd for a few years. Last week, Alex opened for Tracy at the Oklahoma State Fair (their first time to share the stage). After the show, Alex and Tracy had a good old fashioned Texas Swing jam session aboard Tracy's bus — playing Bob Wills songs for several hours."

Tracy Byrd, Alex Miller, and Dale Morris Jr on fiddle – jamming on Tracy's bus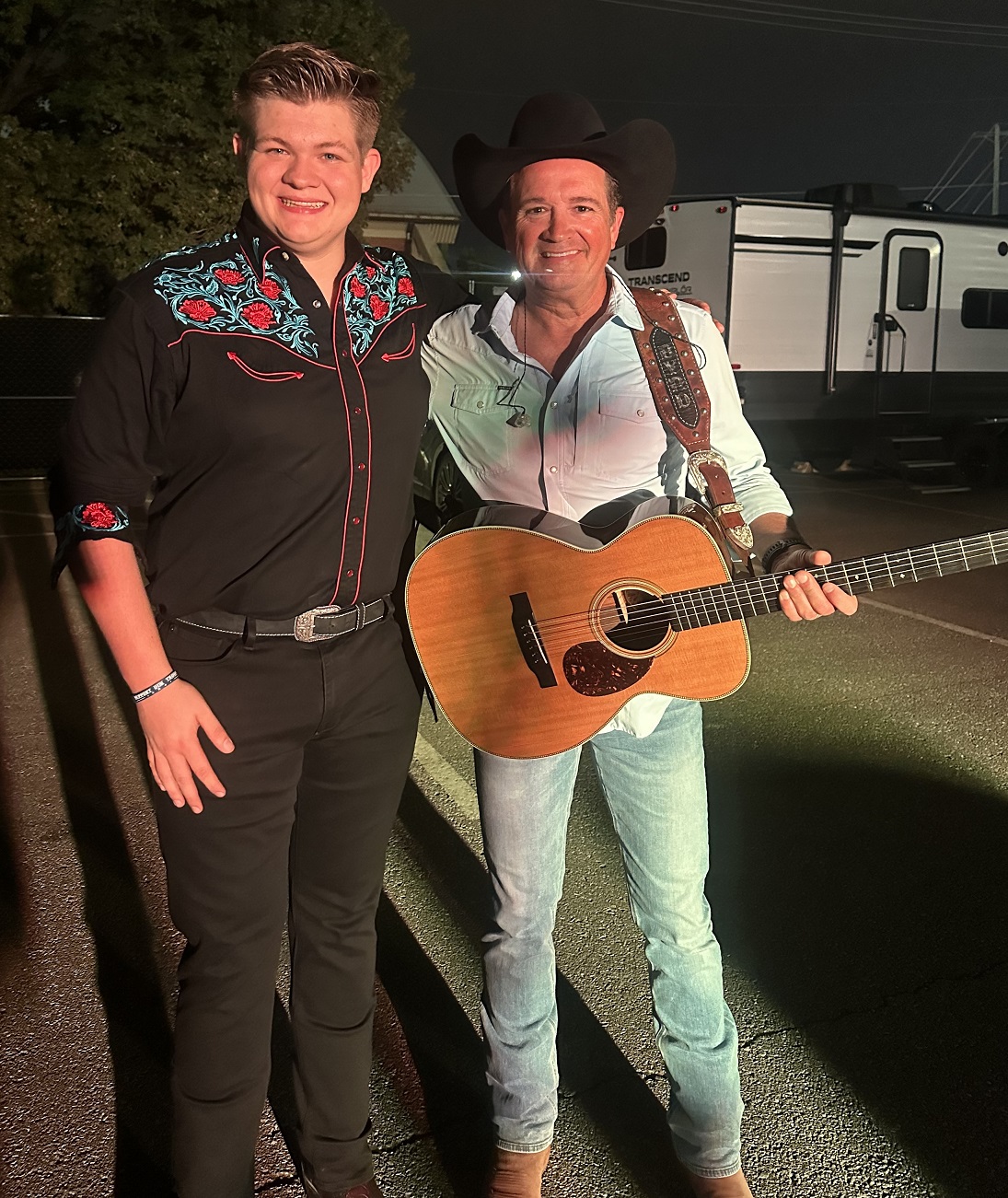 Alex Miller and Tracy Byrd backstage at OK State Fair
Bob Rudy says, "I found the most interesting story about Faron Young, Willie Nelson, and a bull. I thought you might like it. I found it posted on Facebook with a link to the Willie page. It was a GREAT story, as are all of your newsletters. Here's a link."
Diane: Thank you for sending this, Bob. Knowing about it allowed me to contact the admin and get my name added as the author. I wrote that article in 2000 when I was first interviewing people about Faron.
Bobby Fischer writes from Nashville, "Last night Helen, Lori, and I went to the Grand Ole opry. Our niece, Margo Price, was performing. Candy, her mom, took these pics. I was pointing at some pictures in the hall of artists who have recorded my songs. Charley Pride, George Jones, Oak Ridge Boys, Garth, Little Jimmy Dickens, Jeanne Pruett. The walls with all the country music history are amazing to see."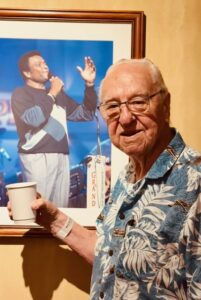 Marlene Nord writes, "Has anyone heard of an artist named Mimi Roman who recorded mostly in the late '50's and early '60s? I never had, but a musician friend made me aware of her music. I did some research and purchased two CD compilations. She is a Jewish lady raised in Brooklyn, New York. Her music consists of numerous straight Country tunes, as well as many Rockabilly selections. I listened to a documentary about her on YouTube. At the time of that recording, she was 87 years old and still going strong. She has a lot of spunk, and I am so glad I was introduced to her artistry. Also, 'On Second Thought' is my favorite Eddie Rabbitt song as well."
Diane Jordan writes from Nashville, "Three weeks ago, I took the 'Ryman Haunted History Tour' and really enjoyed it. I love ghost stories, and it didn't disappoint. They held the tours on three days (not consecutive days), with several 45-minute tours each night. They took individual photos of us on the Ryman stage, as a keepsake. It's interesting that the photographer had to try three times to get a photo of me; the first two were blurry. It didn't happen with any of the others, so I took that as a 'sign' from Larry! The Ryman was very much a part of our lives, from the late '60s through the early '80s. I always enjoy reading your news."
Donald Ewert says, "Some years ago when in Nashville I was walking past a country music wax museum and in the window was a dress belonging to a singer I had not heard of. Not long ago I read the book you wrote about Marty Robbins and this female singer was mentioned. I have seen her name in your newsletters from time to time, so I googled her name and came across a story about her called Almost Famous. That singer is Diane Jordan. I now have a face and beautiful singing to go along with the memory of the dress in the window of a country music wax museum. I since learned that Diane was married to Larry Fullam, former bass player for Connie Smith, Tommy Cash, and others. Also, a great singer."
Jean Earle writes from England, "Thank you for your recent newsletter and for kindly including the handsome photograph of Faron. We have been very sad this week to hear of the death of a dear friend whom we have known and admired for many years. Frank Jennings. With his band, THE Frank Jennings Syndicate, he was very popular here in this country and was the winner of many Country music Awards. I am hoping you will have heard of Frank…..? Frank had loved Faron's voice and admired him for many years. Sometimes they sounded so much like each other, that one could be mistaken when listening to some of the songs they both loved. I think Frank's greatest evenings were when we were watching Faron at one of the London Theatres and Faron invited Frank to join him onstage. They chatted for a while then they sang 'Leaving and Saying Goodbye' together. Fantastic.!!! When Frank asked Alan and me to run his fan club, we were thrilled. When we told Faron, he was happy to accept the idea of supporting the FJS and agreed to be The HONORARY PRESIDENT. I could write much more about their friendship, but I think I have said enough to show how much they admired each other. Alan has found this picture. I think you will hear from more of the folk over here who are very sad to lose a lovely man with a fine country voice. Goodbye Frank, rest in peace."
UPDATE ON RANDY TRAVIS BIOGRAPHY
I am thrilled to report I've finished the first draft of my Randy Travis biography. It took me 23 months. When I began writing, after two years of research, I didn't have enough information for a whole book, but I kept plugging away, and there it is. I celebrated my birthday by mailing off the manuscript to a writing buddy to edit it and help me decide where to cut 14,000 words to get down to contract size. My goal is to send the finished manuscript to the publisher yet this year and have the book published in 2025.
A note on Twentieth Century Drifter: The Life of Marty Robbins – I discovered that my last print-on-demand shipment has half the pages numbered incorrectly. I don't know if any shipments other than mine got misprinted. If anyone happens to have a copy of Twentieth Century Drifter that contains 294 pages instead of 280, send it to me and I will replace it.
NASHVILLE SONGWRITERS HALL OF FAME – 1999
Born Leonard Sipes in Oklahoma in 1930, Tommy Collins began as a radio entertainer in Oklahoma City, served in the U.S. Marine Corps, and then settled in Bakersfield, California. He wrote and recorded novelty songs such as "You Better Not Do That," "It Tickles," and if "If You Can't Bite, Don't Growl." Faron Young recorded his "If You Ain't Lovin' (You Ain't Livin')" in 1955. Others who recorded his songs included Buck Owens (once the lead guitarist in Tommy's band), Merle Haggard, Red Simpson, Wynn Stewart, Jean Shepard, Wanda Jackson, Ferlin Husky, Dick Curless, Rose Maddox, and Freddie Hart. By 1957, disillusioned with show business, he underwent a religious conversion and became an ordained minister. He returned to country music in 1964 but later became dependent on drugs and alcohol. Haggard recorded dozens of his songs, including #1 hits "Carolyn" and "The Roots of My Raising," also writing in his honor and recording the hit song, "Leonard." Mel Tillis recorded his "New Patches." Tommy lived to see his induction into the Nashville Songwriters Hall of Fame. He died a few months later, at age 69, at his home in Ashland City, Tennessee, in March 2000.
Wayne Kemp, born in 1941 to a musical Arkansas family, was writing songs and playing guitar professionally in Tulsa by age 16. His first break came in 1965, when a friend passed his demo tape to George Jones, who then recorded "Love Bug" and "I Made Her That Way." He invited Wayne to move to Nashville. Following his own solo record, the upcoming star was in a serious wreck when a drunk driver crashed into the car that Wayne and his band were driving to a gig. Two band mates were killed, and Wayne suffered third degree burns on his face, hands, and legs. Doctors told him he would never play guitar again. He proved them wrong. In 1968, Conway Twitty gave him his first #1, "Next in Line," followed by "Darling, You Know I Wouldn't Lie" and "That's When She Started to Stop Loving You." Wayne wrote for Tree International and played guitar in Conway's band. His own solo recording career included hits like "Won't You Come Home (And Talk to a Stranger)" and "Bar Room Habits." Johnny Cash recorded "One Piece at a Time," George Strait recorded "The Fireman," Johnny Paycheck recorded "I'm the Only Hell (Mama Ever Raised)," Faron Young recorded "I Just Came to Get My Baby," and Ricky Van Shelton recorded "I'll Leave This World Loving You." Wayne was on kidney dialysis in 2015 when he died in a hospital in Lafayette, Tennessee, at age 73.
Arthur Leo Owens became Doodle Owens as a baby in Waco, Texas, where he was born in 1930. He crawled backwards in a way that reminded his uncle of a doodlebug. He remained "Doodle" throughout his life. In his teens, he frequented Texas radio stations, and in his twenties, he began recording and appearing on television. In 1965, Ray Price suggested he move to Nashville. There, he and Dallas Frazier began a prolific writing partnership. One of their earliest compositions, "Johnny One Time," was recorded by Willie Nelson and then Brenda Lee. In 1969, Charley Pride took their "All I Have to Offer You (Is Me)" to #1. Charley also recorded "(I'm So) Afraid of Losing You Again," "I Can't Believe That You've Stopped Loving Me," and "Then Who Am I." Doodle teamed with Whitey Shafer to write Moe Bandy's "I Just Started Hatin' Cheatin' Songs Today" and "It Was Always So Easy (To Find an Unhappy Woman)." Doodle and Dennis Knutson wrote the George Jones hits "Wine Colored Roses," "Somebody Wants Me out of the Way," and "The Right Left Hand." They wrote Doug Stone's hit, "Fourteen Minutes Old." Heart and kidney problems slowed his productivity in the 1990s, but he continued writing. He was inducted into the Nashville Songwriters Hall of Fame shortly before he died in 1999, at age 68, in Nashville, Tennessee.
My sister and I met Glenn Sutton in Bossier City, Louisiana, at a birthday party for Tillman Franks in 1999. We eventually became friends and visited every time we went to Nashville. He invited us to his house so my daughters could swim in his pool. Born in Louisiana in 1937 and raised in Henderson, Texas, Glenn served in the Air Force before moving to Nashville in 1964. He signed with Al Gallico Music and soon teamed with producer and songwriter Billy Sherrill. In 1966, David Houston's recording of their song, "Almost Persuaded," became an instant standard. Glenn wrote many Tammy Wynette hits, such as "I Don't Wanna Play House," "Take Me to Your World," "The Ways to Love a Man," "Bedtime Stories," and "Kids Say the Darndest Things." He wrote songs for then-wife Lynn Anderson and produced (but did not write) "Rose Garden." Glenn wrote "She Still Comes Around (To Love What's Left of Me)" and "What's Made Milwaukee Famous (Has Made a Loser Out of Me)" for Jerry Lee Lewis. Kayo and I last saw Glenn when he stopped by our hotel in April 2007 to say hello. Three days later, someone emailed me to say Glenn had died. His daughter, Lisa Sutton, went to his house that afternoon, looked in the window because the house was locked, and saw him lying in his bed. It was April 17, 2007, and he was 69 years old.