CONCERT REVIEW – THE CHICKS
Friday night I went to the Denny Sanford Premier Center to see the Chicks, formerly known as the Dixie Chicks, because I'd never seen them in concert. I made the mistake of purchasing a ticket right at the side of the stage. Although a close, unobstructed view of the entire stage, it was obviously only a side view. And the sound might have been clearer out front, instead of mostly a cacophony of sound.
A man sitting near me noticed my Navy ballcap and asked about my military service. His questions told me he was Navy, and when he asked if I'd ever been in an AIMD, I knew we could have a lot to talk about. It was great to have a conversation after all these years and not have to explain any terms. He had been an avionics technician at Aircraft Intermediate Maintenance Department Miramar in the 1990s. His wife graduated from Augustana College a quarter-century after I did. They and their friends drove down from Fargo to see the Chicks.
The friends were there to see the opening act, Ben Harper. They considered "Diamonds on the Inside" their song and had played it at their wedding. They cheered excitedly when he sang it. I'd never heard of him, but his popularity showed when the crowd clapped and sang along with his songs during his 45-minute set. He was a solo act who sat on the stage among a piano and a collection of nine guitars. He talked about the thrill for an opening act to be "anointed from above" when chosen by the Chicks.
The stage was then set up with nothing on it but three microphone stands. At 8:50, we could see a band starting to play behind a thin curtain. The curtain dropped as the Chicks walked onstage singing "Gaslighter." Lead singer Natalie Maines plays guitar. Marty Maguire (fiddle) and Emily Strayer (banjo) are multi-instrumentalists. They are sisters (née Erwin) who founded the trio in Dallas in 1989; Natalie joined in 1997.
The five-piece band consisted of lead, bass, keyboard, Natalie's son Slade on rhythm guitar, and a drummer who came from Sioux Falls. I thought the Chicks could have better showcased their talents without a band. But I suppose that wouldn't be enough music to hold the attention of over 9,000 people.
After an hour, the stage went dark for a set change. When the lights came back on, the Chicks and the band were all seated on glass boxes at the front of the stage in an inverted V. With Natalie hidden at the point, I could only see the performers on my side. They did another set change, back to their original positions, and Natalie introduced a new singalong song, the Dolly Parton/Miley Cyrus "Rainbowland."
When Natalie said, "We celebrate pride 365 days a year," the crowd roared in approval. I was surprised Sioux Falls had that many people who agreed with her. I wondered if concertgoers filled the arena because they liked the Chicks' music or their politics. Maybe both. A list of mass shooting sites, with numbers killed, scrolled across the screen as the Chicks sang "March, march to my own drum. Hey, hey, I'm an army of one."
There were two songs I waited to hear. They sang "Travelin' Soldier" about fifty minutes into the show and closed their almost-two-hour performance with "Goodbye Earl." There was no encore. They greeted audience members and then drifted offstage, with Natalie being the last one to leave.
NEWS
Jimmy Buffett (1946-2023)
Singer Jimmy Buffett, 76, died September 1, four years after his diagnosis of a rare form of skin cancer, Merkel cell cancer, which grows quickly and spreads to lymph nodes, organs, and skin. He continued to perform during his treatment. He was listed as No. 13 in Forbes' America's Richest Celebrities in 2016 with a net worth of $550 million. His legions of fans are called Parrotheads. Born James William Buffett on Christmas Day 1946 in Pascagoula, Mississippi, he grew up in Mobile, Alabama, and graduated from the University of Southern Mississippi in Hattiesburg. AP News reports he was in Austin, Texas, when the inspiration struck for "Margaritaville." He and a friend were drinking margaritas at a Mexican restaurant before heading to the airport for his flight home to Key West. "I kind of came up with the idea of this is just like Margarita-ville," he said later. He wrote part of the song on the plane and finished it while driving down the Florida Keys and sitting on the Seven Mile Bridge for an hour while waiting for a wreck to be cleared. "Margaritaville" was released February 14, 1977, and quickly took on a life of its own. It represented "growing older, but not up." Buffet was a pilot for over thirty years and once flew in a TA-4 with the Blue Angels. He later said the survival training for the flight helped save his life when he was flying a seaplane that sank on takeoff. (We had something in common. I took water survival training and stayed backseat qualified while in a U.S. Navy T-2C squadron. I had one hop in a TA-4J, doing bombing runs and barrel rolls. All of my flights landed safely.) I send my condolences to steel guitarist Doyle Grisham, who reads this newsletter and has been a member of Buffet's Coral Reefer Band for over two decades.
Former frontman and bass player for George Jones and the Jones Boys, Ron Gaddis, died August 24 in Louisville, Kentucky, at the age of 68. For twenty years, he played bass, directed the Jones Boys, and sang harmony and duets with George. He was eventually fired by "No Show" Jones and wife Nancy because his alcohol and drug addictions caused him to miss so many concerts. They strongly urged him to get help. Born Ronnie Eugene Gaddis in Louisville, Kentucky on July 15, 1955, Ron came to prominence during the revitalization of George's career in the 1980s. He and Lorrie Morgan were married for a short time and had a daughter named Morgan. Lorrie says, "Ron and I remained friends all these years after our divorce (most of the time). He had a big heart and a love for country music like no one I had ever known."
Herb Alpert, 88, will be making his Opry debut on August 18. It will be his first ever visit to the Opry. He will be performing the first single from his upcoming album, Wish Upon a Star. "East Bound and Down" is an instrumental remake of the Jerry Reed hit from 1977 that was revived for the 1980 film Smokey and the Bandit. "I never got that tune out of my brain," Alpert tells Billboard. "I always remembered that melody, and I tried to see if I could play that melody in my style and make some sense out of it. I'm going to not only do it with the Opry band, but I'm bringing my band and we're going to do a Tijuana Brass medley." As leader of Herb Alpert & the Tijuana Brass and as a solo trumpeter, he held the record for being the only living artist to have four albums in the top 10 of the Billboard 200 albums simultaneously until July when Taylor Swift tied his 1966 record. Alpert and Jerry Moss, co-founders of A&M Records, were inducted into the Rock and Roll Hall of Fame in 2006. They had signed Waylon Jennings in 1964 as one of their first artists. "Waylon really wanted to be a country artist," Alpert says. "I wanted to take him a little more pop. He told me confidentially about Chet Atkins wanting to see him. My partner Jerry Moss and I decided to let Waylon out of his contract so he could go with Chet and RCA." Jerry Moss died August 15 at age 88.
In celebration of her upcoming fashion book, Behind the Seams: My Life in Rhinestones, Dolly Parton is launching a new fashion exhibition at Nashville's Lipscomb University. "I'm bringing an archive of my favorite gowns and looks to @lipscomb for a one-of-a-kind fashion exhibition inspired by my new book," she says. The exhibition runs from October 31 through December 9. Dolly says in a statement about her book, "It is my hope that you will enjoy a look at my life in costume and hair and get to know some of the great people who have helped shape my life and my look."
The Academy of Country Music will air its 2023 ACM Honors show on September 18 at 7 p.m. CDT as a two-hour primetime special exclusively on FOX. Carly Pearce hosted the 16th annual show, her third consecutive year as host. Chris Stapleton was presented with the ACM Triple Crown Award. Kane Brown won the International Award for contributing to the growth of country music worldwide. Tim McGraw received the ACM Icon Award, while the ACM Poet's Award went to Clint Black, Mary Chapin Carpenter, and the late K.T. Oslin.
The Texas Country Music Association will present the first-ever Moe Bandy Icon Award at the 2023 Texas Country Music Awards on November 12 at Billy Bob's Texas. It will be an ongoing annual award, with the first one presented to Moe Bandy himself. Moe recently released a new album, Thank You Lord, featuring special guests on the twelve tracks. According to a press release, the title track, written by Mo Pitney, Bobby Tomberlin, and Cheryl Riddle, "offers a true reflection of where Bandy is in his life today, of which he is thankful for another mile, another day, and a life many could have only dreamed of."
No charges are being filed against the Nashville SWAT Officers who shot music engineer Mark Capps, 54, through his closed front door on January 5. Body camera footage shows officers placing flex cuffs on him instead of immediately rendering first aid: "Despite police being told that Capps was the only person in the house and the only one that was a threat, SWAT officers first insisted on clearing the house before rendering aid to Capps, going as far as to handcuff Capps while he laid dying or dead in the entryway of his home." Saving Country Music offers a detailed report, adding, "What friends, family, fans, and the music community want to know is what is being done to make sure someone else in the midst of a mental health crisis gets the care they need as opposed to being gunned down through a closed door in the front room of their own home."
PEOPLE recently interviewed John Schneider, 63, who talked for the first time about the death of his wife. Alicia Allain Schneider died from breast cancer at age 53 on February 21. The couple met in 2014 and immediately began spending time together, producing films, writing music, and racing cars. Alicia was diagnosed with breast cancer in May 2019, while John was going through a contentious divorce with his wife, Castle. During Alicia's cancer treatments, the two tied the knot "in the eyes of God" on July 2. They were legally wed September 27, 2019, after the divorce was finalized in August. The cancer went into remission in 2020 but returned in December 2021 after Alicia broke her back in a racecar crash. By February 2023, her health had declined to the point that John brought her home from the hospital for hospice care. She died six days later.
PEOPLE also interviewed Patty Loveless, 66, who is "still trying to soak it in" that she went from being a painfully shy Kentucky girl singing along to the records of Dolly Parton, Porter Wagoner, George Jones, and Loretta Lynn, to joining them in the Country Music Hall of Fame. She, along with Tanya Tucker and songwriter Bob McDill, will be inducted in October. When she was around five years old and her mother wanted her to sing for family and friends who came to visit, she recalls, "I'd run into the kitchen and hide down behind the refrigerator or get in the corner and sing very loud so they could hear me, but I didn't have to look at them." She also marvels at seeing her life displayed in the new Country Music Hall of Fame and Museum exhibit, Patty Loveless: No Trouble with the Truth, that will run through October 2024.
The second of three famous brothers in The Adams Boys band has died. Arnie, Gary and Don Adams formed the core of two important country music bands, The Jones Boys with George Jones in the 1960s and The Lovemakers with Johnny Paycheck in the 1970s. Drummer Roland "Big Arnie" Adams, 86, died August 28 at home in Greenfield, Ohio, soon after the discovery of late-stage cancer. (Guitarist Gary Adams, who also played in the final Marty Robbins Band, died in 2022 at age 78.) Arnie was born in rural Ohio, near Greenfield, in 1937, and grew up in a large family of talented musicians. According to Saving Country Music, he became a drummer by accident when a local musician needed a drummer and noticed Arnie tapping along to the music. The musician said Arnie seemed to have a great sense of musical timing and would he consider playing drums. He agreed and was hired. Gary and Don were already working with another hometown boy, Donny Lytle. Sometime around 1971, Arnie retired from the road, gave his life over to Christ, and settled in his hometown of Greenfield, Ohio. The Adams Boys and Donny Lytle (Johnny PayCheck) were inducted into the Ohio Country Music Hall of Fame in 2022.
The Grand Ole Opry's 98th birthday celebration during the week of October 4-7 will honor the women of country music, The Tennessean reports. Lainey Wilson will appear at 2804 Opryland Drive on the 4th, Crystal Gayle will be spotlighted during a special "Opry Country Classics celebrates Queens of Country" show on the 5th, Lauren Alaina and Chapel Hart will perform on the 6th, and Sara Evans will be inducted into the Grand Ole Opry on the 7th. More information is available at http://www.opry.com.
I was surprised to see "Rich Men North of Richmond" discussed in the introduction to the first Republican presidential debate. Apparently, so was the singer, Oliver Anthony. According to PEOPLE, he posted a video in which he said, "It was funny seeing my song at the presidential debate. Cause it's like, I wrote that song about those people. That song is written about the people on that stage and a lot more too, not just them, but definitely them." He added, "it's aggravating seeing people in conservative news try to identify with me like I'm one of them." Insisting he doesn't support either side, he said, "I see the right trying to characterize me as one of their own and I see the left trying to discredit me, I guess in retaliation."
In a recent interview with Digital Journal, Nancy Jones, widow of George Jones, talked about her upcoming memoir, Playin' Possum: My Memories of George Jones. The book will be published September 12, which would have been George's 92nd birthday. "I am very excited about this book, I've been working really hard on it," Nancy said. "I think it will answer a lot of questions that people will want to know about George Jones. After being married to George for 30 years, we have been together for 32 years, I thought it was time for the fans to know the real truth about George Jones." Concerning the duet tribute, "Tonight I'm Playin' Possum," that Randy Travis and Joe Nichols recorded soon after George's death, Nancy said, "That was a wonderful tribute." Her current focus is "all about keeping George Jones' legacy alive." A George Jones musical tribute will be shown in 1,000 theatres across the country on October 17. It was filmed April 23 in Huntsville, Alabama, to commemorate the 10th anniversary of his passing.
LETTERS
Patty Loveless responds to Elliot Mclanahan's question about Buck Trent playing on one of her albums: "Buck never played on my records."
Joseph Allen writes, "To Elliot, about 'Don't let me cross over.' It is on the Sleepless Nights CD by Patty. I see no reference to an electric or acoustic banjo or see Buck's name in the list of musicians. Now when I listen to the song, I do hear a banjo, but it sounds acoustic to me. However, Buck is the inventor of the electric banjo, which I did not know."
Eric Calhoun says, "I'm very happy you interviewed Patty Loveless. I love her! She's got a great way of doing and singing country music. Welcome aboard to Tracy Duffy, another one of my blind friends signing up for your newsletter. I agree with Lenore on Jason Aldean, and furthermore, the country music community that loves him embraces this song. Lainey Wilson, that was sweet of her to embrace the love of Dolly Parton. Congratulations to Sarah Evans. This Missouri native, I am so proud of her for accepting a membership to the Grand Ole Opry. I'd like to end on a tragic note. I was a big fan of the Gene and Julie Morning Show on Country 93.9 KZLA back in 1995 through 1997. Gene committed suicide last week. I have just accepted my fan badge, due to what happened, when I eulogized Gene. They were a married couple who also made stops at KVIL in Dallas/Fort Worth and 101.5 WRAL-FM in Raleigh. I will remember that Julie was, and still is, straight-from-the-hip and was very much a pillar of that show. Their website is geneandjulie.com."
Donald Ewert writes, "Remembering Dottie West this Labor Day weekend. On August 30, 1991, Dottie was critically injured in an auto accident enroute to the Opry. On Sept 4, my friend Walt Trott called me from Nashville to tell me Dottie had passed away. Dottie was and always will be my very favorite singer."
Sam Vercher requests, "Please forward your newsletter."
Jean and Alan Earle write from warm and sunny England, "I was sitting in the sunshine…in my garden and daydreaming, my mind was going back to Nashville to the lovely days we spent in that wonderful city and of the lovely friends we used to know there. So much has changed…..it will never be the same. Later on, still going down 'memory lane,' I looked at some of my much treasured photographs and wished those happy times could be recalled. May I share with you just this one picture that means so much to us. It was sent to us by Faron way back in the 1970s….lovely man, great voice, beautiful songs all much missed. Perhaps you might like to share it with your many Faron-admiring readers. Thank you always for your newsletters. Looking forward to your next one. We hope you are keeping well and enjoying all the Country Music that is still around you."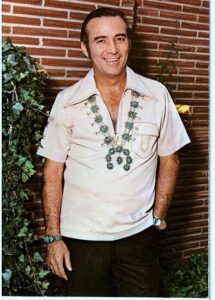 Mike Johnson, Black Yodel No.1, on his recent heart bypass surgery: "Enjoying your issues and following doctors' orders. My endurance is getting better and better. What a relief being able to walk again without having to stop every 50 feet. I was even able to wash my car without stopping to catch my breath."
Robert MacMillan writes from Kinloid House in Arisaig, Scotland, "Marty & Elvis. I'm sure their paths crossed many times, particularly during the early part of their musical careers. E.g., performing on the same show in Orlando, Florida in 1955 being just one example; and much later when they both performed in Las Vegas. There was also the 'That's All Right (Mama)' connection in the early days right through to Marty's 'You Gave Me A Mountain' which Elvis performed on his Aloha From Hawaii TV special; and of course, 'The Performer' which Marty wrote hoping Elvis would record. However, I've never seen a photo of Marty & Elvis together. Do you know if one exists? Perhaps Ronny would know. PS Thank you for your monthly roundup of all things country."
Diane: I've never seen a photo of them, either, although I know they did perform together. Marty was one of the many stars who gave up the headliner slot to Elvis in his early days. Your question did lead me to a discovery I'm not happy to report. When I looked up Elvis in the index of a copy of Twentieth Century Drifter, the page numbers didn't match. I finally figured out that the batch of books had been printed with the fourteen pages of photos counted, which threw off the numbering in the last half of the book. A wonderful thing about publishing with a university press is that the books stay in print, unlike with mainstream publishers, and can be printed on demand. I don't know if any shipments other than mine got misprinted. If anyone happens to have a copy of Twentieth Century Drifter that contains 294 pages instead of 280, send it to me and I will replace it.
VIDEO OF THE WEEK
I recently ran across an 11-minute video showing the opening ceremony of the 2016 CMA Awards show at Bridgestone Arena in Nashville. Brad Paisley and Carrie Underwood were the hosts. The show commemorated the 50th anniversary of CMA awards shows, the first one having taken place at the Nashville Municipal Auditorium in 1967. It was untelevised. Eddy Arnold, who had been inducted into the Country Music Hall of Fame the previous year, was named the first Entertainer of the Year. I don't remember if I watched the 2016 show, but I certainly enjoyed this video. It was way too short.
Songs performed:
1. "Mama Tried" – Vince Gill and Ben Haggard
2. "I Got A Tiger By The Tail" – Brad Paisley and Roy Clark
3. "Stand By Your Man" – Carrie Underwood
4. "Kiss An Angel Good Morning" – Charley Pride
5. "Mountain Music" – Alabama
6. "The Devil Went Down To Georgia" – Charlie Daniels
7. "Fancy" – Reba McEntire
8. "Guitars, Cadillacs" – Dwight Yoakam
9. "Killin' Time" – Clint Black
10. "Country Boy" – Ricky Skaggs
11. "Don't Rock The Jukebox" – Alan Jackson
12. "Forever And Ever, Amen" – Ensemble with Randy Travis
NASHVILLE SONGWRITERS HALL OF FAME – 1998
Merle Kilgore started hanging around the Louisiana Hayride in Shreveport, Louisiana, when he was 14 years old. To get close to Hank Williams, he offered to carry the big star's guitar case. Decades later, Merle would be the longtime manager of Hank's son, Hank Williams Jr. Born in Chickasha, Oklahoma, in 1934, Merle had his first songwriting hit when Webb Pierce recorded "More and More" in 1954, and it stayed at #1 for 10 weeks. He wrote hits recorded by Johnny Horton ("Johnny Reb"), Claude King (they co-wrote "Wolverton Mountain"), and later John Anderson ("Let Somebody Else Drive"). He was touring as an opener for Johnny Cash when he and June Carter wrote "Ring of Fire," a title she found in a book of Elizabethan poetry. Merle wrote several songs for Faron Young and later lived with Faron in the lake house when Faron and Hilda were separated. Merle was already Hank Jr.'s manager, but Hank was recovering from his fall off the mountain. My brother Kenny and I visited Merle in his Music Row office in 2000 when I was researching Faron's life. He was quite a storyteller. Merle died of cancer, at age 70, in Mexico in 2005.
Eddie Rabbitt was born in Brooklyn, New York in 1941 and began playing country music in New Jersey while in his teens. He moved to Nashville in 1968, the year Roy Drusky recorded his "Working My Way Up From the Bottom." In 1970, Elvis Presley recorded his "Kentucky Rain." Then in 1974, Ronnie Milsap had his first #1 country hit with Eddie's "Pure Love." Eddie Rabbitt and Even Stevens wrote many hit songs that Eddie recorded, their first #1 together being "Drinkin' My Baby (Off My Mind.)" Eddie co-wrote a dozen of his #1 songs, including "Step by Step," "Drivin' My Life Away," "Someone Could Lose a Heart Tonight," "Suspicions," and "I Love a Rainy Night." His final #1 hit, in 1989, he wrote by himself and it's my favorite of his songs: "On Second Thought." He died at age 56, of lung cancer, in Nashville in 1998 and was inducted into the Nashville Songwriters Hall of Fame a few months later.
Kent Robbins wrote or co-wrote numerous # 1 country songs in the 1970s-1990s. Born and raised in Mayfield, Kentucky, he moved to Nashville to attend Vanderbilt University; he graduated in 1969 at age 22. He became a professional songwriter in 1974, working for Charley Pride, who recorded "When I Stop Leavin' (I'll Be Gone)," "You're My Jamaica," and "I Don't Think She's in Love Anymore." Ronnie Milsap had a # 1 with "(I'm a) Stand by My Woman Man." The Judds recorded "Love Is Alive" and "Young Love (Strong Love)." Tanya Tucker recorded "I'll Come Back as Another Woman." John Anderson recorded "Straight Tequila Night" and "She Just Started Liking Cheatin' Songs." Trisha Yearwood had a hit with "I Wanna Go Too Far," Trace Adkins with "Every Light in the House," and Gary Allan with "It Would Be You." Kent died in an automobile accident in Clanton, Alabama, two days after Christmas 1997, at age 50. He was inducted into the Nashville Songwriters Hall of Fame the following year. In 1999, George Strait recorded Kent's co-written "Write This Down," which Billboard reported as the second most-played country song of the year.