IN THE SPOTLIGHT – BRUCE WILLIAMS
While doing research for my Randy Travis biography, I called Bruce Williams (of Williams & Ree) to talk about their USO tours; he had emailed me his phone number. He and Terry were in Minot, North Dakota. "There you are, Diane, just calling me right out of the blue, like I knew you might," he said as a hello. "We are sitting in the break room at the Norsk Høstfest." They were giving five performances during the four-day event that had just started back up after its two-year pandemic hiatus.
Bruce Williams and Terry Ree met in 1968 at Black Hills State College in Spearfish, South Dakota, when a music professor suggested they perform together during freshman week festivities. At the same time, I was experiencing–but not participating in–freshman week festivities on the other end of the state, at Augustana College in Sioux Falls.
I've seen Williams & Ree perform their comedy routine several times over the years, most recently at Grand Falls Casino in Larchwood, Iowa. One of the earlier times was during an art festival in Brookings, when I went there with my brothers while I was home on leave. I've also watched them on TV shows such as Country Kitchen, Nashville Now, and Hee Haw.
Billed as "The Indian and The White Guy," they take pride in being politically incorrect and using their humor to show the ridiculousness of bigoted attitudes. Terry sings the Indian national anthem: "This land is not your land, this land is my land, this land was made for Sioux, not you." While their basic show plays upon the stereotypes held of Native Americans, they get much of their banter from the locale in which they are performing.
Bruce described being in Incirlik, Turkey, with the Randy Travis USO show, where the base commander took them to a restaurant just outside the front gate. Guards with Uzi submachine guns stood on the parapets of the restaurant. Back on base, prior to their performance, the entertainers were instructed not to use any political material and not to mention anything about the Turkish government.
I commented how that must have been a tough rule for him and Terry to obey. "That was the first time we ever came up against something like that," he said. "We didn't talk about the guys with Uzis at the restaurant. We wanted to. And we thought better of it."
He told me about singing the National Anthem one year at the Oakland A's game with the Minnesota Twins. Tony La Russa had invited them to perform, and he explained before the game that baseball players are very superstitious. "If you guys sing the Anthem and they win the game, we'll have you back," he said.
The A's lost. "So we never got to go back," Bruce says. "But we did it that one time. That was fun."
Williams & Ree are happy to be performing again. "We've had a good year," Bruce says. "It's way up from last year. And we're miles ahead of Covid, because we didn't work for fourteen months. We haven't been able to get back to Larchwood, for some reason, I don't know what they have against us." I told him the casinos around here have gone to sports betting and don't have much for entertainment anymore. "That's at least an answer as to why we haven't been back," he said. "We used to be there like clockwork, in October. We're going back into Treasure Island in Minnesota, and we haven't been able to get in there for years, so maybe it's loosening up a little bit."
Bruce concluded with, "We've been pretty fortunate to be able to do this for as long as we have."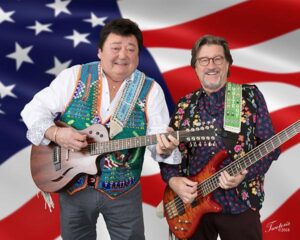 NEWS
The three newest members of the Country Music Hall of Fame (CMHOF) were inducted Sunday evening at the Country Music Hall of Fame® and Museum, reports 117 Entertainment. Joe Galante, one of country music's most successful record executives, was presented his medallion in the Non-Performer category by CMHOF member Kix Brooks. He was honored in song by Miranda Lambert, Kenny Chesney, and CMHOF members Alabama. Lorrie Morgan accepted the Modern Era Artist medallion in honor of her late husband, Keith Whitley, from CMHOF member Garth Brooks. He was honored in song by Mickey Guyton, CMHOF member Ricky Skaggs, and Garth. Jerry Lee Lewis, because of his age and health condition, could not be present to accept his Veterans Era Artist medallion. CMHOF member Hank Williams Jr. presented it to CMHOF member Kris Kristofferson, following songs by Lee Ann Womack, The McCrary Sisters, and Chris Isaak.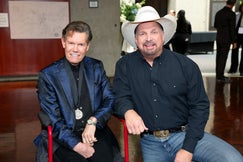 "Queen of the House" Jody Miller, 80, died October 6 in her hometown of Blanchard, Oklahoma, after dealing with Parkinson's disease for several years. PEOPLE reports she was one of Oklahoma's first Grammy Award-winning artists and only the second woman to pick up the award for best country performance —- female. Her answer to Roger Miller's "King of the Road" was a massive hit in 1965. She retired in the 1980s and later became a Christian music artist. She was inducted into the Country Gospel Music Association Hall of Fame in 1999.
Steel guitarist Dave Robbins, 71, died April 23 at home in Tracy, California, with his family at his side, after battling ALS. David Ray Robbins was born in 1951 in San Mateo, California, and he started learning to play the steel guitar at age six. Immediately after graduating from high school in 1969, he moved to Nashville, where he played in the bands of both Jean Shepard and Dottie West. He opened and worked in his own steel guitar repair shop in the Nashville area. After returning to California last year, he sometimes played in his father's band (Ray Robbins of Tracy). His daughter, Jennifer Mask, has the contents of his entire shop with her in Northern California and is selling everything except his ShoBud and Emmons steel guitars.
Anita Kerr, leader of The Anita Kerr Singers, died October 10 in Memphis, Tennessee, at age 94. Born Anita Jean Grilli in Memphis in 1927, she became Memphis station WREC's staff pianist at age 14. MusicRow lists some of the many hits featuring The Anita Kerr Singers: "My Special Angel" and "Jingle Bell Rock" by Bobby Helms (1957), "I'm Sorry" and "Rockin' Around the Christmas Tree" by Brenda Lee (1960), "Only the Lonely" and "Running Scared" by Roy Orbison (1961), "Make the World Go Away" by Eddy Arnold (1965), "Detroit City" by Bobby Bare (1963), "The Three Bells" by The Browns (1959), and "He'll Have to Go" by Jim Reeves (1959). At her peak, she was singing on a quarter of the singles produced on Music Row. She wrote the string arrangement for Floyd Cramer's "Last Date," and she produced and arranged "The End of the World" for Skeeter Davis. She and Chet Atkins co-produced Skeeter's LP, and Chet gave her the principal credit, which made her probably Nashville's first female record producer. After moving to Los Angeles, she was choral director for The Smothers Brothers Comedy Hour TV show in 1967. She spent the decade of the 1970s in Switzerland, conducting orchestras, composing soundtracks, and producing albums. She later returned home to Memphis.
Billy Jam Records artist and American Idol alum Alex Miller celebrated the release of his single, "When God Made the South," during his debut appearance at the Tulsa State Fair in Oklahoma, where he opened for Aaron Watson. This year he has shared the stage with Brooks & Dunn (Iowa State Fair), Jamey Johnson (Wisconsin State Fair), and with performers at state fairs in Ohio, Kentucky, and Oklahoma. He headlined at the New York State Fair, opened shows for Diamond Rio and Sawyer Brown, and debuted at the Wild Rose Casinos in Iowa.
When season 23 of NBC's singing competition, The Voice, ends next spring, Blake Shelton will be leaving the show. According to CMT News, he had been wrestling with the decision for some time. He has never missed a season since he helped launch the show in 2011. "I want to thank everyone at The Voice from NBC, every producer, the writers, musicians, crew and catering people, you are the best," he said on social media. "It takes a lot of work, passion, and adult beverages (Ha!) to pull off a live show twice a week."
The Country Music Association brought this year's CMA Awards nominees together for a celebratory dinner at Belmont University's Fisher Center for the Performing Arts, reports MusicRow. CEO Sarah Trahern invited reigning CMA Entertainer of the Year Luke Combs to lead a special toast for the group. The 56th Annual CMA Awards will air live from Nashville's Bridgestone Arena on Wednesday, Nov. 9 at 7 p.m. CT on ABC.
An Alan Jackson superfan wants her ashes spread at his house, and her daughter is trying to make it happen. Mary Anne "Marie" Gallant loved him so much she had his face tattooed on her back, and she saw him in concert two dozen times. At a concert in Portland, Maine, in 2015, Alan spotted her tattoo in the crowd and invited her onstage. He danced with her so the audience could see the tattoo. She died at age 80 in May 2021. While battling cancer of the tonsils, she kept a life-size cutout of him in her hospital rooms. She said, "When I die, I want my ashes spread over Alan Jackson's house." Her daughter, Sue Castle of Gardiner, Maine, flew to Nashville last week with the goal of somehow fulfilling her mother's wish. She told the Kennebec Journal that if she could talk to Alan, she would thank him for giving her mom "the best day of her life." She remembered her mother phoning her after the concert "just screaming" with happiness.
For the second time this year, Ward Davis came to Bigs Bar in Sioux Falls. We got there early enough to get a table where we could see over the heads of all the people standing on the dancefloor to watch the show. Ward has a definite following of diehard fans. We talked to an Iowa fan who lived three hours away. He said he often attends Ward's shows, and the longest distance he has traveled was to Luckenbach, Texas. Ward is an Arkansas native who moved to Nashville in 2000 to be a songwriter and singer. He recently headlined a show at Nashville's Ryman Auditorium, the original Opry house. His songwriting credits include "Unfair Weather Friend" by Merle Haggard & Willie Nelson and "So What If I Do" for Trace Adkins. Ward's songs include "15 Years In A 10 Year Town" and "I'm not the devil you think that I am…" 
The Carnegie Medal of Philanthropy was presented to Dolly Parton at Gotham Hall in New York City last week. In her speech, she said she doesn't have a strategy for her donations. "I just give from my heart," she said. "I never know what I'm going to do or why I'm gonna do it. I just see a need and if I can fill it, then I will." The Tennessean reports she has quietly paid for the band uniforms of many Tennessee high schools for years, and she used the songwriting royalties from Whitney Houston's version of "I Will Always Love You" to purchase a Nashville strip mall to support the surrounding black neighborhood. Her Imagination Library sends two million free books every month to children under five whose parents request them. The state of California has partnered with Imagination Library to make the program available to its millions of children under five. Her new Care More initiative at Dollywood gives employees a day off to volunteer at nonprofits of their choice. "I think it's important for everyone to do their share to help their fellow man," she said. She hopes the day of service will let people realize that "when you help somebody, it helps them, but it can help you more."
Eastern Kentucky natives Chris Stapleton, Dwight Yoakam, and Tyler Childers performed at The Kentucky Rising benefit concert in Lexington, Kentucky, and raised over $2.5 million for flood relief in Eastern Kentucky, MusicRow reports. Proceeds will be used to support both immediate needs and long-term recovery projects, following July's devastating floods.
LETTERS
Sherry Gomes writes, "Thanks for your segment on Don Reid in your newsletter this week. I've loved the Statler brothers for nearly fifty years, and every time I hear their music in my massive country music collection, I wonder how the remaining guys are doing. I'm off to check Audible for Don's book. I didn't know he wrote novels!"
Cor Sanne of CMS Productions writes from The Netherlands, "It is so good to see Bobby Fischer writing in your newsletter almost all the time. Bobby and his wife once were over here in The Netherlands when we had booked Cee Cee Chapman. I loved the Fischers as well as Melissa (Cee Cee). They were just sweet people. Cee Cee was a great singer, Too bad she left the music scene. She was different from all other girlsingers. Her version of 'A Winter's Night' is up until today one of my favorite songs. Bobby was one of the writers of this song. Precious memories and glad to see Bobby still being active."
Bobby Fischer writes from Nashville, "Three years ago tomorrow, Oct 10, I had a heart attack. Lori and Helen got me to emergency. The doc said artery was 98% blocked. I was going to send one of my songs today to celebrate aliveness. Maybe not 'Goodbye Says It All.' No, I guess 'Life's Too Short (No Matter How Long It Lasts).' Conway Twitty cut it with that wonderful voice."
Donald Ewert says, "Hello from Milwaukee, Today I had a good find on eBay, Penny DeHaven's 'The Great American Classic Cowboy.' written by Bobby Fisher and Scotty Turner. I know Bobby gets your newsletter. The record sleeve has a beautiful picture of Penny. She was such a good singer. I miss talking with her on the phone."
Philip Davies writes from the United Kingdom, "Thank you for sharing the Ray Edenton interview."
Dean Mann in Sioux Falls says, "Another great read. Your newsletters are welcome reads here in assisted living. Do you have a target date to complete your Randy Travis book?"
Diane: I'm hoping to finish the manuscript within the next year, and publication will be two years after that. We miss you on the Legion honor guard. And I just heard the breaking news about the South Dakota National Guard's upcoming groundbreaking ceremony for the Brig. Gen. Dean Mann Readiness Center in Sioux Falls. Congratulations!!
John Edmondson in Arizona sends this sad news: "I must sadly inform you that my beautiful and loving wife of 61-plus years, Wanda Lea Edmonson, passed away peacefully in the early morning hours of September 27, while cradled in my loving arms. As was her quiet but determined nature of coping with life's challenges, she graciously fought Parkinson's disease with her typical vigor and unyielding resolve. That five-year battle is now over; she is finally at peace. I have no doubts, the one and only love of my life has gone to heaven. She was baptized later in life, and it soon became remarkably apparent that her spiritual progression would endure throughout the rest of her life."
Daryl Skancke in Sioux Falls says, "Haven't thanked you for your newsletter in a while. Just want you to know I appreciate it."
Dominique 'Imperial' Anglares writes from France, "Thank you very much for that newsletter and for the space given to Loretta Lynn, Ray Edenton, and the follow up to Nashville Songwriter Hall of Fame. Among the friends we lost stand Jerry Lee 'Smoochy' Smith who passed on September 6 at the age of 82. Smoochy played piano with many acts around Jackson, Tennessee, including Kenny Parchman and Carl Perkins. In 1956, he started to work sessions at Sun Records in Memphis but due to his extreme youth he was not allowed to join the local musicians union so his contributions for Warren Smith, Billy Riley, Roy Orbison and others were kept secret from the session logs. He later was a member of The Mar-Keys. Always great to read your newsletter, keep the good work going on."
Frank Gerard, audiobook narrator, says, "I am halfway through the Marty book, and really enjoying it. I read your Faron book many times before narrating it, but had only skimmed the Marty book prior to this year, so after reading it from cover to cover a few months ago, I am now narrating it and enjoying it a lot. Timetable looks good to have this to retail for the holidays."
Diane: I'm excited about soon having Twentieth Century Drifter: The Life of Marty Robbins available as a downloadable audiobook.
MUSIC IN AMERICAN LIFE ANNIVERSARY SALE — BOOKS 50% OFF
During the month of October, the University of Illinois Press is offering all books in the Music in American Life series at 50% off. Use promo code MAL50 when ordering. This includes Live Fast, Love Hard: The Faron Young Story and Twentieth Century Drifter: The Life of Marty Robbins. 
IN THEIR OWN WORDS
The second time I called Ray Edenton for an interview was for my Marty Robbins biography. He'd been the rhythm guitarist on Nashville's A-Team of classic session musicians, and "Singing the Blues" by Marty Robbins in 1956 was one of the few records where he played lead guitar. I called him at his home in Gallatin, Tennessee, on September 20, 2006, six years after our first conversation. Ray died September 21, 2022, at age 95.
When Marty first came here, in '53 or '54, he didn't have a band. I don't know who decided that me, and Lightnin' Chance on bass, Jack Evins played steel, Don Slayman played fiddle. Didn't have any lead player back then. I played rhythm. Marty was just booking within a hundred miles of Nashville, 200 miles or so. For some strange reason they put him on a morning radio show for that flour company–Martha White. He just wasn't suited for that circuit. That was strictly a bluegrass circuit. We worked it with him for a while. Marty at that time wasn't a good emcee. Lightnin' and I had been in the business for years, and we would help him out on shows. You know Marty played pretty good rhythm. Back in those days the bands weren't near as big as they are now. We all doubled.
I did a bunch of sessions when he was doing some semi-rock 'n' roll stuff. "That's Alright, Mama," and all those things. He wanted me to play lead guitar on it, and I played horrible lead guitar. But I did, on all those-type records. It was all done at ol' Castle Studios. Then, I did "Singin' the Blues" with Marty. He called me in to do the session on "Singin' the Blues," which was a huge hit for him. I played lead electric guitar on it. That was the last session I did with Marty for 15 or 16 years.
We had a lot of fun on the road, working with him. I don't have many stories with Marty; he was too straight. He didn't drink, and he didn't smoke, he didn't run around, so he was pretty straight. He was honest, which you don't always find in the music business. He'd pay you every dime he owed you. That's about all I can tell you about Marty, except that we still were friends until he died. He was one of the greatest singers I ever worked with.
Joe Vincent was a delightful fellow. He was just starting out in the business when Marty hired him. He didn't know anything about show business either. We used to tease him all the time. I haven't seen him in years. He wasn't sure I'm still living? Most people, even after they've seen me, don't know whether I'm living or not. I'll be 80 years old in November. I haven't played anything since–'91, I guess, was the last time I played. But I'm still kickin' around.
Marty loved racecars. When he came here, he bought him a new Chrysler New Yorker. I remember it was the first car anybody in the band had ridden in that had air conditioning. And the first one we'd ever ridden in that had power steering. We were primitive. Usually back then you split up the driving. So Lightnin' and I–cuz we'd been around for years then–and Don Slayman wouldn't drive at night because of his eyes. Lightnin' and I were used to driving–some of these show dates were so far, you had to drive 80-90 miles an hour to get there–on the old bad roads. Marty wouldn't let us drive over 55. And he drove like a bat out of hell. He was a fast driver. But he wouldn't let us drive over 55–said we scared him. So we wouldn't drive. We made him and Joe Vincent do all the driving. We said, no, if we can't drive like we want to drive, y'all go ahead and drive. He used to cuss and raise cain about that. Lightnin' and I had driven more miles than he had ever thought about. I started working the road in 1946. We'd all been around the block a few times. Marty didn't cuss. He'd raise cain because we wouldn't drive. We'd get up under the wheel, and that's the first thing we did was run up to 80 miles an hour, and he'd make us stop.
When Marty first came here, he couldn't sleep at night. I don't know whether that was because he worked clubs all those years, or whatever it was. And I was a night owl back then. That was before I was married. I was having a big time. He'd get me to go with him at night. He'd go around to all the clubs, and we had this morning radio show–5:30, I guess–on WSM. Sometimes we'd be out all night, and he'd pay my bar bill just for me to go with him. Finally, he said, "I'm gonna have to cut you down; I believe you're drinking too much." We'd go around all night long. Marty didn't drink, and he'd buy me drinks just to stay with him. We had a big ol' time. I was fairly young then, and I'd stay up all night, and we'd get in just in time to do the radio show in the morning.
NASHVILLE SONGWRITERS HALL OF FAME – 1971
Here is the second group of the twenty songwriters inducted into the Nashville Songwriters Hall of Fame during its second year of existence.
Al Dexter is known as a forefather of honky-tonk music. Born Clarence Albert Poindexter in 1905, the lifelong Texan wrote and recorded "Honky Tonk Blues," giving him a hit to begin his recording career in 1936. The song is considered the first one in country music to use the term "honky tonk." Dexter wrote and recorded "Pistol Packin' Mama" in 1943, selling three million copies and topping both the country chart and pop hit parade. Other hits he wrote and recorded in the 1940s included "I'm Losing My Mind Over You," "Too Late to Worry, Too Blue to Cry," "Wine, Women and Song," and "Guitar Polka," which spent 16 weeks at #1 In 1946. He owned and operated a nightclub in Dallas for many years. He retired in the 1960s and died in 1984, at age 78, in Lewisville, Texas.
Vaughan Horton was a New York-based songwriter who wrote such classics as "Mule Skinner Blues," "Sugar Foot Rag," and "Mockin' Bird Hill." He was born in 1911, one of a coal miner's 11 children, in the Allegheny Mountains of Pennsylvania. He began playing country music as a way to escape the mines. His first songwriting success came in 1931 when Jimmie Rodgers rewrote his song "Mule Skinner Blues." He played guitar and steel guitar during New York recording sessions in the early 1940s, backing artists such as Jimmie Davis and Elton Britt. He added words to the Hank Garland guitar instrumental, "Sugar Foot Rag." He and his brother Roy, who later became an influential country music publishing executive, had a group called the Pinetoppers. In September 1950, they recorded Vaughn's "Mockin' Bird Hill," which became a pop and country hit for them and was covered by Les Paul and Mary Ford, where it became one of the biggest records of 1951. Vaughn died in 1988 at age 76 in New Port Richey, Florida.
Bradley Kincaid was one of the most popular country radio performers in America in the late 1920s. Although born to a poor farm family in the Kentucky mountains in 1895, he earned a college degree. He was on the National Barn Dance on WLS in Chicago from 1926-29, where he drew 100,000 fan letters a year. People lined up for blocks to hear him sing in theaters. His "Hound Dog" guitar model was sold in Sears catalogs. He popularized traditional folk songs such as "Barbara Allen," "Red River Valley," "On Top of Old Smoky," and "Sweet Betsy from Pike," In 1928, he became the first country artist to publish a songbook, publishing thirteen of them by 1950. He was a Grand Ole Opry member 1946-50 and retired in 1950. He then opened a music store in Springfield, Ohio. He discovered Grandpa Jones and influenced such artists as Eddy Arnold, Lulu Belle & Scotty, Bill Monroe, and Mac Wiseman. He died in 1989 in Springfield, at age 94.
Bill Monroe , "The Father of Bluegrass, was born into a music-loving Kentucky farm family in 1911. As a young teenager, he was playing the mandolin at country hoedowns with his uncle, Pendleton Vandiver, who became the subject of the classic "Uncle Pen." After a duet act with older brother Charlie in the late 1930s, Bill formed the Blue Grass Boys and created bluegrass music. His songs built the bluegrass repertoire: "Blue Moon of Kentucky," "Will You Be Loving Another Man," "Rocky Road Blues," and "Can't You Hear Me Calling." He was elected to the Country Music Hall of Fame in 1970. He survived cancer and double bypass surgery and continued performing until his death in 1996, at age 84, in Nashville. He was inducted posthumously into the Rock and Roll Hall of Fame the following year.
Bob Nolan was a founding member of the Sons of the Pioneers, along with Leonard Slye (Roy Rogers) and Tim Spencer. Born Robert Clarence Nobles in Winnipeg, Canada, in 1908, he settled in Los Angeles in the early 1930s. The Sons of the Pioneers dressed in cowboy garb and sang intricate three-part harmony. Joined by brothers Hugh and Karl Farr, they began recording for Decca Records in 1934. Nolan classics include "Tumbling Tumbleweeds," "Cool Water," "One More Ride," "Down the Trail," "Moonlight on the Prairie," and "Round-Up in the Sky." After leaving the group in 1949, he stayed in California and concentrated on writing songs. He died in Newport Beach at age 72, a few months before the Sons of the Pioneers were inducted into the Country Music Hall of Fame in 1980.
Tex Owens, the writer of "Cattle Call," grew up farming and ranching in Texas and Oklahoma, the oldest of a sharecropper's 13 children. He was born Doie Hensley Owens in 1892 in Killeen, Texas, and started his own radio show on KMBC in Kansas City, Missouri, in 1932. He was billed as "Radio's Original Texas Ranger." He was sitting in the KMBC office building in Kansas City, watching a snowfall while waiting to do a broadcast, he recalled, when "my sympathy went out to cattle everywhere, and I just wished I could call them all around me and break some corn over a wagon wheel and feed them. That's when the words 'cattle call' came to my mind. I picked up my guitar, and in 30 minutes I had wrote the music and four verses to the song." He retired in 1960 and moved back to Texas, where he died two years later of a heart attack at age 70.