IN THE SPOTLIGHT – RANDY TRAVIS
When Kayo Paver and I drove to North Texas in 2016, we included Tioga on our route and an excursion to find the Randy Travis ranch—which we did. No one answered when I punched the call button at the gate, so we headed home to South Dakota. Never could I have imagined that the next time I approached that gate, I would have the code to open it. Or that I'd ever be running along that country road. But that's exactly what happened 6½ years later.
This visit came as a result of meeting Randy and Mary Travis at the Corn Palace in Mitchell. (https://dianediekman.com/dianes-country-music-newsletter-7-september-2022/) We agreed I would come to Texas for a research trip for Randy's biography. Perry Steilow traveled there with me last week. As we drove through the gate at one o'clock on a sunny and windy afternoon, a huge Texas-style ranch house appeared in the distance.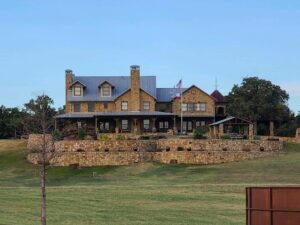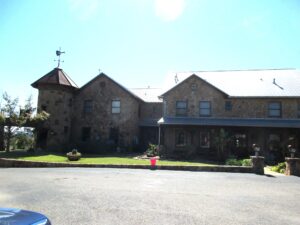 Turning up the hill toward the house, we stopped where Mary was feeding their eight horses and two buffalo. Randy owns two descendants of the famous Roy Rogers palomino, Trigger. He acquired the three-year-old Trigger Jr. from Roy in 1989 and kept him until he died. Trigger Jr. was mean-tempered, and Randy said at the time that he planned to breed the stallion in the hope of producing a better-tempered Trigger look-alike. He succeeded. He still has Trigger Jr.'s daughter, Mariah, who has a sweet disposition and is about 22 years old, and her son, Flash. Randy and Mary also have a herd of Angus cattle and Texas Longhorns on their ranch. Goalpost, a thirty-year-old Longhorn, is a pet who wanders freely around the yard.
Randy was watching a football game when we went in the house. People often wonder how he can be so cheerful when life has changed so much. Mary says others don't realize the shape he was in when he came home from the hospital after experiencing viral cardiomyopathy and a stroke in 2013. He couldn't see, he didn't recognize basic items. It took a lot of repetition for him to speak words and a long time for his memory to come back. They measure their happiness by how much he has improved.
Randy's aphasia is a neurological disorder, resulting from damage to the language area in the brain. Aphasia has a greater negative impact on a person's quality of life than does cancer or Alzheimer's disease, according to a Canadian study of 66,000 people. That's because the person is unable to communicate and interact with family, friends, doctors, and the community. Intelligence is not affected. Mary gave me some statistics to show just how widespread aphasia is. It occurs in a third of the 750,000 strokes each year in the USA. Although over two million Americans have aphasia, 85 percent of people have never even heard of the term.
The stroke wiped out portions of Randy's brain that deal with speaking, as well as diminishing his ability to read and write. He can sing even if he can't talk because singing involves memory and comes from the other side of the brain. While Randy was in the hospital, one of the therapists brought her keyboard to his room after her shift to play for him; she was the one who started teaching him to sing "Amazing Grace." His vocal cords are in perfect condition. The UT Southwestern specialist who gave him a thorough checkup said he has less scar tissue on his vocal cords than do most healthy singers with that number of years of singing.
Randy propels himself in his wheelchair with his feet. When someone is pushing him, he holds his feet in the air. He won't allow foot supports on the chair because he wants to control when he stops. Mary says she might be pushing him through a restaurant, and when he wants to talk to somebody, he puts his feet on the floor. The sudden stop almost sends her over his head. At the ranch, there is an elevator right inside the door from the garage, which Randy uses to go upstairs and back down. He leaves his wheelchair by the door and walks with assistance to get to the SUV in the garage. There is another wheelchair in the vehicle. They seem to have everything down to a science.
When they bought the Chrysalis Ranch with its three-story house, they gutted the first and second floors and rebuilt them. There are so many rooms on the ground floor that Perry and I never did find our way around without making several attempts or asking for directions. The bedrooms are on the second floor. The trophy room contains shelves filled with awards and walls covered with framed awards and photos.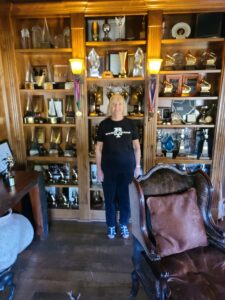 In one of my chapters, I'd written about Randy receiving a White House thank you with a handwritten note from President Bush for performing at his inauguration gala. When I sent the chapter to my critique group, they wanted to know what the handwritten note said. Well, how would I ever find that?! Then, at Randy's house, I asked Mary about it, and she said she thought it might be in the trophy room. I looked for it and found the framed letter on the wall. Now I can go back and quote the letter in my chapter!
Randy's old Prevost tour bus is stored in one of the outbuildings, and a room behind the bus is filled with "stuff" from Randy's years of performing. I asked if they were considering selling the ranch and moving to Nashville; I'd heard or read that somewhere. Randy said NO. He made it clear that he is not leaving the ranch. Of course, after seeing their house and a few of the buildings, I couldn't imagine the monumental task of moving. Randy is strong and healthy, doesn't get sick, and doesn't take medication. Mary's son, Raleigh, takes care of the ranch when they're away. They own a small house in Nashville, where they stay during their frequent trips to Music City. Mary's daughter, Cavanaugh, lives there. They recently purchased a vehicle for getting around town when they visit.
Mary invited us to spend Monday night at their house and leave for home from there the next day. First, we met Monday evening for dinner at Haywire Plano on Winthrop Street in Plano (Mary's hometown). Their longtime friends, Bill Blythe and Al Weir, joined us. I enjoyed watching the interaction of friends and the sense of community and joy throughout the evening. Bill and Al both agreed for me to interview them. They said they had all kinds of bad things to say about Randy, and they'd try really hard to think of something good. Randy laughed to hear them poking fun at him. We all knew they have only good things to say.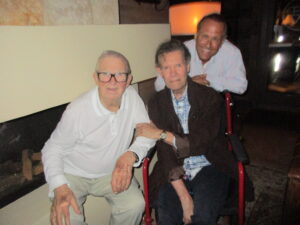 Management brought complimentary appetizers to our table. After dinner, as our group moved toward the elevator, people started coming over to greet Randy. He put his feet down to stop his chair from moving while he listened to whatever they said. He posed for numerous photos and seemed to take great pleasure in socializing. We sat in a downstairs lounge area while he and Mary talked with friends and more people came over for photos. I'd always heard Randy gave as much time to his fans as they wanted, and now I'd seen it for myself.
We followed Mary and Randy from the restaurant to the ranch. I didn't lose them but had to concentrate to keep their vehicle in sight in the dark. I'm not used to driving like a Texan. Mary said if you drove the speed limit, you'd never get anywhere in Texas.
Tuesday morning, I went out at sunrise for a three-mile run along the gravel road. With a temperature of 49 degrees and NW 22 mph wind, I mentally prepared myself to be cold. I wasn't expecting weather like that in Texas. However, the road was mostly protected by trees, and the sun warmed me, so I didn't feel cold at all. I just felt amazed to be running in Randy's neighborhood and enjoying the countryside.
We visited until mid-afternoon, when Mary called Myer's Market in Mountain Springs to ask about lunch and was told the grill was closed. After she and the owner chatted pleasantly for ten minutes, he offered to reopen the grill and personally cook burgers for us. We had a delicious lunch and one last good conversation. Mary and Randy radiate joy and graciousness wherever they are. I felt honored to have spent time with them. We said goodbye, and Perry and I headed up I-35 toward South Dakota.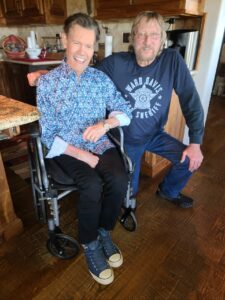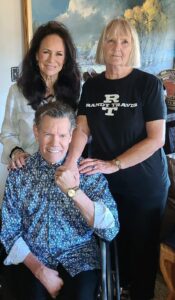 NEWS
Jerry Lee Lewis (1935-2022)
Two weeks after being inducted into the Country Music Hall of Fame, Jerry Lee Lewis, 87, died October 28 at his home in Desoto County, Mississippi. Born in 1935 in Ferriday, Louisiana, he grew up going to church at the Assembly of God and singing with his father playing guitar. He started playing piano at age eight, and his father mortgaged the family home for $300 to buy him a piano. In 1956, after reading a story about Sun Records in Country Song Roundup magazine, Jerry Lee saved up money from his gigs and went to Memphis. His country hits between 1968 and 1981 included "What's Made Milwaukee Famous (Has Made a Loser Out of Me)," "She Even Woke Me Up to Say Goodbye," "Once More with Feeling," "There Must Be More to Love Than This," and "Middle Age Crazy." He was inducted into the Rock and Roll Hall of Fame in its inaugural year of 1986. According to a press release, public memorial services will be held Thursday in Hernando, Mississippi, at the Hernando Funeral Home and on Saturday at Young's Funeral Home in Ferriday, Louisiana. The officiate for the Saturday service will be his cousin, Reverend Jimmy Swaggart. A live stream option will be available on his Facebook page.
The 70th Anniversary of Sun Records was commemorated last week at the Gibson Garage in Nashville, reports CMT News. Performers covered songs by Sun Records artists. Chris Isaak sang Jerry Lee Lewis's "Great Balls of Fire," and Emmylou Harris joined him for Roy Orbison's "Love Hurts." Hannah Dasher (who opened for Reba McEntire in Sioux Falls earlier this year) performed a Johnny Cash version of "Hey Good Lookin.'" Sam Phillips established Sun Records in 1952 and made stardom possible for Elvis Presley, Johnny Cash, Jerry Lee Lewis, Carl Perkins, and Roy Orbison.
A New Jersey farm boy who became a famous cowboy poet and Western music preservationist, Don Edwards, died October 23 at age 86. He grew up with dreams of the American West from reading books about cowboys, and he started playing guitar at age ten to be a cowboy singer like Gene Autry, Roy Rogers, and Tex Ritter. As a teenager, he ran away to Texas and New Mexico to work in the oil fields. Six Flags Over Texas in Arlington hired him in 1961 to be everything cowboy at the amusement park, where he sang and acted for five years. After attending the annual Cowboy Poetry Gathering in Elko, Nevada, he began releasing packages of traditional cowboy songs. In 1992, he signed with Michael Martin Murphey's label Warner Western and began regularly releasing albums of cowboy and Western music. In 2005, he was inducted into the Western Music Association Hall of Fame. Saving Country Music states, "Both as a performer on stage, and a preservationist behind-the-scenes, Don Edwards was one of the premier individuals helping to preserve the words and songs of the American cowboy. Now a new generation of cowboy poets and Western singers recite the works of Don Edwards as their own influence and hero."
The star-studded Fourth Annual Dottie West Birthday Bash raised $30,000 through ticket sales, sponsorships, and a live auction, to present to Music Health Alliance. The October 11 event was hosted by Jeannie Seely and held at the 3rd & Lindsley music venue. Charlie McCoy was special guest honoree. Performers included Grand Ole Opry members Rhonda Vincent, Mandy Barnett, Don Schlitz and Vince Gill, as well as many others. According to a press release, the house band, who all donated their talents, consisted of Dug Grieves (lead guitar), Kenny Sears (fiddle), Steve Hinson (steel), Mark Beckett (drums) and Matt McKenzie (bass). Melissa Luman Phillips handled the live auction.
Merrick Avery McCreery was born to Gabi and Scotty McCreery at 4:34 a.m. on October 24 in Raleigh, North Carolina. Named after Gabi's father, Merrick (Tre) Dugal III, the baby boy will be called Avery. The birth of his son means Scotty is no longer the end of the McCreery line. "It's up to Avery now," he says about his first child. CMT News reports Scotty is on paternity leave until his November 30 show in Las Vegas at the Downtown Hoedown on Fremont Street.
Comedian Leslie Jordan, 67, a Tennessee native, died October 24 following a car crash in Hollywood, California. He was pronounced dead at the scene. According to The Los Angeles Times, the vehicle's condition suggested he lost control of the car, but it wasn't known if he was killed in the crash or suffered a medical emergency before the crash. He recently appeared on the Grand Ole Opry, and he teamed with Dolly Parton, Tanya Tucker, Brandi Carlile, and others to make his 2021 gospel album, Company's Comin'. He was best known for his role as Beverly Leslie in the Will and Grace TV show.
Funds raised on the Luke Bryan Raised Up Right Tour are going to the Florida Disaster Fund to help those impacted by Hurricane Ian, a Category 4 storm that left 114 people dead. It was the deadliest hurricane to hit Florida in almost 90 years. PEOPLE reports that Luke issued a statement on Twitter to respond to fans who were upset that he welcomed controversial Florida Governor Ron DeSantis on stage at a Jacksonville concert. "I typically don't respond to stuff when I'm getting run down on a social platform but here's the deal," he wrote. "I understand Governor DeSantis is a very polarizing figure. But I grew up in a country where if a governor asks you if they can come and raise awareness to help victims of a natural disaster, you help." He concluded his tweet by encouraging his fans to donate to disaster relief.
The new "Tilted Crown" music video by Sam Williams, 25, chronicles his upbringing as Hank Williams Jr.'s son and shows him kissing his boyfriend on camera. "People at my label know and people in my personal life know, but this is the first time, besides a show or two, that I've ever been this public about it. And it is scary, but it feels good," he said in an interview. The Paris, Tennessee, native explained that growing up in a small town forced him to push against his true feelings in order to hide his sexuality and "fit in" with other kids. To end his feeling of promoting invisibility and not being himself, he decided the video was "the perfect opportunity to show who I was." He said, "If I was a kid, and I saw somebody like myself doing an interview like this and just saying, 'This is who I am and I'm proud to be who I am,' that it would have been impactful for me. So I think that's one of the most important reasons why I'm being so open."
"We're sorry to announce that we won't be able to perform in Vancouver tonight," Zac Brown Band said in a statement shared with PEOPLE. They were forced to cancel their show hours before it was scheduled to begin at Rogers Arena, after some of its members were denied entry into Canada at the border. The statement said, "Some of our crew members had charges on their records from over a decade ago that have since been removed. Our team has regularly performed in Canada for 10 years, including two performances this year alone." Every time they've traveled to Canada, they "have been at the mercy of a single border agent who decides who is allowed in to work." A source told PEOPLE, "Zac refused to leave his crew members behind because they're like a family, so he decided to cancel the show."
Less than two years after Ashley Judd tripped over a fallen tree during a hiking excursion in the Democratic Republic of Congo and shattered her leg in four places, she suffered another leg fracture in what The Hollywood Reporter says she describes as "just this freak accident." Ashley explains, "Clumsiness is associated with grief, and there were other people in our family, after mom died, who fell down stairs and had accidents, and that's what mine happened to look like. It allowed me to stop what I was working on at that moment and to grieve." The recent fracture healed in two months.
The 3-bedroom, 1-bath log cabin Willie Nelson built for himself on 150 rolling rural acres in Goodlettsville, Tennessee, in the 1960s is on the market for $2.5 million. Dubbed "The Hideaway," reports Taste of Country, the main residence centers around a great room that encompasses the living room and kitchen, and there's a loft sleeping space as well as a stone fireplace. The exposed beams and raised roof give the cabin a spacious feel. He lived there when the events took place that inspired his song, "Shotgun Willie," in 1973. Sotheby's holds the listing by the current owners, who purchased the property from Willie.
In its first induction ceremony since 2019, the Musicians Hall of Fame will induct the Class of 2022 on November 22 at the historic Nashville Municipal Auditorium, with Phil Vassar as the host. Don McLean, Ray Stevens, Vince Gill, and Marty Stuart and His Fabulous Superlatives (Chris Scruggs, Harry Stinson, Kenny Vaughan, and Mick Conley) will be inducted. Jim Guercio will receive the Producer Award and George Massenburg the Engineer Award. MusicRow reports the ceremony will also honor the legacy of Musicians Hall of Fame founder Joe Chambers, who died in September.
In a recent interview with Pollstar, Dolly Parton announced she is making a rock album to prove she can do it, saying, "I had to do a rock album, because if I'm going to be in the Rock & Roll Hall of Fame, I'm going to by God earn it!" She said her husband is a big hard rock 'n' roll fan, and she's always wanted to do an album "mainly just for him." She reiterated that she "always felt the Rock & Roll Hall of Fame was for rock 'n' roll people, who spent their lives, time, energy and talent in the rock 'n' roll field." She didn't want to take votes from someone who'd spent their life in that. When asked if she plans to schedule a rock tour, she said, "I do not think I will ever tour again, but I do know I'll do special shows now and then." She said, "I have no intention of going on a full-blown tour anymore. I've done that my whole life. I like to stay a little closer to home with my husband. We're getting older now, and I don't want to be gone for four or five weeks at a time. . . I would feel bad if I had to leave a tour if somebody got sick at home and needed me and I had to walk out on the fans."
The annual Nashville Songwriters Hall of Fame induction gala took place Sunday night in Music City Center's Grand Ballroom, reports The Tennessean. Garth Brooks, Carrie Underwood, Keith Urban, and Vince Gill were there to honor this year's inductees: Shania Twain (who could not be there),Steve Wariner, Hillary Lindsey, Gary Nicholson, David Malloy, and the late Chips Moman.
Coal Miner's Daughter: A Celebration of The Life & Music of Loretta Lynn was a star-studded celebration at the Grand Ole Opry house this past Sunday night. The evening to honor Loretta Lynn, who died October 4 at her home in Hurricane Mills, was hosted by NBC's Today Show co-host Jenna Bush Hager. MusicRow reports Wynonna, the Gaither Vocal Band and Larry Strickland opened the show with "How Great Thou Art." Alan Jackson sang a song he wrote for his mother when she passed away, "Where Her Heart Has Always Been." Keith Urban sang "You're Looking At Country," George Strait sang "Don't Come Home A-Drinkin' (With Lovin' On Your Mind)," Darius Rucker sang "Fist City," and Margo Price performed "The Pill." Tanya Tucker sang "Blue Kentucky Girl." Loretta's granddaughter Emmy Russell and Willie Nelson's son Lukas Nelson performed the first duet Loretta and Willie ever recorded, "Lay Me Down." Stars appeared in person or virtually to share heartfelt messages, and documentary-style videos of Loretta's life story played between performances.
LETTERS
Bobby Fischer writes from Nashville, "My band, The String Kings, played at Sonny's Avalon Nightclub in Rock Island, Illinois, in the 1960s. I remember one night as we were up on stage overlooking the long bar room, there were three separate fights going on (usually there were only two). Playing those clubs you sang and wrote songs about drinkin' fightin' cheatin' losin' lovin' and various life changing escapades. One of the songs I wrote to go along with the likes and dislikes of the folks was 'Cheatin in the Key of C.' When I got to Nashville, I pitched it around as those kind of songs were on the radio and being recorded. I took it to Columbia Records. The great producer Billy Sherrill was producing hits on Johnny Duncan, but Billy pretty well wrote all his own so it was hard to get one in there (maybe he wrote and recorded all his own 'cause he wrote hit songs). He produced Tammy Wynette and George Jones. So I lucked out. He recorded 'Cheatin in the Key of C' on Johnny Duncan. Later he produced one of mine and Freddy Weller's on George, 'The Writing on the Wall.' As you can see, I came out of the Avalon Nightclub with only a few bruises and made it to Nashville. Thanks, Billy."
Christopher Pierce writes from Belfast, "I'm a long-time subscriber to your email newsletter and thought this piece might be of interest to your readers. It does involve Marty Robbins. Joe Babcock and Jeff Chandler know me well and knew me when the event written about took place.
Diane: Thanks for the article about Curly Fox and the importance of being remembered. I can't post a .pdf, but I hope this TinyURL works:https://tinyurl.com/26tvxspf
Jean Earle writes from England, "Hello very good to hear from you, Diane. We always appreciate how hard you must work to collect all the country news for us. It is such a shame that too often you have to tell us the sad news of the loss of another fine country friend. We think of you all so much and remember the many very happy hours we were lucky enough to spend with the lovely folk we met with, during our visits to Nashville. Can I ask you to kindly say 'Happy Hello' to anyone who may remember us…two most happy visitors to Music City …from Old England…. Alan and Jean Earle."
Diane Jordan writes from Nashville, "I enjoyed your newsletter, as always, and especially enjoyed the 1971 list of inductees into the Songwriters Hall of Fame. I'd heard most of their songs but didn't know who had written them. I was happy to see you'd printed Cor Sanne's letter. I sent your newsletter to him as soon as I discovered it and he immediately subscribed. Cor and I have been dear friends for years. In 1985, he brought me to Europe for four weeks, for shows in Holland, Denmark, and Belgium, which was a wonderful experience for me. We keep in touch via email, every week. Due to Covid, Cor's last plans to visit Nashville were scrapped and I'm afraid he won't be back."
Dominique 'Imperial' Anglares writes from France, "Thank you very much for that much appreciated newsletter and for the info given. I have just learnt about Al 'Puddler' Harris's passing on October 17. He was born June 9, 1936, in Jigger, Louisiana. His interest in music began as a teenager when he and guitarist Fred Carter, Jr. formed a band that played at parties, drive-in restaurants, and everywhere they could. When Floyd Cramer moved permanently to Nashville, Harris replaced him as staff pianist at the Louisiana Hayride. He became friends with Joe Osborn, originally from Mound, Louisiana, and worked with Ricky Nelson, Nat Stuckey, Conway Twitty, and countless others. He had releases by himself on Rocko and Capitol. Another fine musician has gone."
Richard Lang says, "Heard you on Carl Rollyson's podcast. Please sign me up for your newsletter."
DIEKMAN PODCAST WITH CARL ROLLYSON
Carl Rollyson is a renowned biographer (whose subjects include William Faulkner, Marilyn Monroe, and Sylvia Plath) and retired college professor who now routinely conducts podcasts in addition to his other writing projects. I was honored when he invited me to be the subject of one of his A Life in Biography podcasts. Here's our enjoyable conversation from last Saturday morning:
NASHVILLE SONGWRITERS HALL OF FAME – 1971
This is the final third of the group of twenty songwriters inducted into the Nashville Songwriters Hall of Fame during its second year of existence.
Tex Ritter was born Woodward Maurice Ritter in Texas in 1905. After attending the University of Texas, he acted in Broadway musicals in New York before moving to Hollywood to become a movie singing cowboy. He wrote or co-wrote his Capitol Records hits of "I'm Wastin' My Tears on You," "You Will Have to Pay," "When You Leave, Don't Slam the Door," and "Long Time Gone" in the 1940s. His signature song came from recording the title song for the movie High Noon. He served two terms as Country Music Association president and traveled extensively to encourage radio stations to adopt a country music format. He led fundraising efforts that resulted in building the Country Music Hall of Fame and Museum. He moved to Nashville in 1965, a year after being elected to the Country Music Hall of Fame. Tex died in Nashville in 1974, ten days before his 69th birthday.
Carson J. Robison is possibly the most recorded singer-songwriter in country music history. He was also one of the first full-time country writers. Born in 1890 in Kansas, he grew up on a farm and taught himself guitar, tenor banjo, harmonica, and ukulele. He also learned two-tone whistling, which sounded like two people whistling in harmony. He moved to New York in 1924 and worked as a session musician. From 1924 to 1928, he provided Vernon Dalhart with instrumental backing and songs. He wrote many of Dalhart's songs about events such as fires, train wrecks, and earthquakes. After he and Frank Luther hit with "Barnacle Bill the Sailor," Robison reinvented himself as a cowboy singer and became the first act to take country music overseas. He wrote such cowboy classics as "Carry Me Back to the Lone Prairie." The biggest hit of his career was "Life Gets Tee-Jus, Don't It" in 1948. He died in New York at age 66 in 1957.
Tim Spencer was a founding member of the Sons of the Pioneers. Born in Missouri in 1908, he fell in love with the Old West when his father relocated the family to New Mexico. After Tim moved to Los Angeles to find work in the motion picture industry, he joined with Bob Nolan and Leonard Slye (Roy Rogers) and formed the Pioneer Trio. They added brothers Hugh and Karl Farr and became the Sons of the Pioneers. Spencer wrote and co-wrote some of the group's best-known songs, including their early hits, "Cigareetes, Whusky and Wild, Wild Women" and "Room Full of Roses" (which became his best-known song). He retired in 1949, in part because of vocal problems, and stayed on as the group's manager for several years. He died in 1974, in Apple Valley, California, at age 65. The original Sons of the Pioneers were elected to the Country Music Hall of Fame in 1980.
Gene Sullivan was one-half of the popular World War II-era country duet act Wiley & Gene. They co-wrote "Live and Let Live" and "When My Blue Moon Turns to Gold Again" in 1941. Sullivan was born in 1914 and raised near Birmingham, Alabama, where he became a coal miner like his father. Getting into music, he joined the Shelton Brothers, as did Wiley Walker. The two band members formed a duet act in Dallas, Texas, in 1939, and began recording. Wiley & Gene rose to fame on KFJZ radio in Fort Worth, Texas. They also broadcast over KWXX from Oklahoma City, where they spent the remainder of their lives. Sullivan had a Top 10 hit in 1957 with "Please Pass the Biscuits." He ran a music store in Oklahoma City and died in OKC in 1984 at age 69.
Jimmy Wakely was born in Arkansas in 1914 and raised in Oklahoma during the Dust Bowl era. He dropped the extra "e" in his Wakeley surname before establishing the Jimmy Wakely Trio and moving to Los Angeles in 1940 to join Gene Autry on Melody Ranch. He became one of the most successful of all singing cowboys, with hits such as "One Has My Name (The Other Has My Heart)," his self-penned "Beautiful Brown Eyes," and "I Love You So Much It Hurts." He and Margaret Whiting recorded "Slipping Around" and "A Bushel and a Peck." He wrote "Too Late" and "I'll Never Let You Go." He had his own CBS radio show and his own comic book, ran a recording studio and publishing company, and remained active as a performer and a passionate advocate of singing-cowboy music. At the age of 68, Wakely died of complications from emphysema in 1982, in Sylmar, California.
Wiley Walker was the other half of the popular 1940s country duet act Wiley & Gene. Born in Florida in 1911, he grew up in Alabama and picked cotton on the family farm. When he joined the Shelton Brothers band on KWKH in Shreveport, Louisiana, he met Gene Sullivan. Their Wiley & Gene duet rose to fame on KFJZ radio in Fort Worth, Texas, before they moved to Oklahoma City and KWXX Radio. Reaching their peak during the World War II era, they wrote and recorded "Live and Let Live" and "When My Blue Moon Turns to Gold Again." In the mid-1940s, Wiley & Gene became pioneering country television performers in Oklahoma City. In 1946, they scored their only country music chart hit together with "Make Room in Your Heart for a Friend." Wiley Walker died at age 54 in 1966, in Oklahoma City, Oklahoma.
Scotty Wiseman was a member of the most popular act on the most popular radio barn dance show of the 1930s and 1940s. Lulu Belle & Scotty were country superstars of the National Barn Dance on station WLS; they starred in eight Hollywood feature films. Both were natives of the mountains of North Carolina, with Scotty born in 1909 and Lulu Belle in 1913. The met when WLS management paired Scotty with singer and comedian Lulu Belle (Myrtle Eleanor Cooper) in the spring of 1934. They married that December and were "The Sweethearts of Country Music" for the next 25 years. Their version of "Mountain Dew," which Scotty revised from the original, was later a Grandpa Jones regular. While Scotty was hospitalized for minor surgery in 1945, Lulu Belle asked him, "Have I told you lately that I love you?" That inspired his best-known song. The couple retired from show business in 1958 and returned to North Carolina, where Scotty earned a master's degree, taught college, farmed and became a banker; Lulu Belle was elected to the state legislature. Scotty died of a heart attack in 1981, at age 71, in Gainesville, Florida. Lulu Belle died of Alzheimer's in 1999, at age 86.