CONCERT REVIEW – THE MUSIC OF RANDY TRAVIS
I finally met Randy Travis!! I've been his fan and have followed his career ever since first hearing "On the Other Hand" on my car radio while driving to Susie's Nashville East in Virginia Beach in 1986 to go dancing. After getting my University of Illinois Press contract in 2019 to write his biography, I've corresponded with Randy and his wife, Mary, via email.
So I was excited to learn the Music of Randy Travis Show was coming to the Corn Palace in Mitchell, South Dakota, on August 28. In the show, James Dupré sings the hit songs with the backing of Randy's band. Randy has been in a wheelchair since his 2013 stroke, and he has aphasia, which makes him unable to converse or sing. James and Randy first met when they filmed a movie called The Price in early 2013. I told that story when spotlighting James in my newsletter in June: https://dianediekman.com/dianes-country-music-newsletter-1-june-2022/.
Kayo Paver, Perry Steilow, and I arrived in Mitchell on a hot, sunny Sunday afternoon and walked through the carnival on Main Street to the tour bus parked behind the Corn Palace. We talked briefly with musicians David Johnson, Lance Dary, Steve Hinson, and William Bagby.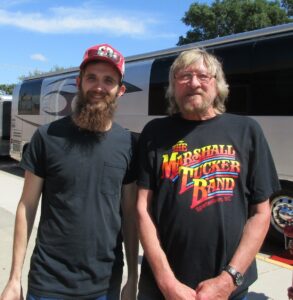 When an SUV drove up and offloaded Randy and Mary, along with James Dupré and his wife and daughter, Kelsie and Rellie, we introduced ourselves and chatted as they made their way to the building. Mary and I had previously arranged to meet that afternoon; she ensured we had backstage passes after the show.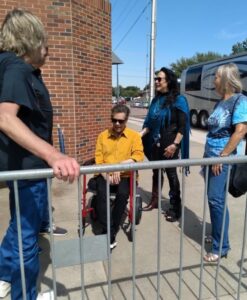 The Corn Palace was designed as both a basketball arena and concert venue. The acoustics were wonderful and the sound perfect. The show began with a video montage of Randy's history. Randy and Mary sat in overstuffed chairs on one side of the stage, with a spotlight shining on them.
James opened with "Diggin' Up Bones." His renditions of Randy's hits alternated with video clips. Often, Randy's video played on the screen as James sang the song. One video clip replayed the 1988 CMA Awards show where Dolly Parton came out in the audience and sat on Randy's lap. Another showed Randy telling a joke about a preacher and a drunk.
One of my favorite parts of the show was the band introduction. Randy introduced them via a video from one of his earlier shows. We could see each musician being acknowledged on the screen at the same time the somewhat older person waved from the stage. Those musicians had traveled with Randy for at least his last decade of touring. They were introduced as Steve Hinson (steel), David Johnson (fiddle), Lance Dary (rhythm), Bill Cook (bass), Joe Van Dyke (keyboard), and Herb Shucher (drums). Mary completed the introductions with the announcement that lead guitarist William Bagby was replacing L D Wayne, who stayed in Nashville to care for his mother.
At one point, Mary introduced several audience members, including, "Diane Diekman from Sioux Falls, with her friends." I was thrilled to hear her say, "She's writing a biography of Randy."
James brought two-year-old Rellie onstage to sing "Deeper Than the Holler" with him. She stood in front of her own mike stand, belting out the lyrics. James and Kelsie told us later that she wakes up in the morning singing "The Star-Spangled Banner." They can hear her voice coming through the baby monitor in her room.
I enjoyed watching Randy enjoying the show. He smiled, moved with the music, and often acknowledged a particular lick or lyric by its performer. Although his right side is partially paralyzed, he frequently waved his left arm.
James is definitely the right choice to represent Randy onstage. Similar in appearance and voice, he sang every number one song, plus a few other favorites. On "Promises," James played a solo acoustic guitar, just the way Randy recorded it in 1988. As the show went on, I decided the closing two hits would be "Three Wooden Crosses" followed by "Forever and Ever, Amen." And they were, with Randy singing the final "a-a-a-a-men." Then Randy stood by James as they closed with "Amazing Grace." That's the song Randy stunned the world with when he sang it at his Country Music Hall of Fame induction in 2016.
Rellie came back onstage to join them for "Amazing Grace." Mary took the mike off the stand and led Rellie over to where James and Randy were standing. Rellie wasn't having that. She marched back to her mike stand and tried to reinsert the mike, which Mary returned to do for her. Then we could hear her singing: "…That saved a wretch like me…"
After the show, the Corn Palace staff placed us at the end of the VIP line, to allow us to remain backstage when the others finished getting photos and autographs. One woman asked Randy and James to autograph the back pockets of her tight white jeans, which they did. Randy has mastered lefthanded autographs.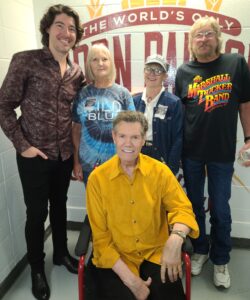 When I asked Randy a yes/no question, he wanted to give a longer answer, but the words wouldn't come out. He turned to Mary for her to say what he couldn't. That showed me the tight relationship those two have and how closely they interact.
Randy and Mary impress me as being joyful, both toward each other and toward life. The Music of Randy Travis Show is an excellent concept, in my opinion. It allows Randy to interact with his audience and brings the band back together as a unit. Although they only do a few shows a year, they are planning more for the future. I'm glad they came to South Dakota.
NEWS
Award-winning songwriter Don Schlitz was officially inducted into the Grand Ole Opry on August 30 by Vince Gill. MusicRow reports he opened his performance with "The Gambler" (Kenny Rogers) and "When You Say Nothing At All" (Keith Whitley). He then told the audience, "Since Kenny and Keith aren't here, I get to represent what you and they had together. I get to be a bridge for them. That's why I get to be a member of this special place, because I'm representing these artists." Next, he welcomed Randy Travis to the stage and then sang "Forever and Ever, Amen." That was followed by a video of country artists singing his songs on the Opry stage over the last five decades. Already a member of the National Songwriter Hall of Fame, the Nashville Songwriter Hall of Fame, and the Country Music Hall of Fame, Schlitz is the first non-artist songwriter to become a member of the Grand Ole Opry.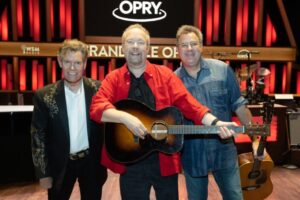 Billboard reports Bailey Zimmerman made history on its Hot Country Songs chart when he became the first ever artist to place three career-opening entries in the top 10 simultaneously. His "Rock and a Hard Place," "Where It Ends," and "Fall in Love" rank at Nos. 6, 7 and 10 on the September 3 chart. Other acts have had three concurrent Hot Country Songs top 10s but not their first three entries on the chart. Since Billboard began its all-encompassing genre ranking in October 1958, those other acts with three top 10s each in a single week were Morgan Wallen (six weeks) Florida Georgia Line (six weeks), Johnny Cash (three), Taylor Swift (two), Luke Combs (one), Buck Owens (one), and Faron Young (one).
When the Coronavirus pandemic hit in early 2020, Willie Nelson stayed at his ranch in Spicewood, Texas, concerned that the virus could become a death sentence at his age, reports CMT News. As live music returned, Willie returned to touring. After dodging the illness for two years, he was struck in May of 2022 on a stop in Nashville, when he woke up in the middle of the night struggling to breathe. His wife, Annie, tells that story in a recent New York Times interview. Willie, 89, tested positive for COVID-19. They drove back to Texas in the middle of the night and turned their house into a hospital. Annie recalls, "There were a couple of times when I wasn't sure he was going to make it." The PR team canceled the shows without saying Willie was the member who contracted the virus: "Due to a positive COVID case in the Willie Nelson Family Band, the Franklin, TN show at the FirstBank Amphitheater tonight and the Brandon Amphitheater in Brandon, MS on May 7 will be postponed to June 17 in Brandon, MS and June 19 in Franklin, TN." Two weeks after his diagnosis, Willie was back on the road. New rules require band members to stay six feet away from him onstage, and daily COVID tests and masks are mandatory backstage. The Outlaw Musical Festival tour continues this Friday night in Alpharetta, Georgia.
The National Music Publishers' Association (NMPA), the Nashville Songwriters Association International, and the Digital Media Association announced a settlement with streaming services for certain mechanical streaming rates in the U.S. set at 15.35% for the years 2023-2027. Variety reports the announcement comes as a surprise, as the NMPA had pushed for a 20% rate. The new deal includes changes to other components of the rate, which presumably made up some of the difference between a 15.35% and a 20% increase, as they alter the numbers upon which payments are calculated. The fight over the 2018-22 rate period went on for more than three years and cost millions of dollars in legal and other fees.
One of this year's America's Got Talent finalists is Drake Milligan from Fort Worth, Texas. Fox News Digital reports he and his band performed his original song, "Sounds Like Something I'd Do," followed by "Kiss Goodbye All Night" for his audition. Both songs then soared to the top of the country charts. He made it into the show's finale based on fan votes. He grew up just outside of Fort Worth, Texas; his dad runs a scrapyard and his mother is a veterinarian. Seeing an Elvis impersonator led him to study all the Elvis movies, performances, and recordings he could find. He eventually landed the role of Elvis on the CMT show Sun Records. His debut album, Dallas/Fort Worth, comes out September 15.
CMT News reports Jason Aldean and his publicity company of 17 years have parted ways. Tyne Parrish, co-owner of Green Room PR, told Billboard, "Music has always been and remains the Green Room's core focus, so we had to make the difficult decision after 17 years to step away from representing Jason." The Green Room is one of the most successful publicity firms in country music. It represented Jason for his entire career, helping him through the aftermath of the Route 91 shooting and elevating him into a stadium headliner. What caused the split? Jason's wife, Brittany Aldean, posted an Instagram reel showing herself applying make-up with the caption thanking her parents for not changing her gender when she was going through her tomboy phase. Jason replied: "Lmao!! I'm glad they didn't, too, cause you and I wouldn't have worked out." Other country singers weren't so happy. Cassadee Pope tweeted: "You'd think celebs with beauty brands would see the positives in including LGBTQ+ people in their messaging. But instead, here we are, hearing someone compare their tomboy phase to someone wanting to transition. Real nice." Brittany said her comments were taken out of context. Maren Morris called her "Insurrection Barbie." Brittany replied that advocating for genital mutilation of children under the disguise of calling it gender-affirming care is one of the worst evils. She then launched a hot pink Barbie-inspired line of clothing with the message, "Don't tread on our kids." There is more, but that's enough here.
Live at Cutters Vol. 2 is the latest release by Mark Chesnutt. It follows his earlier live album, Live at Cutters Vol. 1. Covering some of the greatest country songs of all time, he sings Randy Travis's "Deeper Than the Holler," Keith Whitley's "When You Say Nothing at All," Johnny Cash's "I Walk the Line," and several Elvis Presley and Merle Haggard hits. I didn't find where or when it was recorded, but I did find reference to a Cutter's Nightclub in Beaumont, Texas.
Shania Twain will join a celebrity panel of judges on the UK singing competition television show, Starstruck, for Season Two in the spring of 2023. According to CMT News, the show features talented singers shedding their normal personas to transform into their music idols. The episodes feature contestants in competition to win over the judges with electrifying covers. Shania posted on social media a clip from backstage at her Las Vegas residency, saying, "I am here in Las Vegas, and I'm about to get on the stage to do a show. But I wanted to take a quick minute to say I'm excited about heading to the UK soon to join the Starstruck panel. It's a real honor. I am such a fan of the other artists on the panel, and the judges. I can't wait to see all the amazing talent there."
Doggy Parton, a line of dog apparel, accessories, and toys has been debuted by Dolly Parton, 76, reports PEOPLE. "My love for pets is stronger than ever," Dolly said in a news release launching the brand. "This inspired me to start my own line of Doggy Parton apparel, accessories, toys and more with a little 'Dolly' flair." She partnered with SportPet Designs to produce a collection of 20-plus items that includes an overalls dress, Western collared shirt, bandana, collar and leash set and a harness, squeaky toys, and a "blonde bombshell" wig. All profits got to Willa B. Farms Animal Rescue.
America's National Parks, a five-night documentary series showcasing five national parks, aired recently on National Geographic and was streamed on Disney+. Garth Brooks narrated the series and was its executive producer, reports CMT News. The series included Grand Canyon National Park, Big Bend National Park, Hawai'i Volcanoes National Park, Badlands National Park and Yosemite. "I've never narrated anything in my life, but I can talk passionately about this country and the courage it takes to preserve these parks," Garth said. "Not only preserve them and establish them but to maintain them." He has visited three of the USA's ten National Parks. "They don't preach," he says about the National Geographic series. "They just put it out there, and you take what works for you."
Shania Twain, 56, was recently honored with the ACM Poet's Award at the 15th Annual Academy of Country Music Honors in Nashville. Kelsea Ballerini, 28, paid tribute by wearing the gown Shania had worn at the 1999 Grammy Awards, where she sang "Man! I Feel Like a Woman!" and won best country song and best female country vocal performance for "You're Still the One." PEOPLE reported the white, sequin turtleneck gown was loaned to Kelsea from the Grammy Museum. "I am so blown away," Shania told Entertainment Tonight. "She looks stunning. She looks like an absolute angel. It's very flattering to see her in the dress, and that she even wanted to wear it."
Florida Georgia Line, the country duo composed of Tyler Hubbard and Brian Kelley, played their final show on August 31 at the Minnesota State Fair. "This is our last official concert as Florida Georgia Line," Hubbard, 35, announced onstage, per Country Now. "Let's see what we got left in the tank." The pair met in 2008 at a student worship service at Belmont University in Nashville. They formed Florida Georgia Line and issued their debut single, "Cruise," in 2012. In the decade since, the duo has released five studio albums and charted 19 No.1 singles. They won multiple ACM, CMA, CMT, AMA, People's Choice, and Billboard Awards. They are now embarking on solo careers. Kelley, 37, has released "Beach Cowboy" and his debut solo album, Sunshine State of Mind. Hubbard has released his debut 6-song EP, Dancin' in the Country, which includes his first single, "5 Foot 9."
Country singer Luke Bell, 32, was found dead in Tucson, Arizona, on August 29, after being reported missing on August 20. "Luke suffered from the disease of mental illness, which progressed after his father's death in 2015," his family said in a statement shared by PEOPLE. "Luke was supported through his disease by a community of loving family and friends. Despite this, he was unable to receive the help he needed to ease his pain." Luke's business manager, Brian Buchanan, told TMZ that Luke tried to cope with bipolar disorder but could never find a solution that worked for him. Luke and musician friend Matt Kinman were in Tucson to visit family and play music. Luke vanished one night while getting food, and Matt searched for ten days before the body was found. Luke had opened for acts like Willie Nelson, Dwight Yoakam and Hank Williams Jr. He was born in Kentucky and raised in Wyoming.
In an opinion piece for The New York Times, Ashley Judd, 54, shared her thoughts about the day Naomi Judd died. "Many of us are socially conditioned to cooperate with law enforcement, we are utterly unguarded in what we say," she wrote. "I gushed answers to the many probing questions directed at me in the four interviews the police insisted I do on the very day my mother died…Questions I would never have answered on any other day… I felt cornered and powerless as law enforcement officers began questioning me while the last of my mother's life was fading." She acknowledged they were following orders: "… terrible, outdated interview procedures and methods of interacting with family members who are in shock or trauma. The individuals in my mother's bedroom that harrowing day were not bad or wrong. I assume they did as they were taught." Ashley said Tennessee law makes police reports, family interviews and other details public record, thus exposing private family matters to the media and the world. The family has filed a motion to keep the death records sealed. According to the autopsy, Naomi's medical history included "anxiety, depression, bipolar disorder, chronic idiopathic pneumonitis, hepatitis C, hypertension, and hypothyroidism." She took additional medications for insomnia, Parkinson's, depression and seizures. The autopsy report stated that a weapon and a suicide note were found at the scene.
LETTERS
Jeannie Seely writes from Nashville, "Great newsletter again, and I especially enjoyed the Dennis McCall story. I was so fortunate to work with him at the Opry all those years. That group was like a safety net back there… they always caught the arrangement, and they always had you covered if you were having vocal problems. The entire McCall family is so talented, witty and such good people… just had to comment."
Larry Sloven of Extragrande Music says, "I enjoyed the Dennis McCall piece."
Zach Farnum of 117 Entertainment writes from Nashville, "Thanks for mentioning Randy's show!"
Dominique 'Imperial' Anglares writes from France, "Thank you very much for that newsletter and for the mention given to Jerry Allison. Nice to read your quote about Rex Griffin and 'Everybody's Tryin' to be my Baby'. Rex Griffin's original version was recorded March 2, 1936, at the Roosevelt Hotel in New Orleans. It was issued on Decca 5294 with 'I'm Ready to Reform' in November 1936 with songwriter credit but no publishing information. Carl Perkins recorded several takes for that song at Sun studio in March 1956. The song was worked with extended lyrics and a strong rock-a-billy beat. Any take for 'Everybody's Tryin' To Be My Baby' was considered good enough to be issued by Sam Phillips and everything stayed in the vaults. Sam Phillips edited the song when Carl Perkins was on the edge to leave Sun, on the B-side of the LP Sun 1225 Dance Album that was re-edited in August 1960 as Teen Beat under the same reference but with a different sleeve. On the first pressing, both the Sun record sleeve and the record label, there's no writer credit for 'Everybody's Trying to be My Baby.' For Sam Phillips that recording was probably just a filler. That US LP never really sold and is today very hard to get. Things moved on a different level when the Dance Album LP was issued in UK, late 1959/early 1960 on London HAS 2202. On that piece of wax that was a favorite LP for The Beatles, London records gave credit to Carl Perkins for the songwriting both on the sleeve and on the record label. The publishing was given to Knox Music, owned by Sam Phillips. I don't know where London records found that publisher's credit, but it must be only on Sam Phillips' info. In any way, it should not have been Carl Perkins' own business. In 1964, Carl said he didn't know about Dance Album being available in UK until he saw several fans with it when playing there the same year. Carl stayed in England for the first week of June 1964, attending a Beatles session on June 1. Did they talk about 'Everybody's Trying to be my Baby'? We will never know but Carl Perkins said in 1964 he hadn't received a cent from Sam Phillips for 7 years and he did not receive anything for his British L.P., Dance Album, which sold very well over the years in UK. Six years after Rex Griffin's passing, Ernest Tubb recorded an entire album of his friend's compositions. Titled Just Call Me Lonesome and Other Great Songs by Rex Griffin, it was released by Decca Records in 1964 (DL 4385 & 74385). On the rear sleeve we can read: "These twelve Rex Griffin songs are special favorites of mine, and I hope you will like my renditions of them. This album is dedicated to Rex's family, his many friends and fans everywhere."
Steven L. Littlejohn writes from Bellevue, Ohio, "Somewhere in the mid '70s, perhaps 1976, I worked with Damion Young at The Nashville Bridge Company in Nashville Tennessee. He was a hard worker as all of us were in the barge and towboat industry. Always said we had to work hard so George Steinbrenner could afford Reggie Jackson for his Yankees…from my Oakland A's. Thief. Damion and I were a year apart. Thought his name was scary, but his attitude was splendid. Never would know his dad was a singer. Not by Damion's clothes or lifestyle. We all went in clean, came out black. Sometimes no matter who your daddy is, you have to do things the American way. Work. Damion did so. All these years since, I can still see him sitting there on the steel, listening and being happy."
Diane: It's wonderful to hear your reminiscences of Faron's eldest son. I can picture Damion sitting in his mom's house when we visited.
Tom Hambleton says, "I'm a huge Neil Young fan and today two different facts came together in my mind. I always knew Ben Keith played with Faron Young from the late '50s into the early '60s. And several times I've learned but then forgotten that Dewey Martin also played with Faron Young in the early '60s. Today I remembered both and asked myself – did they ever play together in Faron's band? Both players are of course a huge part of Neil Young's career. I don't think I've ever heard this connection mentioned and I've read nearly everything about Neil Young. Today I got your very detailed book, and it looks to me that it is possible they were together in the band sometime between late 1961-1963. Can you confirm this? And would you know of any sort of document (session logs, tour photos, video, album credits, etc.) that might show they were in the band together? I see you interviewed both men. Did either ever mention the other? Any assistance you could provide would be greatly appreciated. If you are ever interested in way too much detail on Neil Young set lists, check out my site, sugarmtn.org."
Diane: Yes, Ben and Dewey were Country Deputies at the same time, in 1961. In my interviews with them, they both mentioned the other as being in the band.
Bobby Fischer writes from Nashville, "Enjoying the wide net you capture all the country music news in. It's a great thing for fans to hear the latest good or bad on our heroes and honky tonkers. Thanks for mentioning my O B Clinton cut on 'The Unluckiest Songwriter.' If you're trying to write songs to get on the radio, a good theme to write about is 'the radio.' Freddy Weller and I wrote 'I Heard It on the Radio,' good ole country music. About that time, we were on the road with Vern Gosdin, writing a few on his bus down in Alabama. Wild thing happened on one of those projects. I produced the product, hired promoters, and mailed out the records to radio. When it was time for the money guy to send me the balance, it didn't come and he didn't answer his phone. I gave it a few rings on his answering machine. No luck. He was a big deacon in his church down there. I left a message: Next Sunday I'll be in the front row at your church to tell the folks about your Satan-like dealings. Like a miracle my money came. I think 'cause I prayed for it. Also a dandy thing came from us hanging with Vern. In 1991, he recorded a song Freddy and I wrote, "The Garden," and we had a big national hit on it. A picture of Freddy and me with Vern."
David Markham writes from England, "I must say I loved the voice of the late Hank Snow. I knew him pretty well as he and Jim played a round of Golf with Porter Waggoner. You know, it's sad when you think of the artists you've written to and died. In fact, life is so sad. Heart Of Texas Tracy Pitcox and his wife, I do know them pretty well as I email them often. They all know of me down there."
Tommie Ray says, "I enjoyed the newsletter. I especially liked the writer's Hall of Fame section. I remember a lot of those old songs."
Doug Lippert in Carmel, Indiana (Greater Indianapolis), says, "Thank you, Diane, many times over for adding the Songwriters Hall of Fame Section to your newsletter. I'm grateful to learn more about the songs and the folks who wrote them."
UPCOMING CONCERT – BELLAMY BROTHERS
The Bellamy Brothers, Howard and David, are coming to the Sisseton Performing Arts Center on Saturday, September 17 at 7 p.m.: http://www.coteauentertainment.com/. I've never attended one of their concerts, and I'm looking forward to the evening. As always, Remington will open the show. I spoke to Howard when I spotlighted him in my newsletter: https://dianediekman.com/dianes-country-music-newsletter-27-january-2021/.
NASHVILLE SONGWRITERS HALL OF FAME – 1970
Here is the second group of the twenty-one songwriters inducted into the Nashville Songwriters Hall of Fame during its first year of existence, 1970:
Stuart Hamblen was born in Kellyville, Texas, in 1908. After graduating from college to be a teacher, he instead moved to Los Angeles, where he became one of the most popular cowboy singers on West Coast radio. In 1934, he was the first country artist to record for Decca Records. In 1950, inspired by a line from his wife, he wrote and recorded "Remember Me (I'm the One Who Loves You)." In 1951, he wrote the gospel song, "It Is No Secret (What God Can Do)." In 1954, after stumbling upon the lifeless body of an elderly man at a remote mountain cabin, he wrote "This Ole House." He also wrote a song I remember Jimmy Dean singing: "(I Won't Go Huntin' with You Jake) But I'll Go Chasin' Women." That seems a strange song for a teetotaling Christian to write. He died in Santa Monica, California, in 1989, at age 80.
Pee Wee King was born Julius Frank Anthony Kuczynski to a musical family of Polish extraction in Milwaukee, Wisconsin, in 1914. He formed his first band when he was 15, taking his stage name of Frank King from a bandleader he idolized. In 1934, as an accordion player, he and his band mates toured with Gene Autry, who nicknamed him "Pee Wee" because there were too many men named Frank in the troupe. In 1937, Pee Wee King & the Golden West Cowboys joined the Grand Ole Opry in Nashville. Unlike the popular string bands at the time, King and his group could all read music and were American Federation of Musicians union members. In addition to bringing the AFM to the Opry, King introduced flashy cowboy attire and tightly rehearsed performances of polkas, waltzes, and Western songs. His co-written songs include "Slow Poke," "You Belong to Me," "Bonaparte's Retreat," and "The Tennessee Waltz." He would be elected to the Country Music Hall of Fame in 1974. He died in 2000, at age 86, in Louisville, Kentucky.
Vic McAlpin was born in1918 in Defeated Creek, Tennessee. After moving to Nashville, he and Hank Williams became fishing buddies who wrote songs together when out on the lake in their boat. A sharp dresser and prolific songwriter, he was a staff writer for Acuff-Rose Publications and then for Jim Reeves' publishing company, Acclaim Music. His songs were recorded by Johnny Cash, Kitty Wells, Ferlin Husky, Don Gibson, Red Foley, George Morgan, the Wilburn Brothers and Glen Campbell. He had open-heart surgery in 1959 and 1967 and was often hospitalized for cardiovascular-related issues. He died in 1980, at age 61, in Nashville.
Bob Miller wrote "There's a Star-Spangled Banner Waving Somewhere," which was recorded by Elton Britt and became one of the biggest hits of World War II. He also wrote "Rocking Alone in an Old Rocking Chair." Born Morris Miller in 1895 in Connecticut, he was one of the pioneering professional songwriters who specialized in hillbilly music. As a child, Bob and his four siblings were placed in an orphanage after their parents died in a house fire. By age 10, he was a formally trained musician working professionally as a pianist. He has more than a thousand registered song copyrights, although many are public-domain songs that he arranged but didn't write. He died at age 59, in New York City, in 1955.
Leon Payne, a Texan born in 1917, lost his sight as an infant and attended the State School for the Blind in Austin. He performed on Dallas radio as the "Blind Troubadour" before getting a recording contract in 1949. Hank Williams heard him singing "Lost Highway" and "They'll Never Take Her Love From Me." When he recorded them, they became Payne's first big hits as a songwriter. Payne then recorded "I Love You Because" for Capitol Records and had his own #1 on the country charts. Hit songs recorded by others included "Things Have Gone to Pieces," "Tell Her Lies and Give Her Candy," "Take Me" (written with George Jones), and "Blue Side of Lonesome." Payne died at age 52, in San Antonio, Texas, in 1969, four years after suffering a heart attack.
Jimmie Rodgers, "The Singing Brakeman," was born in 1897, the son of a railroad man, in Meridian, Mississippi. In 1924, he contracted tuberculosis. Ralph Peer recorded him in the famous 1927 recording sessions in Bristol, Tennessee. In less than six years, he recorded 110 titles, the equivalent of two albums a year, with songs such "Blue Yodel No. 9." In 1933, he died of tuberculosis at age 35 in a New York City hotel room. Thousands of musicians have been inspired by his music, including Gene Autry, Jimmie Davis, Hank Snow, Ernest Tubb, Lefty Frizzell and Merle Haggard. He was elected to the Country Music Hall of Fame in 1961.
Fred Rose could be called the father of the Nashville music business. Born in Evansville, Indiana, in 1897, the songwriter, music publisher, record producer and talent scout was a key figure in the rise of Music City. He moved to Nashville in 1933 and began broadcasting a daily show on WSM radio. The hit songs he wrote for others include "Roly Poly," "Home in San Antone," "Blue Eyes Crying in the Rain," "It's a Sin," and "Texarkana Baby." Seventeen Gene Autry movies contained Fred Rose songs. He served as a mentor to many, often without songwriting credit. His best known relationship was with Hank Williams at Acuff-Rose and MGM Records. In 1953, Rose formed Hickory Records. He died of a heart attack in Nashville in 1954, at age 56, and was inducted posthumously in 1961 as one of the first three members of the Country Music Hall of Fame.