CONCERT REVIEW – THE BELLAMY BROTHERS
Howard and David, the Bellamy Brothers, sang for a solid ninety minutes at the Sisseton Performing Arts Center on Saturday, September 17. That we recognized almost everything they sang shows how many hits they have had. David introduced himself by saying he'd celebrated his 72nd birthday the previous day. (Which means he was born two days before me.) Howard is 76 years old. I'd previously talked to Howard when I spotlighted him in my newsletter: https://dianediekman.com/dianes-country-music-newsletter-27-january-2021/.
When they kicked off "Kids of the Baby Boom," I felt as if, wow, this is actually real. I'd never seen them perform, and here they were in real life. That was their tenth number one song (1987) in the space of ten years. It was written by David, the songwriter for most of their songs.
After thirty minutes of singing, they said "thank you very much," and I hoped they'd take a break to talk to the audience. But no, they went into the next song. I'd expected some dialogue between the brothers, and I wanted to hear some song stories and touring stories.
Forty-five minutes later, they sang "If I Said You Had a Beautiful Body, Would You Hold It Against Me," my favorite Bellamy song and the one I'd been waiting for. That had been their best charting song, also written by David, a #1 in 1979. They invited the audience to sing the chorus back to them. And we did.
David then introduced their six-piece band: lead guitar, steel, bass, drums, keyboard, and backup singer. Both brothers also played guitars. They followed with their last two songs, which we'd also been expecting: "Let Your Love Flow," their first Billboard-charting single in 1976, and "Redneck Girl," a #1 from 1982 that is still played by bands today.
They thanked the crowd and started to leave the stage, when a voice asked, "Do you want to hear one more?" They returned to sing "Santa Fe," a David-written song that had reached #5 in 1988.
I was surprised they didn't sing their latest release, "No Country Music For Old Men," a collaboration with John Anderson on their latest album, Bucket List. A song that mourns the loss of some of country music's greats, David was inspired to write it the night Kenny Rogers died.
All in all, it was a complete evening of music, from the time the seven-piece Remington opened the show. You can learn more about the Bellamy Brothers at https://bellamybrothers.com/. The next performance at the Sisseton Performing Arts Center will be by Skip Ewing on December 10.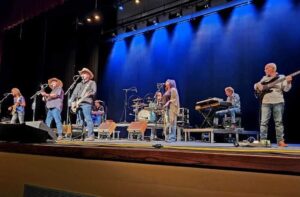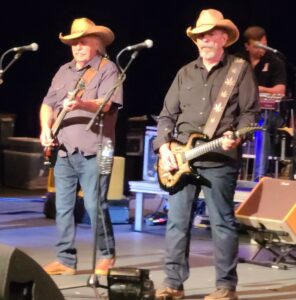 NEWS
USA Today reports that John Michael Montgomery, 57, was in a serious accident while on the way to a concert in North Carolina. His 2001 Prevost Featherlite bus was traveling south of Jellico, Tennessee, on Interstate 75 when it veered off the road, struck an embankment, and overturned. He and two others were injured. He posted on Facebook, "Despite some cuts and broken ribs, I am doing well. I will take some time over the next couple of weeks to heal and be back on the road soon. I am grateful to the medics and highway patrol for their quick response to this difficult situation. Thanks to everyone for their concerns."
Terry D. Choate, 68, died September 14 while in hospice care in North Carolina. "During his career on Music Row," reports MusicRow, "he was a song plugger, record producer, label executive, music publisher, instrumentalist, audio engineer and a music supervisor for television." I'll post the link because his credits are far too many for me to summarize. A native North Carolinian, he began as a radio announcer and was hired by Tree International as a song plugger. He rose to become a music manager and in-house demo producer. By 1987, he was Director of A&R for both Capitol and its EMI America imprint. Under his leadership, the roster expanded greatly. He was highly active in numerous Music Row organizations. He suffered from type 1 diabetes, and his left foot was partially amputated in 2020. Since then, he remained in the hospital and in hospice, unconscious most of the time. His wife, Cheri, retired from teaching to care for him.
On September 16, 1967, Jeannie Seely fulfilled her lifelong dream of joining the Grand Ole Opry, becoming the first Pennsylvania native to do so, reports The Music Universe. She became the first woman to regularly host 30-minute Opry segments, and she set the standard for women to dress in their preferred styles. She has never left the Opry or missed a year of performing. She celebrated her 55th anniversary on Saturday, September 17, and was also recognized for holding the record of over 5000 Opry performances, a feat no other artist has ever achieved during the show's 97-year history. She was presented with a framed photo collage in celebration of her 55 years of membership and more than 5,000 Opry appearances. "This is such a special night," she said. "I'm enjoying every second of it, and I will never take it for granted when I come through the Opry doors. I was thinking maybe I should wear a gown for this special occasion and then I thought, you know, if they're not impressed with me after 55 years, a gown ain't gonna do it now. But I didn't come here 55 years ago to impress you, I came to entertain you. And I hope that I still can."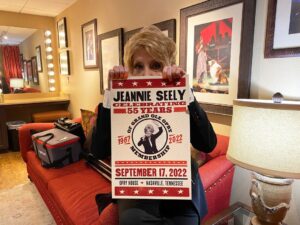 For the first time, two country music acts made it into the top five on the America's Got Talent finale. Chapel Hart earned fifth place, and Drake Milligan came in third. The Mayyas, a Lebanese female dance team, won the competition. Darius Rucker and Jon Pardi both performed on the final episode.
The Poplarville, Mississippi-based country trio Chapel Hart, comprised of sisters Danica and Devynn Hart and their cousin, Trea Swindle, debuted on the Grand Ole Opry the same night as Jeannie Seely celebrated her 55th anniversary. As an Opry member who loves introducing up-and-coming artists for their debut performance, Jeannie returned to the stage to introduce the trio for their Opry debut. Chapel Hart fans from multiple states, including high school friends who drove 500 miles from Poplarville, made up almost ten percent of the crowd in the 4,400-seat Opry House. They moved a mile down the road to the Nashville Palace for an impromptu autograph party, where some fans had been lined up for four hours.
In a recent interview with Whiskey Riff, Drake Milligan talks about the release of his debut album, Dallas/Fort Worth, a 14-track project produced by Tony Brown and songwriter/producer Brandon Hood. It contains "Milligan's deep baritone voice, catchy hooks, and plenty of tasty fiddle and steel licks," says the magazine. The native son of the Dallas/Fort Worth area says he's always been intrigued by the difference between the two cities: "First there's Dallas: a city determined to prove that everything really is bigger in Texas. Then, just 30 miles to the west, there's Fort Worth: a city that holds true to its Stockyard roots with a taut rope around its cowboy brand." Drake explains, "My goal was to bring those same distinctions to the two parts of this album. On 'Dallas', the songs have a little more polish on their boots. On 'Fort Worth,' there are nods to those traditional Honky-Tonkin', Western swingin', cowboy culture roots that I'm based in."
The Cherokee County Sheriff's Office in Alabama jailed Teddy Gentry of country music's Alabama on a misdemeanor marijuana possession charge after a traffic stop for speeding. Gentry, 70, of Fort Payne was booked into the Cherokee County Jail in northeast Alabama for unlawful possession of marijuana in the second degree and unlawful possession of drug paraphernalia. He was at the jail about 30 minutes before being released on his own recognizance, PEOPLE reports. He and his cousins, Randy Owen and Jeff Cook, formed the band more than 50 years ago and have sold more than 70 million albums. They were inducted into the Country Music Hall of Fame in 2005, and they staged a 50th anniversary tour in 2019.
The nominees for the 2022 CMA Awards were announced September 7, with first-timer Lainey Wilson nominated in six different categories: New Artist of the Year, Female Vocalist of the Year, Album of the Year for Sayin' What I'm Thinkin', Song of the Year for "Things a Man Oughta Know," and Musical Event of the Year and Video of the Year for "Never Say Never" with Cole Swindell. Taste of Country reports she was previously nominated for three CMT Awards, and she won ACM Awards for New Female Artist of the Year and Song of the Year. The 56th Annual CMA Awards, hosted by Luke Bryan and Peyton Manning, will air November 9 on ABC.
The Wolf (WDBY-FM) in Brookfield, Connecticut, posted this interesting collection of the 50 Greatest CMA Awards Moments of All Time. They bring back memories, as I watched almost every show until about fifteen years ago. Before that list, you'll find all the nominees for this year's CMA Awards show.
The fourth annual Dottie West Birthday Bash, hosted by Jeannie Seely, is slated for October 11 at 3rd & Lindsley in Nashville. In addition to celebrating Dottie's 90th birthday, the event will honor Charlie McCoy as musician/artist who (like her) has made an indelible impact on country music. Previous honorees were Jimmy Capps in 2017, Dottie West, Ricky Skaggs and Johnny Gimble in 2018, and Bill Anderson in 2019. This year's performers, in addition to Jeannie and Charlie, include Ray Stevens, Brenda Lee, Rhonda Vincent, Mandy Barnett, John Schneider, Dallas Wayne, Tess Frizzell, Bobby Tomberlin, and more.
The Telly Awards, founded in 1979, annually showcase the best work in television and video. Telly Award winners come from the most respected advertising agencies, television stations, production companies and publishers from around the world. This year, there were over 12,000 entries from all 50 states and 5 continents. And Randy Travis won six Telly Awards for his critically acclaimed documentary, More Life, directed and produced by Shaun Silva, with Warner Music Nashville's Shane Tarleton and Mike Dupree serving as executive producers. These statues were presented to Randy:
– Gold Winner in Non-Broadcast – Editing
– Gold Winner in Non-Broadcast – Biography
– Silver Winner in Non-Broadcast – Directing
– Silver Winner in Non-Broadcast – Use of Archival Footage
– Silver Winner in Non-Broadcast – Documentary: Individual
– Silver Winner in Non-Broadcast – Music/Concert
According to a press release, More Life started in 2011 as an intimate concert special to honor the 25th anniversary of Randy's debut album, Storms of Life. Randy unexpectedly suffered his massive stroke as the film was being finalized in 2013. It has now grown to be a celebration of Randy's legacy.
At a recent concert in Baton Rouge, Louisiana, Jamey Johnson ended his show in the middle of singing "Lead Me Home," the Randy Houser/Craig Monday-written song that usually closes his show. Whiskey Riff reports him as telling the noisy crowd, "Goodnight…I love performing with y'all but I cannot express crying while conversations are going on, and it's time we go home anyway." A concert goer later tweeted an apology from Baton Rouge, saying, "The rudeness of the crowd was embarrassing. I wouldn't have blamed you if you'd walked off halfway through. People would not stop walking around or standing in the aisle talking. It was horrible." That incident reminded me of several months ago when the South Dakota Military Heritage Alliance hosted a Nashville songwriter session in Sioux Falls. The people in the balcony made so much noise that those of us sitting on the main floor couldn't hear what was being said onstage. One of the songwriters asked, "Can you all hear us all right? People are talking so loud," adding, "That's what's different in Nashville. People who go to songwriter sessions there don't talk. They listen." I was embarrassed that they would go back to Nashville with such a poor opinion of Sioux Falls.
As part of AmericanaFest in Nashville, Hank Williams Jr., 73, gave an unannounced performance at American Legion Post #82 last Thursday evening, for a 25-minute set to promote his new blues album, Rich White Honky Blues. (Kayo and I visited the post for Honky Tonk Tuesday to see David Ball and Coleman Murphy during one of our Nashville trips.) Saving Country Music reports, "With the way Hank Jr. rarely plays any shows these days–maybe 15 or so a year–the Country Music Hall of Famer playing a tiny room like the American Legion is definitely rare treat."
At a music festival in Tempe, Arizona, Tim McGraw, 55, made a quick recovery after tumbling off the stage. He went down on one knee to acknowledge the solo by his guitarist, and when he started to stand up, he lost his balance and fell backwards off the stage. He immediately picked himself up and turned around to shake hands with the fans reaching over the iron barricade. Security tried to usher him back onstage as he repeatedly reached over the fence to the hands grabbing at him. CMT News reports that social media posts complimented his professionalism and ninja-like reflexes. One stated, "I hope I'm in that good of shape when I'm older."
The SabesWings benefit for cancer patients in Paso Robles, California, is honoring Toby Keith with a lifetime achievement award for his work with the Toby Keith Foundation supporting children and families coping with pediatric cancer. Although Toby originally planned to attend, an email to The San Luis Obispo Tribune said, "He is still going through recovery, and it is a tough week. He unfortunately will not be able to attend the event in Paso Robles this weekend." Toby announced in June that he was receiving treatment for stomach cancer. He is expected to provide a prerecorded acceptance speech to Bret and Kandace Saberhagen, the founders of SabesWings, which raises money for people coping with huge cancer treatment bills.
Canadian Country music legend George Fox was officially inducted into the Canadian Country Music Hall of Fame in Calgary, reports Cochrane Now. The former Cochrane resident has won a long list of CCMA awards and also three Junos for male country vocalist of the year. "We opened for Randy Travis at the Saddledome at the very beginning," he says. "I remember walking in those doors, my knees were knocking, I was so nervous." He now lives in Ontario. "It was Bert, Gert, and a little squirt," he says about growing up on his parents' ranch near Cochrane. "I got my band going out of high school. If you would have gone to the Legion Hall or the Cochrane bar, you'd see a Bristol board sign there with a magic marker saying future hall of famer George Fox live tonight."
Songwriter Tenille Townes won five trophies at the 2022 Canadian Country Music Association Awards, while co-hosting the show with Blanco Brown. MusicRow reports she won Entertainer of the Year and maintained her reign as Female Artist of the Year. She also won Single of the Year and Songwriter of the Year for "Girl Who Didn't Care," along with co-writers Steph Jones and David Pramik.
The Nashville Songwriters Hall of Fame (NaSHOF) has announced a new Legacy category designed specifically to honor Hall of Fame-worthy candidates who are deceased. Chips Moman will be inducted during the 52nd Anniversary gala at the Music City Center on October 30, reports MusicRow. Lincoln Wayne "Chips" Moman was raised on a farm near LaGrange, Georgia, until he left school at age 14 to hitchhike to Memphis, where he became a session guitarist, record producer, and songwriter. He moved to Nashville in the early 1970s. His best-known songs include "Do Right Woman, Do Right Man" (Barbara Mandrell), "(Hey, Won't You Play) Another Somebody Done Somebody Wrong Song" and "Everybody Loves A Rain Song" (B.J. Thomas), "Luckenbach, Texas" and "The Wurlitzer Prize" (Waylon Jennings), "Love Looks Good On You" (David Houston), and "So Much Like My Dad" (George Strait). He was inducted into the Georgia Music Hall of Fame in 1990 and the Memphis Music Hall of Fame in 2014. He died of emphysema in 2016, the day after his 79th birthday.
LETTERS
Mary Davis Travis writes, "Randy and I, along with the band, crew, and our friends, sure enjoyed our time with you, Kayo, and Perry, while in Mitchell, SD. It meant so much to us that y'all would take the time to come over for the show. The three of you cover a lot of miles and have so much fun together. And your recap of the show brings it to life in a special way—thank you! We love the pics of you and Kayo threshing. Thanks so much again for the great newsletter and insightful coverage of the country music world. We hope to see y'all again real soon. Hugs, Mary and Randy."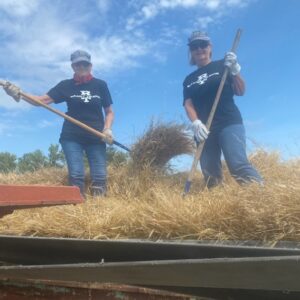 James Dupre says, "So great to meet you at the Corn Palace, and thanks so much for coming. I appreciate your kind words in your concert review, and I'm glad you enjoyed the show. We had a great time in South Dakota!"
Carolyn Berry writes from Charlottesville, Virginia, "It was great to hear about Randy Travis. I am so glad he can attend the shows. Thanks for all the work you do for the newsletter. They are great."
Dean Mann in Sioux Falls says, "I really enjoyed your last newsletter. Randy Travis is one of my favorites. I can't wait to read your book."
Carl Lamm writes from North Carolina, "Thank you for continuing to send me your newsletter. I retired from WTSB Radio in Smithfield in 2019 after 72 years in radio broadcasting. At the time I retired, I believe I was the longest consecutive radio broadcaster in the United States. I am 95 years old and still stay at home with the help of my three children. My hearing isn't as good as it once was, but I enjoy spending my afternoons talking to family and friends."
Elliot McLanahan says, "My heart goes out to Ashley Judd; or anyone who has to answer so many questions at a terribly difficult time. Sending prayers and condolences to the Judd family."
Roland Milton says, "We recently had a Milton family reunion and we met Rhonda Campbell who is our 4th cousin and sings backup vocals for Ronnie Milsap. Her maiden name is Milton."
Bobby Fischer reminisces, "Flashback to my good old Navy days. Boot camp in Great Lakes, electrician school in San Diego, then shipping out on minesweeper USS Loyalty 457. Frisco to Hawaii to Japan to China to Taiwan and back to Midway Island. Always remember that big different feeling when all you saw was water in the Pacific for weeks at a time. But overall, I got to meet great people and enjoy the voyage. Got to write and sing them old songs with great talents."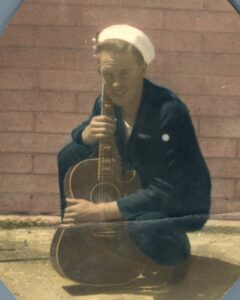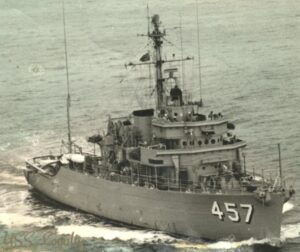 Mike Johnson says, "Just a heads up to let you know all 50 of my Black Yodel songs are up and running on my YouTube Channel. The next Top-Rail News Flash will be out sometime after my upcoming Endoscopy procedure. Hang in there, be mindful of your surroundings, and drink a beer for me."
Steve Fishell, author of the newly released Buddy Emmons: Steel Guitar Icon, writes from Ohio, "Thanks for sending your latest newsletter….it looks fantastic! And yes, please add me to your email list."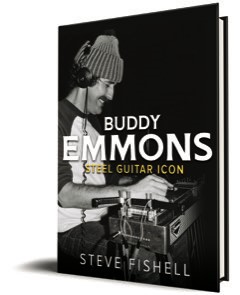 Philip Wyn Davies from Wales says, "Thank you again, Diane, fascinating to hear about you meeting Randy T and his wife. Looking forward to the book."
June Bourke writes from New Zealand, "What a wonderful newsy letter, covering so much history and latest news of all that is happening in the USA. I really enjoy the history side of your travels, and when you mentioned Hank Snow, brought back so many memories for me. My Dad met Hank Snow many years ago, and Hank became an idol here in our family, with my father singing every song Hank put out. I guess the plus side was, Dad sounded like Hank, which the audience just loved. Mum and Dad were 'Hillbilly Pals' recording in 1954 on Decca Label. They were awarded twice, by what is now APRA, for promoting Country music throughout our country. I agree with your reader, it's so sad when we lose these talented people, as so many of us were brought up on this kind of country music, it makes you wish you could go back in time and start again. You do such great work for us all, I always look forward to the next read. Best wishes and stay safe."
Dominique 'Imperial' Anglares writes from France, "Thank you very much for the newsletters and for the care given to my words about Rex Griffin. Greetings for the Nashville Songwriter Hall of Fame chapter. Very interesting. Keep it going on."
VIDEO OF THE WEEK
This week, we commemorate the life of Marty Robbins, who was born 97 years ago, on September 26, 1925. Here's a video of Merle Haggard and Marty singing "Today I Started Loving You Again" on a Ralph Emery special in 1969: https://youtu.be/81ehv00dgEQ. Merle wrote the song for Marty. He said the mood was similar to that of "Begging To You," and it sounded like Marty. But he was in the studio before he saw Marty, so he recorded the song himself. Watching the video reminds me of how much we've lost by no longer having them with us.
BOOK REVIEW – PIANO DAYS by DON REID
When Langdon Reid emailed me to ask if I wanted to read his dad's new novel, Piano Days, I said YES. Last year, I'd read and reviewed Don Reid's The Music of The Statler Brothers: An Anthology, and I looked forward to this new book. While reading it, I kept thinking it felt like a Statler Brothers song. So imagine my surprise to read this in Don's acknowledgements at the end of the book: "This was just one big Statler Brothers song without the music." The story is about three high school boys growing up in a small town around 1960, and it's told by an unnamed narrator who seems to have a lot of similarities to what Don must have experienced as a teenager. Another narrator, the nephew of the first one, comes in partway through the book to inform the reader what happened to his uncle as an adult. This structure adds mystery, as it tasks the reader to decipher what happened in his later life. Don's descriptions are as evocative and heart-wrenching as we're used to finding in his songs. You can order the book at Mercer University Press: Contributor (mupress.org). My next newsletter will spotlight Don Reid, where he and I will talk about Piano Days. For now, you can read my complete book review on The Internet Review of Books: http://internetreviewofbooks.blogspot.com/2022/09/piano-days.html.
NASHVILLE SONGWRITERS HALL OF FAME – 1970
Here is the final group of the twenty-one songwriters inducted into the Nashville Songwriters Hall of Fame during its first year of existence, 1970:
Redd Stewart co-wrote "Slow Poke," "You Belong to Me," "Bonaparte's Retreat," and "The Tennessee Waltz," in addition to 400 other songs during his lifetime. Born Henry Ellis Stewart in Ashland City, Tennessee, in 1921, he was raised by his musical parents in Louisville, Kentucky. He legally changed his name to Redd because of his russet-colored hair. In 1939, he joined Pee Wee King's band, the Golden West Cowboys, on the Grand Ole Opry. During World War II, he served in the Army in the South Pacific, where he wrote "Soldier's Last Letter," which became a #1 hit for Ernest Tubb in 1944. He rejoined the Golden West Cowboys as the group's lead vocalist. He and Pee Wee left the Opry and moved to Louisville in 1947, where they became pioneers in country music TV. Redd died in Louisville in 2003, at age 82.
Floyd Tillman was born in Oklahoma in 1914 and raised in Texas. Playing at local dances, he became a top-drawer, jazz-influenced lead guitar player. His first hit as a songwriter was "It Makes No Difference Now" in 1938. He became a solo star in 1944, with his own #1 hit, "They Took the Stars Out of Heaven." He followed that with "I Love You So Much It Hurts" and "Slipping Around," which would top country and pop charts for Margaret Whiteman and Jimmy Wakely in 1949. Floyd ceased touring in the early 1950s and continued as a writer and occasional performer. Willie Nelson calls him country music's "original outlaw," because he refused to stay within the stereotypes of any one musical genre. Elected to the Country Music Hall of Fame in 1984, he died in 2003, at age 88, in Bacliff, Texas.
Merle Travis is known both as an innovative guitar stylist and the writer of such classic country songs as "Divorce Me C.O.D.," "Smoke! Smoke! Smoke! (That Cigarette)," "So Round, So Firm, So Fully Packed," "Dark As a Dungeon" and "Sixteen Tons." Born in Kentucky in 1917, he grew up in coal country before moving to California in 1944, signing with Capitol Records, and hitting #1 on the country chart with "Divorce Me C.O.D." He had two resurgences in popularity, first when Tennessee Ernie Ford recorded "Sixteen Tons" in 1955, and then when he moved to Nashville and appeared on the Nitty Gritty Dirt Band's 1972 album Will the Circle Be Unbroken, which won him a Grammy for Best Country Instrumental Performance. He was inducted into the Country Music Hall of Fame in 1977. He died in 1983, at age 82, in Tahlequah, Oklahoma.
Ernest Tubb grew up on a cotton farm near his 1914 birthplace of Crisp, Texas. Intrigued by movie cowboys and Jimmie Rodgers, he was forced to change his singing style after a tonsillectomy in 1939. There was no Billboard country chart when he started making hit records such as "Walking the Floor Over You." In the 1940s, he was a prolific songwriter, constantly sketching notes on the road, then returning home to polish his ideas, with songs such as "It's Been So Long, Darling." I remember Carl Smith singing one of his co-written songs, "(When You Feel Like You're in Love) Don't Just Stand There." By the mid-1950s, Ernest started relying more on others' material for his hard-driving, honky tonk songs with drums and electric guitar. Elected to the Country Music Hall of Fame in 1965, he died in Nashville in 1984, at age 70.
Cindy Walker wrote songs that were hits across five decades, including #1 hits for Bob Wills, Merle Haggard, Eddy Arnold and Ricky Skaggs. Born in Texas in 1918, she moved to Los Angeles after pitching a song to Bing Crosby during a family trip there in 1940. She recorded for Decca Records and wrote songs for Bob Wills, who eventually recorded more than 50 of her songs. She returned home to Texas in 1954. In 1955, Eddy Arnold gave the song title "You Don't Know Me," and she wrote her famous ballad of unrequited love. Songs such as "Cherokee Maiden," "I Don't Care," "Dream Baby (How Long Must I Dream)" and "You Don't Know Me" were re-recorded as hits more than 20 years after they were first hits. She cowrote "Bubbles in My Beer." She was elected to the Country Music Hall of Fame in 1997. She died in her hometown of Mexia, Texas, in 2006 at age 87.
Hank Williams, born Hiram King Williams in Mount Olive, Alabama, in 1923, died at age 29 after only five years in the country music spotlight. His timeless songs include "I Saw the Light," "I'm So Lonesome I Could Cry, "Jambalaya (On the Bayou)," "Mind Your Own Business," "You Win Again," "Cold, Cold Heart," and "Your Cheatin' Heart." Rufus "Tee Tot" Payne taught him guitar, and he dropped out of high school to play music. In 1946, he met Fred Rose, who became his mentor and guided his recording career. He joined the Grand Ole Opry in 1949 but was fired in 1952 for erratic and addicted behavior. He died in the early morning of January 1, 1953, near Oak Hill, West Virginia, in the back seat of a car on the way to a concert in Canton, Ohio. He and Fred Rose were both inducted posthumously into the Country Music Hall of Fame in its inaugural year of 1961.
Bob Wills was the most popular and influential of all Western swing bandleaders, beginning with the Light Crust Doughboys in 1931 and then the Texas Playboys in 1934. Born in 1905, he grew up in west Texas and was playing fiddle at dances by age 10. His cowritten songs include classics such as "Faded Love," "Take Me Back to Tulsa," "Stay a Little Longer," and "My Shoes Keep Walking Back to You." His 1939 instrumental "San Antonio Rose" was so popular that he added lyrics and created "New San Antonio Rose." He enjoyed being elected to the Country Music Hall of Fame in 1968 and the Nashville Songwriters Hall of Fame in 1970. He died in Fort Worth, Texas, in 1975, following a series of strokes. He was 70 years old.