IN THE SPOTLIGHT – DON REID
Since the Statler Brothers retired in 2002, lead singer Don Reid has spent much of his time writing books. Last year he published The Music of The Statler Brothers: An Anthology. We talked about that book when I spotlighted him in my newsletter: https://dianediekman.com/dianes-country-music-newsletter-5-may-2021/. Now, he has published a novel, thanks to the encouragement of his sons, Langdon and Debo, who reminded him it had been ten years since his last novel and therefore time for another one. He told them he'd see what he could do, and the result was Piano Days.
Don called me a few weeks ago to discuss this story of three high school boys growing up in a small town around 1960. He said the idea had been "lying around for a long time, in my head and in my files, both the thoughts and putting it together." Of course, that's the same timeframe when he and brother Harold were growing up in Staunton, Virginia. Don acknowledged the narrator (the protagonist) was partly based on himself, although with Vietnam combat service and two years of rehab in a VA hospital, "the narrator did things I had never done," Don says, "and went through things I had never gone through."
The three best friends in the story are composites of people and experiences Don remembers from his youth. "You take little pieces from different experiences or different things you've observed of other people," he says.
Don calls himself "an observational kind of guy," explaining, "I didn't have to touch the stove to see if it was hot. I watched other people touch it. I could relate with that, and learn from it, hopefully."
And that's what makes a fiction writer. On one hand, Don tries to put himself in the scene, wondering what he would feel and say. On the other hand, he has to go with what the character feels and says. The writer has created this person and must follow up when the character decides what to say or how to act. "So that character had actually led you," Don clarifies, adding, "I know where I want to wind up, but I don't always know exactly how I'm going to get there, until I start writing."
For Piano Days, Don used scenes he thought related to the era of the '50s and early '60s. "Like the drive-in, or the restaurant hangout where everybody went, or a church, or to the school, or a football game," he says. "That denotes growing up, that denotes kids getting together and doing something. Then I would take the scene, and I would write the story from that. What if this happened? Maybe it would be interesting if this happened."
He writes what he enjoys reading. "There's a certain style of writing that I like," he says, "and I thought I'll just do what comes natural and what I enjoy reading." That produced Piano Days. If you enjoyed the songs Don and Harold wrote for the Statler Brothers to record, you'll enjoy this book. You can find it at https://www.donreid.net/.
I asked Don if he was finding much time to relax, being retired and all, and he said, "Not as much as I really want to." He was headed to Nashville the following week to host a Bill Gaither-produced video, and he was considering doing some television writing he'd been offered.
A project he's been heavily involved in, a Johnny Cash documentary, will soon be available for all of us to see. Johnny Cash: The Redemption of An American Icon will be in theaters on December 5, 6 & 7, only. Don told me they'd first thought it would be on Netflix or something similar. So being in theaters is wonderful. "I'm very much involved," Don says. "They use a lot of different people to talk and tell his story."
I'm guessing the movie begins around 1968, because its website says, "At the end of his rope, Johnny Cash stumbled into a cave and laid down in the dark. But death didn't come calling; God did." It explains, "At the height of his career, a cycle of depression and drug addiction left Cash in the lowest valley personally." The documentary follows his road to redemption and return to his faith.
"So I've got a lot of things happening, and not quite as much time to prop up my feet as I was hoping to, this fall," Don, 77, says. "But I've enjoyed it. I'm so glad to be able to do all this sort of thing."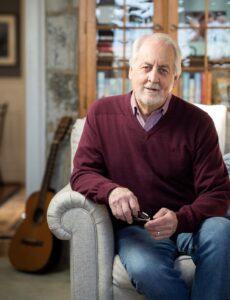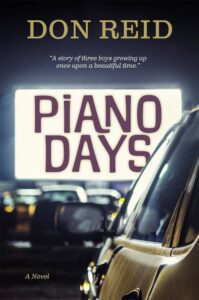 NEWS
Loretta Lynn (1932-2022)
The coal miner's daughter, Loretta Lynn, died October 4 at her home in Hurricane Mills, Tennessee, at age 90. She was the first woman named country music entertainer of the year, by both the Country Music Association (1972) and the Academy of Country Music (1975). She was also the ACM Artist of the Decade for the 1970s. Her 1969 autobiographical song, "Coal Miner's Daughter," was followed by her 1976 autobiography, Coal Miner's Daughter, which was made into movie in 1980. Born Loretta Webb in Butcher Hollow, Kentucky, on April 13, 1932, the second of eight children, she grew up around the coal mine where her father worked—and later died of black lung disease—and the church where she learned to sing. She married Oliver "Doolittle" Lynn in 1948, when she was 15 years old, and moved with him to Washington State a year later, while pregnant with the first of their six children. In 1953, Doolittle gave Loretta her first guitar. She cut her first record, "I'm a Honky Tonk Girl," in 1960, and her family moved to Nashville. She joined the Grand Ole Opry in 1962. As reported by Taste of Country, Loretta was the most-awarded female country artist of all time. She was inducted into the Nashville Songwriters Hall of Fame in 1983, the Country Music Hall of Fame in 1988, and the Songwriters Hall of Fame in 2008. In 2013 she visited the White House to receive the highest honor the United States can give to a private citizen–the Presidential Medal of Freedom, awarded by President Barack Obama.
Ray Edenton, the rhythm guitarist on Nashville's A-Team of classic session musicians, died September 21 at age 95, MusicRow reports. Born in Mineral, Virginia, in 1926, he was playing guitar by age 6. He served in the U.S. Army during World War II and moved to Nashville in 1952, where he began playing acoustic guitar at the Grand Ole Opry and was soon called for recording sessions. "Singing the Blues" by Marty Robbins in 1956 is one of the few records where he played lead guitar instead of rhythm. Other early hits he played on were "There Stands the Glass" (Webb Pierce), "One by One" (Kitty Wells and Red Foley), and "Bye Bye Love" and "Wake Up Little Susie" (Everly Brothers). He appeared on records by more than 50 Country Music Hall of Fame members. He also played mandolin, bass, banjo and ukulele. He retired in 1991. Along with the rest of the Nashville A-Team, Ray was inducted into the Musicians Hall of Fame in 2007. Kyle Young, CEO of the Country Music Hall of Fame and Museum says, "Nashville's musical legacy is elevated by Ray Edenton's rock-solid, highly inventive rhythm guitar. He developed new guitar tunings to create sounds that had not been heard before. He was a significant factor in more than 10,000 recording sessions. In 2007, the Country Music Hall of Fame and Museum honored him as a Nashville Cat, a designation that celebrates musicians of great consequence." I interviewed him twice, first for Faron's biography and again for Marty' biography. I'll cover the interviews in two separate "In Their Own Words" segments.
CMT's newest Artist of a Lifetime is Alan Jackson, who will be honored during the 2022 CMT Artists of the Year ceremony at Nashville's Schermerhorn Symphony Center on October 14. The 90-minute special will air on CMT. Previous honorees are Randy Travis (2021), Reba McEntire (2019), Loretta Lynn (2018), Shania Twain (2016), Kenny Rogers (2015), and Merle Haggard (2014). "I believe I've made more videos than just about anybody, and I know how important they have been in bringing my songs to life for the fans," Alan said in a statement, "so thank you CMT for all the years and for this sweet honor. I'm very proud." Billboard reports he started his string of hits in 1990, with "Here in the Real World," Wanted," and "Chasin' that Neon Rainbow," before recording nineteen number one songs. He joined the Grand Ole Opry in 1991 and was inducted into the Country Music Hall of Fame in 2017.
According to the toxicology report obtained by The U.S. Sun, Luke Bell, 32, died of an accidental fentanyl overdose on August 26, 2022. He had a blood alcohol concentration of 0.076 in his system. The autopsy report obtained from the Pima County Medical Examiner's Office said he suffered from arteriosclerotic cardiovascular disease. He was found dead in Tucson, Arizona, on August 29, after being reported missing on August 20.
The founder of The Musicians Hall of Fame in Nashville, Joe Chambers, died September 28 at Vanderbilt Hospital, following an extended illness. He was 68 years old. MusicRow reports he was a guitarist, record producer and songwriter before becoming CEO of the multi-million-dollar museum. He moved to Nashville from Georgia in 1978 and began working with producer Billy Sherrill, who served as mentor and tutor. Chambers started dreaming about a museum while watching the session musicians work with Sherrill to record George Jones, Marty Robbins, Tammy Wynette, Ray Charles, and others. He wrote hit songs such as "I Meant Every Word He Said" and "Somebody Lied" (Ricky Van Shelton), "It's Hard to Be the Dreamer" (Donna Fargo), "Old 8×10" (Randy Travis), and "Beneath a Painted Sky" (Tammy Wynette & Emmylou Harris). In 2006, he opened a 30,000-square-foot Musicians Hall of Fame on Sixth Avenue North. In 2010, the city seized his building to make way for construction of The Music City Center. He put the artifacts in storage until 2013, when he reopened the museum in the exhibit hall of the Municipal Auditorium.
As one of the stops on his final nationwide stadium tour, Last Call: One More for the Road, Alan Jackson, 63, took his show to the American Airlines Center in Dallas. Outsider reports local residents had been waiting two years for his return. During his 90-minute set, Alan held the near-capacity crowd in the palm of his hand. "I'm not singing 100%," he told his fans. "I'm dealing with some stuff, but I'm going to give you all I have." He is fighting a progressive and debilitating neurological disorder, Charcot-Marie-Tooth. The only concession he made was a brace bolted into the stage. He sometimes leaned against it for support. At the end of the show, he leaned on a stagehand while walking off the stage.
Whiskey Riff reports on a brawl that occurred at an Alan Jackson concert in Glendale, Arizona (hometown of Marty Robbins). Alan was singing "Where I Come From" when an older man in the arena seats apparently said something that offended a younger man, who punched him in the face. The older guy hit back at the man twice his size (reminiscent of Faron Young), and they continued punching as others pulled them apart and one woman started beating the younger guy over the head with a beer can. The younger guy's girl convinced him to leave, and as they climbed the stairs, the older one followed them to keep the fight going. The crowd was holding him back as the video ended. Alan could be heard singing.
Following some speculation about whether she would be at the Ryman Auditorium, Taylor Swift attended the annual ceremony of the Nashville Songwriters Association International to accept her award as Songwriter-Artist of the Decade. She won NSAI's Songwriter-Artist of the Year award seven times between 2007 and 2015 and routinely attended the annual event through 2013, reports The Tennessean. Ashley Gorley was named Songwriter of the Decade for a catalog that contains 63 No. 1 hits. "Tonight feels brimming with genuine camaraderie for people who appreciate when a magical cloud appears to create a song that floats into the world to make people feel seen for just one moment," Taylor said in her 15-minute speech as the evening's headliner. "You have to be grateful for people who want to listen to you."
The Kris Kristofferson Lifetime Achievement Award at the NSAI Songwriter Awards ceremony was presented to Garth Brooks. The Nashville Songwriters Association periodically chooses someone who has "made significant contributions to the American songbook while simultaneously impacting the careers of others." Previous recipients are Loretta Lynn, Willie Nelson, and Bill Anderson. Whiskey Riff reports Luke Combs sang "The Beaches of Cheyenne," a #1 for Garth in 1995. When Luke finished singing, Garth jumped out of his seat to shout his approval and show his admiration. He had written the song with Dan Roberts and Bryan Kennedy, and he said after the show that he'd never considered himself a songwriter until he watched Luke sing "Beaches of Cheyenne."
Live Forever: A Tribute To Billy Joe Shaver is a new album being released November 1, more than two years after Texas singer-songwriter Billy Joe Shaver died. CMT is premiering "Willy The Wandering Gypsy And Me," sung by George Strait. George calls it "one of my favorite songs,' and he agreed to do the tribute album only if he could be the one to sing that song. CMT News reports that Willie Nelson and Lucinda Williams, Miranda Lambert, Steve Earle, Rodney Crowell, and Margo Price are some of the others singing Shaver songs on the album.
On the cover of her new single, "Waking Up Dreaming," Shania Twain, 57, appears to be topless. She is wearing a cowboy hat, knee-high stiletto boots, and a white button-up shirt tied around her waist, with earrings peeking out from her dark blonde hair. She's kneeling on the ground, with her arm on her knee and strategically covering her chest. According to PEOPLE, she styled the photograph herself. "This is a statement of being comfortable in my own skin and just being really myself," she said. "We're aging, we're wrinkling, we're sagging. I pay less attention to the sagging and more attention to the things that make me happy."
Eddie Pleasant, longtime business manager for Hank Williams Jr., died September 17 at age 95. Although also a songwriter and musician, he may be best known for bringing t-shirts into the music business. The Texas native was working at a textile mill in Waco and playing music at night when he met Willie Nelson and followed him to Nashville in 1968. Eddie got a job playing drums for Wilma Lee and Stoney Cooper, who were opening for Hank Williams Jr. He began working for Hank Jr. about the same time as did promoter and manager Buddy Lee, who came up with the idea of putting an artist photo and concert dates on white t-shirts and selling them at concerts. Eddie made those sales his mission. According to Saving Country Music, "If you talk to some in the music business, they know Eddie Pleasant for one thing and one thing only: selling T-shirts. Though it may seem like a commonplace function of the music business today, before Eddie Pleasant, it wasn't a focus of either artists or the public." When Hank Jr. fired most of his team, Eddie joined Hank Williams III in 1996. He continued to write songs and pitch them to artists into his 90s.
The Music City Walk of Fame is inducting its second group of artists this year, following Bobby Bare, Dierks Bentley, Keb' Mo', and Connie Smith in April. The Tennessean reports the new group will be singer-songwriter John Prine, Country Music Hall of Famer Patsy Cline, music industry veteran Ed Hardy, and Dr. Paul T. Kwami, former music director of the Fisk Jubilee Singers. These four will be inducted at a free public ceremony on October 10, Prine's 76th birthday, at 11 a.m. in downtown Nashville's Walk of Fame Park. Nashville's Walk of Fame will then have 97 sidewalk stars.
The newest exhibit at the Country Music Hall of Fame & Museum is Western Edge: The Roots and Reverberations of Los Angeles Country-Rock. The exhibit surveys the rise of the Byrds, Buffalo Springfield, the Flying Burrito Brothers, Poco, Eagles, Emmylou Harris, Nitty Gritty Dirt Band, Linda Ronstadt and others in the 1960s and 1970s who found commercial success by merging rock & roll rhythms and attitude with country and bluegrass instrumentation and harmonies. These trailblazers were followed by the next generation of Los Angeles roots music performers, including Dwight Yoakam, who looked to traditional American music for inspiration. The artists blended hard-edged honky-tonk, Mexican folk music, rockabilly, and punk rock to inspire future generations of country and Americana artists.
The Country Music Hall of Fame & Museum has extended the Martina McBride: The Power of Her Voice exhibit into July 2023 due to popular demand, reports MusicRow. The exhibit opened in the summer of 2021. Martina recently wrapped the first season of Vocal Point with Martina McBride, her weekly podcast that featured Garth Brooks, Loretta Lynn, Little Big Town, Lukas Nelson, Emmylou Harris, Blake Shelton and others.
The final round of voting for the 2022 CMA Awards ends October 28. I'm not that familiar with most of the nominees and therefore don't vote in many categories, even though I'm eligible to vote as a member of the Country Music Association. If anyone is supporting a worthy candidate, feel free to send me an email to help me with my voting decisions.
LETTERS
Mike Johnson writes, "Rest in Peace, Loretta Lynn. My all-time favorite female country singer. Condolences to the family."
June Thompson says, "As always, a wonderful newsletter. I know I say it every time, I commend you on your work ethic, and your wonderful way with words. I hope I will be able to read the Don Reed book soon. His O Little Town was wonderful, and I believe will stay with me as long as I have a memory. I am glad you enjoyed the Bellamy Brothers concert. 'When I'm Away From You' is my favorite song by them. I will be looking forward to your next letter, and until then, may God richly bless you."
Doyle Grisham writes, "I think I told you when I first moved to Nashville in the mid '60s, I filled in a few times for Rip Wilson in Faron Young's band playing electric guitar. Attached is a photo from the Spring of 1967, I believe, showing me, Faron, Darrell McCall, and Cootie right before I went on active duty. I'm sure we had a steel guitar player, probably Sonny Burnette, who is not in the picture for some reason. I thought you might be interested in seeing this."
Diane: Thanks for the photo, Doyle. Yes, it was probably Sonny who got cut out of the picture. He and Rip started at the same time, and he played steel for a few months before George Edwards came onboard.
Bobby Fischer says, "Another gift of current country folks in your newsletter thanks. Sorry to hear about Terry Choate. Great talent and pal. He produced a song I wrote with Dewayne Blackwell, Bud Lee, and Robert Ellis Orrall, 'When Karen Comes Around.' The Oak Ridge Boys cut it. Another song title idea was floating above my head: 'I never thought your memory would ever go this far.' I seized the opportunity and presented it to the great Charlie Black, I lined up with Rory Bourke, also great, to come to my office. As Charlie always did, he got a great melody going. We did a light demo. I started to pitch on Music Row to whoever would listen. Jerry Crutchfield had recorded one of mine on Lee Greenwood, 'Breakin' Even,' so I took everything to him. He recorded it and I'm happy to say he recorded it on Lee. It was released as a single. Episodes like this make me lightheaded. I would like to get lightheaded more OFTEN."
Dominique 'Imperial' Anglares writes from France, "Another good and welcome Country Music Newsletter. Among deaths that went unnoticed was the loss of Larry Welborn who died July 31, 2022, aged 83. He was a key figure in the careers of Buddy Holly and The Crickets. Also connected with Buddy was my friend Sonny West who passed on September 8, 2022. He was the writer for the classics 'Rave On' (Buddy Holly) and 'Oh, Boy!' (The Crickets). He had releases on his own on Nor-Va-Jak, Atlantic, and Band Box. Both cats will be missed."
Phil Davies in the United Kingdom says, "Another interesting read. So glad you enjoyed the Bellamy gig."
SONG OF THE WEEK
One of my favorite songs on Randy Travis's 1990 duet album, Heroes and Friends, is "Shopping for Dresses." Kyle Lehning, who recorded and produced the album, tells me it was also one of his and Randy's favorites. They adored the song and found it quirky and brilliant. What intrigued me were the songwriters—not only that Merle Haggard and Little Jimmy Dickens wrote a song together but that they wrote about shopping for dresses. I found the answer when I recently ran across a YouTube clip of the 1998 TV special, Workin' Man: A Tribute to Merle Haggard. Merle introduced Jimmy and then described a guitar-pulling on what he called "a magical night up in Louieville, Kentucky." He said the guitar had been passed all the way around, and Jimmy got up to leave. Merle asked why he hadn't written a song that night. Jimmy pulled his guitar out of its case and started singing a song. "I wrote the last half of it," Merle told the TV audience. "He didn't have the whole thing. It was just a great song, and I said I think I can finish it for you." Jimmy had written the first verse and chorus about a lonely man who was shopping for dresses: "I'll find a lady someday to wear them, and my shopping will be done for a while." Merle added a verse about a lonely woman shopping for britches while dreaming of finding a man to love. Merle included the song on his 1982 album, Going Where the Lonely Go. On Randy's duet album, Loretta Lynn sang the second verse. The heart-tugging ballad leaves me without words to describe it: https://youtu.be/vKtTQl0OuoQ.
MUSIC IN AMERICAN LIFE ANNIVERSARY SALE — BOOKS 50% OFF
During the month of October, the University of Illinois Press is offering all books in the Music in American Life series at 50% off. Use promo code MAL50 when ordering. This includes Live Fast, Love Hard: The Faron Young Story and Twentieth Century Drifter: The Life of Marty Robbins: https://www.press.uillinois.edu/books/author.php?search=d&page=3.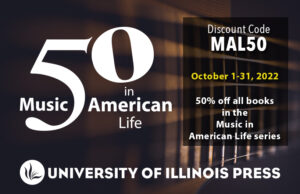 IN THEIR OWN WORDS
My first telephone interview with Ray Edenton took place when I was beginning my Faron Young research. I knew Faron had lived in Mom Upchurch's boarding house in Nashville, and I don't remember who told me Ray had lived there or how I got in touch with him. The rhythm guitarist in Nashville's A-Team of classic session musicians died September 21, 2022, at age 95. Here is some of what he told me when I called him at his home in Gallatin, Tennessee, on February 27, 2000:
Ma Upchurch's was just an old stone house when I went there in the fall of '52. Probably 10-12 musicians were living there, including Faron. I was on the road all the time. I remember him being there when I first went there, but then he was gone, so I don't know when he left. There was a lot of us pickers around. We called it Hillbilly Heaven. There was quite a crew of us. It changed, sometimes from week to week, day to day, month to month, the people did. The bedrooms were two double beds in each room, and you was allowed half of that double bed. And you never knew who was going to be in the other part. When you woke up the next morning, it might be a total stranger, or it might be somebody coming in off the road–some of the guys that couldn't get in the other beds. They'd be wandering in, all hours of the day and night. Most of us were working on the road. You'd just come in and find you a place to go to bed. Usually she had four people assigned to a room, when you first started out, but you moved. When I left there, I finally had gotten the coveted front room. With one bed in it. There was nothing private at Ma Upchurch's. 
If you had your regular place there–if you were paying rent–there would always be a place for you. It wasn't where you could just bunk for the night. She wanted people who was gonna stay a couple months. Musicians change jobs so often, don't have jobs so often, so there was no tellin' who you'd have there. Many people stayed there. I couldn't begin to tell you all the names of them. I was there from '52 until I got married in '55. 
The house wasn't that big, really. It only had one bathroom. That was a problem. We got along all right–hardly ever any arguments. Ma had her bedroom back in the back. When she got some extra people, she'd bunk on the couch, or had another little room back there she'd bunk in. There were so many players, so many different bands, everything from bluegrass to pop, everything. 
Several of the guys stayed there five or six years. Everybody in the music business in Nashville knew where it was and what it was. In east Nashville at 620 Boscovel Street. I went by there three or four years ago, and it was still there. On the east side of the river, from downtown, just a few blocks from that new stadium. The street where we used to go in town on, which was Shelby Street, the bridge that went across the river, that's no more. They blew it up. 
Back in that time most of us weren't used to nice hotel rooms. There weren't motels back then, it was all hotels. When you were on the road, you stayed in an old fleabag hotel most of the time. Top acts stayed in pretty nice places. Acts that wasn't very hot, or couldn't come up with the price, stayed in the fleabags. There wasn't any buses then. Some bands had two cars. Some bands would take a car, and a panel truck along to carry instruments, song books, different stuff. They all worked in different ways. 
Work, work, work. We were doing so many sessions back then that one ran into the other one. For a long time we averaged three or four sessions a day. That's a lot of sessions. We all loved Faron. He was such a character. He was fun to work with, and fun to be around. He was a great entertainer. I never worked the road with him.
NASHVILLE SONGWRITERS HALL OF FAME – 1971
Twenty songwriters were inducted into the Nashville Songwriters Hall of Fame during its second year of existence, 1971. I'll present them in three sections, in alphabetical order:
Smiley Burnette, born Lester Alvin Burnette in 1911, began singing country music as a boy in Illinois. He quit school in the ninth grade to help with the family income. Becoming a radio announcer, he adopted the nickname "Smiley" for a children's radio program. He joined Gene Autry on the WLSNational Barn Dance radio show in Chicago in late 1933, playing accordion and other instruments and providing comic relief. He accompanied Autry to Hollywood a year later and became his movie sidekick, "Frog Millhouse." He made more than 150 feature films and wrote 275 songs. He later appeared in Roy Rogers movies and starred on CBS-TV's Petticoat Junction as railroad engineer Charlie Pratt. His many songs include "Ridin' Down the Canyon" (written with Gene Autry) and "It's My Lazy Day." He died at age 55 in 1967 in Knoxville, Tennessee.
Jenny Lou Carson first rose to national fame on the WLS National Barn Dance over radio in Chicago, under her real name, Lucille Overstake, as part of the Three Little Maids, a female harmony trio with her sisters, Evelyn and Eva. Born in 1915 in Decatur, Illinois, Lucille was the trio's guitarist and songwriter. When the sister act broke up in 1935, Eva married Red Foley, Evelyn continued as a solo artist on WLS, and Lucille reinvented herself as singing cowgirl Jenny Lou Carson. Under this stage name, she became one of country music's pioneering female songwriters. She recorded her own songs, was mentored by Fred Rose, and was billed as "Radio's Chin-Up Girl" during World War II. Her biggest copyright was the co-written "Let Me Go, Lover," a pop hit that was also a country #1 for Hank Snow in 1955. She wrote "Don't Rob Another Man's Castle," "Jealous Heart," and "You Two-timed Me One Time Too Often." She continued entertaining into the mid-1950s and then retired. She died in Inglewood, California, in 1978 at age 63.
Wilf Carter was Canada's first country music star. Born in Nova Scotia in 1904, he was one of nine children of a Baptist minister who disapproved of an entertainment career, so Wilf left home in his teens. In 1933, he wrote and recorded two songs for RCA Victor in Montreal and had the first hit by a Canadian country artist, the double-sided record, "My Swiss Moonlight Lullaby" and "The Capture of Albert Johnson." He called his distinctive, speedy yodeling style his "three-in-one" yodel. By 1935, he was broadcasting on the CBS radio network from New York under his American stage name, Montana Slim. Throughout the rest of his career, he would be known as Montana Slim in the U.S. and as Wilf Carter in Canada. His signature song, which he wrote, was "There's a Love Knot in My Lariat." His more than 500 songs included cowboy, blues, sentimental, and topical music. A 1940 automobile accident required years of recovery, and he resumed entertaining around 1948. He was inducted into the Canadian Music Hall of Fame in 1985 and retired three years later. He died in Scottsdale, Arizona, in 1996, two weeks before his 92nd birthday.
Zeke Clements had years of entertainment experience before becoming a songwriter. The Alabama native, born Marlon R. Clements in 1911, left a coal-mining job in the 1920s to tour in vaudeville. Billed variously as "The Dixie Yodeler" and "The Alabama Cowboy," he began a lengthy country radio career in 1929 at the WLS National Barn Dance in Chicago. He moved to Nashville and joined the Grand Ole Opry in 1933–the first Opry star with a cowboy image. He toured with singer Texas Ruby during the 1930s and portrayed the yodeling voice of Bashful for Walt Disney's 1938 animated feature, Snow White and the Seven Dwarfs. He returned to the Opry and started writing songs in 1939. His first songwriting success was "Smoke on the Water" in 1944. He wrote the Eddy Arnold hits, "Why Should I Cry," "Just a Little Lovin' (Will Go a Long, Long Way)," and "Somebody's Been Beatin' My Time." In 1947, he joined the Louisiana Hayride in Shreveport. He died in 1994 in Nashville at age 82.
Jimmie Davis was born in 1899 to Louisiana sharecroppers and worked his way through college to earn a master's degree in history. He taught at a female college in Shreveport before launching his recording career in 1928. Jimmie Rodgers was a major influence. He wrote and recorded "Where the Old Red River Flows" in 1930 and "Nobody's Darling But Mine" in 1934–one of the biggest country hits of the Great Depression. His 1940 smash hit, "You Are My Sunshine," became the state song of Louisiana. His popularity as a musician led to a political career. He served two terms as governor of Louisiana, 1944-1948 and 1960-1964. His more than 700 song titles include classics such as "Sweethearts or Strangers," "Shackles and Chains," and "There's a New Moon Over My Shoulder." Although he insisted he wrote "You Are My Sunshine" while a graduate student at Louisiana State University, the song was recorded three times prior to his version and two others claimed to be its author. Jimmie Davis was elected to the Country Music Hall of Fame in 1972, the Gospel Music Hall of Fame in 1994, and the Louisiana Music Hall of Fame in 2008. He performed until age 99 and lived to be 101 years old. He died in 2000.
Alton & Rabon Delmore grew up as two of ten children in a highly musical family of tenant farmers in northern Alabama. Alton was born in 1908 and Rabon in 1916. With the help of an uncle, Alton taught himself to play guitar, as well as banjo, mandolin, fiddle and tenor guitar. He taught Rabon to play tenor guitar, and they developed a beautiful interplay between their instruments. They joined the Grand Ole Opry in 1933 as the Delmore Brothers. Their warm harmony vocals, appealing songs and instrumental dexterity made them among the most popular early Opry acts. They wrote and recorded such classics as "Brown's Ferry Blues," "Gonna Lay Down My Old Guitar" and "Blue Railroad Train." Rabon never learned to drive. As Alton drove, he would make up songs, singing as Rabon wrote them down and made changes. They co-wrote "Beautiful Brown Eyes" with Arthur Smith. The Delmores left the Opry in 1938 and later formed the gospel quartet the Brown's Ferry Four with Grandpa Jones and Merle Travis. After World War II, they recorded perhaps their best-known song, "Blues Stay Away from Me." Rabon died of lung cancer in 1952 in Athens, Alabama, at age 36. Alton died in 1964 in Huntsville, Alabama, at age 56. The Delmore Brothers were inducted together into the Alabama Music Hall of Fame in 1989 and the Country Music Hall of Fame in 2001.