IN THE SPOTLIGHT – DON REID
Waiting for a phone call from Don Reid last week was one of my most nervous times in planning an interview. Hearing the voice on the phone that I've heard on Statler Brothers records and shows for half a century felt otherworldly: "Diane, this is Don Reid. How are you doing this morning, out west?"
He was calling from his lifelong home of Staunton, Virginia. We talked about his newest book, The Music of The Statler Brothers: An Anthology. His sons, Debo and Langdon, had encouraged him for a long time to write such a book. "I didn't know what I had to say," he told me. "But then I got into it and realized I had more to say than I thought I did. It was a joy to write." He'd kept notes every day of all their years of touring, "and not knowing why," he explained. "I guess this is when I found out why I was doing it."
Before calling me, he had checked his files to see how many times the Statler Brothers came to Sioux Falls. "Thirteen different times throughout the career," he reported. "We played there a lot."
Since the book's publication last fall, he's stayed busy with phone calls, broadcasts, and Zoom meetings to market it. Unlike with his previous books, there have been no in-person events. "Everything's been done from right here in my office," he says. "It's kind of nice, to be honest. You make the same connection, but you cut down on the travel. When we retired, that's what we were trying to get away from was the travel." You can find his other eight books at http://DonReid.net.
I told him I'd watched the CMA Awards shows every year since the beginning and always cheered for the Statler Brothers to win. "How nice of you," he responded. "The fans were always so important to us and so good to us. We were always so appreciative of that. We never, never forgot from whence it comes, and it comes from them." An internet search told me that during the period 1967-1984, the Statler Brothers were nominated 15 of 18 years for CMA Vocal Group and won nine times.
We talked about the changes in show business over the years. "That's what the word means," he commented. "You gotta put on a little bit of a show and make it a little bit different from everyday life." He started to say they were never flashy and then corrected himself to finish, "Well, I guess some of those clothes we wore in the Seventies were flashy, but we ourselves were never flashy. Sometimes just the clothes."
Concerning where the Statlers are today, Don says, "Of course, we lost my brother Harold last year. Phil lost his wife." He still sees Phil Balsley several times a week; they share an office in their hometown of Staunton. He stays in touch with Jimmy Fortune, who lives in Nashville: "I hope one of these days, we'll get together and have lunch again, soon."
When I asked what happens in Staunton nowadays, he replied, "Well, first off on the list is to enjoy retirement. That's what we all decided to do when we retired in 2002. And I think we pretty much did that. Of course, Jimmy didn't. He went on to Nashville and has got a great career going, so we're so happy for him." Don eats lunch every Wednesday with his two sons. "We sit for hours, and talk and catch up, and do business, and just talk about everything that's on our hearts," he says. "I've enjoyed that kind of feeling. I've enjoyed just spending more time with my wife, Debbie." His work mainly consists of writing books. He hasn't written many songs since they retired, only a few for his personal satisfaction. "My thoughts have mostly been with books, and I kinda laid the music aside," he explains.
Here's his response when I asked if he had a message for my readers: "Well, just let them know–and thank the good Lord and good health–we appreciate all the fans and everything, for the forty-year career they gave us, and they have been so important to us. Still are. I stay in contact through Facebook with many of the fans. We want them to know we appreciate them, every one of them, and for everything they've ever done for us."
Don concluded our conversation by saying, "If you think of anything else you need to ask, let us know." I later emailed Langdon, who had arranged the phone interview, and asked how to correctly pronounce Staunton. He replied, "Staunton is pronounced Stanton. We can detect a foreigner immediately if they pronounce the u!"
I'll be reviewing The Music of The Statler Brothers in one of my upcoming newsletters. Both the book and the 14-CD audio book, read by Don himself, are available at http://TheStatlerBrothers.com.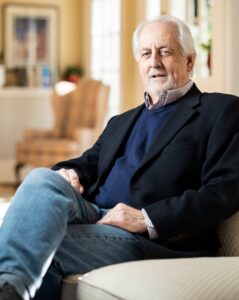 NEWS
Music producer, singer, and songwriter Tommy West, 78, died May 2 of complications associated with Parkinson's disease. He and Terry Cashman coproduced three albums for Jim Croce in the early 1970s. They also wrote songs for The Partridge Family TV show. Tommy joined MTM Records in Nashville in the 1980s to produce records for Holly Dunn and Judy Rodman.Anne Murray posted on Facebook, "Farewell to my dear friend Tommy West, a prince of a man who produced 4 of my last 5 albums, including CROONIN', my sentimental favourite. It was a joy and a privilege to work with him."
James Hollie, longtime frontman and bass player for George Jones & Tammy Wynette, died April 14 in Albuquerque, New Mexico, which was his home. His funeral will be held May 10 at Legacy East in Albuquerque. His Facebook page says he was from Hollandale, Mississippi, and he worked at Sony Music Entertainment. I haven't been able to find an obituary. He was 83 years old.
Songwriter Charlie Black, 71, died April 23 in Port St. Joe, Florida. MusicRow reports Charles Frank Black was raised in Cheverly, Maryland, a suburb of Washington, D.C., and was a construction worker, custodian, and produce delivery driver before graduating from the University of Maryland and moving to Nashville in 1970, at age 21. His ambition to be a singer changed to being a songwriter when Tommy Overstreet started recording his co-written songs, such as "(Jeannie Marie) You Were a Lady" in 1974. "A Little Good News," cowritten with Rory Bourke, was 1983's CMA Single of the Year and a Grammy Award winner for Anne Murray. Charlie had part in 15 No. 1 hits, was SESAC's Country Songwriter of the Year in 1979, ASCAP's Country Songwriter of the Year in 1983/1984, and was inducted into the Nashville Songwriters Hall of Fame in 1991.
My last newsletter reported the death of Dennis Payne, 71, but didn't have an obituary. According to MusicRow, a memorial service was held April 28 at the Texas Troubadour Theater in Nashville. He died April 8 in Nashville, following complications from heart disease. The songwriter, sideman, and recording artist, also worked as an audio engineer and studio owner. He was featured in the Country Music Hall of Fame and Museum's "Bakersfield Sound" exhibit in 2012.
To celebrate the second anniversary of the publication of Randy Travis: Forever and Ever, Amen, Randy Travis is giving away several autographed copies of his memoir. You can register on the giveaway page at http://mykeychain.co/randytravis. Winners will be selected at random.
I recently learned about Cocaine & Rhinestones, a website and podcast created and hosted by Tyler Mahan Coe, son of David Alan Coe. The first of 18 biweekly episodes in Season Two was published April 20: "Starday Records: The Anti-Nashville Sound." Although not a fan of podcasts, I decided to check it out, thinking it would be about 30 minutes. Instead, I stayed mesmerized for two hours. It began with the history of pinball and included audio clips from most of the songs discussed. The research is phenomenal, and Coe does a great job as a storyteller. When talking about the producers trying to get George Jones to sound like himself instead of Williams or Frizzell or Tubb or Acuff, Coe advises, "Run through his early sessions and you can hear the layers of paint being sanded away until the natural grain starts to show through." Later, he mentions one singer who "couldn't get a hit if he ran out into the middle of the interstate." A transcript is included for each podcast, allowing listeners to follow along with what they are hearing. You can listen to the podcasts from the first season at https://cocaineandrhinestones.com. I suggest beginning with CR002: https://cocaineandrhinestones.com/loretta-lynn-pill-ban.
Oscar-winning actor Matthew McConaughey, 51, talks about Larry Gatlin in his 2020 memoir, Greenlights. "I'm so very grateful to Matthew," Larry, 72, tells PEOPLE in an exclusive interview. "I truly believe there will be people that will read Greenlights and they are going to thank McConaughey for putting my story in there." In "Part Five: Turn the Page," the memoir talks about a man named Larry, who was struggling with addiction and desperately looking for help. "It was October something of 1984," Larry remembers about his interaction with University of Texas Football Coach Darrell Royal at a golf tournament party. Coach Royal caught Larry with white powder on his nose and personally took him to a drug and alcohol rehab program in California. Since then, Larry has enjoyed 37 years living a sober and successful life.
Bill Anderson writes in his fan club newsletter that he will be returning to the Grand Ole Opry stage on Tuesday, May 18, for the first time in six months. He writes, "The COVID restrictions have been lifted to the point that I can return with my full band, and it's hard to know if I'm more excited or if my band members are. We'll only be on once in May as they try to ease other Opry members back into the rotation as well, but they have promised us more appearances leading up to my 60th Opry Anniversary on July 17th."
Luke Bryan, 44, announced April 12 on Twitter that he tested positive for COVID-19 and would be off American Idol until he'd recovered. He told PEOPLE his wife, Caroline, helped nurse him back to health. "I was very fortunate to not have a long, long set of symptoms and stuff," he said. "It was still quite challenging for a couple of days." When named 2021 Entertainer of the Year by the Academy of Country Music, he accepted virtually from the American Idol set in Los Angeles.
Although Randy Travis can't perform, he has lately been appearing on TikTok to sing duets with thrilled performers. Taste of Country reports a duet is "what it's called when someone mixes his or her reaction with someone else's video." A young woman who sang "Deeper Than the Holler" while fixing a drink in her kitchen excitedly posted, "Randy Travis dueted my cover." They can be seen waving to each other on the screen. He also joined a 70ish woman singing Hank Williams's "Hey Good Lookin'."
I've reported before that both Nancy Jones (widow) and Georgette Jones (daughter) were planning a George Jones movie. According to Port City Daily, a limited TV series called George & Tammy will soon begin filming in Wilmington, North Carolina. Based on Georgette's 2013 book, The Three of Us: Growing Up with Tammy and George, it will cover the six-year relationship between Tammy Wynette and George Jones, from 1969 to 1975. Jessica Chastain stars as Tammy. Saving Country Music reports that Spectrum Originals will air the series exclusively for nine months, before making it available on Paramount and ViacomCBS for streaming. Josh Brolin, who is one of the producers, was originally announced for the George Jones role in 2016, but he hasn't been confirmed for the TV series. Anyone who wants to know more about the filming can email GeorgeAndTammyProdOffice@gmail.com. No official release date has been announced.
Singer-songwriter Sam Williams will be self-releasing his debut album, Glasshouse Children, this summer, according to Rolling Stone Country. He is the grandson of Hank Williams and son of Hank Williams Jr. He recently made his television debut on The Late Show With Stephen Colbert, performing "Can't Fool Your Own Blood," the album's first single. A video of the song was filmed at his grandfather's former home in Franklin, Tennessee.
The Order of the Long Leaf Pine is the highest award granted by the Office of the Governor of North Carolina. It commemorates exemplary service that has made significant impact on the state and local communities. Triad Business Journal reports the latest awardee is Old Dominion Freight Line Executive Chairman David Congdon. Old Dominion Freight Line is a transportation and logistics company founded by Congdon's grandparents. Prior Long Leaf Pine award winners include Billy Graham, Dale Earnhardt, Dale Earnhardt Jr., Michael Jordan and Randy Travis.
Brad Paisley stars in a new commercial that encourages people to get their COVID-19 vaccination, reports Rolling Stone Country. It focuses on Nashville's sports culture rather than its music culture. It shows Brad looking out at the empty seats in the Bridgestone Arena, home of the Predators NHL team, and saying, "When it's your turn to get the vaccine, be a fan — take the shot." Clips of various sports figures are included. "We want you in the upper decks and in the front row," Brad says. "We want you to see us break records and break ground. When it's safe to come back, we want you on the best part of your seat — the edge of it."
An update on the Dwight Yoakam lawsuit against Warner Music Group comes from Saving Country Music. Dwight sued Warner for failing to return copyrights to his songs from his 1986 debut album, Guitars, Cadillacs, Etc. Etc., per Section 203 of the Copyright Act, which states original authors can reclaim copyright grants after 35 years. Warner insists he isn't eligible to regain them until 2030, and even if he was, his request came five days after a statutory period ended. Because Warner pulled the album from streaming services, Dwight is seeking $1 million in reparations for lost revenue. A court hearing is set for May 10 to address Warner Music's motion to dismiss the lawsuit.
Saving Country Music also reports the disappearance of Loretta Lynn music from streaming and download services. Fans have noticed that original versions of songs from 1965 to 1975 are no longer available from Spotify, Apple Music, Amazon Music, and other streaming service providers. No explanation has been given. The Sony tracks from Loretta's new album, Still Woman Enough, aren't affected.
Southern Living has named Darius Rucker the 2021 Southerner of the Year. He grew up in Charleston, South Carolina, with his mother, grandmother, three sisters, and two brothers. His mother, Carolyn, was a nurse; she died of a heart attack in 1992 when he was 26. Darius cochaired the campaign to build a children's hospital at the Medical University of South Carolina, where his mother worked. He has raised over $2 million for St. Jude Children's Research Hospital, and the Hootie & the Blowfish Foundation has collected $3.2 million to support public education and junior golf. Darius is also a national chair for the newly opened National Museum of African American Music in Nashville.
Tracy Lawrence celebrates 30 years in music with a three-CD collection of 30 songs, Hindsight 2020. He released Volume 1: Stairway to Heaven Highway to Hell on April 23. It contains ten new songs, nine of them written by Tracy. "You Only Get One," "Lonely 101," and the title track were released earlier as singles. Volumes 2 and 3 will be released later this year, each with 10 songs, some new music and some of his 18 number one songs. He has sold 13 million albums since the release of Sticks & Stones in 1991. "These will be very traditional country albums," he tells Sounds Like Nashville. "I've been writing a ton over the last couple years."
Taste of Country reports on a recent Keith Urban interview during a virtual appearance on The Late Late Show With James Corden. When asked about his worst gig ever, Keith described playing at a tiny regional airport in Australia. "My manager at the time I think had done some very questionable deal to get us a couple of airline tickets, and we had a three-piece band," he said. The airport manager told them to set up on the little carpeted area above the airport's one baggage carousel. He told them to start playing even though no one was there; he said listeners would show up eventually. "So we start playing," Keith recalls, "and a couple people came over, and they're checking out the music, and a few more people [gather], and I'm like, 'This actually is not a bad gig!' There's about 15 people getting into it." Then, flashing lights and honking horns signaled the arrival of luggage onto the carousel. "Everyone got their luggage and they just all left," he concluded. "And we were playing to nobody."
Nashville will hold its annual July 4 concert on Lower Broadway this year, reports the Tennessean, with a promise of the biggest fireworks show in Nashville history. Brad Paisley will be the headliner. He was scheduled to headline last year, but the event was canceled because of the pandemic. The Nashville Convention and Visitors Corporation is advertising the celebration as the city's "first major post-pandemic event." Brad will perform on a concert stage at Broadway and 1st Avenue, with the Nashville Symphony providing live accompaniment from Ascend Amphitheater. The 2019 celebration was a two-day event with 343,000 spectators.
Rory Feek, 55, will release a solo album, Gentle Man, on June 18. This is his first project since his wife, Joey Feek, died of cervical cancer in 2016. He has already released several tracks, including "Met Him in a Motel Room" (with Trisha Yearwood), "Small Talk Cafe" (with Ricky and Sharon Skaggs), and "One Angel" (with Dolly Parton). Vince Gill, Alison Krauss, and Lee Ann Womack are others appearing on the album. "People have asked me about recording for a long time, and writing and stuff, and I'm still not writing songs," Rory tells CMT. "Joey and I took a year off, the year Indiana was born, and I stopped writing and I've never started back writing songs yet. Instead, I make a lot of other things." His previous hit songs include "Some Beach" by Blake Shelton and "A Little More Country Than That" by Easton Corbin. Rory lives on his farm just outside of Nashville, with daughter Indiana, age seven. She and the area children attend the one-room Hardison Mill Homestead School, recently built by Rory and his neighbors. Rory plays shows as part of his Home Concert series: https://store.roryfeek.com/products/rory-feeks-barn-revival-concert-series. "I basically play one weekend a month," he says. "I just walk across our driveway and sing right here, and people come from all around."
A Better Word for Love is the title of the first solo project from Ronnie Milsap, 78, in nearly a decade. The initial single from the CD is "Big Bertha," a duet with Vince Gill. Since it's a golfing song, he was advised to get "the best golfer I know" to sing with him. Ronnie tells PEOPLE, "It's not just because he's a great golfer. He's such a good singer and guitar player, he really is just everything." He adds, "Finally, we can get A Better Word for Love out to the people — and let them hear these really incredible songs. I can't wait for people to listen." Ronnie recently appeared on the Saturday night Opry to celebrate the release of both "Big Bertha" and his new album.
LETTERS
Carol Smith writes from Nashville, "Just sat down to go thru emails and was so excited to see the name: Dottsy. Oh, how I enjoyed going to her concerts. She really loved her fans. She would always take time to talk to all of us like we were her friends. She was such a good performer…always wondered what had happened to her. So glad to know she has a good life. Thanks again Diane for writing about Dottsy."
Eric Calhoun says, "Great writeup on Dottsy Dwyer! I, too, would love to go to Seguin, TX. I have got to learn about its history and its many historic artifacts. I'm not sure if Dottsy Dwyer reads this newsletter, but, Dottsy, keep encouraging people. Your friendliness and personality will win you more friends. I'm also glad to hear that Carrie Underwood raised money at the Ryman Auditorium. That's a place I've wanted to visit. I've been in Nashville 4 times and have spent time near Music Row. Finally, on a follow-up on my last letter: I am fully vaccinated and am ready to go where country music takes me. I have never been in Texas, and I have always wanted to go to a festival or concert down there, so I contacted the Heart of Texas Country Music Festival on Facebook."
Bobby Fischer, 85, writes, "I'd like to be on your newsletter list. I read your articles. Diane Jordan sent them; they are wonderful to read. I recognize so many names from the past. Me and Joe Lucas signed artist Dottsy to Tanglewood Records for national record promo/distribution. She had a # 12 song on RCA Records with Waylon Jennings (duet) 'Trying To Satisfy You,' then left that label and signed with Tanglewood. I contracted with them to produce a ten-song album. They had a big budget and wanted the works so some of the songs had a half-acre of cellos and violins, Jordanaires background vocals, and the 'A' team of musicians. I hired Joe Bob Barnhill to coproduce. I got to write several of the songs including 'Mama' I wrote with Chris Blake. I wanted a psychedelic groove on it. The story is a little like my early life about Mama, as she was my hero. My dad was killed in an accident and left her with us five kids 2 4 6 8 10 years old she got them all raised up (love my family). We released the first single on Dottsy, and 'Somebody's Darling, Somebody's Wife' got up to # 37 in Billboard magazine, 37 in Cashbox, 46 in Record World. Then we charted several more. I took her on radio tours. Radio really took to her. Most would try to go on a record early to try to get response. Music directors like Robert Lewis, Don Walton, and Tray Wayne got attention for the record so you could tell other stations about airplay. Loved those days calling radio and meeting them on the road and bringing the artists to the stations. Don't hear about that anymore. Glad we got to live in those times. Dottsy was great to work with. We recorded some great music on her. The backers disappeared, as she said. So did my pay. She's such a great person and talent she recorded one of my faves I wrote with Don Wayne, 'Let the Little Bird Fly.' I'll never forget it. My daughter Lori has me writing stories on songs I've had and music biz flops and dandys. Somewhere down the line we may do a book. I've had 704 recordings on my songs (most never came out), 333 cowriters, and a guitar with 260 names scratched on it, including Chet, Garth, and so many talents."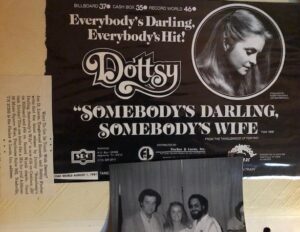 Also from Bobby Fischer: "We all lost a great songwriter/friend this week, Charlie Black. If you knew him, you loved him. The world got to sing along with his music. I wrote a song with Charlie Black and Johnny Macrae and had a good hit with it. I lined up writing with Charlie Black and Johnny Macrae down at the Music Row office. Had an idea we started on, worked quite a while, not much. Somebody said let's go to the BBQ place by the park. When we came back, the 'goodbye' idea got tossed around. We wrote 'Goodbye Says It All' in a couple hours. Just one that was ready to be born. We knew it was really good, but it got great when Charlie did his magic on the demo. It came to life. I started pitching it immediately. First pitch was Confederate Railroad. Perfect for them. They passed. I have a list of several more big acts that passed. Johnny was writing for BMG. I took it to their great plugger, Bobby Boyd, told him it was part of their publishing with Macrae. He was going to show songs with a new trio Tim Dubois put together for Arista Records. The group didn't have a name yet. He played them 'Goodbye Says It All.' Credit to them, they were all good writers and had already recorded some to start their career. They chose ours and put it out as the first single. Named their group Blackhawk. We went up in the top of the national charts. Arista threw a party for the artists, writers, publishers, and promotion staff called 'Platinum says it all.'"
Don Ewert writes, "I read the April 21 newsletter while listening to a CD by Country Music's #1 Black Yodeler, Mike Johnson. Mike has kept the art of yodeling in country music with his many CDs and videos. I always like to read people's memories of Faron Young. Penny DeHaven was a favorite singer of his and she did some touring with Faron. I wonder how many people know that Penny was from the same town as Patsy Cline, Winchester, VA. Singer/Yodeler Mike Johnson lives in Arlington, VA."
Mike McCloud wonders, "Does Dottsy ever come to Nashville? Would love to meet her and sing my favorite song with her: I'll be your San Antonio rose. The song holds personal memories for me. How do I contact Dottsy? Thank you for a great newsletter and I enjoyed the article on Dottsy."
Diane: Dottsy records for Heart of Texas Records at https://www.hillbillyhits.com.
Pejay Mirtschin writes from Nathalia, Victoria, Australia, "Great to receive the April newsletter. Great reading as always and please keep it coming."
Jenny Lee writes from Texas, "I meant to send along a reply to your Newsletter sooner, but unfortunately, I had a fall a couple of weeks ago, and not really feeling up to par. The fall was not a bad one, but I am getting around on a WALKER for a while. Really enjoyed hearing about your trip to Texas, and all the people you got to see. I saw in your letters, a note from Patricia Smith in Scotland, and Ron Hogan. They both mentioned BILLY WALKER. If I did not misunderstand Patricia, she saw BILLY several times…and Ron Hogan played with BILLY. I was a great fan and friend of Billy's for quite a long time. We were always close from when I first met him at 14, and became even closer over the years, until the world lost BILLY in 2006."
Les Leverett writes from Goodlettsville, Tennessee, "Wow, you've done it again. Thanks for all your reporting."
Terry Beene says, "Just got back from Branson setting up the 42nd second annual Branson Terry Music Awards set for September 26,2021, 6:00 pm held at the Baldknobbers Theatre. We are excited about the show this year since we didn't get to have it in 2020. It will also be aired on the ALG Gospel Network."
Gene Burkhart writes, "Once again you have sent out a great newsletter. Please keep them coming. By the way I did contact Paul in England. We did discuss Dottie West. I really could not help him a great deal. Thank you again for the information in the newsletter so great to read."
Martha Moore says, "I am working now with American Idoltraditionalist Alex Miller. So excited! I have added Season 19 contestant young country traditionalist ALEX MILLER to my so much MOORE media, my client roster. He officially released his first radio single, 'I'm Over You So Get Over Me,' this morning: https://youtu.be/kTbthXDrX8c."
Frank Gerard asks, "Have you ever thought of turning the Faron Young book into an audiobook? I am an experienced audiobook narrator and producer, with over 50 audiobooks on Amazon. As a huge country music fan, your Faron Young book was something I have now read three times. It is one of my favorite books ever. I would love to narrate and produce your book. Audiobooks are booming right now, and I think Live Fast, Love Hard would make for a great audiobook. My website is http://FrankGerardVoice.com."
Diane: Thanks for the offer, Frank. I accept. I'm excited about having Faron's audiobook available on Amazon, Audible, and ACX by the end of the summer.
IN THEIR OWN WORDS
Somehow, I got in touch with Roy Lunn for a telephone interview in 2006. He played steel guitar with Faron Young and the Circle 'A' Wranglers while in the U.S. Army in 1953-4. Roy died at age 90 in 2018, at his home in Ridgeland, Mississippi.
I was drafted in the service, and I started my basic training. After I'd been in a few weeks, we got off one night and went over to the service club. Some guys were playing music over there, and I told them I played. They said, have you got a guitar? I said, no, I don't have. I could get my wife to bring my guitar up here. About a week or two from then, I started going over there and playing. Then Faron came. He was behind us in his basic training. Gordon Terry might have been a little ahead of me, I'm not sure. We finished our basic training, and this band was called the Circle 'A' Wranglers because of the Third Army. We got to make this tour down to Fort McPherson, which was Third Army headquarters. General Bolling was the commander of the Third Army, and he wanted to start a tour of the camps. He believed the soldiers would enjoy some musical activity. After we made a partial tour, then Faron finished his basic training and joined us. We started touring together as Faron Young and the Circle 'A' Wranglers. I believe at the time Faron had out a record called "Goin' Steady."
They decided they would send us to New York to cut some tapes–these great big turntables with 16-inch big discs they used in a radio station. We could put a good many programs on that. We went to New York twice. We cut those transcriptions and they told us they were for Army and Air Force recruiting purposes. They wanted us to work up another show, which we did, and took it out and made the camps with it. That was our main thing. We'd work up a different show, take it out to the camps, and tour, whoever else wanted us. We'd tour, come back in, and by that time, they had us some tape machines. Those first tape machines were large, wide tapes; they were about an inch or inch and a quarter wide.
Every now and then we'd get a chance to play out somewhere. I remember us playing Mobile. Faron chartered a plane and we went to Mobile to play this show. I was his steel player and he wanted me with him. When we got down there, we finished the first show, and hung around a little bit, and went outside, and lo and behold, the other boys–in Faron's car–drove up. Faron had a nice little Cadillac, beautiful thing. The other boys drove up in that Cadillac, but they had run it so hard, they had blown a head gasket. We made the trip back to Atlanta in it, and it made it all right. Playing private shows was the only chance we had to make any extra money. Sometimes the noncommissioned officers club would hire us to come over and play when we got through with our show, and we'd make a little money that way. Not much, 10-15 dollars apiece. We went many, many different places. We came to Jackson here and played in Mississippi, went to Hattiesburg, along with the camps in the Third Army. We went on maneuvers up in the Carolinas, if I'm not mistaken. It was way up there anyway, deserted godforsaken-looking country. We'd do as good a job as we possibly could, with what we had to put up with. At times we hauled our instruments in an old Dodge pickup.
One time we had to make a trip down to Anniston, Alabama, to play for the National Guard troops that had come in there. We got down there about eight o'clock in the morning, and when we got there, we couldn't even eat breakfast. The sergeant in charge told us, "Y'all have got to go back to Fort McPherson. The general's people called and said they wanted y'all back up there as soon as possible. You've got a bunch of VIPs coming in, and y'all are gonna have to play for them." So we headed back. That was a pretty long drive. We got almost to the main gate, and the guitar player and I were driving this old Dodge truck, and this thing had one wheel brake on it, the right front wheel, was about the only thing that held on it. You'd think that wouldn't happen on an Army vehicle. The car in front of me, the other boys in front of me, stopped real quick, and this guitar player and I were in this thing, and I jammed the brakes as hard as I could, which pulled the old truck to the right, and I hit a telephone pole. Would you believe, they didn't say a thing. The MP sergeant came out and investigated it, just outside of one of the main post gates. When I started to get out of the service, they held my mustering out pay. The MP testified the accident wasn't my fault, and I got my money. I got out, came home, and was glad to be out.
We took overseas shots once or twice, that we were going overseas. Somehow or other it got scrubbed. I don't know if General Bolling, or some of the other officers, wanted us to stay here that much, or maybe figured we boosted the morale of our soldiers so much that I don't think they wanted to send us over there. Cuz it was pretty rough stuff over there in Korea. I saw some of the boys I went in service with, and one or two of them–a nice young boy one day we went in the hospital–see, we played the hospitals, too, at each camp–that boy sitting there with one arm gone. Man, I like to cried. We had two boys in our outfit, one of them we called Tennessee and the other one Buck, and those boys had to go overseas. Everybody in my platoon went overseas, except about three of us. I was one of the ones that didn't because I was playing steel guitar. They needed me in the band. Buck and Tennessee got killed. They were weapons fixers. They went up on the front lines to get an old weapons carrier and bring it back, and they hit a land mine and blew both them up and killed them. That's the kind of people we had in this 13th Infantry Regiment, Company F. That was my regiment.
I always thought Faron could sing. When Faron first came with us, he tried to sing like Hank Williams. Hank was popular at that time. All of us got on him, and we told him, "Faron, you sing too good to sing like Hank. Hank's already made money doing his way. Do it Faron's way." I think that made a difference in him, and he started singing like Faron could sing. And the boy could sing. He had good range and everything. Gordon, he'd been playing bluegrass music with Bill Monroe. Our lead guitar player Ken Woodfin and I were western swing players. We loved western swing, such as Spade Cooley and Bob Wills. Hank Thompson, he had a good band. We got after Gordon to play hot fiddle instead of trying to play straight melody all the time. So he got to working on that. We tried to describe to him as best we could how we'd seen those good fiddle men from out west play hot. Those guys used short strokes when they were playing, with their notes, instead of long, drawn out stuff. Gordon began to practice that, and he caught on to it quick.
Faron had some nice pictures. We'd play a show date, like in Birmingham or down in Mobile, we would make a little money selling his pictures. Cuz he was the star. He had personal pictures I guess Hubert Long had made. I forget whether we sold them for 50 cents or a dollar, but we made a little extra money that way, beside what we got paid.
Faron got that Cadillac wrecked, his nice little beauty there–boy, that thing was pretty. It was blue bottom and white top, cream top. He loaned it to someone to watch. He didn't want to leave it on the post. Whoever it was he left it with, some guy got ahold of it and wrecked it. Hubert came to see Faron a time or two. He managed to get Faron a Ford, I believe, after that, and Faron said, "Chief, I want a Cadillac." He said, "Just give me a chance to find you one." I remember that conversation. So finally Hubert did. He got him a big black Cadillac. It would change its own headlights when you met a car.
I believe Gordon Terry got out before I did, maybe a few days or a month. And I got out before Faron did. After that, Faron and the band he had then, he begged me to go with him, and I wouldn't do it. I said, "Faron, I'm just tired of traveling." We had run so much, and traveled so much, in the service; I was tired of it. I thought I had me a good job, playing, back here in Jackson. The guy would have given me my job back, but it would have knocked out a friend of mine if I'da taken it. So I went on up north and played some, and played over in Montgomery, Alabama, some, with Shorty Sullivan. His brother was called Lonzo and Oscar at that time, and one of them got killed. I played with Shorty, their brother, for quite a while. Then I came on to Jackson after that. That's about the extent of my Army stuff and my playing. Is there any other question I can answer for you?
SONG OF THE WEEK
One of my favorite Statler Brothers songs–and I have a lot of them–has always been "I Was There." It was the third single from their 1977 album, The Country America Loves, and it reached number eight on Billboard. Don Reid wrote the song for the album; he calls it "just a little story of unrequited, young love." The singer talks about being there when she bought her first heels and when the last dance at the prom was danced. I think its concluding twist is a punch in the gut: "With dignity and grace, I quietly took my place / With the friends of the bride, I was there."