NEWS
Founding member and guitarist of the Country Music Hall of Fame group, Alabama, Jeffrey Cook died peacefully at his beach home in Destin, Florida, on November 7, at age 73. He had been diagnosed with Parkinson's disease in 2012. Born in Fort Payne, Alabama, in 1949, he began playing in bands at age 13 and working as a radio disc jockey at age 14. He graduated from Fort Payne High School and earned a college degree in Electronic Technology. He loved that radio combined two of his favorite things, music and electronics. Over 50 years ago, Jeff Cook, along with cousins Teddy Gentry and Randy Owen, left Fort Payne for Myrtle Beach, South Carolina, where they formed Alabama. Jeff stopped touring with the group in 2018, because of his health. In addition to the Country Music Hall of Fame, Jeff is a member of the Musicians Hall of Fame, Fiddlers Hall of Fame and Gibson's Guitarist of the Year. He and his wife formed the Jeff and Lisa Cook Foundation, along with The Jeff and Lisa Cook Children's Home to house orphaned children worldwide, starting in the Philippines.
Nominees for the 65th Grammy Awards have been announced in 91 categories. Willie Nelson received nominations for Best Country Solo Performance, Best Roots Gospel Album, Best Country Album, and as the singer of a Best Country Song for "I'll Love You Till The Day I Die," with songwriters Rodney Crowell & Chris Stapleton. Bill Anderson and Dolly Parton are nominated for Best American Roots Performance for their bluegrass version of "Someday It'll All Make Sense." Reba McEntire and Dolly Parton are nominated for Best Country Duo/Group Performance for "Does He Love You — Revisited," and Asleep at the Wheel and Lyle Lovett are nominated for Best Americana Performance for "There You Go Again."
Residents of El Paso, Texas, voted at the Marty Robbins Recreation Center on Election Day. KFOX-14 reports the campaign manager of an El Paso County judge was pushed by a man outside of the Marty Robbins Recreation Center polling location several days before the election. A man in the parking lot began yelling at the judge, and the campaign manager stepped between them. The El Paso County Sheriff's Office responded to the incident. The El Paso County Elections Administrator assured voters they would feel safe on election day, with law enforcement officers sitting in their automobiles, in case they were needed.
Broadcast Music Inc. (BMI) Nashville recently celebrated 60 million broadcast performances of Clint Black songs and 38 billion audience impressions in airplay impact. The native Texan has been recording since 1989, and he was lead songwriter on all 22 of his chart-topping singles. The Tennessean points out that Clint, 60, has "superseded charts and stages to achieve relevancy for three decades of pop-cultural relevance in the genre."
Bill Anderson writes on Facebook: "My 14-year-old granddaughter, Hallie, called it, 'the best night of my life,' and it was a high-water mark for mine when I took her with me to the CMA Awards on November 9th. She loves country music more than any of my grandchildren, and experiencing 'country music's biggest night' with her was something neither of us will soon forget. Prior to the show, we walked the red carpet together, and I kept assuring the reporters and photographers that I was 'not robbing the cradle'…that my 'date' was my granddaughter. She loved meeting many of her favorite performers and was thrilled when her very favorite, Luke Combs, won Entertainer Of The Year. Moments before his award she had taken a selfie with him. I couldn't have gotten the smile off her face with a chisel."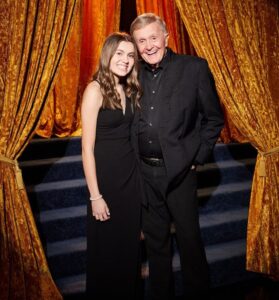 The Nashville Musicians Union, AFM Local 257 has awarded Jeannie Seely honorary membership. Nashville Musicians Association President, Dave Pomeroy, surprised Jeannie with a proclamation during a recent Opry performance. He said in a press release, "Our bylaws allow me to bestow honorary AFM 257 membership at my discretion, and Jeannie is the third person to receive this status after Glen Campbell and Charley Pride. We salute Jeannie and appreciate her many contributions to the Nashville musicians community and welcome her as a member of the Nashville Musicians Association, AFM Local 257, Home of the Finest Musicians in the World!" Jeannie responded, "Thank you, Dave Pomeroy and AFM Local 257 for this honorary membership, and I accept on behalf of all the incredible musicians who have contributed to my career and those who continue to support me."
Toby Keith made a surprise appearance at Jeff Ruby's Steakhouse in Lexington, Kentucky, on November 4 and performed an impromptu hour-long set alongside the house band. He was in town for the 2022 Breeder's World Cup Championship event at Keeneland Racecourse. CMT News reports this was his first show since his June announcement that he is battling stomach cancer and had been through chemo, radiation, and surgery. In 2021, Toby was inducted into the Nashville Songwriters Hall of Fame and was honored with the National Medal of Arts.
Four nights later, Toby Keith, 61, attended the 2022 BMI Awards and accepted the BMI Icon Award, which recognizes songwriting achievements. Previous country music songwriters who've earned the BMI Icon Award are Willie Nelson, Dolly Parton, Loretta Lynn, and Hank Williams Jr. The Boot reports Toby gave a 12-minute acceptance speech that included stories and lessons and was heavy on gratitude. He said his one regret was not moving to Nashville sooner, because he foolishly believed he could be discovered in the Oklahoma bar scene. He said, for him, songwriting was more important than anything. Carrie Underwood and Eric Church performed songs in his honor.
According to Stacy's Music Row Report, John Rich hosted a fundraiser for Colorado Congresswoman Lauren Boebert at his Nashville home, promising "an evening of fun and country music." Gold sponsors (suggested contribution of $12,900) received two cocktail reception tickets and a place in the photo line, Sponsors ($5,000) received a single ticket and a place in the photo line, and VIPs ($3,000) received a place in the photo line–in addition to the general reception for attendees ($2,000).
The Rock & Roll Hall of Fame inducted Dolly Parton as one of its new members last Saturday night in Los Angeles. Award-winning artist Pink introduced her and talked about Dolly's East Tennessee upbringing and philanthropic efforts. Following an acceptance speech, reports CMT News, Dolly sang the song she wrote for the occasion, "Rockin'." Dressed in a Rock & Roll leather ensemble draped in chains, she was accompanied by the Zac Brown Band. "I grew up lovin' Elvis, and wild-man Jerry Lee," she sang. "Chuck Berry, Little Richard, they all cast a spell on me. . . I was just a child, but I went hog-wild for the rhythm and the beat."
George & Tammy, instead of being one movie, is a six-part series that will debut on Showtime and on the Paramount Network on Sunday, December 4. It stars Jessica Chastain (The Eyes of Tammy Faye) and Michael Shannon (Nocturnal Animals).
Travis Tritt has canceled the remaining dates on his co-headlining Can't Miss Tour with Chris Janson. "I have been experiencing severe pain in my left knee for the past few weeks due to a possible torn meniscus," Travis wrote on social media. "With short bits of rest between shows, I have hoped the pain would eventually subside and I could complete my remaining dates in November." He added, "Unfortunately, the pain has become impossible to ignore, and I will not be able to do any further shows in November."
The Turnpike Troubadours were inducted into the Oklahoma Music Hall of Fame last weekend, alongside fellow inductees Wade Hayes and Jim Paul Blair. Whiskey Riff reports they also played their first ever headline arena show, in a sold-out performance at Oklahoma City's Paycom Center. They broke the venue's merchandise record, selling more merch than any other artist in the 20-year history of the venue. The concert wrapped up the band's run of 36-consecutive sold-out headline dates this year at amphitheaters, festivals and theaters nationwide.
Reba McEntire rescheduled her November shows to December, after her doctor advised her to go on vocal rest. She recently headlined a sold-out Bridgestone Arena show in Nashville. CMT News reports her 90-minute set included virtual appearances from Vince Gill and Brooks & Dunn and a night of flawless vocal performances of decades of hit songs. That sounds like the show she did in Sioux Falls earlier this year, although I think she had more than four costume changes. Before the Nashville show, she was honored by Universal Music Group Nashville for more than 58 million albums sold worldwide.
This past weekend Kenny Chesney returned to East Tennessee State University to honor the man who taught him how to play guitar in college, Dr. Jack Tottle. Kenny says, "Jack Tottle taught me how to dream, or inspired me to have the ability to dream enough to believe I could do this." Kenny was a surprise guest at the ceremony celebrating the 40th anniversary of the Bluegrass, Old-Time and Roots Music Studies Program founded by Dr. Tottle. The Country Daily reports there was a surprise for Kenny as well. The university president presented him with an honorary doctorate of letters. Kenny later joked that things are going to change on tour next year as his crew will now have to call him "Dr. Chesney."
During the 56th annual CMA Awards show last week, Alan Jackson, 64, accepted the CMA Willie Nelson Lifetime Achievement Award. In his emotional acceptance speech, he explained how watching a movie about Hank Williams inspired him to head to Nashville with just "three chords and a prayer." He said, "I can't thank everybody who's been in my life all these years, but I do have to say thanks to my wife Denise, over there somewhere. We started out as teenagers…" PEOPLE reports the previous recipients as Loretta Lynn, Charley Pride, Kris Kristofferson, Dolly Parton, Johnny Cash, and Kenny Rogers, with Willie Nelson receiving the initial award in 2012.
Jeff Bezos, the second-richest person in the world, announced Dolly Parton as the 2022 Bezos Courage and Civility recipient. The award includes a $100 million donation for her to bestow upon the charities of her choice. "Did you say $100 million dollars?" Dolly asked as she joined Bezos onstage. "When people are in a position to help, you should help. I've always said I try to put my money where my heart is and I think you do the same thing," Dolly told Bezos. "I will do my best to do good things with this money."
LETTERS
Jeannie Seely writes from Nashville, "Wonderful article on Randy and Mary! Thank you, and them, for the tour and news on Randy… brought me joy to see how happy he is, and I can see why! And I wanna meet Goalpost."
Frank Gerard says, "I so enjoyed reading of your visit with Randy and Mary Travis! Also, I wanted you to know the audiobook narration for your Marty Robbins biography is complete. It is in the hands of my proofer, who will send me any corrections later this week. I plan to upload it sometime next week, which should get it on Amazon and Audible for folks to buy just in time for the holidays."
Diane: That's exciting news, Frank. I'm looking forward to being able to advertise both biographies as downloadable audiobooks.
Perry Steilow in Sioux Falls writes, "Well, Diane, though we have been friends for 50 years, I've never written a letter or commented on what you are doing with all the projects you seem to cram into every day. To your readers, I want to describe the trip we set out on to Texas recently….We met your friends in Kansas….also a retired Navy Captain and just wonderful and caring Americans….when we left for Texas, I had no idea what kind of events we would encounter….Our trip was leisurely, which was a relief to me, and the county courthouses we researched were professional, helpful, and accommodating….my first taste of Texas Hospitality….Little did I know how little I'd seen…The first time we drove out to Mary and Randy's home and relaxed with them, I knew that is how they live, and they couldn't have been more welcoming….I wandered around while the three of you conversed about writing the story of Randy Travis's life…When we left later that day for points south, I was still amazed at how perfectly 'normal' they are….like our neighbors….Mary invited us back at the culmination of our trip for a 'sleepover'….I believe they were comfortable around us as we joined them to interact with a few of their close friends, Al, Bill, and Al's old junior high classmate, Rebecca….It was fun to watch many dozens of people want to speak to, interact with, and have pictures taken with Randy…As you said, he would stay as long as needed so as not to miss anyone…I am writing to personally thank Mary and Randy for their sincere kindness, complete graciousness, and for letting us see 'Texas cool.' "
Ray Rhodes says, "I enjoyed your interview on Carl Rollyson's podcast and I look forward to learning more about your work. I would love to get your newsletter. I am also a biographer and always trying to learn from others."
Dominique 'Imperial' Anglares checks in from France: "Another welcome newsletter to start the day. Thanks for the care given to my words and for Randy Travis' spotlight. I wish you all the best for the forthcoming book about that great Country artist. He couldn't find a better writer for his biography. Sad to have lost Jerry Lee Lewis shortly after his induction into The Country Music Hall of Fame. He may have been a wild rock and roller in his heyday, he was also at home with Country, Blues, Boogie, Pop or Gospel songs. His first release for Sun records was 'Crazy Arms' and his third 'You Win Again'. Ain't these Country songs? Ah, ah!"
Mike McCloud says, "I am so glad you got to visit with Randy Travis. I met him once at the Ford theater here in Nashville. He is very nice. I enjoy meeting the country stars. They have all been very nice to me. A friend of mine once said, some of them were …in his words… jerks. But I have never encountered any of that. Even Lorrie Morgan was extremely pleasant when I visited with her. I would love to sing 'Far side of the bed' as a duet with her. That would be a dream come true."
Marlene Nord writes, "One of my favorite times of the month is when I receive your newsletter in my E-mail. I don't recall how many years I've been a subscriber, but I marvel at how you are able to continue to distribute informative and entertaining information to those of us who still love 'real' Country Music. I have been producing a Country Music show on a small internet radio station since April of 2002 called The Rare Jewels of Country Music. Its main focus is on obscure tunes that are never heard on the radio anymore. As of this writing, the site on which the show originated has disappeared. Although I no longer do it live, I produce a weekly recording that folks can either download or stream. Our site is predominantly visited by blind and visually impaired members. Several of us receive your newsletter. My request is would it be possible to interview you to include as a portion of my show? I would certainly be interested in learning your story, and I know my listeners would as well."
Diane: I'm looking forward to our interview on the 21st, Mar. Talk to you then!

Philip Davies in the UK says, "Devastated by the death of Jerry Lee, the greatest entertainer I've ever seen many times around the UK and in the USA. 'You Win Again' put his obvious country credentials high in the Billboard country chart in 1957. His hits also registered, and Shelby put out hits like 'Waiting For A Train,' 'Invitation to Your Party,' 'One Minute Past Eternity' and 'I Can't Seem To Say Goodbye' on Sun GT during his post Another Time etc. country hit era on Smash Mercury. Bob Dylan stopped his UK show this week to pay tribute and he sang 'I Can't Seem To Say Goodbye.' Tom Jones, John Fogarty, Ringo, Keith Richards, The Boss etc. etc. paid fulsome tribute online, too. My fellow countryman Sir Tom Jones paid fulsome praise and recalled hearing both 'Green, Green Grass of Home' and 'Detroit City' on Jerry's 1965 Smash LP, Country Songs for City Folks, and he had to persuade his manager to release both. 'Green, Green etc.' gave him a huge international hit no 1 for 6 weeks winter of '66. Randy Travis posted a wonderful tribute to the Killer online, too. Shake it one time Jerry Lee."
Bobby Fischer says, "Diane, I hereby nominate you for the most informative country music representative of all time."
Diane Jordan writes from Nashville, "I just read Wendy Leigh's biography on Patrick Swayze, One Last Dance. You may be aware of it, but just in case, you weren't, Randy has a quote on page 160: <<His costar Randy Travis was aware that Patrick had been in a serious accident the previous year and noted his courage. "He doesn't say much," he reported. "I think sometimes he's in pain. I'll ask him, 'Are you hurtin'? Is today a bad one?' But he just sort of shrugs it off and keeps going.">> It shows how tuned-in Randy could be to those around him, which is commendable, and probably rare, in a big star. We're having freezing temperatures in Nashville, with no warmup in sight for at least ten days. Brrrrrr!"
DIEKMAN PODCAST WITH CARL ROLLYSON (announced for a second time)
Carl Rollyson is a renowned biographer (whose subjects include William Faulkner, Marilyn Monroe, and Sylvia Plath) and retired college professor who now routinely conducts podcasts in addition to his other writing projects: https://www.carlrollyson.com/. I was honored when he invited me to be the subject of one of his A Life in Biography podcasts. Here's our enjoyable conversation from last Saturday morning.
SONG OF THE WEEK
One of my favorite songs is Reba McEntire's 1994 hit, "Why Haven't I Heard From You." I love the catchy tune with its perfectly matched lyrics that are so descriptive. It's a well-written song. The Tennessean recently printed an interview with Sandy Knox, who co-wrote the song with T. W. Hale. Sandy got the idea after reading an article in the September 1988 issue of National Geographic, about the contributions of Alexander Graham Bell. "It got me to start thinking how much the invention of the telephone had changed how people romanced each other," she said. "Before the telephone, if somebody wanted to call on somebody, they literally had to drop off their calling card. The telephone changed that…and then I started thinking about the trajectory. People could call from their cars, from the corner, from an airplane. So that is where that idea came from: there's no excuse not to hear from anyone." The song begins, "Well back in 1876 an ol' boy named Bell invented a contraption that we know so well." The proliferation of the telephone is described as, "Now there's one on every corner, in the back of every bar. You can get one in your briefcase, on a plane or in your car." The point of the song is: "Now darlin', honey, what is your excuse? Why haven't I heard from you." Even if telephones have changed since then, the message is timeless. Reba's video, which I just watched for the first time, is absolutely awful, but the song is still good.
BOOK REVIEW
In one of my draft chapters for the Randy Travis biography, I talked about opening his gift shop in 1989 and selling a cookbook called Randy Travis' Favorite Recipes, newly published by the Hatcher Corporation. One of my online critiquers asked what was in the cookbook and is it still available. I went to eBay and found an auction just ending with no bidders. I paid $20 and now have the original cookbook. Its 118 pages contain traditional southern recipes, numerous cooking tips, and full-color photos of Randy working in the kitchen, sometimes wearing a white chef's coat. It includes recipes from Randy's parents, such as "Randy's Dad's Famous Catfish Stew," and from Lib Hatcher, such as "Lib's Electric Fry Pan Meat Loaf Dinner," which carries the comment, "This is Randy's favorite meat loaf." Two recipes caught my eye. One was "Hash Brown Potato Casserole," which called for a two-pound bag of hash brown potatoes, an item that had been in my deep freeze for quite a while. The casserole is delicious, perhaps because it contains almost as much butter, sour cream, and shredded cheese as it does potatoes; I should have added ham. The other recipe was "My Grandmother's Chess Pie." I'd never heard of chess pie, but an internet search told me it's a traditional southern dessert, a form of custard pie. It's quite simple to make, and I used a sourdough crust. Although I probably shouldn't have eaten the rich dessert (butter, sugar, eggs) by myself, it did last three days–and it was scrumptious.
NASHVILLE SONGWRITERS HALL OF FAME – 1972
In its third year of existence, the Nashville Songwriters Hall of Fame inducted five new members.
Felice & Boudleaux Bryant, the husband-wife team of Boudleaux Bryant (born in Georgia in 1920) and Felice Bryant (born Genevieve Scaduto in Wisconsin in 1925), became Nashville's first full-time professional country songwriters when they moved there in 1950. They met in 1945 at the Schroeder Hotel in Milwaukee, Wisconsin, where she was an elevator attendant, and he was a traveling musician performing in the hotel's nightclub. They married six months later, and Boudleaux (pronounced Bood-low) renamed his wife "Felice." When sons Dane and Del were young, Felice stayed home with them; she wrote poems to keep from being bored, and Boudleaux put them to music. Thus began their songwriting team. Little Jimmy Dickens recorded "Country Boy" in 1949. Beginning in the mid-1950s, they wrote a string of pop smashes for the Everly Brothers—"Bye, Bye Love," Wake Up, Little Susie," "Problems." Boudleaux wrote many of the early Bryant hits, such as "Back Up Buddy," "Bird Dog," and "Blue Boy." Felice wrote "I'm Not Afraid," "We Could," and "Before the Ring on Your Finger Turns Green." More than 600 Bryant songs have been recorded. Their "Rocky Top" is a state song of Tennessee. They were inducted into the Country Music Hall of Fame in 1991–Boudleaux posthumously. He died in Knoxville, Tennessee, at age 67, in 1987. Felice died in 2003, at age 77, in Gatlinburg, Tennessee. Dane Bryant operated the family publishing business, and Del Bryant became president and CEO of Broadcast Music Inc. (BMI) in New York.
Lefty Frizzell (born William Orville Frizzell in Corsicana, Texas, in 1928) spent his early years trying to get away from the oil fields of his native east Texas. During World War II, he began singing on Texas radio stations as a teenager. Jim Beck in Dallas took a tape of Lefty singing their co-written song, "If You've Got the Money, I've Got the Time," to Columbia Records in Nashville. The label issued the song as his first single. Backed with "I Love You a Thousand Ways," it gave him overnight stardom. He placed four songs in the country Top 10 simultaneously in 1951. Within roughly two years, Lefty Frizzell had 13 Top 10 hits. After 1964, his hit streak sputtered. In the early 1970s, he teamed up with Whitey Shafer to write "I Never Go Around Mirrors" and "That's the Way Love Goes." Although many of his songs—such as "Always Late (With Your Kisses)" and "I Want to Be with You Always"—had co-writers, "Mom and Dad's Waltz" did not. Lefty died in Nashville, at the age of 47, following a stroke in 1975. He was elected posthumously to the Country Music Hall of Fame in 1982.
Jack Rhodes co-wrote two timeless hits in the 1950s, "A Satisfied Mind" with Texas fiddler Joe "Red" Hayes and "Silver Threads and Golden Needles" with Dick Reynolds. Born Andrew Jackson Rhodes in 1907 in Texas, he quit school at a young age to help support his family. During World War II, he injured his back while work in the Houston shipyards and then began concentrating on music. In 1947-1948, he served as bandleader for his stepbrother, fellow Nashville Songwriters Hall of Fame member Leon Payne, for whom he wrote "Empty Arms." One of his earliest songwriting successes came in 1953 when Jim Reeves recorded "Gypsy Heart" as the B-side of "Bimbo." Rhodes then signed with Central Songs. Other cowritten songs include "The Waltz of the Angels" and "Black Sheep." He died of a heart attack in 1968, at age 60, in Mineola, Texas. He was inducted into the Rockabilly Hall of Fame in 2009.
Don Robertson was born in Peking, China, in 1922, the son of a physician father and a mother who played piano and wrote poetry and plays. He grew up in Chicago and was playing piano in dance bands at age 14. In 1945, he moved to Los Angeles and worked as a rehearsal pianist at Capitol Records. He started writing songs, with Eddy Arnold recording "I Really Don't Want To Know" and Hank Snow recording "I Don't Hurt Anymore." In 1956, Elvis Presley recorded "I'm Counting on You," the first of fifteen Robertson songs he eventually recorded. Robertson's "Ringo" became a #1 hit pop for Lorne Green in 1964. He and Hal Blair (also a member of the Nashville Songwriters Hall of Fame) wrote "Please Help Me, I'm Falling" for Hank Locklin. Robertson played and sang on the demo, which changed the way Nashville studio piano parts were played. Producer Chet Atkins asked his session pianist, Floyd Cramer, to approximate the demo because he liked the way Robertson slid into the melody in a style similar to what might be played on a guitar. Cramer adopted the new "slip-note" style. Robertson died in 2015, at age 92, in Lake Sherwood, California.