NEWS
The Country Daily reports on country music reactions to the death of Supreme Court Justice Ruth Bader Ginsburg, 87, on September 18. Dolly Parton tweeted, "She was small in stature but even the tallest looked up to her. Her voice was soft but her message rang loud and clear and will echo forever. Thank you, RBG. Rest In Peace. Respectfully, Dolly Parton." Travis Tritt tweeted, "I'm so saddened over what has happened to open political discourse. Supreme court justices Scalia and Ginsburg disagreed on almost all political decisions and yet, they had a very close personal friendship. God, how I long for those days again."
The Grand Ole Opry this Saturday night will be hosted by Opry members Marty Stuart and Connie Smith. The one-hour show will stream live on Circle TV's YouTube channel at 7 p.m. CT.
Farm Aid 2020 On the Road, for the first time in Farm Aid's 35-year history, will be a virtual concert. It takes place this Saturday, September 26, from 8–11 pm EDT, streaming live in HD at farmaid.org and broadcast by SiriusXM on Willie's Roadhouse (channel 59) and Dave Matthews Band Radio (channel 30). More than 20 artists will perform, including Willie Nelson and The Boys, John Mellencamp, Neil Young, Dave Matthews, and Bonnie Raitt. Farm Aid's mission is "to keep family farmers on the land." It raises awareness about the loss of family farms and raises funds to keep farm families on the land. It has collected nearly $60 million since 1985, with donations to 300-plus nonprofit organizations that help family farms.
Bill Yates, the father of Billy Yates, died September 18 as a result of COVID-19. Billy's mother, Norma Jean Yates, 88, died a year ago, after 62 years of marriage. Billy writes on Facebook that he FaceTimed with his dad that last morning, and his dad's last request was, "Oh, Billy… please be careful and take this thing serious. I didn't take it serious enough and I wish I had." Billy planned to schedule the funeral for September 26 in Doniphan, Missouri, but those plans are now on hold. Billy writes, "I've been exposed to Covid by a guy who stopped by dad's house, shook my hand, and sat with me sharing stories of recent days gone by with dad. Sadly, he was aware of his own exposure and knew he was supposed to be in quarantine but chose to ignore it and put others at risk. Now he has tested positive and I am currently quarantined and deprived of being with my family during this most difficult time." Billy issues this request: "PLEASE, if you are sick with symptoms or if someone in your household is positive, STAY HOME! It's mindless and selfish acts like this that spread this virus and can ultimately kill. Please pray that I have no symptoms and that others will take heed to his request and become responsible, allowing themselves and others to live as a result of dad's death."
For its primetime Monday Night Football program this year, ESPN is replacing "All My Rowdy Friends Are Coming Over For Monday Night Football," by Hank Williams Jr., with "Rip It Up," a 1956 hit for Little Richard. An ESPN official told The Washington Post that ESPN executives decided to go in a different direction this season because "All my rowdy friends" would be incongruous with the expected lack of attendance at NFL stadiums amid the novel coronavirus pandemic. He said protests against racial injustice did not play a role in the switch from a white country artist to a black icon of rock 'n roll and R&B. ESPN previously removed Hank Jr. from the slot in 2011 for comparing President Obama's golf game with House Speaker John Boehner to "Hitler playing golf with Netanyahu," the Israeli Prime Minister. He returned in 2017.
Nashville songwriter Troy Jones, 64, died in an accident at his home on September 11, when a live electrical current touched his boat dock, Taste of Country reports. He and co-writer Bobby Braddock wrote Billy Currington's 2009 hit, "People Are Crazy." He also wrote "Pretty Good at Drinkin' Beer" for Billy Currington, as well "Shiftwork," a duet by Kenny Chesney and George Strait. Troy was working at an Alabama paper mill in the mid-'80s when he first heard Randy Travis's music. He then began concentrating on the craft and business of songwriting, traveling to Nashville and joining Nashville Songwriters Association International (NSAI).
The Southern Illinoisan interviewed Mo Pitney, 27, about his new 13-track CD, Ain't Looking Back, which was released August 14 on Curb Records. The first single is "Ain't Bad for a Good Ol' Boy." Mo sifted through hundreds of his songs and tunes by other writers before choosing 35, recording 22, and settling on 13. He co-wrote seven of the cuts. Some of the tracks were recorded live, others overdubbed after he recorded them with an electric guitar. Mo and his wife, the former Emily Bankester, live with their two preschool daughters in a newly constructed "barndominium," a 2,000-square-foot pole-barn house with a large wraparound porch on the outskirts of Nashville.
For the eighth consecutive year, Carrie Underwood is opening NBC's Sunday Night Football, reports The Country Daily. Last year, she recorded a new rendition of "Waiting All Day for Sunday Night" that featured Joan Jett and is based on Jett's "I Hate Myself for Loving You." The video, which last year included shots of packed stadiums, this year contains clips of fans across the country supporting their teams from home. Pink, the original opening for SNF, sang "Waiting All Day for Sunday Night" in 2006. Faith Hill covered the years of 2007 to 2012.
Bobbie Nelson officially joined her brother's band as the group's pianist in 1973, leading to its name of Willie Nelson and Family. Willie calls Bobbie "the most naturally talented of all the Nelsons." Me and Sister Bobbie: True Tales of the Family Band is a new joint memoir in which they reveal their previously untold story. In 1986, Bobbie took care of her son, Michael, for three years before he died from AIDS. Six months later, her oldest son Randy died in a single-vehicle accident. The following year, Willie's oldest son Billy died in an accident. After the loss of their sons, Bobbie explains in the book, they grew closer. "It wasn't that we had long talks about our grief," she writes. "That's not Willie's way. We didn't have to talk about it. We knew." Willie is planning a New Year's Eve show to celebrate Bobbie's 90th birthday on January 1. "She's my closest friend for a whole lifetime," Willie, 87, tells PEOPLE. "I'm glad she's getting some recognition for what she's done with her life."
Steve Earle plans to record an album of songs written by his son, Justin Townes Earle, who died August 20. Rolling Stone reports he will begin recording with his band, the Dukes, in October for a January release. He will donate 100 percent of advances and royalties to a trust for Justin's daughter, Etta St. James Earle. Justin Townes Earle briefly toured with the Dukes as keyboardist, but he and his father kept their recording careers separate. He would have been 39 on January 4.
Finally, some news about the George Jones and Tammy Wynette movies announced several years ago. Saving Country Music gives us an update on George & Tammy, a movie based on Georgette Jones's 2013 book, The Three of Us: Growing Up with Tammy and George. Georgette's parents were married for six years, 1969-1975. The movie, first announced in 2016, has been picked up by Spectrum Originals as a limited TV series and will later be available on Paramount and ViacomCBS for streaming. Jessica Chastain will play Tammy Wynette. Although not mentioned in the recent press release, Josh Brolin was originally named for the role of George Jones; he is also a producer on the project. Nancy Jones, George's widow, announced her movie in 2015, but there are no updates. Hers is called No Show Jones and is about George's life.
The Ryman Auditorium will have a permanent outdoor stage–PNC Plaza–by the end of this year, according to MusicRow. Located on the Fourth Avenue North side of the property, outside Cafe Lula, it will not touch the original 1892 auditorium. The stage is sponsored by PNC Bank, which will also sponsor Ryman Community Day, an annual event that allows Tennessee residents a free daytime tour of the Ryman.
Jonas Group Entertainment, led by founder/CEO Kevin Jonas, Sr., has opened a Nashville-based publishing division, Jonas Group Publishing, reports MusicRow. Jonas guided the early careers of his three sons–Kevin, Joe, and Nick–collectively known as the Jonas Brothers. Originally from Charlotte, North Carolina, he was a teenager when he competed in a talent contest against the future Randy Travis. "He beat me in the finals," Kevin says. Having spent years managing Top 40 artists, he returns to his love of country music with the new publishing venture. "I've always loved the craft of songwriting and I have so much respect for songwriters," Kevin tells MusicRow. Jonas Group Publishing will initially focus on country music but intends to add songwriters in various genres.
The Tennessean reports that Brad Paisley and wife Kimberly Williams-Paisley have pledged to donate one million nutritional meals this month. The Million Meal Donation Tour kicked off in Detroit and is visiting food banks in 16 major cities in two weeks, ending in Chicago on September 21. "We're just rallying to feed people," Brad said in a recent interview. Kimberly says, "We can't solve all the problems. But to tackle this issue, it's been really empowering." Brad reminds us that more than 54 million people have experienced food insecurity in 2020, including 18 million children.
Jennifer Nettles has released a new video, a duet with Bon Jovi on a song about the pandemic, "Do What You Can." She says in a press release, "I hope you love this song, especially its poignant message." Bon Jovi, 58, wrote the song in March. Rolling Stone reports his wife, Dorothea, inspired him when she placed this caption on a photo of him helping at a New Jersey restaurant: "If you can't do what you do…do what you can,"
The Country Music Hall of Fame & Museum will host a major fundraiser, Big Night at the Museum, on October 28 with Marty Stuart as host. Bluegrass Today lists some of the important instruments in the Museum's Precious Jewels collection: Bill Monroe's F-5 mandolin, Earl Scruggs's Gibson Granada banjo, Mother Maybelle's L-5 Gibson guitar, Charlie Daniels's fiddle, Lester Flatt's D-28 Martin, Hank Williams's custom D-28, and Jimmie Rodgers's 00-18. The Museum is inviting special Nashville artists to demonstrate and play these instruments. The segments will be pre-recorded and stitched together for the free, online October 28 fundraiser, streamed on YouTube. The Museum will request donations to help defray its deficit from being closed during the summer season.
LETTERS
Ron Hogan writes from Nashville, "As always, love your newsletter. Even though the virus has hurt us Musicians here in Nashville, I've been blessed to still be playing steel out in the area about every weekend. To do that, though, I have to play with about 3 bands to get enough work. Some info on Randy Travis: After I left Faron, I went to work for Mel McDaniel. After a year of that I wanted a sit-down gig in town. So I went to work for Ray Pillow's son Darrell at the Nashville Palace 5 nights per week. At that time, Randy was the dishwasher and would get up and do a couple tunes with us sometimes. About a year later, Lib called me and asked if I'd like to go to work for Randy playing steel. I turned it down. It was one of my decisions I regret as it would have been a long-lasting job. I was working for Freddie Hart at the time, which lasted several years and was just a perfect gig. Steady, great band and Freddie was a Gentleman in every way. At the time, Randy was just coming up and wasn't at that Super Star stature yet. I weighed it out and stayed with Freddie. Mistake."
Pejay Mirtschin in Australia says, "Great to see the arrival of September's Country Music Newsletter with more great reading to keep me entertained while stuck at home with this Covid 19 isolation. Thank goodness for YouTube where I can watch the likes of Country Family Reunion and George Jones shows and many more like them. Thanks again Diane, Keep up the good work."
Jean Earle writes from England, "I have been looking through some of my Nashville scrapbooks. Really going down memory lane. Way back in 1993 we met up with Faron and he delighted us by inviting us to spend some time with him in his home. I took these two pictures and I would like to share them with you. A very happy Faron with his little friend, Nipper. Unfortunately there is so much sadness and unhappiness around these day…so if you need an excuse to put a HAPPY picture into one of your lovely newspapers please think of Handsome, happy Faron. I would be delighted to see his smile coming from my computer screen. Take good care of yourself and your family."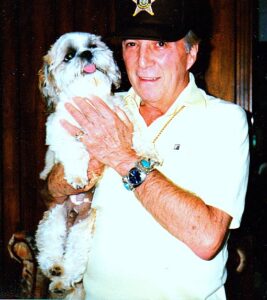 Diane Jordan says, "My Facebook friend in Maine, Ken Wentworth, just posted my Christmas song on YouTube for me. I sent the photos to him and told him what I wanted, and he put it together for me. I'm happy to know that when I'm gone, there will be something of me, left behind."
Diane: Good job, Diane. I like your voice. Here's where everyone can hear Diane Jordan sing "When the Heart Goes Home"
Dominique "Imperial" Anglares writes from France, "Thank you very much for that newsletter and for the care given to my correspondence. Good to read more about Bill Mack. On that special day, just know I remember. God bless America."
David Markham writes from the United Kingdom, "Thank you for your Newsletter on Marty Robbins. Do you think we could do stories on Vern Gosdin, Porter Wagoner, Tammy Wynette? Then there's Jeanne Pruett and most missed Billy Jo Spears, and even the fine singer gospel singer Betty Jean Robison from Nashville."
Dean Mann in Sioux Falls says, "This was another great, informative Newsletter. You do such a wonderful job. I just love Mo Pitney. I'm going to purchase his new album. He is so down to earth. I will probably purchase Moe Bandy's too. Moe Bandy is probably the only honky singer still around. I haven't read your speech from the fair yet, but I will."
IN THEIR OWN WORDS
This is a follow-up to my Bill Mack reminiscence in my August 12 newsletter. Years after that discussion about Faron Young, I called Bill in early 2016 to interview him as the featured artist in my newsletter. Bill died July 31, 2020, at age 88.
I still do freelance radio, and I do speaking engagements. Also, for various radio stations, almost weekly, I do interviews about personalities I've known down through the years. I've kept all those interviews I did when I was with WBAP in Fort Worth, and then when I went to SiriusXM in 2001. My first show took place one day before 9/11. At that time, our studios were in Washington, D.C. But I wasn't there. I did everything from here in Fort Worth. I'm sitting in my studio as I talk to you. I can't think of anybody I've not interviewed at some time or other, because you're talking about an individual who's been in the business for sixty years.
I'll never ever want to retire. I write a monthly column. It's in Trucker's Connection and some newspapers pick it up. I've been writing it for 25-26 years now. That keeps your mind busy.
I never met Hank Williams, but he was my inspiration. I didn't even care for country music. I was more into Sinatra, and the Mills Brothers, and Ella Fitzgerald, Perry Como, all of those. Anyway, I heard Hank Williams sing "Mansion on the Hill." I was in Shamrock, Texas, my hometown. I had a girlfriend I got in an argument with, when I was in high school–it was because of me, of course. I was home, I had the radio on. The radio station was in Cincinnati, Ohio. It was late at night. Hank Williams came in singing "Mansion on the Hill" and "Wedding Bells." I'll never forget it. I heard that, and I thought, I love that. I became addicted to Hank that night, and then everything else made me a fan of country.
Bob Wills was the first artist I ever met. He was playing in Shamrock, Texas, and I was in school. I was too young to go to the dance, but they let me slide backstage and see him, and I thought, boy, that guy's great. They gave me a radio show in Shamrock, and Bob was playing a gig there again, and I was doing a broadcast on the radio station, just a teenager. Bob and the Texas Playboys were having their meals at the Corner Café in Shamrock. I thought, I'll go inside and interview him. At that time, the engineer had to set up some kind of tape recorder, I forget what it was. I had a microphone, it had a big cord attached to it–and the guy sitting next to Bob, he was having liver and onions. I'll never forget that. Anyway, this guy sitting next to Bob got up and walked off, and I just sat right down by Bob. He had his hat on, he knew I was there beside him, but he didn't look at me. He just kept eating. I took the microphone, I said, "Mr. Wills, I'm Bill Mack and I work at the radio station"–he's chewing his food, and I said, "Oh, I'm sorry." He was quiet, and he kept chewing, and he glanced at me. Kept eating. I said, "I'm sorry, Mr. Wills." I got up, and he reached over and said, "Sit down there." He said, "I'm sorry, I was trying to swallow my food."
He said, "Now listen, my boy, let's talk." He told me he was raised just up the road, and used to pick cotton, and everything about this area. After I interviewed him, he told me, "Now, boy, you done a pretty good job there. Pretty good job." I said, "Mr. Wills"–I'm really a bigshot; I'm sure I lowered my voice when I said it–"Mr. Wills, if you ever need an announcer"–secretly thinking, because I'm so good–"if you ever need an announcer." He said, "I don't need an announcer as far as my dances are concerned, but if I ever need one, I'll call you."
He lived in Fort Worth. I first moved to Fort Worth in 1963. I got a phone call, my wife answered the phone, and she said, "It's Bob." Bob? She said, "Bob Wills." I got on the phone, and he said, "I told you back then in Shamrock, it must be about 15 years ago, if I ever needed an announcer, I'd call you. Well, I need an announcer."
We'd do a show at the auditorium at Seminary South Shopping Center. Every month he'd come in and we'd do five 15-minute radio shows. I did many radio shows and recorded every one of them. The radio station gave me those tapes. Bob didn't pay me a thing, and it was just a radio job. He did many radio shows, and he said, "Mr. Bill, I didn't pay you for anything when doing those shows. I want to thank you." I said, "Bob, the only thing you can do for me is let me know if I can ever do anything for you." He said, "Those tapes you made–you keep those." Capitol turned out a two-sleeve album. They edited the shows and enhanced the sound.
Bob had a sponsor here in Fort Worth, I forgot who it was. Channel 11, the CBS affiliate, called me and said we have a sponsor that wants to do the Bob Wills TV shows. Bob called me and said he's ready to do them and will we have to tape those? I said yeah. We did five or six television programs. The sound was perfect, and of course in color. Channel 11 kept those in the archives.
You'll never see anything Bob Wills in color. Maybe somebody took some home movies, but there's not anything in color. He made movies, but nothing on TV was available for Bob. When Bob passed away, they called me and said do you have radio? I said, "Wait a minute. I know where there are some TV shows. They're in color and high definition." I called Channel 11, and the program director said, "Sure, we have those things." I said, well, they could use them. He said, "They're yours. We'll find those, and you just come out and get them." I got the call, the program director said, "Bill, I've got some news for you. You know those Bob Wills shows? We kept those in the archives here, we had them in the vault." I said, "Yeah, I'm about to come and get them." He said, "Wait a minute. I'll cut it short. Cowboy Weaver and his band came in to do a series of shows and they run out of tape." They recorded Cowboy Weaver over it. I would have been a multi-millionaire now! Think about the legacy. Totally destroyed.
I'm going to tell you something. Your works are needed. Not just your columns, which I look forward to reading, every one of them. But the books on Faron and with Marty, you really captured them. I knew both of those guys so well, and you don't put sauce on them to make everything look so hunky dory, you tell the true story. A lot of people didn't know it, but Marty was basically a shy person. But he did have a temper, and not many people knew that. I loved it when you–I mean, you tell it like it is. You quote truth. Like Marty, y'know, he'll be talking–"they had this race car, see, y'see, y'see." I can hear him talking. He had those little idiosyncrasies. And you captured him going on the stage at the Grand Ole Opry. I remember when it took place. He wouldn't even look up, he was so shy.
Basically, in summary, I want to reemphasize that I don't plan to retire, and my health is good. I'm very fortunate. I have various activities going on. I'm doing the daily radio shows, but there comes a time when you want to say, well, you've put in your time, and it's best, not only for the listeners, but for the individual, to let others come in and continue. What I hope they'll do is I hope they'll continue with authenticity.
CD OF THE WEEK
I've been enjoying listening to the new Jeannie Seely CD, An American Classic. The first song, "So Far, So Good," with Sharon and Cheryl White singing harmony, became my immediate favorite. I love the western swing sound. Repeated listening of the CD brought forth other favorites, such as "That's How I Roll" with Laurie Morgan. The sassy tune fits those two perfectly. "Can I Sleep in Your Arms Tonight," written for Jeannie by her then-husband Hank Cochran, has always been one of my favorites. I remember my dad singing, "Can I sleep in your barn tonight, mister? It's so cold lying out on the ground." Waylon Payne, son of Sammi Smith, did a great job singing "Old Flames" with Jeannie; I really like his voice. I also enjoyed Jeannie's duets with Bill Anderson on "When Two Worlds Collide" and Willie Nelson on "Not a Dry Eye in the House." Bill wrote the first one with Roger Miller, and Dallas Wayne wrote the second. Although Jeannie has known Bill and Willie for decades, she's never before recorded with either of them. Two other songs I liked were "If You Could Call It That" and "All Through Crying Over You." Don Cusic produced the CD, and Jeannie sounds good throughout. She says not many 80-year-olds get a recording contract with Curb Records.
BOOK REVIEW
I don't remember how I originally connected with Carl Lamm, but I'm glad I did. He calls me occasionally to chat live on his daily radio show on WTSB Radio in Selma, North Carolina. Several years ago, he sent me a copy of his 2010 memoir, Sixty-Three Years on the Air: My Life and Times. He's now been on the air for 73 years. He's a member of the North Carolina Broadcasters Hall of Fame and–for fifty years of agricultural broadcasts–the North Carolina Agriculture Hall of Fame. He and my mom were both stationed at Naval Air Station Hutchinson, Kansas, during World War II. He wrote the book for his family and friends, "so that they might know more about my life, who I am, where I've been, and some of the fascinating experiences that have come my way." Through broadcasting, he met "some of the most interesting people in the world. Some were famous, and some were average folks, but all impacted my life in some way." The book is filled with stories of musicians, politicians, baseball players and more, many with familiar names. Carl is 93 years old.