NEWS
William "Bill" Pursell, Grammy-nominated composer and studio musician, died September 3 in Nashville at the age of 94. The Los Angeles Times obituary reports his death came after a "very fast, tough battle with COVID pneumonia," according to his daughter, Laura Pursell. He had been in the hospital for a week. The California native, born in 1926, served in the military during World War II as an arranger for the U.S. Air Force Band. He moved to Nashville in 1960 at the invitation of Eddy Arnold. For two decades, he worked as a session pianist, recording with Marty Robbins, Johnny Cash, Jim Reeves, Joan Baez, and Bob Dylan, among many others. He became a composition professor at the Belmont University School of Music in 1980, retiring after 37 years. His students included Trisha Yearwood and Brad Paisley.
When Josh Turner was selecting songs for his new Country State of Mind album of covers, he wanted to pay tribute to country's greatest women as well as the men. "I looked at a lot of Dolly Parton stuff, and I also looked at Loretta Lynn stuff," Josh tells WIN 98.5 FM in Battle Creek, Michigan. "But it seemed like most all of Loretta's stuff came from a woman's perspective, and it was very specific lyrically." He also "looked at some of the Reba stuff" before coming across the Patty Loveless song, "You Don't Seem to Miss Me." "Lyrically, it could be sung by a man or a woman," he says. "It was written by Jim Lauderdale. It had George Jones singing the harmony on it originally." He decided to record the song with a female singing the George Jones harmony part. "The only thing better than one female is three females," Josh says about choosing Runaway June. Josh told Music Mayhem Magazine, "This record wouldn't be complete without a Randy Travis song because everybody knows that Randy was the reason I moved to Nashville, he's the one who kind of instilled this passion within me to step out on faith and chase this dream of being a country singer as a profession."
The longtime bass player and band leader in Mel Tillis's Statesiders band, Larry Lee McFadden, died August 25. I haven't been able to find an obituary. Johnny Cox reported his death on the Steel Guitar Forum. Larry also managed Lee Greenwood, after discovering him at a Nevada casino and bringing him to the attention of MCA Records Nashville.
The fourth annual Dottie West Birthday Bash, scheduled for October in Nashville, has been postponed for a year because of the COVID-19 pandemic. "It is especially regrettable that we have to postpone this event because, of all times, this year the need is even more urgent," explains host Jeannie Seely in a press release. "With the shutdown of our entire music industry due to COVID, musicians are really struggling, as well as all the other jobs associated with live entertainment." The event supports the Musician's Emergency Relief Fund of the Nashville Musicians Association. This year's show would have honored Country Music Hall of Fame member Charlie McCoy as an artist/musician who has made an indelible impact on country music. He will be celebrated in 2021.
The all-female singer/songwriter collective Song Suffragettes partnered with the Women's Suffrage Centennial Commission (WSCC) to livestream four shows in August, to mark the 100th Anniversary of the ratification of the 19th Amendment, which granted women the right to vote. Song Suffragettes performs every Monday night at The Listening Room Café in Nashville. The four shows were titled Live from Nashville: Song Suffragettes. In six years, the group has showcased over 260 talented women out of more than 1,400 applicants. A press release says, "Song Suffragettes vocally combats wide-spread discrimination against women in the music industry by giving female talent a place to play, grow and evolve with fellow creatives."
The Country Music Hall of Fame and Museum reopens on September 10, nearly six months after closing because of the COVID-19 health crisis. A news release says the museum returns "in alignment" with Mayor John Cooper's reopening plan. In-person museum programming remains paused.
The new Moe Bandy CD has been released. A Love Like That contains 11 songs and was produced by Jimmy Capps, who died June 2, shortly after completing the CD. "I knew Jimmy for probably 30 years," Moe says. "He's played on my records for years, and in the last six or eight years, we got to be close friends. He produced two other albums with me. We got to be good buddies." Bill Anderson wrote or co-wrote three songs–"City Lights," "What If," and the title track. Wide Open Country opines, "A Love Like That reminds us that without the pressure to chase hits, older artists create albums for their fans, not Nashville tastemakers or anyone else."
For the first time in 20 years, two women have been nominated for CMA Entertainer of the Year: Carrie Underwood and Miranda Lambert. CMT News recalls the last time that happened was in 2000, when Faith Hill was nominated along with the Dixie Chicks, who won. Before that it was 1979, when Crystal Gayle and Barbara Mandrell were nominated. Willie Nelson won.
Miranda Lambert received seven nominations for the upcoming 54th CMA Awards, more than any other artist. She is now the most nominated female artist in CMA Awards history, with 55 nominations, a total that surpassed Reba McEntire's 51 nominations. According to Billboard, she is now in fourth place overall, behind George Strait (83), Alan Jackson (81), and Brad Paisley (58). Since her 2005 debut album, Kerosene, The Country Daily says she "has built herself into one of the most celebrated artists–male or female–in country music history."
The Country Music Association will not allow fans inside the venue for this year's CMA Awards. The show is usually held at Bridgestone Arena in downtown Nashville, although that may be too large for this year. The Boot reports no venue has yet been announced. The 2020 CMA Awards will air on ABC at 8 p.m. ET on November 11. Hosts have yet to be announced.
The $60 million National Museum of African American Music, 22 years in the making, is open for business on Nashville's Lower Broadway. The African American History Foundation of Nashville was created in 1998, with the goal of building a museum to bring together "One Nation Under a Groove." The 56,000-square-foot museum is located in Nashville's former convention center, as part of the $450 million Fifth + Broadway development. The Tennessean reports, "It would take the museum further from the city's historically Black neighborhoods, but being in the heart of the tourist-heavy Lower Broadway boded well for its sustainability." One founding member stated, "I believed that Nashville needed it there. There was a part of our community in Nashville that had not been given the opportunity to tell the stories that were part of their lives."
Big Night (At the Museum) is the title of an online fundraiser by the Country Music Hall of Fame & Museum via YouTube at 8 p.m. CT on October 28, with Marty Stuart as the host. The Country Daily explains that the event will pair country music stars with historic instruments for a special night of music. Rodney Crowell, Emmylou Harris, Miranda Lambert, Reba McEntire, Tim McGraw, and Ricky Skaggs are some of the artists participating. The concert is free, with viewers encouraged to donate through YouTube Giving.
Rolling Stone Country says there is "no shortage of fresh tunes, especially from artists who have yet to become household names." One of its "best new music releases from country and Americana artists" is "Ain't Bad for a Good Ol' Boy" by Mo Pitney, from his new album, Ain't Lookin' Back. The magazine credits feel-good lyrics and glorious steel guitar for its homespun charm.
The Mississippi Arts + Entertainment Experience (The MAX) Hall of Fame in Meridian, Mississippi, inducted five legends on September 3. The ceremony, hosted by Marty Stuart, honored the third class of inductees into The MAX Hall of Fame. Jerry Lee Lewis was unable to attend. His sister, Linda Gail Lewis, and his son, Jerry Lee Lewis III, accepted the award. The other inductees were Tammy Wynette, Bo Diddley, poet and writer Margaret Walker (Alexander), and bluesman John Lee Hooker. All nominees must have a connection to the State of Mississippi.
The Country Daily reports Sara Evans is celebrating the release of her new memoir, Born to Fly, with a virtual book tour. During each virtual visit, she discusses the memoir with a local host and takes questions from fans. "I am so excited to release my memoir this year," says Sara. "With 2020 being the 20th anniversary of my Born to Fly album release, which was such a pivotal project for me and my career on so many levels, this book really brings everything full circle. I am so proud of how it all came together and can't wait to share it with everyone."
When Scotty McCreery, former American Idol winner, took the stage at Nashville's Ryman Auditorium last Friday, for the first live audience the Ryman has hosted since March, he exclaimed, "It's good to see clapping hands again!" He and his band had been the last act to headline a concert at the venue in March. The Tennessean reports this audience was limited to 125 ticketed guests, with small groups placed in physically distanced sections throughout the building. Masks were mandatory for all guests and staff. Live at the Ryman is a six-week streaming concert series, with Brett Young and Old Crow Medicine Show scheduled for later performances. Fans can stream concerts from home for $10 via the Mandolin platform.
On October 2, Bear Family Records will release an eight-CD LP-sized box set titled Bobby Bare Sings Shel Silverstein Plus, containing 137 songs from six full Bobby Bare albums: Lullabys, Legends and Lies – Hard Time Hungrys – Singin' in the Kitchen – Great American Saturday Night – Down & Dirty – Drunk & Crazy. There will also be 25 previously unreleased tracks, with the "Plus" being songs from other songwriters. No artist recorded more Shel Silverstein songs than Bobby Bare, who recorded more than 100 from 1972-1983 on RCA and Columbia. The accompanying 128-page hardcover book includes the lyrics to the 137 songs. Shel's hit songs include "Sylvia's Mother," "The Cover of Rolling Stone," and "A Boy Named Sue."
The man who wrote "Tennessee Whiskey" doesn't drink anymore, reports The Gazette from Colorado Springs, Colorado, so Dean Dillon keeps a glass of Coca Cola nearby while he takes congratulatory calls on his recently announced induction into the Country Music Hall of Fame. (As reported in my last newsletter, the other honorees are Marty Stuart and Hank Williams, Jr.) George Strait has recorded more than 60 of his songs, beginning with "Unwound." Kenny Chesney, Toby Keith, Brooks & Dunn, and Alabama have also turned Dillon songs into hits. Dean began his career at age seven in East Tennessee, when he picked up a guitar and started writing songs about love. When he met his future wife, Susie, he played her "She Let Herself Go." a song later recorded by George Strait. After they married, they bought a ranch in Colorado. They enjoy the solitude, along with riding horses, skiing, and breathing in the four seasons. From their back porch, they can look out over hundreds of acres of hay fields and mountain views.
LETTERS
Donald Ewart says, "I got the new Jeannie Seely CD and it is Fantastic. I urge everyone to get a copy. I especially like 'Peaceful Waters,' what a beautiful song!!!!"
Jenny Jones writes from Texas, "Great newsletter. Your Email was so good, and full of so much News. First the article on BILL MACK was so full of information, I really enjoyed all the News about him. He was a great DJ, and one of the best personalities anyone could know. I was happy I discovered he was kin to my stepfather, a great person, and someone I was proud to know. He will be missed. I believe I have told you all the News of my knowing him, and my experience with him. All you mentioned was thoughtful, and great things to catch up. You told a lot of news, Today is my 82nd Birthday. Keep up with the great newsletters."
Jen Miller, editor at Jen Reviews, writes, "I was doing research on country music guitars and just finished reading your wonderful piece. We published an updated, comprehensive review of the best country music guitars on our sister site, Beginner Guitar HQ. You can find it here.
Daryl Skancke in Sioux Falls responds to Jen's article: "Pretty interesting. I'd have to say that without a doubt, the Fender Telecaster is the king of country guitars without a close second. The standard Telecaster is such a simple design and basic from a technical standpoint, that they're just hard to beat. I think the article makes that pretty obvious. Gretsch guitars are fine for Chet Atkins type of stuff, but they sound nothing like a Tele."
Dominique "Imperial" Anglares writes from France, "Thank you very much for that newsletter. Great to read all these words and memories about Bill Mack. Today I am glad to share with you that cool placard for a Marty Robbins concert in Regina, Canada, on October 29, 1960. That's one of the best looking I had for that period. Great cast."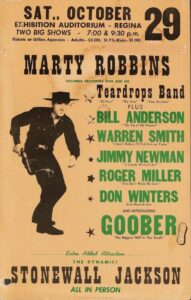 Carolyn Berry says, "Diane, I can't say enough good things about your newsletters. They are so informative. I love hearing about all of the musicians and their families."
John Krebs in Texas says, "I'm proud to say Loretta Lynn and I had the exact same response to Garth's announcement and I'm not a Garth fan at all though he sings his butt off. I was sure the Donald Ewert from Wisconsin story about Faron and Penny DeHaven was going to end up being about Faron kidding around with her; I can't believe Faron was serious. Ok, I just got the book and I see the whole Penny DeHaven and Faron story is a mash up of whatDonald Ewert stated and other parts and pieces of when Penny toured with Faron."
Priscilla McPheeters writes from Lawrence, Kansas, "Great newsletter! My sister and I used to sing the Auctioneer Song when we were girls. Wonderful that he is still up and running. "
Andy Williford, Faron's boyhood friend from Shreveport, writes, "We live in Austin now. As a matter of fact, we live about 3 miles from Willie Nelson's Ranch. We have a boat at a Marina close to the Ranch and pass by the Ranch often. I do not know if he is there now, but he has eaten at a small cafe about 1/2 mile down the road from his Ranch, called LEE'S, ALMOST BY THE LAKE. Looks like a hole-in-the-wall, but the very best cheeseburger I have ever eaten. Everything from scratch, including their Pizzas."
IN THEIR OWN WORDS
Someone put me in touch with Timmy Tappan in 2008, and I called him to talk about his experiences on the Marty Robbins Spotlight TV show, where he had been musical director. When we talked, Dr. Tappan was Professor of Music Business at Belmont University. He'd had a long career on Music Row, writing hit songs, arranging music for many singers, and serving as musical director of several TV shows. He'd been a musical prodigy and gifted athlete as a youth, and he loved teaching music business. Dr. Timothy Tappan died at age 67, after suffering a heart attack at his Nashville home in 2013.
The show was called Marty Robbins Spotlight, and I was the musical director. That entailed helping choose the music and arranging the music and conducting the orchestra and working with Marty to make sure he was comfortable with the songs and the keys and the guest songs and that sort of thing. We had quite a bit of interaction.
Most of my recollections of the TV show are not favorable towards Marty. I don't know if this is a good thing or a bad thing for your book. I worked with Marty as far back as 1973 when I wrote and produced a Vaseline Hair Tonic commercial he performed. He was much nicer then. It was the first time I'd ever met Marty, and he was quite a gentleman. I'd written a piece of music and he learned it very quickly and went in and performed it and did a great job. He was quite charming. Everybody seemed to be happy with the deal.
Before the Marty Robbins Spotlight started, I have been musical director for Nashville on the Road and the Bobby Goldsboro Show. I had worked quite a bit on TV besides working in the studio. TV is a hard business, particularly for musicians and entertainers, because so much of the time that's spent there in the studio is sitting around waiting, while they do camera blocking or taking care of other technical things, or trying to decide the best angle for a shot. Consequently, there was a lot of down time, and it became frustrating sometimes.
Most of my work with Marty was in the TV studio. The little work I did with him in the recording studio–if you had told me it was two different people, I would have said oh, okay. He was a gentleman, a consummate performer, and I liked being around him. He was fun, he told jokes, and all that. But by the time I did the TV show with him, there was a little sadness or a little bitterness about him. That was my take, that he was unhappy about something. He wasn't that way at all for personal appearances, from everything I understood. Working with him in the recording studio, and everybody I talked to about him who had recorded with him, just said, "What a guy!"
After we'd done a few of the shows, I remember thinking, in the back of my mind, there's something going on in Marty's personal life that he's unhappy about. You know how people are sometimes when they don't want to share that part of their life with you, but you can tell something's bothering them–that's kind of the feeling I got from him.
One of the musicians made an error as we were running something down, and Marty made a comment that maybe it's a good time to be looking for a new guitar player. Or something like that. Or if we were rehearsing something and having a problem, he would just come over and jokingly say something like, "Y'know, this band really doesn't look that good. I think maybe I might go shopping for another one tomorrow." And then he'd laugh and turn around and go the other way.
There were a lot of technical problems on the set, and they were frustrating to everybody, but most people took it in stride, because they had done TV work before, and I know Marty had done some, but he had never had his own show like that before. You could tell the times he was happiest and having a good time was when he was sitting at the piano or with the guitar and singing a song. When he didn't have to worry about depending on anybody else. I think he did better in those situations. Whatever his demeanor was there, everybody had a lot of respect for him. He had accomplished a lot, and he was a big name, and a very worthwhile talent.
He was always very particular about how his music came off, and how he looked and appeared and the presentation and the whole deal. And it might have been that that situation just didn't run very well for him, because he didn't have control over so much of the things that were going on, and he couldn't–like he'd demand perfection from himself, but he couldn't do that with other people.
If you watch those shows, I think Marty came off great. He looked great and sounded great. Whenever you saw Marty, he was always neat in his appearance. I never saw him in work clothes, or anything that didn't seem to be totally clean and pressed. He took a lot of pride in his appearance, and whenever he was out in public, he was always aware of that. He was very concerned about his image and how he came off to his public.
I'm a writer, and I now spend more time writing and more time as a studio musician and as a producer myself. I've had one big hit song–it was big for me, anyway. Lee Greenwood's "Fool's Gold," I wrote that. And I've had some success as a producer. I produced the last things that Bobby Goldsboro did in the studio. I worked with Bobby as musical director and then producer for a number of years. We still are good friends. He lives down in Florida now. Bobby's the one who brought me to Nashville. I'm originally from Indiana.
QUESTION OF THE WEEK
A deejay on KXRB radio in Sioux Falls was talking about dancing, and she described two concerts at which she'd been dancing, and people behind her asked her to sit down so they could see. Her reaction was to be insulted that they would expect her to restrict her dancing. She made no mention of the fact that they wanted to be able to see. Do you believe people have a right to sit in a seat they paid for and watch the concert with an unobstructed view, or do people who paid for a seat have a right to stand and dance, regardless of who is behind them?
BOOK REVIEW
In 2009, before interviewing Robert Hinkle for my Marty Robbins biography, I purchased his newly released autobiography, Call Me Lucky: A Texan in Hollywood, which he cowrote with Mike Farris. Bob was Marty's manager from 1968 until Marty's death in 1982. He produced two of Marty's movies, Country Music and Guns of a Stranger, and they did Marty's TV show, The Drifter. Bob was a West Texas rodeo cowboy in 1952 when he met a movie producer who invited him to come to Hollywood. That began his 50-year career as speech coach, actor, producer, director, and friend to the stars. The book contains numerous photos and stories of his interactions with movie stars, including James Dean and Elizabeth Taylor in Giant and Paul Newman in Hud. He first met Marty Robbins in Kanab, Utah, in 1957, on the movie set of The Badge of Marshal Brennan. Bob's country-boy personality comes across in such quotes as, "I was happier than a gopher in soft dirt." It's an enjoyable book to read. As far as I know, Bob (age 90) still lives in Texas with his wife, Sandy.
SOUTH DAKOTA STATE FAIR
Sherwin Linton invited me to join him Thursday, September 3, on the Centennial Stage at the South Dakota State Fair in Huron to talk about my books and being a military veteran. Here's my speech.