NEWS
Mac Davis (1942-2020)
Mac Davis, 78, died September 29, the day after his family tweeted that he was "critically ill following heart surgery in Nashville." Born in Lubbock, Texas, in 1942, he belonged to the Nashville Songwriters Hall of Fame and the National Songwriters Hall of Fame. My favorites of his hits were "Baby Don't Get Hooked on Me," "It's Hard to Be Humble," and "Texas in My Rearview Mirror." When I lived in Los Angeles at the turn of the century, I always listened to his Sunday afternoon radio show. I enjoyed the portion where he'd make up songs from topics listeners sent him. Mac costarred in North Dallas Forty in 1979, and Elvis Presley had hits with his "In the Ghetto" and "Don't Cry Daddy." Coincidentally, Mac Davis and Helen Reddy of "I Am Woman" fame died on the same day at the same age, both having been in the national spotlight since 1972. Mac was buried Monday in Lubbock, Texas, in his jeans. The burial was a private family ceremony, but fans lined Mac Davis Boulevard to view the motorcade as it entered the Lubbock City Cemetery.
Fluke Holland (1935-2020)
Tennessee Three drummer WS "Fluke" Holland, 85, died September 23 at his home in Jackson, Tennessee, following a short illness, The Tennessee native was working as an air conditioner repairman in the early 1950s when he occasionally appeared on stage with Carl Perkins in local clubs. He went with Carl to Memphis for the Sun Records session where they recorded "Blue Suede Shoes." Memphis Commercial Appeal reports, "Although he'd never played the instrument before — and as a natural left-hander set up his drums in an unconventional manner — his 'accidental' career as a drummer was born." He spent six years with Carl Perkins and the next 37 with Johnny Cash, after the Tennessee Two (bassist Marshall Grant and guitarist Luther Perkins) became the Tennessee Three in 1960. He appeared on the Live at Folson Prison and Live at San Quentin albums.
The Grand Ole Opry is celebrating its 95th anniversary during the month of October. On October 3, for the first time since March 19, there was a live audience–capped at 500 guests, all wearing masks. Vince Gill opened the show with Roy Acuff's "Night Train to Memphis." According to the Tennessean, Vince joked, when the crowd cheered his opening number, "What's that noise?" Dierks Bentley, Terri Clark, and Lorrie Morgan joined him for the evening. They each sang at least one classic country song. Laurie chose the Skeeter Davis song, "End of the World," Terri sang Barbara Mandrell's "I Was Country When Country Wasn't Cool," and Dierks chose Faron Young's "Going Steady," which he said he used to sing on Nashville's Lower Broadway. Vince performed a solo acoustic rendition of "In the Ghetto" to honor Mac Davis. The four Opry members closed the show with "Will the Circle Be Unbroken."
John McEuen's older brother, Bill McEuen, 79, died September 24 in Kona, Hawaii. MusicRow calls him "the producer and mastermind behind The Nitty Gritty Dirt Band's landmark 1971 album Will the Circle Be Unbroken." He also produced the 1970 hit "Mr. Bojangles" and arranged for the Dirt Band to be the first American band to tour the Soviet Union (1977). He produced four comedy albums for Steve Martin, along with the 1978 hit single "King Tut" and the movie The Jerk.
Louisiana native James Dupré has released a new song, "Home and Away," which he wrote with Greg Bates. "If you break up in a small town, everyone wants to know your business. It's especially hard when you can't go to the high school football home opener because you can't deal with all the questions and attention," he tells Country Now about the song. "Instead, you grab your favorite bottle of bourbon and just stay home." He is a former The Voice contestant, and he starred with Randy Travis in the movie, The Price, released in 2015. He headlined The Music of Randy Travis 2019 Tour, where he performed Randy's hits with Randy's band.
The Time Jumpers have resumed their Monday-night shows at Nashville club 3rd and Lindsley, reports Rolling Stone, but without Vince Gill, a member since 2010. "The Time Jumpers will miss having Vince Gill as a part of the band," the group said in a statement. "We've really enjoyed his tenure with us, and his musicianship has added a lot to our sound. However, this is a particularly unique band. We've been around for over 20 years and in that time, members have come and gone. Four have passed away — the one-of-a-kind Dawn Sears, John Hughey, Hoot Hester and Rick Vanaugh." Vince once told Rolling Stone, "I work really hard at helping people grasp I'm just one of the guitar players in this band. It's not 'Vince Gill and the Time Jumpers.' I bring a lot of attention to the band because I'm in it, and I can't help that. But everybody in that band knows my heart and everybody is completely fine with it." The Time Jumpers, formed in 1998, feature a rotating cast of musicians and surprise guests. The current lineup consists of bandleader Kenny Sears (one of three fiddle players), Brad Albin, Ranger Doug Green, Larry Franklin, Paul Franklin, Wendy Moten, Andy Reiss, Joe Spivey, Jeff Taylor, and Billy Thomas.
The Country Daily reports that Ray Stevens reopened his CabaRay Showroom in Nashville on October 1, after a six-month shutdown due to the COVID-19 pandemic. "We're excited to be able to get back to playing music, singing, laughing and having fun, all at a CDC-approved social distance of course," Ray says. The 35,000-square-foot music venue will host concerts every Thursday and Saturday night, with a limited capacity of 125.
The Nashville Film Festival occurred in virtual format the first week of October, reports Rolling Stone. George Clooney and other actors from O Brother, Where Art Thou? reunited for the movie's 20th anniversary. Chris Thomas King (bluesman Tommy Johnson in the film) and Dan Tyminski (George Clooney's singing voice on "Man of Constant Sorrow" by The Soggy Bottom Boys) performed at the event, as did Carlene Carter.
An ad blitz by the Department of Health and Human Services on the Coronavirus has been mistakenly interpreted as a Garth Brooks endorsement of Donald Trump, with the belief he will be appearing in Trump re-election ads in the coming weeks. Politico reported that gospel legend CeCe Winans and actor Dennis Quaid had agreed to appear in the $300 million-dollar campaign to "instill confidence to return to work and restart the economy." Politico mentioned that Garth had been asked because of his daughter's experience with COVID-19, but the article stated that Garth had not agreed to do anything. Still, all three are being demonized and boycotted. Saving Country Music reminds us, "The situation underscores how in this contentious and polarizing time, both the media and the public need to be careful in assigning political motives or affiliations to people without checking facts and thoroughly investigating."
En Español, the recently released Spanish/Latin album by The Mavericks, has gone to No. 1 on Billboard's Latin Pop chart. MusicRow lists the album's line-up as including, in addition to Raul Malo, "Malo's fellow Miamian and charter band member Paul Deakin on drums, as well as veterans Eddie Perez on lead guitar and Jerry Dale McFadden on keyboards. The band is also joined on both the album and on stage by their renowned Fantastic Five sidemen."
A new exhibit at the Birthplace of Country Music Museum in Bristol, Tennessee, features the photography of Henry Horenstein. Honky Tonk: Portraits of Country Music 1972-1981, according to the Bristol Herald Courier, "consists of 27 remarkable, candid black and white portraits of music royalty — Emmylou Harris, Waylon Jennings, Dolly Parton, Jerry Lee Lewis and Tex Ritter — their fans and iconic locations like Tootsie's Orchid Lounge in Nashville." The museum has augmented the images with memorabilia from Hard Rock International and the East Tennessee Historical Society. The exhibit, which runs through March, includes a 1970 Seeburg jukebox filled with songs from the era. Horenstein, who lives in Boston, is a photographer, filmmaker, teacher, and author of more than 30 books.
Ellen Reeves, widow of Del Reeves, died peacefully at her home in Columbia, Tennessee, on September 15. Her obituary says, "The couple met and married in California in 1956 after a whirlwind romance that continued until his death in 2007. A gifted lyricist, Ellen wrote songs for her husband and other artists such as Loretta Lynn, Ernest Tubb, Carl Smith, and Rose Maddox." She is survived by three daughters.
Terry McBride had released the title track as the second single from his upcoming album, Rebels & Angels. Patty Loveless sings the mother's part. Taste of Country explains, "The single portrays an observation of young love through the eyes of parents who were once in a similar situation themselves, proving opposites attract, patterns repeat generationally, and love can last a lifetime." Terry says in a news release, "I wrote this song a few years ago with Chris Stapleton, but it's one of those songs I continued pulling up and listening to. As a ballad and a waltz, this song had no chance of being cut but it was a favorite of mine. One day, while listening and singing along, I thought the song might work as a duet." He asked his former MCA producer, Tony Brown, to contact Patty Loveless. "She was my first and only choice," Terry says, "and after hearing the song she graciously said yes."
A virtual fundraiser at the Clement Railroad Hotel Museum, a Tennessee State Historical Site, will celebrate the 100th birthday of former Governor Frank G. Clement. The October 25 celebration, streaming on the museum's Facebook page at 2 pm CDT, will be the Fourth Annual Legacy event. Jeannie Seely, U.S. Senator Lamar Alexander, and Craig Morgan will be honored with Legacy Awards in recognition of their contributions to the State of Tennessee and worldwide. "It was a pleasure for me to speak at this event last year and to congratulate Ray Stevens and Ralph Emery as they received this Legacy Award," Jeannie says in a press release. "I was made aware even more of the legacy left by Governor Frank Clement and his many contributions to our country." She adds, "This museum is an amazing treasure for the community to preserve his history. I am truly honored to receive this award and I appreciate the opportunity to share in this worthwhile project."
Reba McEntire and Darius Rucker have been named as hosts for the upcoming 54th annual CMA Awards, being held at Music City Center in downtown Nashville on November 11; the show will air live on ABC. MusicRow reports this is Darius's first time as host and Reba's fifth. She has won six CMA honors and is currently nominated for Musical Event of the Year. He won the CMA New Artist of the Year honor in 2009. Miranda Lambert leads this year with seven nominations, while Luke Combs has six.
CNN reports that MGM Resorts International has agreed to an $800 million settlement with survivors and families of those killed during the mass shooting at the Route 91 Harvest Festival in Las Vegas on October 1, 2017. A lone gunman opened fire from the 32nd floor of Mandalay Bay Hotel, owned by MGM Resorts, during Jason Aldean's headlining set and killed 58 people; hundreds more were injured. A pair of retired judges, agreed to by both sides, will determine how the money will be divided among more than 4,000 claimants in the class action suit. Lawyers hope to disperse funds by the end of the year.
When Dolly Parton recently called into the Scott Mills & Chris Stark Show on BBC Radio 5, she said she might pose for Playboy to celebrate her 75th birthday next year. Her photo on the magazine's October 1978 cover, when she was 32, made her the first country star to appear there; she wore the Playboy bunny outfit and ears. "If I can do it in good taste and they want it," she said in the call, "we'll do it along with a really good interview inside. So, yeah, it's possible. Yep, we've talked about it."
Benjamin Storm Presley Keough, 27, the only grandson of Elvis Presley, was laid to rest at Graceland in Memphis, Tennessee, on October 1. He died by suicide on July 12. Taste of Country reports the burial was the first at Graceland in 40 years. Keough's parents are Danny Keough and Lisa Marie Presley, who is the only child of Elvis and Priscilla Presley.
Following news of the October 6 death of Eddie Van Halen, 65, due to cancer,Kenny Chesney posted on Facebook, "He was a friend and a hero to anyone who has ever picked up a guitar and had a dream." Keith Urban called him "a master of complex solos that spoke to non-musicians…THAT IS HARD TO DO."
The third recipient of the Tom Hanks Caregiver Champion Award is Tim McGraw, chosen for his support of military and veteran caregivers. he will be honored during the Elizabeth Dole Foundation's third annual Heroes and History Makers event on October 20. Previous recipients were Tom Hanks and former First Lady Michelle Obama. MusicRow reports Tim became involved in caregiver programs after his experience as a caregiver for his father Tug McGraw, who died of brain cancer in 2004.
A member of The Mavericks was assaulted over the weekend for speaking Spanish. Trumpet player Lorenzo Molina Ruiz and Orlando Morales were at Tony's Eat & Drink sports bar in Franklin, Tennessee, when they were attacked. Ruiz posted on the GoFundMe site, "My name is Lorenzo Molina. I was invited to the United States to play my trumpet with The Mavericks. My friend Orlando and I were just brutally attacked at a sports bar because we speak in Spanish. We didn't do anything to anybody and got beaten up badly. My friend is in bad shape. Any support would help while we proceed with getting justice for this hate crime." The case is currently classified as aggravated assault, which is a felony.
LETTERS
Bill Anderson sends this note from Nashville: "I recently saw the name Bob Powel mentioned by one of your readers from Great Britain, and I thought you and others might get a kick out of a story involving me and Bob. I had flown to London to appear on the very first International Festival of Country Music at Wembley (1969) and Bob was a writer for a magazine called Country Music People. He was also, I believe, hosting a country music DJ show on Radio London. There were several artists, managers, and musicians on the London flight, and Bob met our plane at Heathrow Airport. For some reason, he picked me out of the crowd and made a beeline for me as we waited for our luggage. He introduced himself and said, 'I just want to warn you…don't do any of your talking songs at Wembley. Whatever you do, lay off the recitations.' I was taken back and asked him why. 'Because the country fans here don't like talking songs. They want you to sing,' he offered. At that time, I had begun doing quite a few narrations and having success with songs like 'Mama Sang A Song,' 'Still,' 'Golden Guitar' and others. 'Well, if I can't do any talking songs I might as well get back on the plane and go home,' I remember telling him. I was very upset, and almost afraid to go onstage the next night. I reworked my set list and narrowed the recitation songs down to 'Still' and nothing more. At the end of my allotted time I turned to leave the stage and began hearing chants coming from the audience…'Golden Guitar….Do Golden Guitar….Hey, Bill, you forgot Golden Guitar!' I couldn't believe it. I turned and walked back to the microphone. By this time the only two words you could hear throughout the entire building were 20,000 fans shouting for 'Golden Guitar'…. a song that has no singing whatsoever and is a three-minute plus recitation. I told my guitar player to kick off 'Golden Guitar,' and from that moment on it became my signature song with the British audiences. Bob Powel was very gracious about it…. 'I guess I was wrong'… and from then on he and I became good friends. But every time I would see him after that…in the U.K. or in Nashville…my first words to him were always, 'Don't worry, Bob, I won't do any recitations.' And he would always laugh. Those are the kinds of moments that go into having made my 60-plus years in this business so memorable and so much fun."
Jeannie Seely writes from Nashville, "Thank you as always for giving me a spot in your newsletter…. I'm proud to be there. You are so good at keeping all of us informed…filling in the blanks of what's going on when sometimes all we hear are bits and pieces. Take care and stay safe and Happy Fall!"
Douglas Lippert sends this note: "I don't say 'thank you' often enough for your newsletter so let me say that now. I am so grateful for your reporting and research. I really enjoyed the two photos of Faron and his pooch that your reader Jean Earle sent and you published. I wish I could have told him, then, how much he was loved by so many."
Ron Whitworth of Yuma, Arizona, writes, "I know you do not know me but a friend sent me a copy of your newsletter from some months back & I just love it. I am retired now & able to do one of my favorite hobbies, which is play classic country music. I play guitar & have a small band. I would sure love to receive your great newsletter. If you would add me to your list I would sure appreciate it. Also, I would very much like to look at any/all previous newsletters if you would be kind enough to send them to me."
Diane: Welcome to the group, Ron. All my previous newsletters are archived here: https://dianediekman.com/blog/
Jenny Jones in Texas says, "Every word got my attention. Keeping all the NEWS AND ARTISTS COVERED REALLY kept everyone up to date, and it was greatly enjoyed. KEEP up the good work."
Diane Jordan writes from Nashville, "Thank you for putting the link to my Christmas song in your newsletter; what a nice surprise! I appreciate your kind words. This is the only song that ever just 'came' to me. It actually came in two parts, three months apart. Both times, I turned off my car radio and sang it. I've given up on everything but this song. If the song came to me, I believe that it has a place to go. (I could be wrong). At this point in my life, I have no way of pitching the song. At least YouTube will keep me from disappearing into total oblivion when I die. YouTube can't take it down because I own the copyright. I always enjoy your newsletter. Though I live in Nashville, you know much more of what's happening."
Dominique "Imperial" Anglares in France says, "Greetings for your steady work and for these news and correspondences. I enjoyed to read Bill Mack's memories. Very nice souvenir of Bob Wills."
IN THEIR OWN WORDS
Earl White began his musical career playing fiddle in the original Marty Robbins band. I called him for an interview in 2008, and we later met at the book release party for Twentieth Century Drifter: The Life of Marty Robbins in 2012. Before his death from cancer in 2014, he celebrated his 78th birthday, 57 years of marriage, and 58 years as a Grand Ole Opry musician.
I have a picture on my wall here in the studio of Marty and the group–Hillous Butram, myself, Joe Wright, Jim Farmer, and Marty, that was made in 1956. It gives all the names, and says, "Marty's first band, touring as Marty Robbins and the Teardrops."
I'll start from the first time I met Marty. I was still in high school. I was 15 years old, and Marty played my high school in Savannah, Tennessee, for a special event. He was just picking up Nashville musicians to work with him one show at a time. That particular event he had Lightning Chance on bass, and Ray Edenton on rhythm guitar, and Jim Farmer–a longtime boyhood friend–that played steel guitar for him, from Phoenix. They were playing the auditorium at the school, and I got to meet him at that time.
I graduated from high school in '54 and came to Nashville, and almost got a job with Ray Price. Don Helms got me a job with Ray Price, and I didn't get cleared with the union in time to leave, so Hillous Butram got me a job with Marty in January '55. Joe Wright and I have been friends for years. After I came to Nashville and got to know Joe and his family, they were like a second family to me; his mother paid my union dues when I joined Marty's band.
The first tour we made, I was 18 years old. We went to California, and we had to draw straws to see who was going to ride with Cowboy Copas and George Morgan. Cuz they needed an extra person to help them drive, and I lost. I was really a greenhorn, so to speak, and they had a lot of fun with me, and broke me in right. By the time I got home off the two-week tour, Marty told me, "You're a veteran now, hoss."
We stayed together for two years, touring most of the time. Marty was a great person. He bought me my first automobile. I was still 18 at that time. I told him one day, "I need a car. So I can get around. I'm riding the city bus." Up at the old WSM studio, he sat down and wrote me a check for $200 for the first car I ever owned. A few weeks later, we did what they now call the Country Classics, the Al Gannaway film, and I was able to pay him back. He was very kind to me. I have nothing but good things about him.
I remember one occasion when we left Nashville and went to Newark, New Jersey, played the Terrace Ballroom, and left there that night and drove straight through to Bremerton, Washington, five of us in a Chrysler Imperial pulling a trailer. The guy that booked the show in Seattle that we went to from New Jersey was Lee Emerson. He had a band out of Seattle, and we worked a lot of shows with him out there, and later Marty brought him to Nashville as his manager.
In the early days, the Prince Albert Grand Ole Opry show was just like a network show today, and the first time Marty had the Prince Albert Show on his own–he was the emcee, he was the host. He had to do the commercial jingle for Prince Albert tobacco, and he messed it up, and he thought sure he was ruined for life. He thought his career was over. But, needless to say, it wasn't.
When Marty started doing the pop songs, like "White Sport Coat" and all that, he decided it was time to change the band. I was playing fiddle–that's my main instrument; I did some bass–but he decided it was time to change up the band and get a little more modern sounding. He wanted to get into the crossover music. So he got rid of the fiddle. I understood what he was doing; the same thing continues to happen today.
I really enjoyed those times. We didn't make much money, but we made a lot of memories.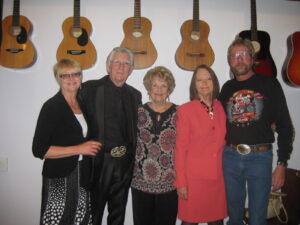 BOOK REVIEW
I didn't know anything about country gospel singer Martha Carson until 2003, when I ran across her biography at the Ernest Tubb Record Shop while searching for information on Faron Young. Walt Trott wrote Sister Sunshine: The Martha Carson Story in 1998. Chapter one contains an interview with Faron about their friendship and how he was influenced by her performing style. Faron believed she was kept from superstar status because her label didn't know how to promote her. In 1951, Martha wrote and recorded "Satisfied," the song that got her on the Grand Ole Opry and was later recorded by more than 160 artists. She was a highly popular performer throughout the 1950s, until marriage and motherhood. After buying the biography, I called her son, Andre Cosse, to ask for an interview while I was in Nashville. He told me he'd just brought her home from the hospital and was trying to keep her alive. He was not impressed with the biography, which he said contained many untruths. Martha wouldn't do a phone interview and wouldn't let anyone else speak for her. Andre told me he'd call if she got well enough for me to come see her. That didn't happen. She died a year later at age 83.